This post may contain affiliate links. Please read my disclosure policy for more info.
Bring on your best flirt game face! Clean, cute, and romantic 28 flirty questions to as a guy to help bring your best flirt to him. Use these fun flirty questions to ask a guy you like today!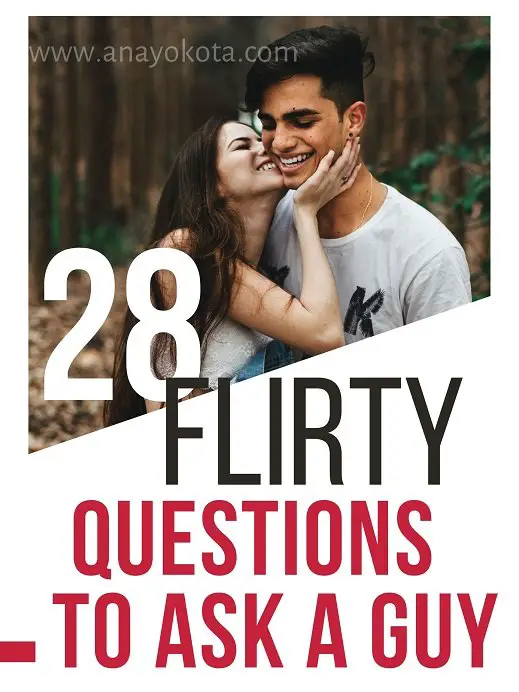 What are flirty questions to ask a guy?
Flirty questions are cute and can spark a romantic buzz between two people. Some people might think that a flirty question to ask a guy is like a dirty question to ask a guy, which is not necessarily true. You can always stay classy and graceful all while accessing your inner flirt.
Flirty questions to ask a guy can translate you as the charming listener. Whether it's your first time meeting him or you've known him for years, men appreciate thoughtful yet flirty questions. 
A flirty question can assure men that you can initiate a question and that you're interested. Or sometimes, a flirty question is just what you need to drop a few hints that you are interested in the guy. 
However, I understand that it is hard enough already to muster up the courage and talk to a boy. Some may charge with gumption, others take a little time, or a charming guy may bump into you.
Regardless of route, it can be one of the most nerve-wracking, intimidating, and panic-inducing things to ask flirty questions. The worst thing is for your mind to go blank and end up looking like a gaping fish or for your mind to go racing and sound like a horse race announcer.
Not that there's anything wrong with spontaneity. But preparation can build confidence and make the other person feel at ease. 
Never compromise who you are.
If all you take away from these questions is one thing, it is BE YOU because no one likes a fake or someone who asks dirty questions. So take a breath, it's not like you're confessing your true love to the person. 
To help you out, I've categorized the top 28 flirty questions to ask a guy based on the status of the relationship as well as explain why it can also help you know the type of guy he is. Who knows? Maybe, one day these flirty questions will turn into your beautiful romance. 
TABLE OF CONTENTS
FLIRTY QUESTIONS TO ASK A GUY YOU JUST MET
These are flirty questions to ask a guy that will help you get to know him better. 
---
This will help you see if he is athletic, nerdy, outdoorsy, etc… The innocence behind this question can also allow you to get a glimpse of his passions and hobbies. 
---
Apollonia Ponti shared that "Having passion in your life, having things that you love and being happy is huge for women." (SOURCE). In other words, women are attracted to men who know what they want. It shows confidence, security, and leadership. 
---
As innocent as this may appear, taking a picture not only gives you bragging rights, it allows you to see how confident and open the person is by saying yes. If he is interested enough and you feel good vibes, this can be a way of making the first move to get his contact info and a way to keep the conversation going.
---
This allows you to take a deeper look at his hobbies without sounding like you're interviewing him. 
---
A goodie but an oldie. Some may say this might sound like it's too random a question to ask a guy. Asking a person what their favorite song or book is can be so hard to answer — especially if you're a bookworm or music junkie. But ask a person what their favorite song to give tells a lot more of what kind of message the person wants to send. It can convey multiple layers of facts such as beliefs, values, morals, hobbies, etc… 
---
Cute but also thought provoking. It doesn't sound too serious and allows for a much more thoughtful question. Oftentimes, we are asked what advice we would like to give to others. This question allows for the guy to appreciate that you are thoughtful but also share his stance on what bad advice sounds like. 
---
Fun but also telling. It can be as simple as saying "no" to sweets or something a little more meaningful. Either way, this allows you to communicate to him that you care about self improvement. 
---
FLIRTY QUESTIONS TO ASK A GUY ONLINE DATING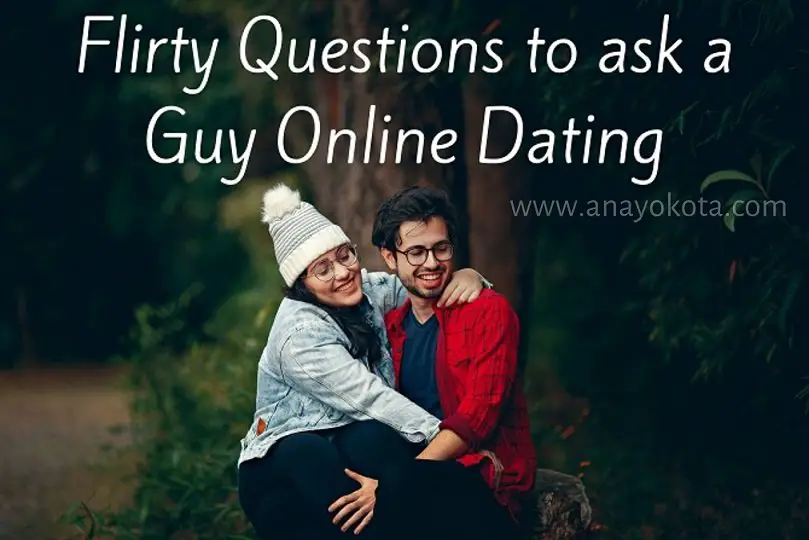 When you are online dating, there's so many opportunities to ignite a flirty conversation. Personal questions to ask a guy is also another classy yet flirty way to learn about the other person. 
---
Couple goals are one of the strongest reasons why relationships stay passionate and strong (source). This is not necessarily an invitation to goal plan together as a couple; rather, it is the opportunity to see if you can envision his goals with yours. 
---
Happiness is extremely subjective and it is safe to say that people define happiness on all sorts of levels. Getting to know the guy by what makes him happy allows you to see if his definition aligns with yours. 
---
Online dating can be so ambiguous and slow if not steered in the right direction. You don't want to spend all this time investing in someone only to realize that he doesn't believe in abstinence but you do. Here are a few good tips when meeting someone online (SOURCE).
---
As flirty as this question is, the answer can speak volumes of the guy's values. The question you are essentially asking is, "If you could have the platform of the word and wanted to share a message, what would it be?" Whether it reveals religion, goals, morals, or ethics, it will reveal to you his values. 
---
Is he a high maintenance or simple stay-cation type of guy? This is a creative way to discover his personality as a traveler.
---
Give him hints that you are essentially saying: "I like it when you think of me"
---
Similar to a question above, this one allows you to understand more about his vices. We all have them, this is a harmless way of understanding what that might be for him.
---
FLIRTY QUESTIONS TO ASK A GUY ON A FIRST DATE
It can be nerve-wracking when meeting someone you might end up dating. But here is the good news. He has already agreed to meet with you, which means he is interested too! So take a breath and let this time be about being yourself and getting to know the guy. These are the perfect flirty questions to ask him while on your first date. 
---
Food is a love language, in my opinion. It's also a creative way of asking, "what is your favorite food." Apparently, according to (source), first dates talk about food % of the time. What can I say, people love food and this is a super fun question. 
---
Have you ever heard the saying, "you can tell a person by their friends." Similarly, you can tell a lot about a person's goals and dreams by the type of people they look up to.
---
Dream about what you want first as it's important to know that the person you develop a romantic relationship either has similar goals or goals you can fully support. 
---
This may not be the first question you ask, but it certainly can get a guy excited because it can help you send the message that you aren't afraid of making the first move or that you appreciate when the guy makes the first move. Either way, you gain control of which move you would rather do. 
---
Flirty but straight forward way of asking him, "how can I show you that I'm interested in you?" If you need to take it slow, you can also use this as information of what not to do until you're ready.
---
Hobbies are one thing and dating is a completely different subject. Just because you like solving math problems, doesn't always mean that it's the perfect activity for a date. This can also be an opportunity to discover things you never thought about trying. 
---
According to Healthline, studies have shown that women/men look for someone they can laugh with as it increases their desire to be together.
---
FLIRTY QUESTIONS TO ASK YOUR CRUSH
These flirty questions can be asked to any guy, but remember the policy here is stirring up the water with a guy you already have a friendship with. Hopefully, this can lead to you gaining a quality boyfriend. 
---
It's time to step it up. Either realize that this is what he wants and you want it to or realize that you have different qualities that don't have the desire to produce. 
---
We can all eat a slice of humble pie at times. Learning from someone's lessons and losses not only give you the opportunity to gain wisdom but also helps you discover how you can be more than a friend.
---
Much like defining happiness, love can be very subjective; especially since there are so many types of love such as love for family, love for a friend, love for a partner, etc… Whether you discuss all the types of love or just one that matters to you most, this can be a beautiful way of understanding how he perceives love. 
---
This is super flirty because it is a backwards way of saying, "Can I take you on a date?" I really wouldn't mind if this question was asked over text because it's a great way to keep your phones warm and open up to other topics. 
---
The point here is to learn his queues. You are being intentional and purposeful at this point and when communicated with honesty, it can reveal a refreshing and clear answer for you. 
---
Help him help you. First, you are asking him to intentionally think about you. Second, you get to hear what he likes best about you. 
---
Now he is thinking about how you would perceive him. More importantly, this gives you an edge to share a bit more about your intentions. 
---
Don't be afraid to make them yours, different, or even make it weird questions to ask a guy. Flirting is fun and I hope these questions will surely bring that extra spark. 
Looking for inspiration for the perfect marriage sayings? Or perhaps you want to read through romantic love messages. Either way, there's more to come on the blog. Please join the family so you don't miss out!
Remember, at the end of the day, it's important to be yourself.