This post may contain affiliate links. Please read my disclosure policy for more info.
Slurp, savor, and spice – all mouthwatering experiences when eating the Korea's best ramyeon. But which ones are the best?
Everyone can claim they are the best…but how do you know? Feeling hungry but not sure which ramyeon to choose? Continue reading to find the answer!
Picture this: it's a cool, rainy evening and you're craving something warm, comforting, and delicious.
You reach into your pantry, and there it is – the perfect solution to satisfy your hunger: a steaming bowl of ramyeon.
But wait!
This isn't just any ordinary bowl of noodles; we're talking about the best of the best, the crème de la crème, the ultimate ramyeon experience that will leave your taste buds tingling with delight.
Welcome, fellow ramyeon enthusiasts, to a blog post that will take you on a culinary adventure through the world of Korea's most beloved instant noodles.
From the satisfying slurp of the first bite to the lingering spice that warms your soul, we'll explore the top contenders in the best Korean ramen universe, revealing what sets them apart from the rest.
To this day, I will never forget the sense of sheer delight I experienced after my first bite of a certain super-spicy Korean Ramyeon brand.
The joy didn't last too long, though, as it was soon replaced by utter fear of imminent unbearable burn.
Even now, I'm amazed that I could finish the whole bowl of Buldak x2 spicy, perhaps not by choice but merely due to the addictive red-hot taste of chicken.
Despite the spice, I just couldn't stop. I needed more.
Whether you're new to the best ramyeon game or a seasoned noodle aficionado, prepare to be enlightened as we dive into the rich history, unique flavors, and secret tips for leveling up your ramyeon game.
So, grab your chopsticks and let's embark on this lip-smacking journey together! Trust me, your taste buds will thank you.
Side note: Depending on where you read, ramyeon can be spelled in a few different ways. The Japanese will typically spell it, "ramen," whereas Koreans will either spell it "ramyeon," or "ramyun." All of them are referring to the same dish – delicious noodles in flavorful broth.
Best Korean Instant Noodles Brands
Korean Ramyeon is among the most famous in the world.
Even in dingy stores in the middle of nowhere, you may be able to pick up a pack or two of your favorite Korean ramen noodles.
In larger department stores, you may even find some rare flavors of the best ramyeon brands you know so well.
Here are the best ramyeon brands:
If you are looking at other instant foods that pairs wonderfully with the best Korean noodles, here are a few of my top recommendations:
Triangle Kimbap: dip this in your favorite instant Korean noodles, and you'll be doing the happy dance.
Korean Drinks: Of course you need something cold and refreshing to wash the best ramyeon all down.
Korean Chips: I don't know about you, but I actually enjoy having a really nice crunch factor on the side with my ramen. Am I the only one doing this?  
NongShim
Nongshim is by far the best Korean ramyeon in the world.
Their balance between spicy and umami is delicate, a taste nearly anyone can enjoy.
If you're only getting into the world of ramen, NongShim's selection is the one to look out for; furthermore, their noodles are on the more affordable side of the spectrum and sure to be available wherever you go.
NongShim's Finest: Shin Black Noodle Soup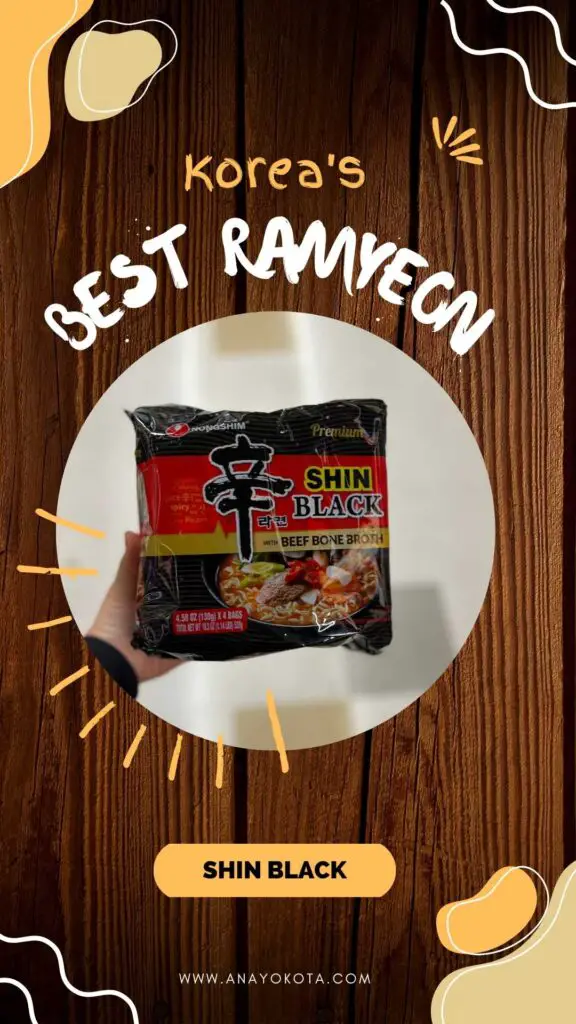 Ramen junkies and Redditors find the Shin Black ramen recipe number one.
At roughly $4 a packet, Shin Black is the most premium packet of ramen on NongShim's list.
Alternatively, you can opt for their premade instant ramen bowls with added ingredients and freeze-dried meat – certainly more delicious, but is it worth the extra cost?
Shin Black is essentially the same as NongShim Korean Shin Ramyun (their usual pack of spicy ramen).
The Black Shin Ramyun somewhat imitates that savory-sour and spicy taste of kimchi – with the addition of an ox-bone seasoning packet.
The depth of flavor the ox adds is unmatched and hits just right to not overpower the delicate flavor of fermented kimchi.
NongShim Chapagetti Chajang Noodle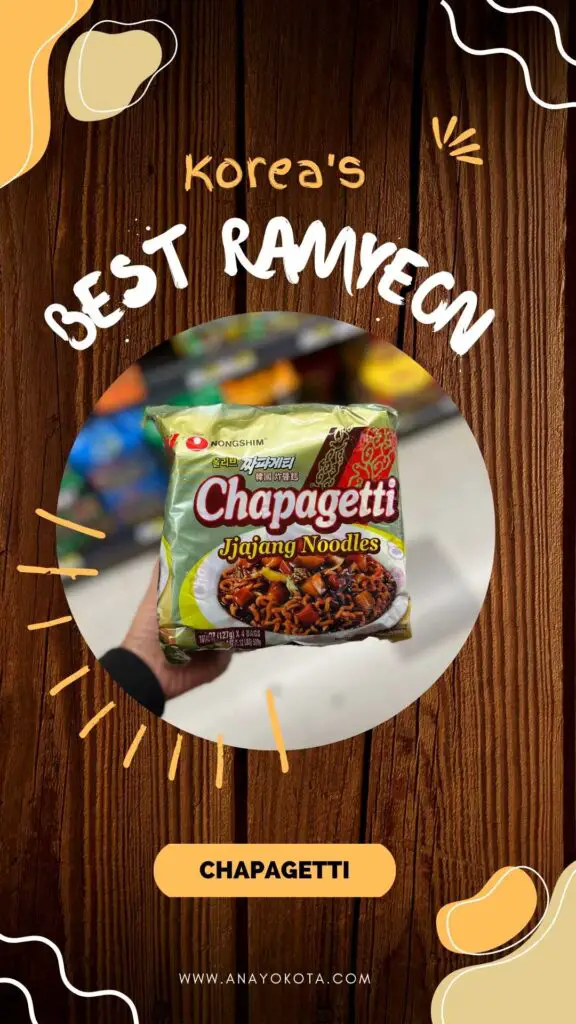 Few noodles are as synonymous with Korean culture as black bean noodles. Certainly one of the best ramyeon on the market.
NongShim's Chapagetti is Korea's first answer to making an instant noodle version of jjajangmyeon. 
Right behind Shin Ramyun, Chapagetti is Korea's second highest-selling instant noodle.
The noodle is believed to appear in the Oscar-winning movie, Parasite. No wonder this brand is popping out everywhere!
NongShim Neoguri Ramyun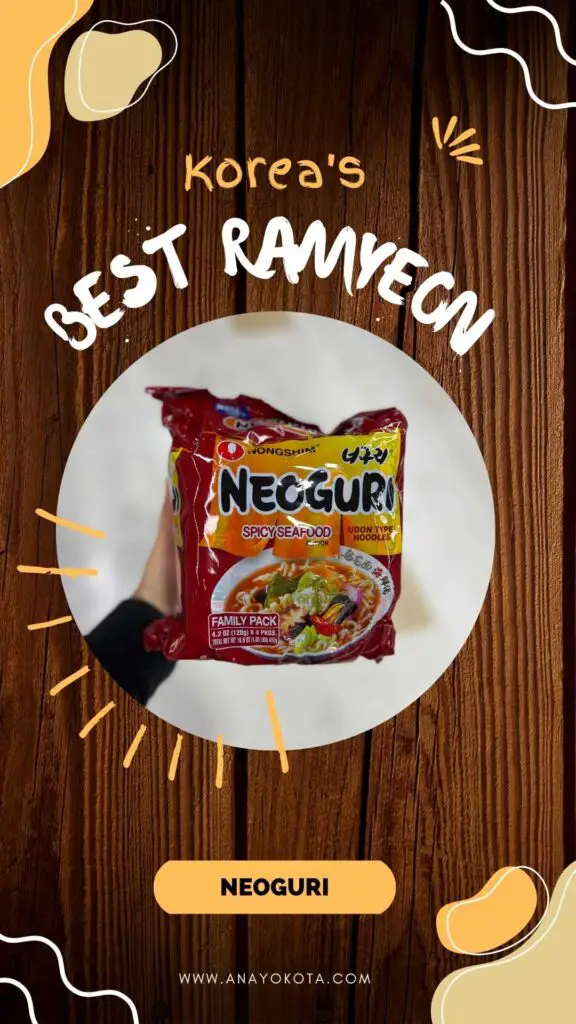 Neoguri is also one of the best Korean ramen brands with a unique seafood flavor.
It has a slightly sweet and spicy broth made with a combination of fish and vegetable stock and thick and chewy udon-style noodles.
Neoguri also comes in a variety of flavors from "jjapaguri" (which is a combo between Neoguri and Chapagetti) or their mild seafood flavor (which in my opinion, is one of the best Korean ramen not spicy!)
Samyang Buldak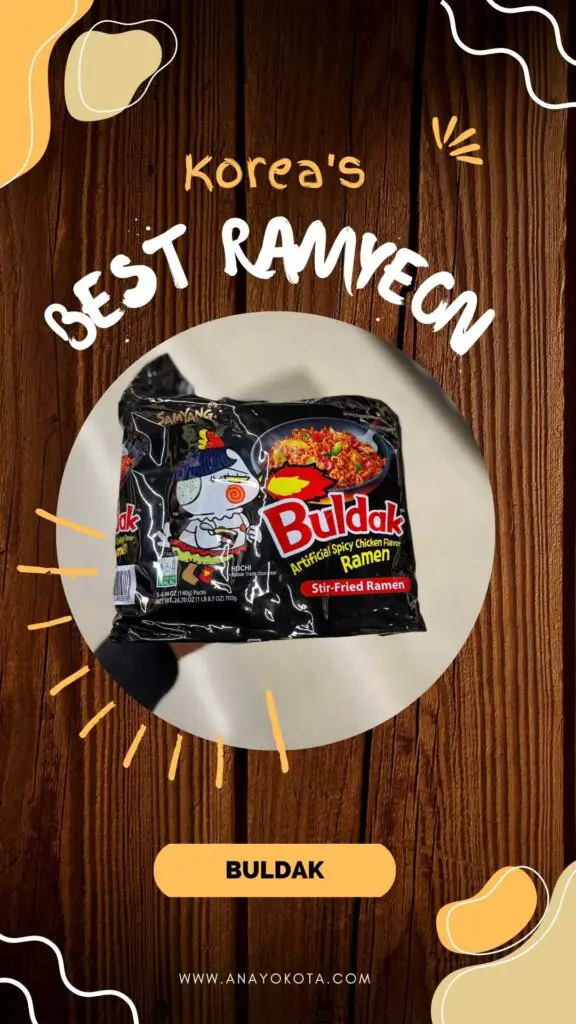 Buldak translates to "fire chicken." You can guess where this is going.
You will likely get your hands on the spiciest ramen brand here: Samyang Buldak.
Don't let the quirky chicken mascot featured on every packet fool you – it may look cute and friendly, but it's out for blood – after all, there is a reason it's breathing fire on many of the packets.
Additionally, the best instant noodles have an entire line of flavors dedicated to this brand.
I'll cover another two here on this list because they are the best spicy Korean instant noodles!
Samyang Buldak x2 Spicy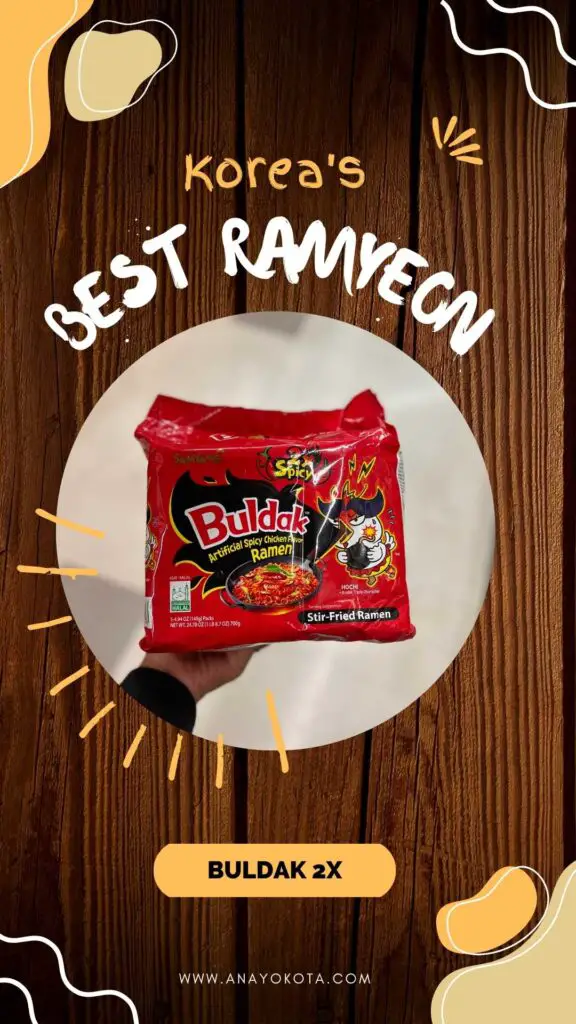 The first flavor from the famous Samyang Buldak brand is their x2 spicy packet. You may have seen many attempt to eat buldak noodles on Youtube without drinking water.
If it is your first time eating it, you should see it more like a challenge with family or friends than a warm and hearty meal. Also, it is a good opportunity to gauge your heat tolerance.
For those who know they cannot handle spice: start with only a quarter of the sauce packet.
Scratch that – don't try this flavor at all!
Nevertheless, the taste of fire chicken is seriously delicious, and you will wonder what keeps you returning for more.
Some will add a slice of American cheese not just on buldak ramen but pretty much any of the ramyeon instant noodles. It truly makes the best ramyeon combination!
Samyang Buldak Carbonara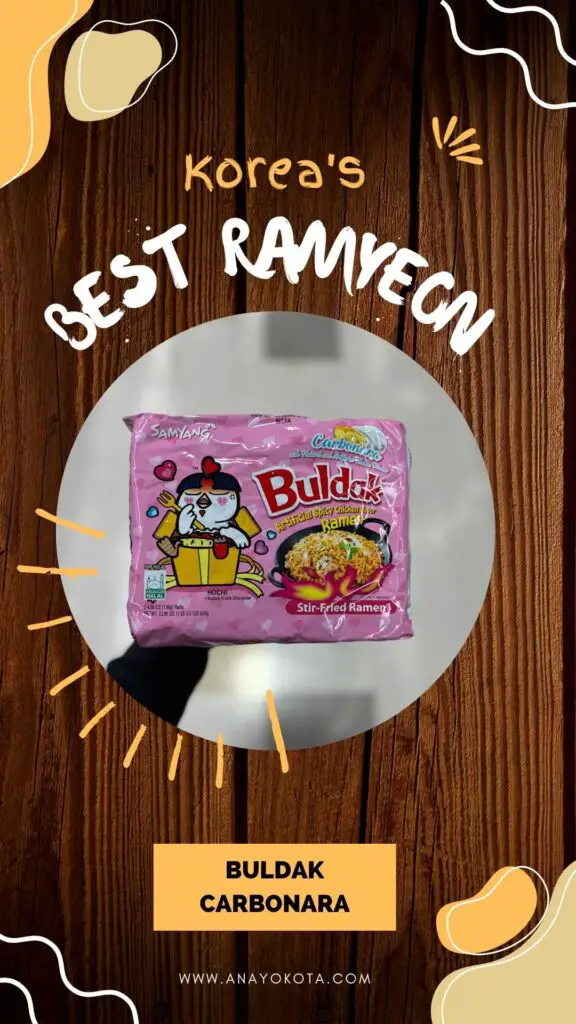 The carbonara is slightly less spicy, and the creaminess helps coat it even more.
Combine this noodle with some cheese, and you're in for a treat.
However, if you're still afraid of exceeding your spice tolerance, we recommend adding only half or a quarter of the spice packet.
Surely, you may find the noodle lacking in flavor compared to the whole packet, but at least you can digest the food.
Note that the only thing that is similar between this instant ramyeon and an Italian carbonara is the name and the creaminess.
You can also expect to experience the classic Buldak flavor, spice, and chewy noodles.
A slightly fishy taste is also common to Samyang's noodles – presumably due to the nori flakes that are part of almost all their seasoning packets.
One of my favorite ways to eat Carbonara ramen is by adding Korean rice cakes. It adds wonderful chewy texture and makes the best ramyeon even better!
Bonus reccomendation: For those who are curious, here's a new flavor that came out: Cheese flavor!
Ottogi
Ottogi has a few notable flavors in their Korean ramen repertoire.
Ottogi boasts an impressive selection of mouthwatering flavors from their smokey bbq flavor to kimchi flavor, to (my personal favorite) "fever" flavor.
Every bite of Ottogi ramen is simply delectable!
Jin Ramen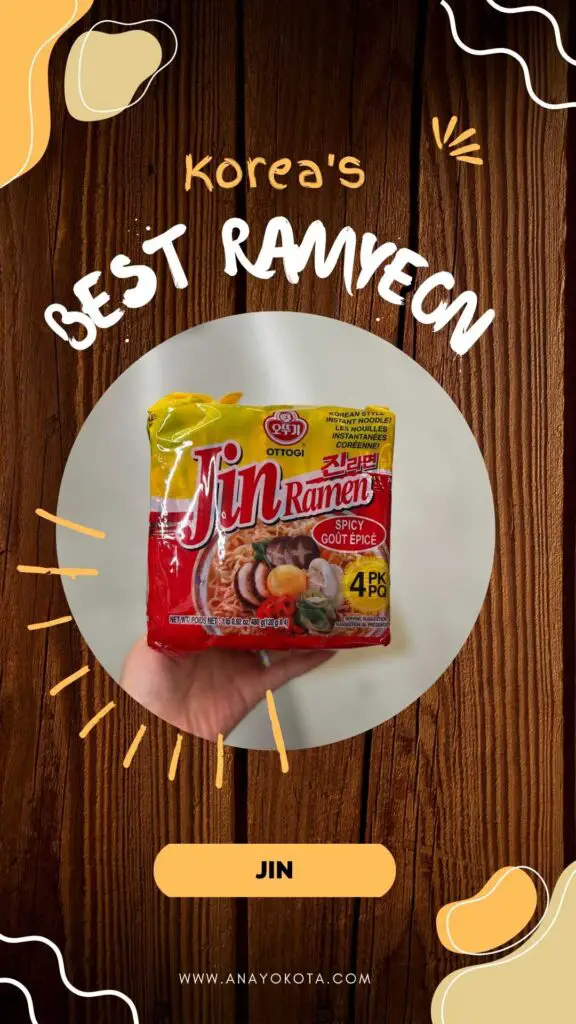 There is no better Korean instant ramen that captures the flavor of a typical Korean barbecue in one hot and comforting bowl of noodles.
Ottogi Jin Ramen combines beef and kimchi notes to provide the ultimate barbecue ramyeon.
The flavor is mild, but red pepper is available for a little more kick. Also, common ramen can rarely get the beefy flavor right like Ottogi does – cherish that.
Yul Ramen (aka: Fever)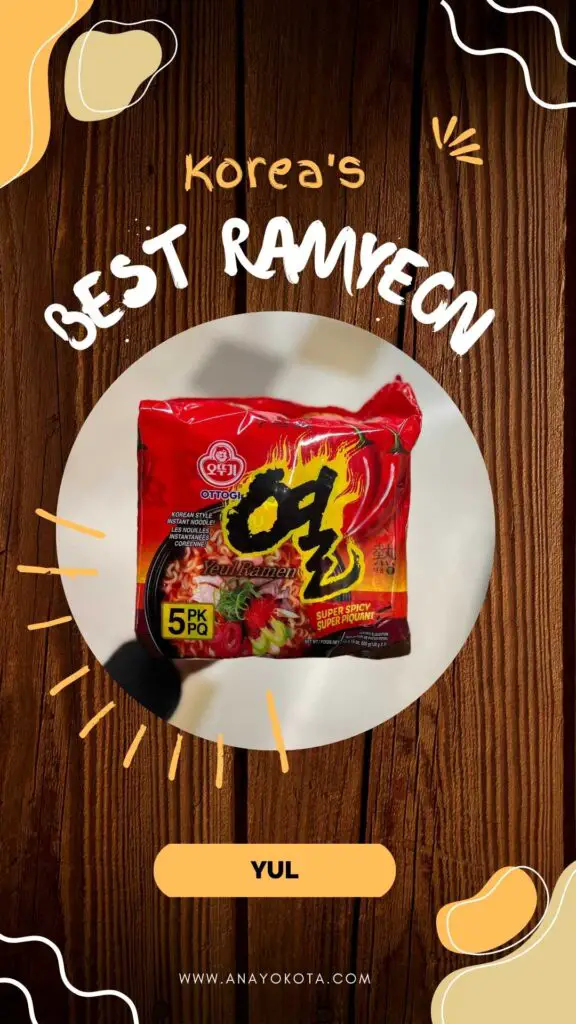 Yul Ramen has a fiery flavor. Hence the name, "Yul," which means "fever," or "burning."
Yul Ramen may not be truly in the best ramyeon category but admittedly I added this one because its my personal favorite.
This is one of my all time favorites because the flavor of this ramen is very full bodied with the perfect level of heat. It is spicier than Shin Ramen but not nearly as burning as buldak.
Since I love this ramen so much, I will often times end it with a nice bowl of instant white rice.
How To Prepare Ramyeon Like Koreans Do
First, you must pick your favorite Korean ramyeon noodles and read the instructions for cooking that pack.
Each one will need a different volume of water, and the spices/dehydrated veggies must be added at different times.
Later, you will learn how to make your ramyeon to your liking, as we all have different ways of making it anyway.
Here are the steps to make ramyeon like Koreans do:
Boil water – Fill a pot full of water and bring it to a boil.

Every brand of instant noodles will require a different volume of water to cook the noodles in, so follow the instructions on the packaging.
Ensure your water is hot enough, as it will cool down once you put the noodles in.

Add noodles – Add the noodles to the boiling water and cook for the recommended time, usually 3-4 minutes, until they are cooked but still firm and chewy.

 Often, when the noodles break apart from their packaged form, it's a sign that they're ready to go.

Add soup base – Drain the noodles and return them to the pot.

Add the soup base, which typically comes in a separate seasoning packet, and stir well to evenly distribute the flavors.
Some soups need water, so it's not always necessary to drain unless you want fresh water for the soup.

Add garnishes – Many Korean instant noodles have dehydrated vegetables, mushrooms, and other garnishes.

Add them to the pot and stir gently.
A recommended garnish is thinly sliced, fresh green onion.

Customize – You can customize your ramyeon by adding toppings like fried eggs, sliced scallions, kimchi, or cheese, according to your preference.

While the noodles are still cooking, drop a raw egg in the middle and let it poach in the water.

Serve and enjoy – Transfer the ramyeon to a bowl and serve hot.

Koreans often enjoy ramyeon with rice, pickled vegetables, or fried seaweed for a complete meal.
Spicy ramen may pair well with a beer or a glass of milk! Some even add milk to their ramen for increased creaminess (or to help with spice).
For those preparing Korean cup noodles, simply boil the water, pour it in the cup until the line and wait a few minutes (usually its 3-5 minutes depending on the brand).
The Final Slurp of Best Ramyeon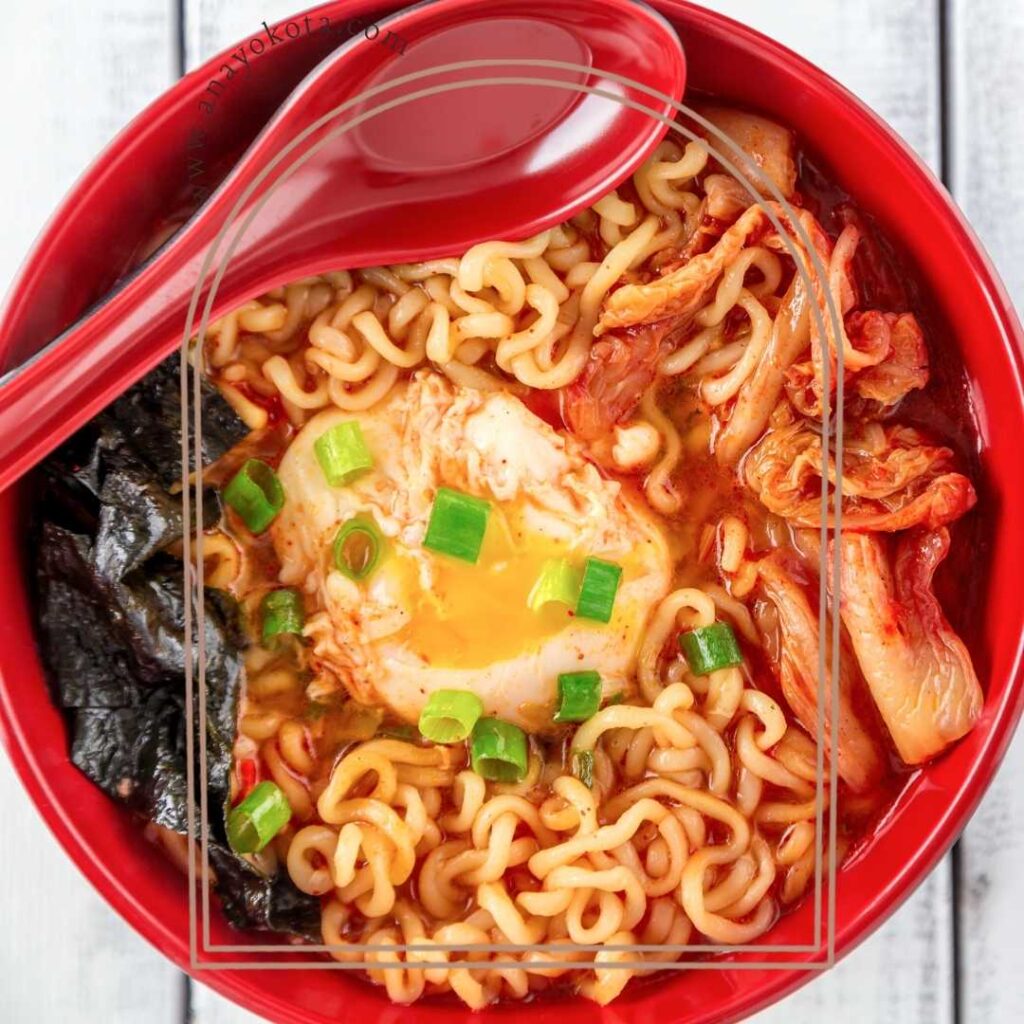 Whatever best Korean ramyeon brand you prefer, you'll learn the best way to make it according to your taste soon.
Students and older adults alike are fans of this quick and easy meal.
Don't forget to add a few vegetables to make the meal more balanced.
Of this entire list, it's hard to just pick one and say that is the best instant Korean ramen.
However, if I had to choose just one, for now, my favorite is Yul Ramyun because of the depth of flavor and curly noodle texture.
I hate soggy noodles and the Yul Ramen noodles tend to keep its texture until the very last noodle.
What is your favorite Korean instant noodle brands? And how do you prepare your noodles? Please share in the comments below