This post may contain affiliate links. Please read my disclosure policy for more info.
Bulgogi chicken is a classic sweet and savory Korean chicken marinade recipe that is so easy and fast, dinner can be made in minutes!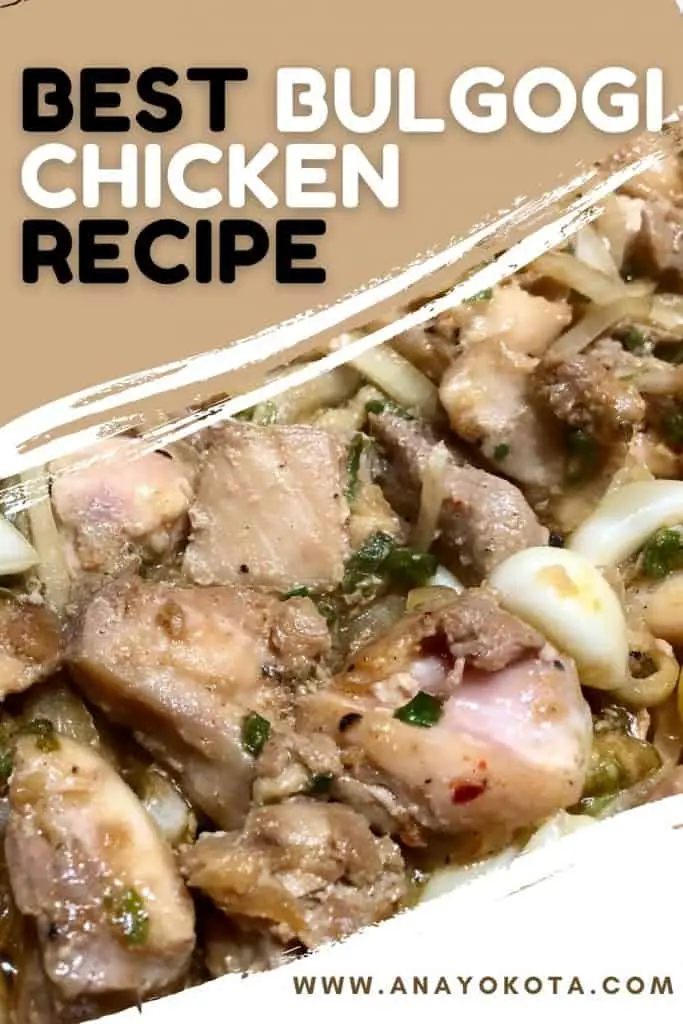 Bulgogi chicken (or dak bulgogi in Korean) has been a go-to recipe for me and my husband on a busy weeknight. Since this recipe is so easy and fast, I can typically cook a chicken bulgogi meal in less than 30 minutes. Not only is this Korean chicken marinade fast and delicious, it's also one of our favorites as next day leftovers because you can change it up and make bulgogi chicken tacos or a chicken bulgogi bowl by adding a fried sunny side up egg. 
Though you can use practically any part of the chicken (bone-in or boneless), I prefer using boneless chicken thighs as it turns out the juiciest and most flavorful – especially if you cook it on the grill. Even still, this recipe goes wonderfully with all types of chicken meat and can be cooked over a skillet too. 
Bulgogi chicken represents the spirit and classic flavors of Korean food. Read on and give this Korean chicken BBQ recipe a try today!
WHAT IS BULGOGI CHICKEN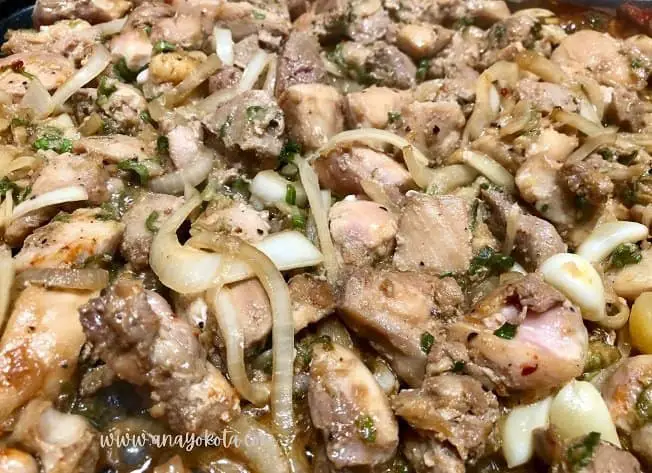 The word bulgogi (불고기) literally means fire (불: bul) meat (고기: gogi). 
불 (bul) : Fire not in the sense of spicey but literal heat, which refers to cooking over high heat such as a grill or very hot skillet. 
고기 (gogi) means meat. This can be all kinds of meat such as cow, lamb, chicken, etc… 
Put the two words together and you get, "meat that is cooked over high heat." 
Though bulgogi was first introduced using beef, other meats such as chicken and pork have been a huge trend amongst Korean foodies. 
What Is Bulgogi Made Of?
You can see several variations between different recipes as some may integrate vegetables such as onions and carrots while others may not have any veggies. Regardless of the recipe, a classic chicken bulgogi will always have soy sauce, sweetener (such as honey or other sugars), ginger, garlic, sesame oil, and mirin (or rice wine). 
In my korean chicken bbq recipe, I keep things pretty simple and add sliced onions and green onions (spring onions) to help brighten the flavors. Additionally, I prefer my food to be less salty and I am pretty heavy handed when it comes to garlic and ginger. Since many of the intense flavors of garlic and ginger evaporate during the cooking process, it won't overpower the dish. 
What Does The Bulgogi Sauce Taste Like?
The bulgogi sauce tastes like a lighter version of chicken teriyaki – sweet and savory. The sweetness mostly comes from honey and brown sugar while the savoriness comes from the soy sauce. Some may say bulgogi chicken is Korean style chicken teriyaki. However, I would point out that though many of the ingredients are similar, this Korean chicken BBQ recipe is not as thick as teriyaki. 
What To Serve With Bulgogi Chicken? 
Bulgogi chicken is best with a warm bowl of your favorite rice. My favorite is purple rice. 
When it comes to banchan, I like to keep things very simple and eat chicken bulgogi with fresh perilla leaves, kimchi, and pickled Korean radish. 
However, the world is your oyster. I've been eating this delicious recipe with fried rice, noodles, bulgogi chicken pizza and even made bulgogi chicken tacos!
HOW DO I MAKE MY OWN BARBECUE MARINADE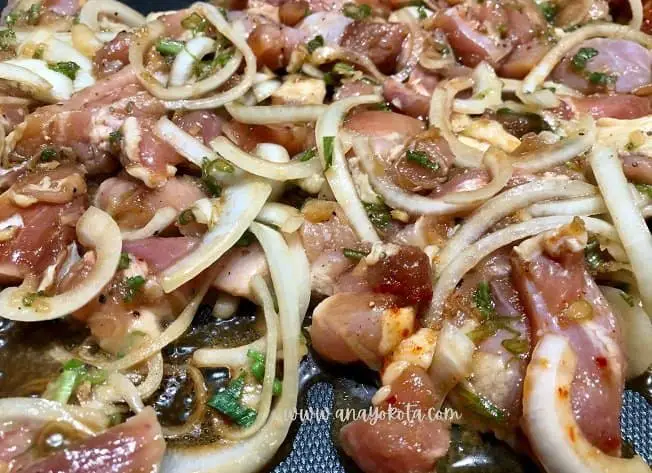 Sure, you can purchase bulgogi barbecue marinade at your local Korean market. But not only do the bottled marinades have unwanted ingredients such as preservatives and fillers, making your own barbecue marinade is so easy and just tastes better. 
Bulgogi barbecue marinades are one of those recipes that is very flexible when it comes to adjusting flavors. If you like things saltier, simply add more soy sauce. If you prefer a sweeter bulgogi chicken, add more sugar. As mentioned earlier, I love garlic and ginger; therefore, my recipe will favor those ingredients. 
As you can see, one of the reasons why this recipe is so easy is because it's more about proportion ratio preferences rather than exact measurements. Nevertheless, you still want to follow a guideline so that it still has the bulgogi essence. 
With many local grocery stores and online grocery platforms carrying more Asian inspired items, you can easily find the bulgogi barbecue marinade ingredients. 
PRO-TIPS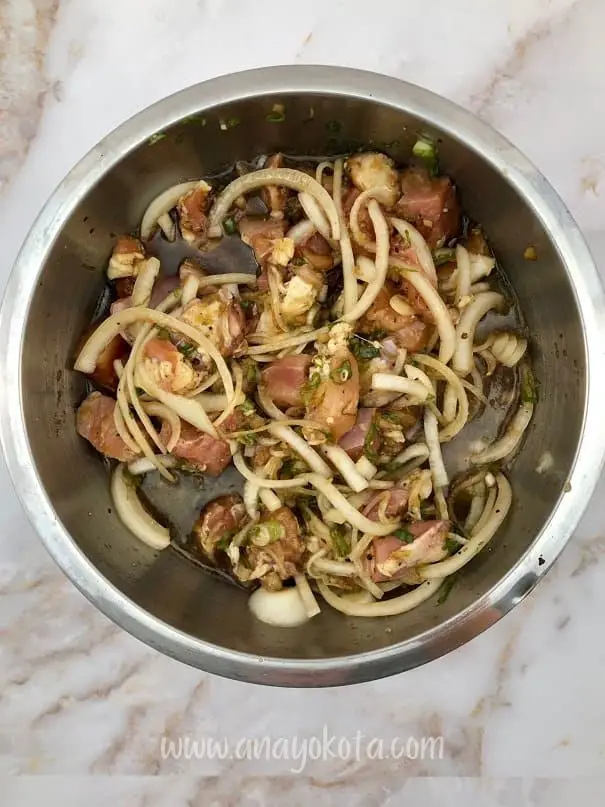 Fire means high heat. Regardless if you are using a grill or a skillet, always wait until it is nice and hot before placing the bulgogi chicken down. This will ensure a nice char and delicious smoky flavor. To enhance the Korean spirit, I highly recommend cooking this recipe over a table grill. It's fun and you can ensure that every piece will be hot. 
Guidelines not rules. As mentioned earlier (as with many Korean recipes) this Korean bbq chicken recipe is not meant to be strictly followed; rather, it should be used as a guideline to help you find the proportion of flavors you prefer best. However, I am very proud of my recipe as I've perfected and cooked this for years. I know you will enjoy it but encourage you to modify any part of the recipe to suit your palate. 
Marinate. If you have time, marinade the meat. The longer the better. Though this chicken bulgogi recipe is great without marinating it, you can experience deeper flavors if you choose to marinate before cooking. When I have time, I marinate the meat for about 2 hours on average. I have also made the bulgogi chicken marinate and stored it in the freezer for a couple weeks and it was still super delicious!
FAQ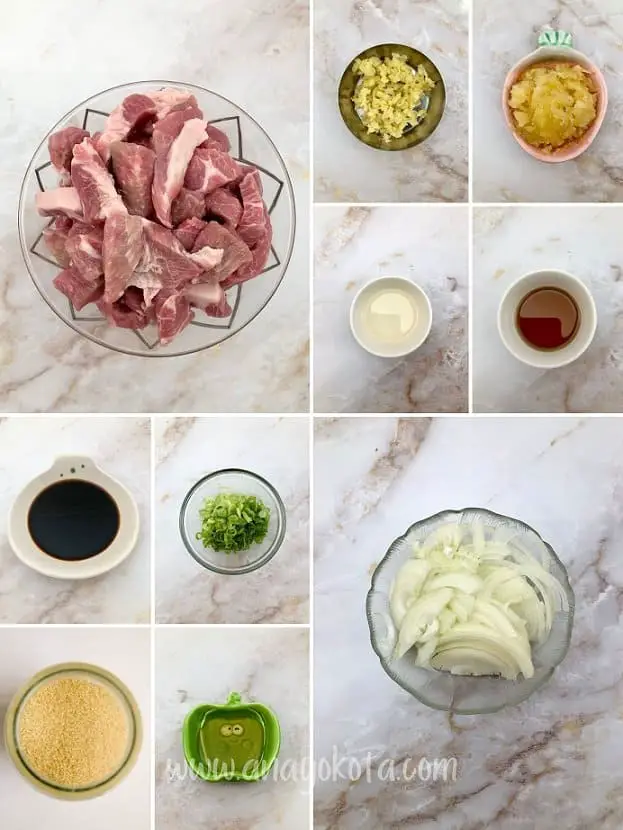 Is bulgogi chicken spicy?
It is not originally spicy but people have modified the recipe and made spicy bulgogi a huge staple. Typically when you want to make bulgogi spicy, many recipes ask for gochujang (red chili pepper paste) and/or gochugaru (ground red chili peppers). If you are looking for a spicy bulgogi chicken recipe, I have a spicy bulgogi pork recipe on the blog that you can easily supplement the pork for chicken, making it spicy bulgogi chicken. 
Is chicken bulgogi healthy?
It can be depending on how it is made. You can easily substitute the ingredients for pseudo ingredients such as coconut amino for soy sauce or monk fruit sugar for plain white sugar. I believe the bulgogi chicken recipe is healthier when made from scratch rather than using store bought because you can control the quality and quantity of each ingredient. For example, since I like to purchase most of my ingredients from local farmers and/or organic, I know I am eating the healthiest quality. 
Is chicken bulgogi Korean?
Yes. The word, "bulgogi" is Korean meaning fire meat. Not in the sense of spicy meat; rather, meat that has been cooked over very high heat.
What's the difference between Kalbi and Bulgogi Marinades?
The biggest difference between Kalbi and Bulgogi marinade is the meat. Kalbi uses short ribs where bulgogi will use some type of thinly sliced beef such as brisket. Additionally, you can see bulgogi marinades on other types of meats such as pork and chicken. 
Is bulgogi sauce a good marinade?
Absolutely. Bulgogi sauce is a good marinade because it is very fast and easy to make. You can also modify the dish by adding more or less of most ingredients without losing the Korean spirit of bulgogi. 
What is the most delicious Korean food should I start with as a foreigner?
Korean marinade for chicken is also a fun recipe to make for your friends and family that may want to try Korean bbq for the first time. The sweet and savory flavors are not overpowering and are easy on the tongue making any Korean newbie a happy camper. 
How do you make bulgogi beef at home in the U S?
You can make bulgogi beef at home by following my bulgogi chicken recipe but replacing the chicken with beef. Easy as pie.
KOREAN BULGOGI CHICKEN RECIPE
Cuisine: Korean
Difficulty: Easy
Ingredients
2.81 lbs (45 oz or 1264 g) – boneless chicken thighs cut into thick bite-sized chunks

6 tbsp (88.7 ml) – dark soy sauce

1 ½ tbsp (18.75 g) – brown sugar

2 tbsp (42.5 g) – honey

2 tbsp (30 ml) – mirin (or cooking rice wine)

2 tbsp (10.5 g) – minced (or grated) ginger

2 tbsp (17.24 g)- minced (or grated) garlic

2 ½ tbsp (37 ml) – sesame oil

1 medium (280 g) – onion thinly sliced

1 bunch (3-4 sprigs or 90 g) – green onions thinly sliced

Pepper to taste 

Optional Garnish: ground toasted sesame seeds
Directions
If you do not have time to marinade the meat, place all the ingredients in a large mixing bowl and massage all the ingredients together so that each piece of chicken is coated well. 
If you do have time, either in a large plastic storage bag (Ziploc) or large mixing bowl, add all the ingredients together and mix well. Place the marinated raw bulgogi chicken in the refrigerator for at least 30 minutes (up to 24 hours). 
Heat up the grill or skillet over high heat. 
Gently place the meat on the skillet and cook until chicken is thoroughly cooked (or internal temperature reaches 165 degrees Fahrenheit (73.8 degrees Celsius). 
Place the cooked bulgogi chicken on a nice serving dish and garnish with ground sesame seeds. 
Enjoy!
Notes
Another optional garnish is green leaf lettuce. It will bring a fresh element to the dish and great color contrast.
I hope you give this Korean bulgogi chicken stir fry a try. If you want more bulgogi goodness, check out my mouth watering spicy bulgogi pork recipe. 
What other sides or accompaniments did you eat with your Korean chicken? Would you like to see other recipes that use bulgogi such as bulgogi chicken tacos, bulgogi chicken pizza, or even bulgogi fried rice? Please let me know in the comment section below.