This post may contain affiliate links. Please read my disclosure policy for more info.
Date picnic food is popular in Korea, especially in Spring when the cherry blossoms fill the air. According to K-dramas, inviting someone on a romantic picnic is a sure-fire way to win their heart. What are the best picnic foods to feed your soulmate?
I love going on outdoor dates with my husband. From hikes through mesmerizing landscapes to peaceful walks through quiet parks, it's my kind of date. Activities perfect for impressing a date (or your spouse!) abound when it comes to exploring the great outdoors with delicious date picnic food!
But some people, myself included, enjoy eating almost as much as adventuring. Thankfully, for us foodies, nothing screams romance quite like prepping date picnic food and setting off together in search of somewhere special to share.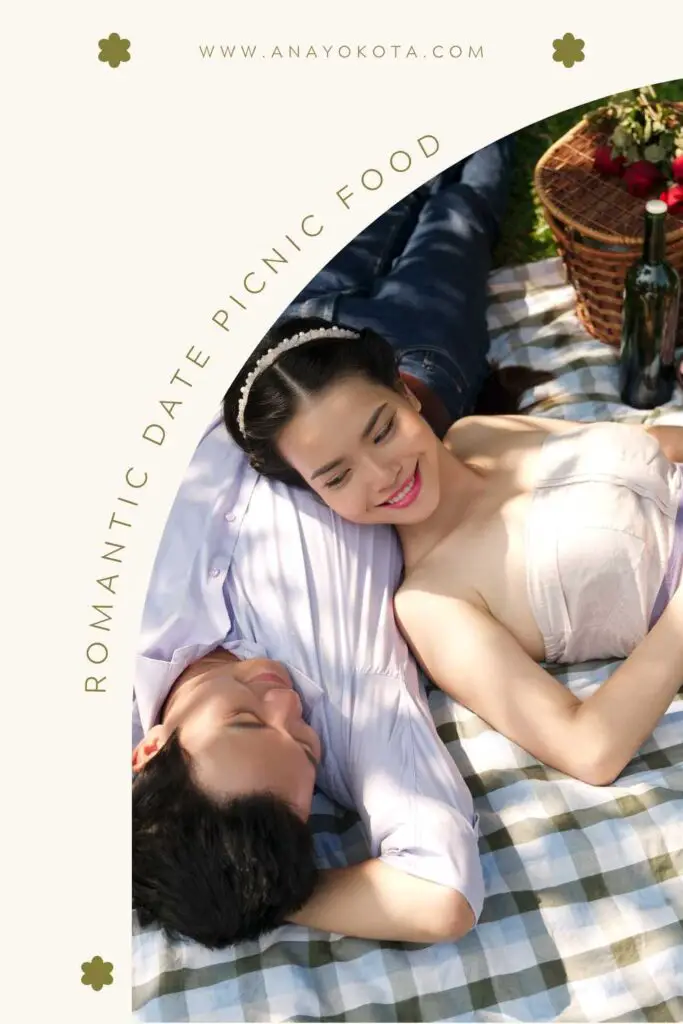 My favorite sort of date? A romantic picnic that is one step closer to nature than usual – in the very place we're exploring! Packing the right outdoor picnic food combos can bring extraordinary flavors to any scene: A gimbap plate nestled in a picture lookout, with juicy seasonal fruit. Picnics have so many possibilities, I love dreaming and inventing every time!
What Food Do You Bring On A Picnic Date?
Although the purpose of a picnic date set up is to get to know someone or enjoy their company, Koreans put food at the center of every event and celebration. Sharing food is a sign of affection, even devotion, so if your Korean oppa asks you if you've eaten yet, you know he's interested.
Picnic date food in Korea is often bought at convenience stores or even delivered to your picnic spot. Organize a picnic with a carefully curated menu and setting to make it a little more special. The ideal date is August 14, Green Day, when Koreans head outdoors to enjoy summer.
Fun fact: In Korea on the 14th of every month, people celebrate their relationships in various themes. For example, White Day (March 14th) is when the men reciprocate romantic gifts like candy and presents to their special someone who has given the a gift a month prior (Valentine's Day, which is February 14th).
Picnic Date Essentials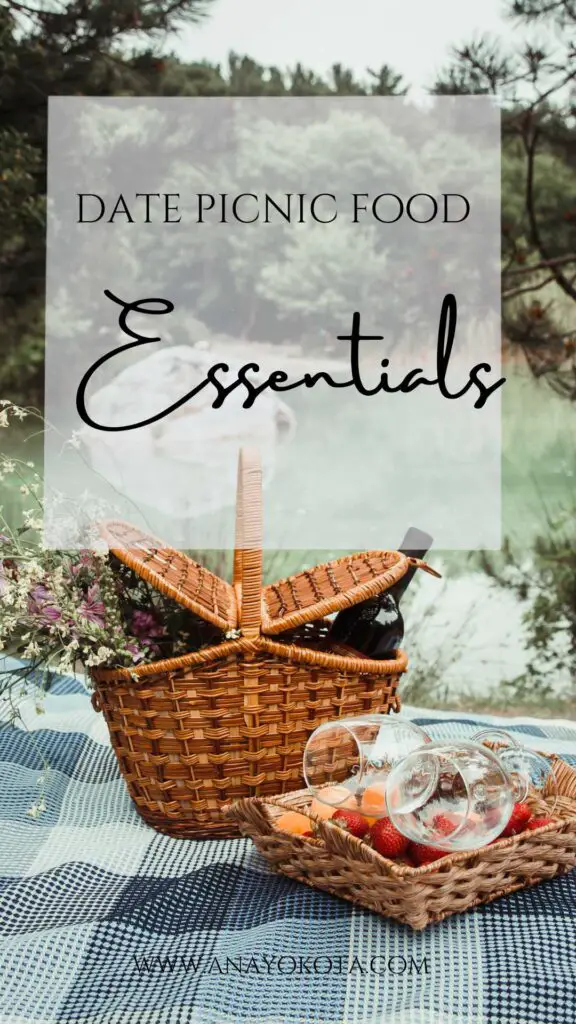 Korean picnics are often spontaneous affairs where you turn up at a park, rent a picnic mat, and order some fried chicken and beer. A picnic date needs a bit of planning. Logistically, you'll want utensils, research a beautiful spot where you can have quiet conversations, and prepare fun conversations to enjoy the time together.
Now that we have the basic prep essentials, let's look at the date picnic food essentials for a Korean picnic.
Kimbap (Seaweed And Rice Rolls)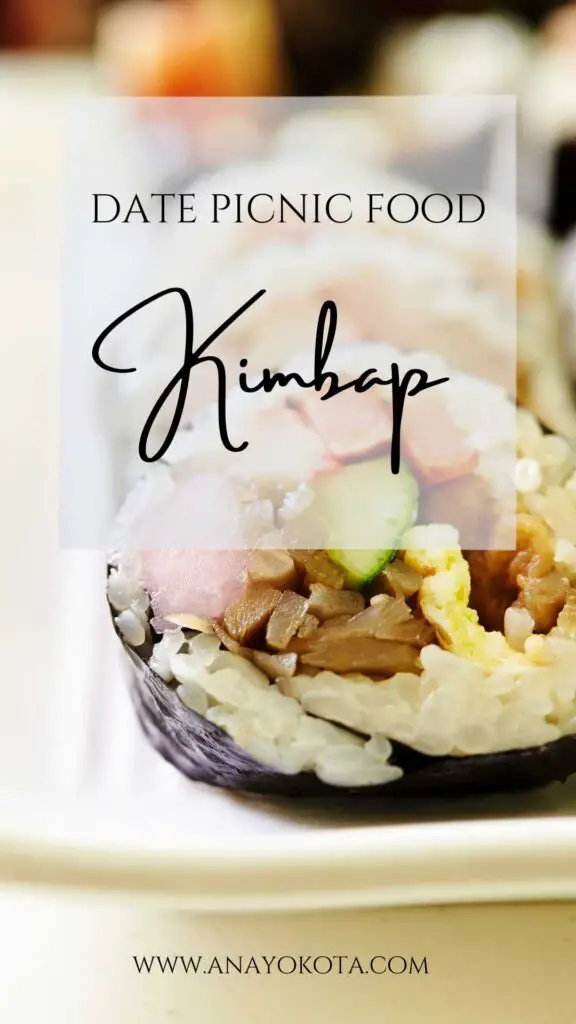 Kimbap or gimbap is the most traditional Korean picnic food, consisting of rice and a savory filling rolled in seaweed and sliced. Fillings vary according to taste and could include egg, veggies, crab meat, tuna, ham, or cucumber. Pack a side of yellow pickled radish and some chopsticks, so you can feed your bae these luscious mouthfuls.
To make gimbap even easier and interesting, you can always make your own Triangle Gimbap. It is literally is in the shape of a triangle with rice and a filling of your choice. The best part of triangle gimbap is that it stays crispy until you unwrap the packaging.
Jumeokbap (Rice Balls)
Another picnic essential is rice balls, the most typical covered with dried seaweed. Enjoy these snacks mixed with tuna, ham, beef, or vegetables. Some may refer to jumeokbap as Japanese onigiri.
Yubuchobap is basically rice balls (jumeokbap) wrapped in a marinated deep-fried tofu. They are as delicious at room temperature as hot, with a delightful sweet-sour flavor that Koreans love.
Yubuchobap is a good picnic food for a date because it isn't messy and very filling. The healthiness of these rice balls can vary depending on the ingredients you decide to mix. I generally like to put chopped carrots, carrots, and ham. For a step by step tutorial, come check out my yubuchobap recipe.
Kimchijeon (Kimchi pancake)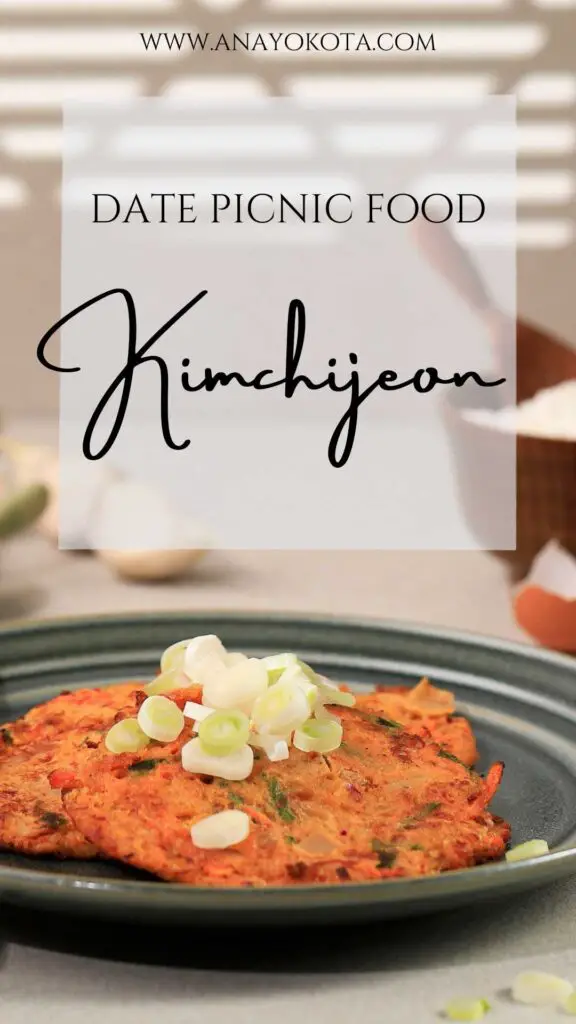 For a savory side dish, make kimchi pancakes, one of Korea's comfort foods. These wheat-based pancakes are hot, crispy, spicy, and salty, depending on the kimchi you use. These are light but filling and are easy to transport.
I prefer to make my kimchijeon without any accompanying sauces because the pancake itself already has plenty of salt from the fermented kimchi. The best picnic foods for a date are the ones where you can easily pack and eat. Try this one on your next coup picnic.
Sandwiches
Koreans have embraced sandwiches as popular picnic food, usually made on tender, almost sweet milk bread. Here are some favorite toppings if you're making it open faced (or filling if you decide to make a full sandwich):
Tangy egg mayonnaise with pickles and mustard
Tonkatsu (breaded pork cutlet) with mayonnaise, mustard, and finely chopped slaw
Chicken bulgogi with cabbage pickle
Pork bulgogi with pickled onions
Desserts
Always include something sweet to finish off the picnic. Koreans love sweet foods, whether homemade or not. Here are some simple suggestions:
Washed and chopped fresh fruit, especially strawberries, are delicious, especially if you provide Nutella or whipped cream for dipping.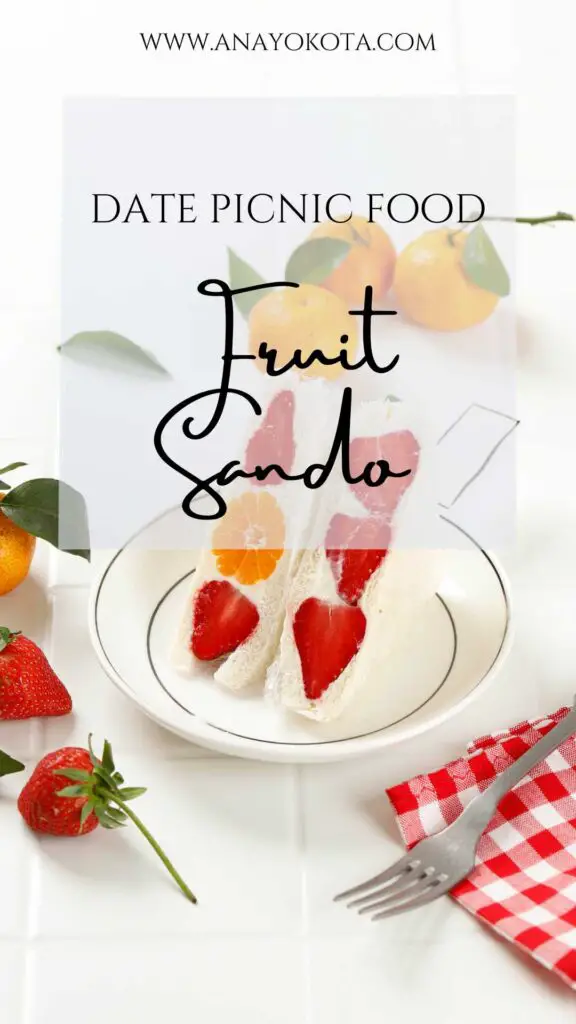 Fruit sandos made with finely sliced fruit and whipped cream are a Japanese invention Koreans love. These are somewhat like Victoria Sponge cakes in sandwich form.
Buy some tiny fruit tartlets or chocolate chip cookies to snack on.
There's sure to be a convenience store selling bingsu, the famous Korean shaved ice dessert. Choose from traditional fillings like red bean paste, or add condensed milk, watermelon, and flavored syrup. This is typically a shared dessert.
Korean ice cream. On a hot day, cooling down with Korea's iconic ice creams are perfect picnic foods for a date.
Beer is a standard picnic dessert, but on a date, you may want to up your game and serve something more elegant:
Try peach soju, a white spirit similar to vodka mixed with refreshing peach yogurt. It is fresh-tasting and less alcoholic than other white spirits.
Makgeolli, or rice wine, is a picnic essential. Serve it chilled.
Serve well-chilled rosé wine or Prosecco, but make sure you have appropriate wine glasses.
Include plenty of cold water and watermelon soda if it's a hot day.
For a non-alcoholic drink option, a classy choice is Sujeonggwa (cinnamon punch).
Cheap Picnic Ideas For Couples
You can still enjoy a romantic picnic even on a budget. Choose a beautiful picnic spot to make the most of the scenery, and remember that sharing good picnic foods for a date is what's important, not the cost of the food.
Your obvious starting point is kimbap, but here are some other delicious picnic foods that won't break the bank.
Mandu (Dumplings)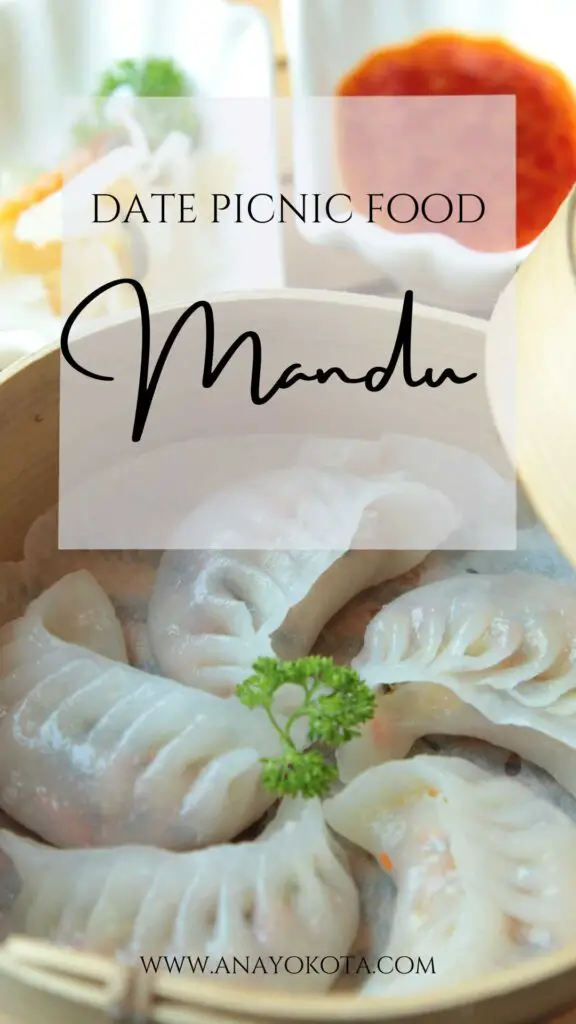 Fried, steamed, or boiled dumplings are among the cheapest Korean foods. They're satisfying and delicious, as you can choose your favorite filling, usually pork or kimchi. Buy some from the nearest vendor or pack your own. They're as delicious hot as at room temperature.
Ramyeon (Ramen)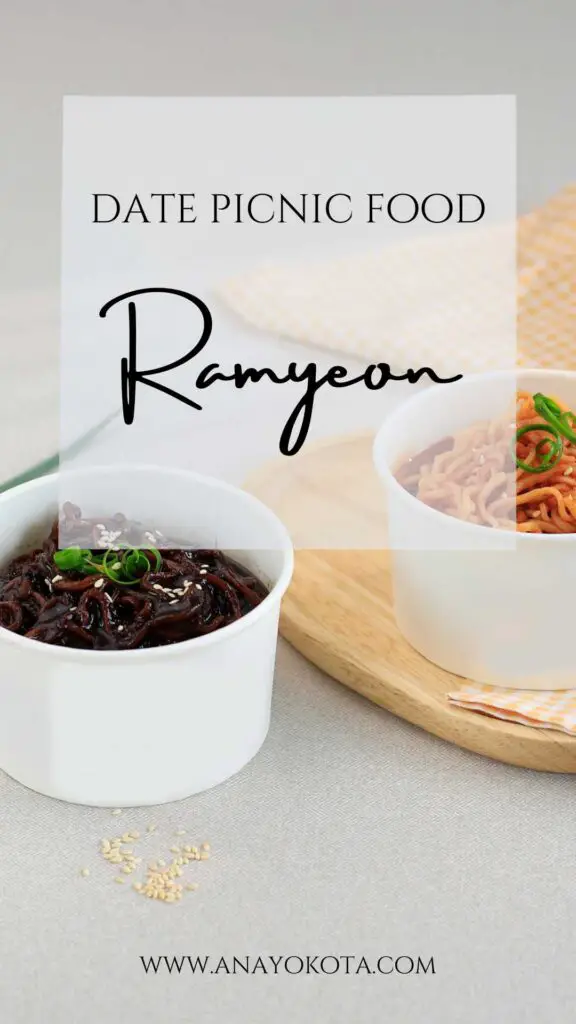 Another budget-friendly picnic food is ramen noodles, which you can pick up from the nearest convenience store. They're not the most nutritious or romantic picnic foods but they are spicy, tasty, and filling.
Though ramyeon may not be the most romantic date picnic food, a couple picnic date ideas to make even ramyeon cute and romantic is to have some romantic pop songs playing in the background and a few good date questions ready to make the conversations interesting.  
Sauna Eggs
Like boiled eggs, these eggs are simmered in hot steam, hence the name. Most stores sell these tasty, nutritious snacks, which could form part of a picnic with kimbap and fruit. (Just make sure you aren't buying raw eggs.)
Gaerin Mari (Omelet)
It's easy to make these rolled omelets, which you can fill with your favorite flavors, whether kimchi or ham and cheese. Roll and then slice the omelet into bite-sized portions. These are ideal picnic food as they're portable and edible at room temperature. Make sure you've got ketchup (or even kewpie mayo) for dipping or season very well so you don't need sauce.
Street Food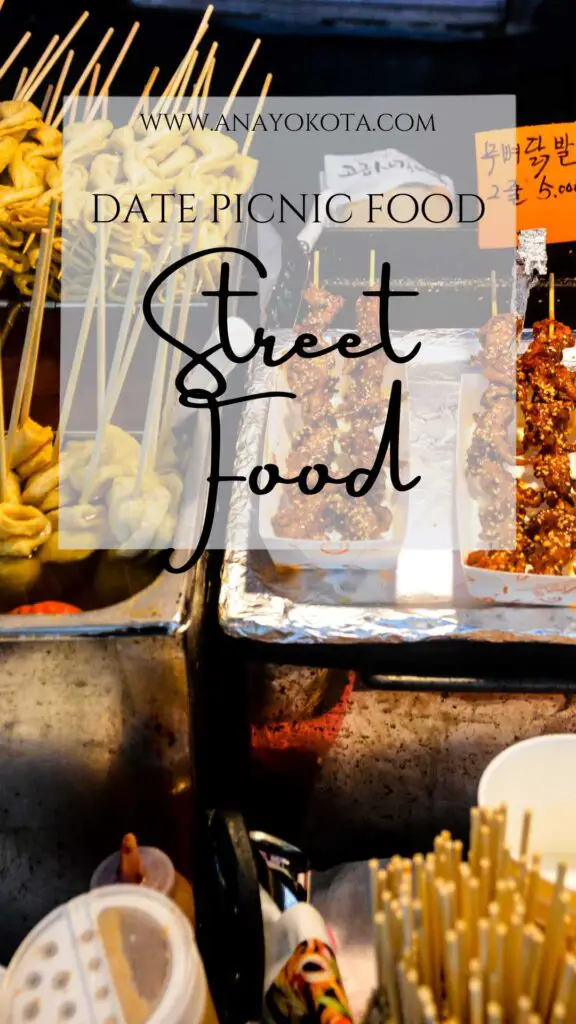 Some of the cheapest Korean foods you can find are at street markets. Try stir-fried noodles, roast sweet potatoes, hotteok (pancakes), street toast, or corn dogs.
I know it may sound strange but a fun date that I've been on was street food vendor hopping. It is what it sounds like. You start at one food truck for one small serving to share and then go to the next until and so forth.
Food truck hopping is not only fun but great when satisfying delicious picnic food ideas for a date.
Desserts
Don't worry if your bank account is feeling tight. You can still create an indulgent and romantic picnic for your special someone. All you need are a few strategic buys.
Delicious dessert recipes made with the bare minimum cost more in love than they do in cash! Put your cooking skills to the test, or get creative with store bought sweets. There's something for every budget when it comes to romantic picnicking.
Get ready to impress your sweetheart – without breaking the bank.
Fruit
Fruit is very expensive in Korea, especially imported tropical fruit. However, you can find cheaper, locally-grown strawberries, watermelon, and persimmons especially when you buy in season.
If you are able to find a good variety of fruit and have some extra time, impress your date by making delicious fruit jelly – Japanese style! Fruit jelly is so simple and cheap to make and best of all, its super healthy for your digestive system, too.
Pepero
Whether you choose the Pepero or Pocky brand, you must include these chocolate-dipped cookie sticks. Any picnic on November 11th would have to include them, being Pepero Day, where you give your loved one their favorite Pepero snacks. Entice your date by reminding them of the Kissing Game that made Pepero a household name in Korea.
For more Korean candy options such as Choco-pie or plum candy, I have a full list for you.
Indoor Picnic Ideas
Having an indoor picnic is ideal when the weather isn't playing along. You avoid mosquitos, bees, and ants and don't have to pack food, crockery, cutlery, and décor. Another bonus is that an indoor picnic is intimate and private.
Set up a picnic area, with a low table covered in gorgeous cloth and cushions, soft rugs, and ottomans as seating.
Serve food that's a little less portable and messier to eat since you'll be able to wash your hands. Here are some ideas:
Bibimbap (Rice bowl)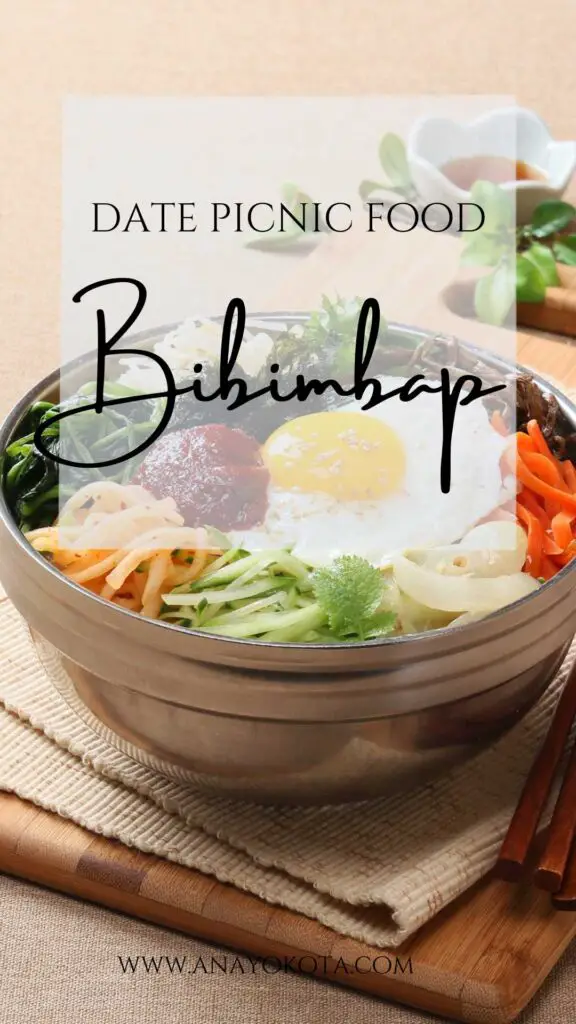 One of the national dishes of Korea, bibimbap, is a bowl of white steamed rice with various toppings. Put out small dishes of toppings so that you can help yourselves to sautéed and raw vegetables, marinated meat, and gochujang. Once you've mixed the ingredients, top them with a fried egg.
Japchae (Rice noodles)
Prepare a bowl of stir-fried rice noodles for the picnic, with tender beef and thinly sliced vegetables.
A picnic is an excellent idea for a first date. It's casual, comfortable, and can be kept short or extended for as long as you like. To make your first date picnic a success, try these suggestions:
Choose A Beautiful Location
For a first date, you don't want too remote or isolated a spot, so choose a pretty park. Picking the ideal spot and setting out the food keeps you busy and avoids awkwardness. The natural scenery can provide other topics of conversation.
Natural locations also lend themselves to activities to extend the date, like taking a walk, rowing a boat, or flying a kite. You could also pack cards or board games to keep yourselves busy.
Dress To Impress
Koreans are fashion-conscious and will dress well for first dates. Picnic attire for women is often cute summer dresses with large straw hats, maxi dresses, or a pair of comfortable shorts with a pretty blouse.
Set The Scene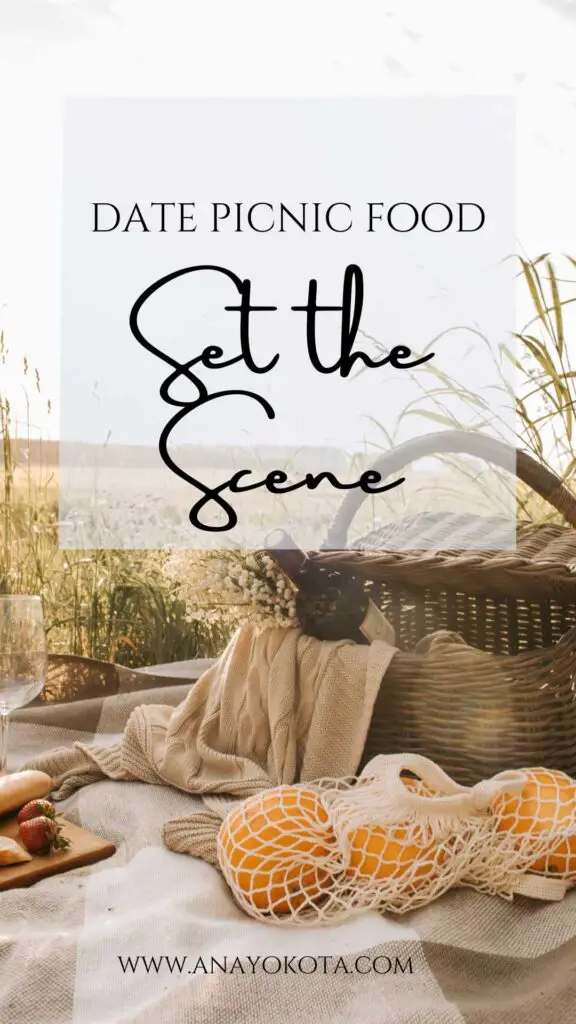 Cute picnic ideas are an ideal photo opportunity, so set out the picnic in an appealing way. Use a basket big enough to pack goodies, crockery, cutlery, glasses, and wooden boards or plates for serving. Instagrammable picnics include baskets of flowers, candles, and fairy lights. Bring a small speaker to play your favorite K-pop, and make sure you've got comfortable pillows and rugs for a snuggle.
Serving Perfect Picnic Snacks
Decide who will be responsible for food and drinks.
Picnic food is usually eaten with your hands, allowing you to pop a morsel into your date's mouth. But avoid a mess by having plenty of wipes and water-free sanitizer.
Conclusion To Date Picnic Food
Date picnic food is a charming Korean tradition, whether yubuchobap shared with a friend or a carefully curated basket for a more romantic meal. For a first date, you should make an effort to look good, set a beautiful meal, and be ready to chat and relax together.
I understand that some may want to know what it's like dating in Korea. Dating in Korea has become more modern than what it once was; yet, the essence of Korean innocence still lives within the culture.
You can still see many enjoying date picnic food when enjoying each other's company. I hope these food ideas for a picnic date has inspired your dating game. What's your favorite date picnic food? Please share them below.