This post may contain affiliate links. Please read my disclosure policy for more info.
Korea has a rich history, culture, and many beautiful traditions. Doljanchi is one of these traditions and centers around a child's first birthday. Not only is doljanchi a celebration of a child's first birthday it also includes a ritual that is thought to provide insight into the child's future.
We have put together what you should know about doljanchi: from its history to its ritual, food, fashion, and gifts. Koreans are friendly and welcoming people, so don't be surprised if you find yourself invited to doljanchi parties by colleagues and neighbors. Doljanchi is a beautiful celebration of life, and if you get an invite, I strongly recommend accepting it. It's a very life-affirming experience.
Coming from personal experience, Korean one year birthday parties are so beautiful not only because you are celebrating with friends and family but also because of the priceless moment of singing "Happy Birthday" for the first time to the birthday baby.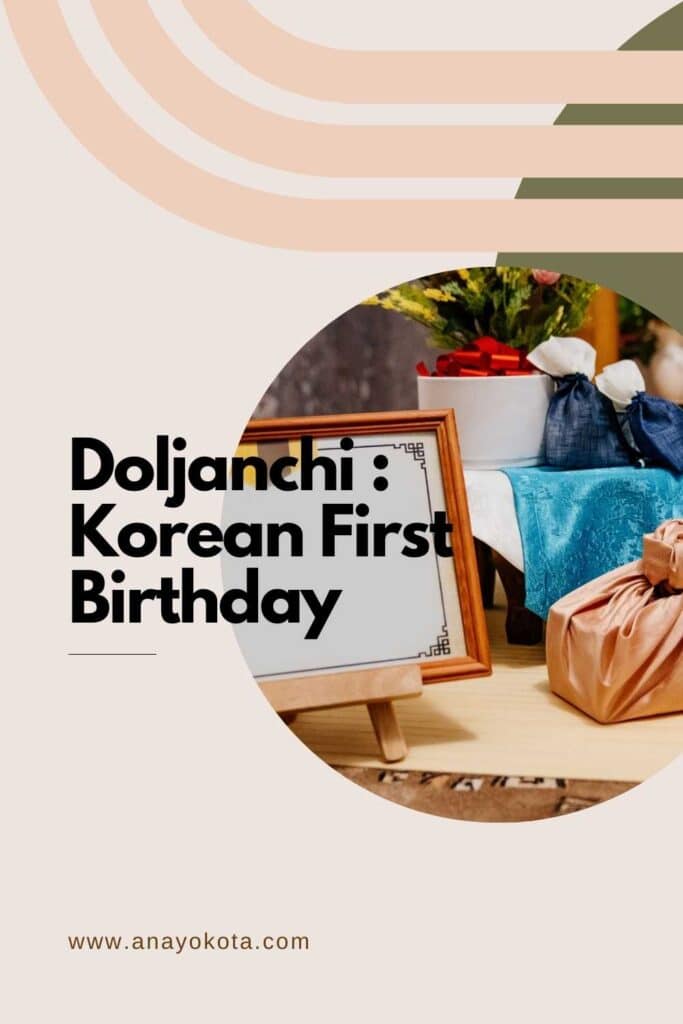 History Of Doljanchi And Why It's So Special?
Birthdays are celebrated worldwide. In Korea, specific birthdays take on a lot of significance, arguably the most crucial birthday celebration being that of the dol party.
The word doljanchi itself is self-explanatory, 'dol' refers to the 1st 12 months, while 'janchi' means feast or celebration. The dohl party is the most important birthday for a child.
Korean dohl history has been a way to celebrate survival. Infant mortality rates in South Korea were very high in the past, with babies only having a 50% chance of survival in the 1800s.
A first birthday was a significant milestone in a child's life. By surviving until age one, a child had a much higher chance of reaching adulthood. During this observance, the families and friends would offer prayers for the health and success of the child.
The first birthday was so important that the celebrations surrounding this event would be communal affairs, with entire villages participating in the festivities. Beyond being a birthday bash, Doljanchi items are also a look into the child's future through the practice of the ritual Doljabi.
Doljanchi was commonly held in a central or shared area of a village. Today, parents will hire out a hall or restaurant.
Although mortality rates have decreased substantially in modern times, the celebration remains prominent today. It provides a beautiful opportunity for Koreans to honor their heritage.
Korean 1st birthday traditions have become a major cultural celebration, and the extent that some families will go can rival weddings in size and expense.
Doljabi Vs. Doljanchi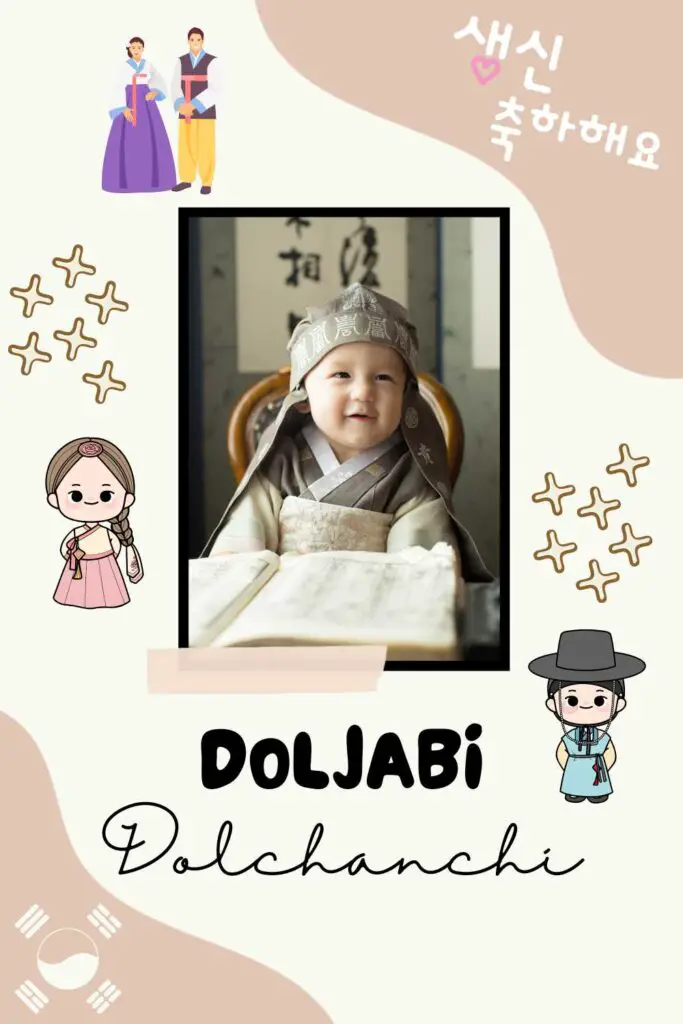 While doljabi forms part of Doljanchi, the two are different. Doljanchi is the birthday celebration itself, while doljabi is the ritual part.
Doljabi is a fun way to predict a child's likely occupation and success. Doljabi is like a fortune-telling ritual, where various items are placed on the 'dolsang' (doljanchi table) before the baby. The idea is that by choosing a specific item, the baby provides a view into their future.
The doljabi items have changed over time and generally reflect what parents may wish for their children. Nonetheless, a few things have stood the test of time and have specific meanings.
The following are some of the traditional doljabi items and their meanings:
Yarn = the child will have a long life
Money/coins = the child will be wealthy
Spatula = the child will be a great chef
Books = the child will be a scholar or wisdom
Sports equipment = the child will become an athlete
Paintbrush = the child will become an artist
To see a full extensive list of all the Doljabi meanings, please check out my article on everything you need to know about Doljabi
One can purchase or rent entire doljabi kits online, not only in Korea but in the US as well.
Doljanchi Gifts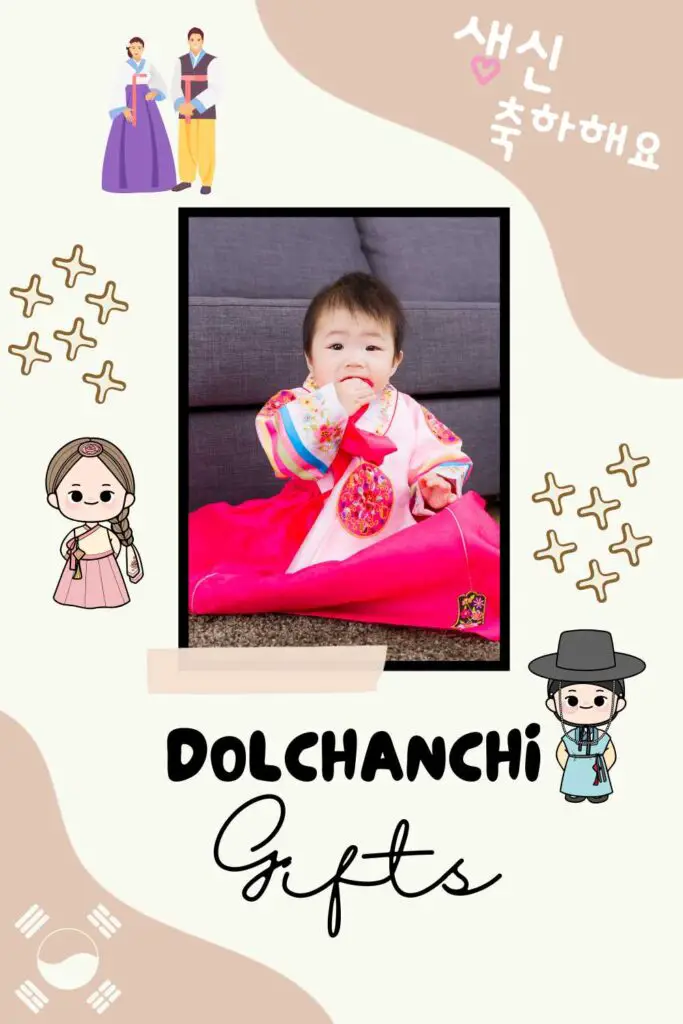 With any significant birthday celebration, gifts will form a large part of the festivities. Doljanchi is no different.
Gold was traditionally gifted as small inscribed rings, which were practical in that they could be sold if needed to help finance the child's education and future. The gold rings also had added symbolism in that they represent the wishes of health and wealth for the child.
These rings are still gifted today, although the variety of gifts has expanded with continued inflation in the gold price. Other acceptable gifts are clothing, and other gold items, amongst other gifts, with modern-day doljanchi allowing for more variety in the gifting.
What Foods Do You Eat For Doljanchi?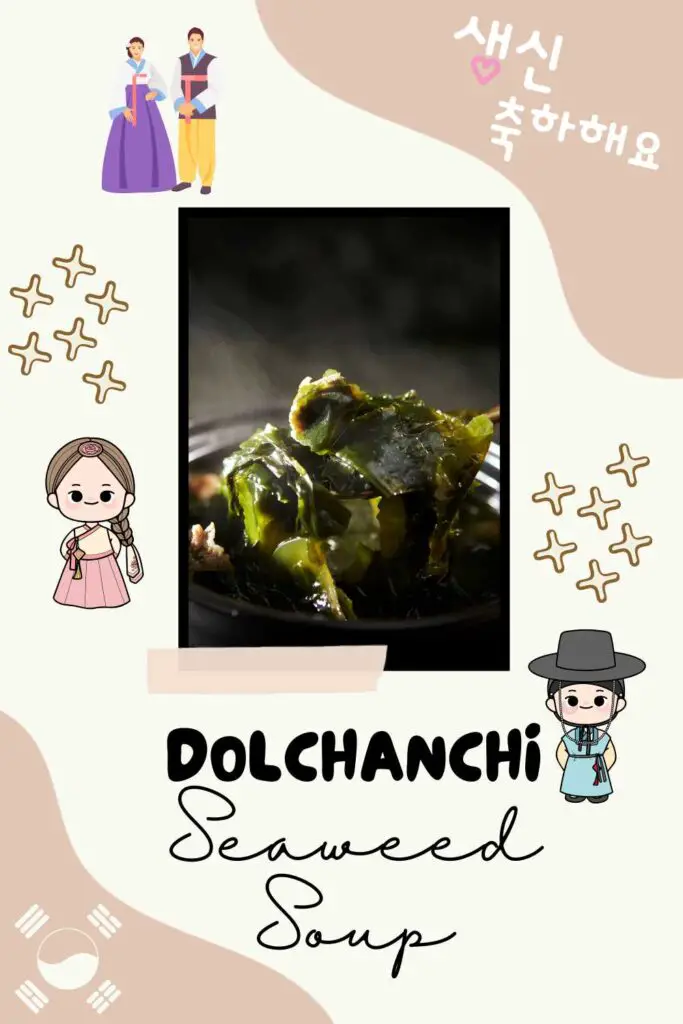 Food and drink are integral to most celebratory events. For doljanchi, the menu may depend on how large the gathering is, with many families opting for a buffet-style feast that offers a variety of dishes. Otherwise, for a simpler party, go with traditional Korean snacks and drinks as a fun refreshment.  
Two dishes that will be present regardless of the size of the gathering are the traditional seaweed soup "miyeok-gook", plain rice, and rice cakes which are eaten symbolically in thanks to the Gods of childhood.
It is common practice for everyone to partake of at least one bite of the seaweed soup and rice dishes. Even if seaweed soup is not to your taste, in the interests of politeness and courtesy, you should not pass on this ritual as the soup is eaten with respect to mothers, as the dish is often eaten by both pregnant and postpartum women due to its high iron and health benefits.
Modern doljanchi also offers delicious sweet treats and cakes, which along with all the other delightful food, means that doljanchi is a big celebratory feast.
You may see the inclusion of highly decorative fruit basket towers at Doljanchi celebrations in the US. These are less likely to be found in South Korea as these towers are often found at much later birthday celebrations, being the celebration of sixty and eighty years.
But let's not forget about the baby. The wonderful thing about Korean baby food is that it can be eaten for breakfast, lunch, or dinner. Simple dishes like stripped down seaweed soup or vegetable porridge are perfect options.
What To Wear For Doljanchi?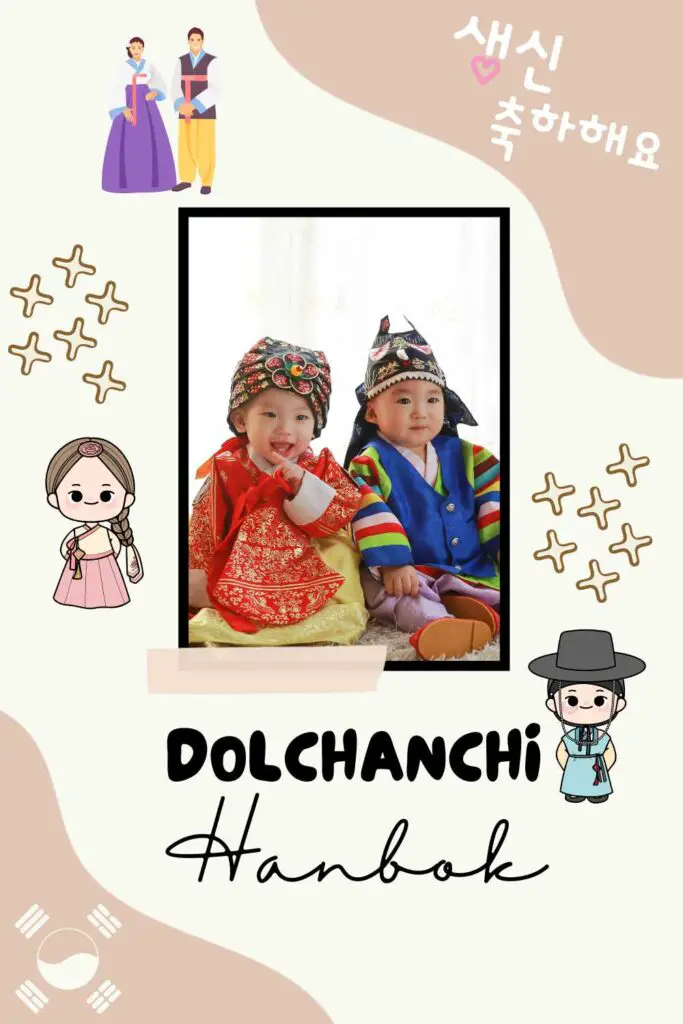 For the birthday family, the fashion does vary where it can be both traditional and modern. You can even see families with western wear being acceptable. In Korea, families are likely to go the traditional route and wear Hanbok, traditional Korean clothing.
When my husband and I were celebrating and taking pictures with our son when he turned one, we decided to wear the traditional hanbok.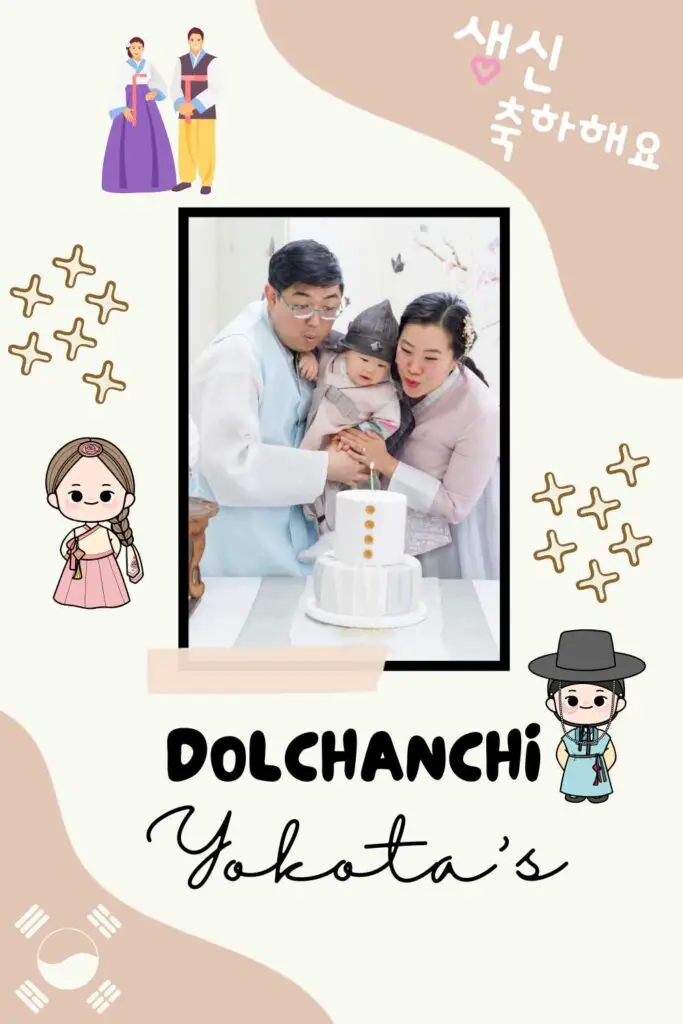 As you can see our with our son, the baby being celebrated will also where Hanbok. There are even matching hats that are so cute with the handbook ensemble.
When you are invited to a doljanchi and the host doesn't provide a wordrobe theme, wear a suit or casual business wear for men, and a dress or a formal blouse and skirt or slacks for a woman.
What Party Favors For Guests?
Depending on the numbers attending the baby's Korean 1st birthday, you may be given a small guest gift. These gifts often come in the guise of prizes for correctly answering questions about the baby. Other gifting formats include randomly called numbers and betting on the items chosen during the doljabi.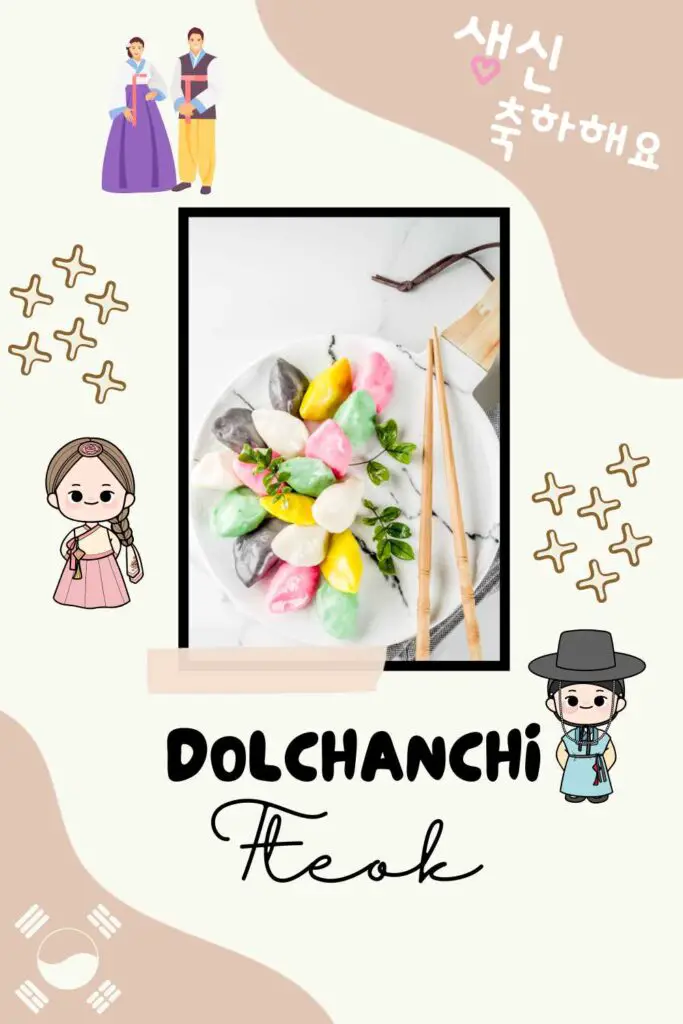 Small little tteok sets or memorabilia such as magnets, towels, and stationary sets are some of the gifts that I have received from Korean 1 year birthday favors.
FAQS
Why Is Doljanchi So Big In Korea?
Thanks to historically high infant mortality rates, the first birthday was signaled as a good sign of the baby's likelihood to survive. In recognition and celebration of this, doljanchi became a big celebration where further blessings were asked for the child for future wealth and happiness.
What Gift Should I Bring To Doljanchi?
When it comes to Korean first birthday traditions, gifts are the most welcome. While gold rings are the most traditional, guests can also gift money, clothing, or toys for a Korean baby.
Conclusion: Korean Doljanchi
Doljanchi is one of the most significant birthday celebrations in Korea; more than just a birthday party. It celebrates the baby's survival. Doljanchi is ceremonial and provides a place where the baby can be showered with blessings and well wishes for its life. If invited to a first birthday, take advantage of the opportunity to experience a truly wonderful Korean tradition.