This post may contain affiliate links. Please read my disclosure policy for more info.
"Fighting" in Korean is an English mishearing of the words "hwaiting" (화이팅) or "paiting" (파이팅), which are words of encouragement.  
Fighting Korean meaning does not mean having a battle, known as "ssaum" (싸움). Instead, the slang word "hwaiting" (화이팅) means "go," "you can do it," and "you've got this." However, a more correct word is "paiting" (파이팅), although it is used less frequently in popular culture.
South Africans frequently tease English-speaking foreign visitors, telling them "thank you" in Afrikaans is "buy a donkey." While incorrect, it does sound similar to "baie dankie," Afrikaans for "thank you." A similar situation occurs when English speakers listen to K-pop and hear "hwaiting." But the meaning of "hwaiting" has as much to do with fighting as "baie dankie" has to do with donkeys.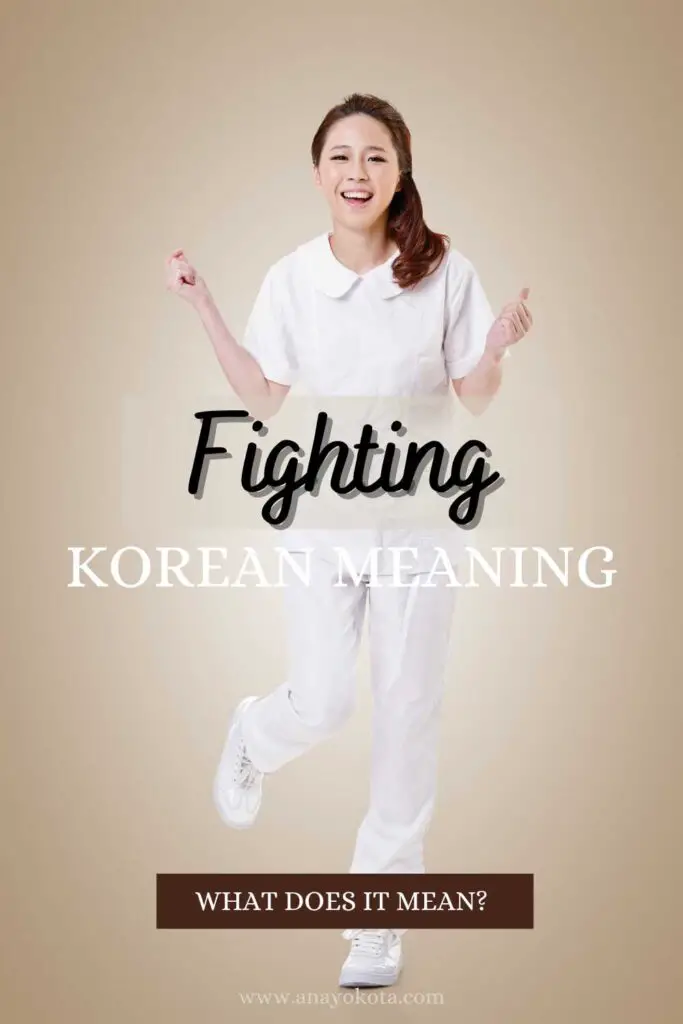 What Does "Fighting" Mean In Korean Slang?
Korean Fighting meaning in slang is "hwaiting" (화이팅) and is used to cheer someone on. Western English speakers often encounter the phrase "hwaiting" (화이팅), or less commonly, "paiting" (파이팅), while enjoying K-pop or K-drama. The speaker may be making one or two fists while saying it, but it is not a word or gesture of anger but of strength and encouragement.
When To Use The Term "Fighting"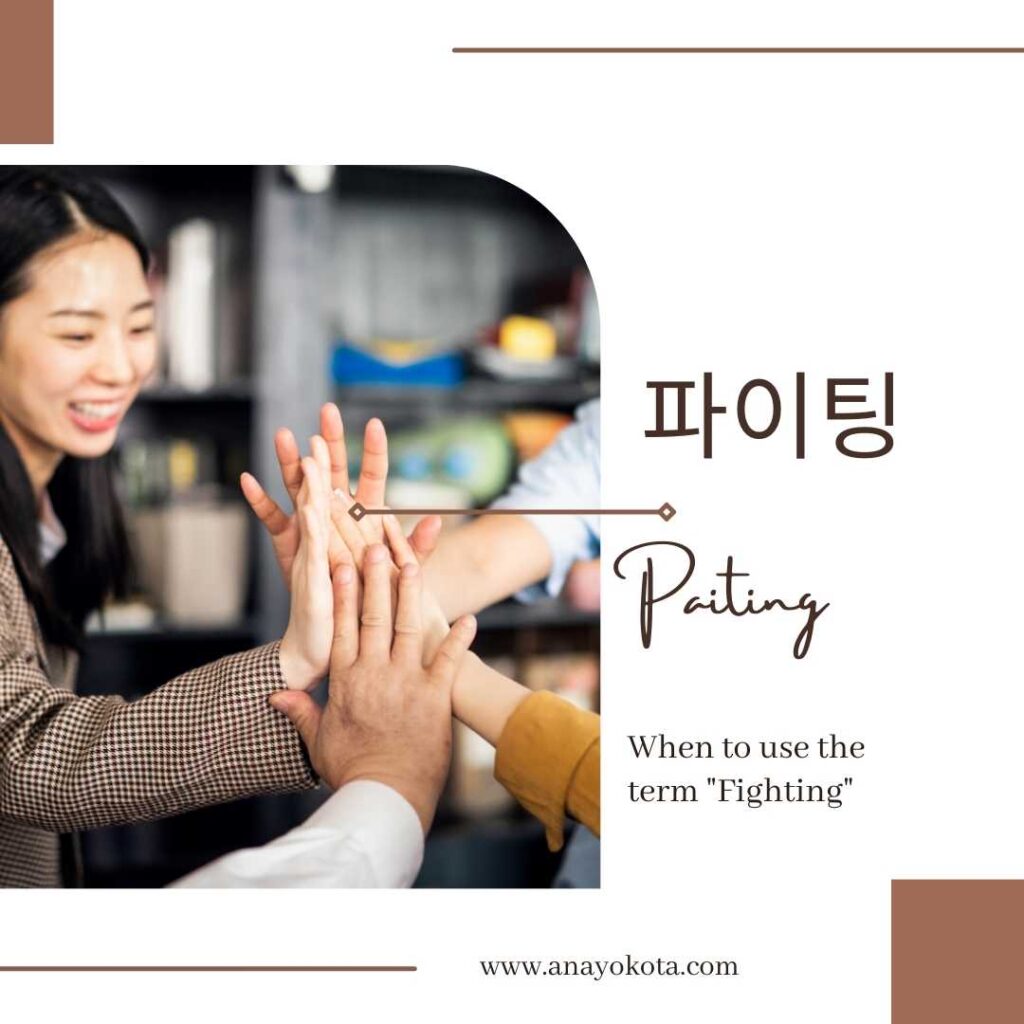 The term fighting or hwaiting is easiest to use when cheering for a sports team. For example, when Americans watch the Super Bowl, they are prone to exclaiming phrases such as, "Go! Go! Go!" "You can do it!" or "Come on! Go! Go! Go!" as a player runs for a touchdown. The Korean word "Hwaiting!" could be used instead and generally mean the same thing.
Thus, while "hwaiting" is sometimes considered to mean "good luck," it isn't quite correct, as it isn't a blessing or fond wish. Instead, it is more to convey to people that they must cheer up, keep going, that you believe in them, and they need to stay strong. Thus, in many ways, it is like the English phrase, "Keep on fighting," which is an expression of perseverance, not battle.
For instance, if a friend was nervous right before performing on stage, you might say, "hwaiting," with a gentle nudge to get out there. In that sense, it is wishing them a bit of luck but telling them to buck up, have strength, believe in themselves, and go out there and get the job done.
However, it is not a formal phrase. So a teacher wishing students luck before they start an exam would probably not say, "Hwaiting." Instead, the teacher may say, "Jal bwa" (잘 봐). It is a blessing, a good wish.
Whereas if you saw your friend stressing before the exam and saying, "I'm going to blow it," you might retort, "Hwaiting," and give them a gentle nudge in the arm. In other words, "Come on now; cheer up; you can do it: you just need to be strong."
Another example of the fighting expression in a different language is "ganbatte," which is Japanese. When folks are trying to learn ganbatte in Korean, the closest translation is fighting or hwaiting.  
Fighting Vs. Hwaiting…Or Is It Paiting?
The Korean expression of encouragement is not "fighting" but "hwaiting" (화이팅), or less commonly, "paiting" (파이팅). The two phrases mean the same thing, but the former is more trendy and less "correct," and the other is more correct and used less frequently. Their pronunciation is slightly different, but neither uses the English "f" sound, which does not exist in Korean.
"Hwaiting" (화이팅) is the more K-pop and trendy version of the expression. It is pronounced, "hwa-ee-ting."
"Paiting" (파이팅) is the lesser-used version of the term but considered more correct. It is pronounced, "pa-ee-ting."
How Do You Say "Fighting" In Korean?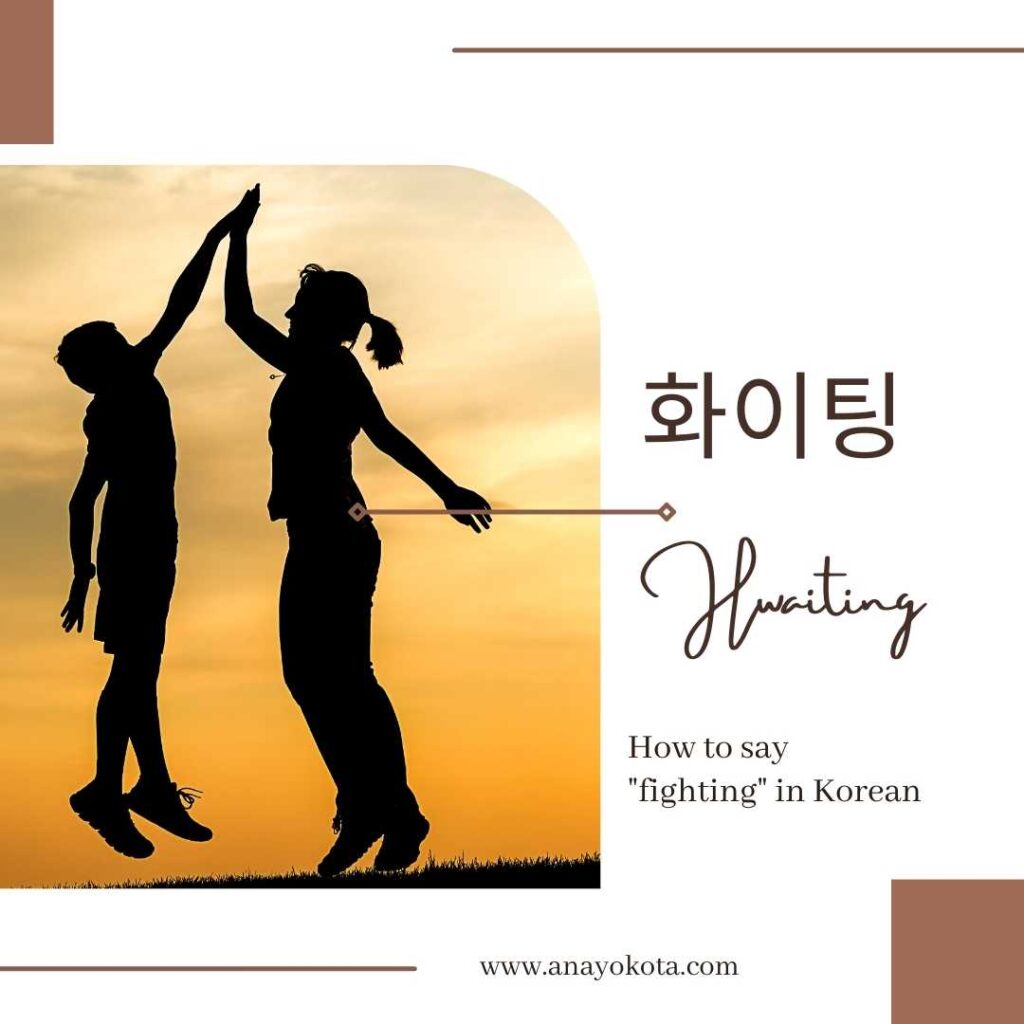 "Fighting" in Korean in the sense of going to battle is "ssaum" (싸움). Like the English word "fighting," it conveys physical violence and refers to military forces at war. But it can also be used in a less dramatic sense, such as a couple arguing or getting ready to participate in a contest where nobody dies.   
Where Did "Fighting" In Korean Slang Come From?
Before explaining where the slang term came from, let me tell you how to pronounce hwaiting in Korean.
화이팅: hwa-ee-ting
"Fighting" in Korean slang is "hwaiting" (화이팅), and while it does not refer to violence, it does have a relation to the English word. While the exact origins are disputed, it is thought to have come from the English word "fight," when used in encouragement. It is believed it was
For instance, when English speakers tell others to "Fight on" or "keep on fighting the good fight," these are phrases of support rather than calls for bloodshed.
Koreans are far from alone in taking a word from one language and adapting it. American English is littered with words that originated elsewhere. For instance, barbecue came from the Spanish word "barbacoa." However, "barbacoa" was actually the Spanish interpretation of an indigenous Caribbean word that was used to describe a type of wooden frame the people used to cook their meat and fish over a fire.
Learn how to say a few other popular terms in Korean like Happy birthday or Happy New Year. Remember, there are conjugations and formalities in Korean and I've broken down how to say these terms in a few different levels of honorifics:
Alternative Words To Saying Hwaiting?
The word "hwaiting" is fun to exclaim, but having a few more words in your Korean language toolbox can be handy. After all, yelling one word repeatedly during a sporting event can become tiresome.
In addition, "hwaiting" isn't always appropriate for every situation where you may want to tell someone to "cheer up" or wish them luck. Sometimes a more formal or personable word would make a better fit.
Aja Aja (아자아자): Aja meaning in Korean is an informal exclamation of enthusiasm. It's similar to when Americans yell, "Alright, alright," when their team starts turning it around. It is also used with "hwaiting," as in "ajaaja hwaiting," to emphasize the spirit of not giving up, being strong, and wishing luck. It's an empowering phrase.
Gazua (가즈아): Another Korean slang phrase for "here we go" or "let's go." It is related to gaja, used to cheer on a team or, in some subgroups, to root for your cyber currency to rise in value. You can learn more about the fun phrase here.
Haenguneul bimnida (행운을 빕니다): A more formal way to wish someone good luck. It is more of a blessing, such as wishing someone a good fortune. It would not be used to cheer on a team during a football game.
Himneseyo (힘내세요): A polite and friendly way to say "cheer up" or "hang in there." This would be used with a friend in a normal conversational voice, not yelled at a sporting event.
Himne (힘내 ): An informal way of saying "cheer up" or "hang in there" with a good friend or family member. Like "himneseyo," "himne" wouldn't be used to cheer somebody on while watching a sporting event.
Jal bwa (잘 봐): A way to wish someone good luck before an interview or exam. It is less formal than "haenguneul bimnida" but isn't trendy or using slang.
Wrapping up Fighting Korean Meaning
K-pop and K-drama have made the word "hwaiting" (화이팅) familiar to many Western ears. The term of encouragement is slang, often used at sporting events or to cheer up a friend before participating in an event. However, it doesn't contain the "f" sound in "fighting." So what Western ears are really hearing is "hwa," which is softer, breathier, and less aggressive. Makes it pretty fun to say.
Whether you are just trying to learn how to say fighting in Korean or looking for a fun way to encourage a friend, the next time you're cheering someone on in Korean, smile and say "hwaiting!"