This post may contain affiliate links. Please read my disclosure policy for more info.
Enjoy these popular friend idioms that are funny and warm. Share them with a buddy you know and bring a smile to their face today!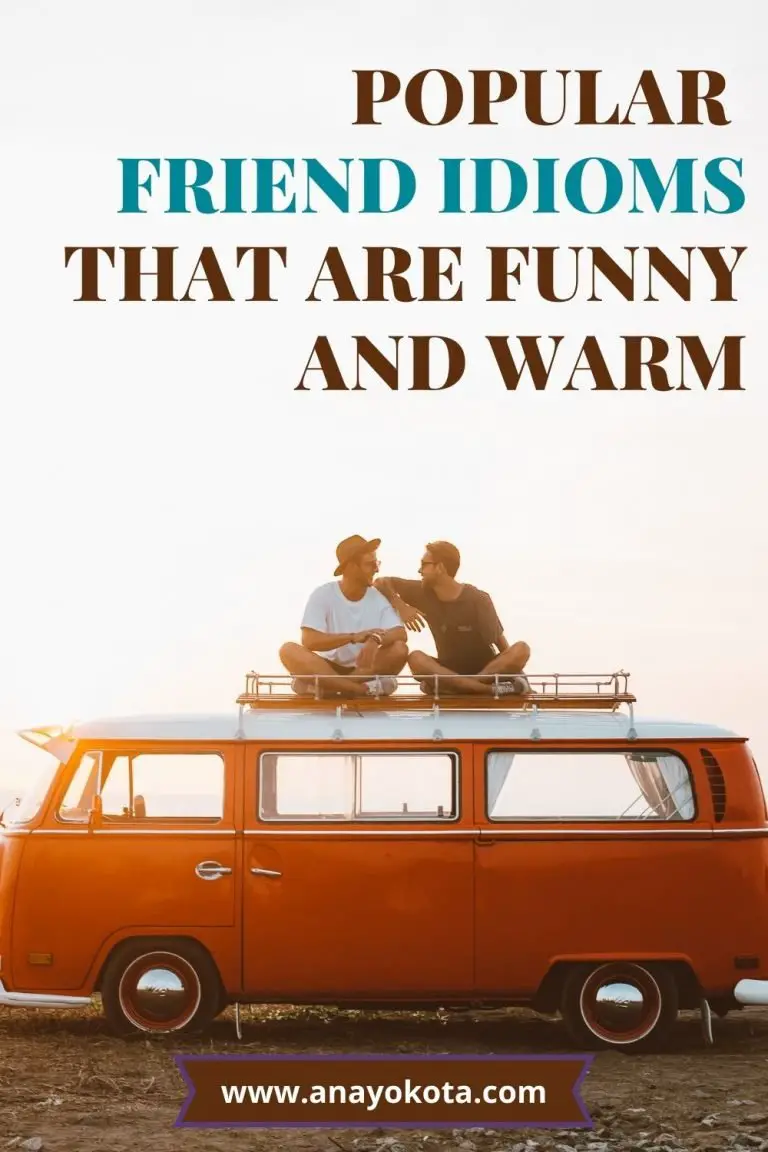 WHAT IS AN IDIOM
According to Dictionary.com and idiom is an expression whose meaning is not predictable from the usual meanings of its constituent elements, as kick the bucket or hang one's head, or from the general grammatical rules of a language, as the table round for the round table, and that is not a constituent of a larger expression of like characteristics (SOURCE).
In other words, an idiom is a phrase or expression that has a different figurative meaning than its literal meaning. They can be very poetic phrases that sometimes the literal meaning also has depth as much as its figurative meaning. 
IDIOM VS PROVERB
Remember that the meaning of an idiom is usually interpreted figuratively. A proverb is usually much more literal and can have historical and cultural value that offers some kind of advice. 
For example, an idiom is, "A blessing in disguise." This means that a situation may appear disastrous or bad at first, but ends up being a good thing later. For example, you may have to wait 3 hour in line at the DMV (which no one likes to do). However, by the end of your wait, you might make a new friend. Had it not been for the wait, you may not have had that conversation to make that new friend. 
An example of a proverb is, "An apple a day keeps the doctor away." The actual meaning of this proverb is literal. In order to encourage children to eat healthy, parents would tell them to eat apples. Another example is, "two wrongs don't make a right." You can combine two negative choices thinking it will result in a positive solution. 
Idioms for friends and relatives are wonderful reminders of what we appreciate about friendships. I've compiled my favorite idiom sayings with friends and hope that you enjoy them. Without further ado, I hope these phrases about friends inspire you. 
TABLE OF CONTENTS IDIOMS FOR FRIENDS AND RELATIVES
IDIOMS ABOUT CAMARADERIE
These friend idioms are super relatable and perfect for your next special card for your friend.
To speak the same language – When two people are thinking at similar thought processes, values, and opinions. 
Two peas in a pod – When two people have very similar behaviors or have like minded thoughts. 
Birds of a feather flock together – People with similar hobbies and/or interests will generally be found in the same vicinity (or room). 
Strike up a friendship – To become new friends with someone 
A friend in need is a friend indeed – to be there for a friend when one is in trouble or simply needs help  indicates true camaraderie. 
As thick as thieves – This phrase for friends represents how close you are with the other person. To be "thick as thieves" means to have a strong friendship. 
A man is known by his friends – Of these phrases for friends, this one represents how well you can know someone just by looking at their friends. It is essentially meaning that one can know the character and the personality of a person by observing the types of friends they have. 
A friend's eye is a good mirror – Oftentimes, a close friend can help you identify areas in your life that you didn't know existed. 
Friends in high places – to have friends that are famous or have powerful influences.
Joined at the hip – When you have a friend that is very close to you whom you can always be found together. 
To move in the same circles – to be seen and socialize in similar friend groups. 
A man's best friend – This is a friend phrase usually referring to a dog. Dogs have been known to be faithful and obedient companions making them feel like a reliable friend. 
FRIEND IDIOMS ABOUT RELATIONSHIPS
Full of real moments, these friend idioms are relatable and true.
A shoulder to cry on – A person who is willing to empathetically listen to your troubles without judgement.
Build Bridges – To heal or mend a broken relationship. To reconcile and work on the friendship. 
Clear the air – To clarify and null any unspoken misunderstandings. To share hurt feelings with the intent of reconciliation. 
Go back a long way (go way back) – To have known someone for a long time. A long time friend. 
Friendsgiving – As much as this is an event it is an opportunity to gather together during the Thanksgiving holiday with your close relationships outside of family. 
See eye to eye – When you agree with someone. 
To know someone inside out – to have a relationship with a person that you know and understand very well. 
Hit it off – To begin a relationship easily. 
Through the thick and thin – to stay faithful in a relationship regardless of the good or the bad times. 
Close knit – when two people are very close in a relationship. 
To have a soft spot for someone – to like someone or simply be very fond of the person. 
FUNNY IDIOMS FOR FRIENDS
Need a laugh? Check out the following friend idioms that will sure to bring a smile to your face.
Get on like a house on fire – To like another person a lot in a very short amount of time. 
Bosom Buddy/Friend – a very close friend such as a best friend. 
Friend Zone – When one person wants to continue a relationship romantically but the other person only wants to stay friends. The one who wants a romantic relationship is now identified as one who is in the "Friend Zone" by the one who doesn't want the romantic relationship. 
All talk and no trousers – Someone who talks a lot with pride of accomplishing great things but has no sustainable or tangible proof of ever really doing it. 
When pigs fly – In reality, pigs will never be able to fly. This idiom interprets that something will never happen. 
Take the meat and spit out the bones – A biblical reference that means to take what is good for you and ignore what is bad for you. 
More holes than swiss cheese – Sliced swiss cheese literally has a few holes in them. When you say that something has more holes than swiss cheese, it is referencing that it has a lot of issues. 
---
Did you enjoy these friendship idioms and phrases? Which one was your favorite? 
I remember when I first started to research idioms, I was so intrigued by many of its deep and poetic representations. It is empowering and can be a creative way to share how you feel about a good friend. Share these phrases with friends who may need a word of encouragement. 
If you are looking for other great ways to send messages to friends like your boyfriend (girlfriend) or husband (wife), you may want to take a peek at Love Idioms or Flirty Questions To Ask A Guy.