This post may contain affiliate links. Please read my disclosure policy for more info.
I have got the key to curating a healthy outdoor meal: gluten-free picnic food options. From fresh fruit to nut-based snacks, these foods are both delicious and safe for all your picnic pals. No need to stress – just grab your blanket and let's go!
Organizing a Korean picnic for someone with food allergies or intolerances can be tricky if you're unsure what's safe to eat. Especially if you're trying to prepare picnic foods for a first date, you definitely want to play thing safe.
Celiac disease and gluten intolerance are rare in Korea, so there is little awareness of the need for gluten-free foods. Lactose or dairy intolerance is common, with dairy products not typically used in Korean food. However, you can find a surprising variety of gluten and dairy-free food to ensure an enjoyable picnic.
When I thought of this list of gluten and dairy-free picnic food ideas, I was pleasantly surprised to see that there are actually a lot of wonderful options. You won't think you're missing out because all of these options are delicious for a fun outdoor picnic.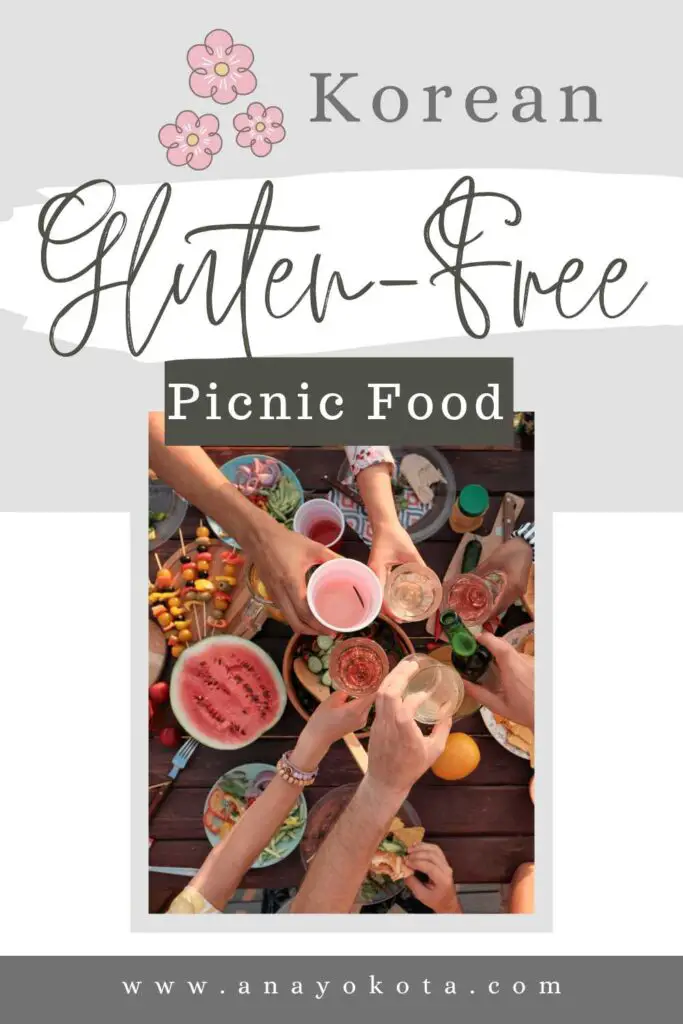 What Foods Are Naturally Gluten-Free?
With a plethora of naturally gluten-free ingredients, Korean dishes offer a fresh and flavorful take on allergy-friendly eating. From savory banchan (side dishes) to spicy kimchi, this cuisine is a delicious way to indulge in some international cuisine without sacrificing your dietary restrictions. So, stock up on some gochujang and get ready to tantalize your taste buds!
Rice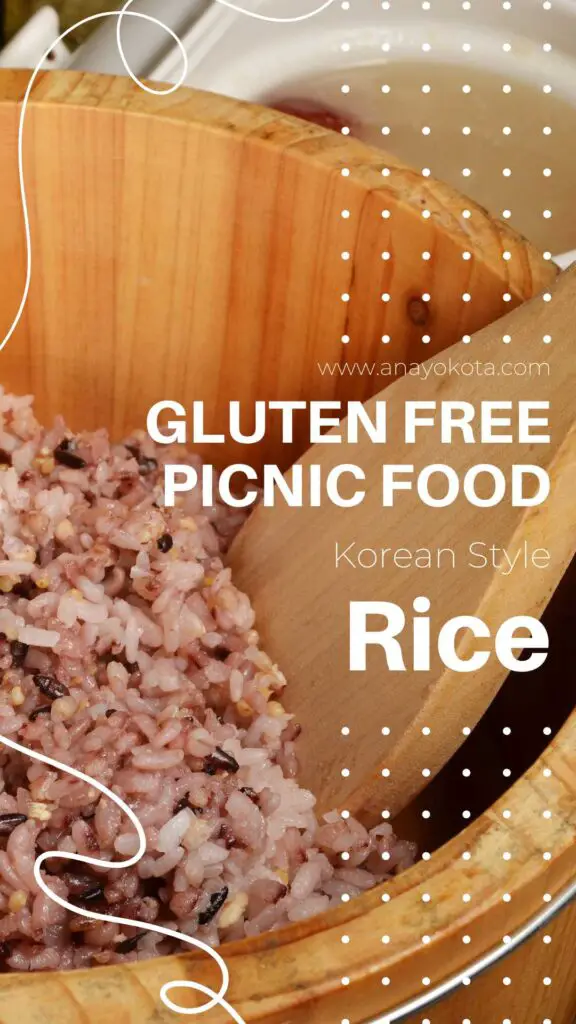 Rice, a staple food, is gluten-free. Another common grain, millet, is also gluten-free. A plain dish of steamed rice is available everywhere and easy to fill up.
To have an even healthier rice option, try purple rice. Purple rice is full of nutrition with multigrain such as barely rice, brown rice, black rice and sometimes people even put legumes and beans. Many Koreans love purple rice because it is not only healthier but also filling.
Fruit And Vegetables
Koreans eat a lot of green veggies, mushrooms, carrots, spinach, onions, leeks, radishes, cucumbers, and cabbage, which are entirely gluten-free. Enjoy them steamed, gently sautéed, or raw in a salad.
Pickled vegetables such as pickled daikon squares or pickled yellow radish are served at most picnic meals and are generally gluten-free unless they are made with soy sauce (with gluten).
Sweet potatoes are a common starch, even made into noodles, which I will go into further later.
Fruit makes an excellent gluten free finger food as a snack or dessert.
김 Seaweed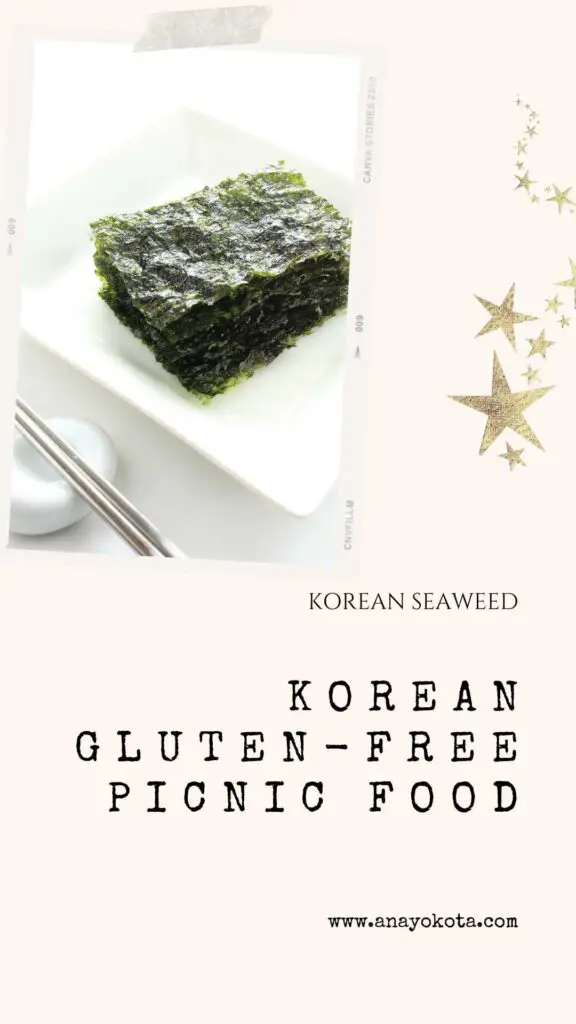 Called gim or nori, seaweed is a staple of Korean cuisine. Seaweed is a versatile ingredient that is rich in nutrients but low in calories. It has a delicious umami that you can see in many Korean gluten free picnic food. For example:
It is the main ingredient in the celebratory birthday soup.
Dried roasted seaweed is rolled out like paper and used to wrap kimbap.
Crispy seaweed "chips" make a salty, savory snack and add flavor when sprinkled over rice balls or noodles.
Eggs
Egg recipes are great low fat picnic ideas. Koreans eat eggs boiled, steamed, and fried. You'll often see fried eggs topping a dish or as a banchan (side dish).
Speaking of banchan, my favorite egg banhan is gyeran mari, which is like a Korean omelette sliced in bitesize pieces that are eating with rice. It's probably my all time favorite gluten free picnic lunch item, too.
Meat, Chicken, And Fish
Meat, chicken, and fish are gluten-free unless in a sauce that may contain gluten. Steaming, sautéing, and barbecuing are the best cooking methods, as soups and stews may contain gluten in other ingredients.
Sushi and sashimi are also gluten free picnic food ideas. These classic Korean delicacies are not only free of gluten, but also bursting with bold flavors and beautiful presentation.
So why settle for boring, tasteless options when you can enjoy the best of both worlds with a sushi or sashimi feast? Your taste buds – and your body – will thank you. I know mine does every time I devour these goodies.
Tofu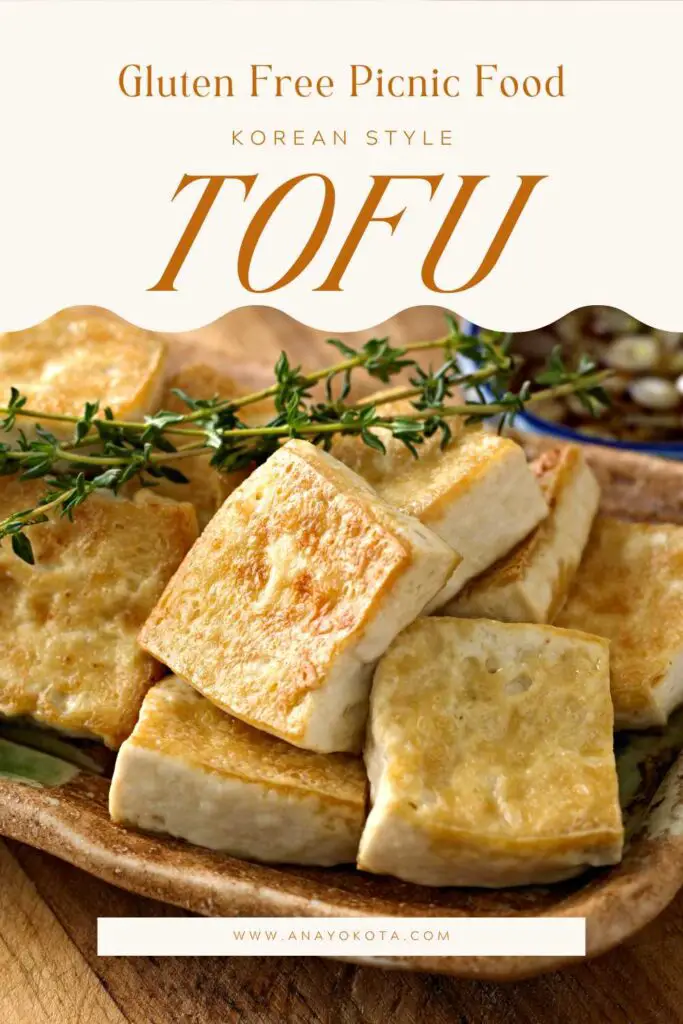 The mighty soybean-based powerhouse that delivers protein, minus the gluten and animal products.
I love that tofu can also be a vehicle to so many flavors. My favorite way to prepare tofu is simply pan frying it with a high heat oil, like grape seed oil.
Side note: When needing to cook with a high heat oil, I personally like grape seed oil because it has the least amount of flavor compared to other high heat oils such as avocado oil.)
For the pan fried tofu, I simply season it with salt, pepper, sesame seeds, and a little bit of gochugaru (Korean red chili pepper powder). Fry on each side until golden brown and pack it in your diary free picnic food!
Common Korean Foods Containing Gluten
While packaged goods display an ingredient list, food in restaurants or others' homes may contain gluten. Unfortunately, some of the most common Korean foods potentially contain gluten. Check the ingredients before you decide on your gluten free picnic recipes.
Soy Sauce
Known as gan-jang in Korean, soy sauce is usually made with soybeans, salt, water, and wheat, which contains gluten. Many sauces and marinades contain soy sauce, so you should avoid them.
To get around soy sauce that has gluten, you can easily find gluten-free soy sauce. Other alternatives are tamari or coconut aminos.
Fish Sauce and Oyster Sauce
Like soy sauce, fish sauce and oyster sauce should be gluten-free. However, many thickeners use wheat or barley extract, which contains gluten. So, when shopping for these sauces, make sure you read the ingredients label and purchase the one that does not have gluten.
Side note: fish sauce and oyster sauce are not the same but both are commonly used in Korean cooking.
Nowadays, I do see many people using fish sauce and oyster sauce that doesn't have gluten because companies are trying to produce a cleaner product.
But don't be too shocked if you do see some bottles that contain gluten as a thickener.
Kimchi
Although kimchi sounds gluten-free, made from cabbage, it is often seasoned with fish sauce and soy sauce, which can contain gluten.
There are hundreds of different types of kimchi. So, it's impossible to say that all kimchi has gluten in it. There are plenty of gluten-free kimchi options depending on how it has been made (with or without fish sauce or gochujang). Water kimchi and salad kimchi are just a couple exp can be a gluten-free picnic food.
Gochujang (Korean Red Chili Pepper Paste)
This sweet, spicy chili and fermented soybean paste is an ingredient in many Korean dishes. Like other sauces, it is thickened with wheat or barley extract.
As an alternative, I have found gochujang thickened with rice flour, which is not the same but still gets the job done.
Dashida (Stock Flavor Powder)
Stock powders are often used as the basis of broths and soups and form part of the spice packets in instant noodles. These powders include wheat starch, so avoid them. It also should be avoided if you are health conscience because these things usually contain Monosodium glutamate (MSG).
Noodles
Let's talk about the noodle game, because who doesn't love a good noodle dish? You might not know it, but many of your fave Korean noodle dishes are made from the humble ingredient of flour – whether it's fresh and bouncy, or dried and shelf-stable.
For example, kal-guk-su (known as knife cut noodles), somyeon (thin wheat flour noodles), and Jjajangmyeon (black bean noodles) are all made from fresh flour noodles.
Dough-based Snacks
Dumplings, pancakes, cookies, cakes, and pastries are generally made with wheat flour and contain gluten.
Chimaek (Chicken And Beer)
Chimaek is not a dish in itself: if you are invited to chimaek, it means you are going to hang out, relax, eat fried chicken, and drink beer.
Unfortunately, Korean fried chicken and beer contain gluten. It's also not a dairy free picnic food because of the chicken batter.
Although you can always try to find gluten free beers in the states, it's not as common (yet) in Korea to find gluten-free alcohol.
Barley Tea
You would think that tea wouldn't contain gluten. However, the infamous Korean barley tea contains gluten.
To help clarify, there are three grains that are not friends for those looking for a gluten-free picnic food. The first is wheat, the second is rye, and the third is barley. These gains have protein gluten and is not an option for those on a gluten-free diet.
Gluten And Dairy-Free Picnic Food Ideas
Luckily, many Korean foods are dairy free, as milk and cheese are often not used in traditional Korean cooking. Several typical Korean picnic foods can be adapted to be gluten-free as well.
If you or your friends are allergic to gluten or dairy, preparing the picnic snacks yourself is best. Here are some picnic foods that don't contain gluten or dairy.
Kimbap (Seaweed And Rice Rolls)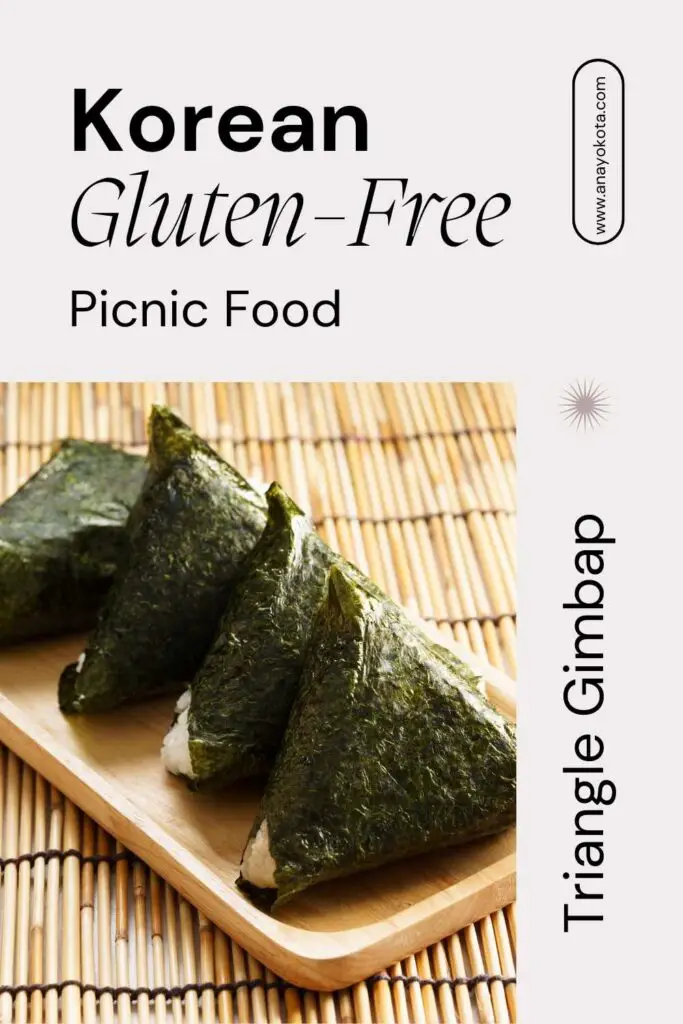 Kimbap or gimbap are traditional picnic foods eaten like sandwiches. They consist of rice, and a filling rolled in a seaweed sheet, then sliced like sushi.
Make your own kimbap with fillings of your choice: meat, pickles, and raw vegetables are all tasty. Avoid cheese for dairy-free options.
Make sure you double-check when buying kimbap, as marinated meat fillings may contain soy. Stick to vegetables or make triangle gimbap at home, and you'll be fine.
Gyeran Mari (Egg Roll)
Rolled omelettes are an excellent gluten-free and dairy-free snack for picnics. They're portable and can be filled with healthy, tasty fillings like veggies, seaweed, and ham.
Gyeran mari can also come in gluten-free vegetarian picnic recipes. Simply leave out the ham to make it vegetarian and leave out the eggs to make it vegan.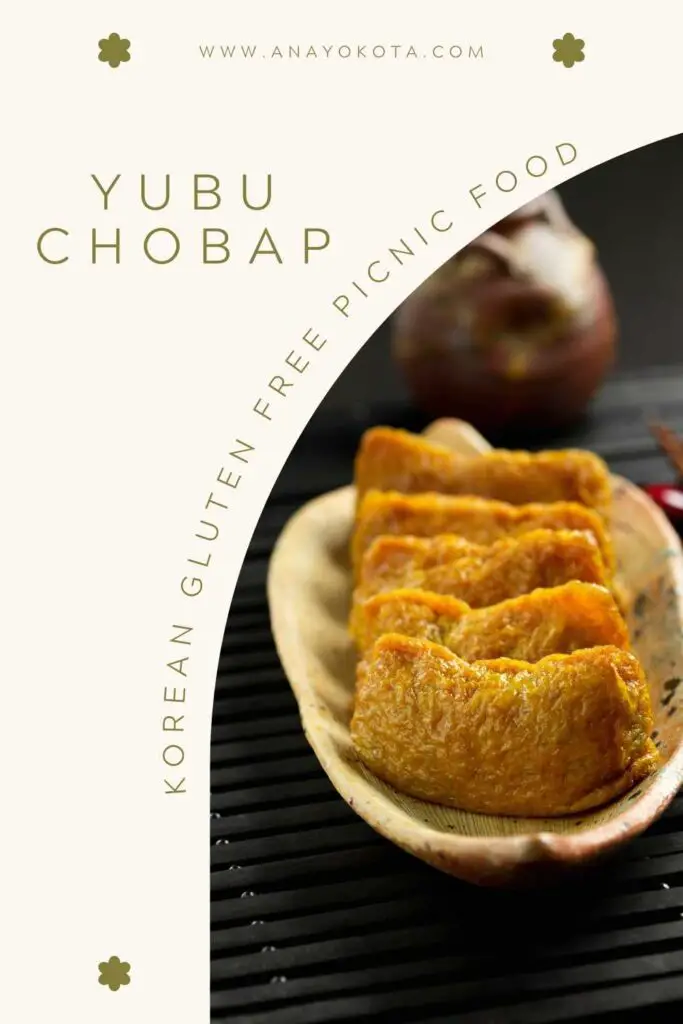 This tasty fried tofu and rice balls are a great gluten and dairy-free snack. They can be stuffed with any vegetables of your choice and eaten cold.
Jumeok-bap (Rice Balls)
Another style of dairy free picnic ideas are rice balls. Rice balls are usually covered with dried seaweed and stuffed with tuna, beef, ham, or vegetables.
Bibimbap (Rice Bowl)
Bibimbap in Korean literally means "mixed rice" because you have an assorted array of toppings on top of rice that you mix together.
In other words, these rice bowls are based on a heap of steamed rice with mixed vegetables, beef, and a fried egg. It's seasoned with a fierce red sauce made with chili paste and a drizzle of sesame oil. Mix it all together and voila! You have bibimbap.
Rice Cakes
Korean rice cakes are not the dry crackers of the same name: they're made with glutinous rice flour, which is gluten-free. These traditional Korean snacks cakes are tender, mildly sweet, and sprinkled with various flavors depending on the type of rice cake. You can eat them as is if it's made sweet or add them to a dish such as tteokbokki if it's simple and plain.
This multipurpose ingredient is the supporting actress of dak-galbi, a chicken dish. The chewy rice cakes makes for a great addition to mop the sauce and bring a textural component to dak-galbi. It's warm and steamy making it a great dish to prepare for a winter picnic.
Gluten-Free Noodles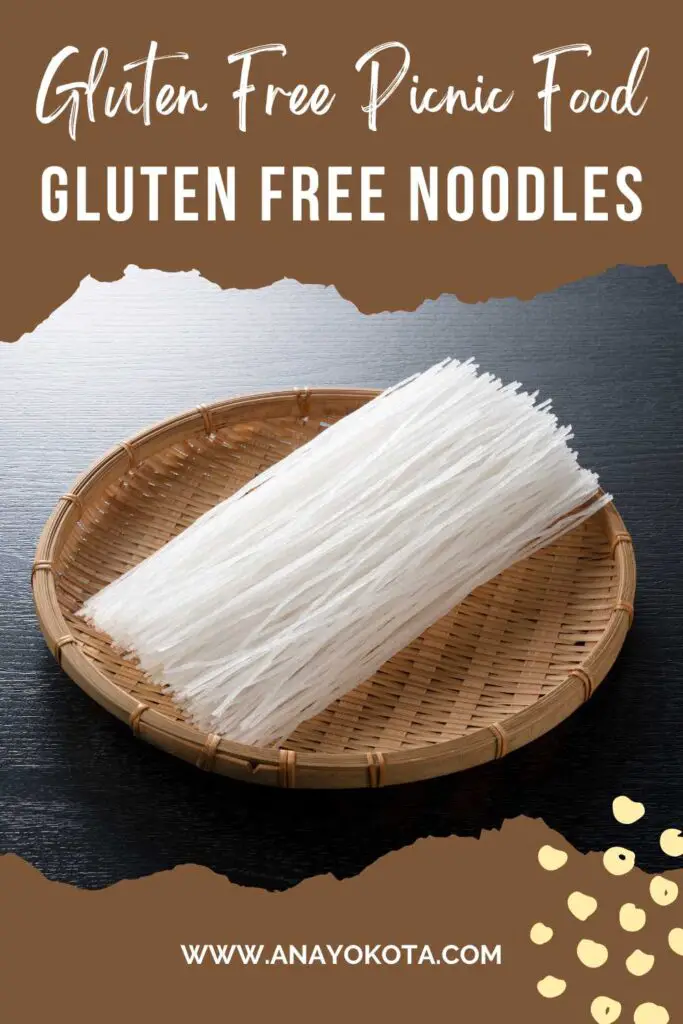 A quick noodle dish with vegetables is ideal when thinking of gluten free picnic ideas. It can replace the ramyeon (instant ramen) that Koreans often buy to eat at a picnic. Try these tasty gluten-free noodles.
Dangmyeon (Sweet potato noodles)
These delicious vermicelli noodles are made from sweet potatoes. They're typically dried, so you can rehydrate them and book them to make a tasty stir-fry with plenty of vegetables to enjoy at your picnic.
Japchae is made from these noodles, with vegetables and pork in soy sauce. Galbitang is a beef soup, also with sweet potato noodles. (But remember galbitang has soy sauce and must be careful that the soy sauce is gluten free)
Naengmyeon (Buckwheat noodles)
Cold buckwheat or soba noodles with pickled vegetables is a popular summer lunch, very fresh and light. Mul naengmyeon is a soup made with these noodles. It includes beef or kimchi broth, radish, cucumber, egg, and mustard; replace the broth with chili paste, and you've got bibim naengmyeon.
Cheonsachae (Kelp noodles)
Seaweed noodles are a low-calorie, gluten, and dairy-free ingredient, often made into a cold salad. You can eat these crunchy noodles raw. Kelp noodles have little flavor, instead absorbing the flavors of the sauce or broth they're served with.
Tofu Noodles
Made from pressed tofu, soybean curds, and yam flour, these noodles are available both dried and fresh. Use them in soups, salads, or the famous soft tofu stew, soondubu jjigae. You can make a version of this tasty tofu dish with seafood egg and a hearty broth as a picnic food for winter.
As a friendly reminder, many Korean dishes use various sauces that have been known to have gluten (such as soy sauce, fish sauce, and gochujang). However, if you are preparing these noodle dishes at home for your gluten-free picnic food, simply make sure that you are using the appropriate ingredients.
Gluten-Free Picnic Desserts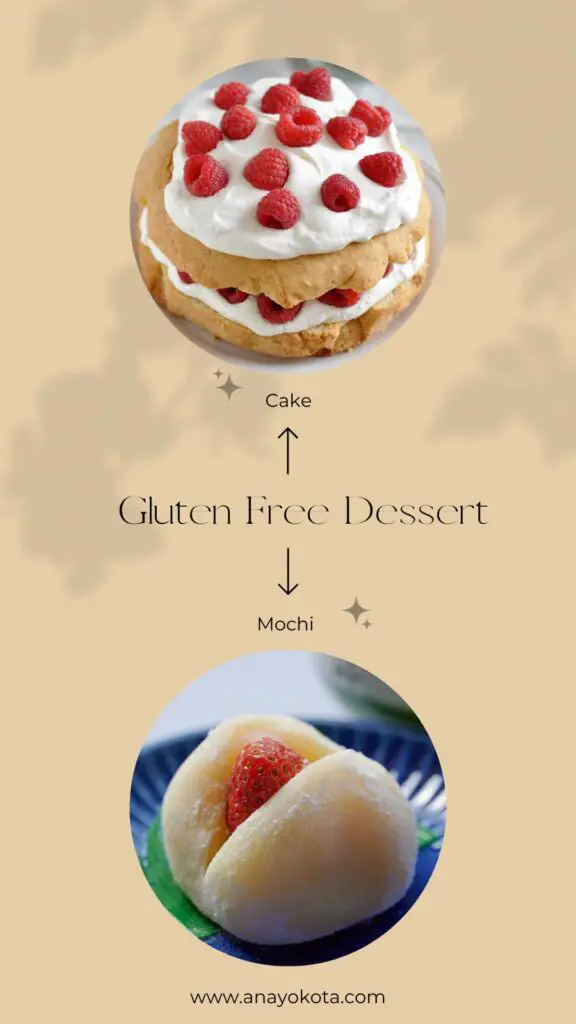 While most cakes and pastries contain gluten (no Pepero or choco pie!), many rice-based Korean desserts are gluten-free.
Gyeongdan (Sweet Rice Ball Cakes)
This traditional Korean dessert is made with sweet rice flour dough, which is then stuffed with sweet red bean paste. They are often sold at street markets and are gluten-free.
Mochi
Mochi is a Japanese invention that's very popular in Korea. These pastel-colored desserts consist of glutinous rice dough filled with various flavors, from peanut butter to red bean paste.
Dasik (Tea Cookies)
These are the ideal room temperature picnic snacks as they don't need to be baked. Traditionally, they would have been made in a special dasik pan, which imprints a pattern on these tiny snacks. They are made with glutinous rice flour but can be flavored with matcha, soy, sesame, seeds, honey, and other natural flavors.
Bingsu (Korean Shaved Ice)
This famous Korean dessert is something you'd probably buy at a store to share. It's shaved ice, usually sweetened with red bean paste or condensed milk, and topped with fruit, syrup, mochi, and rice cakes. This dessert is gluten-free but not dairy-free.
Although this is also not traditionally Korean, it is perfect for a gluten-free picnic food dessert because it is made with agar agar, fresh fruit, and a little bit of sweetener. The best part of this fresh dessert is that it is super healthy for your digestive system and refreshing on a Korean or Japanese picnic outing.
If you're feeling adventurous, add red bean and milk to your kanten.
Conclusion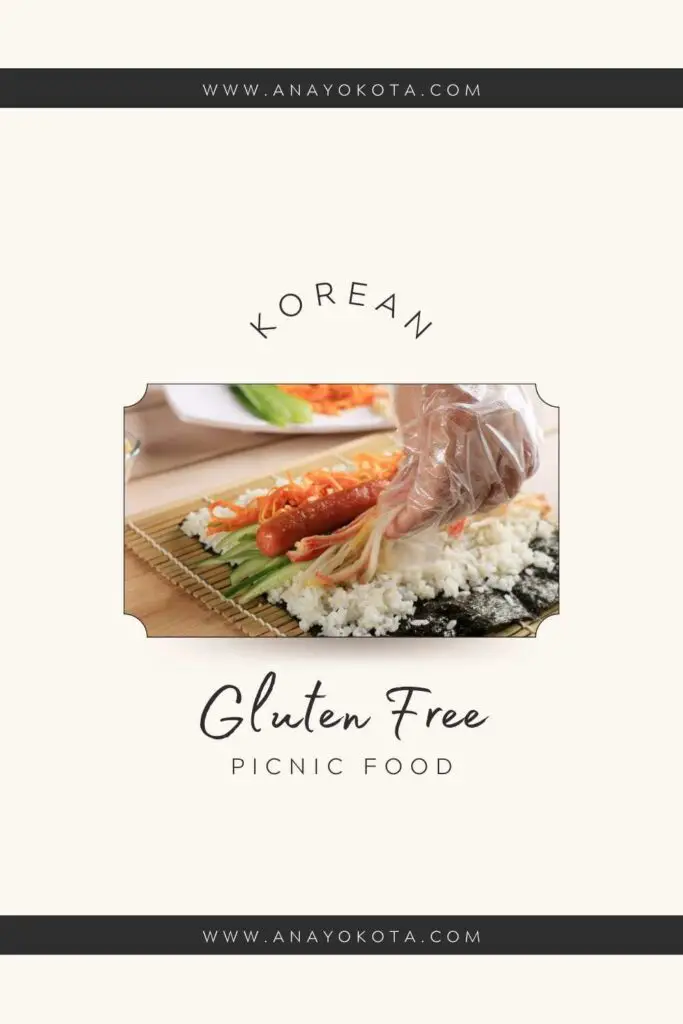 There is a wide variety of Korean gluten-free picnic food. Ideally, prepare the meals yourself or buy them from a trusted vendor who can confirm the ingredients. Enjoy kimbap, rice balls, egg rolls, and even dessert without worrying about allergies.
No need to stress about dodgy ingredients – just focus on enjoying your scrumptious spread!