This post may contain affiliate links. Please read my disclosure policy for more info.
Christmas in summer is an exhilarating opportunity to enjoy holiday date ideas with your love. Scroll down to learn more Christmas in July date ideas.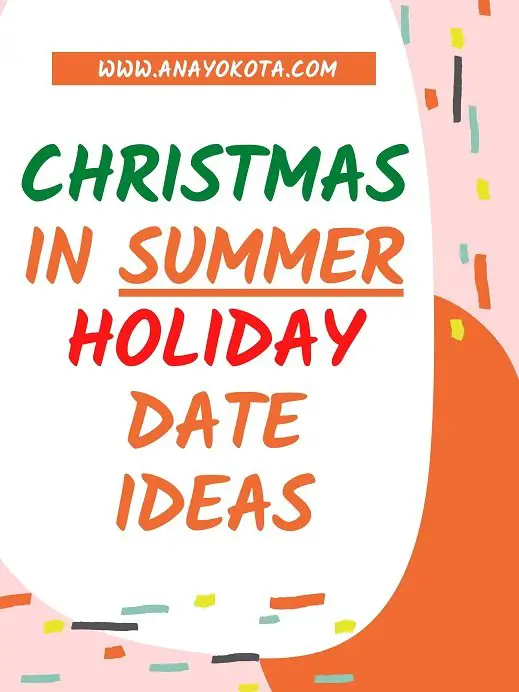 I've always been mesmerized by the twinkly Christmas lights and heartwarming generosity that appears during these special winter dates. It's no wonder that all the warm fuzzies make it so natural to plan breathtaking date nights with your partner. The issue I had this past Christmas season is that there's so many things my husband and I wanted to do but only had so many weekends to do them. 
So, it dawned on me. Why do we have to wait until the winter to experience the holiday romance? That warm cup of cocoa "cozied" up against the fire or romantic evening out in the town doesn't have to be during just one part of the year. Why not make that Christmas in summer? Or simply start using those holiday date ideas all year round?
My favorite holiday of the entire year is Christmas. In fact, I love it so much that ever since I was a child, I did not wait until after Thanksgiving to decorate our tree – let alone the entire house. Once the calendar hit November 1st, it was Christmas decorating, holiday music caroling, gift wrapping, amazing food eating extravaganza in our boisterous Korean family. 
Amongst the countless reasons why I love Christmas, there's just something about the hustle and bustle of attending holiday parties and seeing everyone in a happier mood. It's not only a philanthropic season where we get to express a little more of our appreciation, it is a beautiful season where romance is in the air. 
The origins of Christmas in July is unknown. However, many bloggers post that Christmas in July was created for those who lived in the southern hemispheres or for those who wanted to celebrate in the summer. "Christmas in Summer Facts" goes a bit deeper about the traditions and origins of Christmas in July.
However, I digress. Whether you save these ideas for Christmas in the winter or celebrate Christmas in summer (go Aussies!) , these fun holiday date ideas are sure to bring your heart the warm fuzzies no matter the season. 
OVERVIEW HOLIDAY DATE IDEAS
Romantic Christmas Picnic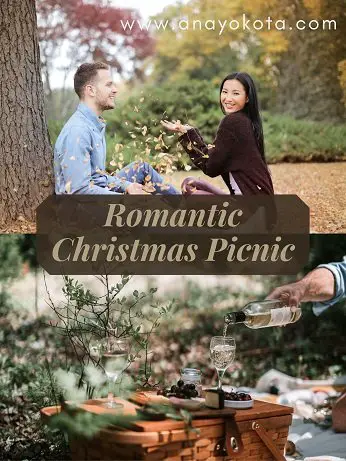 Picnics are wonderful throughout the year and especially when celebrating Christmas in summer holiday date ideas because it allows you to enjoy the outdoors, bond with your partner, reflect on your dreams, and eat delicious food.
Enjoying time outside has incredible benefits to your health, which can contribute to your holiday cheer. Not only is it helpful physically but also mentally.
For example, spending time outside gives you and your partner the opportunity to take a romantic stroll while soaking in the fresh air. But don't let the bad weather stop you, take the picnic inside on your living room floor. The point is to take a break and enjoy the moment together.
Picnics doesn't have to be a long endeavor. It can be during lunch or a pre-dinner date. Holiday picnics can give you and your partner a moment to be technology free and simply focus on each other. As a result this can easily be a time where you and your partner can reflect on your dreams and goals for Christmas. 
My favorite picnic benefit is undoubtedly the food. Here are my favorite holiday picnic foods: 
Turkey cranberry sandwich
Peppermint white chocolate cookies with walnuts
Hot (or iced) lavender milk tea 
Colorful fruit with cinnamon and honey
Gift Exchange Holiday Date Ideas
A simple gift exchange game is a fun and festive way for both of you to bless each other with something nice.
I love gift exchanges with a twist (such as rules or limitations) because it challenges you to be creative and thoughtful with your gift. For, example, give a gift that is less than $20 and create a rule that the gift cannot be cash, coupons, or gift cards. In other words, the gift has to be something you made or something purchased (which most likely cannot be returned or exchanged). 
Here are a couple other memorable holiday gift date ideas that I'd like to share with you:
DIY Cards — Create your own holiday card and write a romantic message.
Thrift Store — Both go into a thrift store and spend no more than $10 on a Christmas themed gift. 
Ice Skating
I'm always about "killing two birds with one stone" — even for holiday date ideas. Ice skating is not only exceptionally romantic, but it is incredibly healthy for you. Skating virtually uses every muscle in your body because you have to slide, glide, and synchronize your muscles. It's a flirty way to giggle with your partner and an epic way to put in that extra cardio. 
If you feel extra courageous, make it a fun video or photo shoot. You'll leave with love in the air and memories to prove it. 
Cozy Date Night In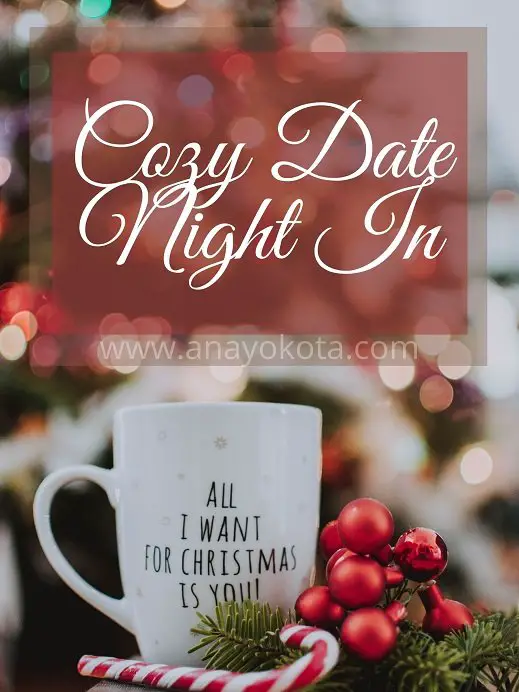 Just the word "cozy" brings a smile to my face because it infers warmth and comfort. One of my favorite ways to cozy in with my husband is making hot chocolate and Momofuku's Milk Bar Compost Cookie by Christina Tocci and making it a home date. Let me tell you, if this cookie isn't the epitome of the perfect cookie, I don't know what is. This is absolutely my favorite holiday cookie to make and a never fail for Christmas night in ideas.
If the weather is too warm for a hot cup of cocoa, I highly recommend making it iced! Frozen hot chocolate for the win. 
Other cozy sweet duos worth mentioning: 
Peppermint hot chocolate with brown butter rice crispy treats (smitten kitchen)
Peppermint or chamomile tea with lemon lavender cookies 
Iced apple cider with apple pie a la mode 
Hallmark Holiday Movie Night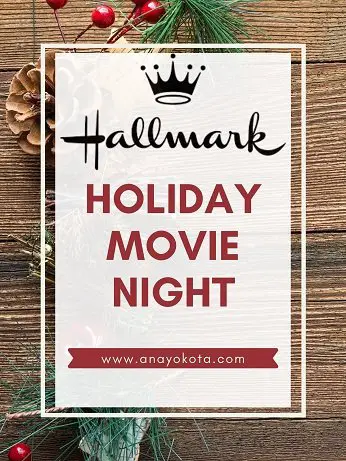 When I hear, "holiday movie night" I am automatically inclined to think, "Hallmark." Hallmark has been creating the most feel good, family friendly, feel good Christmas movies for years. It is the perfect holiday date idea that's easy and can be coupled with lots of romance.
A Christmas movie is a romantic way to spend time with each other especially when it results in cuddling and kisses. Cuddle up and grab your favorite Christmas movie snack by the Christmas tree. Here are my top holiday movie snack recommendations that can always be shared for two: 
Peppermint hot chocolate covered pretzels 
Sour Patch Kids (okay, so this may not scream "holiday" but it's our favorite and we can't stop our hands from gravitating towards these addictive gummies. 
Take A Cooking Class, Then Play Host Holiday Date Ideas
There is a special bond that happens when you cook together. Working together to build something not only beautiful but delicious is validating, fun, and very romantic. 
Looking for ways to double up on your romantic things to do at Christmas? After you learn your culinary expertise, show that off to your friends and family by hosting your own holiday party. 
Volunteer Together 
Volunteering isn't just a need during the winter. Holiday date ideas never said that it has to be only two people. Bring the love and kindness because there're always ways to help your community. It is a beautiful way to give back especially when the outcome of volunteering makes you feel happier, confident, and accomplished (SOURCE)
A few of my favorite places my husband and I like volunteering is at: 
Local food bank
Nursing homes
After school programs
Go To Disneyland 
Obviously, during the holidays, the theme park will be decked out. Whip out that camera and have a photo shoot at the happiest place on earth. 
Believe it or not, Disney celebrates Christmas in July. Check out the seasons and make it a special date at the Magical Kingdom. Disney theme parks brings holiday date ideas to the next level.
Make Ornaments Together Holiday Date Ideas
Get crafty with your partner this holiday season for this classic Christmas date idea. Creating things together inspires art and enables moments of creativity and wonder. Here is a great resource for fun ornament ideas.
Make Your Favorite Christmas Dish
Cooking and simply spending time together in the kitchen are beautiful winter date ideas to zone in on the simple things in life. Furthermore, cooking together builds teamwork, coordination, and creativity — both essential in building a robust and romantic marriage. Moreover, you are able to enhance and strengthen your communication skills with your partner. 
I love cooking our favorite recipes with my husband because it stimulates our senses as we work together making a scrumptious dinner. 
Make A Christmas Dish From A Different Culture
As much as my husband and I love cooking our favorite meals for each other, we also love traveling for food and discovering new cultures. Food can be a sensual and exotic way of discovering new cultures. I love to adventure towards new foods from other nations because it gives you insight on history, people, and traditions. 
You can pick a theme or a specific cuisine. Don't forget dessert!
Favorite Holiday Treats And Share The Cheer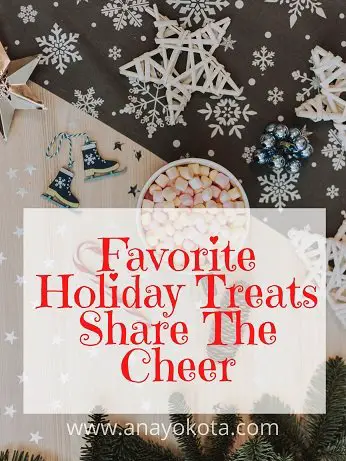 Sharing is caring. Much like volunteering, sharing is a powerful emotion that carries love, compassion, and kindness. Coupling that with sharing together allows you to share all those good feelings with each other. A few fun recipes that are fun and delicious to make are: 
Make Your Own Holiday Tradition
Building and maintaining tradition has always been a part of my upbringing. It has taught me great value to appreciate milestones, ethics, and character. Creating traditions is a beautiful way to commemorate a celebration or give meaning to relationships. As holiday traditions reinforce a sense of belonging, I am encouraged to continue building new traditions with my husband as we grow our family. 
One of the newest traditions my husband and I began this Christmas is going to Christmas church service, spending the night at his parents' place and making breakfast together. This may not be a unique tradition but it is a pure moment for our family to recognize our identity and strength in celebrating our faith together as a family. 
Christmas Date At The Beach
Piggy backing off of the Romantic Christmas Picnic idea, why not enjoy good eats as you spend a romantic date on the beach with your love. The beach has a naturally God given aura of romance all year round. Go with your special someone during the holidays and take that romantic stroll under the sunset skies — it will be a different kind of twinkling in the air. 
Fun idea: Make a beach "snowman" out of sand. I am from a place that never snows during the winter. But that doesn't mean I can't commemorate dear Mr. Frosty. Take a picture and share with your loved ones who made the better "snowman sandman" 
Go Watch Disney On Ice
Looking for fun date ideas? Disney on ice is not just for children. Take it from my friends who have experienced this magnificent show. The thrill and attention to detail brings a nostalgic sense of exhilaration as you are brought back to your childhood memories of your favorite Disney characters. Change up the annual Nutcracker performance for a magical show on ice with your date during the holidays. 
Bonus: Disney on Ice is a year round performance; so, Christmas can be enjoyed during the summer as much as fall and winter date ideas. I encourage you to plan ahead and see when/where Disney on ice is performing near you.
Couple's Gift Exchange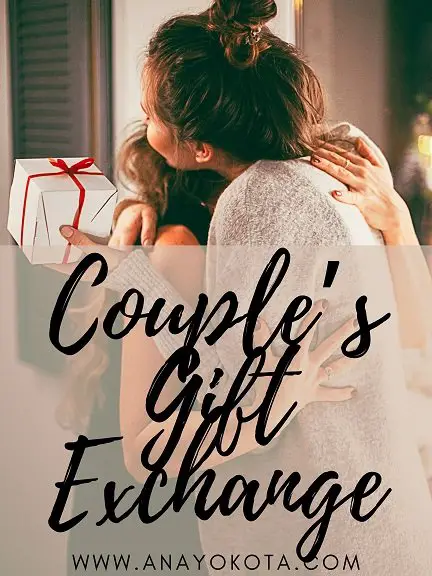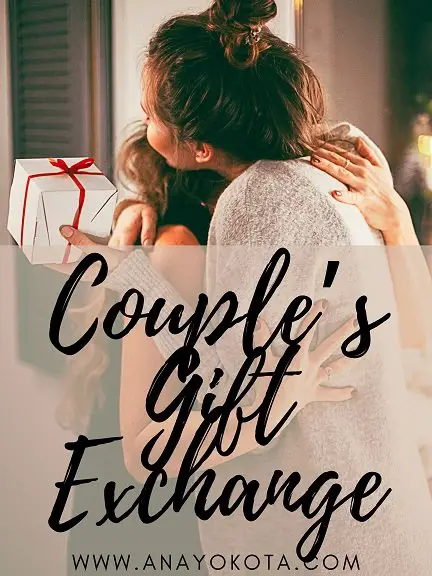 There is a wonder and beauty when you're able to celebrate the holidays with your favorite friends. Just like a one on one holiday date idea promotes camaraderie, loyalty, and love towards your special someone, couple dates establish memorable connections with your closest friends as well. This is one thing I always wish I could do more with our friends because as much as I cherish date night with my husband, I love spending quality time with our friends.  As a matter of fact, I highly recommend couple dates not just during Christmas but all throughout the year. 
A classic couple's date night idea is initiating a gift exchange. First you'll want to email your friends in advance the details of who is giving whom the gift. Make sure you give each other enough time to find a Christmas gift for the friend you've been assigned (usually a week to two weeks is plenty of time). You can be as extravagant or simple as you want for your date night. Here are a few ideas that were a huge success for me: 
Make it a theme. For example, you can have a kitchen theme where each gift must be something you would find in a kitchen. 
Put a limit to make it fun such as monetary limit, time limit, store limit, etc…
For the dinner, one couple brings appetizers and dessert while the other couple brings the main dish. 
Make Dinner For A Family In Need
Once again, the heart of giving never fails to bring hope and comfort to those in need. Holiday date ideas that you can repeat and feel so good are the best. You don't have to stay or necessarily make it a big deal. Even a simple back of groceries can help a family have a warm home cooked meal. 
Another extension of this is making meals for a new mommy. More words can be spoken on this topic but I shall keep it short by saying that mom's rarely have time to sleep, feed their child, bathe, or clean let alone cook. Find out what they like and drop off a home cooked meal to that well deserving mommy. 
Oh! And make sure you leave a holiday card. 
Christmas Charcuterie Board And Gift Wrap Date
We get really creative with cute date ideas. Charcuterie boards have been our thing in our marriage because there's so much creativity, diversity, and flavor you can indulge from one magical board of goodness. Plug in your favorite holiday jams (like pomegranate, fig, and apple) with curated meats (like imported salami, prochuto, and roasts). Here is my very own Pinterest charcuterie board for your convenience. 
Speaking of holiday jams, play your favorite Christmas music as you wrap those Christmas gifts for your loved ones. 
Christmas Breakfast In Bed
Why not? As a matter of fact, why not make it a tradition? I love breakfast food (you'll hear me say that a lot). Holiday date ideas that has to do with food speaks romance any time of year. Wake up a little early and surprise your partner with his or her favorite Christmas morning breakfast. I'm sure it will be a romantic holiday morning that will never be forgotten. 
---
Need a holiday card along with your date? Check out Funny Christmas Card Messages to help with adding that special note for your date!
I hope you try these Christmas date ideas. Put it on your calendar or make it a spontaneous endeavor. You are worth every romantic date night. 
Have any more Christmas in summer holiday date night ideas? Did you try any of these fun dates? Please let me know! I'd love to hear them.