This post may contain affiliate links. Please read my disclosure policy for more info.
Whether you're in Japan and planning to visit Shinjuku or Yoyogi park, it's simply a nice day outside wherever you are, or you're planning to impress a date with heritage or knowledge of Japan; it's always a good idea to have a Japanese picnic. Not only is the food easy to make and delicious, but it is also nutritional and will have the perfect aesthetic to capture and show off to your friends.
So, before you get your ingredients and start prepping your picnic, let's take a deep dive through Japan's best-known traditional picnic foods. Soon enough, you will find yourself and your picnic companions (be them friends or perhaps some hungry pigeons) saying  "oishii!" (美味しい) after every bite.
Traditional Japanese Picnic Food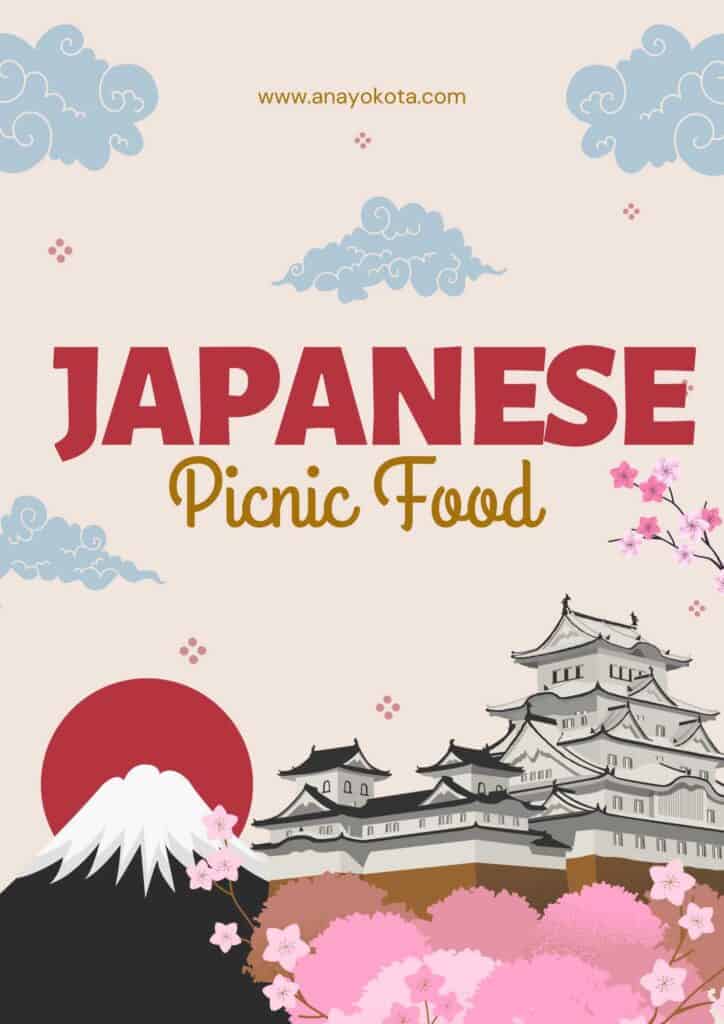 Many Japanese foods are perfect for a picnic – a standard Japanese meal comprises many little dishes coming together to form a well-balanced breakfast, lunch, or dinner. While you can take any of your favorites of these small dishes and combine and pack them in a bento or basket for your next Asian picnic, some are undeniably more iconic or traditional (and better suited) for a Japanese picnic.
Traditionally, some items are found more often in a Japanese picnic:
Onigiri  (rice balls, usually filled with ingredients like tuna mayo or pickled plum)
Tamagoyaki (rolled omelet)
Tsukemono (pickled vegetables)
Depending on where you're from, you may see many different picnic themed food combos; however, most Japanese will agree that these are the essential Japanese picnic food. Lucky for you, the three that I just listed are easy finger foods for picnics and are easy on the budget!
What Is The Origin Of The Japanese Picnic
Japanese picnics traditionally take place in Spring during hanami (flower watching). This period is when the Sakura and plum blossoms are full, and you can enjoy their glorious blossom with nice weather. All this combines to create the perfect setting for a wholesome meal outside.
The historical goal of the communion under the blossoms was to pray for a good harvest. While starting as a tradition for the imperial family around 800AD, the samurai and shogun soon took over the reins and continued the ritual. Eventually, merchants sold the same idea to citizens, and hanami became a yearly ritual for all. These days hanami is done everywhere in Japan and sometimes even abroad.
Wanting to learn more about the Japanese culture? If you are wanting to learn Japanese but not sure if you have time? I explain in How Long It Takes To Learn Japanese on the realities of learning Japanese and a breakdown of how you can learn this beautiful language
What Do You Bring To A Japanese Picnic?
Now, it's impossible to pack twenty or more items for a single picnic, but it is good to have options so that your Japanese picnic food can look different each time you decide to have it! Here you will find some of our favorite options for a good picnic food recipes, sure to make you smile while basking in the sun or the beauty of blossoming trees.
Onigiri (Japanese Rice Balls)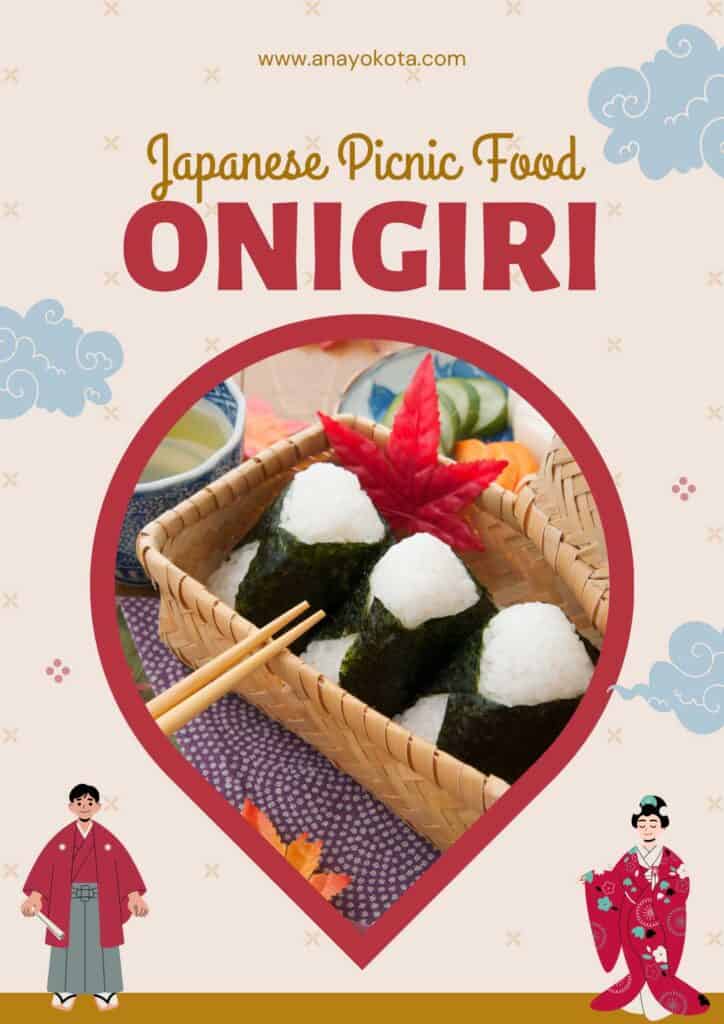 Onigiri is the perfect Japanese picnic food to serve as the staple for any meal or even a light snack. It's cheap, tasty, and filling, meaning you can spend a little more on adding all the other little parts to your liking. Furthermore, onigiri is compact and looks cute in all shapes and sizes. You can buy it at any Japanese convenience store. For those outside of Japan, you may have a harder time finding it, but making it is a piece of cake!
Onigiri has three main ingredients: filling, rice, and nori seaweed. However, you can exclude the filling or seaweed if you like; only the rice has to stay! Popular options for filling include tuna mayo, pickled plum, salted salmon, beef and soy sauce, and other interesting combinations. Make your pick.
Looking for a great onigiri recipe? Korean call this triangle gimbap. With the two cultures sharing so much history, it makes sense that Korean love onigiri too!.
Furthermore, nothing provides an easy picnic lunch than purchasing onigiri from a specialty restaurant or Japanese market with a ready to eat food section. Nowadays, you can find all the popular flavors from spicy tuna to cod roe.
The best part of onigiri is that it's perfect for any season of the year. So, if you're wanting to explore winter picnic food, don't forget to add these satisfying rice balls.
Karaage (Marinated Fried Chicken Pieces)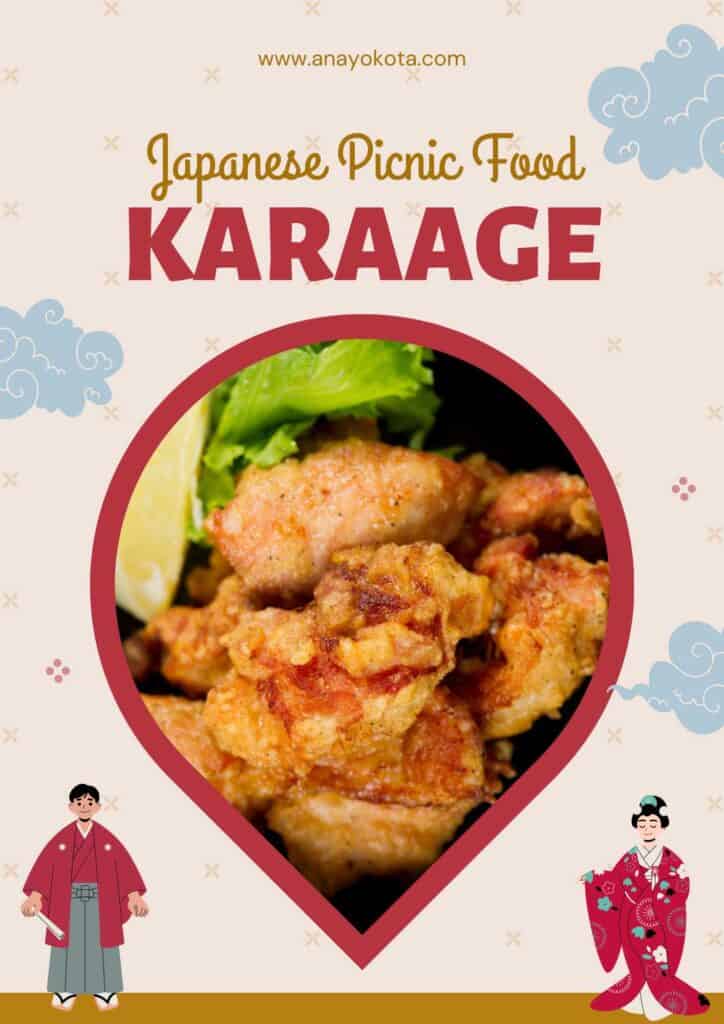 Karaage is more than a tasty snack alongside your favorite beer at the Izakaya. My husband would even vote that karaage is the best picnic food on the planet. Japanese families often make karaage the star of a dinnertime meal and, likewise, a Japanese picnic food.
Karaage is generally marinated in ginger, garlic, soy sauce, and mirin, then coated with potato starch and fried to golden crispiness. Letting it cool before packing is best to avoid steaming and getting soggy.
The beauty behind Karaage is that it is wonderful all year round especially if you're looking for fall picnic menu ideas when the weather starts to cool. The nice crunch from chicken and steam from within will warm up your tummies in no time.
Tsukemono (Pickled Vegetables)
Tsukemono refers to various pickled veggies with different tastes, textures, and wonderful colors. Favorites include pickled daikon radish, umeboshi (plum), takana (mustard leaf), kyuri (cucumber), and a whole variety of others.
If you can think of a pickled vegetable, the Japanese have likely tried it! Depending on where they're from, everyone has a favorite. My personal favorite is takuan, a classic pickled daikon. Koreans call this side dish danmuji, where it is common to see in Korean picnic food as well.
Tamagoyaki (Sweet Or Salty)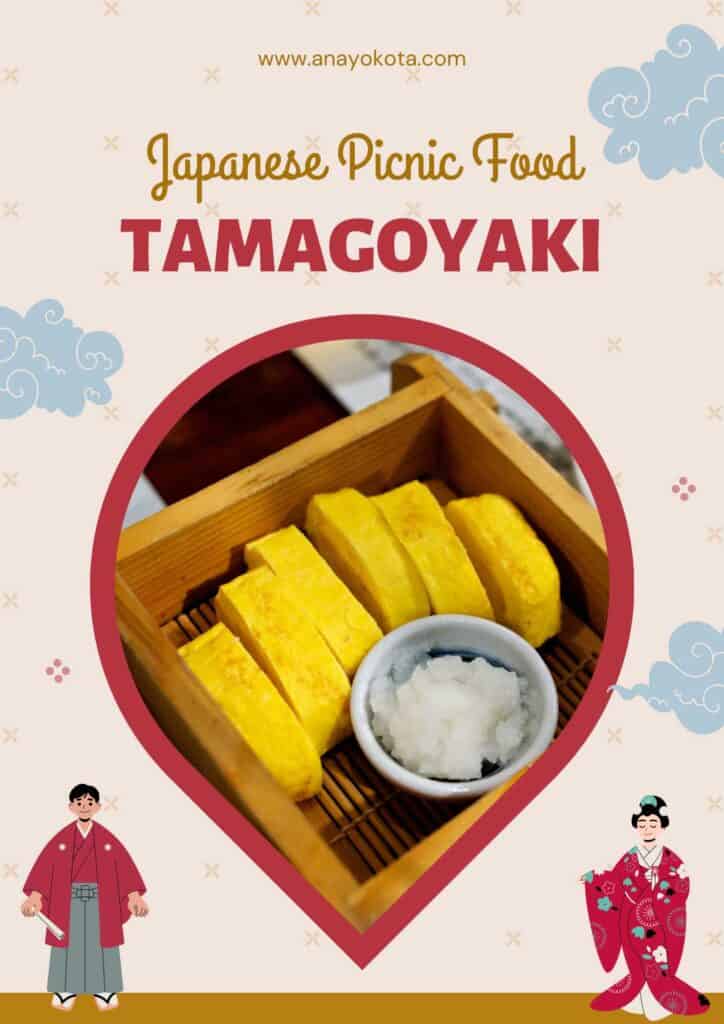 The famous Japanese rolled omelet, or tamagoyaki, is the perfect companion to your Japanese picnic food. You can cook it with sweet dashi or fry it and add salt and pepper. It's up to you! Tamagoyaki is generally cut into bite-sized pieces for convenience. With salty tamagoyaki, feel free to take a ketchup packet along!
If you're looking for morning picnic ideas, tamagoyaki is a wonderful addition to your morning menu as it is hearty and full of great nutrition. Add a side of onigiri (or Triangle gimbap) and you have a perfect breakfast.
Inarizushi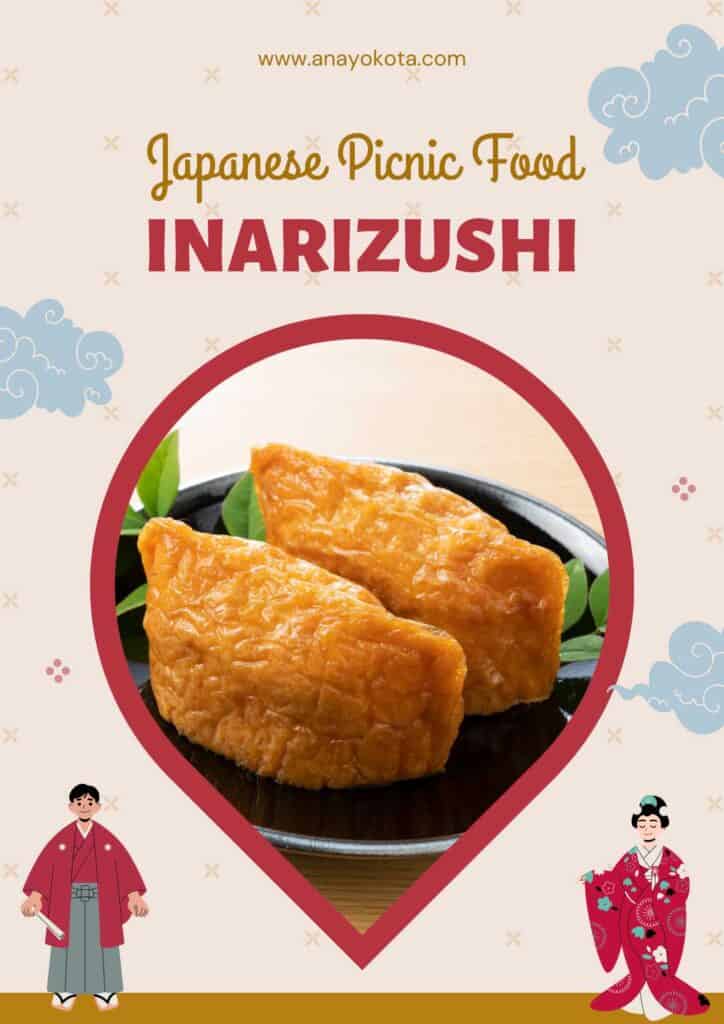 Inari is the Japanese god of rice – specifically, the guardian of rice cultivation – and the name behind this tasty type of sushi. Inarizushi consists of rice wrapped in fried tofu (aburaage) that absorbs flavor through cooking in a sweetened dashi broth. There is arguably no better snack to praise Japan's staple – rice – on a picnic day.
The crossover between Japanese picnic food and Korean picnic food has so many similarities. In Korean picnics, you can also see inarizushi, which is called yubuchobap. It is more common to see Koreans add finely chopped vegetables and meats in their yubuchobap to add a little more pizazz.
Yakitori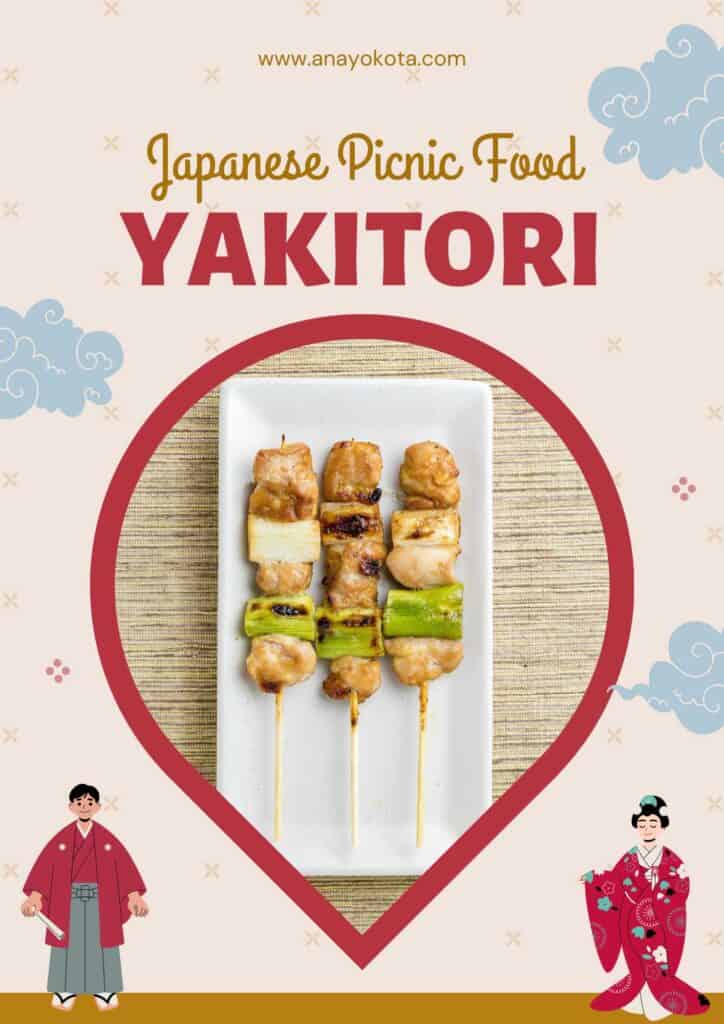 This is a great addition to your picnic party food ideas. Grilled chicken skewers (aka: yakitori) are a good alternative to karaage if you want a non-deep-fried meat-based protein in your Japanese picnic food. Furthermore, it comes on a stick, making it much easier to eat on a picnic if you don't want to pack your chopsticks! Yakitori is perfect, whether hot or cold, and you can choose how to season or sauce it as you like.
Fresh fruit
Fruit is a great and healthy way to bring dessert on your Japanese picnic. Oranges, strawberries, and melons are a favorite among Japanese – they add color and refreshment to your Japanese picnic food. Just pack what's seasonal, and everyone is sure to enjoy it.
Easy picnic finger food recipes such as fresh fruit can be prepared in advance leaving you more time to prepare other easy picnic dishes.  
Sando – Japanese Picnic Sandwiches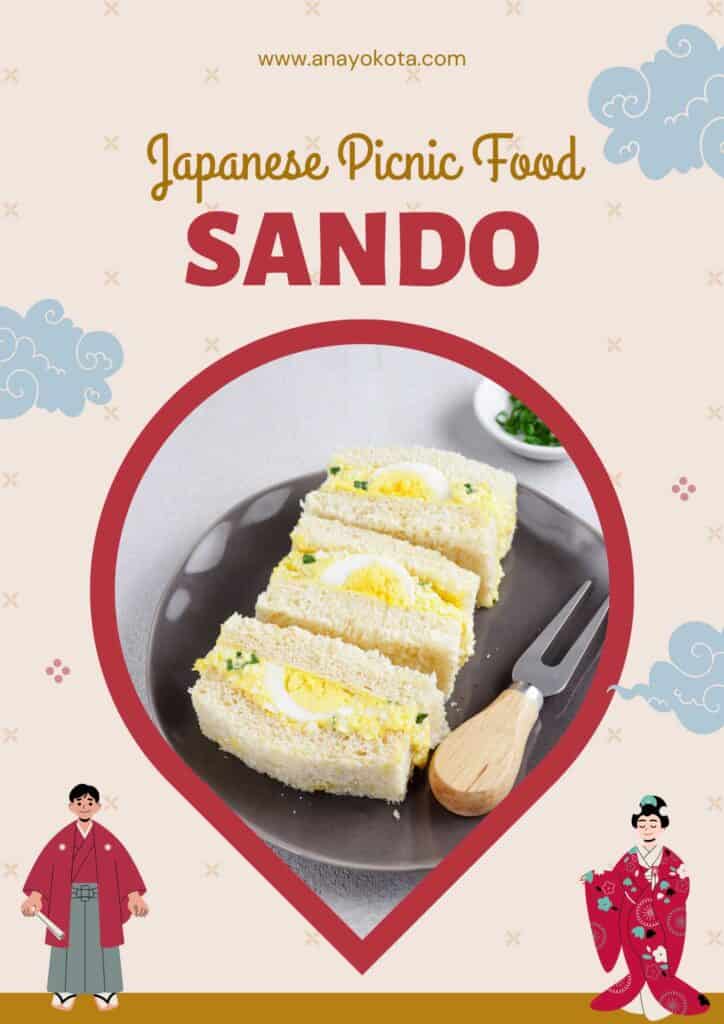 Modern picnics often include Japanese sando (sandwiches) due to their delicious fluffiness and cute look. Flavors range from egg and mayo to pork cutlets with sauce and cabbage. You may know of your favorite Japanese picnic food that isn't featured here – please let us know what best picnic recipes you enjoy most, and feel free to add it to your bento when you prepare your next picnic.
What About Real Deserts and Drinks?
Deserts typically don't find their way into a Japanese picnic. However, nobody will complain when they find fluffy sweet goods in their picnic basket. The same goes for drinks – some drinks have their roots deeply founded in the start of Japanese picnic culture.
That being said, I have seen many Japanese picnic food use convenience stores and vending machines to satisfy their sweet tooth and quench their thirst.
Sweet Japanese Picnic Food
Japan has many sweet picnic snacks that fit perfectly into a picnic set. Dorayaki (pancakes filled with sweet red bean paste), mini matcha cakes, castella, or Japanese souffle cheesecakes are good baked options. Otherwise, you can choose snacks like gummies, dango, taiyaki, or mochi. Just make sure you leave space for dessert when eating all of the other yummy goodies you packed.
Need a healthier picnic foods list? Try fresh fruits such as oranges, apples, and pineapples; all wonderful choices that will make any Japanese picnic sweeter.
Drinks for Japanese Picnic Food
Japan is full of vending machines so you could take your pick on the way to the picnic. From iced green tea, soft drinks, or a refreshing beer, Japanese vending machines are seriously next level when it comes to ultimate vending convenience.
Hanamizake (drinking sake under the cherry blossoms) is an important part of the event, and you may see many Japanese locals enjoying some nihonshu. Just remember that liquids may make your picnic basket quite a bit heavier.
Alternative Japanese Picnic Options
I've been mentioning Japanese convenience stores a few times in this article because it truly is a wonderful resource when it comes to saving time and saving money. You can easily pick up a bento in Japan at a specialized lunchbox restaurant or the konbini (aka: Japanese convenience store)!
These little lunchboxes are packed full of variety and nutrition. If you're on a budget, simply picking up some onigiri, nikuman, and other snacks is just as viable an option for a good picnic.
In Spring, you may even be able to buy chirashi sushi for your outdoor picnic food ideas – perfectly delicious and beautiful.
Wrapping up Japense Picnic Food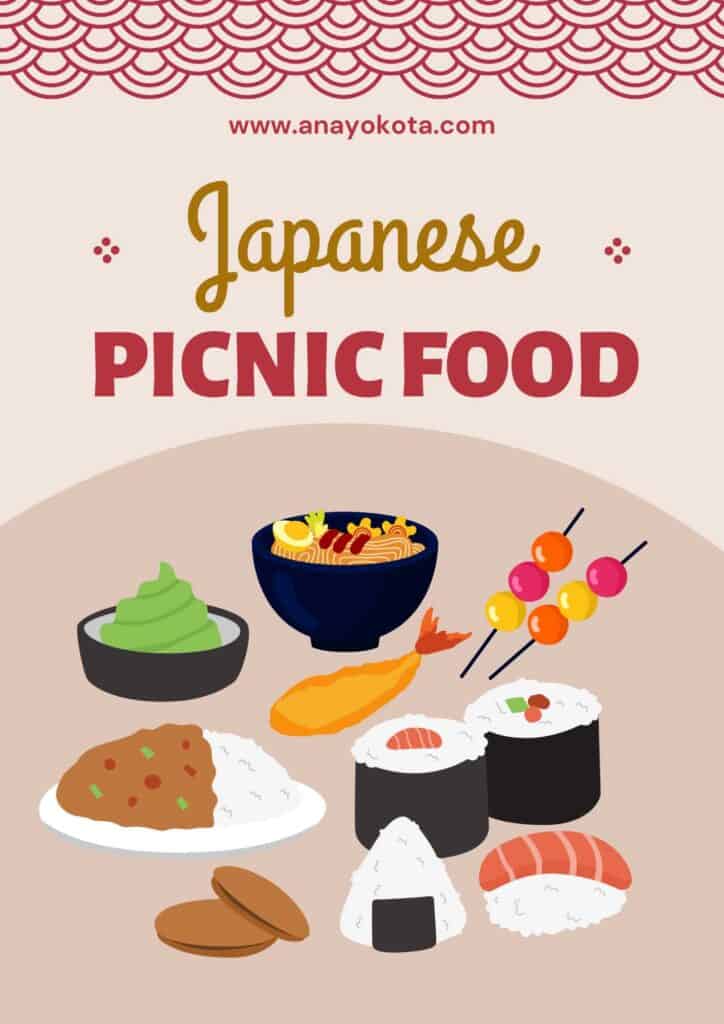 Now then, pick a day with nice weather, find a scenic picnic spot, phone a friend, and prepare for an unforgettable Japanese picnic food outing. No time to make easy recipes for picnics? Take a quick pitstop at the konbini and grab your favorite Japanese picnic food on the go. Take your chopsticks or leave them at home – all of these snacks (except perhaps the chirashi sushi) can be eaten by hand!
When it comes to picnics, there are just so many different themes and foods you can choose from depending on the season and the people. From Winter picnic foods to romantic date picnic food, don't be shy to explore all the different variations of picnics.