This post may contain affiliate links. Please read my disclosure policy for more info.
Discover the crispy, savory sensation that has everyone talking – Korean bacon! Whether you're a culinary adventurer or just looking to switch up your mealtime routine, Korean bacon is the perfect addition to any meal. The golden, crispy texture combined with the rich, smoky flavor makes this dish a fan favorite across the globe. So why wait? Try some Korean bacon today and see what all the hype is about!
In America, bacon is a staple, and it's not just enjoyed at breakfast but as a delicious accompaniment to all kinds of dishes. There are many different kinds of bacon, and each country has its own version. Italians have pancetta, the French have lardons, and in Hungary, their bacon is smoked with spices like garlic and paprika. In Korea, Korean pork is eaten at least once a week and isn't like traditional bacon.
There aren't many things that are better than bacon. Bacon is easy to prepare, delicious and can be eaten during your next picnic outing. Koreans love bacon; in fact, pork is the most widely consumed meat in Korea, and there are so many reasons why Korean pork is tasty and so often in Korea.
I love eating Korean bacon straight on the grill with no seasoning. I let the meat cook in its own fat as it renders out making the pork crispy on the outside and soft on the inside. The best combination with Korean pig is (of course) grilled kimchi!
You can learn the beautiful flavors and dynamics of kimchi on the blog. Learn why kimchi is just so iconic to Korean culture. It's no wonder people love Korean bbq bacon with delicious kimchi.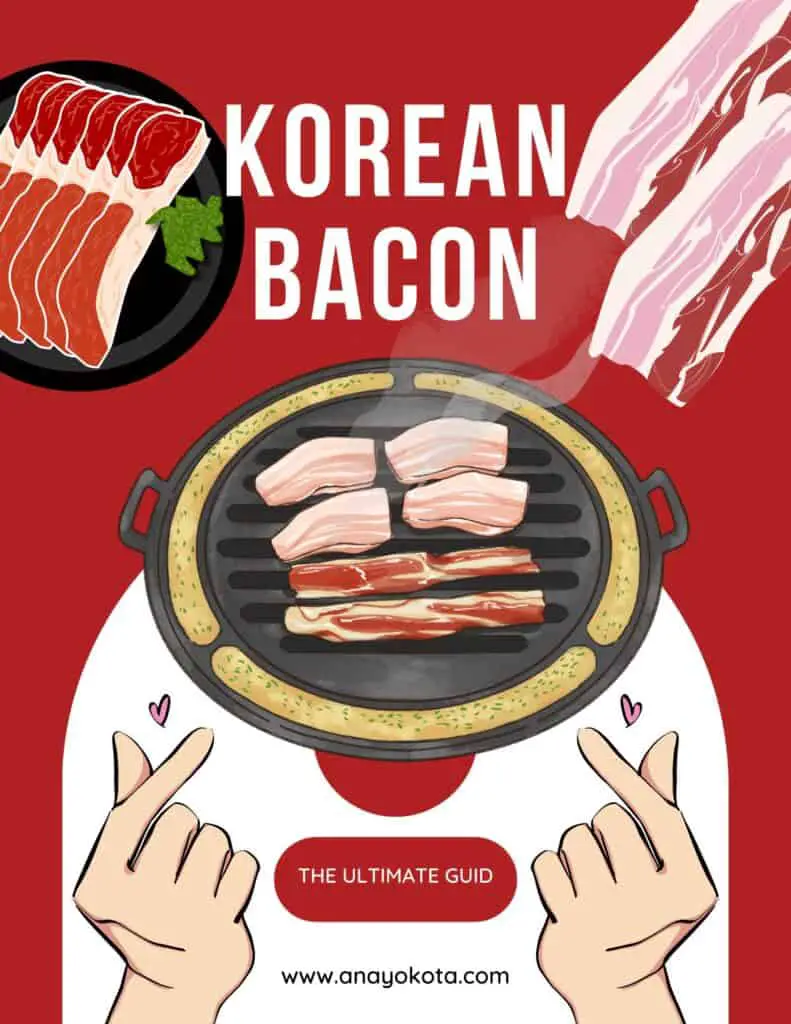 What Is The Difference Between Korean Bacon And Western Style Bacon?
In the west, bacon is made from the pork's belly, which has been cured, thinly sliced and sometimes smoke. The strips contain some fat and meat and are usually cooked until crispy.
In a few western countries, bacon is not smoked and comes from the loin, which is in the middle of a pig's back. This type of bacon is typically eaten in the U.K. and is called a rasher.
The definition of bacon varies, but in most instances, it is considered a fatty cut of meat found next to the ribs, which is cured, smoked, and thin or thickly sliced.
In Korea, bacon is thinly sliced and grilled pork belly. Additionally, Korean bacon is almost always uncured. You can use Korean pork by cooking it in a barbeque style, typically on a round tabletop grill, then wrapped in a lettuce leaf and served with a variety of fresh vegetables and Kimchi (spicy and fermented vegetables).
In the west, breakfast usually consists of waffles, pancakes, eggs, bacon, and other popular foods. In Korea, breakfast consists of the same dishes that you'd eat for lunch and dinner, and Korean bacon can be seen in stews like 김치찌개 (kimchi Jjigae).
Some traditional Korean dishes enjoyed for breakfast are soups and stews like gamjatang or barbeque dishes like Pork Bulgogi, which is a spicy Korean spicy pork belly dish. In addition, side dishes known as Banchan are also enjoyed as part of a Korean breakfast.
The Best Ways To Eat Korean Bacon
Korean style pork belly can be enjoyed in a number of dishes. Many Korean pig dishes have traditional flavors and may include ingredients like fish sauce, gochujang, and sesame oil. Korean bacon recipe dishes are served with rice and vegetables, and one of the many ways to eat Korean marinated pork belly is barbeque style.
Pan Fried
Pan-frying Korean bacon gives it a crispy texture. Unlike cooking over a charcoal grill, pan-frying keeps things cleaner and easier to clean. A dish commonly pan-fried is Dweji Bulgogi, a Korean pork belly marinade recipe.
The pork in this dish comes from the belly and is slathered in a spicy gochujang sauce with lots of garlic and ginger. This delicious Korean spicy marinated pork can be served with rice or wrapped in lettuce or (my personal favorite) perilla leaves.
For those who love Korean garlic pork belly recipe but would prefer chicken instead, here is a mouthwatering and super easy recipe called Chicken Bulgogi.
Barbeque Style – Samgyupsal Bacon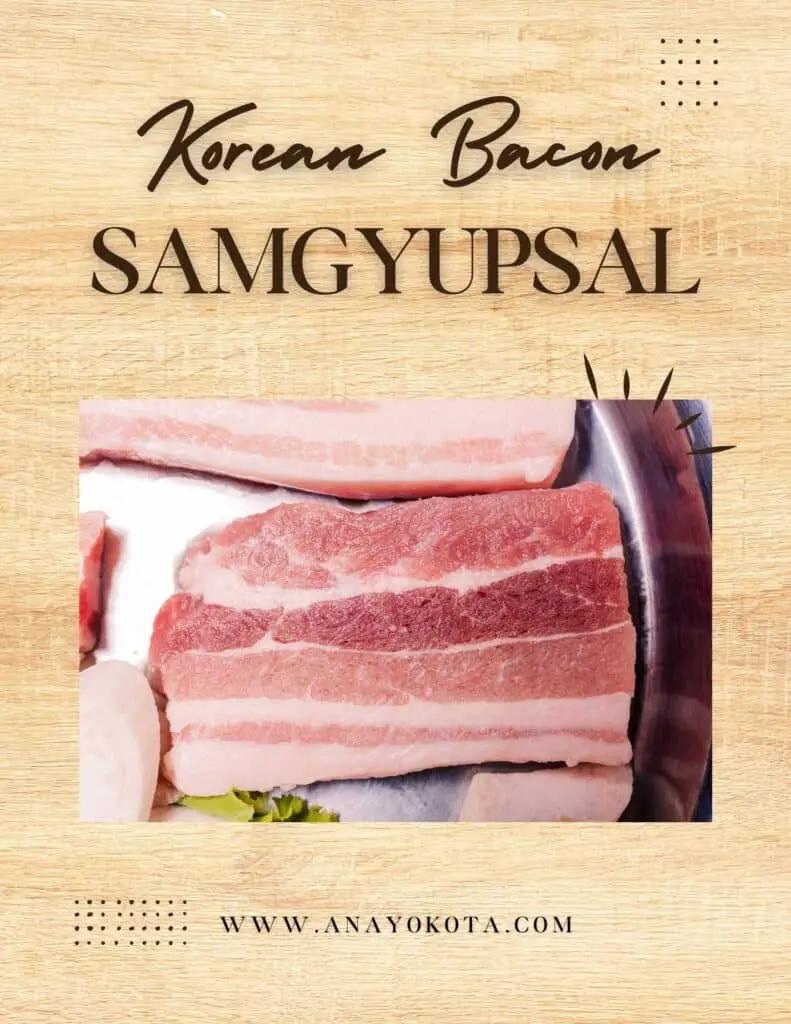 Barbequing Korean bacon is also known as Samgyeopsal (or samgyupsal) and is a very popular Korean dish. Bacon samgyupsal a grilled pork belly dish served at many Korean restaurants with a several side dishes. The bacon cut pork samgyupsal is thinly sliced, marinated, and cooked.
This barbeque eating style is extremely popular because it's also a way for families and friends to get together to socialize. Everyone gathers around the barbeque and cooks together.
Bacon for samgyupsal is meaty and savory and is somewhat similar to roast pork. Samgyeopsal literally means three-layered meat because of the fatty layers from the pork's belly.
If you are using pork belly marinades, the best way to eat it is making it into Korean bacon lettuce wraps. Simply cook your favorite marinade recipe and wrap the meat in fresh lettuce. I personally prefer red leaf or butter lettuce. Learn how to cook Korean spicy pork for your next weeknight dinner.
Samgyeopsal is also served with a few dipping sauces to enhance the flavor. These are typically soy-based sauces (such as doenjang) or spicy-based (such as gochujang) sauces.
Samgyeopsal is also a very popular choice when serving Korean birthday food.
Korean Bacon And Egg Bibimbap
Korean Bacon marinade and Egg Bibimbap is a great Korean-inspired breakfast dish. Essentially you grill up spicy Korean pork belly and fry a sunny-side-up style egg over a hot bowl of rice filled with freshly cooked vegetables. This delicious breakfast dish is topped with toasted sesame oil and gochujang (Korean red chili pepper paste) or soy sauce for a milder flavor.  
This dish can be made using marinated or not marinated and is a tasty spin on your typical bacon and egg breakfast.
Kimchi And Korean Bacon Fried Rice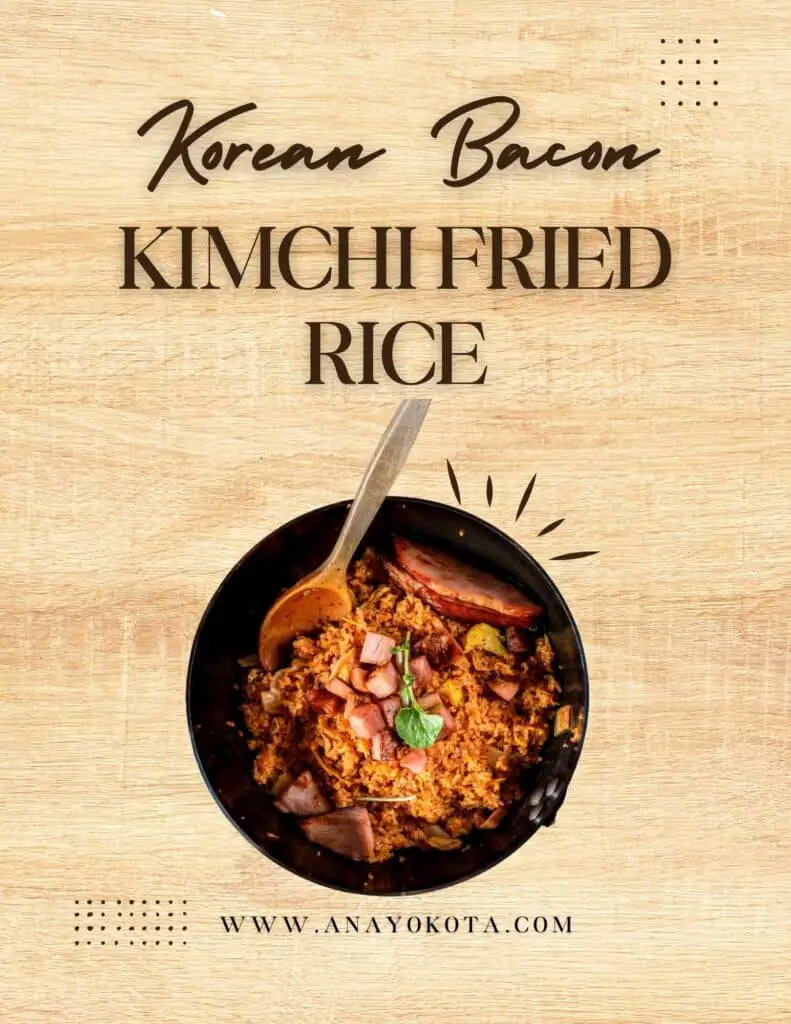 Kimchi and bacon fried rice is a spicy pork belly recipe you can whip up quickly, making a great weeknight dinner. This dish uses simple ingredients, including thick-cut Western bacon or Korean, kimchi, garlic, gochujang, and short grain white rice. Some like to add sugar and soy sauce for added balance and flavor; however, I prefer to stick with the original recipe and let the kimchi and Korean bacon shine.
The kimchi's slightly sour taste is perfectly balanced by the bacon's fattiness and the vegetables' savory crunch. Some say that the added sugar in this dish doesn't make it sweet but reduces some of the intenseness of the kimchi, especially if you've used aged kimchi.
Why Is Korean Bacon So Popular?
Korean bacon is popular because it's considered a healthy food choice in Korea. Although you wouldn't think that bits of fatty pork belly are the healthiest food choice, surprisingly, Korean pork is healthier than conventional bacon because it has significantly less sodium and the fat is rendered out before serving.
In Korea, the fat of the bacon is consumed and never wasted, but in many western countries, people tend to cut off the fat due to the high nitrate and sodium content. But if you've ever had Korean hot pork with the fat, you'll know that it is tough to skip and is not only the best part of the bacon but the most flavorful.
Korean pork cuts are also popular because Koreans believe it will give them healthier skin, detoxify their bodies, and help prevent disease. While this isn't backed by science, Korean bacon is low in cholesterol, a good source of protein, contains numerous vitamins and minerals and tastes delicious.
Koreans also believe that the slippery and oily fat from bacon is good for removing dust from the lungs otherwise knowns as yellow dust season 황사 (when sand and silt travel from China to Korea and fill the air). It is common to see Korean sliced pork belly recipes frequently eaten especially during this season. While this is mainly based on superstition, I never complained to have more reasons to eat Korean bacon.
FAQs
What Is Bacon Day In Korea?
In Korea, the third day of March is bacon day or Samgyeopsal Day. It is believed that bacon day was declared by local farmers to promote Korea's most popular pork dish, Samgyeopsal.
It is celebrated on the third of March due to Samgyeopsal's meaning of three layers, and in the case of Korean bacon, three layers of meat. Hence the third day of the third year of the month.
Pork is a staple dish in every Korean household. This favored cut of meat is so popular that it has a special day. Korean dishes are not only found in Korea but have become very popular in the U.S. Albeit, other nations may not have Korean Bacon Day, it's still a beloved dish all year round.
What Are Some Popular Korean Bacon Dishes?
Korean bacon dishes are versatile and are usually quick and easy to make. Korean bacon dishes include Korean bbq bacon recipe, spicy pork belly Korean recipe, bacon wrapped in fresh greens, pork in stews, and rice dishes.
You can find Korean bacon at pretty much any major Korean grocery shop. If you don't have access to the Korean market, simply ask your local butcher to cut the pork belly into strips.
Conclusion
Korean bacon is not like conventional bacon but makes Korean dishes unique. It's much healthier than western bacon and is not only a staple in Korea but also brings people together in one of the best ways, through a traditional Korean barbeque.
When grilled, Korean pork belly is crispy on the outside but juicy and tender when you bite into it. It can be made with a delicious array of spices and authentic Korean sauces. You can find most of the ingredients for this flavorful dish at a local grocery store.
Calling all bacon lovers! Do you want to jazz up your Korean cooking? Then try Korean bacon today. It's the perfect way to bring something new and exciting to your plate. Not only is it tasty and smoky, it also has a warm flavor with an unforgettable crunch! So why not expand your palate and give Korean bacon a try – trust me, you won't regret it!