This post may contain affiliate links. Please read my disclosure policy for more info.
Enter the topic of Korean blood type personality. What does your blood type reveal about you? While you can use the Korean zodiac to help predict personality types, Koreans also like to analyze people using their blood type.
As someone who's fascinated by the world of Korean blood type personality, I can't help but dive deep into this intriguing cultural phenomenon.
Stemming from a belief that your blood type is linked to your temperament and character traits, this concept has gained massive popularity in South Korea and beyond.
In fact, it's become so influential that it affects various aspects of people's lives, from dating preferences to job applications to even dietary recommendations.
As we delve further into this fascinating topic, let's explore how this unique belief system originated, its growing impact on modern society, and the scientific evidence (or lack thereof) behind it all.
Join me on this captivating journey to unravel the mysteries behind Korean blood type personality.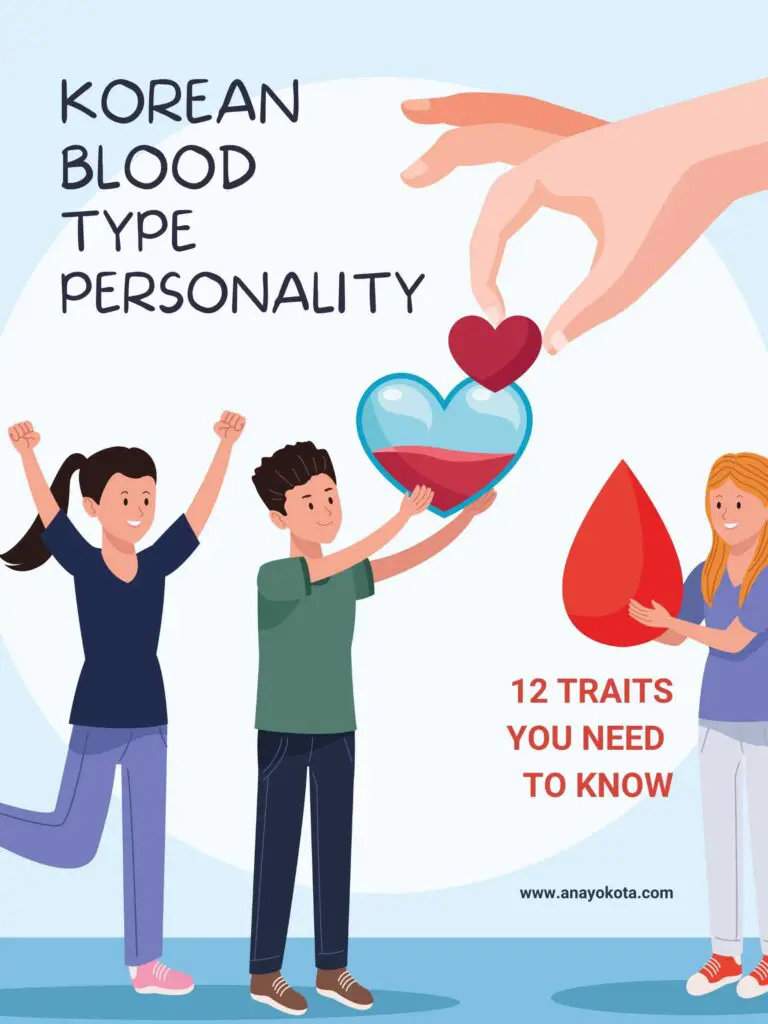 Meeting a Korean person can lead to many questions.
They may ask you how old you are, what you like eating, what your animal sign is, and – oddly to many Westerners – what blood type you are.
It's not that they want an infusion or to sink their vampire teeth into you: you should see the question as indicating a desire not for your medical history but to simply get to know you better.
Why Is Blood Type Important In Korea?
Have you ever been asked, "What's your blood type?"
While O+ may be an answer you'll record on a clinic form, it's also a way for Koreans to get an instant glimpse into your personality and whether the two of you will be compatible.
According to Asian blood type personality beliefs, each blood type has personality traits associated with it, and not all blood types are compatible.
A History Of The Korean Blood Typing System
The correlation between blood type, health status, and personality has been made for over 100 years in Korea.
The four blood types, A, B, O, and AB, were discovered by an Austrian doctor, Karl Landsteiner, in 1900 when he analyzed why some blood transfusions were successful and others were not.
Further studies found that blood type is determined genetically and becomes essential information for blood transfusions, organ donation, and some diseases.
Ludwik Hirzfeld, a Polish scientist, was the first to link blood type to personality with pseudoscientific conclusions about race and blood groups in the 1930s, which he later rejected (Korea Biomedical Review).
The theory was further developed by Takeji Furukawa in Japan.
The blood type personality theory popular in Korea today was the brainchild of Masahiko Nomi, a Japanese journalist who wrote Understanding Affinity by Blood Type in the 1970s.
Blood type personality study was at its height in the early 2000s, when it was featured on many TV shows, in movies, and in popular music.
Fascination with this approach has waned with psychologically based Meyers-Briggs theories becoming more popular.
The blood typing theory is now no more than an amusing conversation starter.
The Four Blood Types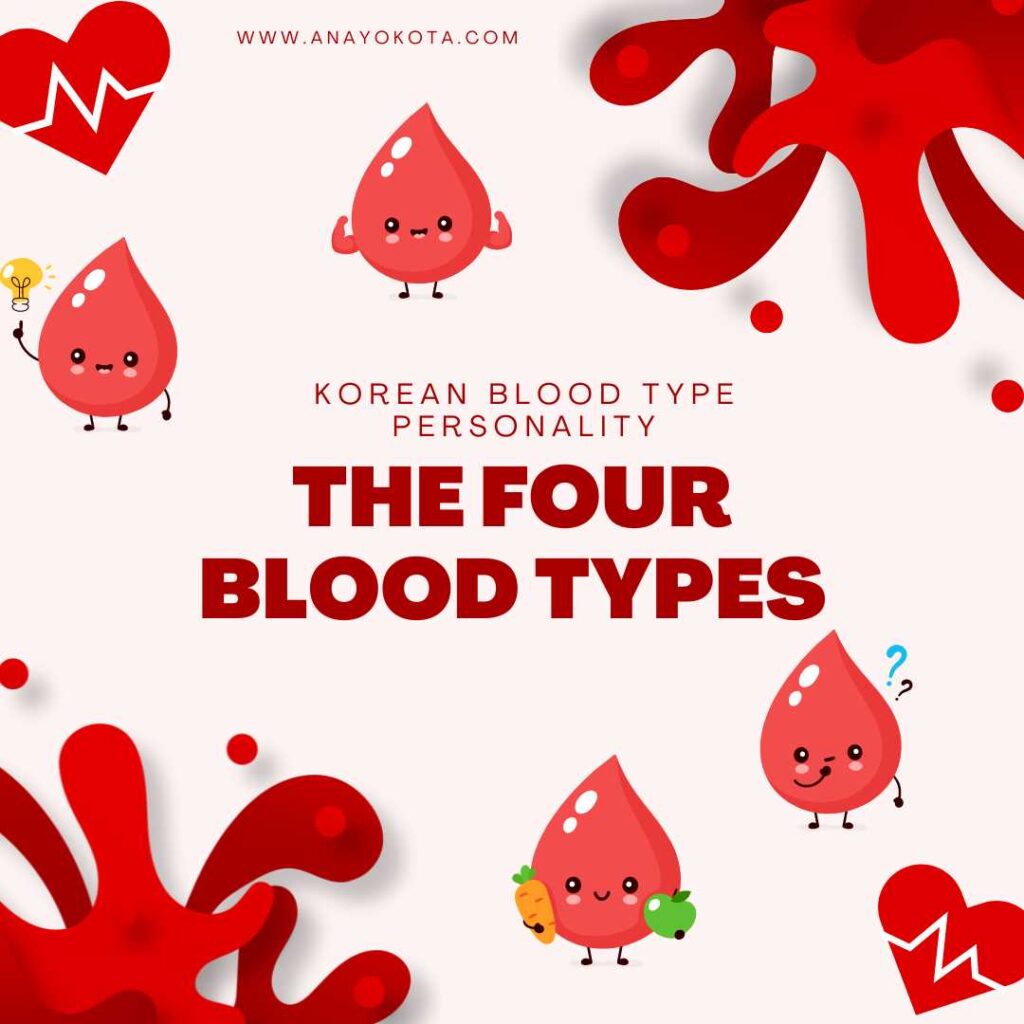 Humans have one of four main blood types, A, B, AB, and O. Each blood type is linked to personality traits and characteristics, both good and bad.
(Note that being O+ or A- has no influence: the primary blood type is what matters.)
I briefly explain the Korean blood type personalities in this section.
Blood Type A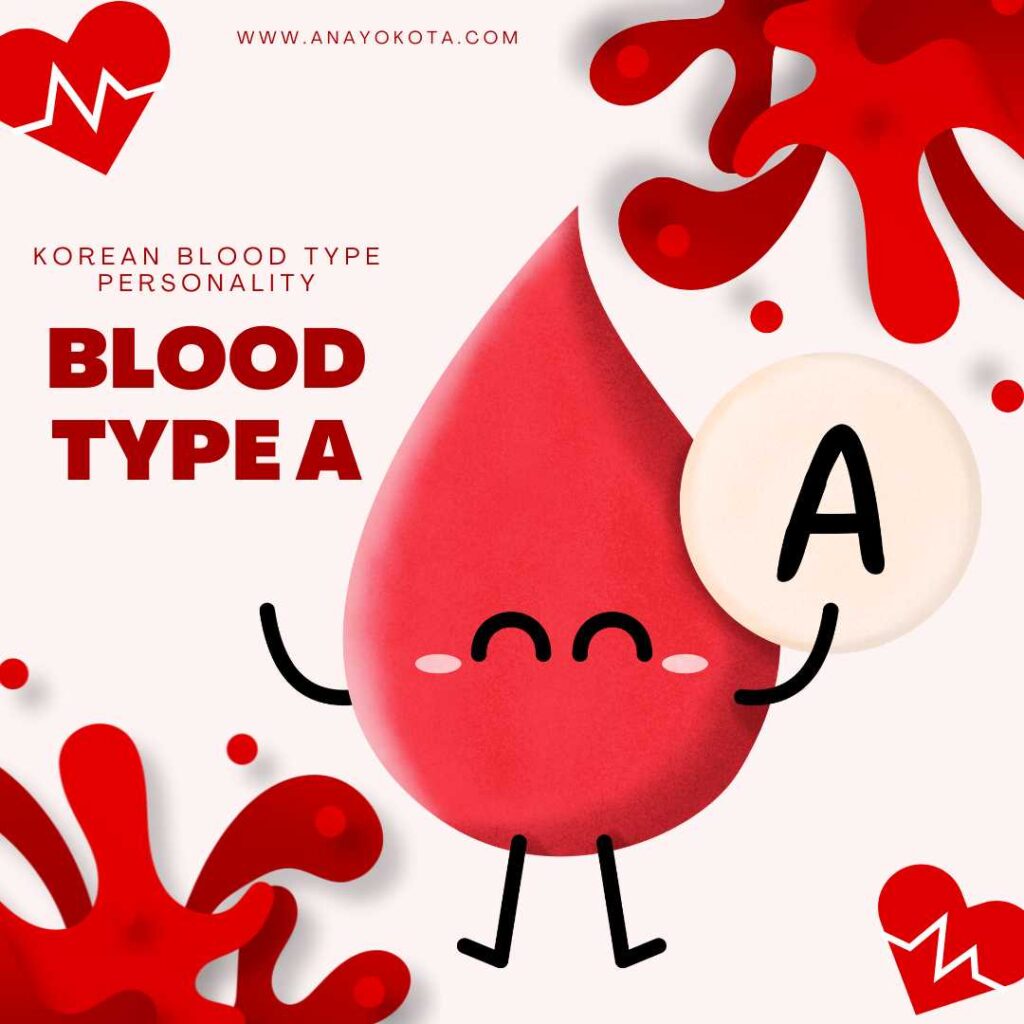 Best match: O, A
Worst match: B
Famous A-types: Jungkook from BTS, Jang Na-Ra
Percentage of Korean population: 34%
Type A is Korea's most common blood type (Korea Biomedical Review).  
The best blood type A – personality are perfectionists, punctual, hard-working, and serious.
They tend to be introverted, sensitive, creative people who are a little fragile, although friendly, and can come across as aloof instead of shy.
Positive A blood type personality tend to prefer their own company and avoid crowds and parties.
Male A-types are said to be charming, trusting, romantics.
Ironically, many Korean women don't like A-type men because they are introverted, oversensitive, indecisive, and timid.
Type-A men struggle to express feelings, so they seem secretive and closed off.
Women with this blood type are seen as greedy, proud, stubborn, and dissatisfied.
However, if you make an A-type woman happy, she will remain loyal to you. Betray her, and you will feel her wrath and jealousy.
Unfortunately, A-type Koreans gained a bad reputation for lacking drive, to the extent that a 2004 job advertisement asked people with this blood type not to bother applying (Korea Biomedical Review).  
Blood Type B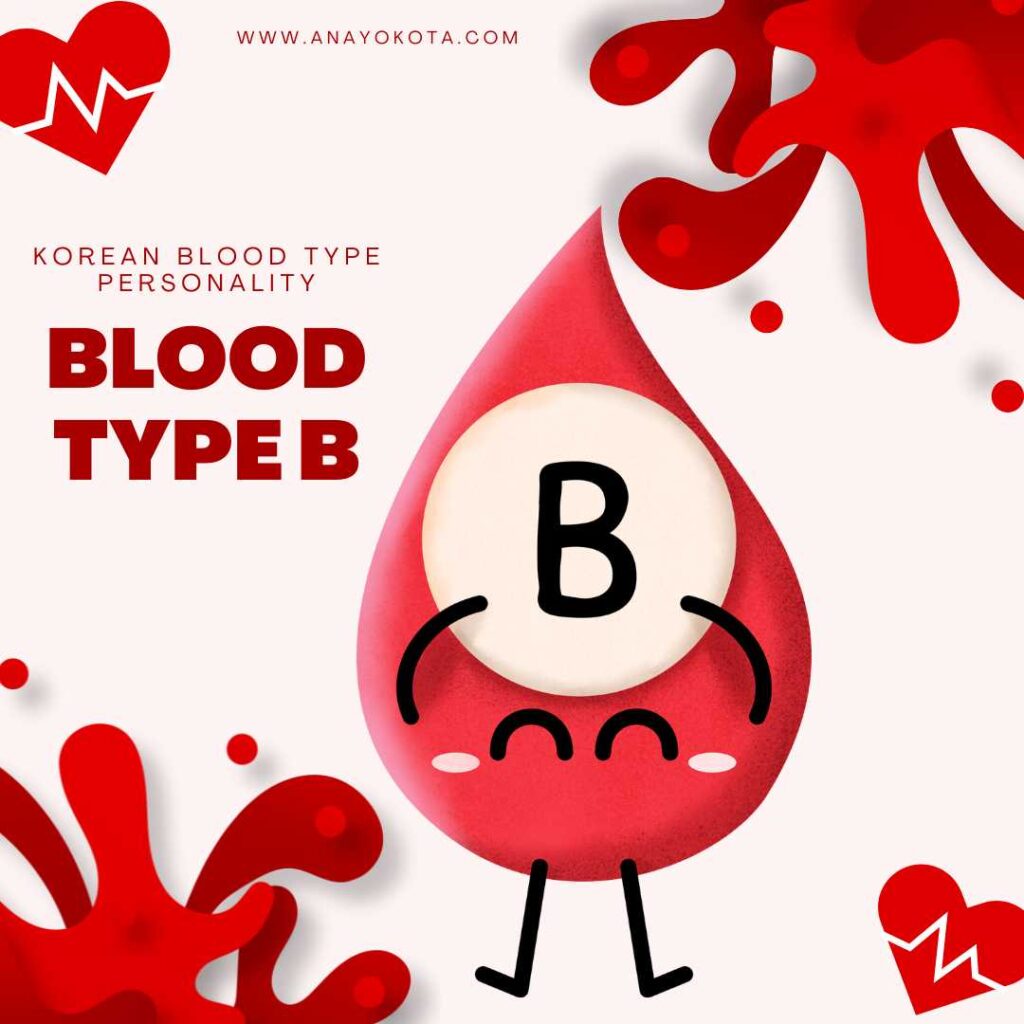 Best match: AB, O
Worst match: A
Famous B-types: Woohyun from INFINITE, Dong Wook Lee of Tale of the Nine-Tailed
Percentage of Korean population: 27%
People with B blood type personality are passionate, outgoing risk-takers who love to be the center of attention –for good or bad reasons.
They're known to be driven by their emotions, whether as loving, devoted partners, impulsive, spontaneous friends, or unstable, outspoken bullies.
Type B men have the reputation of being playboys, so while they're attractive to women for their wit and charm, they are heartbreakers.
They are said to fall in and out of love easily and must be kept interested, or they'll move on.
This kind of guy is described in Kim Hyun Jung's "Blood Type B Man."
Women with this blood type are free spirits, independent, wild, curious, and fun.
Unfortunately, they can be self-centered and proud, ignoring rules and walking roughshod over others' feelings.
It's possible people with this blood type got a reputation for risk and adventure as they've been found to have excellent immune systems.
Blood Type AB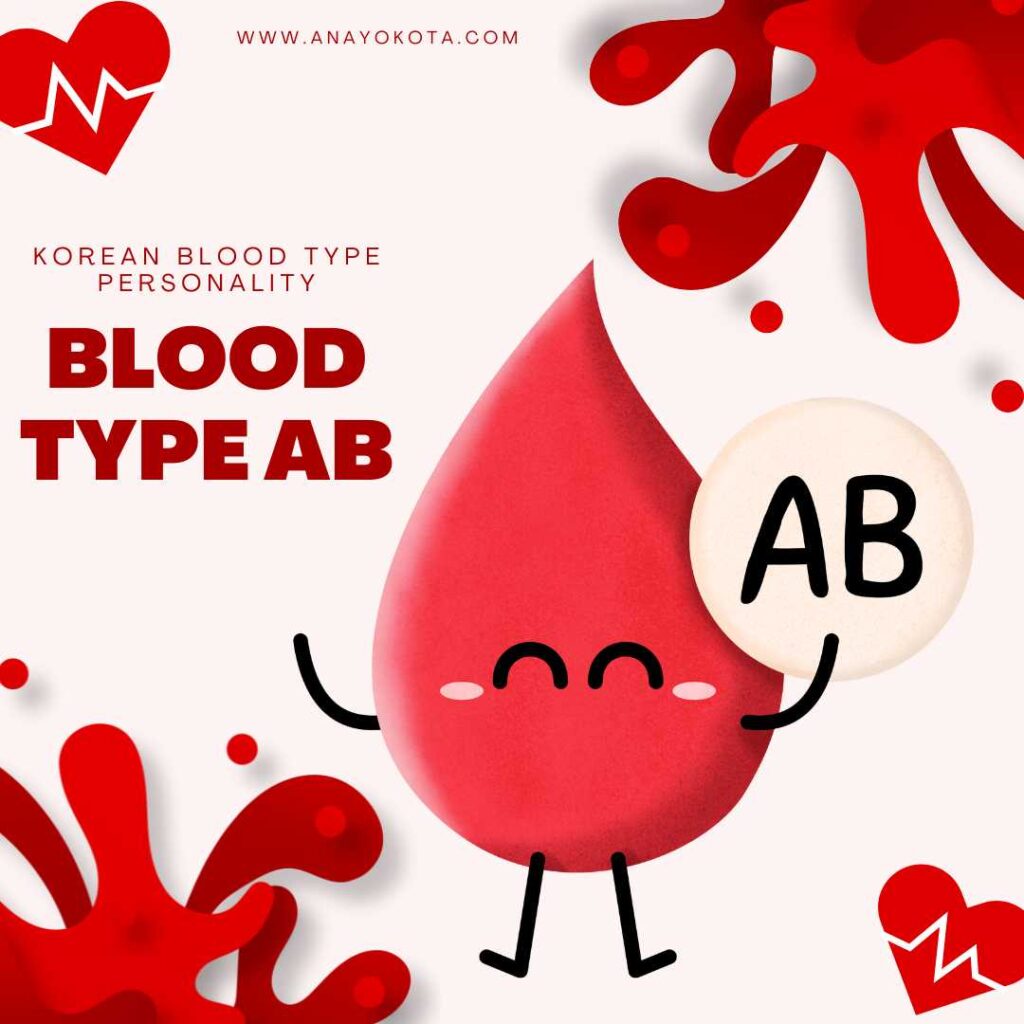 Best match: AB, B
Worst match: O
Famous AB-types: Henry and Heechul from Super Junior, Ok Taecyeon from 2PM
Percentage of Korean population:  11%
If you've got type AB blood, you're likely quirky, unpredictable, and volatile.
Underneath, type ABs are highly intelligent, curious perfectionists who  will set high standards for themselves and others.
Perhaps because it's the rarest blood type in Korea, type AB is considered unusual and largely negative.
This impression may also be caused by the eccentric nature of these creative souls.
Men with Korean AB blood are reserved and gentle, with deeply caring hearts.
They are rational and practical and make excellent partners.
Unfortunately, they come across as emotionally detached,  critical, and cold, with icy self-control and a hatred of drama.
AB-type women are also considerate, loving partners but are beset by insecurity, suspicion, and jealousy.
They can be moody and changeable, having difficulty interacting with others unless it involves them personally.
Blood Type O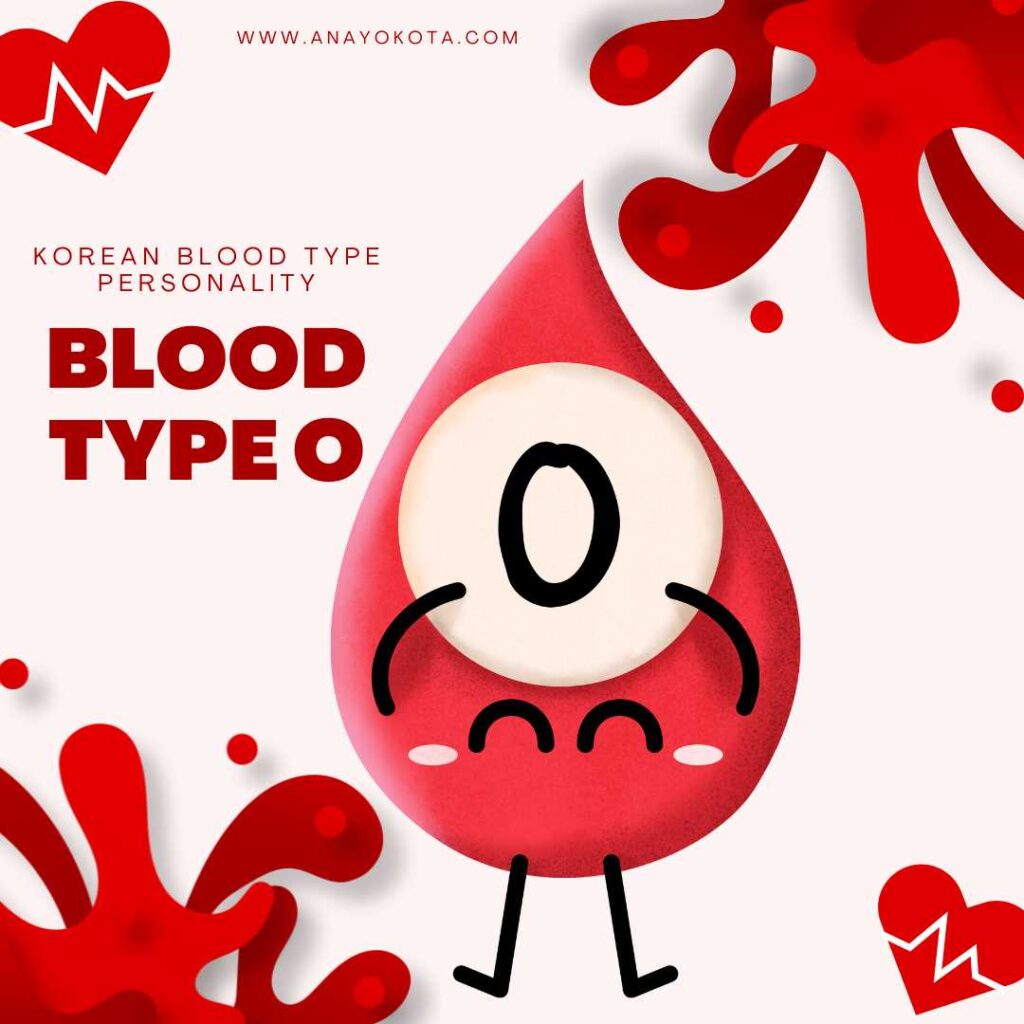 Best match: A
Worst match: AB
Famous O-types: Leo from VIXX, Lisa from BlackPink
Percentage of Korean population:  28%
O blood type personality is the most desirable blood type in Korean blood typing theory.
This belief likely originates in the fact that O-type red blood cells can be donated to people with any blood type: the universal donor.
O-types are also known to be extroverted and well-rounded, which appeals to the collectivist Korean culture.
They're confident, kind leaders who can control their emotions, remaining friendly under stress.
Not surprisingly, businesses look for people with this blood type, not minding if their confident ambition becomes arrogant competitiveness in the board room.
Korean women are attracted to men with type O blood for their optimism, energy, and practicality.
Beneath their solid and stable exteriors, type O men are sensitive and only open up or apologize when they feel comfortable and loved.
Similarly, type A women are kind, caring, and patient.
They are always willing help others and can end up burnt out, exhausted, and lonely if they don't care for themselves.
These are the typical mothers putting everyone else first.
How to Use Blood Types to Improve Relationships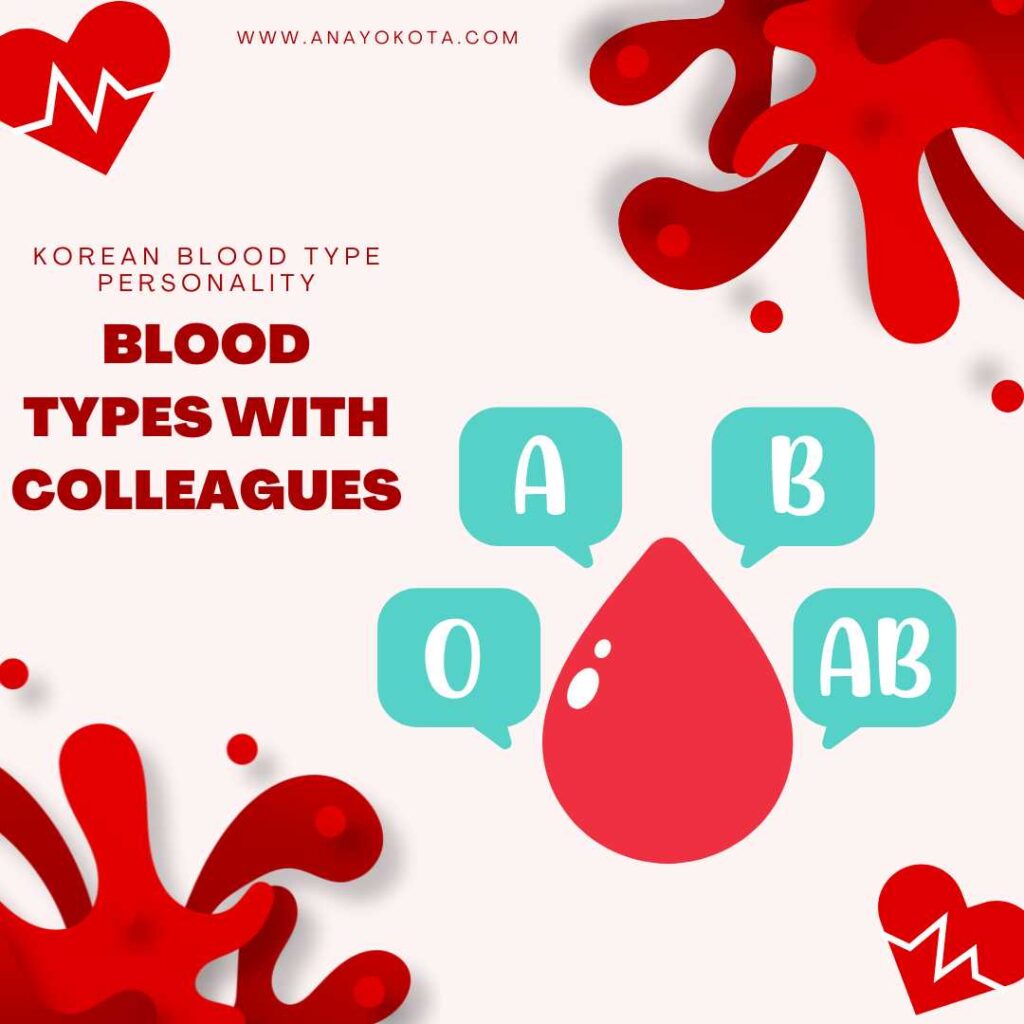 While discriminating against someone based on blood type is a little extreme, there's no harm in using your knowledge of the blood type personality theory to help you in your relationships at home and work.
Using Blood Type Theory To Get On With Colleagues
Knowing your colleagues' blood type can give you an edge in meetings, as you can somewhat predict their responses and behavior.
Much like how companies will loosely use MBTI to help them navigate various candidates or employees, Korean blood type personality is believed to bring awareness to potential temperaments.
Type A Colleagues
Nearly half of all financial officers and accountants are type A, the stereotypical Korean office man.
You know they're meticulous, perfectionistic, and punctual, so don't be late for appointments with them.
They're hard-working and earnest, so great to have on a team, despite the negative press about not having drive.
Treat them sensitively, and you'll have a loyal ally in the office.
Type B Colleagues
You'll find that most people in the service industry are type B, which makes sense as they're very friendly and charming.
While their wit is excellent with customers, take care, as these colleagues can get a little flirtatious.
They can also lose interest in a project quickly, so make sure you don't let them get bored in the office.
Type AB Colleagues
These are the specialists in any work environment: the mad scientist, the brilliant entrepreneur, the creative genius, or the absent-minded professor.
While their madcap schemes may make them frustrating colleagues, remember that they have incredibly high standards for themselves and others and are utter perfectionists.
These are probably your most intelligent colleagues who can manage themselves, so leave them alone to produce their fantastic work.
Type O Colleagues
Chances are your CEO is an O-type. And the entire sales department.
These natural leaders are likable and easy to work with, getting on well with everyone and making discussions, meetings, and debates run smoothly.
Remember that they can be stubborn, but their idea is probably the best.
Using Blood Types To Get On With Friends And Family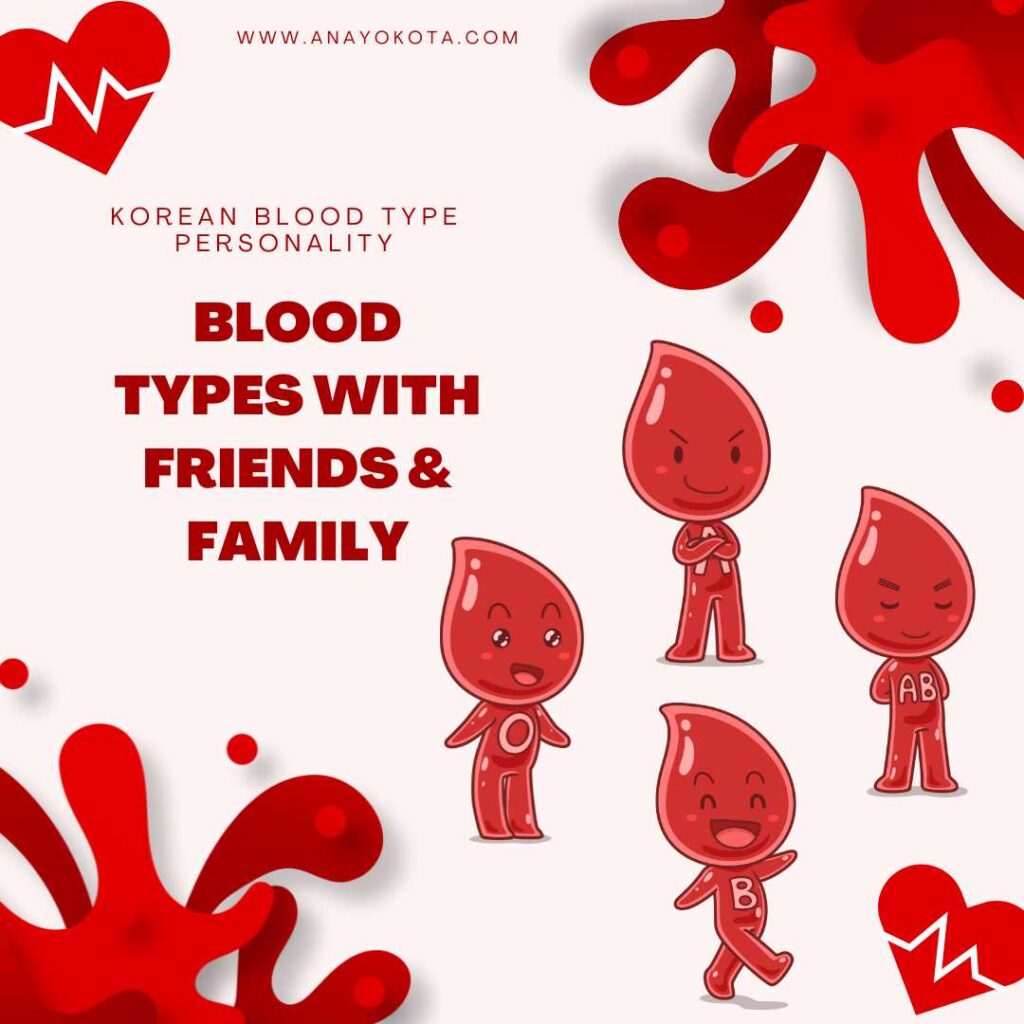 Whether you're trying to develop a romantic relationship or prevent conflict with your cousin, Korean blood type personality theories can smooth the way.
Type A Friends And Family
A types are serious-minded perfectionists who are often introverted and slow to warm up.
Treat your A-type friends and family gently and sensitively, realizing they take everything personally, and they will come to trust you.
You'll find it easiest to get on with A types if you are also an A type (which is possible if you're related).
You'll be happy as a nuclear family, avoiding noisy malls and loving quiet evenings at home.
Romance with an A type is tricky, as men appear aloof (they're just shy), and women seem irritable and unsatisfied.
If you're a friendly, outgoing O type, you'll charm them with your warmth and make them feel safe and secure, so you'll have their utmost loyalty.
If you're a B type, your extroverted, flirtatious manner will upset A types, who will likely retreat.
It's not a great match unless you're willing to be calm and patient (unlikely!).
Don't give a type A alcohol, as they're known to react badly to it. Instead, offer a healthy salad.
Type B Friends And Family
If you're friends or have a sibling with type B blood, you're in for a lot of fun, a little trouble, and a crazy ride.
They'll likely have a dog along – they're known as animal lovers.
These are the childhood friends who get away with anything, leaving you to pick up the pieces. While this may be fun when you're 10, the charm wears off as adults.
B-types are very attractive, making fun and exciting partners. However, their interest wanes quickly.
Eccentric AB-types and stable O-types can tolerate and enjoy the wild B spirit.
Stay away if you're a fragile A-type, as you will likely get hurt in their chaotic approach to life.
Type AB Friends And Family
The solitary, brilliant, and rationally focused AB types are challenging to live with, as they will shut you out.
Getting on with and making friends with AB types is fulfilling but frustrating, as they tend to be overly rational.
However, once you can get past the chilly exterior, AB types make wonderful friends and romantic partners, as they are loyal, calm, and thoughtful.
AB types tend to stick together as they understand each other's need for space. B types are attracted to the serene, unemotional stability of AB types.
Extroverted O types should avoid AB as their usual charm and cheer are ineffective.
The two stubborn heads will clash, both believing they're right.
Type O Friends And Family
People with O-type blood are the easiest to get along with, and a household of O-types is busy, happy, and motivated.
Cherish your type O friends, and enjoy their easygoing natures. Remember that they won't easily show their vulnerability, so take care when they open up.
A types tend to feel secure around O types, so they are happy with these natural leaders.
However, AB types find O types annoyingly competitive and arrogant, so this isn't a good match.
Debunking Myths About Korean Blood Type Personality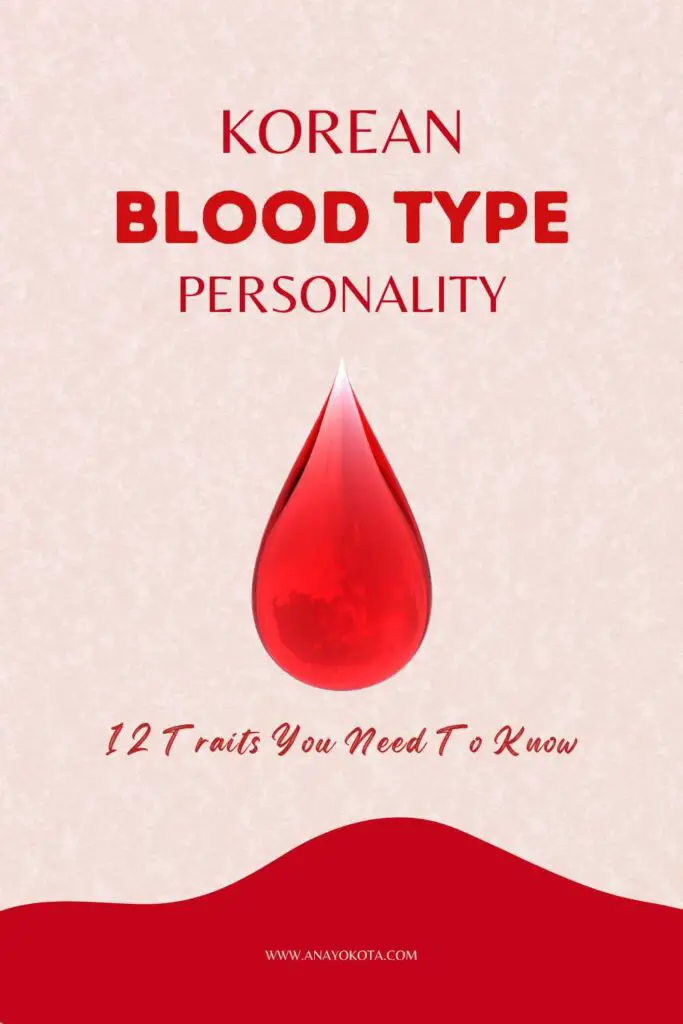 Most Koreans believe there is some truth in the relationship between blood types and personality (Korea Biomedical Review).  
Science shows a correlation between blood type and health issues.
For instance, types AB and B are more susceptible to heart disease but less to stomach cancer, while type Os are less likely to develop cancer of the pancreas.
However, there is no scientific link between other personal characteristics and blood type.
The continuation of the blood typing theory, therefore, has no scientific foundation
Unfortunately, in the 2000s, the theory was taken so seriously as to lead to discrimination in job recruitment and personal relationships.
Blood typing was standard in K-pop songs like Psy's "Life Theater -Type A" and Kim Hyun-jung's "Type B Men," where certain blood groups were shown to be more popular than others.
After several court cases challenging unscientific discrimination, and documentaries disproving the approach, the popularity of the blood type personality theory has waned.
Final Thoughts on Korean Blood Type Personality
Like the Korean zodiac, using people's blood types to analyze personality and predict romantic compatibility is a fun discussion.
However, it should be avoided when pseudoscience is used prejudicially in the workplace or in relationships.