15 Korean Chips Most Popular on the Market
This post may contain affiliate links. Please read my disclosure policy for more info.
Korean snacks are unique; some of the most popular are Korean chips. Korean chips aren't your average chips. They are packed with flavor, exciting flavors. These flavors aren't limited to sweet and salty but are unusual, unexpected, and a combination of things you wouldn't get out of a regular bag of potato chips.
One of my favorite things about Korean chips is that there aren't overly packed with sodium. Many times, they are slightly savory and sweet, which has my palate begging for more.
Snacks in Korea are something Koreans take seriously, and snacking forms a big part of everyday life. If you've ever been to a Korean store, you would have seen the assortment of chip flavors and the unique packaging that accompany them. These bags of chips often contain adorable cartoon characters and captivating designs. So why are Korean chips so popular, and why should you try them?
Why Are Korean Chips So Popular?
Korean snacks have recently increased in popularity due to rising trends, celebrity influencers, and many YouTubers doing a Korean snack haul and taste-testing Korean snacks. Korean chips are easily the most popular of all the Korean snacks, and BTS and their love for Honey Butter Chips may have something to do with this, or it could just be the delicious taste, but we'll leave that up to you to decide.
Korean chips are also popular because they have unique and uncommon flavors you wouldn't commonly find anywhere else. While salty and savory-flavored chips are popular in most countries, including the U.S., Korean chips are salty, sweet, or a combination of both.
Additionally, these Asian chips are not overly sweet or not overly salty. For those that appreciate less sodium, these are the chips for you. Not to be confused with less flavor, Korean chips simply cater to a more Asian crowd.
Korean chips are designed to make your taste buds tingle and take you on an extraordinary adventure where the humble potato chip is elevated into an addictive daily comfort food.
Top Most Popular Korean Chips You Must Try
There are so many Korean chip flavors that it can be hard to decide which are worth trying and which taste amazing. Korean chips are also a wonderful companion to take on your next Korean picnic.
Undoubtedly, some flavors are better than others, so which are the most popular Korean chips you must try?
Haitai Calbee Honey Butter Chips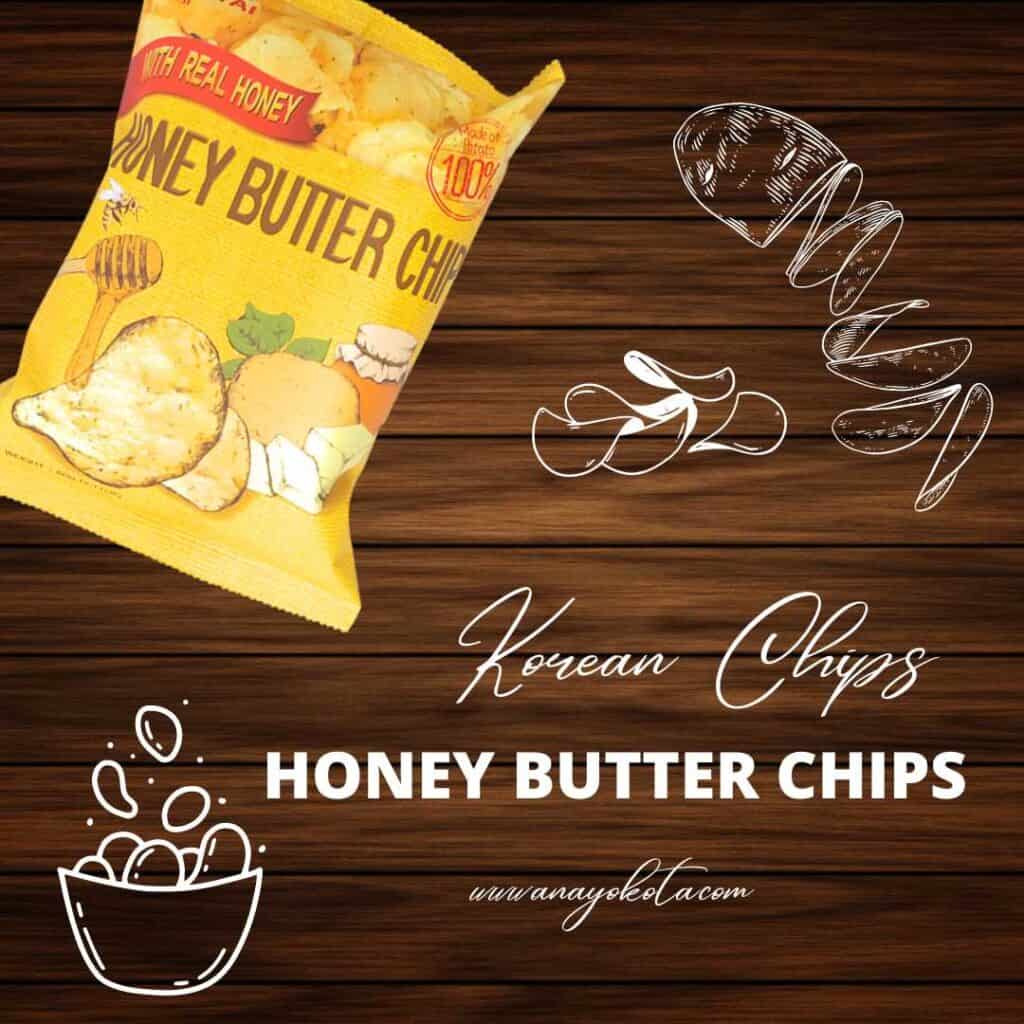 Honey Butter Chips are one of the most popular Korean chips. It's a perfect combination of sweet meets salty and should come with a warning label since it's highly addictive. It's light, flavourful, and a huge social sensation. This famous chip created a craze in South Korea called the 'Honey Butter Craze.'
Nongshim Shrimp Crackers
NongShim, a Korean food company, produces various flavored chips, including delicious, crispy, and airy shrimp-flavored crackers. These chips also come in a spicy variety for those who are more adventurous and don't mind a little heat.
Lotte Kkokkal Corn Chips
Kkokkal Corn Chips are iconic in Korea for a few reasons. They taste crunchy, are lightly salted, and are shaped like little cones. They are one of Korea's most widely purchased chips and have gained popularity due to how you eat them. Each corn chip is placed on your fingertips and then eaten.
Binggrae Crab Chips
If one flavor is consistently popular in Korea, it's seafood. Crab Chips have been around forever, and Koreans have many memories of their childhood enjoying these light, sweet-tasting crab-flavored chips. These crab-flavored chips remain popular amongst students and are a nostalgic treat for adults.
Crown Jolly Pong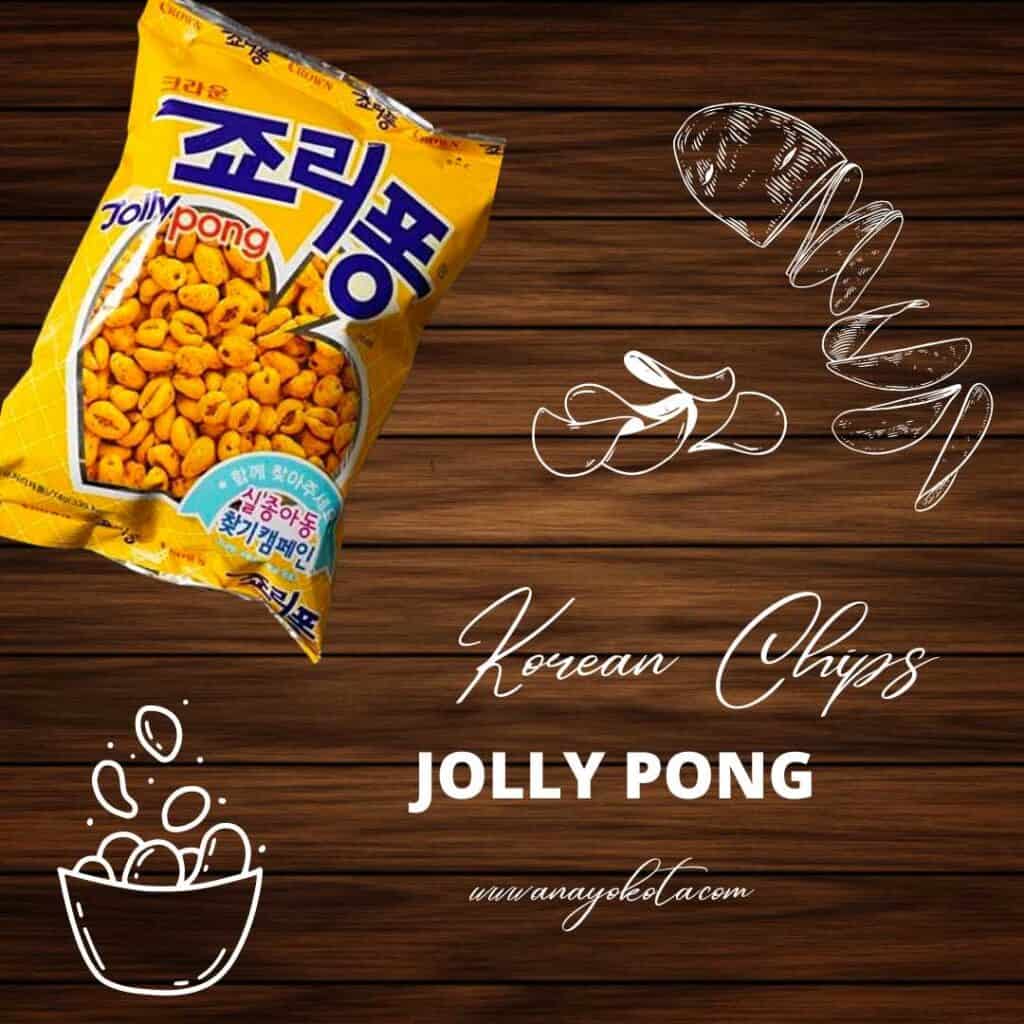 Jolly Pong may be one of the oldest snacks in Korea. This chip has been around since 1972 and is a wheat-type chip snack covered in caramel. Jolly Pong has a bland flavor, so it doesn't give you that wow factor when you're eating it, but many Koreans use it as a topper for their coffee or add it to a bowl with milk and eat it like a breakfast cereal.
Korean Cheetos
Cheetos are popular in the U.S., but do you know you get Korean Cheetos too? It's not surprising that Korean Cheetos taste nothing like cheese but instead come in flavors like sweet barbecue and hot and spicy. Although these don't have that signature cheese flavor, they have that crunchy corn taste.
Orion Kkobuk Turtle Chips
Turtle chips or 'Kkobuk' come in many flavors, including cinnamon,   churros, vanilla, and corn soup. The churros flavor is crunchy, has layers of flavor, and makes a great snack. The other flavors are interesting, too, and you won't be disappointed when purchasing a bag of Orion Kkobuk Turtle Chips.
Calbee Chargrilled Steak Chips
Chargrilled Steak Chips are produced by Calbee and have a distinctively sweet flavor that sits perfectly in the crinkles of every chip. It's not too smokey or meaty but does have some chargrilled taste. This chip is perfect for those who love savory chips.
Haitai Sindangdong Tteokbokki Chips
Tteokbokki Chips have a spicy gochujang flavor with a hint of sweetness. The softer layers complement the crunchy outer layer once you bite into them. This unique chip is something you should try when taste-testing the best Korean chips.
Orion Sun Chips Hot And Spicy
Hot And Spicy Sun Chips are similar to the American version of Sun Chips but with more of a salty, spicy, and sweet flavor. Once you start eating them, it's hard to stop. It's not the ideal chip for those who aren't into a bit of spice, but the flavor is out of this world, so it easily makes it onto the list of the best Korean chips.
Are There Other Interesting Korean Chips?
There are a few more Korean chips that Koreans love, including the Nongshim Honey and Apple Twists, Orion Pocachip, Orion Muddukdduk Thick Cut Potato Chips, and (my personal all-time favorite) the Yes! Chips!
Nongshim Honey and Apple Twists
Nongshim Honey and Apple Twists are crunchy chips with long, wavy shapes and look similar to French Fries. The crunchy aspect of this chip is absolutely perfect, but the flavor can be hard to describe. It is not overly honey flavored and doesn't have too much apple but falls between the two.
Orion Pocachip
Orion Pocachip is another famous Korean chip similar to Lay's potato chips. These chips are bursting with flavor, which keeps people coming back for more. Inside a bag of Pocachips, you'll find thinly sliced potato chips in various flavors, including original, onion, sweet cheese, baked seaweed, and lime pepper.
Muddukdduk Thick Cut Potato Chips
You can't buy Korean potato chips without including a thickly cut, melt-in-your-mouth chip. Orion Muddukdduk Thick Cut Potato Chips are similar to other Korean chips, only they are cut much thicker and usually seasoned with salt and pepper. The thicker slices mean more enjoyment and are eaten much quicker, probably because they are so delicious.
Yes! Chips!
My personal all time favorite chip brand is the Yes! Chips! These chips are quickly trending and I am personally cheering that these rank in Korea's top 10 best Korean chips snack. Albeit I am biased, allow me to break down these chips.
Yes! Chips! have multiple flavors, which you simply can't go wrong with any of them. The original roasted corn crisps have a light and crunchy air popped texture. These beauties taste ever so mildly sweet with that nutty corn flavor and perfectly salty that just enhances the entire experience. My favorite Yes! Chips! flavor is the shrimp chips because it delivers all the best textures and shrimpy flavors.
Cosmos Chocolate Corns
The last snack you should try, which isn't considered a chip but pretty close, is Cosmos Chocolate Corns. If you love Cheetos and anything chocolate-related, you'll probably love Chocolate Corns. They are a chocolate version of the regular cheese puff, incredibly indulgent, and undoubtedly created for chocolate lovers.
Where To Buy Korean Chips?
Korean chips are available in many online stores in the U.S., like Amazon, Just Asian Food, and World Of Snacks. So, whether you are from the States or Europe, you can get these Korean snacks online. Nowadays, the price, reviews, and sale are fairly competitive to going directly to a Korean grocery store.
If you want to purchase from a physical store, then H Mart is an excellent option for getting all the Korean snacks you need. There are roughly 89 H Mart stores across the U.S., and this grocery store is the go-to store for most Americans looking for their favorite Korean food items.
FAQs About Korean Chips
It's clear that Korean chips are not your average snack, and many of the chip flavors have their loyal fans, but you may have a few more questions about these unusual snacks, like are all Korean chips spicy? And what are the hottest Korean chips?
Are All Korean Chips Spicy?
Most Korean snacks are labeled spicy but may differ from the spicy flavor you expect. Korean spicy chips have a mild spicy flavor and are still tolerable even for those who can't handle spicy food.
The spicy chip flavors are generally complimented by a sweet or salty taste, making them flavorful and not what most people expect from a spicy bag of chips.
What Are The Most Popular Korean Chips?
There are many popular chips in Korea, but the most popular is the Lotte Kkokkal Chips. This chip has always been popular amongst Koreans and is the best-selling snack in Korea.
Haitai Calbee Honey Butter Chips aren't far behind the Lotte Kkokkal Chips, but these are more for those who love sweet-tasting, crunchy chips.
Conclusion to the Best Korean Chips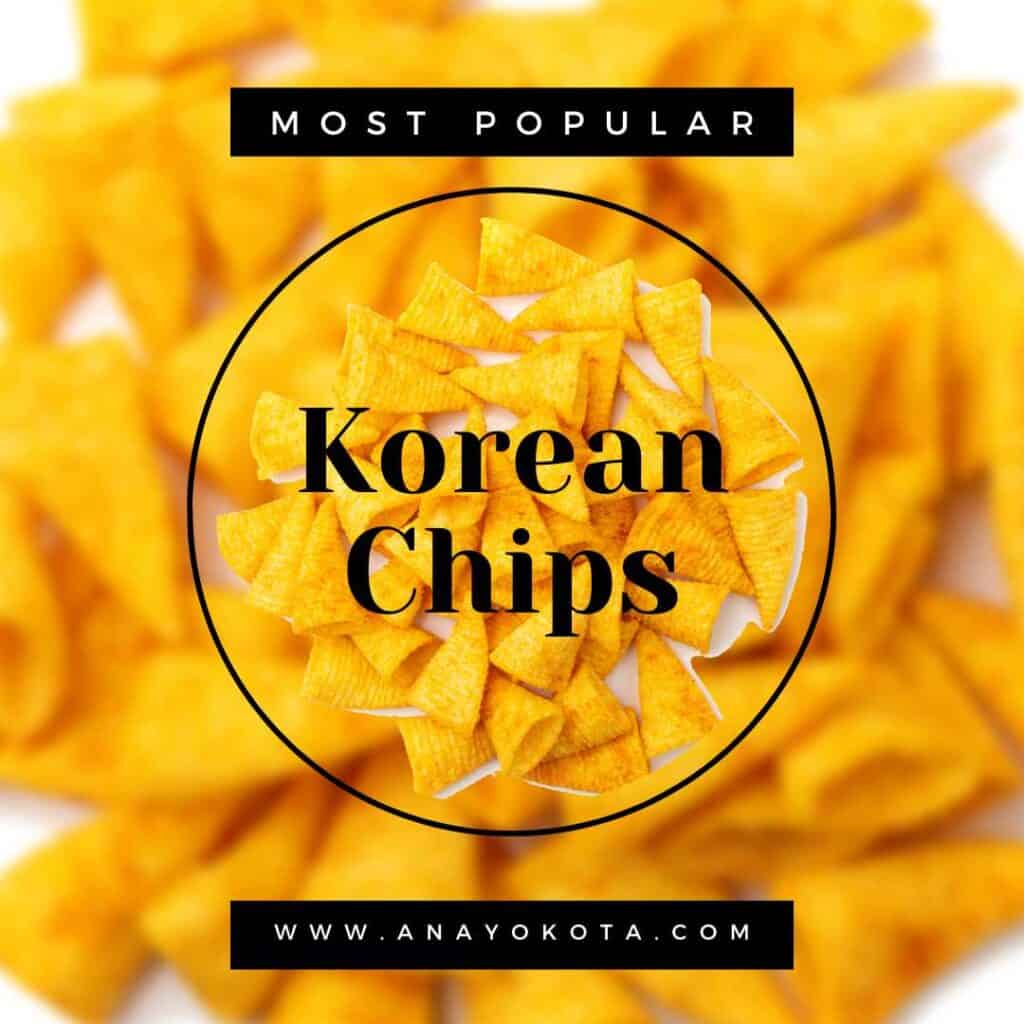 Korean chips are a delicious snack. The flavor combinations, the crisp and airy texture, and the unique packaging of this delightful snack have won the hearts of many snack lovers. While some Korean chip flavors are an acquired taste, others are extremely popular and don't seem to be just another trend but a snack that's here to stay. So which Korean chip flavor will you be trying next?
If you would like to learn more about Korean Snacks or even go on a deeper culture experience with traditional Korean snacks, I've got you covered. There are so many beautiful goodies. No wonder Korean food snacks are a craze!