This post may contain affiliate links. Please read my disclosure policy for more info.
Korean gel nail polish and the fantastic nail art it creates are taking the fashion world by storm. What is Korean gel nail polish, and why should you get your hands on it (and it on your hands)?
We've had K-pop, K-drama, and K-beauty. Now get ready for K-gel. Anyone even remotely associated with K-pop fandom drools over the amazing 3-D gel manicures sported by most idols. And if you're not a K-pop fan, you've likely sported a jelly, holographic, syrup, or ombre nail trend, without realizing you're part of the K-gel trend. Let's explore the phenomenon that is Korean nails.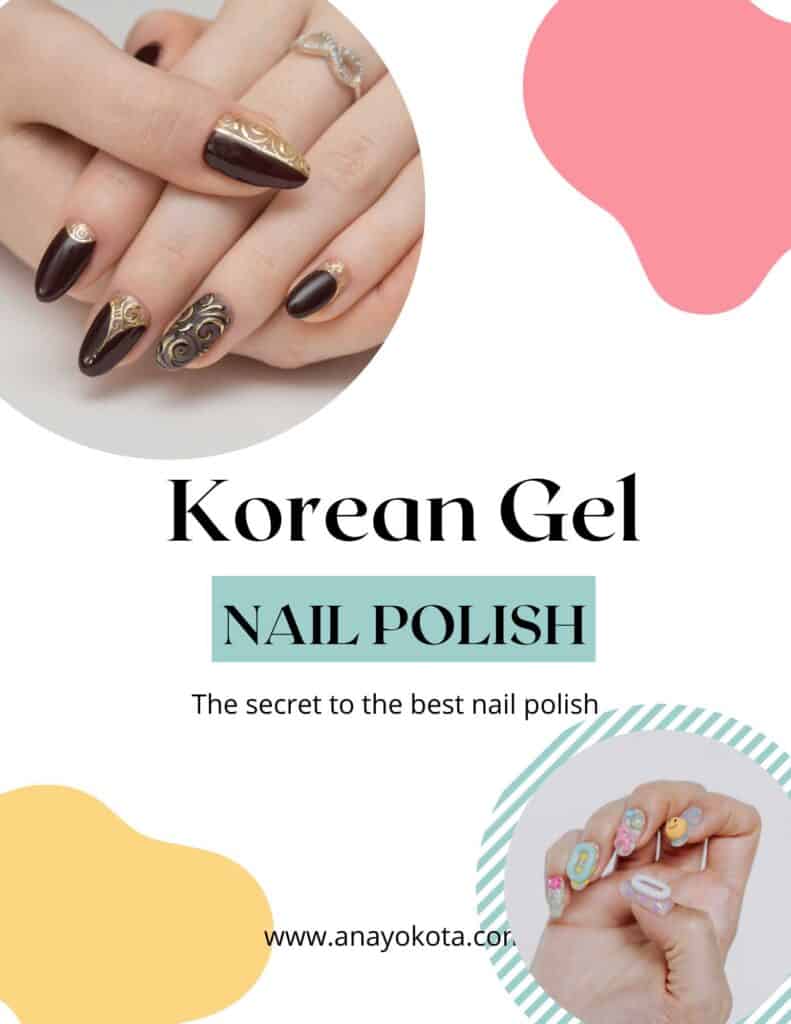 What Is Korean Gel Nail Polish?
Korean gel nail polish is not simply nail polish made in Korea – which it is, of course.
This relatively new product first caught the world's eye in the manicures of male and female K-pop idols on stage and in photoshoots.
The high quality of these products has kept Korean gel nails in demand. Another feature is the gorgeous packaging, ranging from high-end luxe to adorable and happy. The gel is thick and colorful, ideal for nail art and crisp, professional-looking nails.
Why Is Korean Gel Nail Polish So Popular?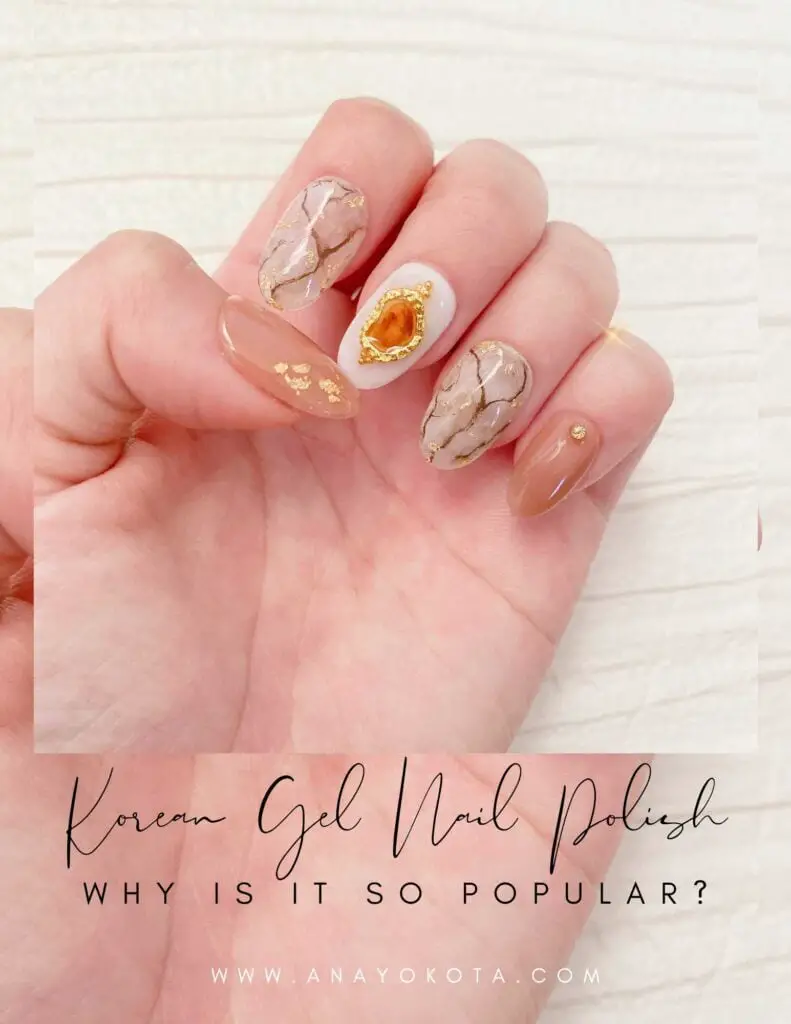 Korean nail polish brands are popular with nail technicians, fashionistas, K-pop fans, and regular manicurists worldwide. Why is this nail polish so popular? Is it any different from regular gel?
The K-wave
With the massive popularity of all things Korean, the beauty industry was sure to follow.
The K-nail phenomenon was spurred partly by Park Eun-kyung, a renowned nail artist often referred to as Unistella, the name of her salon. Creating trends like glass nails, diamond nails, and high-heel nails, Unistella has designed nails for Blackpink, Bella Hadid, and other celebrities.
Another wildly famous salon is Nailtam2na, responsible for the nail art of Bora from Sistar and Hyo-yeon and Tiffany of Girls' Generation. Visitors will travel to this salon for their bling bling nails.
Korean-style nail art is now famous worldwide, with each new nail style trending immediately, especially if worn by K-pop idols.
Ease Of Application
Many Korean gel nail polish brands are available in pod or jar form, requiring the nail technician to build up the nail carefully. Korean gel nail polish is easy to apply directly from the bottle, like regular nail polish, from the base coat to the top coat.
Many of the best gel nail polish are accompanied by gel pens for detailed nail art, as well as a selection of brush sizes.
Highly Pigmented Color
The best gel nail brand always have distinct, densely pigmented colors. Bright colors look more vibrant, and darker colors seem lusher.
Instead of being disappointed by the thin liquid that comes out of the bottle, you'll discover that the advertised color is precisely what comes out of the bottle.
The gels are available in various colors to suit every personality and fashion trend.
Creamy Consistency
Another vital difference between Korean and other nail gels is the consistency. Korean nail gel is much thicker than other products; one or two coats will be enough for full coverage.
Applying a decent coat is easy: you're more likely to apply too much at once rather than building layer by layer.
This thick consistency means that nail art like the jelly or syrup nail is possible, as the different colored polish seems to drip or melt off the nail.
Eye-catching Design
Both the outer packaging and the polish containers are luxurious and high quality. Depending on the brand, you will find elegant, high-end designs, as well as the fun, cute trend made so popular by gwi-yo-mi in Korean and Japanese pop culture.
As you may have seen on social media, you can ask your Korean nail salon to create fun high heel nail art or gel nails with bows. My favorite is when you can mix and match all sorts of designs on each finger.
Some think that it's too messy; but, I love it. Doing my own nails with fun designs is so therapeutic for me. It gets my creative juices flowing and I feel pretty once I'm done!  
Non-Toxic
Korean gel polish manufacturers pride themselves on producing non-toxic, non-harmful nail products. It is illegal to perform tests on animals in Korea.
Good quality Korean gels do not contain carcinogenic, allergenic, or other toxic ingredients like formaldehyde or toluene. However, this relates only to applying the product on nails – you can't consume them, however delicious the colors are.
You'll find that Korean nail gels have very little odor as a result.
Soak Off
Like many other amazing gel nail polishes, Korean gels can quickly be soaked off rather than laboriously filed off, resulting in nail damage.
After filing a very thin layer of polish – just enough to break through the top coat – I put a small amount of 100% acetone (or gel polish remover) on a piece of cotton for each nail.
Here is the biggest game changer. Gail nail remover clips! This is the best $5 investment I ever made.
After you put acetone soaked cotton on each nail, you simply put a clip to hold the cotton in place. This insulates the acetone allowing it to soak through the filed nail and remove easily the polish.
Best Korean Gel Nail Polish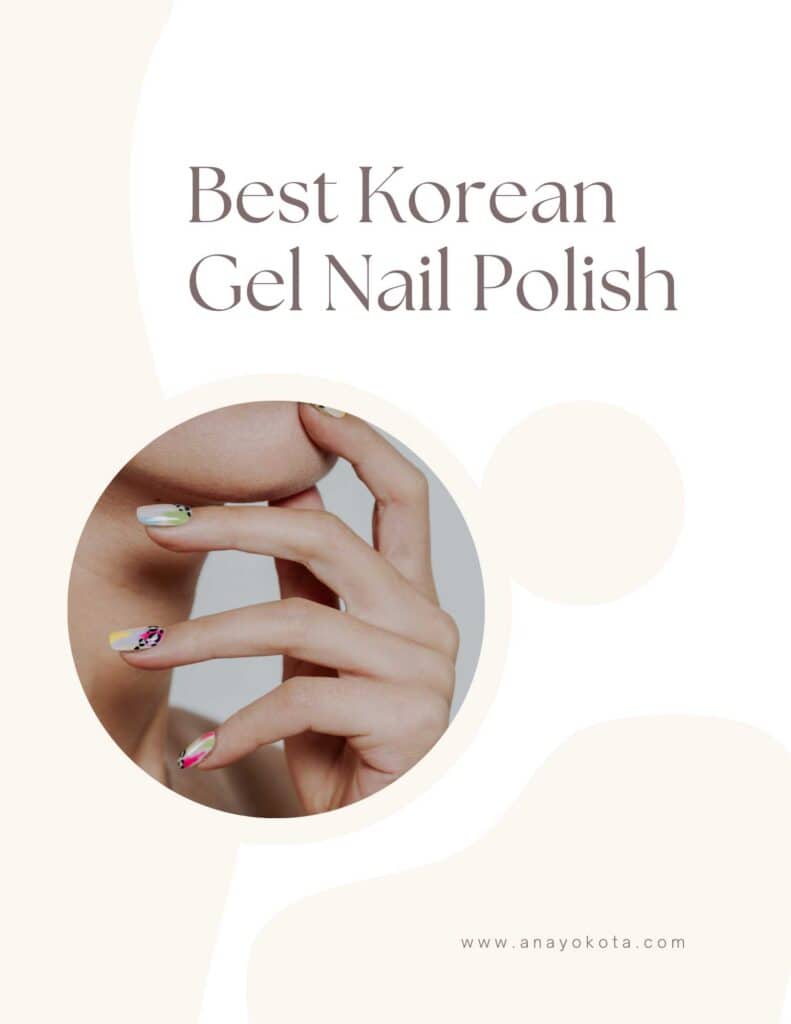 Finding the best Korean gel nail polish brands can be overwhelming, especially with so many choices available. Here are my picks and links to where to buy Korean gel nail polish.
Note: Not all of these companies are made from Korea but they do have the super quality of Korean gel nail polish. In other words, they are still considered Korean style but may not be made directly from the county of Korea.
From simple shades to glitter gel to bold magnetic gel, here are my top eight:
This is my personal favorite base coat and top gel brand. I always use Jello Jello's peel off base coat because it behaves exactly like a regular base coat and come off easily with the Vita oil nail treatment. Unlike other peel off gels, this base coat must be cured and will not come off without the oil treatment making it very durable.
This is ideal for those who like to change up their colors more often. However, I have had nails on for 3 weeks without any lifting even though these are peel off base gel!
From The Nail, the innovative creator of nail polishes, is at the cutting edge of cosmetics research. Under the name F Gel, their bottled gels are ground-breaking, transforming gel nail application and making it accessible for the home nail artist. These gel polishes sport exquisite colors with a creamy consistency.
The ICEGEL brand is as famous in Japan as it is in Korea. They're known for their gorgeous nail gel polishes. They are also renowned for their activism: none of their products are tested on animals, while all their packaging is eco-friendly.
The Gentle Pink philosophy is rooted in analyzing trends in luxury fashion, design, and color via its network of influencers, forecasters, and professional beauticians. The scientists in their testing labs pride themselves on getting the perfect color for the season through a process characterized by safety, quality, and research. 
Kenzico's products are aimed at professional nail technicians and salons. They produce gel polish and accessories through their three brand names. The premium Club Kenzico focuses on wholesale nail colors. With a specialization in high-end nail art, Vamp Nail and Beauty offers powders, stamping plates and polishes, decals, and 3-D embellishments. The Barbie Mirage line also provides nail art products, especially high-gloss overlays.
This Korean brand was developed by nail professionals for other professionals. All products are cruelty-free and hypoallergenic. One of the first to produce soak-off gels, GellyFit was developed to facilitate nail art creations. GellyFit is distributed globally and is one of the more accessible Korean products in the US.
Tiny's gel polishes, dubbed syrup gels, are ideal for translucent nail art effects, like the glazed or stained glass trends. They come in adorable packaging, with a story to explain each new range of colors. These gel polishes are also known for their particular ease of application. The gel is slightly thinner than other Korean polishes, avoiding blobs and gloop but still providing one-coat coverage.
This leading Korean brand has thousands of nail salons specializing in gel nails. Their most popular products are bake-on nails, combining tips with gel designs for manis and pedis. You stick on the tips and then use a UV-light to create the perfect home manicure.
Best Place To Purchase Korean Gel Polish Online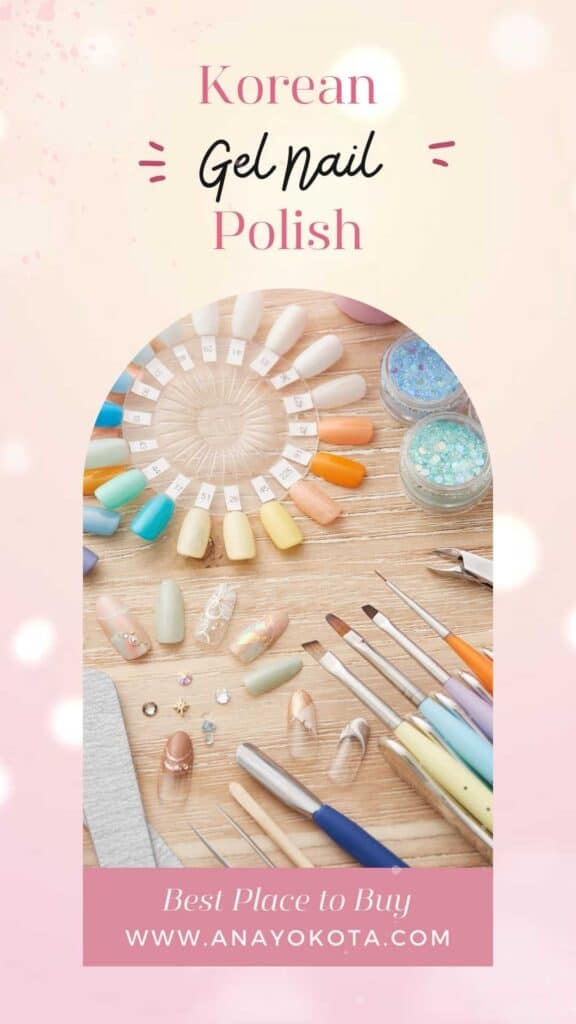 While ordering K-beauty products online is easy, finding genuine Korean gel polish can get tricky with so many platforms offering products. Take care when ordering, as many brands call themselves Korean, but have Korean-style or Korean-inspired products.
To get genuine Korean gel polish, go directly to the brands' online stores themselves (links are all provided from my top eight) – the only snag is that some offer wholesale rather than retail sales.
You can also try Amazon or one of these sites that focus on Japanese and Korean beauty products:
Conclusion
As part of the K-beauty trend sweeping the world, Korean gel nail polish has become popular. With its beautiful packaging, lush colors, creamy consistency, and toxin-free formulation, Korean gel nail polish stands out from other gel polish brands. Coupled with the fabulous nail art produced in Korean salons, K-gel is here to stay.
Nowadays you can see women everywhere well manicured especially when they are trying to present themselves for a blind date (or sogaeting). The dating culture in Korea is similar to a certain extent but also very different in others. Having well groomed nails is a symbol of prestige but also simple respect.
Learn about the best Korean foundations and all things Korean skincare related for men.