This post may contain affiliate links. Please read my disclosure policy for more info.
Finding meaningful gifts for your friends shouldn't be difficult. With Korean gifts for friends, you can help make your family and friends feel truly special!
Get the perfect present while sticking to any budget — whether it's in your local area or all the way across the United States.
Alternatively, if you're looking to help them explore multiple choices and collect something niche that speaks to their interests, there are plenty of options when it comes to Korean gifts.
Show them you care and take a look through mesmerizing items that range from various prices.
You don't have to worry about it being too expensive or too cheap — with Korean gifts now available in a variety of budgets, no matter where you shop at home or abroad, you can find something your friend will thank you for time and time again.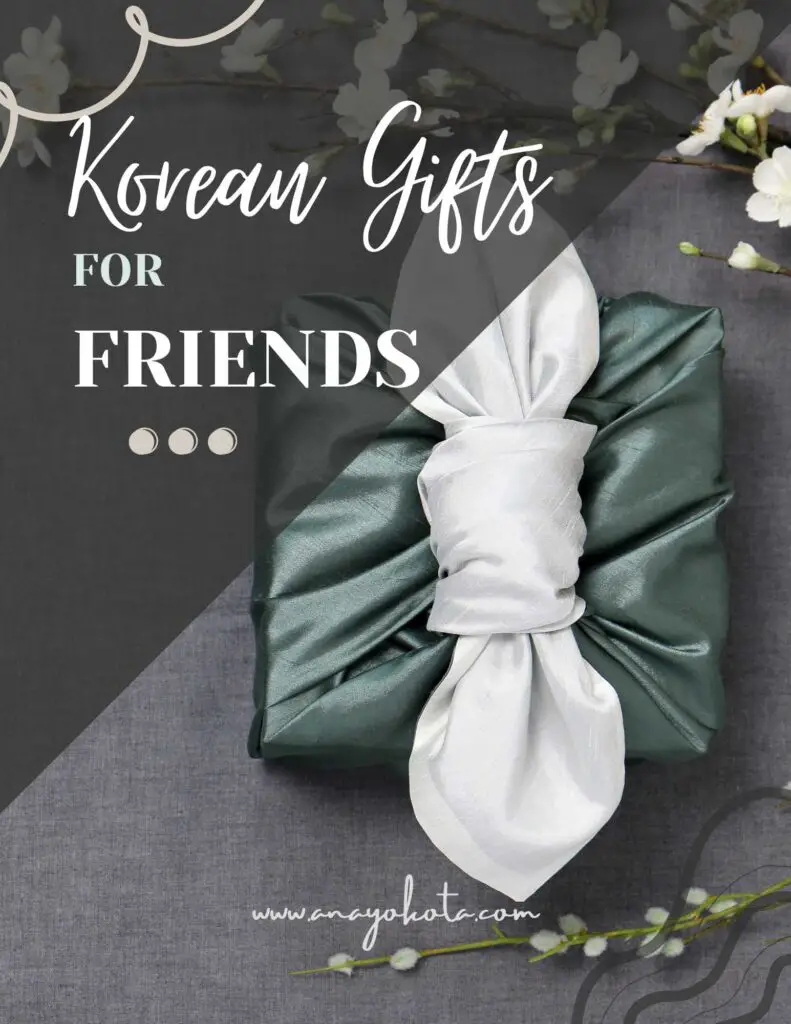 Whenever I visit Korea, it's an excellent opportunity to stock up on gifts for weddings, birthdays, and Christmas or bring friends a souvenir back.
But even if I am stuck in the United States, many Korean gifts are available with a simple click – Korean gift shop online!
Thus, I rounded up our favorites to help you find the perfect Korean gifts for friends.
Luxury Korean Gifts
Sometimes we want to spoil our friends, be it a wedding, a milestone birthday, or just because.
So here are some luxury Korean gifts for friends to show the treasured people in your life how much they mean to you.
Bronzeware Bowls and Korean Cutlery Set
Bronzeware rice and soup bowls and cutlery set to make an elegant Korean gift for friends that will last a lifetime with care.
The hand-forged bowls have excellent heat retention, ensuring food remains piping hot.
The spoons and chopsticks complement the bowls, bringing sophistication to any table.
Eating with this tableware will make every meal feel like a celebration.
For helpful tips on Korean table manners, check out this article with everything you need to know before having a meal with Koreans.
Handcrafted Korean Tea Set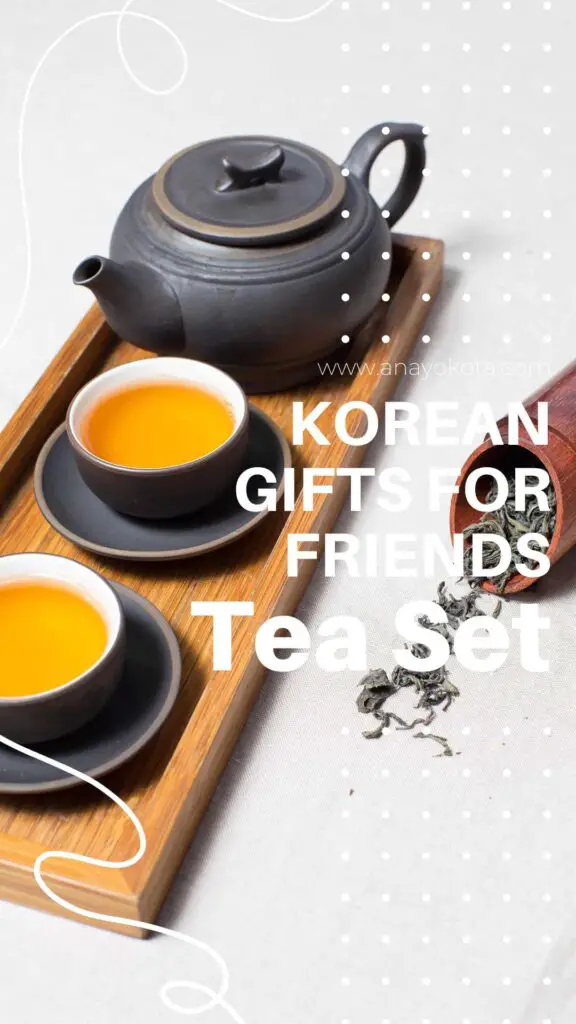 Koreans may love their coffee, but they also enjoy tea. Skilled potters craft gorgeous sets that can be treasured for a lifetime.
But if you can't fly to Korea to find the perfect artisanal set, options are available in the United States.
Fortunately, in my experience, many Koreans love a beautiful tea set. In my family, we interchange our tea sets to serve coffee as well.
I personally love hosting tea parties and it makes me so happy to host my friends with an epic tea ceremony.
The best gift for a Korean friend is simply knowing what they like. For me, it's definitely beautiful tea.
Mother Of Pearl Jewelry Box
Mother-of-pearl jewelry boxes are elegant Korean gifts for friends that will look gorgeous on any woman's dressing table.
They are made with close attention to detail, from the quality of the wood to its lacquer finish.
The inside layers and compartment are lined with luscious velvet. But the real artistry comes from the intricate mother-of-pear design.
I have seen these Korean gifts for her in various designs and sizes from small jewelry cases to full-sized dressers.
Many women like to wrap their mother of pearl jewelry box in Pojagi (or bojagi), which is a traditional Korean quilt used for many applications.
Sulwhasoo Skin Care
Sulwhasoo is the best gift for Korean friend that keeps on giving to any skin type. It's luxury in a bottle and feels like magic.
One divine set is the Sulwhasoo First Care Activating Serum.
But if you have a friend complaining about fine lines, you'll change their tune with the luscious Ginseng Renewing Cream set. It's hydrating bliss.
Remember that skincare is not just for women. Men need it too! To learn more about Korean skin care for men, check out my article.
Korean Wedding Ducks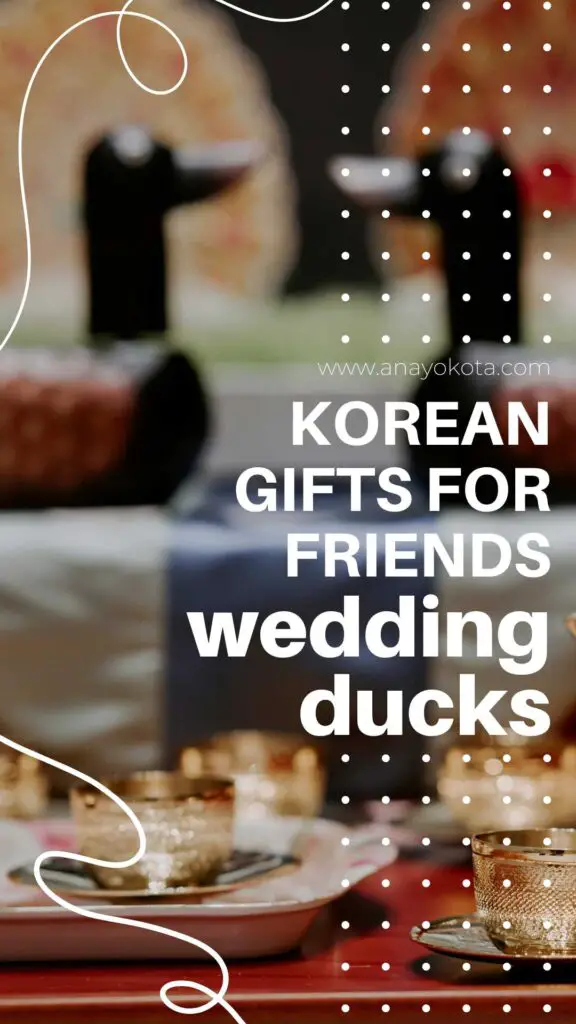 Korean wedding ducks are a beautiful symbol to give to any new couple. Mandarin ducks are fabled to mate for life and thus symbolize love and fidelity.
These traditional Korean gift ideas are perfect keepsakes that will last a marriage.
In the past, these were hand-carved, but such artists are now harder to find.
In addition, not every bride wants to tie a ribbon around the hen's beak as it symbolizes the virtue of silence.
But she can always leave it off and enjoy the greater meaning of elegant birds.
Cute Korean Gifts for Friends
Cute, fun, or even a bit fancy doesn't need to send the bank account to the point of embarrassment.
Thus, we've gathered some colorful and delightful gifts in the mid-price range. 
Handcrafted Korean Paper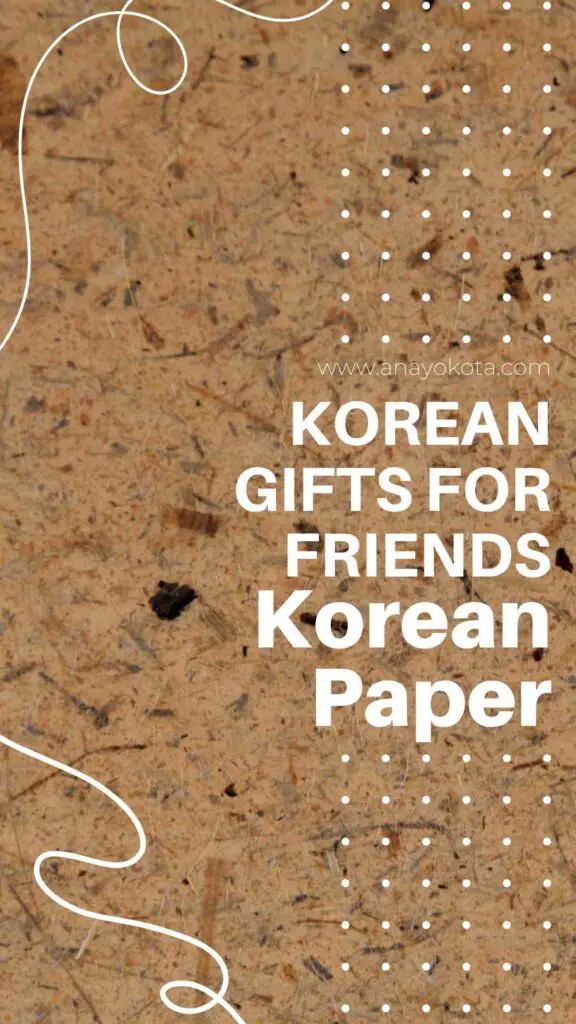 Paper is part of Korean tradition. When visiting the country, it is a delight to visit calligraphy shops and find handcrafted papers, especially those from mulberry.
Many are a work of art all on their own. Add a frame, and they'd make a beautiful decoration in any home.
I also love Korean paper because it can be used to create personalized cards as a birthday gift for a Korean friend.
You really don't need to do much because the paper itself is just so beautiful.
All I do is fold the paper in half (or in quarters if it's a large piece) and write a thoughtful message inside.
Many stationary stores will also carry matching envelopes, which I use to put in my birthday cards.
Korean Dojang Name Stamp
Add a personal touch with a customized Korean Dojang name stamp. No bigger than a tube of lipstick, the stamp will easily fit in a small handbag or clutch.
Plus, they look handsome sitting on anyone's desk.
There is a long history with Korean dojang (stamps), which is beyond the scope of this article.
In short, dojang has been used in place of a signature to sign official documents.
They are still used today if its certified. It's a wonderful Korean traditional gift that can be costly depending on the material and if you certify the stamp.
Mother Of Pearl Pen Set
Mother-of-pearl pens are elegant Korean gifts for friends that easily fit in a hand luggage.
They make excellent gifts to give Korean family, graduations and promotions. It writes smoothly, with no scratching or skipping.
Also, since the cartridge is replaceable, it is a pen that can see its owner through the years.
K-Pop Finger Heart Sign
K-pop gifts such as finger hearts are catching on around the globe. Add light and love to your friend's life with this Lumoonosity Finger Heart Neon Sign.
While it would look very cute in a teen or tweens bedroom, it would also be a fun addition to any game room.
Hang it near the pool table but not too close to the dart board.
Soju And Glasses
Yobo soju might not be the cutest gift from Korea you can buy, but it will be highly appreciated.
Like vodka, this Korean drink is available in delicious flavors like strawberry and peach.
But if cute is your aim, you can add some adorableness with a peach soju recipe in these fish-themed soju shot glasses.
Osulloc Tea Sets
Osulloc puts together cute tea gift sets that show their range's most fragrant flavors.
Any tea drinker will enjoy choosing between delicious packets of honey pear, canola honey, orchid green tea, tangerine, and more.
In addition, the amino acid L-theanine allows a slow release of caffeine, keeping your friend on an even keel.
As mentioned above, tea is my favorite type of gift ideas for Korean friend.
To enhance the cuteness, I'd like to also suggest to make a Korean gift basket with your friends' favorite teas and flowers.
Cheap Korean Gifts
Bringing a smile to someone's face doesn't have to be expensive. So we've gathered our cheap yet cheerful Korean gifts that will bring a grin to any friend.
Mediheal Face Sheets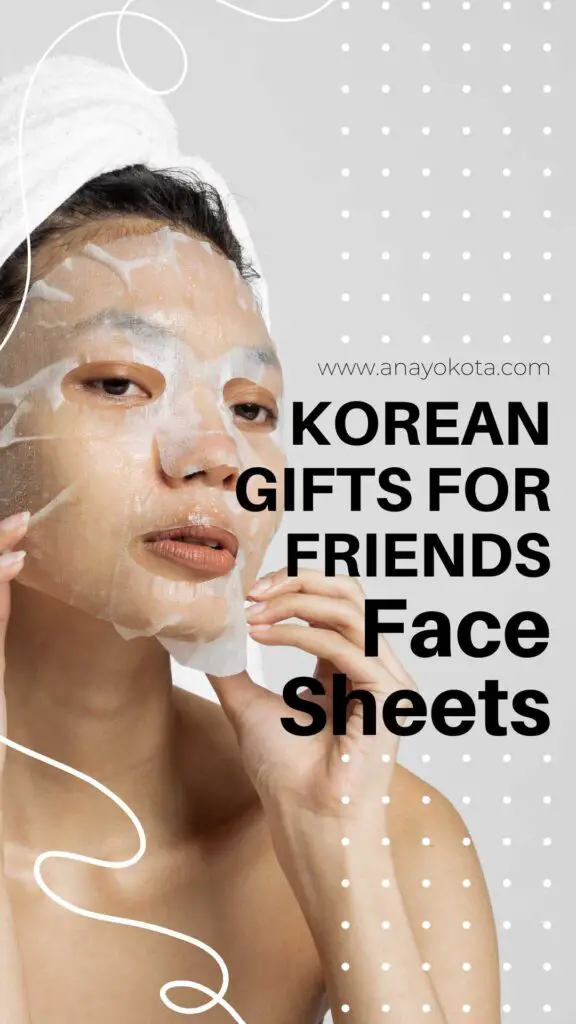 Face sheets, like the ones from Mediheal, are fabulous. Tweens, teens, the working masses, and the retired enjoy these refreshing and moisturizing masks.
These are excellent gifts for friends getting ready to travel, stuck in the hospital, or gearing up for their first prom.
They smell great, make the skin feel plumped and soothed, and force a person to chill for 15 minutes. Perfect. 
I personally will buy about 3-4 packs (each containing 20 facial masks if you buy in bulk) that usually lasts about 6 months for me.
I could make them last longer but I end up using these skincare beauties in my own DIY Korean gift set or simple birthday gift for Korean friend in the states.
Gongi
Talk about Korean traditional games, this one is probably one of my all time favorite games!
Gongi is an easy game that can be slipped inside any backpack or handbag. It is a lot like playing jacks.
This bright and cheerful set comes with its own little carrying sack. Also, while kids typically play gongi, it could be a hoot to do with friends while enjoying Korean drinks.
Novelty Socks
Korea is a master of novelty socks. They make a fun and inexpensive gift that will fit in your carry-on.
But US friends don't need to despair as there are Korean novelty socks available in the States, too. Is it as much fun buying them in the US than Korea? Unfortunately, no.
But who knows, maybe somebody will buy you plane tickets for your next birthday. (one can only dream)
Money Envelopes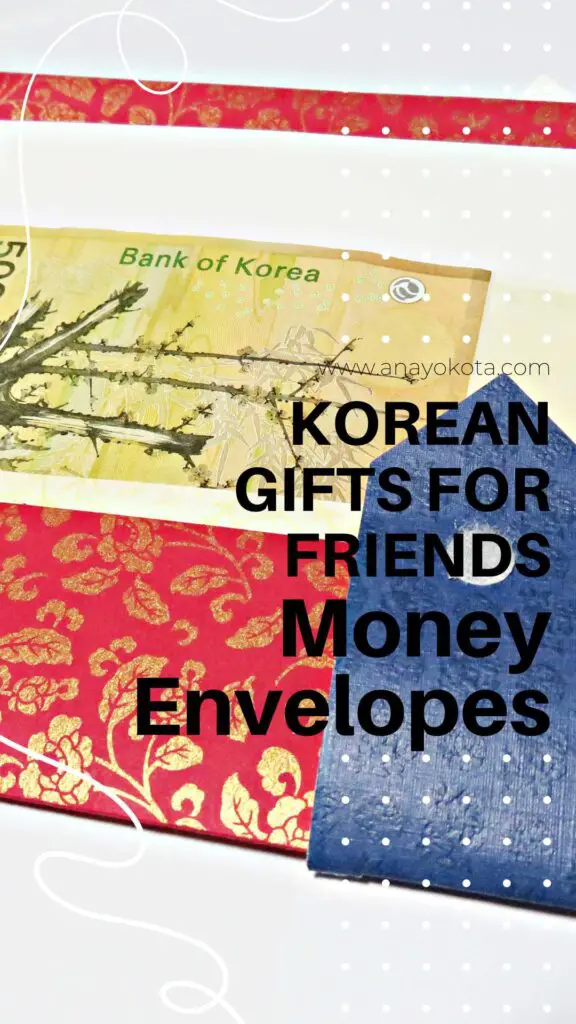 Korean style Money envelopes add a touch of class and brightness to any financial Korean gifts for friends.
They're so pretty; your friend will hang on to the envelope long after spending the present.
As a matter of fact, I have kept some of the most beautiful envelops I have ever received and still use them today as a keepsake.
Stickers
Who doesn't like stickers?
They are tiny pieces of joy at an affordable price. Korea puts out fantastic stickers in all sorts of styles.
There are adorable animals, glitter, removable, and stationery sheets. So just remember to buy yourself a sheet or two while shopping Korean gifts for friends.
Korean Alphabet Stamps
Korean alphabet stamps are excellent Korean birthday gifts for any friend learning the language.
It will add fun and delight to their lessons and help them grasp the nuances of the different characters.
The stamps can work with various ink, including fabric, so your friend can customize their clothes and totes. Plus, the set looks lovely on a desk.
Speaking of clothes. If you have a friend that is into Korean pop idols (aka: celebrities), they may appreciate a fun Kpop merch or Kpop clothing.
Conclusion Korean Gifts for Friends
Whether you decide on Tradition Korean gifts ideas like money envelops or modern Korean good luck gifts like a personalized pen, these Korean gifts for friends will bring an extra touch of elegance or fun to any friend's life.
So, whether they are a teen obsessed with skincare or a working mother who just landed a well-deserved promotion, the perfect present out there with that unique Korean touch.
Best of all, you don't have to travel all the way to Korea to buy them unless you want to.  
On a completely different note, if you are looking for a gifts for those younger friends, a nephew, a niece or just a fun deserving teenager, here are some epic ideas for you: