This post may contain affiliate links. Please read my disclosure policy for more info.
Korean gifts for her should be thoughtful, reflecting her desires, interests, or sense of style, comfort, or fun.
The best Korean gifts for her are not purchased hastily.
It isn't the amount of money spent on the present, but the consideration put into it.
Korean gifts for her can be a story about the person receiving and the person giving.
The present is permission to spoil themselves, curl up and rest, or seize the day. But most of all, the aim should be to make her smile.
When looking for a gift for a special lady in your life, you've got to delve deep.
Think beyond the items that are convenient, thoughtful as they may be.
Korean gifts offer an array of exciting possibilities that can truly reflect who she is or what's important to her.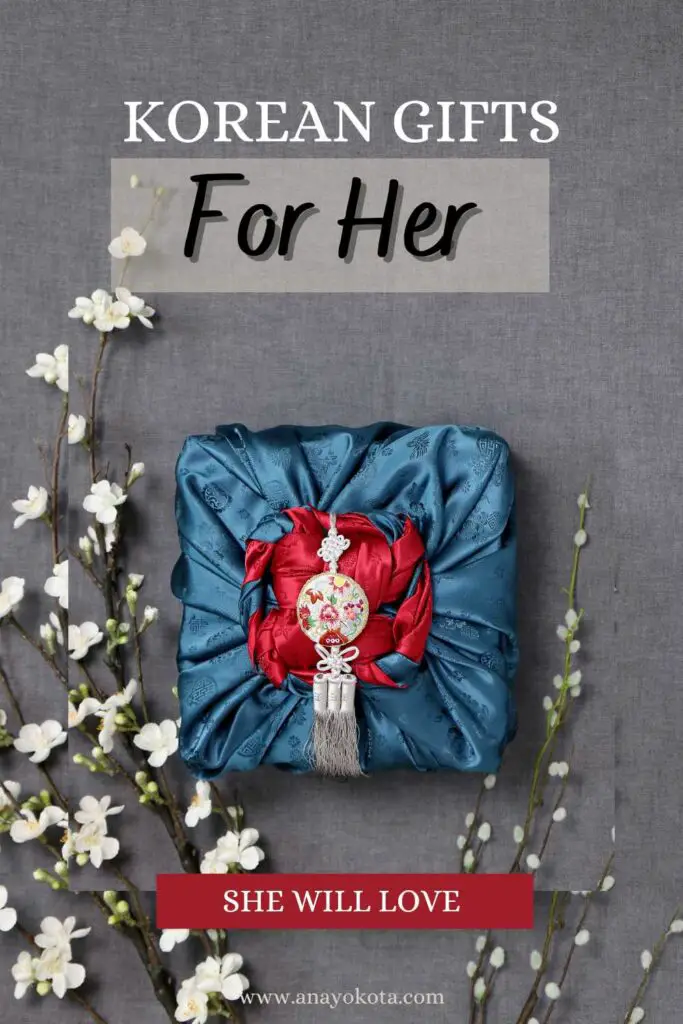 Whether she has an eye for style and fashion, finds upliftment and comfort in certain activities or joy in trying something new — with Korean gifts you can deliver anything to suit her tastes and whims.
So, show your appreciation with a thoughtful and carefully selected present that brings the vivid experiences of Korea right to her doorstep!
Love love? A perfect time to give gifts in Korea are during their romantic holidays.
To learn more with a deep dive on what happens on the 14th in Korea, check these other articles:
What Is The Best Gift To Give A Korean Girl?
The best gift to give a Korean girl should show your appreciation for her while also considering her likes, dislikes, and personality.
Is she outdoorsy? Does she enjoy curling up with a cup of tea and reading a good book? Would she appreciate some pampering?
Remember to wrap whatever you give beautifully in Pojagi or, if tickets or vouchers, in a gift envelope.
Book Her A Korean Day Spa (Jjimjilbang) Session
An excellent gift is a session at a Korean Day Spa called jjimjilbang.
Unlike going for just a facial or massage, it is an all-day (or night) affair devoted to refreshing the mind and body.
They are dedicated to the ultimate cleanliness and tranquility. It's the ultimate gift of providing her space to focus on herself and unwind from everyday stressors.
Korean Jewelry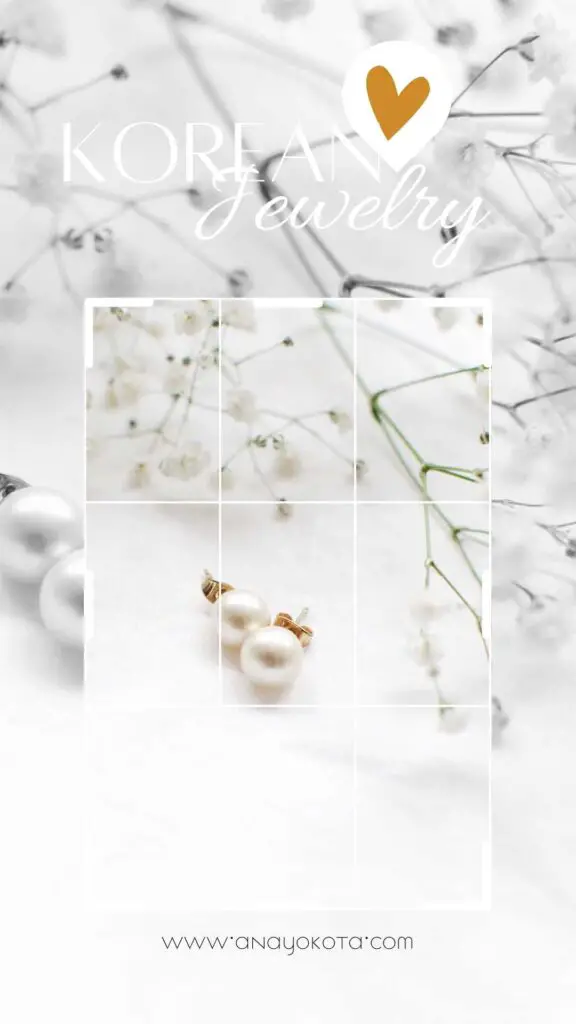 Women everywhere are fond of jewelry, and Korea has some fantastic fashion-forward brands.
You'll be sure to find the perfect gift for the modern woman in your life. Some sought-after Korean jewelry lines include:
Koreans are also known to have a more minimalistic style when it comes to jewelry.
It's not to say that Koreans don't enjoy colorful, bold, and big jewelry; rather, tradition has always been keen on simple yet high quality statements.
I've always loved receiving Korean gifts in traditional wrapping, also known as Pojagi (or Bojagi) Pojagi is a Korean style quilt that can be used for multiple applications such as wrapping and decorating.
Its a perfect way to enhance any Korean gift for her.
An Outdoor Korean Adventure
Adventurous women will enjoy exploring Korea through an outdoor adventure.
The experience gift will provide her with a lifetime of memories.
There are bicycle tours, skiing trips, and fantastic hikes through national parks.
If she loves the water, there are sailing tours and, for the more relaxed traveler, boat cruises.
If you're looking for Korean birthday gifts for her, you can always gift tickets to one of Korea's famous water theme parks, which is perfect for the summer months.
Best Gifts For Mom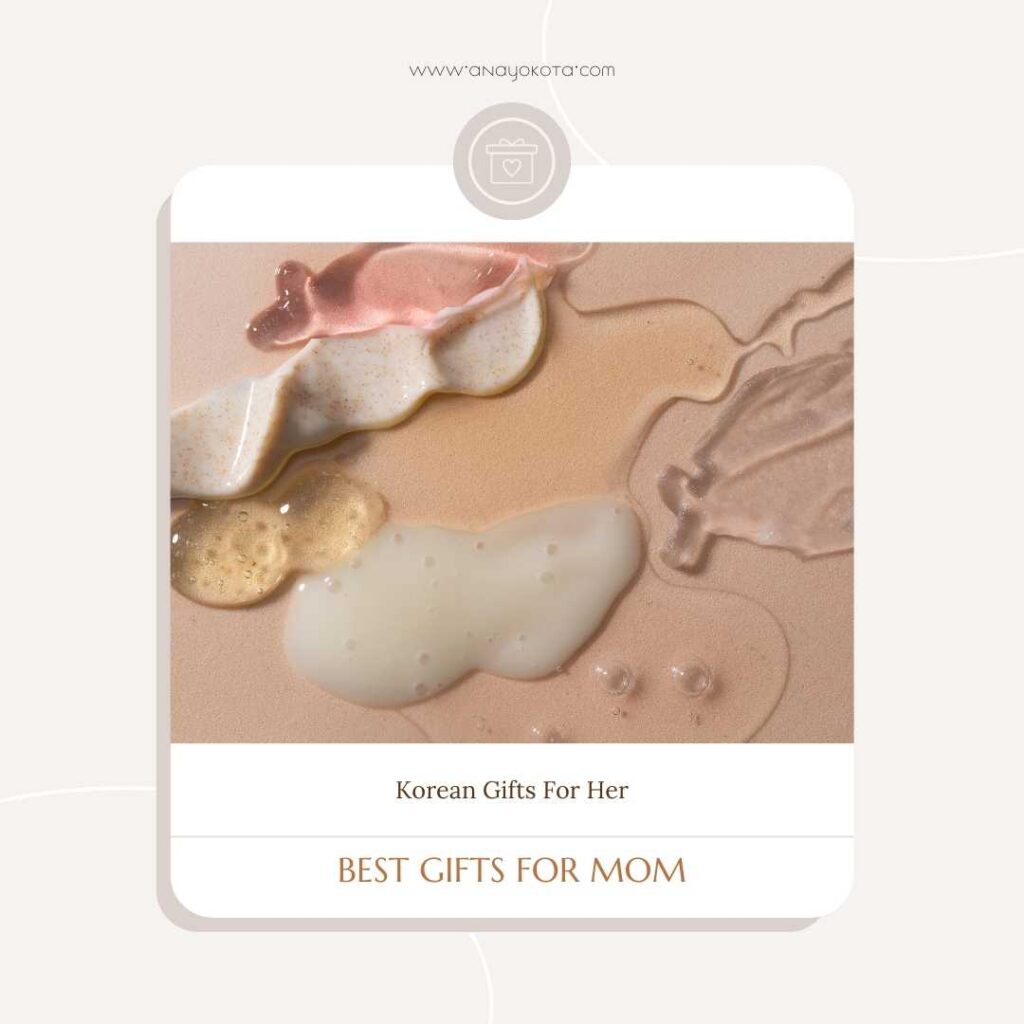 The best Korean gifts for mom should show our love and thanks for all she's done for us.
Mothers work hard in all aspects of life, and reminding them to spoil themselves, relax, or indulge will be highly appreciated.
Pamper Her Skin And Hair
Mothers are notorious for skimping on themselves as they invest in others.
Give back to your mom by pampering her skin and hair with luxury products.
Check out The History of Whoo Cheongidan line or the Daeng Gi Meo Ri-Ki Gold hair care set.
She'll feel like a queen.
Although this post is all about skincare for the moms in our lives. Father's day is right around the corner and men love skin care too!
Learn more about Korean skin care for men and see what you can do next for that man in your life.
Okay, more on moms.
Luxury Scarf
Spoil your mother with a luxurious scarf. Design House HYE has gorgeous creations in various sizes: long, square, petit, and twilly.
The designer uses quality wool and silks to create stunning designs that will feel as good on the skin as they look.
Tickets To A Cultural Performance
If your mother adores the arts, she would love tickets to a cultural performance.
The Korean National Ballet puts on shows throughout the year.
There is also the Korean National Symphony Orchestra to consider.
Or take her to a performance at the National Jeongdogn Theater of Korea.
Best Gifts For Grandma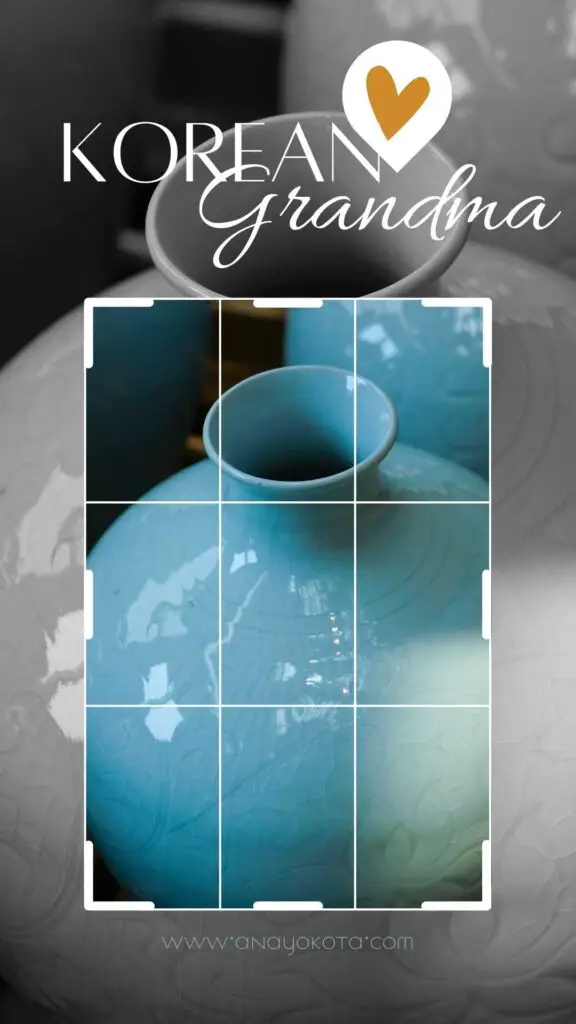 Grandmothers are a living treasure and well deserving for Korean gifts for her.
Some fill us with wisdom, others with food, and many inspire.
Thus, give her a present that will make her feel great, or at least give her a giggle.
Halmeoni Grandma T-Shirt
Show your grandmother some appreciation with a Halmeoni Grandma T-shirt.
It comes in five colors and is made in 100% cotton to ensure comfort and won't irritate her skin.
A lighthearted gift that is sure to make her smile.
Korean Red Ginseng
Give your grandmother a healthy and traditional gift of ginseng.
It is rich in antioxidants and is thought to help control blood sugar, boost the brain and immune system, and reduce inflammation.
Ginseng can be purchased in many forms, including Red Ginseng Extra Sticks and Red Ginseng Tea. 
Korean Celadon Vase With Flowers
Let your grandmother's heart bloom with a gorgeous celadon vase filled with her favorite flowers.
The best part is, once the blossoms have wilted, you'll have an excuse to buy her more, bringing joy again and again.
In many ways, I feel that these ideas are also perfect gifts to give Korean family during the holidays or special gatherings.
Another alternative to celadon vases are Onggi – Korean earthenware.
Though onggi is typically used to store foods, many Koreans use it as a decorative piece in their homes.
Best Gifts For Sister
Sisters are forever, and it is nice to give them a treat on their birthday or the holidays.
We've got some excellent Korean gifts your sister will enjoy, regardless of your budget.
Let's also not forget that you don't have to be biologically related to be a sister figure.
Be it a birthday gift for Korean friend or simply a wonderful Korean girlfriend, we all have those sisters in our lives that make life just that much sweeter.
Fabulous Korean Handbag Or Tote
Light up your sister's day by getting her a fabulous Korean handbag or tote.
There are so many designers and brands to choose from it will be difficult not to buy one for her and also get one for your aunt, friend, mom and grandmother.
Some excellent places to start your handbag and tote search are:
If you have a younger sister who loves cute Korean gifts, you can't go wrong with a nice school backpack, stationary tote, or a fun cosmetic case.
K-Pop Tickets
Let me tell you, K-Pop gifts are a craze. Want to send your sister screaming in excitement?
Nab her some K-pop tickets.
Even better, get yourself some tickets too, and have an experience you and your sister can look back on for years and years. 
Korean Exfoliating Mittens
Korean exfoliating mittens are the best thing ever.
They leave skin silky-smooth and ultra-clean. Choose between the towel style or the more fitted mitten.
She will appreciate whichever one you pick.
Essentially, these mittens (or gloves) are meant to help gently peel off unwanted dead skin making your skin feel glowy.
Truth be told, I've given exfoliating mittens as Korean gifts for men… and they love it!
Best Gifts For Aunt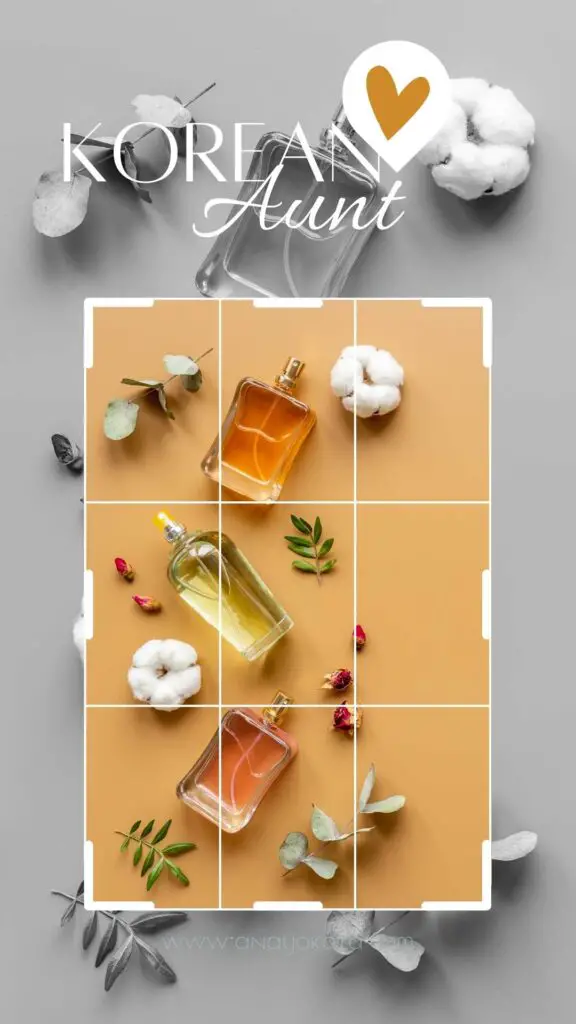 Aunts bring sunshine to our lives, and the best gifts reflect that. My aunt is not only a beacon of light but also a huge mother figure in my life.
She's not blood related but I call her "eemo," which is "aunt" in Korean.
From traditional Korean gift ideas to modern Korean gifts online, we've rustled up some suggestions for you to consider.
Korean Sunglasses
Aunts can throw the best shade.
So lean into it by giving them some Korean sunglasses.
There are some fabulous eyewear brands, including:
Korean Perfume
Lavish your aunt with a winning scent. Some of the most exciting brands coming out of Korea are:
Korean Makgeolli Kit
If your aunt is into home brewing, then she'll love a Makegeolli Kit.
The kit comes with easy-to-follow instructions on how to make the traditional rice wine.
To round off the present, you could also include some bowls to pour it into once it is done.
Best Gifts For Friend
You can't choose your family, but you do your friends.
Thus, it's a joy to surprise them with a Korean gift for her, even when it's not their birthday.
The present doesn't have to be lavish, so long as it reflects their interests.
Travel Utensils
If you have a friend that possesses a zest for travel, especially camping, she'll love this travel utensil set.
It has chopsticks, straws, a dinner spoon, a teaspoon, a knife, and a cleaning brush that all fit in a cute and handy carrying case.
However, if she prefers simplicity, this BAMPOO Korean Chopsticks and Spoon Set are durable and adorable.
Bluetooth Korean & English Keyboard
If you have a friend learning Korean, she'll adore this retro Bluetooth Korean and English keyboard.
It is cute, portable, and practical.
It is compatible with various devices, including Windows, Mac, IOS, Android, and Chrome OS support.
Korean Gardening
The pandemic turned many people into gardeners, and now we all have that one friend that won't quit (good for them).
So support your friend's green hobby by kitting them out with some Korean gardening touches.
First up, arm her with a homi. The traditional hand plow is perfect for weeding, digging, planting, making trench rows, and edging.
Once she has it, she will wonder how she gardened so long without it.
Next, give her some comfort with a Korean gardening hip seat. It will take the strain off her legs and keep her planting and harvesting for years.
Lastly, hook her up with some Korean seeds. There is so much to choose from, including:
Conclusion to Find Korean Gifts For Her
Shopping for your lovely lady can be daunting, especially if the gift you seek is extraordinary.
Consider showing how much you adore her with a Korean gift for her which captures her interests, desires and sense of style.
Whether its comfort she prefers or a little playful fun, there's something special just waiting for here to be discovered.
Think about items that make her feel special, respected, and loved.
Pick out something unique and meaningful to give as sophisticated expression to a beautiful relationship.
Remember, Korean gifts for her don't have to be scooped up at the airport.
They can be found globally and, with thought, reflect the uniqueness of the woman in your life, be it your sister, mother, grandmother, or friend.
I'll end with one final thought. Of course, I love gifts Korean gifts for her; but to be honest, I love the sentimental stuff far more than any luxury item.
A hand written card, a Korean picnic date, or simply their time.
As a person who's love language is quality time, I think about how that person can be doing a million other things; yet, they choose to be with me.
Time is precious, it's one thing we will all never be able to get back.
So, with your precious moments, be it sentimental or practical, I hope that these Korean gift ideas will help you find the perfect present.