19 Korean Snacks That Will Get Your Taste Buds Happy
This post may contain affiliate links. Please read my disclosure policy for more info.
Koreans love to eat sweet and savory treats when socializing, watching movies, or waiting in a queue, but do you know what the most popular Korean snacks are?
If you've been lucky enough to spend time with Korean people, you'll know they have a fantastic food culture, centered around sharing with friends and family. They'll greet you with the question, "Have you eaten?" and then press food upon you.
Whether the food is traditional or modern, food is all about community. Even watching K-drama or fangirling K-pop gives you an insight into Korean eating habits, which includes a lot of snacking. Let's look at the most popular Korean snacks.
What Are The Most Popular Korean Snacks?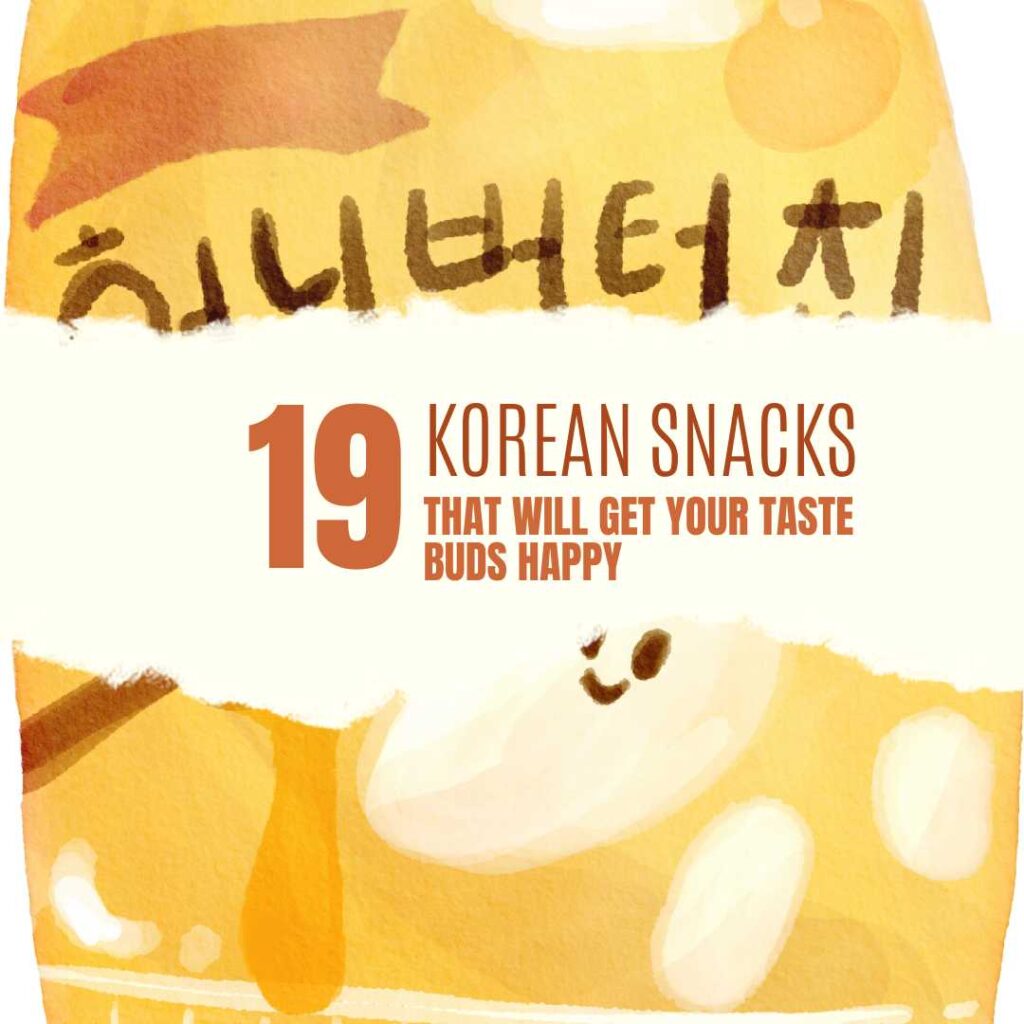 Looking for goodies to snack on while exploring Seoul? Thankfully, Korean markets stock plenty of traditional Korean snacks. But if you fancy something a bit more modern, there are treats that even K-culture fans can go wild over!
Ready to join the 'Hallyu' (Korean wave) craze? Then dive into the surprisingly yummy world of Korean snacks! Whether it's sweet or savory you're after, you're in the right place. Get ready to dig into a whole host of scrumptious Asian taste sensations.
Sweet Korean Snacks
Living in Korea is filled with wonderful, delightful treats! Whether you are enjoying a sunny morning or long day at night, there's something to delicious to savor.
One of the real pleasures of Korean snacks is the joy of trying out different decadent goodies! And to really bring out the flavor and brighten up the experience, grab a cup of Americano iced. A little bit of sweetness takes away some Monday blues!
Lotte Pepero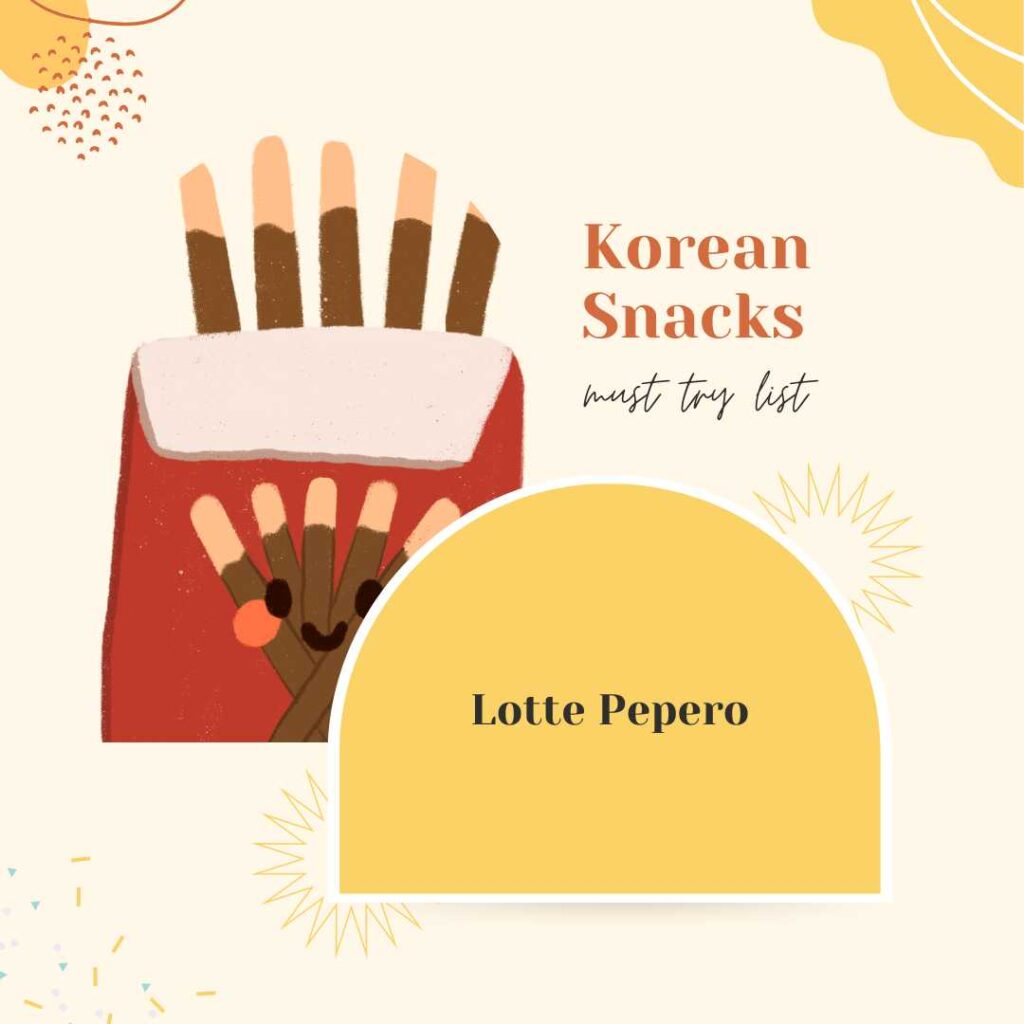 Made famous in the Pepero Kissing Game, these delicious snacks consist of cookie sticks dipped in chocolate. They're so popular that they even have a holiday set aside for them on 11 November: it's kind of like Valentine's Day, but celebrated by gifting your loved one Pepero sticks.
Choosing a favorite will be tricky: you can enjoy intensely sweet white chocolate, strawberry, peanut, almond, and peanut butter, among the many flavors. Choosing which K-pop idol you should treat on Pepero Day will be even trickier.
Orion Choco Pie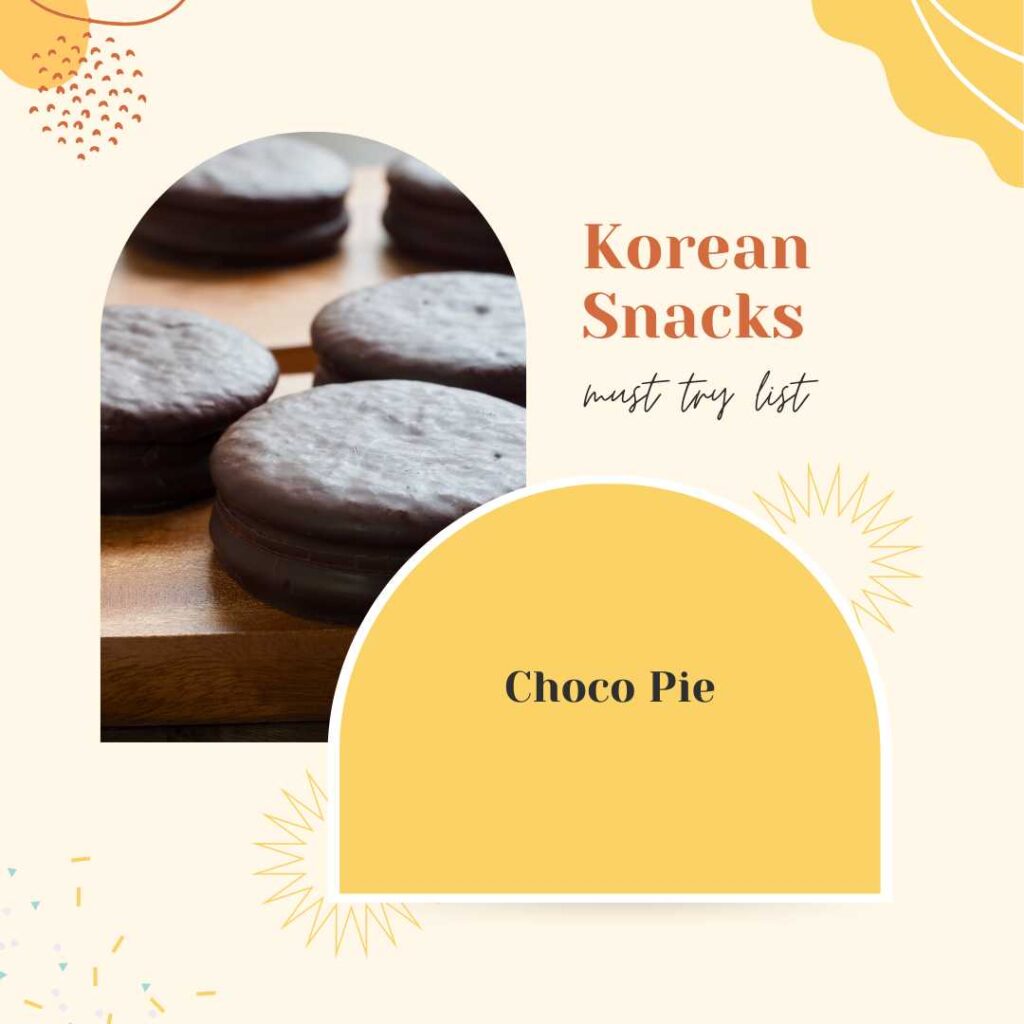 This beloved dessert resembles a chocolate teacake, consisting of two layers of chocolate-covered sponge cake with luscious marshmallow filling. You can enjoy flavors like banana, dark chocolate, and strawberry, but my favorite is the Korean rice cake flavor, Injeolmi.
If you like to be on trend, try a mint chocolate chip choco pie with a glass of whipped Dalgona coffee for an indulgent treat.
Lotte Happy Promise Custard Cream Cakes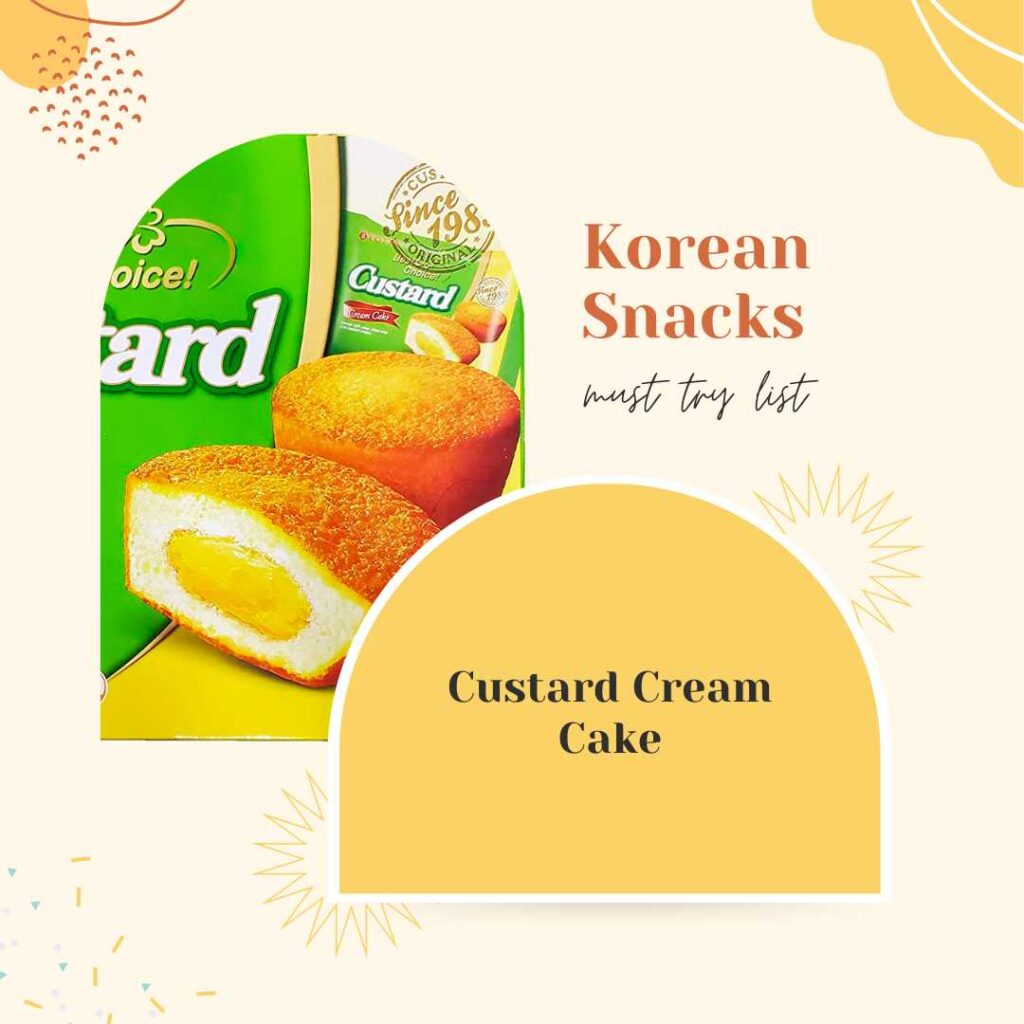 For those who don't love chocolate (really?), the beautifully named Happy Promise custard cakes are the ideal alternative. Imagine two layers of soft sponge cake with a layer of rich custard. I like eating them for breakfast, but feel free to have a custard cake with your afternoon coffee or late-night tea.
Nongshim Honey Flavored Twist Snack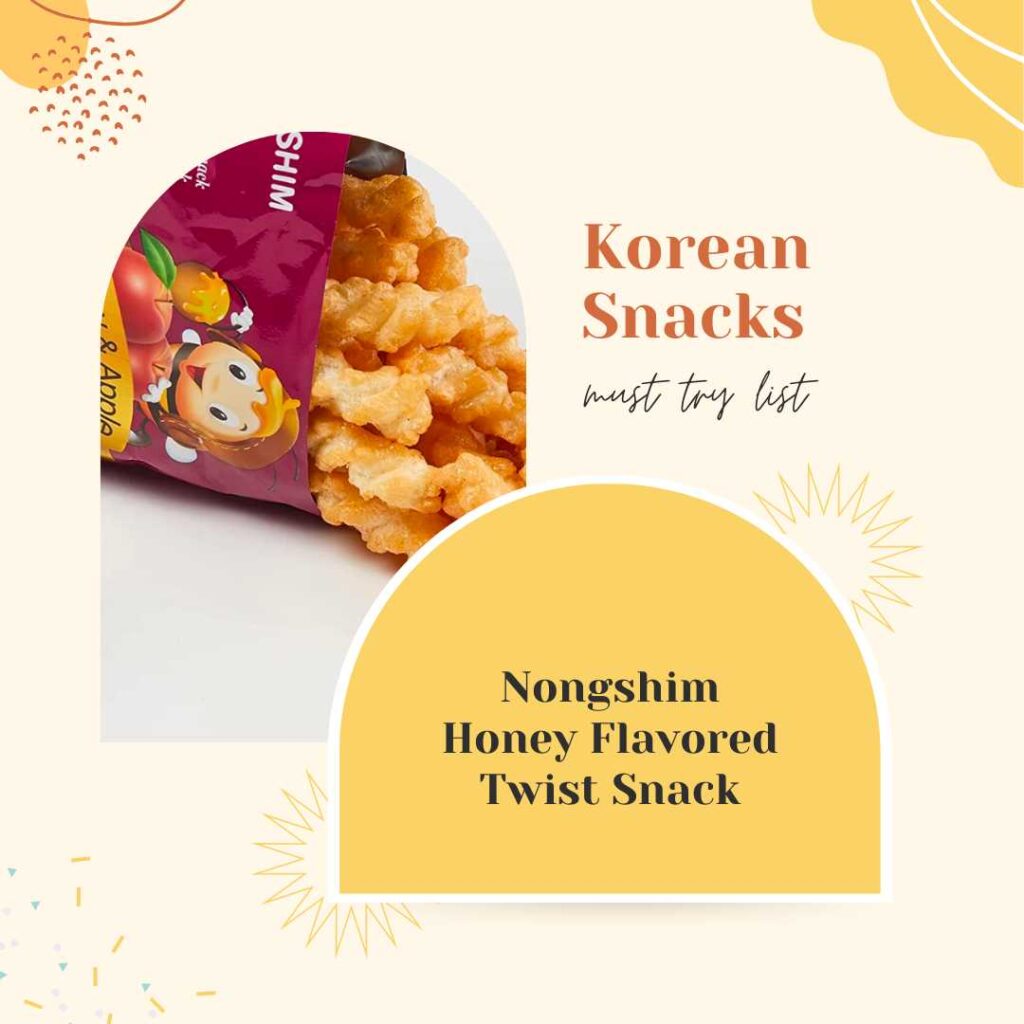 This is my brother's absolute favorite sweet Korean snack from Nongshim (Korean snack company). Nongshim makes a great honey twist snack but they aren't the ones who invented them.
These Korean snacks have a nostalgic presence because Koreans ate a homemade variation of these since before modern day civilization. You can't go wrong with a sweet and crunchy snack that has been drizzled with honey. This snack isn't super sticky and easy to eat out on a picnic or snack time at home.
Nongshim Banana Kick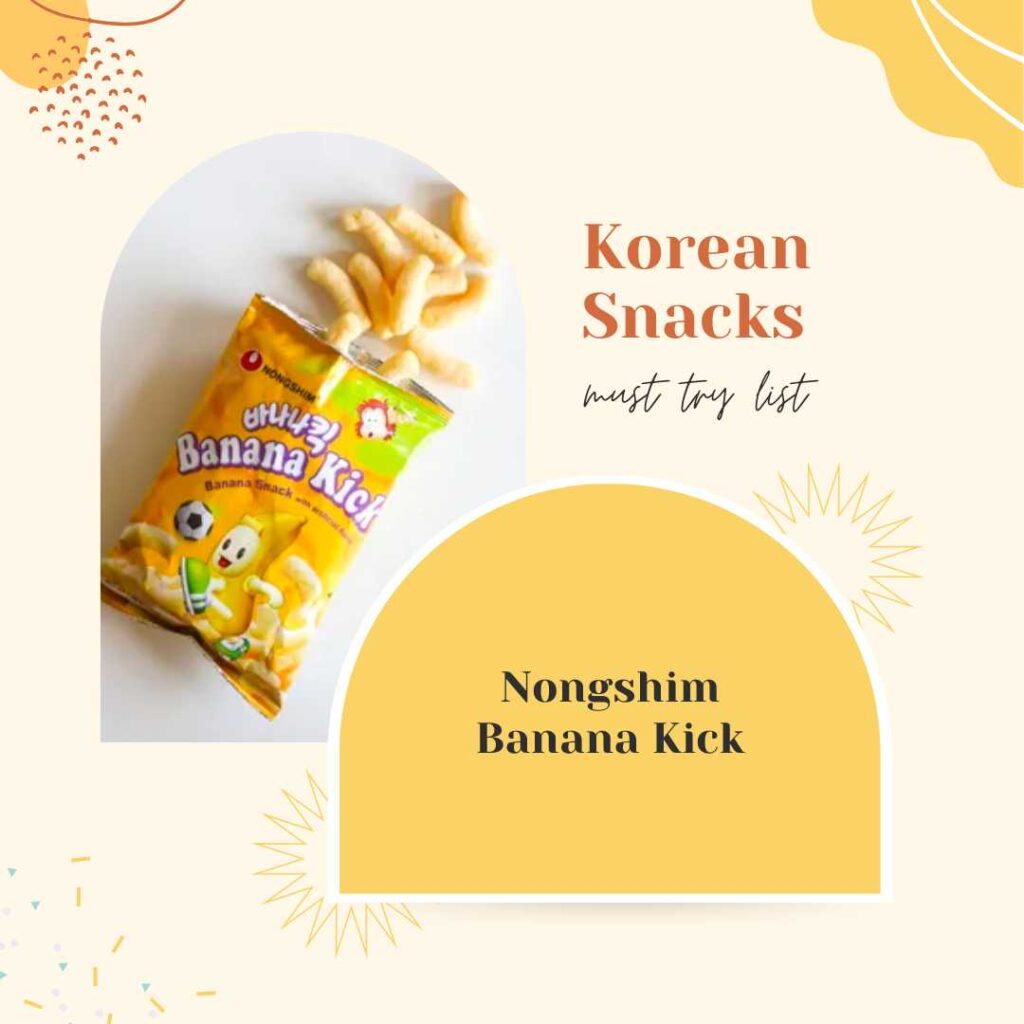 This banana flavored snack has the texture of Cheetos Puffs. However, its sweet not salty. These snacks are a huge win for littles because it dissolves easily and fun to eat. The best Korean snacks are the ones where you just can't stop munching. Banana Kick isn't too sweet, which makes you come back for more.
Try the chocolate dipped Banana Kick if you love banana and chocolate together. I know that this has been out for a while but I didn't try it until recently. My first reaction to this was enlightening. So good.
Want to learn more about Korean sweets? Here is all you need to know about Korean Candy.
Savory Korean Snacks
When only a punch of salt and crunch will do, reach for one of these popular savory Korean snacks to satisfy the craving. From new modern twists to authentic Korean snacks, continue reading and perhaps you'll soon find your favorite Korean snacks, too!
Ramyeon
Ramyeon or Ramen or Ramyun (It's all the same with different spelling). Not to toot my own horn, but I am a true foodie and love snacking. One of the best ways to snack on ramyeon (Korean instant noodles) is to eat then dry! Yes, dry!
Although there is a Korean ramyun snack, called Ramen Snack, that was designed to eat dry, you can use any ramyun you prefer and do the same thing. Allow me to briefly explain:
Grab your favorite Korean instant noodle pack and crunch them up in the bag. Open up the bag and dust in the seasoning. Close the bag back up and shake, shake, shake! It is so delicious, I dare you to try it – trust me.
But of course, the classic way to eat ramyeon is cooked – just like the instructions on the package.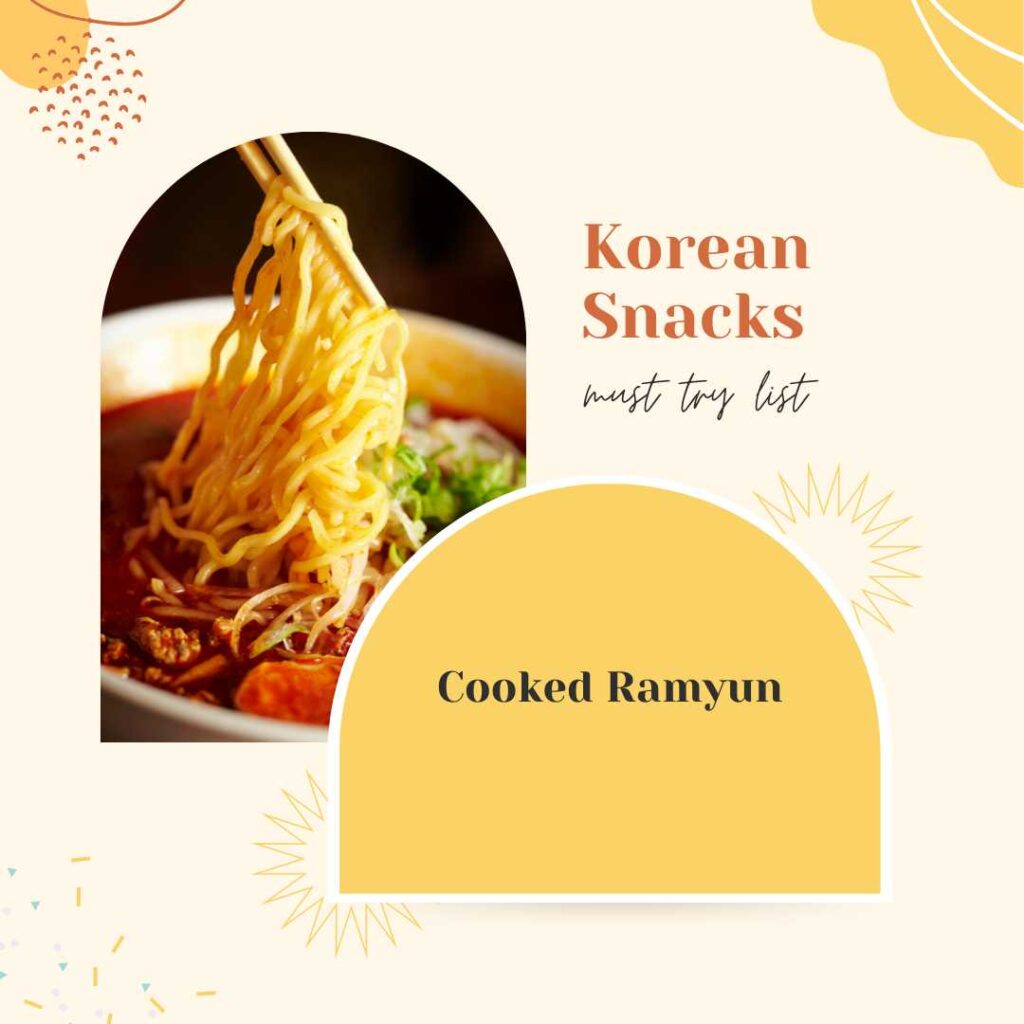 Don't know which ramen to try? Mix up a dish of Shin Ramyun: it's spicy, it's zingy, and it's very satisfying. You can sprinkle it with green onions, add a fried egg, or chill and sip the flavorsome broth.
Fans of the fiery should reach for Buldalk Bbibbimyeon, a spicy chicken noodle so intense that it rates 12,000 SHU on the Scoville heat scale. Eat this at your peril.
Need a side dish to cool off the heat? Try making your own white pickled radish or yellow pickles radish. Both a great banchan (side dish) for warm noodles.
Dried Squid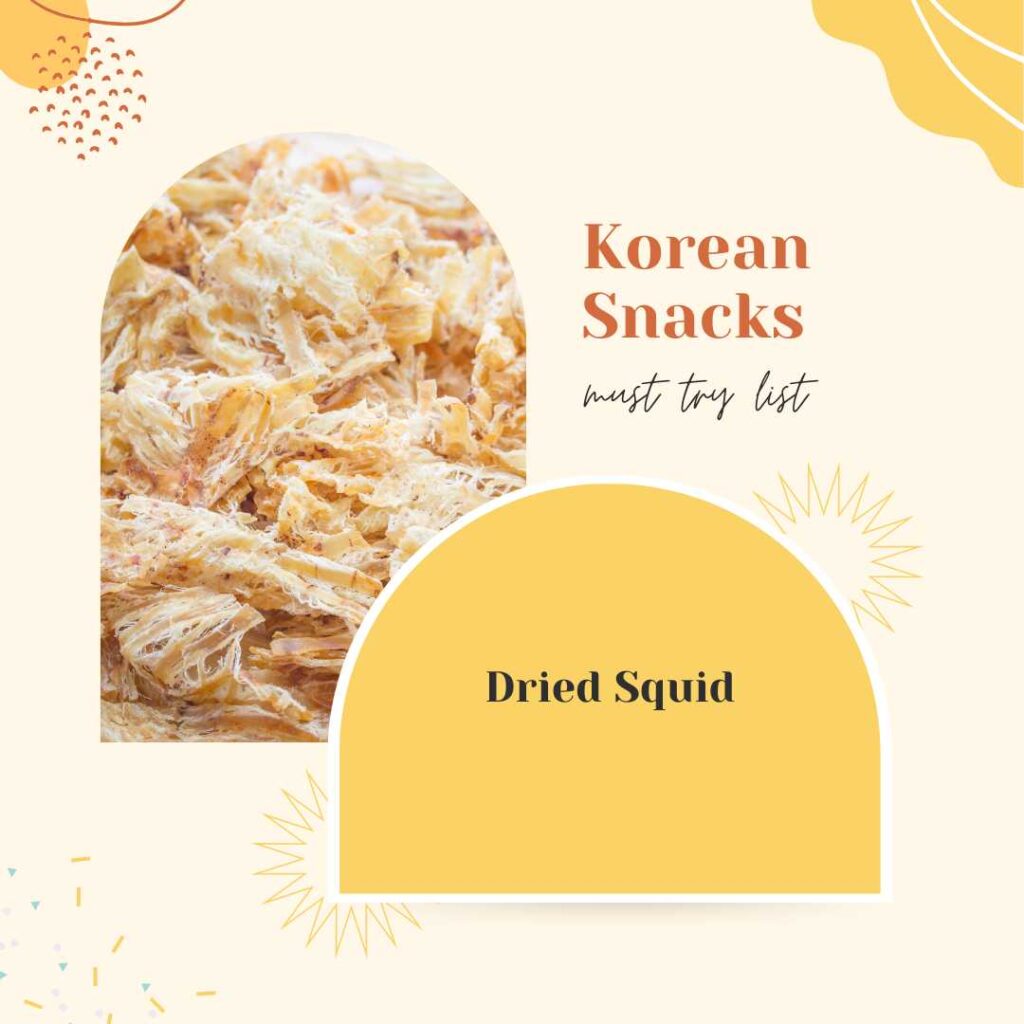 Think of beef jerky, but made with seafood. Dried squid is delightfully chewy, salty, and fishy. It's also full of protein, making it one of the healthier snacks on the list.
But if you prefer fish, Koreans love their dried fish, called Juipho (쥐포). It really is like beef jerky made of fish!
As a girl who loves her spice, my favorite way of eating dried seafood snacks is by dipping them into gochujang (Korean chili pepper paste).
Bibigo Roasted Seaweed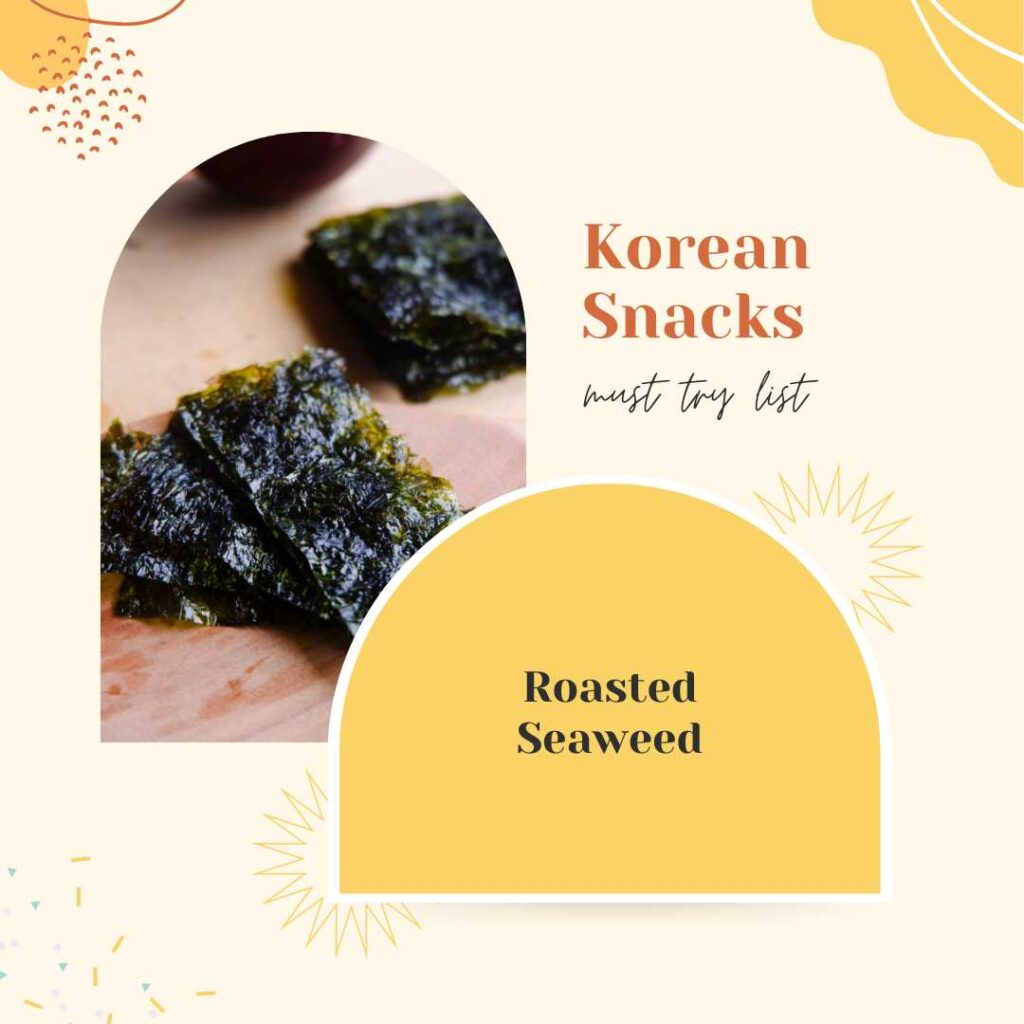 Another healthy Korean snack food is roasted seaweed. These beautiful green bites consist of roasted and seasoned seaweed, crisp, light, and full of vitamins. Try the original flavor, or experiment with sesame, BBQ, or wasabi.
You can't go wrong with other 김 (gim = roasted seaweed), as long as you pay attention to the ingredients. I try avoid the Korean seaweed snack that has been processed with MSG.
If you don't have access to clean gim, its actually very easy to roast and season at home! All you need is to toast untoasted gim over low heat (sort of like a tortilla) until you just start to see it crinkle and immediately brush it with sesame oil and flaky salt. Voila! You have healthy, clean, and delicious roasted seaweed.
Best Korean Chips
Korean palates have a special proclivity for crunchy chips! From the traditional to the innovative, this appreciation-which can partly be attributed to an overwhelming sense of nostalgia, gives Koreans ample reason to reserve a snack subcategory exclusively for these beloved items.
After all, crunchy chips represents an integral part of Korean culture, one worth celebrating and honoring through these varying iterations on a cherished classic. Clearly, these delicious snacks are deserving of special recognition– making them truly "worthy".
Furthermore (a far cry from its familiar counterpart), potato chips in South Korea snacks are being concocted with potatoes, rice, flour and even oats. And the savory factor isn't the be all end all.
Therefore, I bring you this list – though not coherently listed – each one weirder with considerable flavor kicks than the last; so let's find out more!
Savory Korean Chips
Savory Korean chips have become all the rage, making them the perfect snack choice for almost any occasion. With each delightful crunch offering a lip smacking salty bite, they are applauded for having a pleasantly balanced level of sweetness.
All the balanced flavors ensure that you savor every single chip as each enables you to transport to a different corner of Korea in every bite. Plus, if you find it difficult to sink your teeth into traditional Korean food items, Korean chips are an excellent way to jumpstart a unique and palatable food journey through the Land of delicious food.
Turtle Corn Chips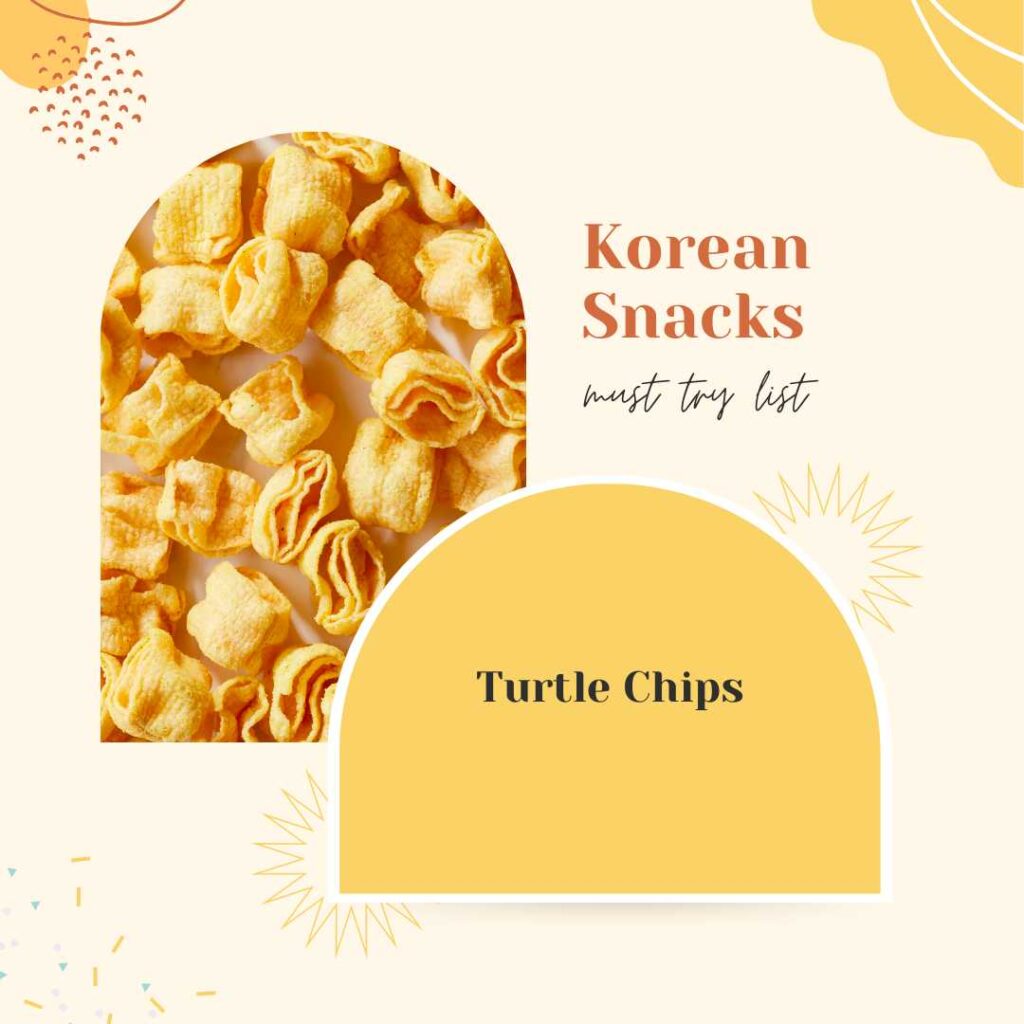 The most famous Korean chips are called Turtle Chips; to clarify, they're made from corn, not tortoises, and are shaped like turtle shells stacked on top of one another. The mascot is a jaunty, top-hat-wearing turtle, who invites you to enjoy these crispy tasty treats.
Like many chip companies, Turtle Chips have many other flavors from sweet to savory. My personal favorite is actually their sweet chocolate churro flavor. Its so crispy, light and perfectly sweet!
Kkokkalcorn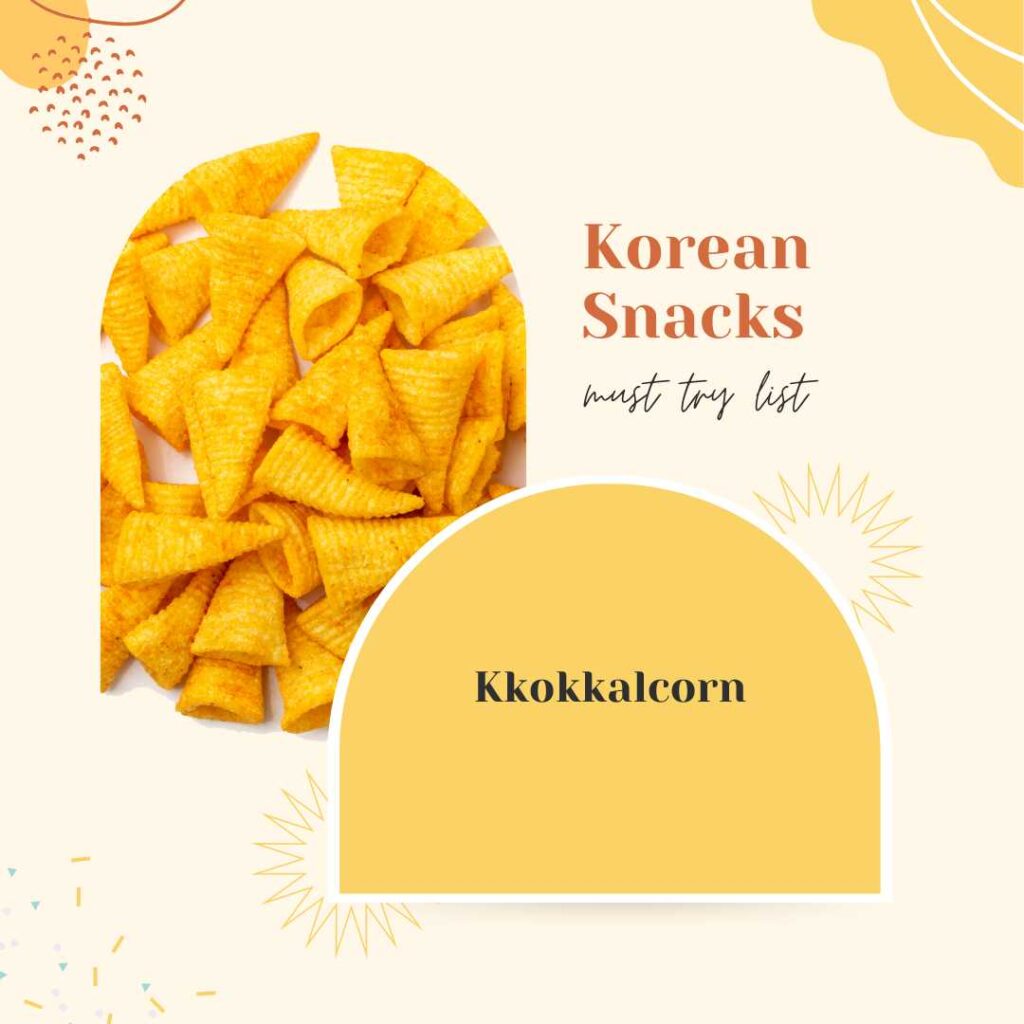 Another wildly popular savory corn snack is called Kkokkal corn, which will remind you of Bugles. They're also cone-shaped and crunchy and come in three flavors. I love the grilled corn variety, but try the sweet and spicy combination for an authentic K-culture flavor.
Yes! Chips!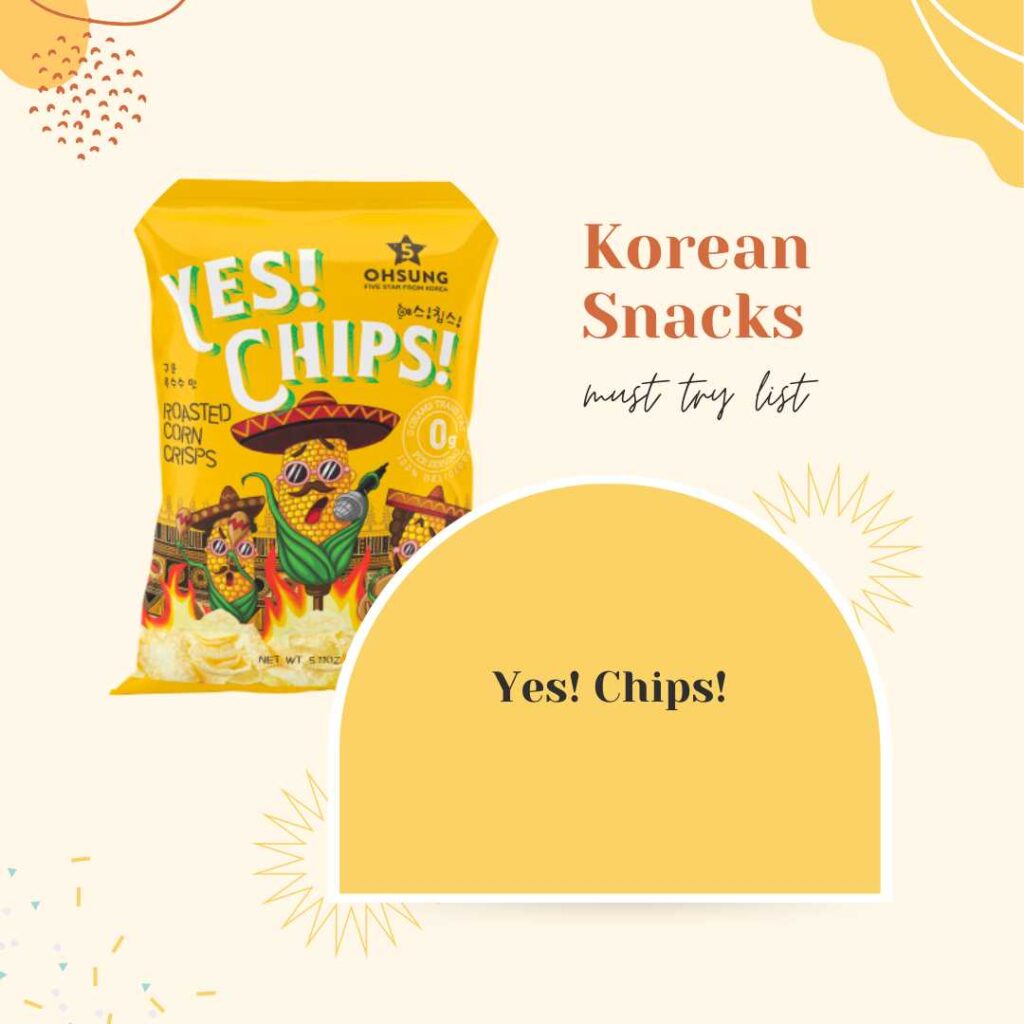 Run to the convenience store; drive to your Korean market; do what you must to get your hands on these chips. The first time I tried these chips, I was transformed. It has a similar feel to the kkokkal corn snack but slightly thinner and a smidge more flavorful. Although I love kkokkal corn chips, these are slightly different and have me running wild for more.
The thing about Yes Chips is that they are a master of their brand. They have many flavors from sweet to savory to spicey. Although my favorite is their orginal slightly sweet corn chips, my second favorite are their Shrimp Chips!
Don't say I didn't warn you. These Korean treats are addicting.
Sweet Korean Chips
When it comes to chips, Koreans have defied the rules. By combining sweet and salty, Korea's best chiptastic brands have created an unusual yet delicious flavor! Craving something unique? Then Korean sweet snacks is the must try snack you need.
Talk about bold choice. Find out what else crowd loves in their world of unbelievable flavors. Look no further and read on to keep tabs on trending chips released!
Honey Butter Chips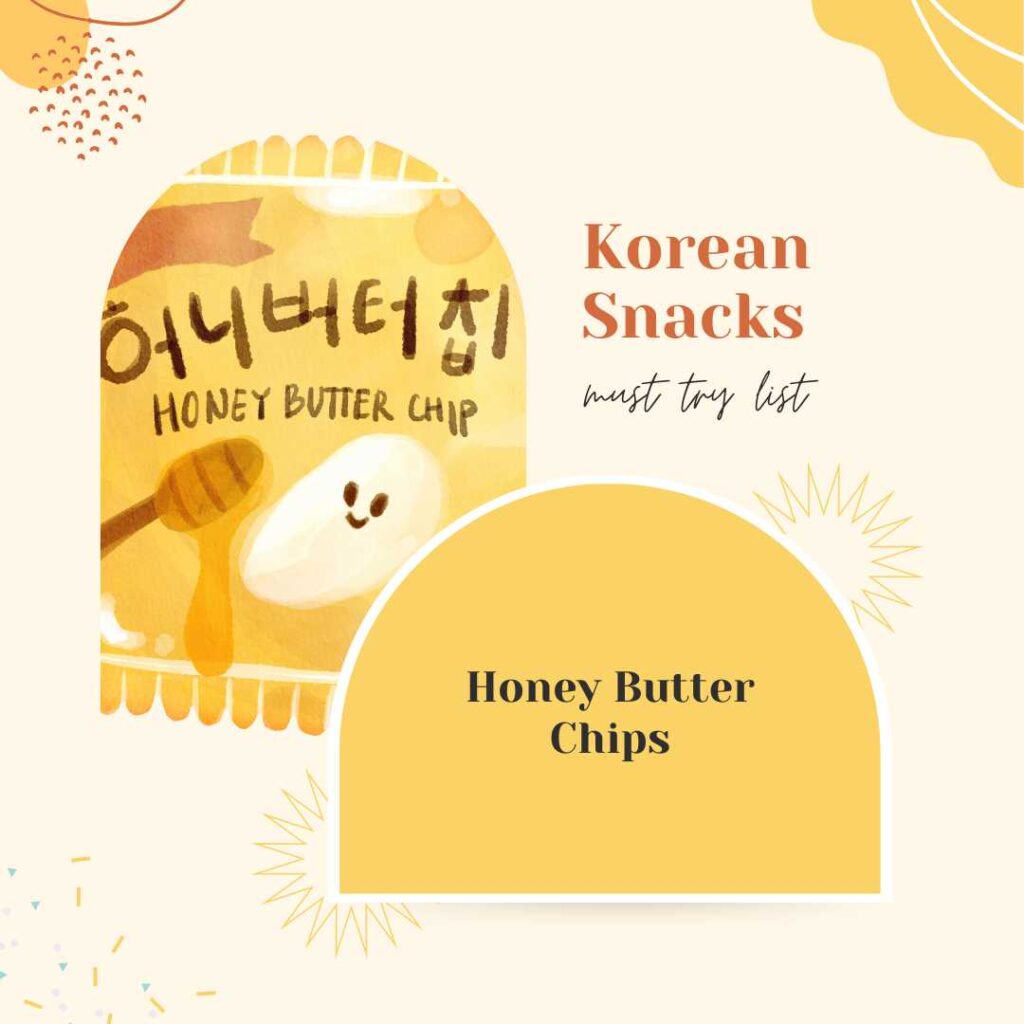 A couple of years back, K-culture fans went crazy for anything honey-butter flavored, with these chips being rare and frequently sold out. They still seem popular as the Honey Butter chips often feature as the snacks from Korea in kdramas as well as with K-pop idols on social media.
The year after Honey Butter Chips were launched, Pringles produced their limited edition Butter Caramel flavor. These have become a regular flavor in Korea but have never set off a trend like Honey Butter.
Korean Sweet Potato Snack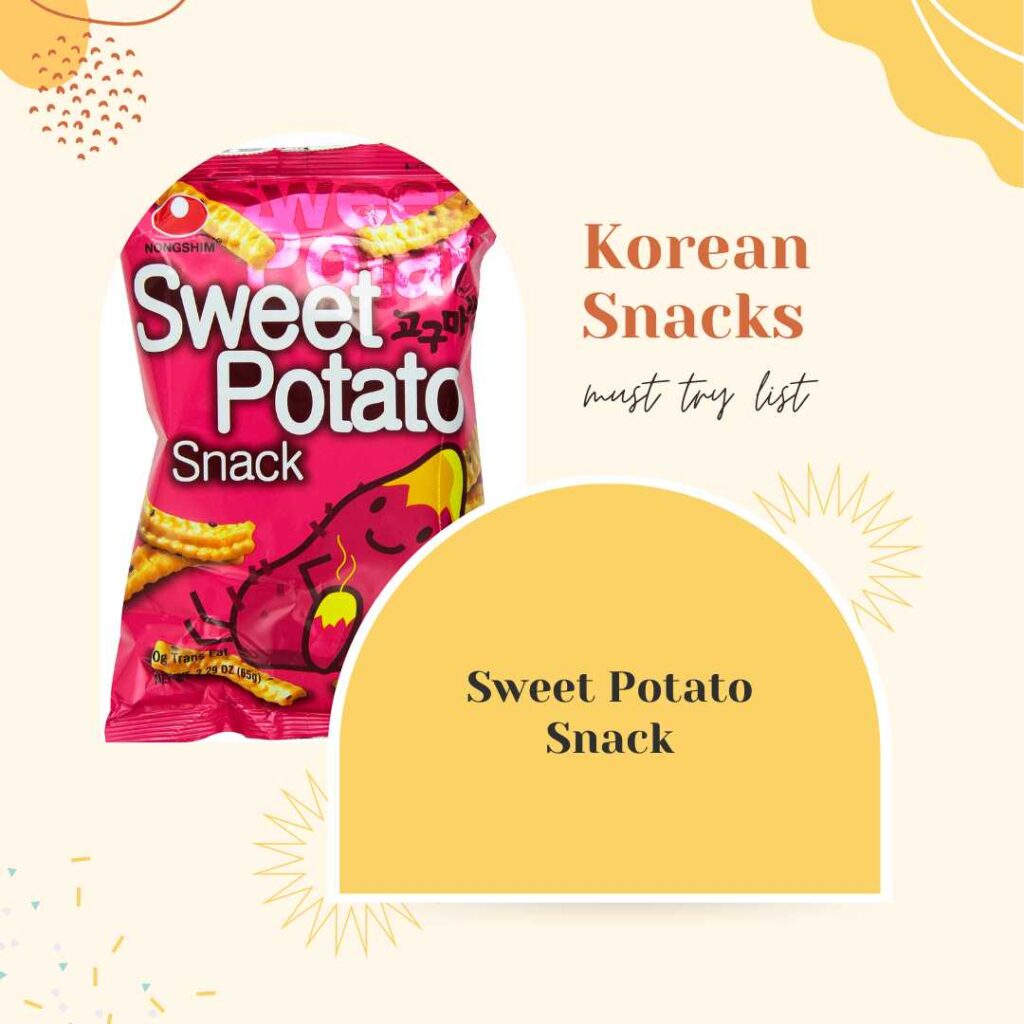 Snacktime just got deliciously better with these sweet potato chips! Bursting with sweet potato flavor, each bite presents a semi-sweetness with irresistibly delectable characteristics. Deviating from traditional potato chips or french fries, these little babies are uniquely ridged for an interesting presentation and added crunch.
Carefully seasoned with a sweet potato, giving sweetness a whole new rendition of itself. These chips are the perfect union between crunchy and sweet — allowing a sleeper snack to stand shoulder to shoulder with top treats.
Spicy Korean Chips
The best thing about Spicey Korean snacks is that they aren't overly spicey. Many times they have a slightly sweet welcome in their flavor profile to help balance out the chili kick. Definitely worth trying, I highly recommend the Spicey chips from Yes Chips.
Spicy Yes! Chips!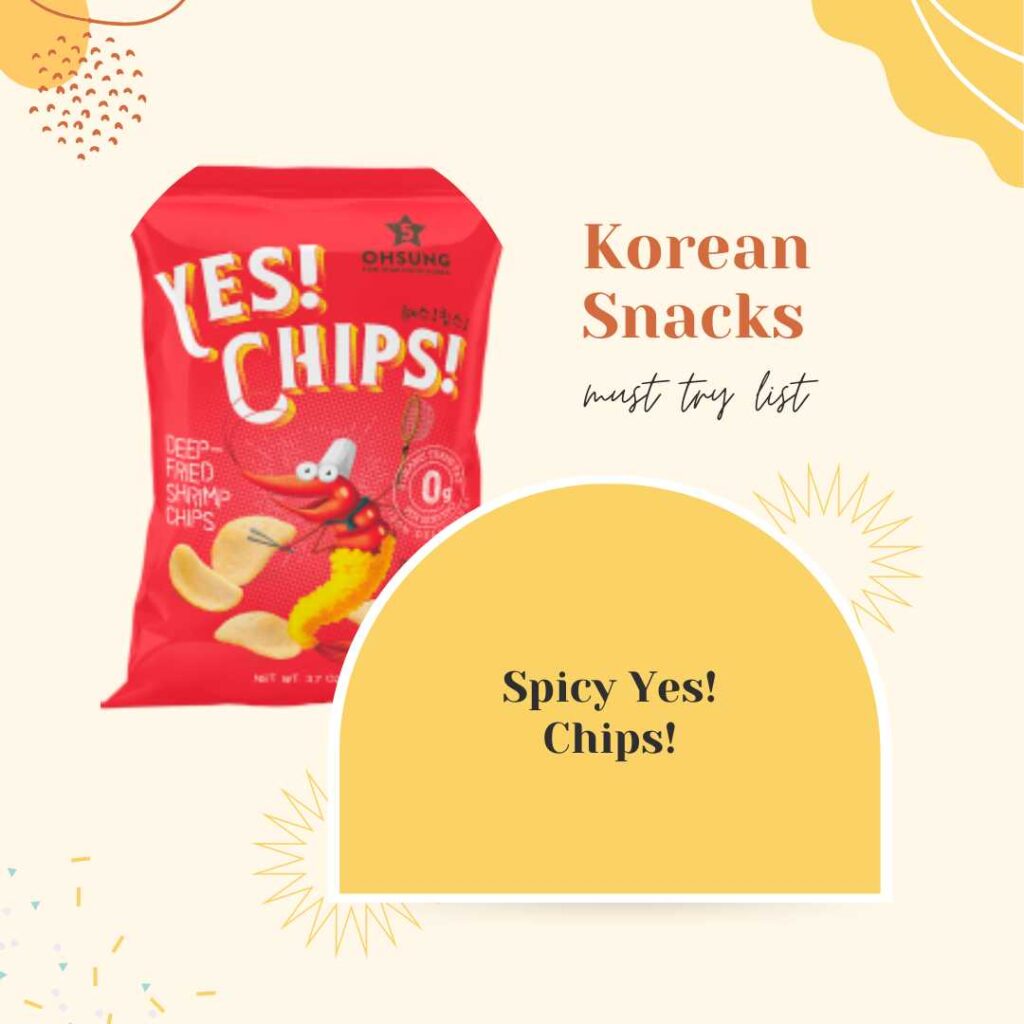 Not to sound like a broken record, but Yes Chips are truly my favorite chip brand. They have several flavors but their Spicy Roasted Corn Crisps are absolutely fantastic. You feel the burn from the spiciness but there is a subtle sweetness from the corn crips that makes you want just another bite.
Tteokbokki Chips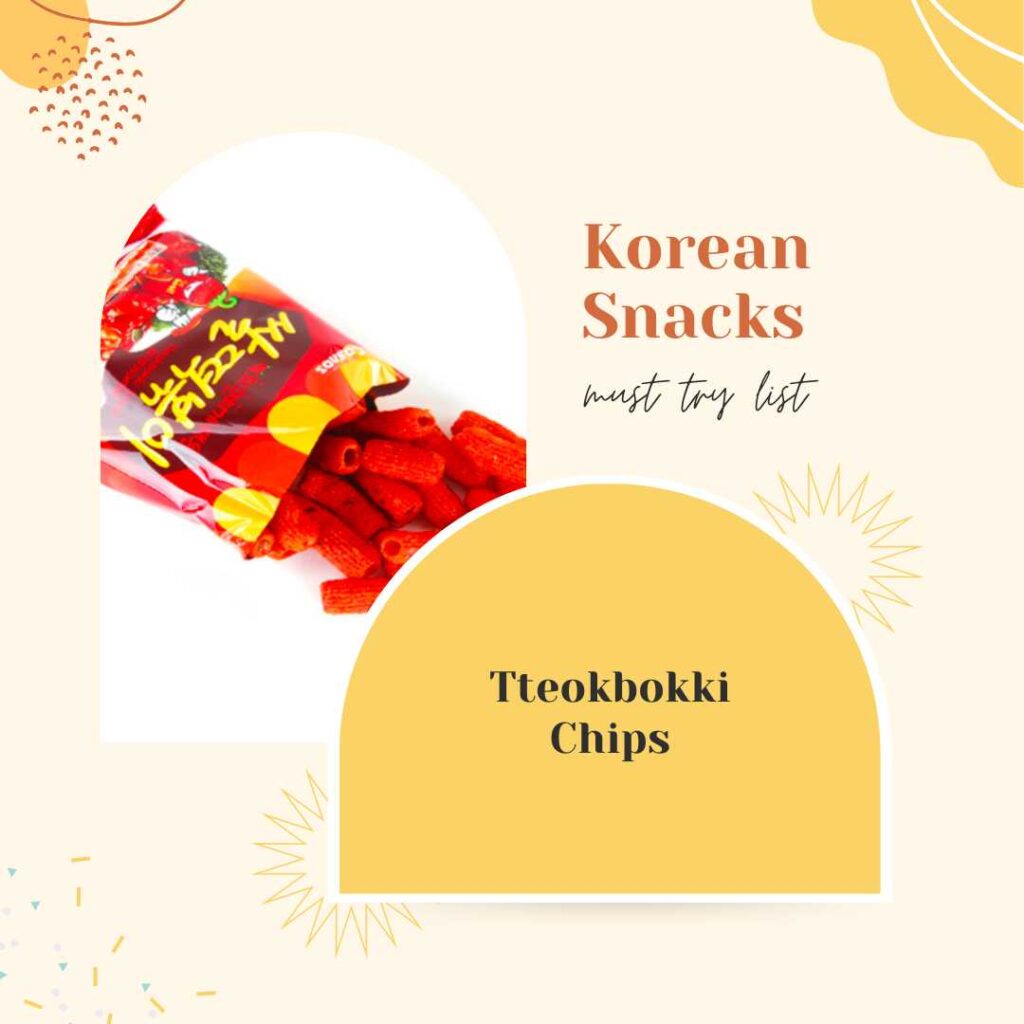 Sweet rice cakes are a traditional snack, but you can buy tteokbokki chips, also made of rice. The crunchy chips mimic the shape of the original, with a soft center and a zesty sweet-spicy taste that's entirely satisfying. The spice factor increases as you eat, with rising garlic and gochujang flavors that will make you sweat.
Raw Ramen Chips
As mentioned above, Koreans also snack on raw ramen, so you can enjoy the fiery flavors as a crunchy chip-like treat.
For a more extensive list of Korean Chips, check out this blog post on all things Korean Chips!
Traditional Korean Snacks
In Korea, snacking is a serious business.
There are countless scrumptious varieties of traditional snacks to offer that can be easily located at the local Korean market. I won't go too deep with all their multitude here because this topic calls for its own separate article.
So I'll only suggest my personal favorites: An awesome array to tantalize and thrill your taste buds! With such indulgent varieties of traditional Korean snacks, you must come back and learn more soon! Writing an article devoted solely to these delightful treats just seemed right.
Don't forget – it's' titled "Traditional Korean Snacks" — so check it out soon if you get the chance.
뻥튀기 – Puffed Rice or Popped Rice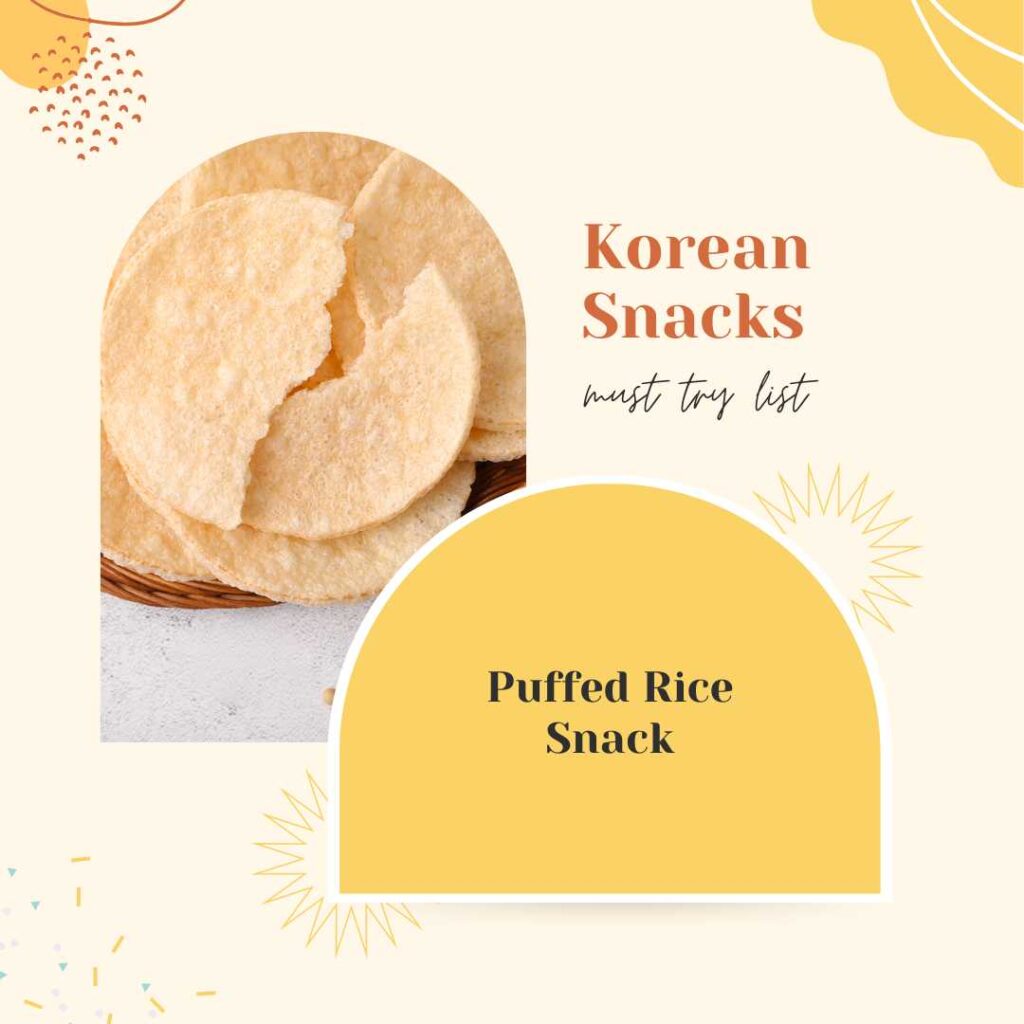 This is a game changer for those looking for a simple and satisfying crunch without all the guilt. Made with rice, puffed rice is made from super high heat – like popcorn.
I would even give these snacks to my one year old toddler because many times it doesn't have added sugar and the natural sweetness is from the rice. What's even better is that it melts in your mouth so, it's really great for those little chompers waiting for their teeth to come in.
Yakgwa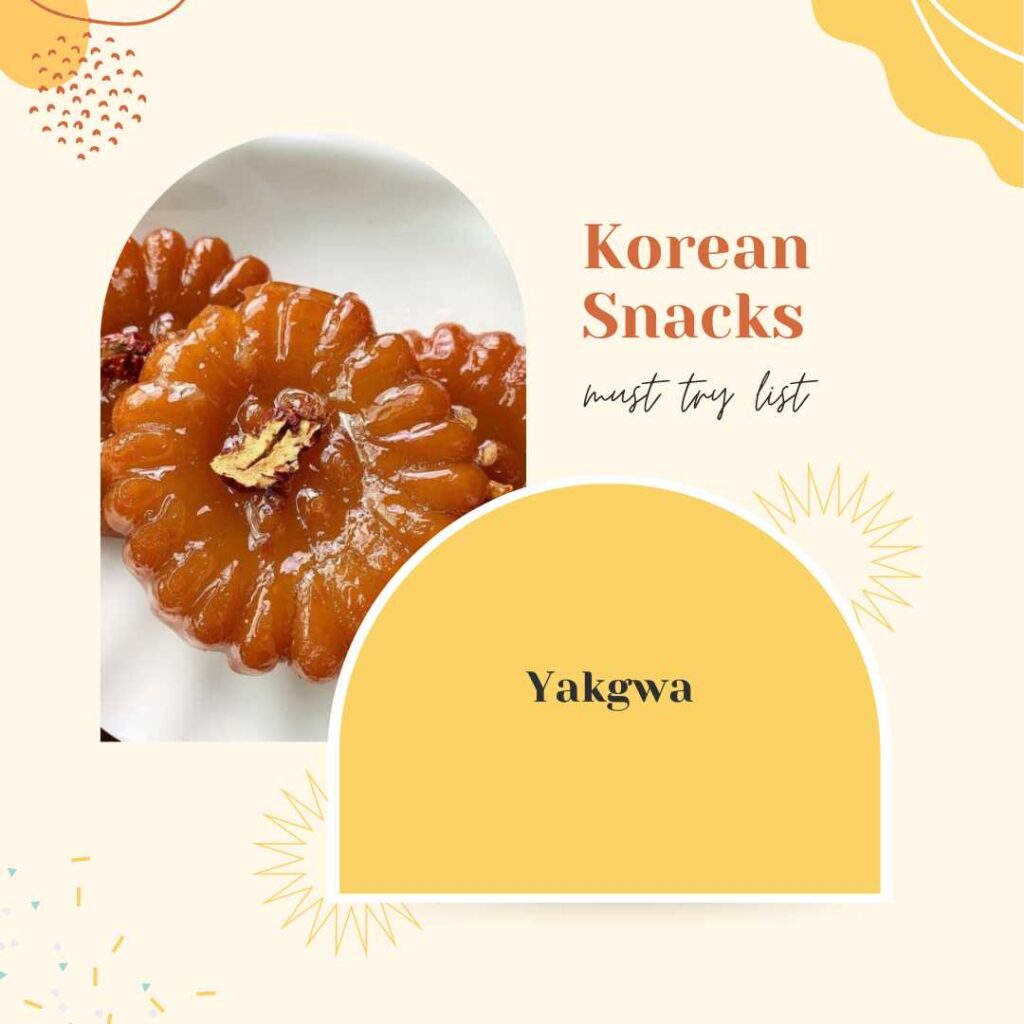 Yakgwa, also known as gwajul, is a timeless staple of Hangwa delicacies. This type of yumil-gwa is featured in traditional Korean cuisine and combines the flavors of honey, cheongju, sesame oil and ginger juice for an unforgettable taste that stands apart from other variations of deep fried wheat based dainties.
The cooking process is precisely calculated to ensure perfect results every time. An artisan accents each individual piece with the desired mixture encompassing all these special ingredients transferred with carefully measured amounts in a harmonizing ratio of sweet and savory.
The methodical steps involved guarantee that each morsel bears only the best rich flavor considered essential in creating a future classic.
김부각 – Traditional Fried Seaweed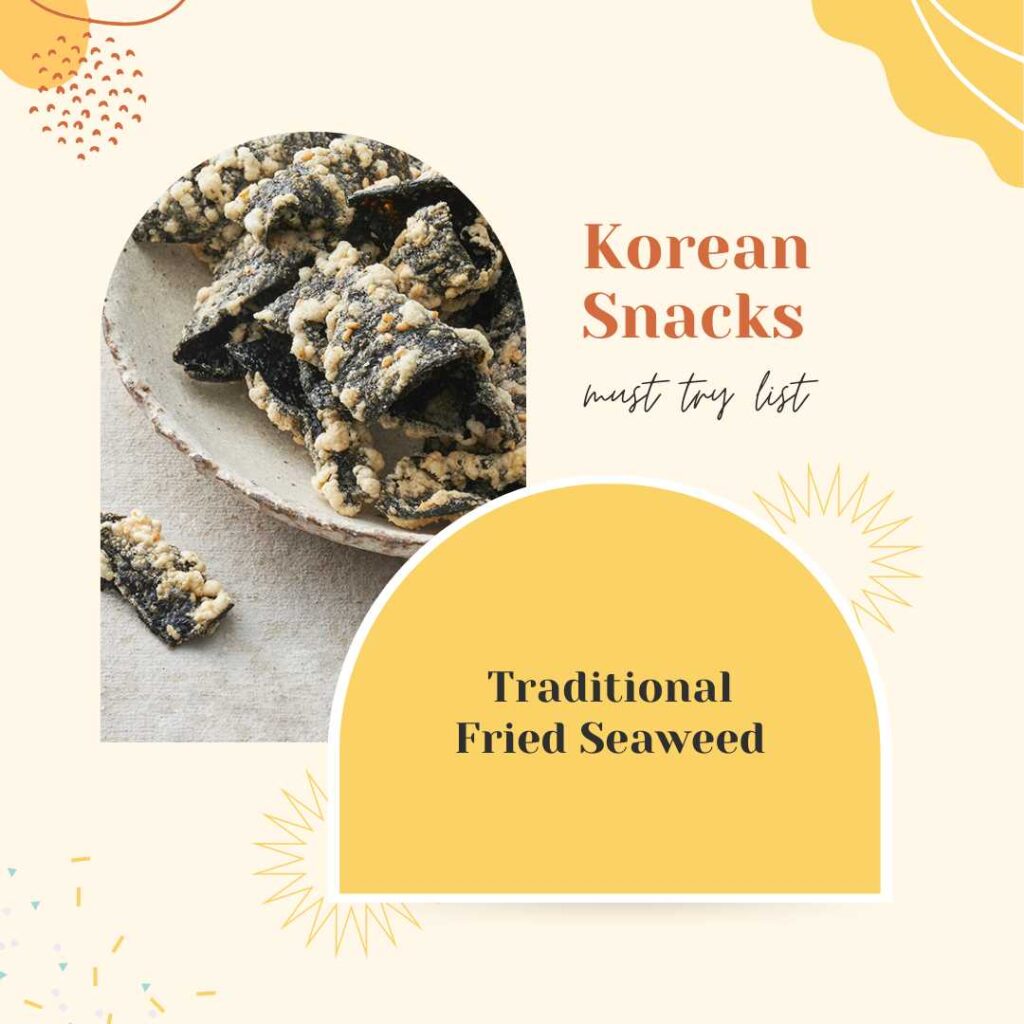 김부각 (gim bu gak) is a cumbersome treat to make in my opinion. But when done correctly, it is devine. You have the perfect mixture of sweet and savory in each bite. The gim (roasted seaweed) is coated in a batter, which then is deep fried. Once cooled, if the pieces are big, break them up into two-bitesize pieces and enjoy.
I have seen these sold in packages but the best is truly when you're able to get it homemade. If you would like to learn how to make these tasty treats, please let me know below.
FAQ
What Korean Snacks Are Popular In K-Drama?
If you like binge-watching Korean dramas or K-dramas, you're probably familiar with popular Korean street foods and snacks, which tend to appear regularly. Who could miss the corn dogs (in Start-Up), egg drop sandwich (in 18 Again), and ramyeon in What's Wrong With Secretary Kim?
If you can drink your snacks, Banana Flavored Milk is it. These beloved TV shows also introduced the world to Binggrae banana milk: in Guardian: The Lonely and Great God, we see Ji Eun-Tak sipping from a tiny bottle shaped like a jar. The beverage also makes an appearance in Weightlifting Fairy Kim Bok-joo. Billions of bottles have been sold since it was created in 1974, which now comes in strawberry and other flavors.
Another great example of Korean snacks in kdrama is Dr. Kim Jun-Wan's (from Hospital Playlist) favorite snack, the chocolates and shrimp crackers made by confectioners LOTTE. Like Ik Sun in Hospital Playlist, we all noticed how he enjoys this cookie.
Are Korean Snacks Healthier Than American Snacks?
The Korean diet is known as one of the healthiest in the world, with the fermented cabbage condiment, kimchi, being hailed as an essential source of healthy stomach bacteria.
Traditional Korean snacks are similarly healthy, made from raw and nourishing ingredients, with the vitamins, minerals, and fiber reduced in processed American snacks.
However, modern snacks, like cakes and chips, are loaded with sugar, salt, and highly processed ingredients, resulting in 30% of adult Koreans being obese.
While you often see Korean pop idols and actors posting selfies with these snacks, you can be sure that their diets include traditional soup, rice, fish, and kimchi rather than just custard cakes.
Where To Buy Korean Snacks
You can buy most of the Korean snacks listed above at Korean convenience stores or grocery store in Korea.
Korean snacks online is your best bet for those outside Korea unless you have a local Korean supermarket.
My Final Thoughts On The Best Korean Snacks
Korean snacks reflect the vibrant and flavorful food scene found in this East Asian land. From the seafood jerkies to the sweet, tangy and umami flavors blending out of every Yes Chip, Korea's snacks satisfy any craving. Take them with you on your next Korean picnic outing.
If you want to try them all, Korean snack boxes are trending. Korean snacks box is essentially all the top snacks packaged in one box.
Whether you've developed a love for Korean culture thanks to its captivating music scene, indulging in its enthralling television shows or mastering Kimchi preparation with friends– these good Korean snacks are certain to enchant your taste buds and reminisce on traditional cultural classics.