This post may contain affiliate links. Please read my disclosure policy for more info.
The etiquette of Korean table manners are an important aspect of the culture. Every occasion calls for proper etiquette when seated around a Korean table. Learning a few key customs related to Korean table manners can ensure that your sharing time over a meal is done with thoughtfulness and grace.
When it comes to Korean table manners, I had so much to learn. Growing up, I had the fortunate opportunity to travel all over the world because my parents were missionaries. However, since I was constantly introduced to various cultures, I didn't realize that certain things were not accepted in Korea.
For example, (out of innocence) I would stick my chopsticks in my rice because I didn't want to put my chopsticks on the table. I didn't know that this was a cultural disrespect as it symbolized a terrible taboo for bad luck.
Another time, I didn't know I had to wait for the eldest person sitting at the dining table to eat first before I started to eat. A sign of respect was shown when you waited until the first bite was taken by the elder.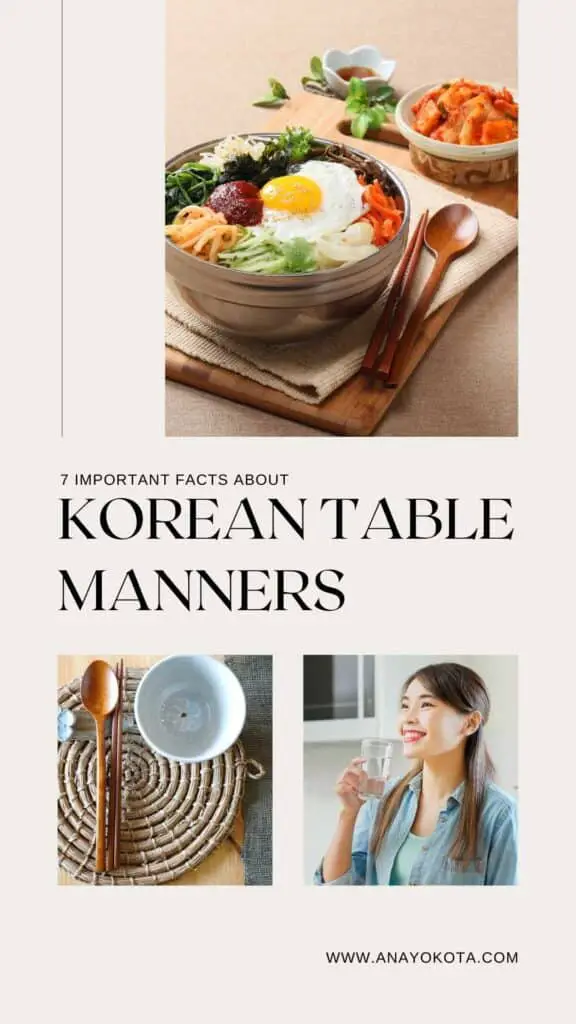 In this article, I hope to share with you key points in Korean table manners so that you are well equipped during your next dining experience with someone who is Korean. Not all of these rules are hard fast, but I would use them as guidelines as they will help steer you in the right direction.
How Important Are Korean Manners and Etiquette?
Korean table manners are part of the Korean eating culture with a feast for the eye and a delicious taste. Korea is a food lovers' paradise, and visitors are welcomed at family meals in true Korean style. Ensure you know the table etiquette, where to sit, and what to do. If you polish your table manners, eat up your food, are respectful, and make yourself handy, you'll be invited again.  
Age is treated with respect and influences the seating arrangements at a table as much as rank does. There are rules and customs for what's said before and after a meal. You must know when to use both hands to receive and pass food around, and a nod is significant to greet and thank your hosts and show respect at the dinner table.
It's important to learn the dining etiquette in Korea because it is not only a sign of respect but it is such an integrated part of the culture itself.
What Do Koreans Say Before Eating in Korean Food Culture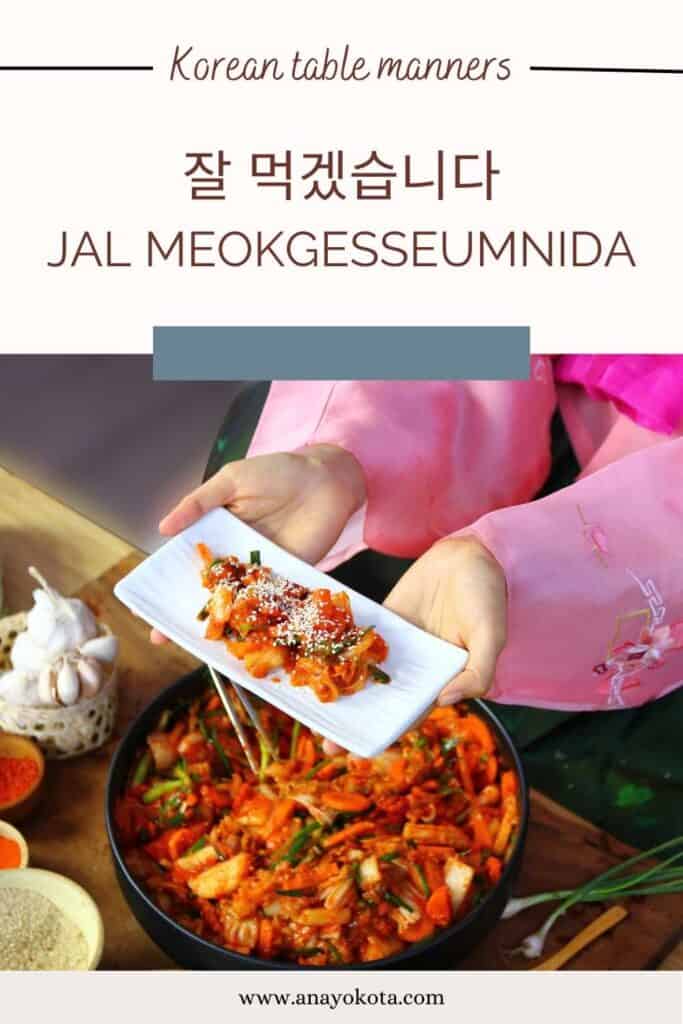 In Korean tradition, a meal is started with: 'Jal meokgesseumnida' (잘 먹겠습니다). Koreans use the phrase regularly, and anyone can impress their host with practice. 'Jal' means 'well,' and you're saying I will eat well. This is an essential start to a meal and respectful too.
The phrase means you appreciate being there and to thank your host for inviting you. In other words, the host will say, "많이 드세요" (manh-i deuseyo) which literally means eat a lot in Korean but can be translated as enjoy your meal or as the french would say bon appetite!
You say 'Jal meokgesseumnida' when you are seated at the table by your Korean host, who customarily has prepared a feast of colorful, nutritious, and delicious foods. You thank the host for the efforts made and show your intention to enjoy the hospitality and appreciate the prepared food.
The words 'I will eat well' might seem presumptuous to westerners, but it's far from that when it comes to Korean table manners. In Korean dining etiquette, it is polite to show that you are delighted to be there and will enjoy the meal.
So, saying 'Jal meokgesseumnida' (잘 먹겠습니다) shows your host respect and also says: I will enjoy my food. This customary phrase shows respect at the start of a meal and is like a prayer of gratitude.   
Interestingly, as much as this greeting before eating is essential, there are other areas of Korean culture where traditions stand out as polite and well-mannered at the table. So watch your gestures and how you use your hands, and remember a bow (through a simple but clear nod if you're in the seated position) is significant.  
What Do Korean Say After Eating in Korean Table Etiquette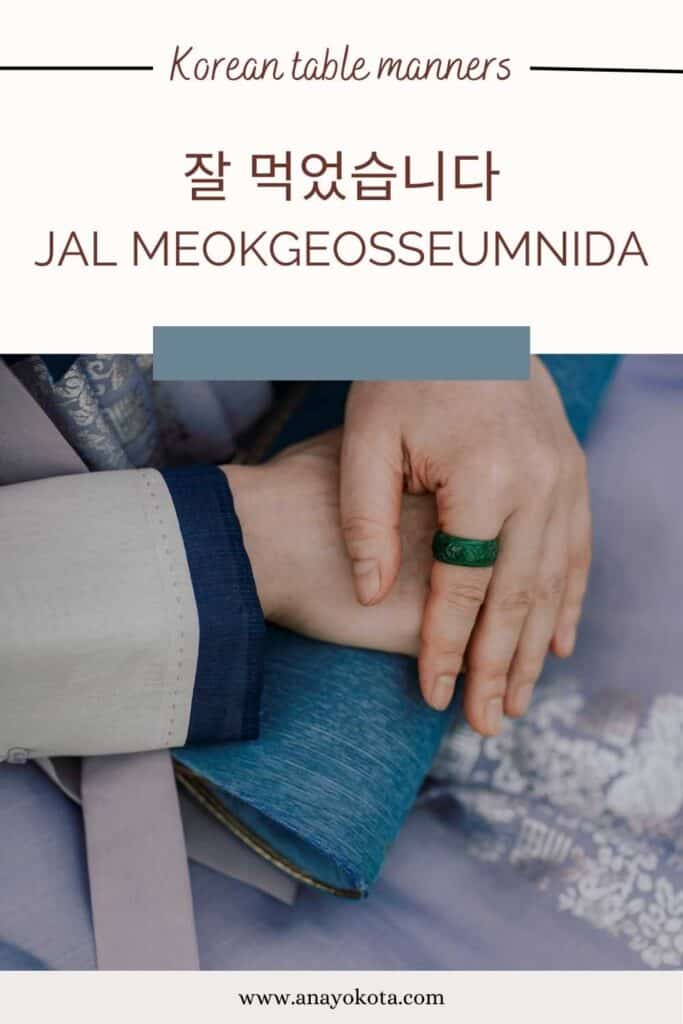 Just as you express your gratitude at the start of a meal and are polite and attentive, you also have to know what to say after you've eaten. As 'Jal meokgesseumnida' is a pre-meal tradition in Korea, you must learn to say: 'Jal meogeosseumnida' (잘 먹었습니다) at the end of a meal.
With a slight bow and a well-practiced 'Jal meogeosseumnida,' you are saying: I ate well. The phrase also means: I enjoyed the food. So, these two greetings at the table are the cornerstones of good Korean table manners. And, 'Jal meogeosseumnida' is a final compliment to your host to say you've eaten well and are happy.
In typically Korean style, saying I ate deliciously or enjoyed the food at the end of a meal is a supreme compliment to a host. It shows that you have good Korean table manners.
By the way, as you practice these two phrases, the quicker these will roll off your tongue and become like second nature.
Utensils Used For Korean Table Manners
Korean eating utensils are a pair of chopsticks and a spoon, and don't think of using your fingers! The spoon is for rice and soup; you use the chopsticks for everything else. But don't fool around with the chopsticks or wave and point with these. Nor must you multitask with the chopsticks in one hand and a spoon in the other. This is lousy table manners. And you can drop or spill food this way.   
So, when eating with a spoon, you must balance chopsticks on the edge of your plate or porcelain rests. It would be best if you didn't leave these sticking upright in your rice bowl. As mentioned earlier, sticking chopsticks (or a spoon) into a bowl and letting these stand upright simulates a funeral rite for the deceased and is a definite no-no for any guest who wants to impress a host.  
Korean chopstick etiquette with friends are slightly more casual in the sense that you can gently place your chopsticks on top of your bowl (lying flat not vertical).
Additionally (opposite from Japanese culture), Korean eating habits with soup is always on the table. Meaning, you don't lift your bowl of soup or rice up to your mouth, not even with two hands. The bowls and dishes stay on the table in typically good Korean manners.
When you are finished eating, you must put the chopsticks back on the table neatly next to your empty bowl or plate. This is also a sign to the host that you've eaten.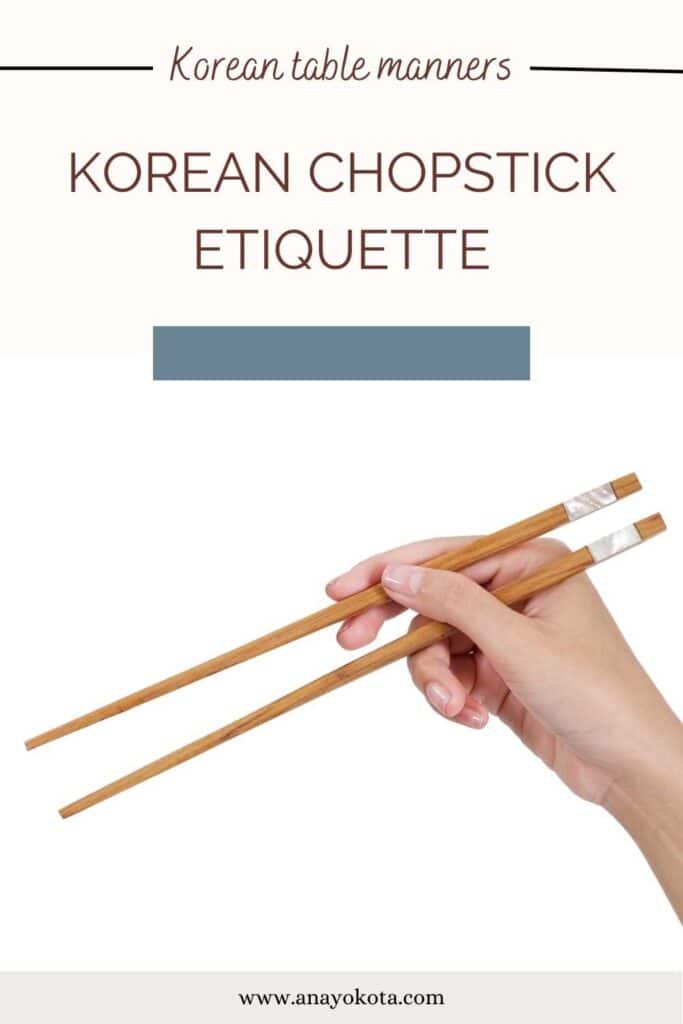 Sidenote: You can learn how to use Korean chopsticks with just a little bit of practice! Soon, you'll be a pro at using these mighty sticks.
Why Do Some Koreans Sit On The Floor To Eat?
In Korea, floor culture is sitting on a cushion and eating at a low table. For some Koreans, this is also a place to hang out with their family, friends, and guests, eat and watch television. Some Koreans like sitting on the floor as it is comfortable as they've installed heated floors, the 'ondol' or warm stone flooring. This makes the floor dining ritual attractive.
How do Koreans eat on the floor? Taking your shoes off and sitting cross-legged on a cushion on the floor to dine at a low table is also a ritual associated with Korean dining for ages and now has become old-fashioned. Many Koreans chose chairs and tables instead of the floor custom because of western influences as well as practicality.
At the same time, some continue the seated-on-the-floor ritual that's associated with a state of calmness and peaceful mindfulness when eating. It's this zen-like state of eating that's attractive. Sitting on the floor as a dining ritual is also considered an intimate and authentic way of eating, a la Korean style.
Some prefer sitting on the floor as having a sense of belonging when sharing a meal with friends and even strangers. They can sit close together and enjoy a typical Korean communal meal as the food is shared.
Families with babies and small kids also prefer the floor-style way of eating. They find it easier to let the babies lie down beside them, and it is easier to handle their small kids too. Most Koreans who choose floor-style eating over sitting on chairs say they're comfortable doing so and are supple and familiar with the technique of sitting on a floor to dine.
New-comers and visitors are curious and often want to experience the age-old floor dining tradition. But it is only some people's choice as it is foreign and uncomfortable for many. And youngsters who voluntarily eat solo find a chair and table easier to sit at.
The elderly also have veered away from the floor-sitting culture and prefer to sit on chairs as they feel comfortable and have less pressure on their backs and knees.
Korean Table Manners With Elders
Korean table manners are centered on respect for age and also rank. That's why asking your age (or status) often happens when you're invited to a meal. Where you sit in a formal dining set-up depends on your age and that of the other diners. Korean table rules put the elders and those of higher ranks together at the front of the table and away from the door.
Social hierarchy and age put those younger people closest to the door. So, depending on your age, you'll be given respect (sometimes more than you want) if you're the oldest at a table. If you're not the most senior, the rules are pretty straightforward, and it's good that you learn these table manners before you arrive for a meal.
With age at the top of the order of importance, Korean table manners focus on respectful etiquette for the elders. This means that when you are eating with older Korean people, the table manners extend beyond where you sit to the presence of the elders.
The elders set the pace for eating from the start to the end of a meal. You must wait for the elders to start the meal and not guzzle your food down, however delicious. You mustn't have dined before the elders are done. This is a lesson I learned as a young girl.
Also, it would help if you weren't so slow that other diners (and the elders) must wait for you to finish. Eating too fast or too slow are both poor table manners in Korea. Simply be mindful of others and pace yourself as you enjoy each others' company.
The best table manners in Korea are those that match the pace at which elders eat. Also, remember that you mustn't jump up at the end of the meal – wait for the elders to leave the table first.
Korean Culture Feeding Each Other
Koreans love their food, enjoy preparing and cooking it, and are eager to sit down and eat with others. In Korea, eating is a communal activity described as: 'sharing is caring.' It is common to see at the Korean dinner table where many people are using their own chopsticks to eat the shared banchan (side dishes).
The typically shared Korean-style meals link to occasions when large groups of diners ate together almost a century ago. This was in the 1920s and '30s during the Japanese colonial era when food was scarce, and people shared meals. More people could be fed with less by sharing food, even during the Korean War.
This happens in a more casual setting with close friends and family to offer your food to others. So, if you're eating together, and even if you have your own plate of food, in Korea, it's acceptable to offer other diners a taste and to accept some of the food that they offer you.
As for drinking etiquette, ensure the diner next to you has a full glass; remember, they're responsible for filling yours. It would be best if you didn't pour for yourself as this isn't good manners. And, you must only refuse a drink if you state why you don't drink beforehand.
If you are drinking with people in a more formal setting or with elders, it is customary to turn to the side and discretely drink your alcohol beverage.
To learn more about Korean drinks, check out my article about classic beverages such as Makgeoli, soju, and bokbunja, which are all Korean drinks with deep history.
Conclusion to Learning Korean Table Manners
Now that we've covered the most basic and essential elements to Korean table manners, it's time to eat! Learn how to make scrumptious Korean recipes on the blog such as spicy pork bulgogi or learn more about the best Korean snacks on the market like the infamous Honey Butter Chips.
Table etiquette is an important aspect of Korean culture. Spending time in a social gathering with Koreans calls for understanding proper table manners, and I hope I was able to shed some light on the basics of Korean table manners.
It can be intimidating at first, but once you become familiar with the basics of how people behave at the dinner table, you'll find yourself becoming more comfortable when sharing meals with a Korean family or friends. The most important thing is to have a good time and show respect to everyone else. Plus, isn't it fun to learn new etiquette?
Are there specific Korean table manners that you would like to learn more? Let me know in the comment section below your thoughts or experience with learning new etiquettes around the dinner table. It would be great to hear from my readers!