This post may contain affiliate links. Please read my disclosure policy for more info.
Did you know that there are 12 days dedicated to love in Korea? Koreans love holidays, whether official or not, and Korean Valentine's Day is no exception.
South Korea Valentine's Day traditions looks a bit different than the Valentine's Day you might be used to.
Korean Valentine's Day is part one of a three-part series of love days. This makes it all the more interesting.
Today, we will consider what you can expect from Valentine's Day in Korea and how it connects to the following months' lovedays.
What sets Korean Valentine's Day apart from its Western counterpart is the unique way in which gifts are exchanged between couples.
On February 14th, women typically present their male partners with chocolates, while on White Day, it's the men's turn to reciprocate with a gift.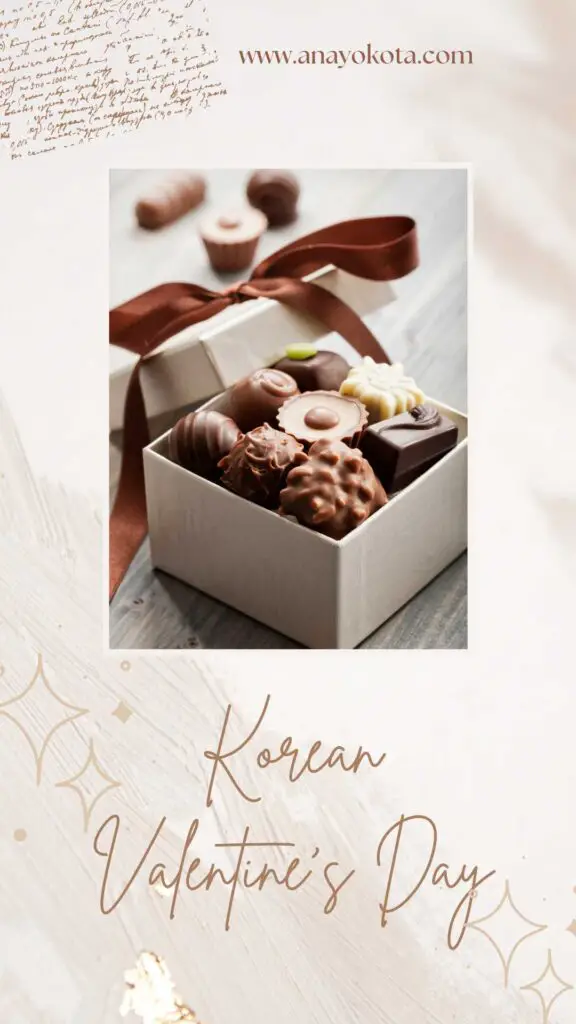 This delightful custom not only adds an element of intrigue and suspense to the holiday but also promotes a sense of balance and harmony in romantic relationships.
Aside from the gift-giving tradition, Korean Valentine's Day is also characterized by various activities that couples can enjoy together, such as
Attending themed events, or
Indulging in delicious Korean desserts like bingsu (shaved ice) and other gorgeous delectable eats.
These shared experiences serve to strengthen the bond between partners and create lasting memories.
Growing up in a multicultural household, I was always fascinated by the unique ways different cultures celebrate love and togetherness.
One such celebration that holds a special place in my heart is Korean Valentine's Day.
I still remember the excitement and anticipation I felt as a child, waiting for the day to unfold with its unique traditions and surprises.
Today, I want to share the magic of this extraordinary holiday with you and invite you to explore the rich history, customs, and charm of Valentine's Day in Korea.
How Do Koreans Celebrate Valentine's Day? South Korea Valentine's Day Traditions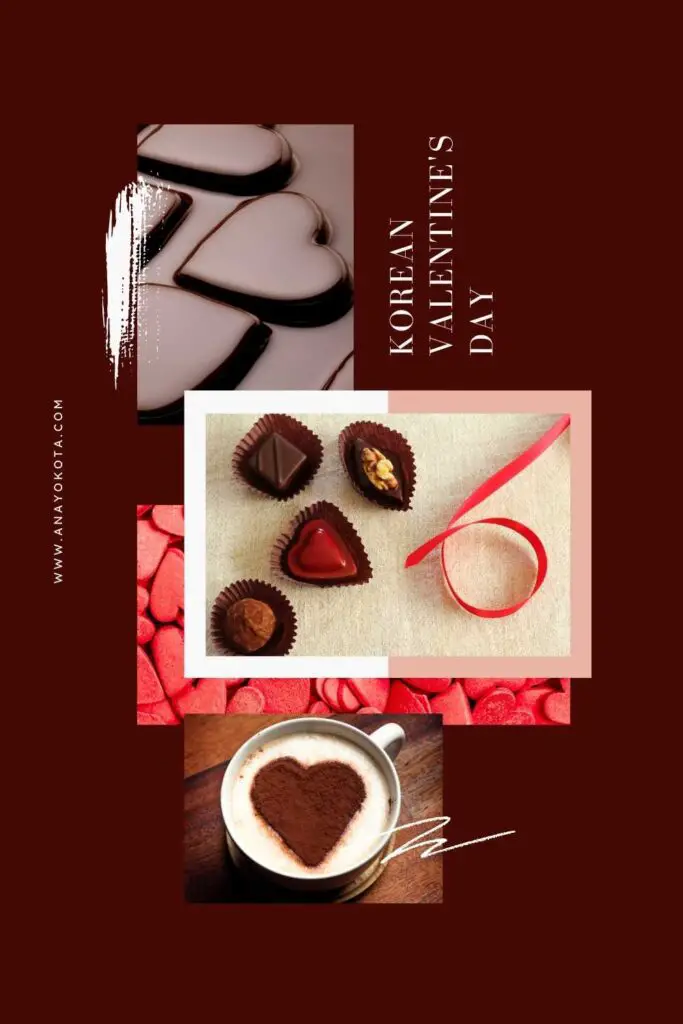 Like in Western countries, Korean Valentine's Day occurs on February 14th yearly.
However, while other countries have the tradition of exchanging gifts and going on elaborate dates, the Koreans have a different tradition on Valentine's Day.
Instead of exchanging gifts, it is customary for women to buy the men they fancy a gift.
Traditionally, this gift would have been chocolates, though it can be anything you want nowadays.
However, companies and stores still market heart-shaped chocolates and candies for this holiday.
While this used to be the practice on Valentine's day, things have changed in recent years.
Now more people are exchanging gifts, and couples often go out for a nice meal in the evening.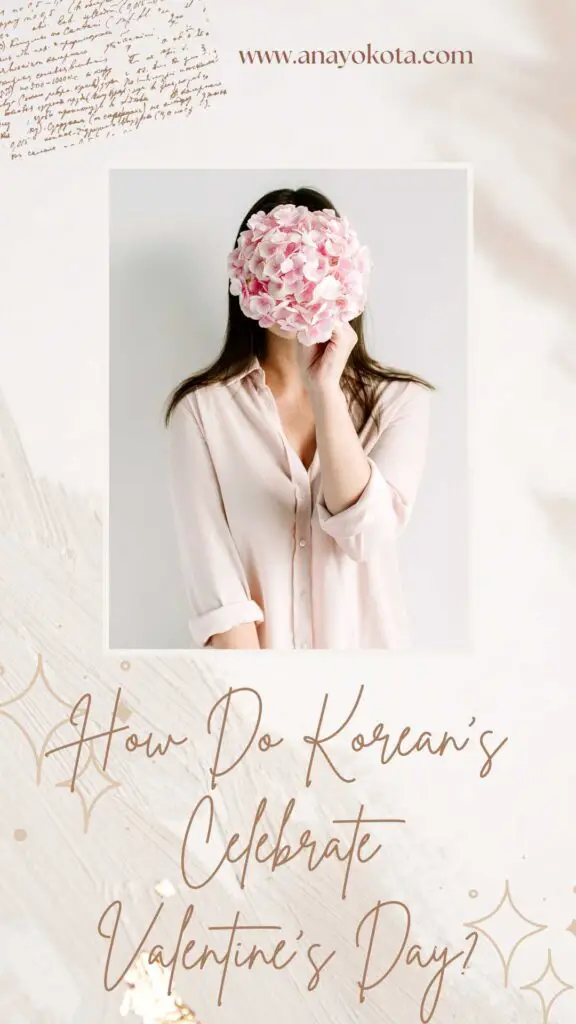 Since Valentine's day isn't a public holiday, schools and businesses are still open, so most of the celebrating occurs at night.
Although Valentine's Day in South Korea takes place on February 14th, there is a similar holiday the following month called White day.
White day takes place on March 14th every year, and this is the time when men would traditionally buy gifts for women.
If a man likes the woman who bought him a gift on Valentine's Day, he will express his feelings by buying her a gift on White day.
These gifts were often white objects, like marshmallows or white candies, hence the name.
According to tradition, the gift a man buys for White Day must be three times the value of the gift he received on Valentine's Day.
However, that, too, is no longer a set rule. In fact, many couples don't distinguish between Valentine's Day and White day anymore.
Instead, they celebrate both days as a couple, exchanging gifts and going to dinner on one or both days.
Then, one month later, Koreans celebrate the 3rd part of Valentine's Day, Black day.
On Black day in Korea, singles dress in black and meet their other single friends for jjajang meyon (black noodles). The black theme is meant to symbolize their sorrow at being single.
Again, the meaning of this day has changed since its origins.
It is now more about enjoying black noodles and celebrating being single than feeling sorry about your lack of a relationship.
But despite how things have changed, Koreans still celebrate all three holidays with fun gifts and good times.
South Korea Valentine's Day Chocolate
Although they say women love chocolates, men receive them on Valentine's Day in Korea.
Traditionally, a woman would buy Valentine's chocolates for the man she likes on February 14th.
Although this is no longer always the case, chocolatiers and store owners across the country still go to great lengths to market these chocolates.
Many stores also sell chocolate-making kits that women buy to make and decorate their chocolates for Valentine's Day.
This adds something unique to the gift and is appreciated more because it was handmade.
According to tradition, you can't simply buy any chocolates for your prospective love interest on Valentine's Day.
Instead, the money you spend on the chocolates represents how much you care for the person you buy them for.
They will return the favor by buying you a gift later on that is of even more value.
Most companies release special edition Valentine's chocolates. As you can imagine, many of these chocolates are Valentine's Day themed.
Expect to see many heart-shaped chocolates, chocolate-covered candy, and beautiful boxes of chocolates before Valentine's Day.
Some of the most famous Valentine's chocolate candies include:
Pepero (post coming soon!)
Most shops start selling these candies in preparation for Valentine's Day two weeks in advance.
Since people aren't as concerned with the tradition of giving specific gifts for Valentine's Day and White day anymore, you will see these special edition chocolates on display long after Valentine's Day has ended.
Korean Valentine's Day Gifts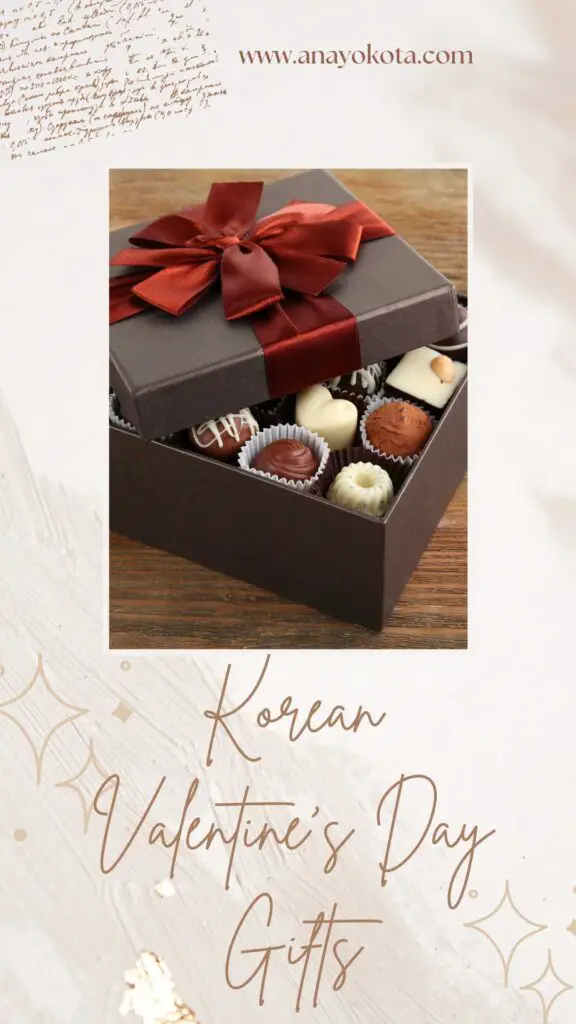 If you don't like chocolates or want to impress your special someone with another gift, fear not!
There are many other popular gifts to give someone for Valentine's Day.
Remember that a special day is dedicated to love each month in Korea, and special gifts are allocated for many of them.
However, that doesn't mean you can only give your significant other a special gift on that day.
For example, Valentine's Day is a day for celebrating love in Korea, and you can do so in whatever way you want to.
Many couples buy each other cute gifts like stuffed bears, matching shirts, and trinkets they might like.
Stores also sell Valentine's Day gift baskets, cards, and heart-shaped balloons to celebrate the day.
Common Valentine's Day colors include pink, white, and red, just like in the West.
Furthermore, people often go to the movies or have a romantic dinner on Valentine's Day.
If a woman takes her role as initiator seriously on this day, she will pay for the activities.
You can give the person you like whatever gift you think they might enjoy.
Traditionally, the gifts were centered around their monetary value – the more expensive the gift, the more value it had.
Therefore, people thought that giving each other more expensive gifts meant they liked each other more.
However, that fact is no longer as relevant, people don't place as much importance on the price of the gift anymore.
Rather, it is their heart and thoughtfulness that counts. Sure, you may come across some that frown upon cheap gifts.
However, I always say that if it is from a place of genuine thoughtfulness, it really shouldn't matter how much a gift costs.
What Are The Other Love Days In Korea?
As I've mentioned, there are 12 days dedicated to love in Korea.
They fall on the 14th of every month, and each month has a unique tradition.
None of these days are considered public holidays, but Koreans still try to do something special on the 14th of each month.
So, what are the 12 days of love, you may ask.
January 14th – Diary Day
February 14th – Valentine's Day
May 14th – Yellow Day
June 14th – Korean Kiss Day
July 14th – Silver Day
August 14th – Green Day
September 14th – Photo Day
October 14th – Wine Day
November 14th – Movie Day
December 14th – Hug Day
While not every 14th is as special as Valentine's Day and White day, Korean lovers still try to treat each other on the other days, too.
Since public displays of affection, like hugging and kissing, aren't as common in Korea as in other countries, special days are dedicated to these actions.
On Kiss day and Hug day, you can publicly hug and kiss your partner without being judged.
Many of the other days are simply about enjoying time with each other.
If you would like to learn more about the other love days, please let me know in the comment section below!
I love hearing from my readers because it really helps me to provide the best content.
The Sweet Summary To Korean Valentine's Day
In conclusion, my experience with Korean valentines day was truly unforgettable.
It was heartwarming to witness the unique expressions of love and the delightful exchange of gifts that filled the air with romance.
If you ever get a chance to be part of this beautiful celebration, I highly recommend it! But don't stop there – Korea has so much more to offer when it comes to love holidays.
I encourage you to dive deeper and explore other fascinating celebrations like White Day, Black Day, and Pepero Day. Who knows?
You may just find yourself falling in love with Korean culture as much as I have.
So go ahead, let your heart lead the way and discover the magic of love, Korean-style!