This post may contain affiliate links. Please read my disclosure policy for more info.
Miso steak marinade is packed with umami (flavor) perfect for making miso steak bowls. Step up your steak bowl game and try this miso steak marinade today!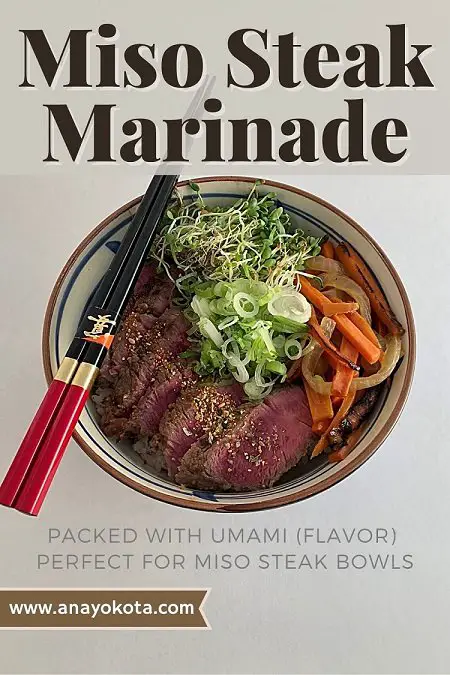 The beauty behind this miso steak marinade is that you can use almost all types of meats. Our favorite (and strongly recommended) cut of meat is the beef tenderloin (specifically, filet mignon) or the ribeye cap meat. 
This recipe isn't for the faint of heart but it is well worth it. Change up your steak routine and try this flavor packed miso steak marinade paired with steaming ume (plum paste) rice and warm sautéed veggies for dinner.
WHAT IS MISO STEAK MARINADE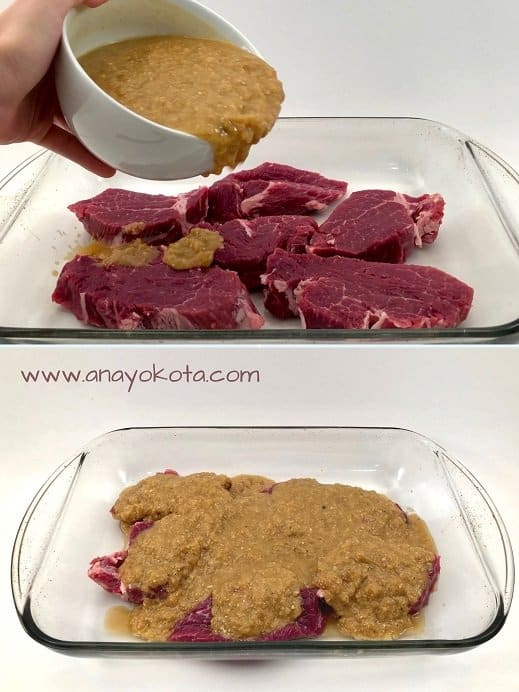 Miso is a fermented paste made from soybeans, rice or other types of grains, salt and koji (culinary mold). Miso has not only been a staple in Japanese cooking, but also continues to be a key ingredient in many Asian and fusion cuisines. Miso in itself has hundreds of different types of miso representing decades of culture and history. The most common types of miso found in your local grocery store is either white miso or dark miso. 
For this Japanese steak marinade, you can use either white miso (light miso) or dark miso (red miso) as the umami (flavor) delivery will be similar. 
Marinades are widely popular when seasoning foods in advance using a liquid concoction to impart maximum flavor. It can also be used to tenderize (or soften) meats. The most typical marinade will contain some type of acid and liquid flavor as well as some type of sweet component like sugar, honey or fruit. 
One of the convenient factors for using marinades is that you can make it in advance. The miso steak sauce from this recipe can be made up to 2-3 days in advance but the meat should only be marinated at least 4 hours and no more than 24 hours in advance for it to fully develop the flavors and tenderize the meat. 
As you read this miso marinated steak recipe, you'll quickly see that it does take a little bit of TLC (tender loving care). Therefore, I would rank this miso steak marinade in the intermediate cooking skill level as it involves time, multi-tasking, and cooking the meats properly. The hardest part is simply cooking the meat properly, which is easier said than done to those that don't know much about meat doneness.
As a quick side plug: If you are interested in a quick and easy dinner during the weekday or simply a busy night, my Bulgogi Chicken and Bulgogi Pork recipes are sure to impress on the fly!
HISTORY BEHIND OUR MISO STEAK RECIPE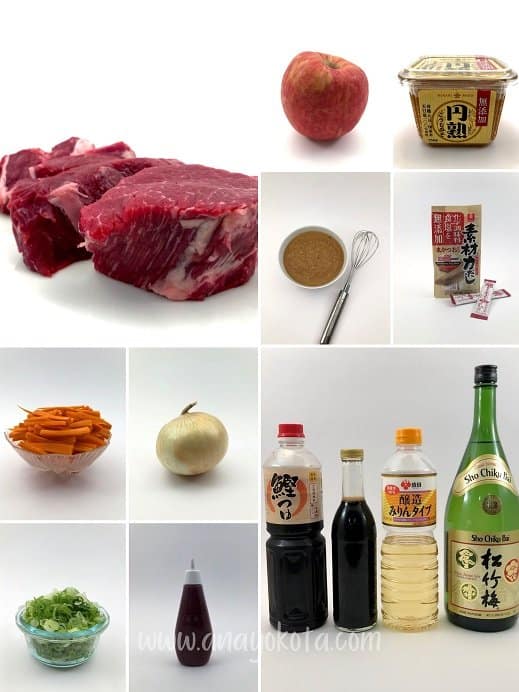 The claim to fame I put on this miso glazed steak bowl is my dear husband. He made this miso marinade beef for two very special occasions before I decided to steal it for the blog. The first time he made this recipe was during a small cook-off (competition) between his friends where he won first place. The second time was when we were first dating and swept me off my feet. 
Later I realized that this is not only a fun Japanese beef marinade that you can make in advance, it is certainly a crowd pleaser no matter what your steak preference. Don't get me wrong, not all steak preferences are the same and certainly not all marinades are the same. However, this is such a flavor punch, no wonder it received first place (and, eventually, my hand in marriage ;)).
FAQ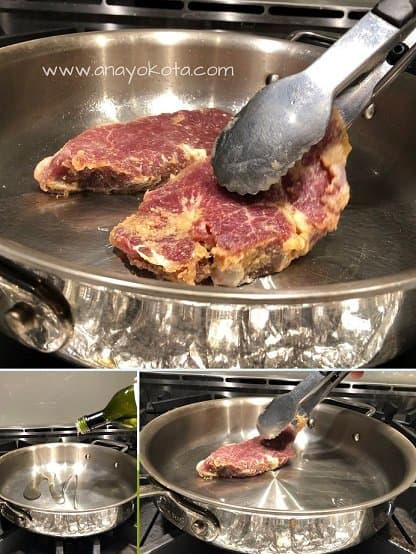 What can I do with left over miso paste?
Miso has an incredibly long shelf life as long as it is properly stored in the refrigerator. If left unopened, it can virtually last forever. However, once you open it, it can last anywhere between 9-18 months in the fridge (SOURCE).
What recipes yield the softest most tender meat?
Miso steak marinade, of course (wink). When it comes to tenderizing meat, in my experience, you want to use good quality fruit (such as citrus or apples) and alcohol. The rule of thumb for alcohol is never use anything you're not willing to drink on its own. 
Is marinating fish worthwhile If so for how long?
The miso steak marinade can be used for thicker and larger fishes such as mahi mahi, salmon and tuna are great! If you are using fish, I would recommend to marinade between 4 to 12 hours as it can be very strong and over brine the tender fish. 
What was the best steak you ever had?
The best steak I've ever had with this miso steak marinade is either filet mignon or ribeye cap. The filet mignon is beautifully tender and succulent while the ribeye cap is soft and buttery. 
The Best Miso Steak Marinade Steak Bowl
Cuisine: Japanese
Difficulty: Medium
Majority of the prep time is to marinade the meats, which happily sits in your fridge. Once the marinade is done, this flavor packed recipe can be done with ease that will definitely impress your guests!
MISO STEAK MARINADE
About 1 lb. or 16 oz. – Filet Mignon (Since we used a fairly thick cut of meat, we decided to cut the steaks in half to allow more flavor to penetrate the meat.)

1 large – Fuji Apple

3 tbsp. – Sake

1/2 tbsp. – Soy sauce

3/4 cup – Miso

1 tsp. – Mentsuyu OR
1.5 grams – dashi powder

1.5 tbsp. – Honey

1.5 tbsp. + 1/2 tsp. – Sugar

2.5 tbsp. – Mirin

BOWL INGREDIENTS

2 tbsp. – Butter

2 large – Julienned Carrots

1 large – Sliced Onions

1 container – Radish sprouts

1 bundle – Green (Spring) onions, thinly sliced

Shichimi – to taste

9 cups – Cooked Rice

Ume paste (fermented plum paste) – to taste
Directions
MARINADE INSTRUCTION
Place the steaks in a large dish and set aside until the marinade is ready.
Grate the apple into a large mixing bowl
Add the rest of the miso marinade ingredients and mix until well combined. 

Pour the miso marinade mixture over the steaks. Make sure each side is generously coated. 

Let the steaks sit in the refrigerator for at least 4 hours but no more than 24 hours. The sweet spot for us is about 16-20 hours in advance.
To create the miso steak bowl, stop here and work on the Carrots and Onions Instructions. Otherwise, continue. 
Right before you are ready to cook the steaks, pat the excess marinade with paper or kitchen towels. This is to prevent the marinade on the steaks from burning prematurely on the grill (or skillet).
Cook the meat to desired doneness. Our recommendation is medium-rare for beef steaks. 
Allow the meat to rest for at least 10-15 minutes before you slice in strips. 
Go to assembly instructions.
CARROTS AND ONIONS INSTRUCTIONS
Place a large skillet over medium high heat.
Once the skillet is hot, melt the butter.
Add sliced onions and julienned carrots.
Lightly season with salt and pepper.
Cook until carrots are el dante (soft but still has a little bite/crunch).
Set onion and carrot blend to the side to be used as toppings later.
Go to Rice Instructions
RICE INSTRUCTIONS
Cook your favorite rice. We used Japanese short grain rice. 
Gently fold and mix in the ume paste without squishing the rice into a paste. A little goes a long way. Start with about 1/4-1/2 tsp per serving. If you like more tang, add more paste.
Divide the rice into 6 separate donburi or soup type bowls, which is approximately 1.5 cups of cooked rice per bowl
Go back to marinade instructions and continue on with step 7. 
ASSEMBLY INSTRUCTIONS
Artfully place the sliced steaks to one side of the donburi bowl. 
On one corner of the bowl, place about ½ cup of the carrots and onions blend. 
On the other corner of the bowl, place about ¼ cup of radish sprouts.
In the center, place about 2 tbsp of thinly sliced green onions. 
Garnish the steaks with shichimi
You earned it. Devour!
Notes
This recipe contains too much salt.
I hope you enjoy this recipe. Though it takes a few extra loving steps, this is one to surely impress! 
Please let me know if you tried this recipe and what other types of recipe you would like to see on the blog.