This post may contain affiliate links. Please read my disclosure policy for more info.
Moms are always busy. Whether you're a working mom or a stay-at-home mom, mornings can be chaotic. If you've tried to stick to a morning routine, you know how difficult it can be, especially when your kids are running around, refusing to get dressed, and you still have a hundred other things to cross off your morning to-do list.
You've got a plan, an idea of how your mornings should be, but somehow you miss your alarm, hit snooze too many times, and eventually, you're rushing around trying to get everything done. Before you know it, you're late. This all too familiar morning madness is pretty common in many households, and although you've tried to adopt a morning routine, it just hasn't worked out.
I was feeling overwhelmed and increasingly disorganized, and realized I needed to do something to get my mom morning routine in order. I wanted an intervention that offered help with efficiency, productivity and organization! After some soul searching, I finally decided what steps were necessary for success.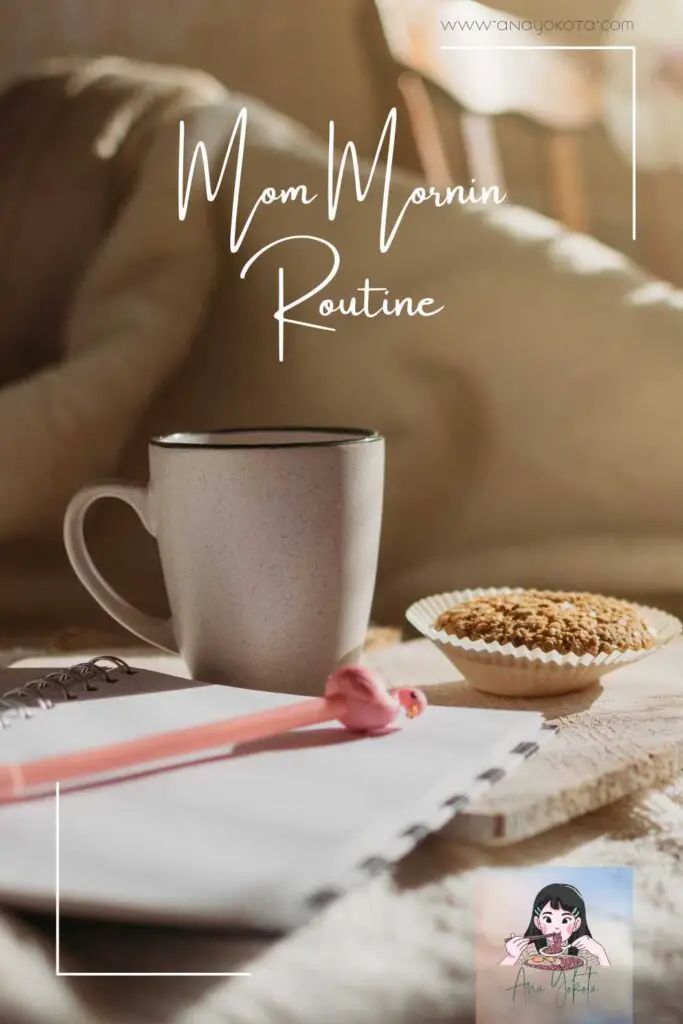 First off, it was key to set actionable goals each day that were meaningful, yet achievable. Taking it one goal at a time opened up space for reflection on the progress I was making towards being more organized and productive. Through small actions outside of daily activities, such as getting enough rest or taking mindful moments during the 1 day helped me focus better when engaging with assigned tasks.
It also took dedication to actually dedicate certain times of my morning routine from working consistently in these 'time frames' while staying logically minded while jumping around between different sets of responsibilities.
The simple stuff yet the "easier said than done" stuff is what made this intervention successful! Additionally, it was great to remember that no task had to be faced alone—letting myself reach out for assistance if feeling stuck on something proved invaluable the process.
Allow me to expand and share my personal tips on creating a mom morning routine that can work for you.
Morning Routine For Working Mom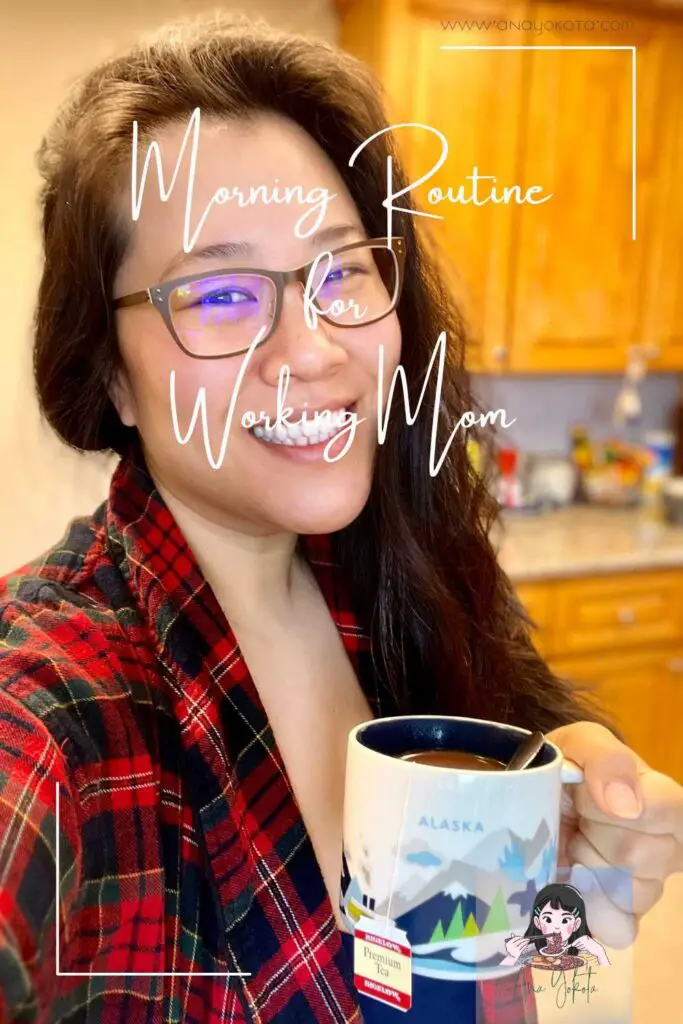 With a working mom morning routine, you spend most of your time juggling work, the kids, and your household. So if you've been stuck in a rut lately and haven't been able to nail a morning routine, you're not alone.
What folks may not know about me is that I am also a project manager. I've studied in business school and proud to say that I graduated in the field of marketing (with a background in international studies and information systems). During my tenure as a project manager, it has been an incredible and rewarding journey to explore various the industries from medical to fashion all while focusing on my family.
Starting in 2020 (the year of all the government shutdowns), I lost my job, started this blog, got married and pregnant all in one season. I thought I knew time management before, but with a new career, lifestyle, and baby, working mom daily routine meant something a bit different than before.
I learned how to juggle priorities and simply let things go. My daily routine as a mother was more about trusting in God and believing that everything is going to be okay. Don't get me wrong, I still believe in schedules, spreadsheets, and hyper organization. But, as a mother, I learned (and still am learning) to set these agendas as guidelines rather than deadlines especially when it comes to my baby.
Taking Cara Babies once said, "She's a human, not a robot; he's a baby, not a clock."
Giving myself more grace to do my work and be a mom is a constant learning curve and I hope that my experience and advice can help inspire you to not give up on creating a mom morning routine that works for you.
Maybe you just haven't worked up the momentum to start one, or you're just trying to survive motherhood. Wherever you are right now, creating a morning routine as a working mom is easier than you think but may take some time to get used to.
There are many benefits to having morning routines for moms. When your mornings start right, it sets the tone for the entire day. Having time to yourself before your kids wake up is great for your mental and physical health.
Your list of morning to-dos may differ from other moms, and your wake-up time may be different as well. Regardless, the most important thing to keep in mind is that this morning routine for mom is flexible but covers all the things you need to have the best morning, every single morning!
Wake Up Early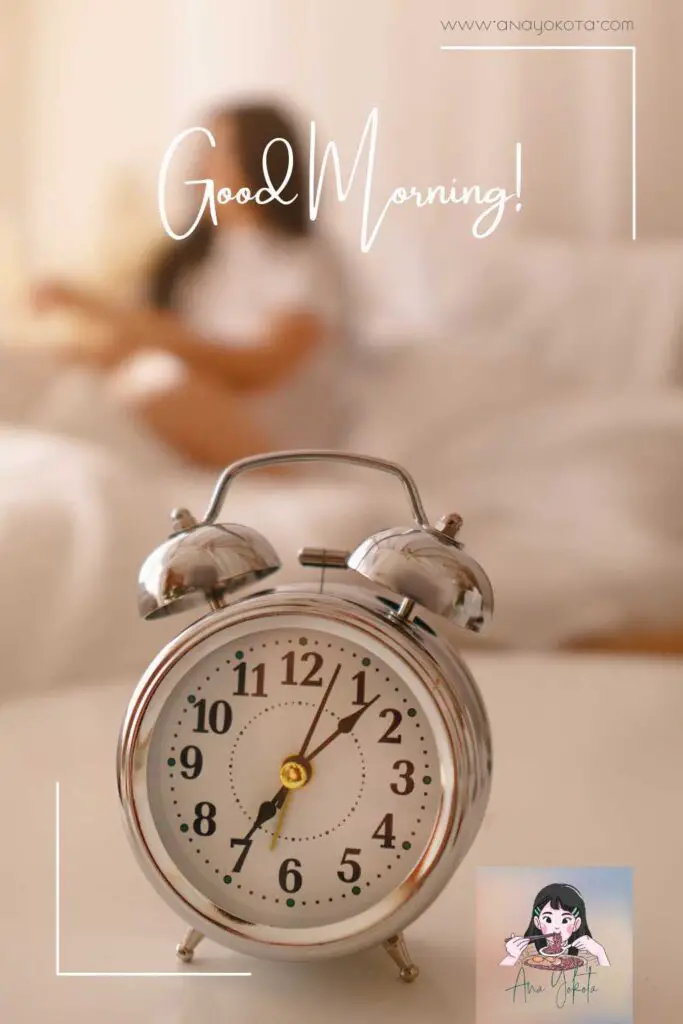 The key to a successful morning routine for working moms is to wake up early, preferably before the kids (although this may not always be possible). This can be anytime from 4AM-7AM, depending on when you start work, how many kids you have, and what you need to do in the mornings.
Avoid hitting the snooze button for extra sleep. Studies have shown, this wreaks havoc on your sleep cycle and makes you feel more tired and groggy.
Drink A Glass Of Water
If you're used to drinking coffee first thing in the morning, you may want to swap this out for a glass of water. Drinking a few glasses of water as soon as you wake up rehydrates you and has numerous benefits, including increasing your energy levels, easing aches and pains, detoxing your body, and helping boost your metabolism.
Exercise And Meditate
Exercise boosts your serotonin levels, gets those feel-good hormones going, and keeps you healthy. If you're a busy working mom, exercise in the morning can make you feel great. Some moms prefer to exercise in the evenings instead, which is absolutely fine, and if you're one of those moms, you can always replace a morning exercise session with meditation.
It's easy to become overwhelmed by everything you must do at work and home. Praying quiets your mind, calms your body, reduces stress, and has been known to reduce aging. Meditation also helps you stay present, and during this time, you can set your intention for the day and add prayer as part of your prayer practice.
Read Something Motivational
Incorporating motivational and inspirational content as part of the daily routine for moms can boost your mood and motivate you to get through your day. This could be motivational quotes, stories, a podcast, or anything that resonates with you.
My husband and I love going to Church together. Be it on Sundays or events throughout the week, church is a place that inspires hope in us as we are able to worship and reset our minds.
Many resources offer motivational content, including YouTube videos, websites like Brainy Quote and Get Motivation, and podcasts like The Happiness Lab and The Science Of Success.
For other posts related to moms, check out these articles:
Affirmations And Journaling
Gratitude journaling and affirmations can help increase happiness, help you work through challenging emotions, and motivate you to make a few positive changes in your life. Try visualization exercises with affirmations and journaling to help create a positive mindset and eliminate negative self-talk.
As a mom, it's easy to neglect ourselves and our mental health. Using affirmations and journaling exercises can help put things into perspective, and it's a great way to take time for ourselves.
While I was pregnant with my son, it was hard to follow a stay at home mom routine. There were so many hormonal days. (Does anyone relate?) During those days when I knew my mind was going to places that weren't healthy, I would journal my fears, sadness, confusion, and doubts.
Having a safe outlet to release stress is incredibly powerful and empowering.
Shower And Get Ready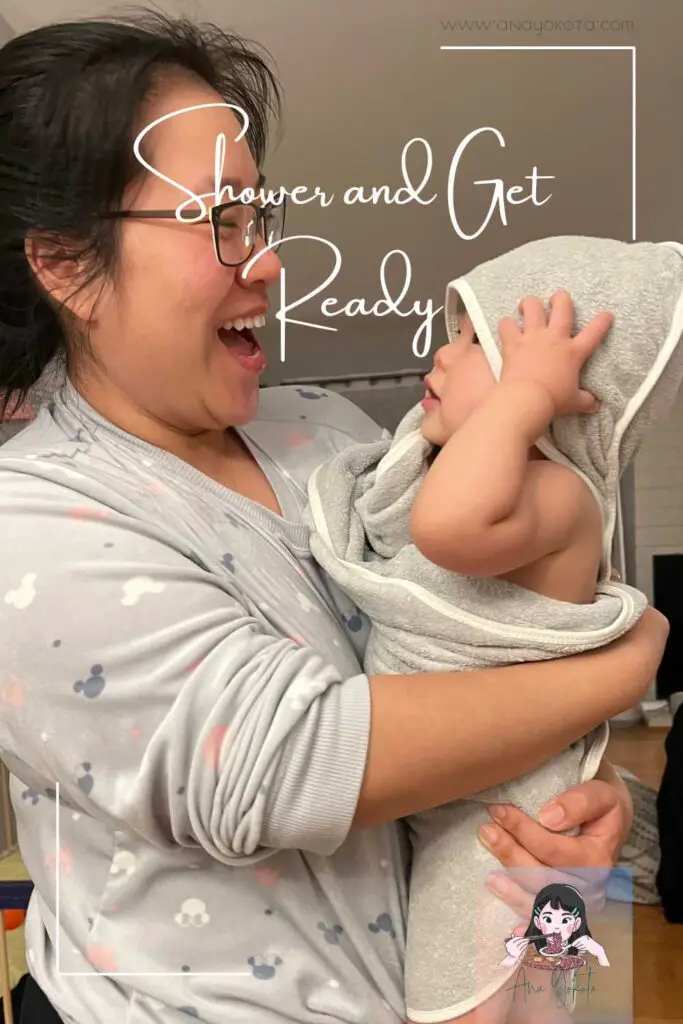 I personally enjoy evening showers because showers at the end of the day relaxes me from the day's busy hustle.
However, integrating morning showers as part of your morning routine for stay at home mom, not only feel great but improve your blood circulation and leave you feeling refreshed. I appreciate how morning showers also help wake you up. Depending on how much time you've set aside for your morning routine, you can add this step or skip it if you have less time to get ready in the mornings.
Enjoy Your Morning Cup of Coffee
Avoid drinking your morning coffee as soon as you wake up in your moms morning routine. Instead, wait until you've been awake for a while. Caffeine can be good for you, provided you drink it in moderation.
Drinking your coffee as soon as you wake up can mess with your cortisol levels and make you feel tired throughout the day. Once you're halfway through your morning routine, you can enjoy your coffee.
I rarely drink coffee. Rather, I drink tea! If you're not a coffee drinker like me, try a much milder version of caffeine like matcha lattes or earl grey teas.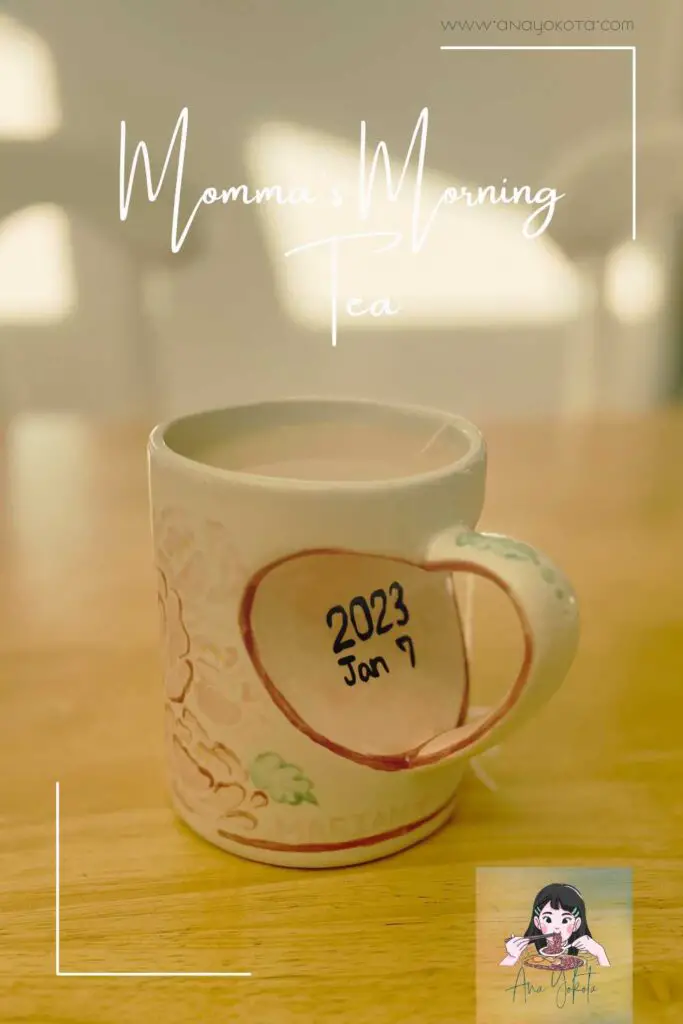 Avoid Screen Time
Looking at your phone when you wake up can make you stressed, especially if you see something negative or start checking your emails and then feel the need to respond and start working.
Screen time can also be very distracting and may make you lose focus on getting through your daily routine of a mother. So, wait until you're ready to focus on work to look at your phone.
Wake Up The Kids
Once you're ready and have had time to focus on yourself, you can start waking up the kids. Usually, kids take a while to get up, especially if they are older. The younger ones typically wake you up. So depending on your schedule and the age of your kids, this may look different for you.
Get Breakfast Ready
You get the cereal mom, the prepare it the night before mom and the meal prep mom. Ideally, breakfast should be something you can whip up quickly or pour into a bowl, like cereal and milk. You could also meal prep breakfast for the week, saving you time if you prefer a healthy homemade breakfast. There's no right or wrong here. Opt for the best option that fits into your schedule.
This is also a great time to spend quality time with your kids and have breakfast together before leaving home.
My husband and I meal prep a couple times during the week after our son goes to bed. This helps us save so much of time when we are both working and watching the baby during the day. If you would like to know how we food prep, please let me know in the comment section below.
Help The Kids Get Ready
Depending on the age of your kids, this may not be applicable in your mom morning routine. If it's not, move to the next part of the morning routine that is applicable. Helping your kids get ready may look like helping them to brush their teeth and hair or helping them to get dressed. When you are to go and don't have to focus on getting yourself ready for work, getting the kids dressed is much less stressful.
Incorporating songs and doing a morning check-in with your kids is also a great activity to include while you help them prepare for the day.
If you would like to know specifically our son's morning routine, please let me know. It's not that it's an extensive plan; rather, we simply have a routine that has helped our son get ready for a good day.
Playtime
Playtime is great for connecting with your kids and bringing out your playful side. If you have more time dedicated to your morning routine, you can play with your kids or set aside time for them to play before they go to school. This gets out some of their energy before getting them to school, and kids are more likely to get dressed without your nagging if they know there will be playtime before leaving home.
Check Your Daily Schedule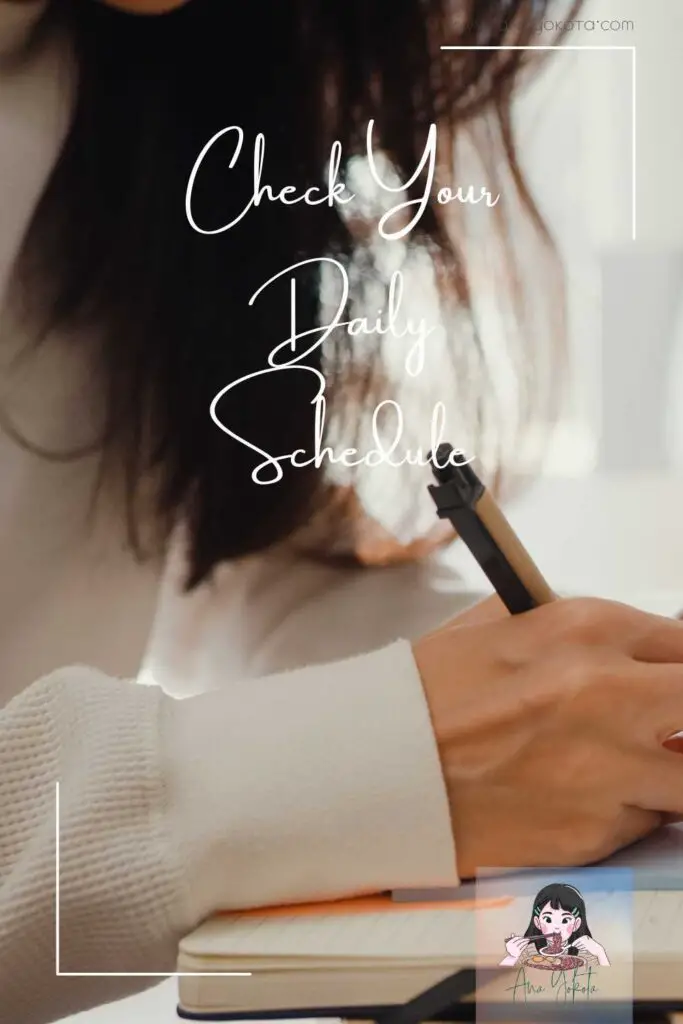 Once everyone is ready to head out for the day, check your daily schedule:
What sports or extra activities are your kids doing today?
What tasks do you need to complete at work?
Do you need to prep anything for dinner?
Checking your daily schedule allows you to mentally prepare for the day and keep track of what your kids are doing and what you need to do. This is very useful and a great way to avoid forgetting something you may need to do or pack for your day.
What Time Do Working Moms Wake Up?
Working moms wake up at different times depending on their daily commitments. Some swear that waking up at 4 AM has completely changed their lives, while others prefer 5 AM, 6 AM, or 7 AM.
There is no specific time working moms should wake up, but to have a comfortable daily routine for working moms, you should at least wake up 30 minutes to two hours before your kids.
If you like to exercise in the mornings or need more time dedicated to a specific activity, you may want to wake up earlier. However, if you aren't a morning person, this may be difficult, and in that case, your morning routine can be shorter, and most of your activities can be completed at night – like me!
I'll admit, I'm not a morning person and on top of all that, I need my sleep. Yet, I am able to work full time and have quality time with my family. Granted, not every day is perfect and not every day is the same. But every day is a blessing and I am able to get things done by following a daily routine for working moms.
In other words, my son almost always wakes up at 7AM. Some mornings I will wake up at 6:30 and others I will wake up earlier. The point of a mom morning routine and waking up early is to have healthy expectations and habits to empower a successful day. You are not a robot. Allowing yourself to focus on listening to what your family and body needs is more important than making sure everything is done exactly on time.
That being said, here are a few examples of mom morning routines that can be used as your guideline. Tweek them as they fit best for your lifestyle.
5 AM Morning Routine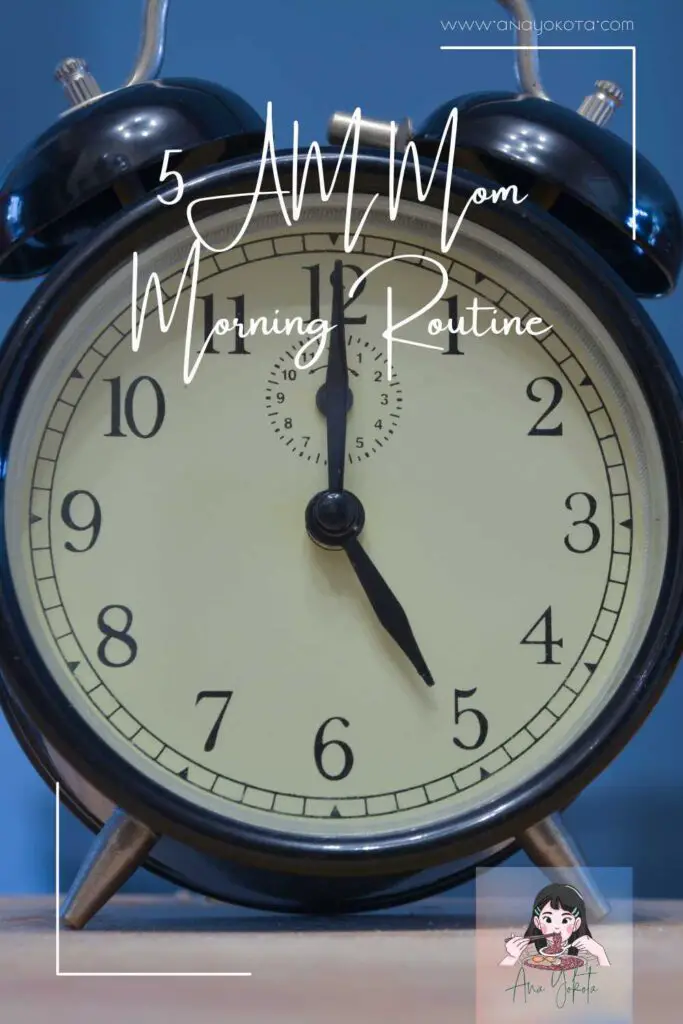 Waking up at 5 AM became popular due to the book the 5 AM club by Robin Sharma. The main concept discussed in this book states that those who wake up at 5 AM are more productive, healthier, and happier. A typical 5 AM morning routine includes:
Drinking water. Drinking water first in the morning helps hydrate you and get your digestive system moving. You can add some lemon juice and a slice of lemon to your water for vitamin c and antioxidants.
Taking in natural light. After a long night's rest, one of the best things you can do is spend a few minutes outside taking in the natural light. Natural light helps balance your mood, regulates your circadian rhythm, and helps you wake up.
Get your body moving. If you've ever woken up with aches and pains and felt heavy, getting your body moving in the mornings is one of the best ways to prepare for the day. When you exercise, do gentle stretching or yoga in the morning. This boosts your metabolism, makes you feel great, and gives you extra energy to get through the day.
Eating a balanced breakfast. Breakfast has always been considered the most important meal of the day. Part of a good 5 AM routine includes a nutritious breakfast. You can include a portion of protein, healthy fats, fruits, and high-fiber foods for a balanced breakfast.
Mindfulness and Prayer. Mindfulness and prayer helps you be present in the moment and quiet your mind. When you do this every morning, your day will be calmer, and it's a great way to invest in your mental health. It's also a beautiful opportunity to let go of control and trust God.
Plan your day. Planning your day helps you prioritize tasks and focus on what you must do. When you plan your day, your days are less chaotic and overwhelming.
Work From Home Mom Morning Routine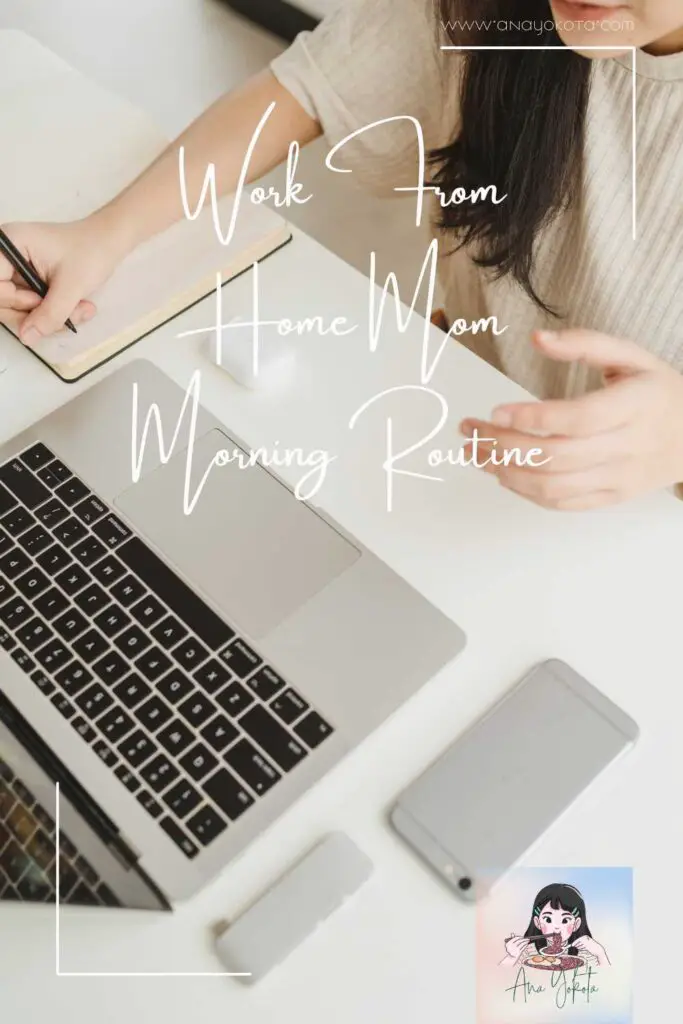 Just because you are a Stay at Home Mom (SAHM), doesn't mean you don't work from home. I'm a classic example of this. Currently, I work from home but am also a SAHM as my son also stays home with me.
Regardless if you Work From Home (WFH) like me or have your hands full caring for your littles, working from home requires a bit more dedication when sticking to a schedule. It's easy to get distracted, spend more time doing certain activities, and then run out of time to do what's important.
There are two ways to adopt a morning routine as a work-from-home mom. You could schedule an amount of time per activity or have a general outline of what needs to be included in your morning routine.
A typical work-from-home mom morning routine may look something like this:
Start your day with prayer/reflection. Starting your morning with prayer and reflection helps you stay connected to your spirituality and reflect on where you are in the present moment. This little bit of quiet time in the morning can help make your day better.
Check your daily planner. Checking your planner helps keep you organized, and you can go through all the to-dos for the day. When caring for the kids and working, things can get crazy, but having a plan of all you need to do and the times you need to do them helps make your day easier.
Exercise. Movement is a great way to relieve stress and help your body wake up. As a mom working from home, your time is limited, but taking these few minutes to exercise will make you feel connected to your body and give you the energy to complete your daily tasks.
Do a few household chores. We all know how quickly a small pile of laundry can become a mountain, or those dishes you were supposed to wash yesterday have somehow multiplied. There's nothing worse than an endless chores list, but by doing a few household chores in the morning, you'll have less to do throughout the day and more time to dedicate to activities you enjoy.
Get breakfast ready. Once you've completed a few household chores, it's time to make breakfast. As a work-from-home mom, you may have the flexibility to make a nutritious breakfast, but if you don't, you can always prepare breakfast the night before with something like overnight oats or even a breakfast you can pop in the oven.
Get the kids ready. After breakfast is a good time to get the kids ready and spend time with them before checking your email and starting work.
What Not To Do During Your Morning Routine
I understand that a mom morning routine should be guideline not a rule. However, there are a few things that make our mornings unproductive. Besides wasting valuable time, these activities are not always healthy and can derail your day.
These are the things you shouldn't do during your morning routine:
Don't skip breakfast
Don't hit the snooze button
Try not to wake up at different times every morning (I try to wake up about 15 minutes before or after 6:30AM)
Avoid scrolling through your social media feed
Avoid an artificially sugary breakfast
Don't try to do too much in the morning
Limit major decision making
Avoid drinking coffee as soon as you wake up
Wrapping up Mom Morning Routine
A mom's morning routine can be a saving grace, and you can go from having crazy busy mornings to calm and well-planned mornings. Be patient with yourself, your morning routine may be entirely different than another mom, and that's okay.
Remember that a routine is more like a guideline; its not a military schedule and we are not robots. As a matter of fact, your morning schedule may never (not one day ever) look exactly like how you plant things. However, having a routine schedule will allow for order and consistency so that you and your family know what to expect.
Being a mom is a full-time job. As a parent, I encourage you. You got this, momma!