This post may contain affiliate links. Please read my disclosure policy for more info.
Learn to make your monthly grocery list ahead of time with this easy printable for your next shopping experience!
Grocery shopping doesn't have to be daunting when you can create a monthly grocery list. You can stay organized and allow yourself to focus on other things that help you release stress — like spending more time with friends and family. 
Whether you enjoy creating a monthly grocery list for one person or a monthly grocery list for family of 4, having these lists can help keep you organized and productive throughout the month. Though I have a smaller family, planning ahead has always helped me not only save time and money but also allowed me to focus on healthier eating habits. Also… we eat A LOT.
This post is more about inspiring a monthly grocery list that can help you fit your needs. Please feel free to print and adopt as many items as you need using the FREE PRINTABLE link below! I've gathered a few reasons why monthly grocery shopping can be helpful as well as a few brief storing tips. Let's get started.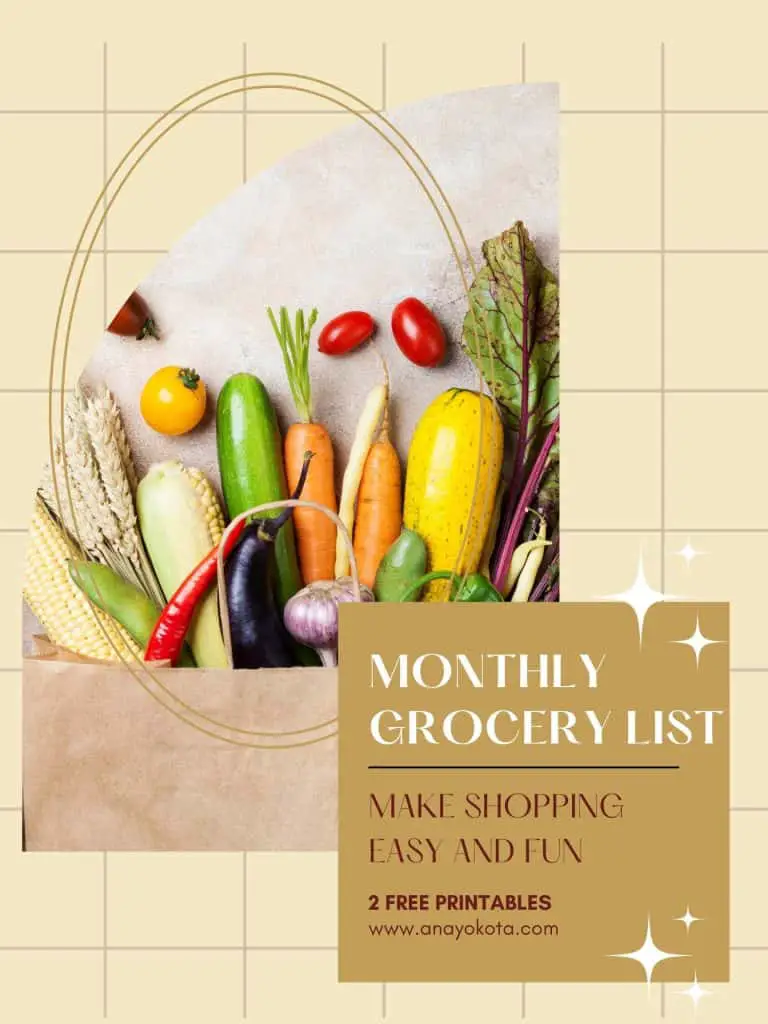 WHY MONTHLY GROCERY LISTS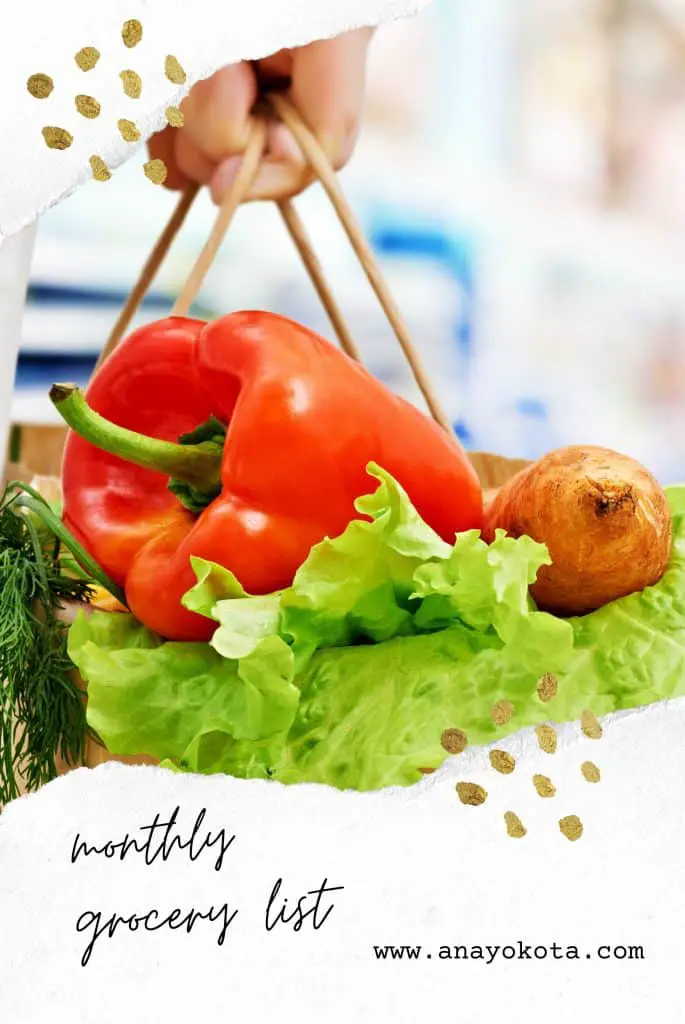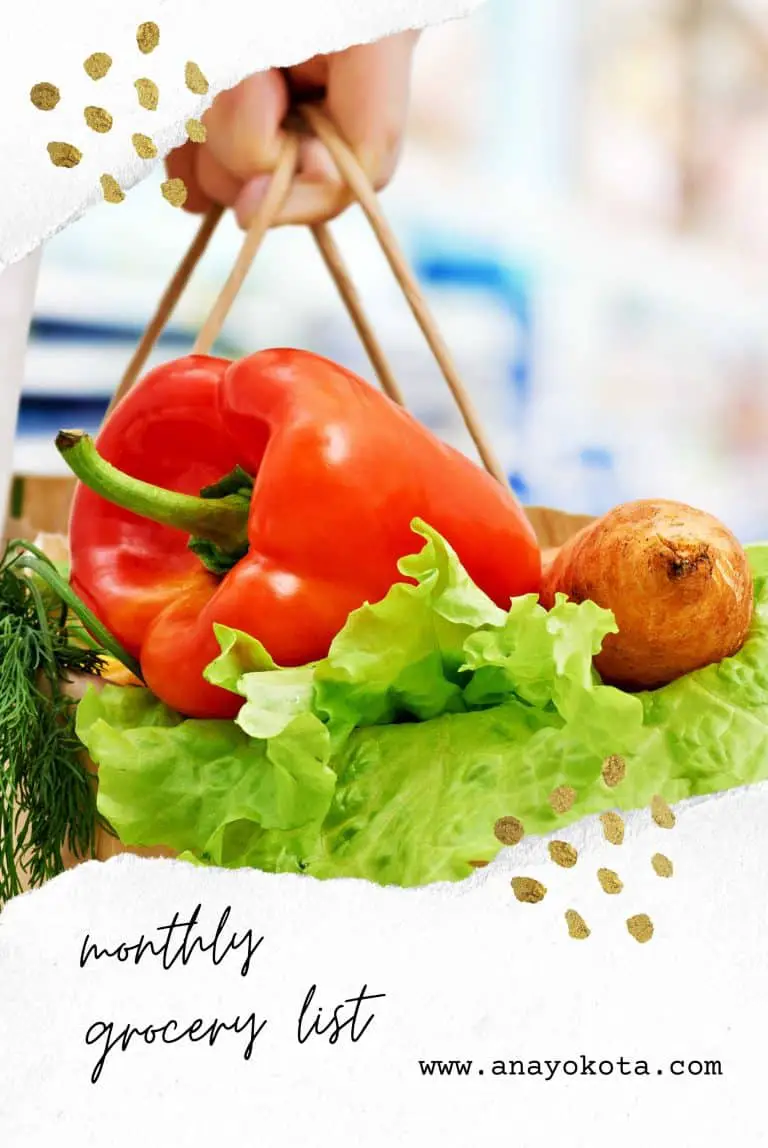 I share a lot more about the reasons why setting up a grocery list is so effective in my Asian Grocery List post. But to summarize the reasons as well as add a couple more specific notes, I'll provide a quick recap: 
Reasons to create a shopping list for a month: 
Decrease costs. When planning ahead, you'll know exactly what you need to spend. 
Productivity. They say that time is money. Adding to that, I would like to say that time is also priceless. Having a monthly grocery shopping list will help you stay focused in the grocery store and allow you to have more precious time with what is most important to you such as family, friends, or me-time. 
Save the planet. There are plenty of studies out there about food waste in America. As one of the leading countries of food waste, knowing what you need will help you from not over purchasing items that may expire or go to waste. 
Family bonding. I grew up with many people in one house with cousins, uncles, aunts, and other relatives. Though food was an essential element to bring the whole family together, grocery shopping was a treat that the kids all got to participate in when we behaved well. I loved being able to go out to the markets with my mom and learn from her instincts (such as picking fruit, talking with the butcher, or being mindful of locally sourced foods), which I still practice today. 
Teaches communication. Planning one month ahead isn't always an easy task especially if you have a fast paced busy family with all different schedules. Growing up, if I wanted or needed something from the grocery store, it was important that I communicated clearly to my parents. This may sound so simple and rudimentary but due to my childhood's practice of creating lists and communicating them, lists have been such a powerful tool for my husband and me to stay effective and efficient on many tasks – not just a grocery list for the month.
STRETCHING FOOD – MEAL PLANNING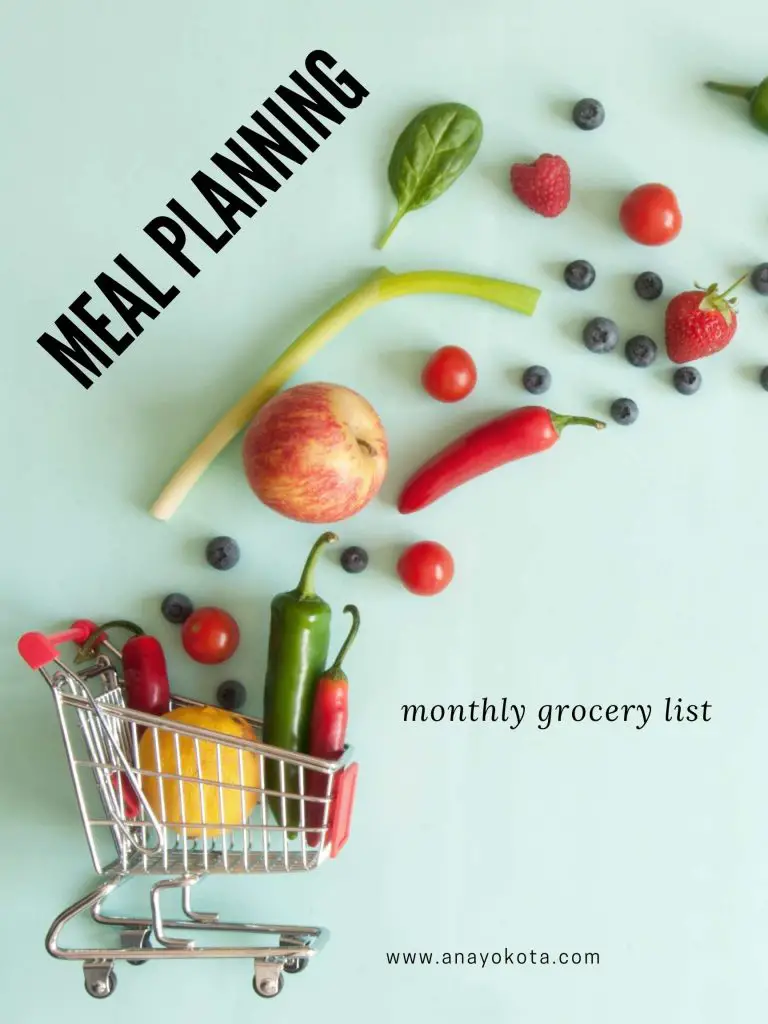 Just because you go grocery shopping per month, doesn't mean your diet is only non-perishables. You can continue to enjoy healthy and nutritious ingredients with one or two trips to the store for fresh fruits and vegetables and still be able to create a grocery list to last a month.
In order to know what groceries to purchase, it is very important to have a solid meal plan that you can use more as a guideline rather than a strict rule. Meal plans help you know approximately how much of what items you will need. You can also get really creative in stretching items so that there is minimal waste. 
In other words, sometimes you may only need half of an onion for one recipe but you can "stretch" the purchase of the onion by using the other half for a different recipe. Not only can you reduce food waste but also find new recipes along the way. 
With a good meal schedule, you will know which items you will need to cook first. I suggest that you purchase and use the fresh (non-frozen) foods first and then slowly dip into the frozen foods. 
To help keep your fridge organized and ready to go when you cook, I suggest picking a day during the week to pre-chop ingredients in advance to help save time.
PURCHASING FROZEN FOODS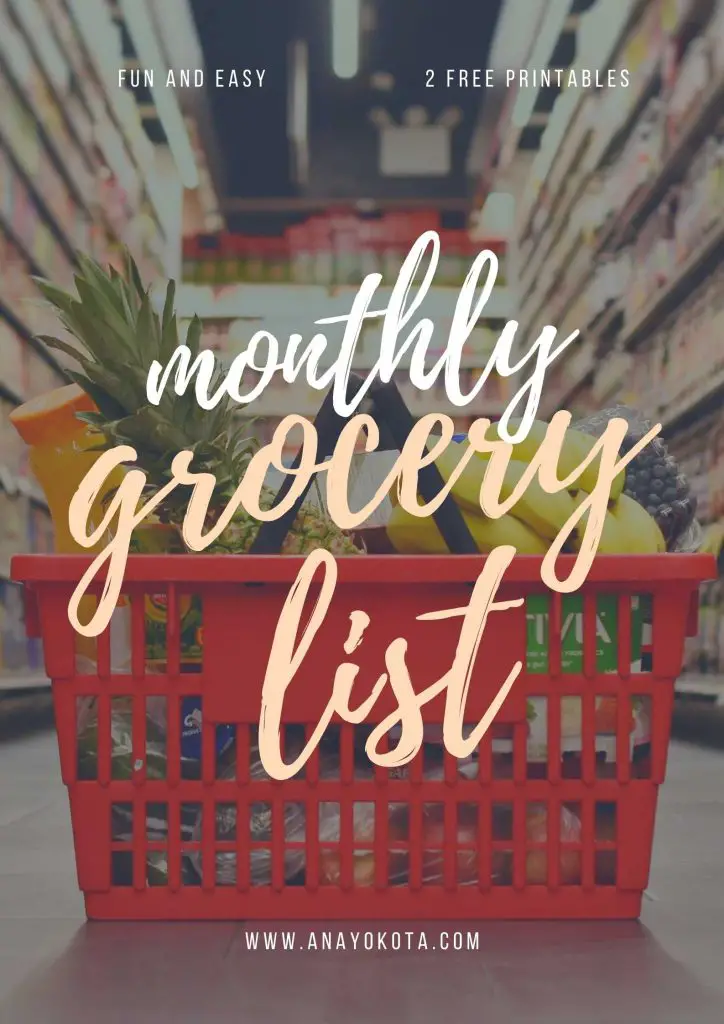 Purchasing in bulk as well as purchasing frozen items in your list of groceries for a month are also great ways to save money and ensure you'll have great quality food for the coming days. 
Preparing frozen meals is an excellent way to keep food fresh and have ready to heat dinners available on the fly. Many frozen fruits and veggies are frozen using a method called "flash freezing." Flash freezing is when food is frozen very quickly at extremely low temperatures. Since the food's nutritional composition does not change much, you can still enjoy great quality fruits and vegetables straight from your freezer. Some studies have shown that flash frozen foods have more nutritional value than that of fresh foods. To learn more about frozen food, please check out the American Frozen Food Institute. 
In the monthly grocery list printable, please keep in mind that most of the fresh items can either be purchased frozen or you can freeze them yourself to ensure a longer shelf life.
STORING FOOD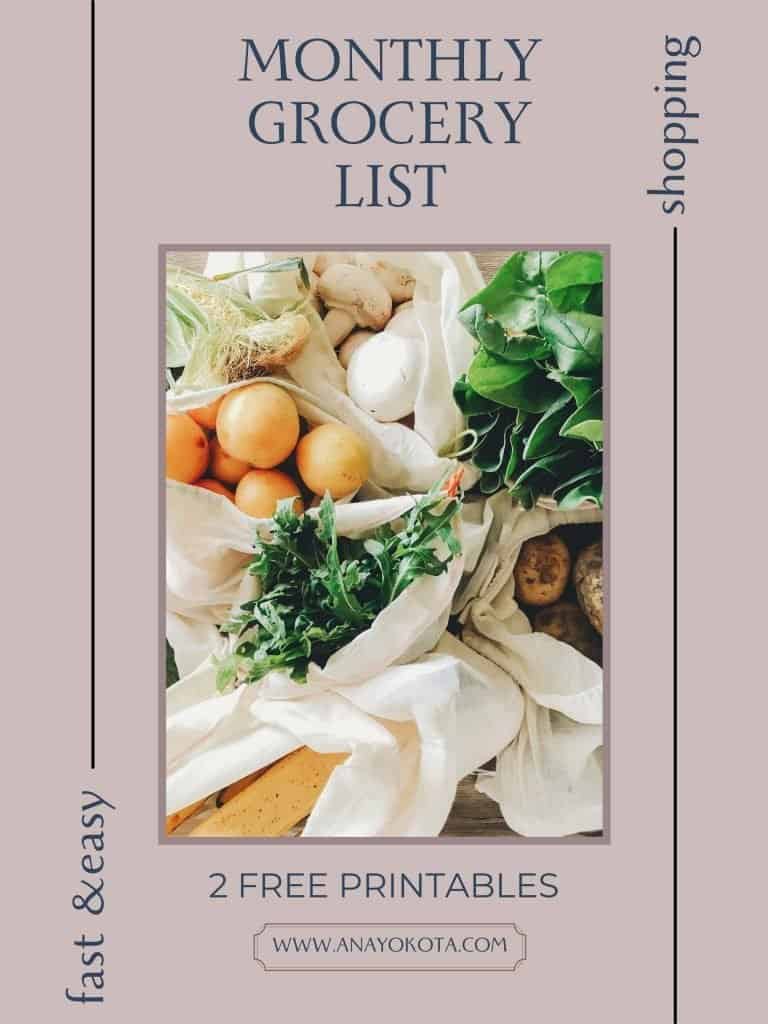 Other than the most important meal planning, the key to monthly grocery shopping is storing and phasing the food out strategically. Once you know what items you buy monthly, plan to eat foods that will go bad earlier in the month and then slowly phase out foods that have a slightly longer shelf life such as frozen fruits and vegetables. 
A great trick I learned from my mom is to freeze my fresh fruits and vegetables when I start to see them wilt (or lose a little life). You can use these frozen items when making stews, soups, and smoothies. 
The best way to store foods is through an airtight container or (better yet) a Food Saver. Food Savers literally suck all the air out of a bag allowing very little chance for bacteria or frostbite to form in the refrigerator.
MONTHLY GROCERY LIST – FREE PRINTABLE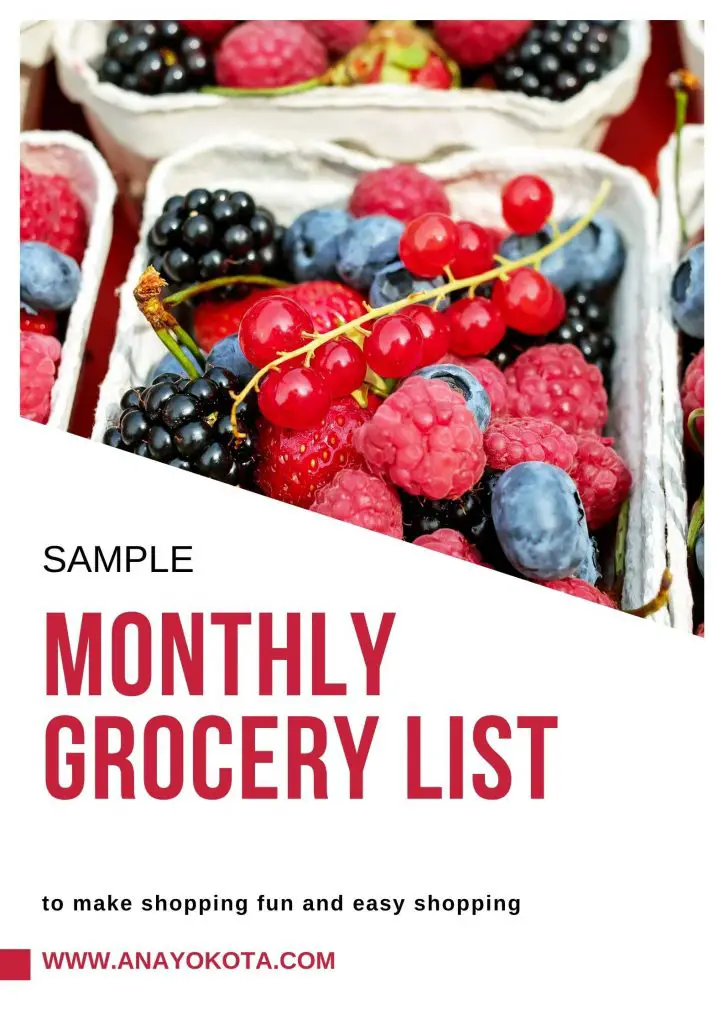 I've provided TWO free printables. One is a monthly grocery shopping list template list template and the other is my own master grocery list that I modified to make it a basic monthly grocery list for those in the States. Feel free to just use my monthly shopping list sample or print out the blank template.
Furthermore, you may not need spices, seasonings, and condiments because they tend to be staples that may not need to be purchased on a monthly basis. For example, I purchase salt and pepper in bulk and may not need to replenish for about 3-4 months. Hence, depending on how often you consume certain spices, seasonings, and sauces, add them to the list when you need them.
Additionally, I also did not include household items such as toiletries or cleaning supplies. Many grocery stores now offer a wide variety of items not limited to food. I understand that most of us may pick up a bottle of dish soap or other personal items. However, this post is dedicated to food and the understanding that other items can be purchased when needed.
Without further ado:
Simply click this button to access the Ana Yokota Family (AYF) FREEBIES page. 
Not part of the AYF? It's FREE to join and super easy. I promise I won't sell your information to anyone and guarantee your privacy. Family doesn't do that 😉 Sign up and get access to updates and freebies today!
If you dislike grocery shopping, I hope that this has inspired you to take monthly grocery shopping a try. Even if it's only once a month, with fewer trips to the grocery store, you can take out the stress and burden from grocery shopping using a strategically prepared list. 
What's always on your list? For me, I love kimchi! Please share your tips and tricks when you go grocery shopping in the comments below.