This post may contain affiliate links. Please read my disclosure policy for more info.
Korea is famous for many things – from beautiful landscapes to delicious food. But one thing people often overlook when traveling to Korea is all the incredible drinks you can also find there. Korea has many interesting and non-alcoholic drinks, meaning there is something for everyone.
When it comes to non-alcoholic Korean drinks, I would like to say I'm somewhat of an expert. Though I respect and appreciate alcohol, my husband and I aren't the biggest drinkers. Instead, we love exploring fun family friendly beverages from fruity to chocolaty goodness.
In this article, we will go straight into the full list of the most popular Korean drinks. Korea has many interesting non-alcoholic drinks you may not know of. What's really nice about several of the beverages is that you can easily make these non alcoholic Korean drinks right in the comfort of your own home.
Don't forget that with these delicious beverages share a plate of your favorite Korean snacks to help cure the afternoon slump.
Top Non-Alcoholic Korean Drinks
The list of popular non-alcoholic Korean drinks is too long to name everything in one article. However, there are some drinks you really should try if you get the chance. Here are the top non-alcoholic Korean drinks.
유자차 Yuja Cha
Yuja tea is a popular winter non alcoholic drink in Korea. It is made with Yuzu, a citrus fruit resembling a sweet lemon and a kumquat. The yuja is thinly sliced and mixed with sugar or honey. Then warm water is poured over it in a cup to make a deliciously citrusy sweet drink.
Yuja is one of those teas with great health benefits. The yuja fruit is extremely high in vitamin C, which helps warm up your body with tons of immune boosting minerals. With the added honey, it helps to soothe and coat a sore throat.
수정과 Sugeonggwa
Cinnamon punch, or sujeonggwa, is among the most popular non-alcoholic Korean drinks. Sujeonggwa is made with persimmon, cinnamon, pears, ginger, sugar (or honey) and several other spices steeped in water. Pine nuts are also added for additional flavor.
The drink is sweet and slightly spicy from the cinnamon and ginger. These spices are good for your digestive system. Many Koreans consume this drink during the holidays after eating large meals.
The beauty behind Korean cooking is its very customizable allowing cooks to adjust flavors according to their liking. For example, my favorite Korean cinnamon tea recipe are the ones with extra cinnamon and adding a few slices of fresh apples. If you would like to learn how to make sugeonggwa, please let me know in the comment section below.
숭늉 Sungnyung
Sungnyung is a traditional Korean drink made by pouring hot water over nurungji. Nurungji refers to the crispy layer of rice that forms at the bottom of a pot when you don't cook rice in a non-stick pan. Some even refer this part of the rice as scorched rice or burnt rice.
People would pour hot water or tea into the pot to remove the crispy rice stuck at the bottom to prevent food waste. The water or tea turns starchy, and the crispy rice becomes a part of the drink.
It is a mild-tasting drink perfect for drinking after a large meal. Sungnyung almost gives this nutty toasty flavor from the scorched rice and is perfect for those late night teas because it has no caffeine.
수박화채 Subak Hwachae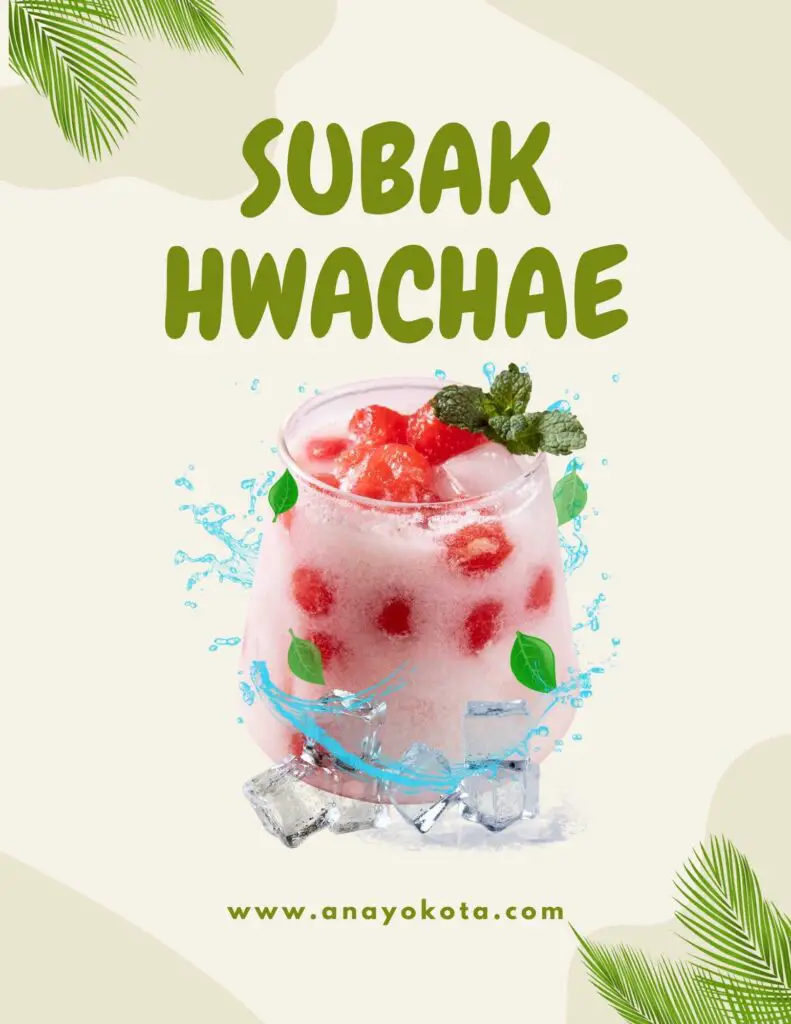 Koreans love making fruit punches, which is why you can find this nearly everywhere in the country. Watermelon punch, or Subak-Hwachae, is a non-alcoholic Korean watermelon beverage that people often drink in the summer. It is made with cold cut watermelon in soda water and honey (or sugar).
My grandma taught me this easy trick that makes subak hwachae epic every time. Simply cut the cold watermelon into bitesize pieces, add Sprite (or any lemon-flavored soda), and ice. Mix it all together and quench your thirst on a hot summer's day.
Another fun way to enjoy hwachae is to add various fruits to the mixture such as blueberries, other melons, and even sliced peaches! Yum!
식혜 Sikhye
Another traditional non-alcoholic Korean drink that is widely popular is the Korean sweet rice drink or Sikhye. This Korean rice drink is made from malted barley flour, water, sugar, cooked rice and topped with pine nuts as a garnish. The cooked rice and pine nuts float on top of the drink, giving it a nutty and chewy texture.
Korean sweet rice drink also helps with digestion and has plenty of antioxidants to help keep you healthy. Since making it takes a lot of effort, you will often see it served mostly on special occasions, like the Korean New Year and other festivals.
If you like watching Korean dramas, also known as K-dramas, you've likely seen many drinks appear in these episodes, too. While soju and other alcoholic beverages are often on display, there are also many examples of non-alcoholic Korean drinks deliciously gulped by famous celebrities.
바나나 맛 우유Banana Mat Ooyu
Banana flavored milk is an extremely popular sweet drink in Korea. It's about as popular among Koreans as chocolate milk is in the west. Banana milk is a simple drink of milk, bananas, and sugar. Many Koreans grew up with it, so seeing this drink in a popular K-drama feels nostalgic.
There are many K-dramas in which the characters are drinking banana milk. One example is Guardian: The Lonely and Great God, where Ji Eun-Tak is seen with a bottle of banana milk in one episode.
홍삼정 Hongsamjeong
While banana milk is popular among Korean children, hongsamjeong (Red Ginseng Extract) is popular among adults. This is a type of energy drink that comes in either individual sachets or small bottles. It contains no alcohol and is made from the ginseng root, which is known for its powerful energizing properties.
You can see Emperor Li Gong drinking red Ginseng in The King: Eternal Monarch, where he often sips on sachets of this drink to keep him energized.
밀키스 Milkis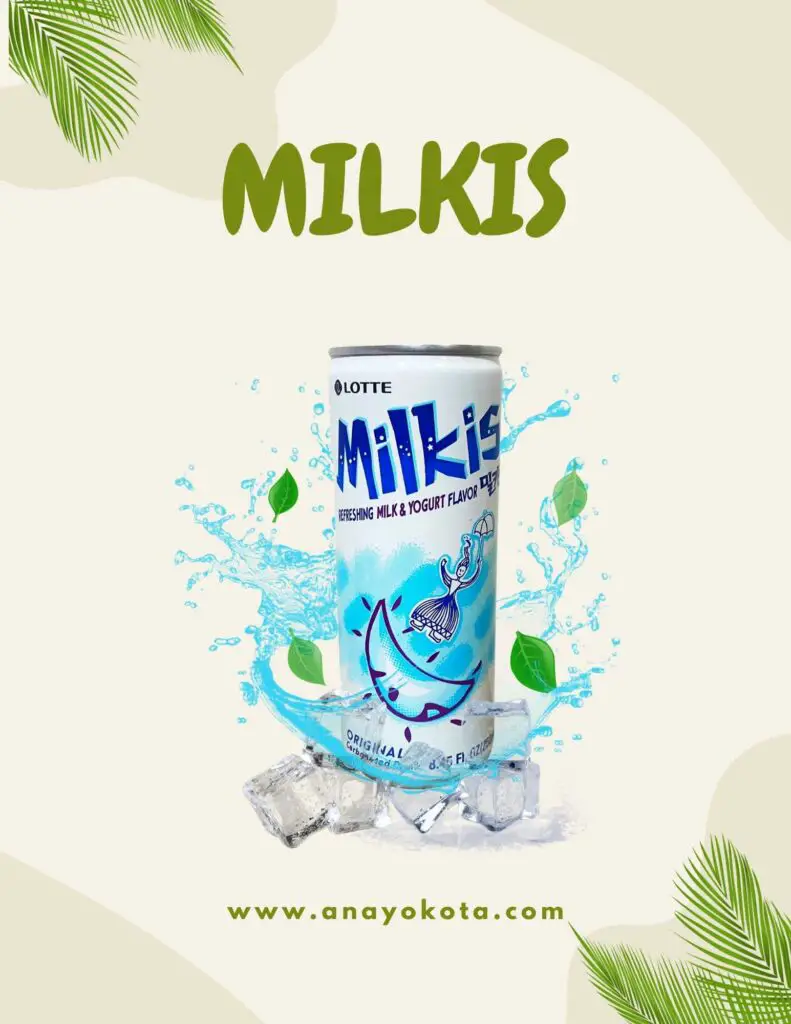 Another unique beverage that has all the ages from little kids to adults drooling is Milkis. Milkis is simply a carbonated milk that has been sweetened and flavored. It almost reminds me of a creamy Italian soda.
You can see Milkis featured in various K-dramas and all over social media, where many K-pop stars are sponsored by this addicting soda. Milkis comes in an array of flavors; however, my favorite is the classic original.
Milkis is sold in cans or bottles and much like many of the most popular Korean soft drinks, Milkis can be found in Korean grocery stores, Korean convenience stores, and online (like Instacart or Amazon).
Korean Drinks To Make At Home
If any of these drinks interest you, but you don't live in Korea and aren't planning a trip there soon, don't worry! While some drinks are readily available in Korean grocery stores, others are easy to make at home.
Ddalgi Ooyu (Korean strawberry milk), is a popular non-alcoholic Korean drink. While you can find it in juice boxes for an on-the-go treat, you can also make it at home with just a few ingredients. To make Korean strawberry milk, crush a cup of strawberries and mix them with sugar to make a sweet pulp.
Then, top the strawberry mixture with whatever milk you like. And just like that, you have refreshing homemade Korean strawberry milk. The strawberries contain plenty of vitamins, while the milk is an excellent source of calcium to keep your teeth and bones healthy.
For a more step by step recipe for Korean strawberry milk, check out my post and try it today!
2. 고구마 라때 Goguma Latte
Sweet potatoes are a versatile and essential staple in Korea. You can find roasted sweet potato, dried sweet potato, or sweet potato snacks wherever you go.
While I was living in Korea in the early 2000's, Korean sweet potato latte was trending. By 2011, you couldn't find a café that didn't carry this delicious drink.
Goguma Latte has a toasted sweet potato flavor as it is typically made with roasted sweet potato, milk, and sugar. Some people get extra fancy and add a shot of espresso to give them a nice pick-me-up.
To make a sweet potato latte, mash the roasted sweet potato (remove the skins first) and mix it with warm milk to make a thick, rich beverage. Then, add as much sugar (or any kind of sweetener) as you like for a delicious sweet drink. I personally like mixing a little bit of turbinado sugar and honey when adding my sweet agent.
3. 미숫가루 Misugaru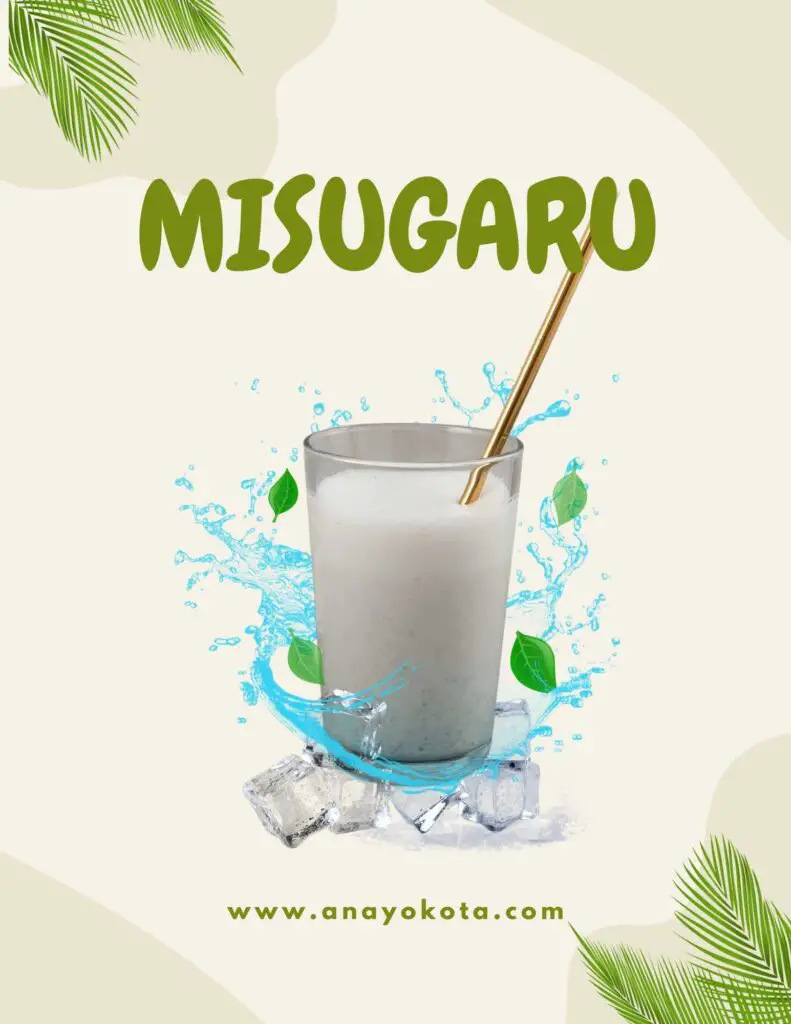 The famous Korean multigrain shake, or Misugaru, is the drink to go to hot or cold in any season. There are even some recipes that you can add a ton of healthy grains to make it a meal replacement shake. Misugaru is a warm drink made from roasted or steamed ground multigrain.
You can use whatever grains you like or buy a premixed packet of ground Misogaru at your local Asian supermarket. To make the drink, you simply mix it with water or milk until it reaches the consistency you like. Then, add honey or sugar to make it sweeter.
Though cold misugaru is super refreshing, I love it warm during the cold months because the nuttiness and toastiness is just so warm and comforting. I'll curl up in my favorite blanket with my favorite mug, turn on my favorite Korean show and sip away. It's the perfect "Netflix and Chill" beverage. Wink*
Wrapping Up Non-Alcoholic Korean Drinks
There's certainly a lot of Korean beverages to choose from. Instead of feeling lost and unsure which ones to try, I hope that this article was able to inspire you the next time you're out for a Korean drink.
From watermelon punch to cinnamon punch, and banana milk to red ginseng, there's no shortage of delicious options. Try making strawberry milk or sweet potato lattes and sip away with friends and family.
The Korean culture has so much depth. I love that even from the simplest foods, you can learn so much about culture, tradition, and trends. For example, did you know that traditional Korean snacks such as tteok (Korean rice cakes) are eaten during major Korean events like New Year's Day, Doljanchi (Korean first birthday), and Chuseok (Korean Thanksgiving)?
Let me know in the comments below what other types of food and cultural elements you'd like to learn about Korea.