This post may contain affiliate links. Please read my disclosure policy for more info.
Try this refreshing and addicting yogurt soju cocktail using peach soju. My favorite soju cocktail is yogurt soju; a Korean inspiration that will have your guests begging for more.
Soju is a clear alcoholic beverage iconic to South Korea. The alcohol content ranges from 13% up to 53% alcohol by volume depending on the brand. The peach soju alcohol content (soju peach flavor) has 13.5% alcohol content.
Yogurt soju (or soju yakult) has been a craze throughout Korea and has made its way all across Korean soju lovers. It has a tangy and fruity flavor with the perfect amount of carbonated fuzz. If you love the Asian style yogurt juice, this is a must have amongst adult beverages.
ASIAN YOGURT DRINK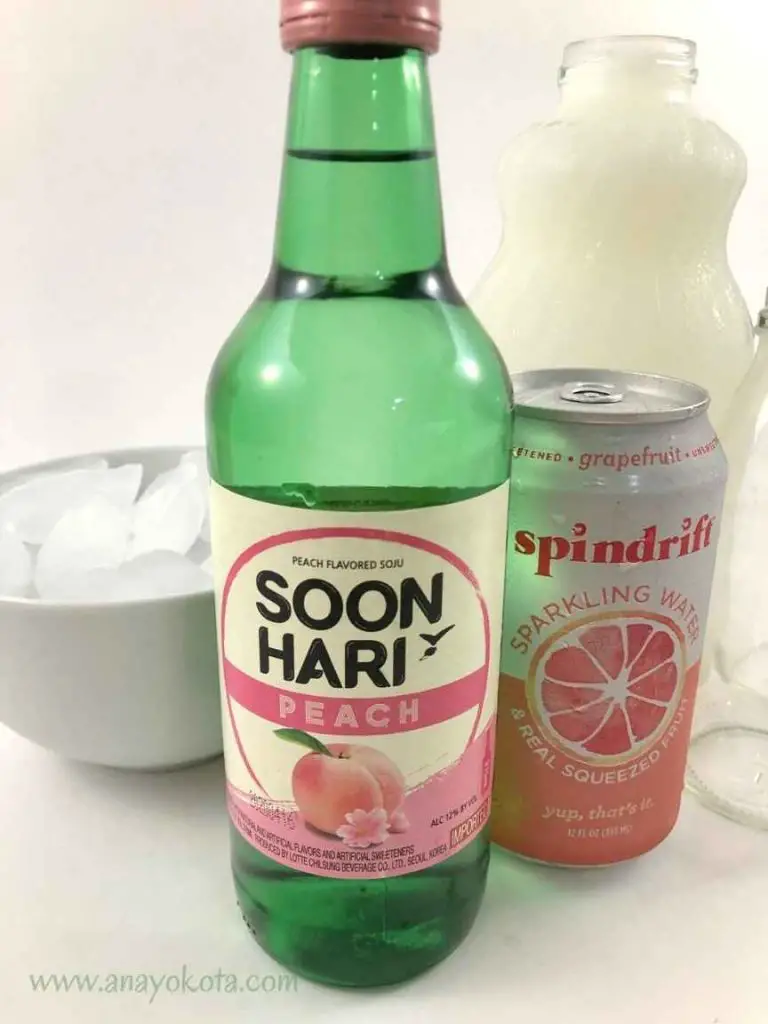 Asian yogurt drink or otherwise commonly known as Yakult was originally a children's favorite beverage where you stick a straw on the lid to drink much like America's Capri-Sun. During my childhood, I always referred to it as the, "Korean yogurt drink." 
Korean yogurt drinks aren't only Korean. You can use and find many different versions, brands, and flavors readily available in your local Asian grocery market. One of my favorite yogurt drinks outside of Yakult is Calpico. You can use whatever flavor and brand that you like so long as it's not the thick western style traditional yogurt (which you eat with a spoon).
However, if you're looking for a popular non-dairy substitute for the yogurt drink, I highly recommend using Korean peach juice.
KOREAN DRINK SOJU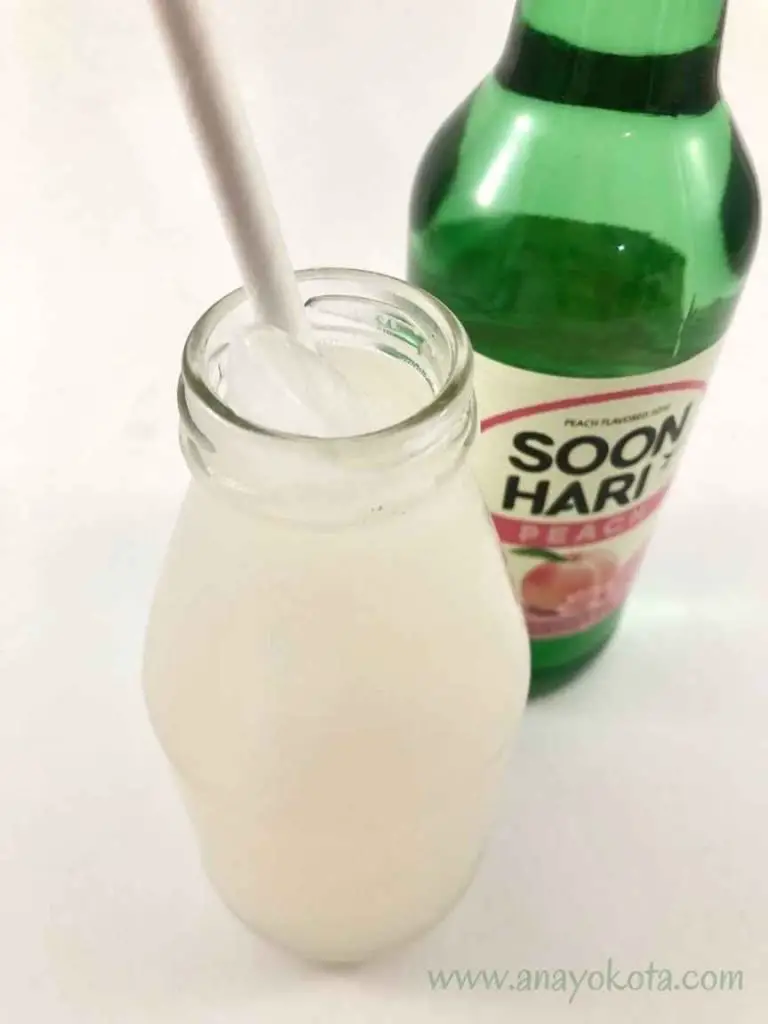 If you are familiar with soju brands, you'll notice that there are a few different popular brands with a variety of flavors. From grapefruit to peach flavor, you can essentially find many different fruit enhanced soju bottles in your local asian market. 
When it comes to the various flavor profiles, I personally love peach soju. In my personal experience, between the most popular soju brands, there are distinctive differences between each flavor profile. For example, peach truly does taste like peach; grapefruit tastes like grapefruit, and grape really does have a grape enhanced flavor. 
However, I did find that many of these brands have very little difference when it comes to their alcohol content and flavor. For example, the Chamisul peach soju and the Chum Churum peach flavor both have 13.5% alcohol and both taste extremely similar. 
With that being said, my advice is to get whatever is on sale that day because I don't see a huge difference between one brand's peach flavor versus another brand's peach flavor. As long as they are reputable soju brands, you really can't go wrong. 
You may ask, "What are the reputable soju brands?" The most popular soju brands are Chamisul, Chum Churum, Soonhari, Joeun Day (Good Day), and Jinro.
WHERE TO BUY PEACH SOJU
If you can find flavoured soju at your local Asian food market, such as HMart, you'll almost always find it there. However, if you're from a place that may not have easy access to Asian foods and beverages, you can always purchase them online. 
For my flavored soju, I gravitate towards peach soju for this blog because it has been by far my favorite fruit soju. It can be served chilled on its own or mixed with other ingredients to make a delicious soju Korean drink.
HOW TO MAKE YOGURT SOJU
Cuisine: Drinks
Difficulty: Easy
This is a super refreshing and easy recipe that is perfectly fruity and sweet. You can be made without alcohol if you need a kid-friendly version.
Ingredients
3 tbsp – Peach Soju

4 tbsp: Yogurt Drink (e.g.: Yakult)

3 tbsp: Grapefruit Spindrift (or any sparkling water)

½ cup: Ice
Directions
In a clear 12 oz glass, add in the ice. 
Add and stir in the peach soju, yogurt drink, and grapefruit spindrift. 
Serve and enjoy
Notes
To make this with soju and yakult only, simply skip the sparkling water and chill with ice.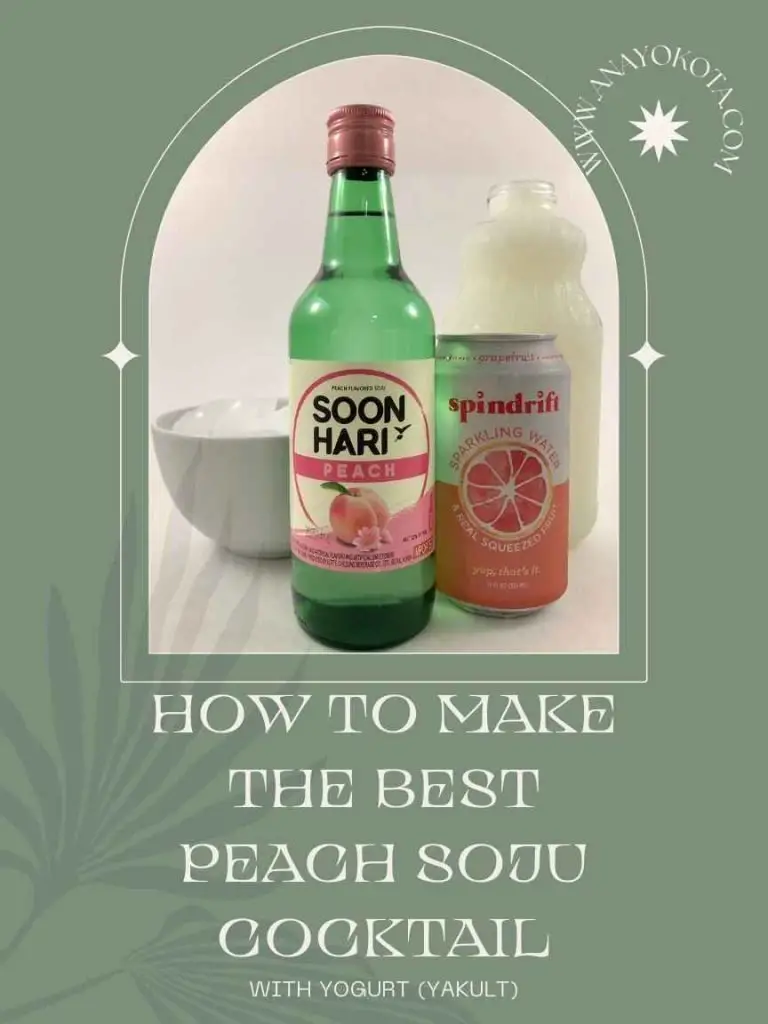 If you like peach yogurt soju but are looking for a non-alcoholic healthy beverage that has peaches, you may like Broccoli Smoothie. Yes, broccoli in a smoothie! It's deliciously blended with all sorts of fruits (such as strawberries, blueberries, bananas, and even peaches!).
You can always find an array of the most popular Korean drinks to help you set up for your next gathering.
I hope you enjoy this refreshing and super easy cocktail recipe. If you try other soju cocktails, please let me know in the comment section below.