This post may contain affiliate links. Please read my disclosure policy for more info.
Pojagi, also known as Bojagi, is a traditional Korean patchwork craft. Pojagi is made from fabric scraps of varying colors and types, used to carry or cover household items, and used for gifts. Pojagi is a staple item in households in all strata of Korean society.
When I first discovered Pojagi (or Bojagi), I didn't see it as a quilted piece; rather, it was one large piece of fabric that wrapped a beautiful wooden box decorated with mother of pearl. I never saw packaging using a piece of cloth so beautiful.
Later I found that Bojagi has a wealth of history, which told beautiful stories about how Koreans used this unique craft to express art.
Pojagi is an exquisite Korean textile craft that is highly practical and artistic. If you are looking for a traditional Korean keepsake, then a Pojagi is well worth it, and you can even try making your own. Read on to learn more about this much-loved Korean folk art, its history, how this Korean quilt is made, and how it is used.
In this article, I will spell Pojagi with a "p" or a "b" interchangeably because they are both the same but depending on who you are talking to, some say "Pojagi" and some will say "bojagi."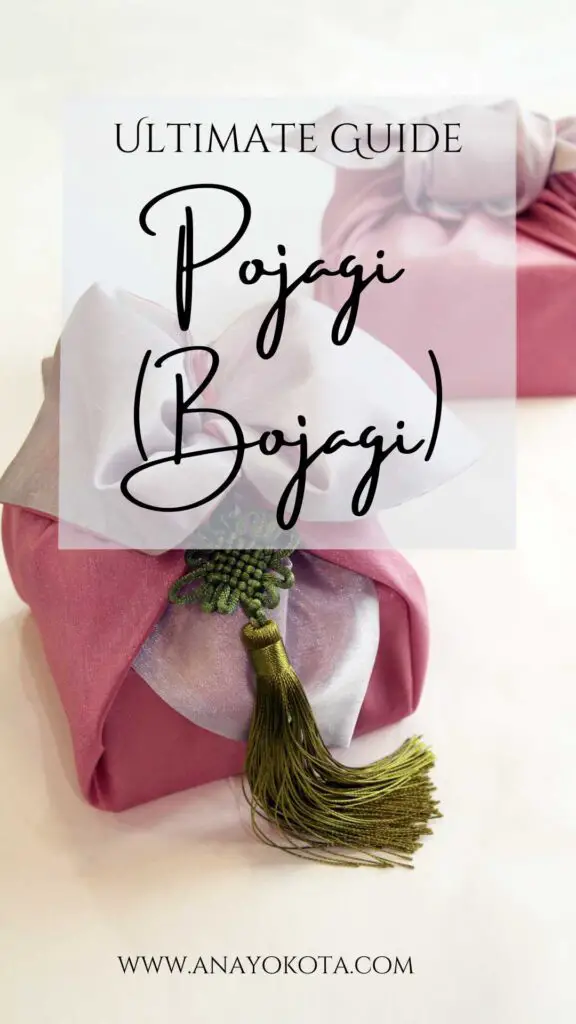 What Is Bojagi?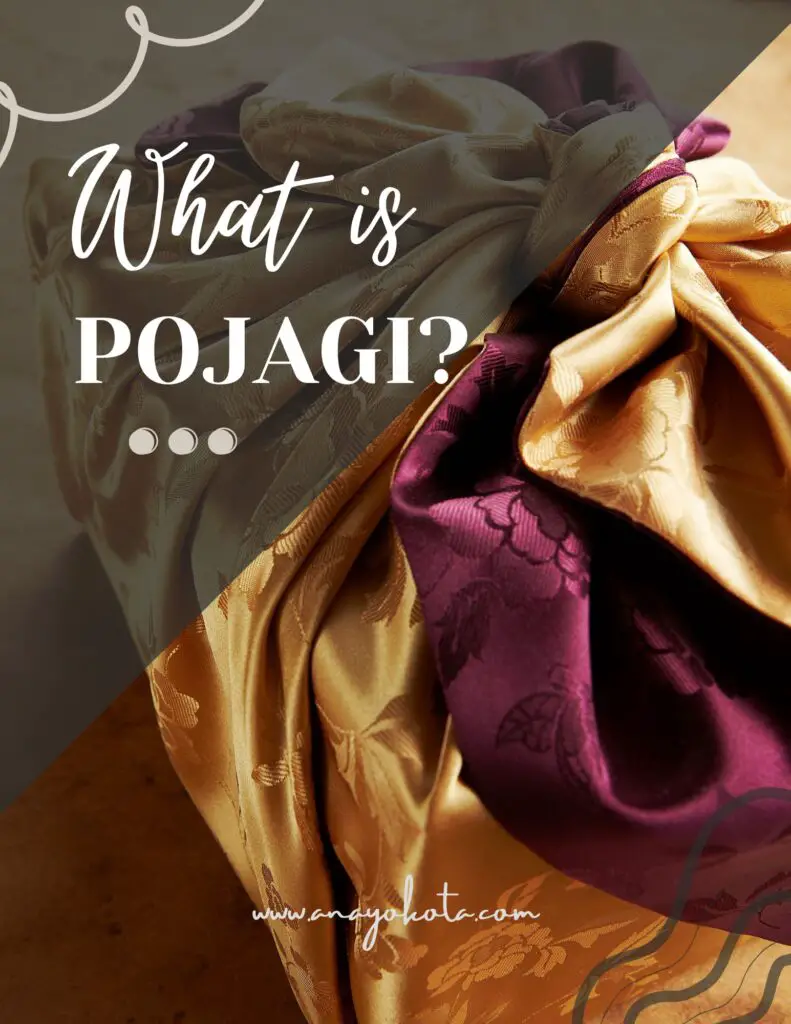 Pojagi is a traditional Korean textile craft. The creation of Pojagi is traditionally only done by women, with the craft providing an outpouring of creativity in a historically patriarchal society.
Bojagi is a cloth made up of sizes of smaller fabrics, be it cotton, silk, gauze, ramie, or other textile fabrics. The fabric scraps are geometric shapes sewn together to create a larger textile cloth. These cloth scraps are sorted by fabric type, weight, and color.
Different colored cloth creates a square fabric, and the outcome is quite beautiful. The designs are varied and can be likened to abstract art. Some Pojagi can even display embroidery. A triple stitch is used along with raised seams to provide Pojagi with reversible images. This adds to both the durability and reusability of the textile.
As Pojagi is made of leftover cloth scraps, it offers a sustainable and, in modern times, eco-friendly way to repurpose clothing scraps into creation with many uses. Even historically, Pojagi was born of thrift, with women saving scraps from making clothing to create wrapping cloths.
Nowadays, I would see one large piece of beautiful fabric with accents of patchwork on the sides. Or one large piece of fabric with beautiful hemming.
What Is Pojagi Used For?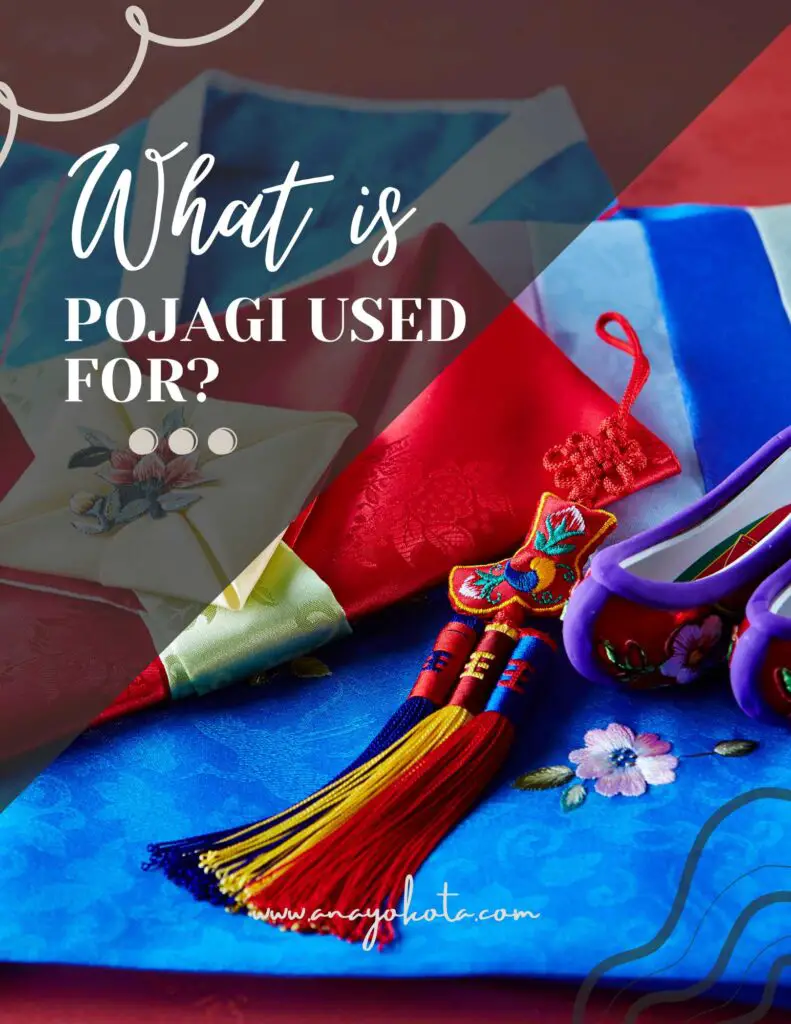 Pojagi has many uses, and it can be used as a gift and as a wrapping, with many intricate wrapping designs much like textile origami. More practically, Pojagi was and is still used as a covering for food and commonly used to wrap food stuff for preservation, much like Tupperware is used in the West, but a lot more attractive.
I remember, after school when my parents weren't home but would leave food on the table, I would see a beautifully laid canopy over my snacks. Later, I found out that the pretty canopy was a Bojagi.
Pojagi is also used for religious observances and symbolically is an essential part of wedding gifts mothers give to their daughters during nuptials.
In addition to functioning as a wrapping, Pojagi can also be utilized in clothing, often an addition to Hanbok – a traditional Korean dress used for special events and ceremonies in the modern day.
The hanbok that I most recently owned had Bojagi patchwork on each sleeve and collar.
Bojagi is used as a form of linen, with Bojagi being used as blankets and tablecloths. Tablecloths are more commonly embroidered and referred to as Sangbo. Embroidered Bojagi is known as Subo. The motifs are nature-based and include flowers and animals, with the chosen image embroidered with symbolism that wishes longevity, happiness, and good fortune.
The upper-class version of Pojagi is Gungbo which is mainly limited to the elite; although all Pojagi is beautifully made, Gungbo is crafted by skilled artisans and includes the weaving, dyeing, and sewing making it particularly special and sought after.
History Of Pojagi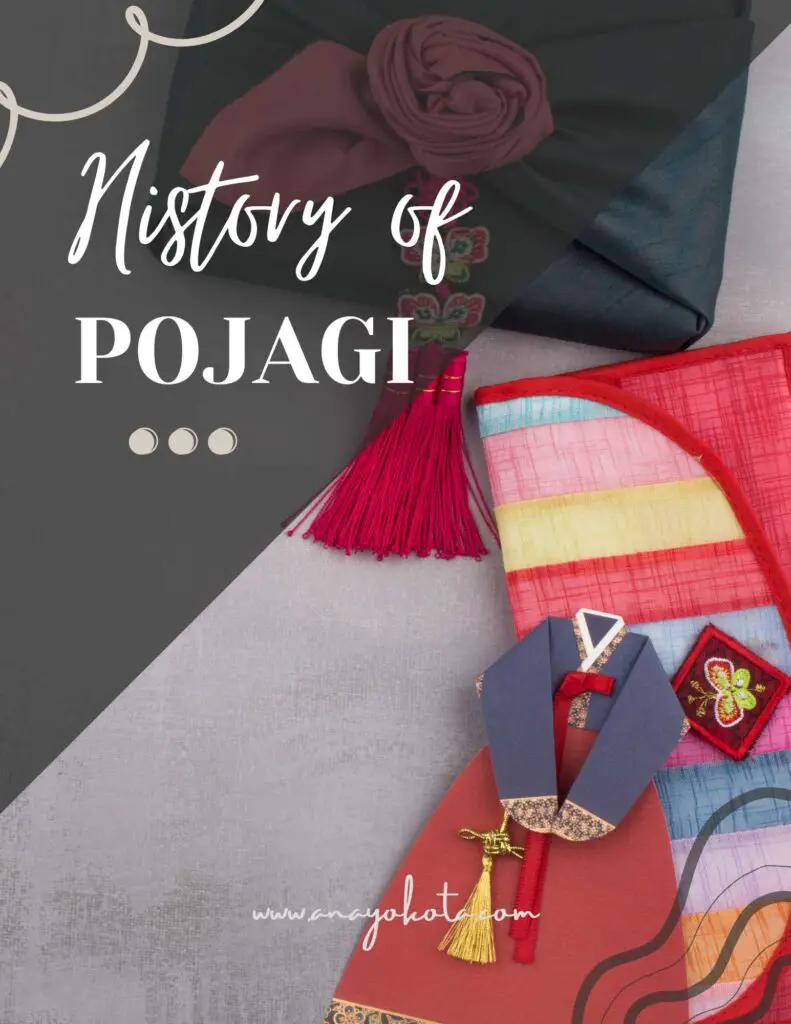 A craft like Pojagi has a long history and dates back to the Three Kingdoms Era of Korea, which goes as far back as the 1st century. Nonetheless, as old as the craft, its popularity only became apparent during the Joseon Dynasty, which stretched from the late 14th century to the early 20th century.
Pojagi, thanks to its thrift-based construction, was created in every class of society and served as a form of education for women and girls, as these skills were vital for housework in neo-Confucian times. The patriarchal society of that time limited women's expression, and Pojagi provided an essential outlet for creativity.
The craft was also for inter-generational bonding between women as they would often work together and leave their creations as heirlooms to daughters, granddaughters, and daughters-in-law.
Pojagi continues to hold an important place in Korean society and is still used in most households today.
To learn more about Korean traditions, you may also enjoy learning about:
How To Get Bojagi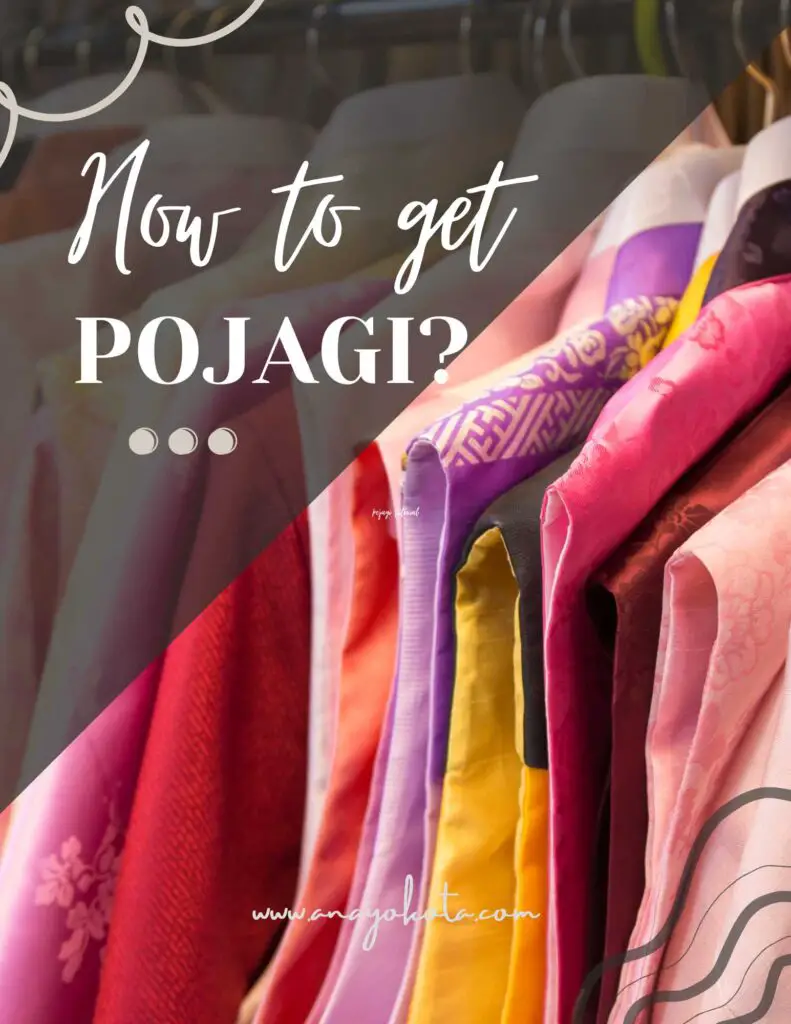 Now that you know what Pojagi is, you may want to find a piece of your own; these textiles are exquisite and make for the perfect Korean Souvenir.
I recommend visiting local markets. Seoul is home to many fantastic markets, and they will undoubtedly have stalls selling Pojagi. Not only can you be sure of the authenticity of your purchase this way, but you will also enjoy a Korean market experience.
The top markets for finding Pojagi are as follows:
Gwangjang Market is well known for its offerings of textiles and fabrics, while the Seoul Folk Flea Market has long had a good reputation for providing tourists with a great offer of Korean keepsakes.
I personally have been to all the markets while I was living in Korea because my grandmother owned a clothing store where she would shop for fabrics. My favorite place to find Pojagi fabric is the Gwangjang Market because you can find a plethora of modern to traditional bojagi textiles for pretty much any occasion.
Namadaemum Market is the oldest market in Seoul, and you can be sure of finding something you like.
Even though Hanbok Street Market specializes in traditional Korean wear, Jang-anpyeong Market is well known for its antiques, so you may be lucky to find a collectible Pojagi.
If markets and shops are not to your liking, there are online Bojagi sellers not only based in Korea but in the US, and of course, you can even make your own pojagi by hand. There are various sites and tutorials online that provide ample instruction. As Bojagi is creative, you can let your creativity loose and make up your design.
If you live in an area that has a large Korean community, you may find beautiful bojagi fabrics in hanbok or Korean bedding stores. They may not have every design but I have seen then carry the most popular basics such as table covers, blankets, and modern hanbok designs.
I also recommend watching local art museums. With Pojagi art gaining popularity in the West, more and more Western museums offer workshops. You could even find a workshop where you will get expert instruction from a visiting Korean artist.
FAQS
What Is Pojagi?
Pojagi is a traditional Korean textile craft made up of different geometric-shaped materials of different colors to form what is usually a square cloth.
How Do I Use Bojagi?
Pojagi is used for many things, such as wrapping and keeping food, table linen, a gift, and ceremonial purposes. Pojagi is often used as art in modern times due to its beauty and intricacy.
Why Is Pojagi So Polular?
There is a growing recognition and appreciation of Eastern arts in the West. From music to art and food, more and more people are starting to discover and enjoy Korea's beautiful items. Pojagi is one of these crafts. The minimalist style, in combination with the intricacy of the craft, is much admired. In recognition of the value of reusable items, Pojagi will likely grow in popularity.
Conclusion to Bojagi
Bojagi is a reminder of the creativity and intricacy that can blossom from the humblest beginnings. A Korean art form, bojiagi dazzles with its vibrant patchwork patterns formed by stitching together fabric scraps from different materials and colors – quite literally transforming something simple into an impressive work of craftsmanship!
With hundreds of years behind it, this textile tradition remains alive today; one look at those alluring geometric shapes always have me feeling like true royalty.