This post may contain affiliate links. Please read my disclosure policy for more info.
Be it to pray for your man, boyfriend, or father, pray a powerful morning prayer for him to help him focus on God throughout the day using His word.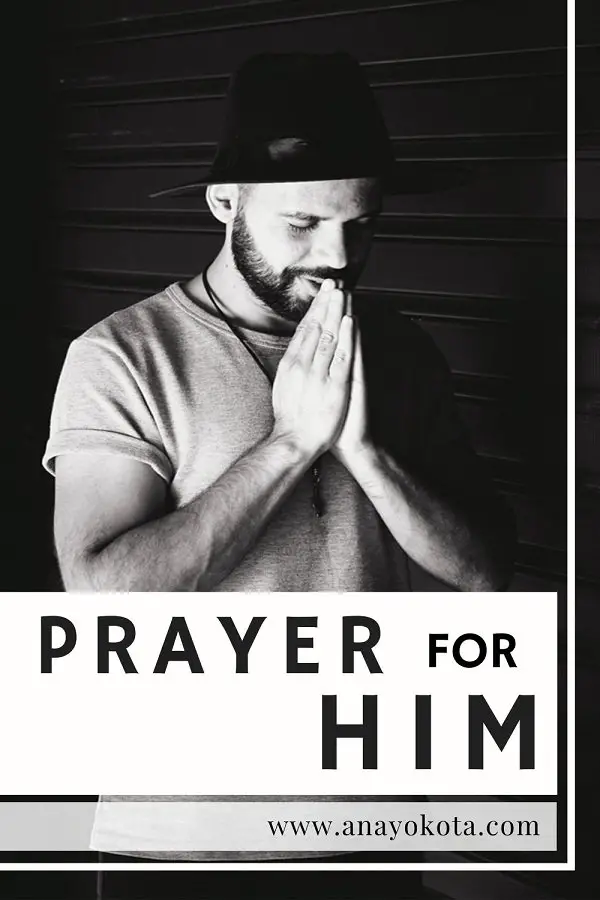 These powerful prayers for him can be just between you and God or you can personalize a special prayer inspired by this post and share it with him.
Loving prayers are beautiful and encouraging gifts we can give — especially to our loved ones. It's also a powerful way to invite God's presence in your relationships.
Additionally, prayer for the one you love can help him (and you) experience God's beautiful promise in our relationship.
For example, one of the first things my husband and I did when we first decided to date was to pray for each other. He prayed for me first and then it was my turn. When I prayed, my (at that time boyfriend) husband knew he wanted to marry me because of the way that I was able to communicate with God. He heard and saw that I completely trusted in Him with our newfound relationship.
Amongst many things, I prayed that Jesus would bless his future wife, even if it wasn't me. This opened his eyes and heart to see that my prayer for him empowered his pursuit in our relationship to be pure, passionate, and pleasing.
Help him know that you are praying for him by sharing a heartfelt prayer. Remember that there are prayers not "just prayer for the man I love" but also for the very many special male figures in your life such as your dad, brother, grandpa, and etc…
If you ever wondered what is prayer, there's a whole post dedicated to the start of my series on Prayer Points.
Table Of Contents (with bible verses)
PRAYER FOR BOYFRIEND
Heavenly Father, thank You for blessing me with such a wonderful boyfriend that truly loves me back. In the midst of our relationship, we invite You to be in the center of our hearts so that we will never stop trusting You. I pray for me and my boyfriend to always operate from a place of love and not fear, hope and not shame, truth and not lies. I pray that You will give my boyfriend strength to stand pure as we both discover the future of our lives. Father, I also ask a prayer for my boyfriend to change in any area that is not pleasing to You. Help me to love him and encourage him so that he chooses You in all his troubles. I speak all these prayers for my boyfriend in Your loving name I pray, Amen.
1 Corinthians 13:3-7 The Message
If I give everything I own to the poor and even go to the stake to be burned as a martyr, but I don't love, I've gotten nowhere. So, no matter what I say, what I believe, and what I do, I'm bankrupt without love.
Love never gives up.
Love cares more for others than for self.
Love doesn't want what it doesn't have.
Love doesn't strut,
Doesn't have a swelled head,
Doesn't force itself on others,
Isn't always "me first,"
Doesn't fly off the handle,
Doesn't keep score of the sins of others,
Doesn't revel when others grovel,
Takes pleasure in the flowering of truth,
Puts up with anything,
Trusts God always,
Always looks for the best,
Never looks back,
But keeps going to the end.
MORNING PRAYER FOR HUSBAND
Dear Lord, I pray for my lover, my best friend, my husband. Thank You for the promises You have over our marriage. Promises to prosper us, give us hope and a bright future. I pray that our relationship will sprout together towards You. Just like an isosceles triangle where my husband and I start on each corner of the base and you are at the top, may we grow stronger in love towards you as we grow stronger in love towards each other. May the foundation on love be as strong as our foundation in You. Lord, I pray that you will give my husband strength as the leader of our household. I declare your favor and grace upon him at his workplace, social groups, and relationship with You. I declare this prayer for my man in the mighty name of Jesus, Amen.
Jeremiah 29:11-13 New International Version
For I know the plans I have for you," declares the Lord, "plans to prosper you and not to harm you, plans to give you hope and a future. Then you will call on me and come and pray to me, and I will listen to you. You will seek me and find me when you seek me with all your heart.
Father God, may we never give up, constantly care for each other, regularly choose humility and grace, consistently seek Your wisdom and truth, and most of all, always love each other more to the person you designed us to be. Lord, I ask that you will help him stay productive and give him strength throughout the day. Please watch over him and protect him from the enemy's schemes. You are such a great and good God. I declare that You will continue Your good works over my husband. I pray this prayer for my lover and best friend in Your loving name, Amen.
Philippians 1:6 Amplified Bible
I am convinced and confident of this very thing, that He who has begun a good work in you will [continue to] perfect and complete it until the day of Christ Jesus [the time of His return].
PRAYER FOR DAD
Dear Father in Heaven, I pray blessings for my dad. Though he is my earthly father, he has shown me what it looks like to be a good person living with integrity and hope in You. I speak a prayer for him to love me into the woman of God you destined me to live. I pray that You will continue to use him to help me make healthy choices for my future. He has reflected Your love on so many levels and I will never be the same because of Him. Thank You for blessing me with the best father a daughter can have. I am so proud of my father and it is my honor to pray for this man; not just as my dad but also as my hero. Please use him to do great works for Your kingdom — one that leaves a legacy for hundreds of years to come. In Your wondrous name I pray, Amen.
Deuteronomy 6:6-9 English Standard Version
And these words that I command you today shall be on your heart. You shall teach them diligently to your children, and shall talk of them when you sit in your house, and when you walk by the way, and when you lie down, and when you rise. You shall bind them as a sign on your hand, and they shall be as frontlets between your eyes. You shall write them on the doorposts of your house and on your gates.
PRAYER FOR GRANDPA
Dear God, may this generation witness that You are good because of the example You've set through my grandparents — specifically my grandpa. I thank You for using him to guide me through challenging decisions and circumstances. Thank You for using him to be a reflection of the Father's heart by showing me what it means to worship in the Father's house. I declare a great blessing of my grandpa's health as he physically grows older. May he know how special he is not just to me but also in Your eyes. In the Lord Jesus' name I pray, Amen.
James 1:5-6 Amplified Bible
If any of you lacks wisdom [to guide him through a decision or circumstance], he is to ask of [our benevolent] God, who gives to everyone generously and without rebuke or blame, and it will be given to him. But he must ask [for wisdom] in faith, without doubting [God's willingness to help], for the one who doubts is like a billowing surge of the sea that is blown about and tossed by the wind.
PRAYER FOR PASTOR
Heavenly Father, I lift up my pastor to You. Please protect him in his mind, body, and soul. May he find rest in You as he continues to build Your kingdom. I pray that You will give him wisdom and supernatural grace in his ministry. May he never forget that he is not alone. Additionally, I pray for the church leaders around him to work in unity. Holy Spirit, help them to edify, encourage, and empower our pastor as he continues to do Your work inside and outside of the church. In Your beautiful name I pray, Amen.
Galatians 6:9 New Living Translation
So let's not get tired of doing what is good. At just the right time we will reap a harvest of blessing if we don't give up.
PRAYER FOR DOG
Father in Heaven, I pray for my dog. He is sick and needs your supernatural healing. I know that nothing is too small or too big for You to handle. So, I pray this doggie prayer and ask that You will comfort my dog right now in the mighty name of Jessus. I declare that my dog will feel the love and know that he is not alone. He is now part of my family and I pray that You will protect his health just as You've protected us all. Thank You for blessing us with such a great companion. Through our dog, we've been touched by Your love over our lives. May your Holy Spirit comfort us now as we pray for our dog's healing. In the name of Jesus we pray, Amen.
Luke 1:37 English Standard Version
For nothing will be impossible with God.
PRAYER FOR UNCLE
Dear God, I lift up my sick uncle to You now. As I am praying for my uncle's recovery, I ask that You will send your Holy Spirit to comfort him. I declare Your supernatural healing over his body. From the top of his head to the bottom of his feat, I declare that every chemical frequency in his body will come into alignment with Heaven. We claim Your promises and receive Your peace in the name of Jesus. I ask for a renewal in his mind and body. We hope in You and love You so much. In Your healing name of Jesus Christ, Amen.
Isaiah 40:29, 31 English Standard Version
He gives power to the faint,
and to him who has no might he increases strength.
but they who wait for the Lord shall renew their strength;
they shall mount up with wings like eagles;
they shall run and not be weary;
they shall walk and not faint.
PRAYER FOR BROTHER
Lord Jesus, I pray for my brother. Thank You for blessing me with a family member that I can trust and love. Will You please bless our friendship and use us to be an inspiration to other brotherly relationships. May Your strength build him up to the man of God You've destined him to live on this earth. Use him as an influencer in our generation to bring glory to Your name. I declare Your wisdom, knowledge, and courage to always guide him in every endeavor of his life. Thank You for loving him so much and continuing to outpour Your Holy Spirit upon him. God bless him. In Your loving name of Jesus I pray, Amen.
Proverbs 17:17 English Standard Version
A friend loves at all times,
and a brother is born for adversity.
PRAYER FOR FRIEND
Heavenly Father, thank You for my friend who sticks closer than a brother. He is an answer to my prayers as much as he is an answer to generations of prayers. Thank You for blessing me with such a friend that shows me what it means to be a good friend. I love that when I think of him I am reminded of Your great love and favor upon my life. I pray for protection over his mind and health. I declare Your blessings of prosperity and provision over him. Please continue to use him as a powerful testimony of Your unfailing love. I claim your abundant blessings for him. In the mighty name of Jesus I pray, Amen.
Proverbs 18:24 The Message
Friends come and friends go,
but a true friend sticks by you like family.
Ephesians 3:20 New Living Translation
Now all glory to God, who is able, through his mighty power at work within us, to accomplish infinitely more than we might ask or think.
---
May these prayers bring encouragement to you as you go out and pray for him — whoever he may be in your life. If you love a man, pray for him. Why not send a good morning prayer for him?
My hope is to share a piece of my prayer life to you. There is always more room to grow — especially in the realm of prayer. Let me know in the comment section below specific prayer topics you would like me to write about.
Are you currently married or want prayers for your family? Find more prayer posts on the blog!