This post may contain affiliate links. Please read my disclosure policy for more info.
Praying for your marriage is a beautiful blessing that we get to declare together. May these powerful prayer points for marriage increase your prayer life with your spouse!
When it comes to praying for your marriage, I believe there is a special kind of connection that happens with your spouse when you are able to not only pray together but also have specific prayer points for marriage.
The gospel states that when two or three gather in His name, God is with them. Not only is there power in agreement, there is a surge of intimacy that radiates with the Lord. In other words, praying for your marriage together is epic because He shows up. 
Matthew 18:20 New International Version (NIV) For where two or three gather in my name, there am I with them."
In my post on Prayer Points, I introduce my first of hopefully many series on prayer points. Since I already explain what it means to pray, why it is important to pray, and examples on how to pray, I will encourage you to check out that post for more details.
It is important to recognize that a healthy marriage takes a lot of effort, love, and grace. If you think about it, two distinctively unique human beings are being united forever. Forever is a long time to experience many of life's adventures, challenges, and miracles together. 
This goes without saying that in the midst of forever, it can also be easy to become distracted, discouraged, and even disappointed at one another. If not careful, a marriage can hurt, break, and change your love for each other. 
A relationship that is based out of love can quickly turn into fear. This is why I believe that prayers for married couples that cover prayer for guidance, prayer for marriage restoration, spiritual warfare prayers for marriage, and prayer for healing are crucial to help navigate and protect through the uncertainties and disappointments that may arise in marriages. 
Furthermore, I firmly believe that it is equally (if not more important) to take time to declare marriage prayers when you experience miracles, testimonies, and victories. 
My husband and I pray blessing of the marriage every moment either of us feel inspired to praise and worship God. It has become such an organic and natural part of our lifestyle because we recognize that none of what we have would be possible (nor as good) if it wasn't for God. 
It is through our passion and priority to pray together that allows us to grow stronger in our relationship not only with each other but also with God. Intercessory prayer for our marriage gives us hope to believe in His power to show up even when we may feel afraid, confused, and hopeless. As a result a powerful prayer life with your spouse equips you to operate from a place of love and not fear recognizing that He is good. 
For example, one of the struggles my husband and I had to overcome was our disappointments for not being able to conceive a baby early in our marriage. We hoped and dreamed of being parents so badly that when it was not happening right away, we became worried, frustrated, and discouraged. 
According to US News, studies have shown that infertile couples are three times more likely to divorce more often that those who don't (SOURCE). In short, many marriages that experience infertility or miscarriages result in divorce because it may mean a loss of dreams and expectations of having children. 
Rather than allowing statistics, emotions, and fear dictate our relationship, we turned to Jesus. Prayer about marriage with my husband brought peace to our hearts. Not that we simply accepted infertility; rather, we chose to trust God in His timing regardless of outcome because we knew that God loves us beyond our wildest dreams. 
As we continued to use prayer points for marriage with bible verses, the truths of His word trumped the insecurities of our emotions. 
Prayer truly is powerful and lifegiving. Through our commitment to pray for God's peace, hope, and joy regarding a baby, it has truly strengthened our relationship to support each other as well as face other challenges together.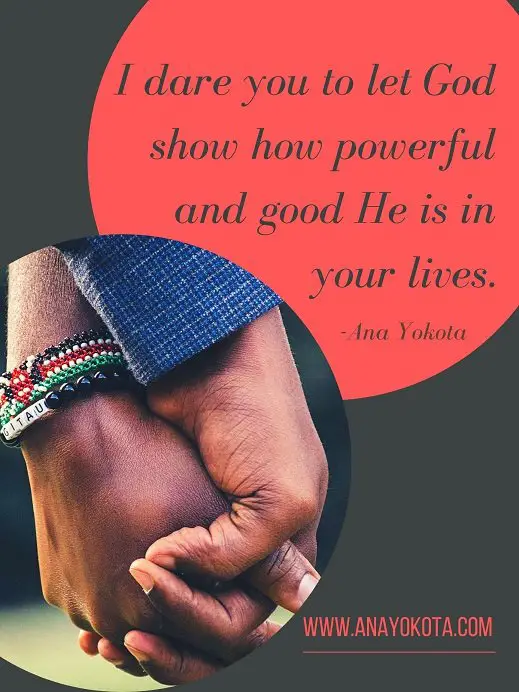 I encourage you to hold hands and pray with your spouse. I dare you to let God show how powerful and good He is in your lives. 
Prayer Points For Marriage With Bible Verses
Prayer Points For Marriage Breakthrough
Heavenly Father, thank You for blessing us with this beautiful marriage. We declare a breakthrough in the name of Jesus with our finances. Help us to communicate together our needs and desires so that we may prioritize our finances diligently. We pray for wisdom and discipline so that we may steward the finances You provide for us. You are our ultimate provider and we give thanks for your provision in our lives. You know our every need and we put our trust in your. In Jesus' mighty name we pray, Amen. 
Philippians 4:19 Amplified Bible (AMP) And my God will liberally supply (fill until full) your every need according to His riches in glory in Christ Jesus.
Prayer For Marriage Protection
Dear God, thank You for Your protection over our marriage. We continue to declare Your victories and miracles in our marriage. We ask for discernment so that we may know how to protect and intercede for each other. Especially in times of uncertainty and confusion, we pray for Your wisdom and strategy to help us persevere and keep our hope in You. Let our marriage be interviewed with Your truth and love so that no weapon formed against our marriage can prosper. We declare our love for You and receive Your promises over our marriage. In the beautiful name of Jesus we pray, Amen. 
Ecclesiastes 4:9-12 New Living Translation (NLT) Two people are better off than one, for they can help each other succeed. If one person falls, the other can reach out and help. But someone who falls alone is in real trouble. Likewise, two people lying close together can keep each other warm. But how can one be warm alone? A person standing alone can be attacked and defeated, but two can stand back-to-back and conquer. Three are even better, for a triple-braided cord is not easily broken.
Precious Father, thank You for being there for us in every step of our marriage. We come together in faith believing in Your power over our lives. What You joined together, let no one or thing be able to separate. We declare Your protection and goodness over our marriage. Help us to stay focused on You so that we may not be distracted by the enemy's schemes. Help us to continue to pray for each other, support each other, and celebrate each other. In Your great name we pray, Amen.
Matthew 19:6 Amplified Bible (AMP) So they are no longer two, but one flesh. Therefore, what God has joined together, let no one separate."
Prayer Points For Marriage Restoration
Dear Lord, thank You for loving us so much and for believing in our marriage. We pray for a heart of humility and gentleness so that we may be patient with each other. We pray for Your supernatural grace and peace to come into our lives. Help us to never forget to operate from a place of love and not fear. Through our time together, help us to forgive and bless each other with love. May we make room for your presence to come so that our marriage may be restored. We trust you and let go of control so that You may lead in our marriage. We pray all this in your loving name of Jesus, Amen. 
Ephesians 4:2-3 New Living Translation (NLT) Always be humble and gentle. Be patient with each other, making allowance for each other's faults because of your love. Make every effort to keep yourselves united in the Spirit, binding yourselves together with peace.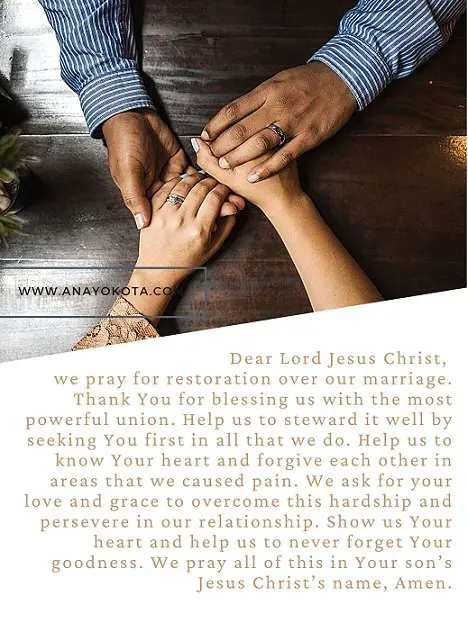 Dear Lord Jesus Christ, we pray for restoration over our marriage. Thank You for blessing us with the most powerful union. Help us to steward it well by seeking You first in all that we do. Help us to know Your heart and forgive each other in areas that we caused pain. We ask for your love and grace to overcome this hardship and persevere in our relationship. Show us Your heart and help us to never forget Your goodness. We pray all of this in Your son's Jesus Christ's name, Amen. 
1 Peter 4:8 Amplified Bible (AMP) Above all, have fervent and unfailing love for one another, because love covers a multitude of sins [it overlooks unkindness and unselfishly seeks the best for others].
Prayer For My Husband
Heavenly Father, thank You for answering my deepest prayers giving me my best friend as my husband. Just as You are the God that provides exceedingly and abundantly beyond what I could imagine, You blessed me with my dream to come true and so much more by giving me my husband. Help me to love him to the man of God You have called him to be. I pray for grace and wisdom to respect, love, treasure, and honor my husband so that together we will live a Godly marriage. I pray that You will bless my husband with leadership as the head of our household. Please protect his spirit, mind, and body to stay focused on You. In Jesus' precious name I pray, Amen.
Ephesians 5:33 Amplified Bible (AMP) However, each man among you [without exception] is to love his wife as his very own self [with behavior worthy of respect and esteem, always seeking the best for her with an attitude of loving kindness], and the wife [must see to it] that she respects and delights in her husband [that she notices him and prefers him and treats him with loving concern, treasuring him, honoring him, and holding him dear].
Prayer For My Wife
Dear Lord, thank You for blessing me with the most beautiful woman that seeks after Your heart. I pray that I will love her to the best of my ability. Help me to love my wife the way you designed me to love. Will You use me to be her biggest champion and love her to the woman of destiny You have called her to live. Help me to be a good steward of your daughter's heart. Please give me the courage and strength to protect her, surround her with care and unselfish love. I declare great blessings upon my wife's every endeavor. Bless her with great wisdom and compassion to lead our generation to seek you. Thank You for trusting me with Your precious daughter as my wife. In Your gracious name I pray, Amen. 
Ephesians 5:25 Amplified Bible (AMP) Husbands, love your wives [seek the highest good for her and surround her with a caring, unselfish love], just as Christ also loved the church and gave Himself up for her,
---
It's never too late to start praying. If you are single, here are powerful prayer points for a marriage proposal and for finding a Godly spouse. However, it is easy to use the earlier prayer points for marriage for your future marriage. Simply declare the prayer points for your future spouse.
Prayer Points For Marriage Proposal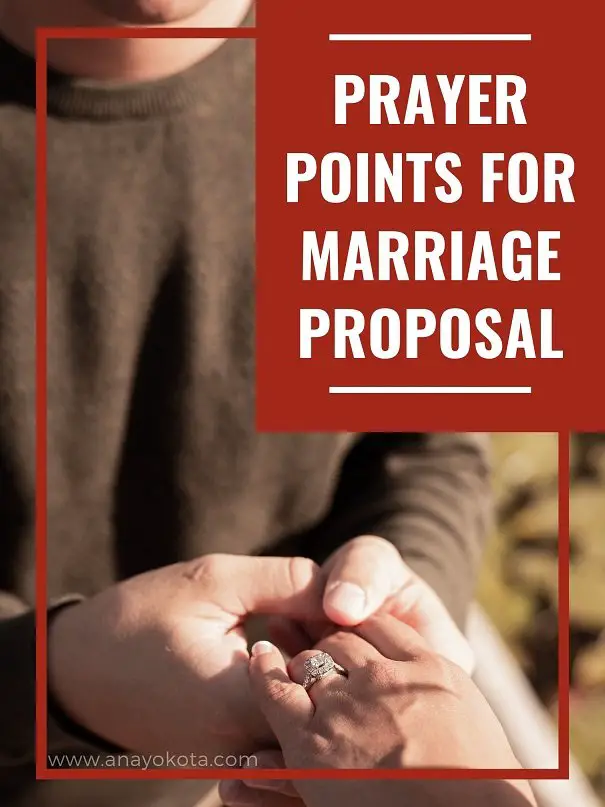 Dear Father, thank You for being the ultimate definition of love. You know the desires of my heart to be with one that I can love for the rest of my life. But I pray that my heart will not be awakened until the timing is right. Please protect my heart from temptation. But as I am focused and seeking you, I ask that You will bless me with a Godly relationship that will lead to a marriage proposal. May my life be a beacon of hope that exudes Your love and may the person I am to be with partner with me to bring Your truth to my generation. In Jesus name I pray, Amen. 
1 Corinthians 13 The Message (MSG)
Love never gives up.
Love cares more for others than for self.
Love doesn't want what it doesn't have.
Love doesn't strut,
Doesn't have a swelled head,
Doesn't force itself on others,
Isn't always "me first,"
Doesn't fly off the handle,
Doesn't keep score of the sins of others,
Doesn't revel when others grovel,
Takes pleasure in the flowering of truth,
Puts up with anything,
Trusts God always,
Always looks for the best,
Never looks back,
But keeps going to the end.
Marriage Prayer Points For Finding Godly Spouse
Dear Jesus, thank You for always reminding me that I am never alone and that You have a powerful plan for my life. Lord, I pray a prayer for marriage partner. I pray that You will equip my life and protect my heart until it is time to meet my future husband. Lord, will You protect his heart and prepare him for me as well. I ask for patience and perseverance to wait for him. I speak against any spirit of loneliness that may try to manipulate my identity and confidence in who You are. I declare your promises over my life and receive the truth that every good thing is from You. I trust You, Father. In Your loving name I pray, Amen. 
Jeremiah 29:11 New International Version (NIV) For I know the plans I have for you," declares the Lord, "plans to prosper you and not to harm you, plans to give you hope and a future.
---
I love to pray a marriage prayer with my husband. The culture that we've been able to foster in our relationship has only grown stronger together. These marriage prayers for couples continue to encourage and bless our intimacy with God. 
May these marriage prayers encourage your prayer time with your spouse. 
Encouraged to pray with your family? Here are Prayer Points For Family where you can find more ways to pray with you family.
Marriage is a beautiful gift from God and a relationship worth fighting for. God bless you!