HOW TO DECLARE POWERFUL PRAYER POINTS FOR CHILDREN
This post may contain affiliate links. Please read my disclosure policy for more info.
Learn how to declare powerful prayer points for children today! Help your kids develop a beautiful prayer life as you pray over them with God's love.
If prayer is an essential part of my marital life, then why wouldn't it be just as crucial in my family or children's life? 
Prayer points for children is a beautiful way to not only declare powerful prayers for your children but a wonderful way to introduce the love of prayer to your children. 
There is such a purity and blessing behind praying with children. Whether you are praying for your own child or children all around the world, I believe that all prayers should come from the heart communicating with God. 
Simply put, prayer is a conversation with God that is genuine and honest.
These prayers are meant to be a guideline on how to declare powerful prayer points for children and with children. As you read through these prayers, please feel free to modify them so it fits for your child. 
I've dedicated an entire post on prayer points and its basics. You can use this post as a starting point in your prayer life or go straight ahead and start praying for your children today! 
TABLE OF CONTENTS WITH BIBLE VERSES
PRAYERS FOR CHILDREN'S SUCCESS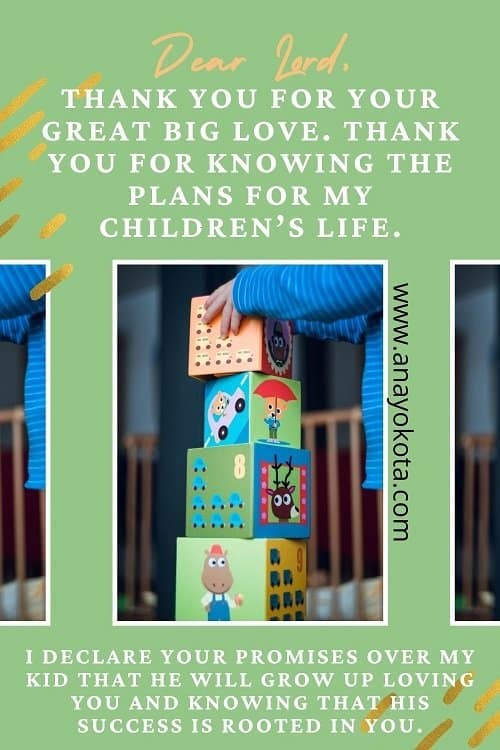 Dear Lord, thank You for your great big love. Thank You for knowing the plans for my children's life. I declare Your promises over my kid that he will grow up loving You and knowing that his success is rooted in You. Father, will Your Holy Spirit come and lead my child into the destiny that he/she is called to live. Will You increase his peace so that he may always know that You are always with him. You are such a great God and nothing is impossible with You. In Your mighty name of Jesus I pray, Amen.
Jeremiah 29:11 New American Standard Bible
For I know the plans that I have for you,' declares the Lord, 'plans for welfare and not for calamity to give you a future and a hope.
Isaiah 54:13 English Standard Version
All your children shall be taught by the Lord,
 and great shall be the peace of your children.
Philippians 4:13 New King James Version
I can do all things through Christ who strengthens me.
PRAYER FOR CHILDREN'S SALVATION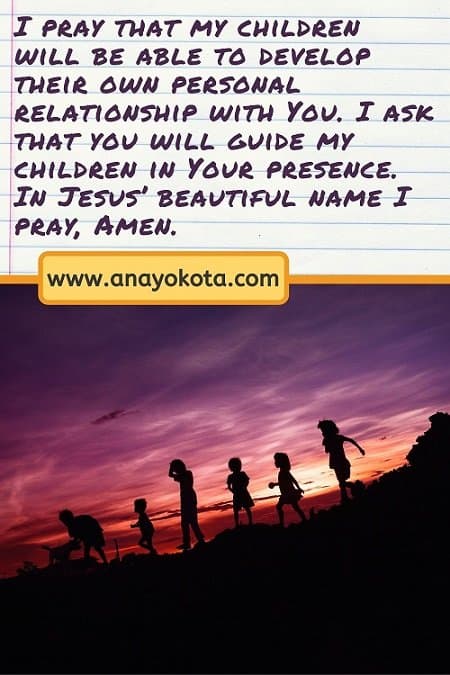 Dear Heavenly Father, I pray Your truth to be known in my child. I pray that my children will understand and know that You are the key to hope, the key to life, and the key to eternity. I declare for the Holy Spirit to come and train my kid in wisdom, creativity, and love. With the questions that I am not able to explain as well, I pray that Your heart will permeate in our children so that they understand You are there for them no matter what. I pray that my children will be able to develop their own personal relationship with You. I ask that you will guide my children in Your presence. In Jesus' beautiful name I pray, Amen. 
Colossians 3:16 Amplified Bible
Let the [spoken] word of Christ have its home within you [dwelling in your heart and mind—permeating every aspect of your being] as you teach [spiritual things] and admonish and train one another with all wisdom, singing psalms and hymns and spiritual songs with thankfulness in your hearts to God.
Acts 16:31 New International Version
They replied, "Believe in the Lord Jesus, and you will be saved—you and your household."
PRAYER FOR CHILDREN'S PROTECTION
Lord God, thank You for blessing us with our children. Your great faithfulness is so overwhelming and so beautiful. Thank You for creating such a powerful plan for our children. I declare that as our child grows up to be the man/woman of God You've destined him/her to live, I declare for Your Holy Spirit protection over him/her You know my child better than I will ever know my kid. I declare my trust in You. Please give me wisdom to know how to love and protect my child the way that You've designed parenthood to be. I pray that no detail will go unnoticed because You will work all things for your glory. Thank You for the promises over my children's life. May they always praise You all the days of their lives. In Your loving name of Jesus Christ I pray, Amen. 
Romans 8:28 The Message
Meanwhile, the moment we get tired in the waiting, God's Spirit is right alongside helping us along. If we don't know how or what to pray, it doesn't matter. He does our praying in and for us, making prayer out of our wordless sighs, our aching groans. He knows us far better than we know ourselves, knows our pregnant condition, and keeps us present before God. That's why we can be so sure that every detail in our lives of love for God is worked into something good.
Isaiah 59:21 New Living Translation
"And this is my covenant with them," says the Lord. "My Spirit will not leave them, and neither will these words I have given you. They will be on your lips and on the lips of your children and your children's children forever. I, the Lord, have spoken!
PRAYERS FOR OUR CHILDREN'S FUTURE
Father God, thank You for all the plans that You have for our children to prosper them and give them a future of great hope. I declare Your goodness over my children's future that they may learn to live like You and love like You. Will You prepare their hearts to be obedient, faithful, and hopeful in your glorious works. I pray that my child will have great faith in You because they know that You are their security. May they always dwell in Your presence and prosperity. In Your loving name of Jesus I pray, Amen. 
1 John 3:3 The Message
But friends, that's exactly who we are: children of God. And that's only the beginning. Who knows how we'll end up! What we know is that when Christ is openly revealed, we'll see him—and in seeing him, become like him. All of us who look forward to his Coming stay ready, with the glistening purity of Jesus' life as a model for our own.
Psalm 102:28 New Living Translation
The children of your people
    will live in security.
Their children's children
    will thrive in your presence."
DAILY PRAYER FOR MY CHILDREN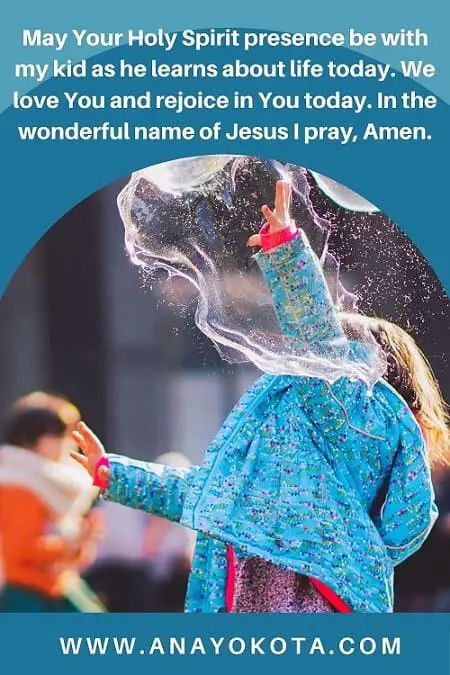 Dear Lord, thank You for giving my child good rest. I declare for a great day that is pleasing to You. Help my child to remember Your goodness where he/she goes. I pray that he/she will know between right and wrong. I pray that he/she will show kindness and compassion to other children. I pray that he will have respect and operate from a place of love and not fear. May Your Holy Spirit presence be with my kid as he learns about life today. We love You and rejoice in You today. In the wonderful name of Jesus I pray, Amen. 
Psalm 119:11 New King James Version
Your word I have hidden in my heart,
That I might not sin against You.
PRAYER POINTS FOR CHILDREN'S MINISTRY
Pappa God, thank You for the opportunity to serve in the children's ministry. I declare Your presence to be in this place as the future generation of world changers come to know You more. I declare that this place is Your home where hearts can come to trust You. I pray that kids will grow deep roots of understanding and intimacy with You. Thank You for your goodness and gentleness to come and meet these pure hearts here. I pray for Your comfort and love to disarm any fears. May they learn to love You and receive the blessings that You have instore for them. I pray that this place will be a safe place where the children will encounter You in ways that they've never experienced before. I declare Your joy in this place. In Jesus' loving name I pray, Amen. 
Ephesians 3:17-18 New Living Translation 
Then Christ will make his home in your hearts as you trust in him. Your roots will grow down into God's love and keep you strong. And may you have the power to understand, as all God's people should, how wide, how long, how high, and how deep his love is.
Isaiah 44:3-4 Amplified Bible
'For I will pour out water on him who is thirsty,
And streams on the dry ground;
I will pour out My Spirit on your offspring
And My blessing on your descendants;
And they will spring up among the grass
Like willows by the streams of water.'
PRAYER POINTS FOR OUR CHILDREN AT SCHOOL
Dear Jesus, I pray for our kids as they go to school to learn. I pray that wherever they go, they will have open and willing minds to receive great knowledge. I declare that You will protect their minds and that Your Holy Spirit will give the discernment to know what is Your truth and the world's truth. Please help them to be kind and loving to other kids and respectful to teachers. I pray that You will use them to bring Your kingdom on earth at school. Will You use them to bring Christ's love and be a witness of Your love. I pray that You will help them learn good social skills and build good teamwork. Please use the teachers to help them find a safe place to learn about their different subjects. I pray that our child will not be defeated by insecurities. Use our child to be a leader that stands up against bullies and any wrong action at school. We declare not only Your protection but also Your presence to be with our kid at school in the mighty name of Jesus. We pray all these things in Your name, Amen. 
Colossians 3:16 New King James Version
Let the word of Christ dwell in you richly in all wisdom, teaching and admonishing one another in psalms and hymns and spiritual songs, singing with grace in your hearts to the Lord.
SHORT PRAYERS FOR CHILDREN!
Dear Heavenly Father, thank You for this day. I pray that You will keep us safe and protect our health. In the name of Jesus I pray, Amen
Dear God, thank You for my mom and dad. Thank You for my family. I pray that You will help me listen well and be obedient to my parents. In the name of Jesus I pray, Amen
Dear Jesus, thank You for Your Holy Spirit always surrounding me. Please help me to be kind and courageous today. I pray that You will use me to show love towards others. In Your mighty name I pray, Amen.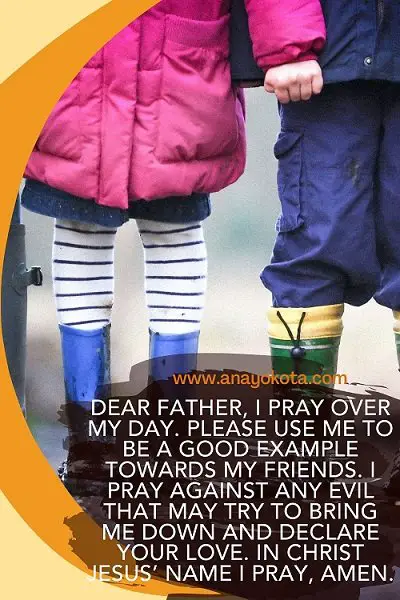 Dear Father, I pray over my day. Please use me to be a good example towards my friends. I pray against any evil that may try to bring me down and declare Your love. In Christ Jesus' name I pray, Amen. 
Exodus 20:12 Amplified Bible
"Honor (respect, obey, care for) your father and your mother, so that your days may be prolonged in the land the Lord your God gives you.
Proverbs 1:8-9 English Standard Version
Hear, my son, your father's instruction,
    and forsake not your mother's teaching,
for they are a graceful garland for your head
    and pendants for your neck.
Numbers 6:24-26 The Message
God bless you and keep you,
God smile on you and gift you,
God look you full in the face
    and make you prosper.
---
Let's show our future generations what means and looks like to declare prayer points for children. 
Children are precious answers to prayers and such powerful prayer warriors because of their sheer hope and faith in God. I believe it is important to continue a lifestyle of prayer with our children so that they are equipped and understand how to have their own personal relationship with Jesus. 
I hope this was empowering and effective for you. Do you have specific prayer points for children? Please share them with us below in the comment section. 
God bless.