This post may contain affiliate links. Please read my disclosure policy for more info.
Quench your thirst by making taro milk tea easily at home. Taro milk tea is sweet and nutty with the creaminess of your favorite milk combined with the richness of taro flavor. 
After spending what feels like thousands of dollars on this addictive beverage, I had to learn how to make it myself. Taro milk tea is one of my favorite refreshers during the summer as well as one of my favorite comforters during the winter. It can be consumed iced or hot, caffeinated or decaffeinated, toppings or without toppings. 
It turns out, the combinations for this drink are simple and very easy to make with just a few ingredients. If you're willing, you can certainly make taro milk tea from scratch, but as a busy body, I need something quick and easy.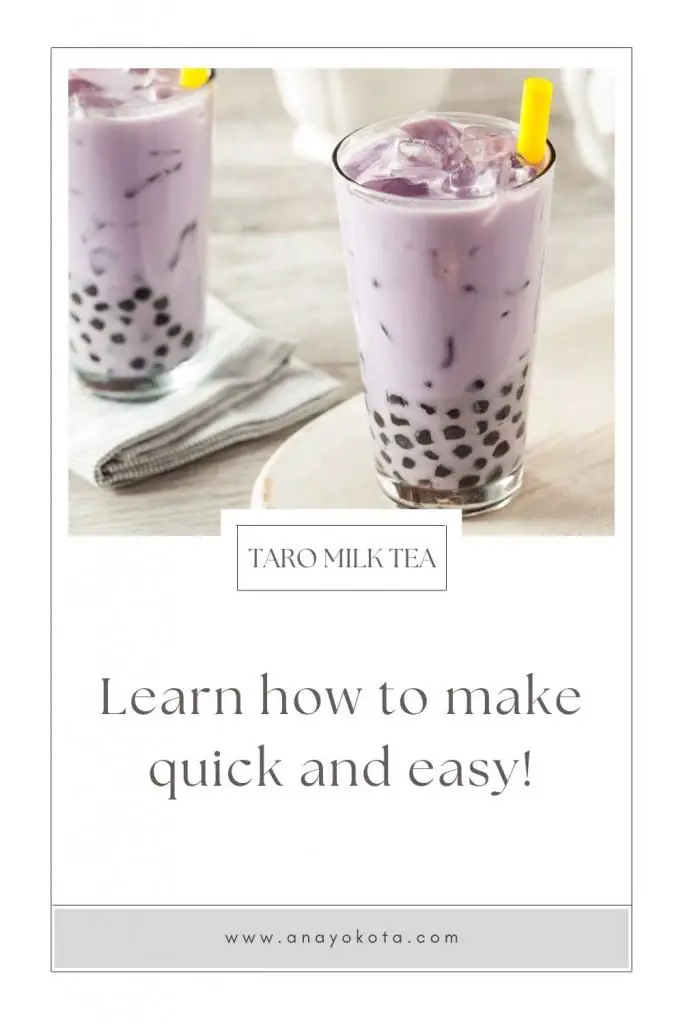 WHAT IS TARO MILK TEA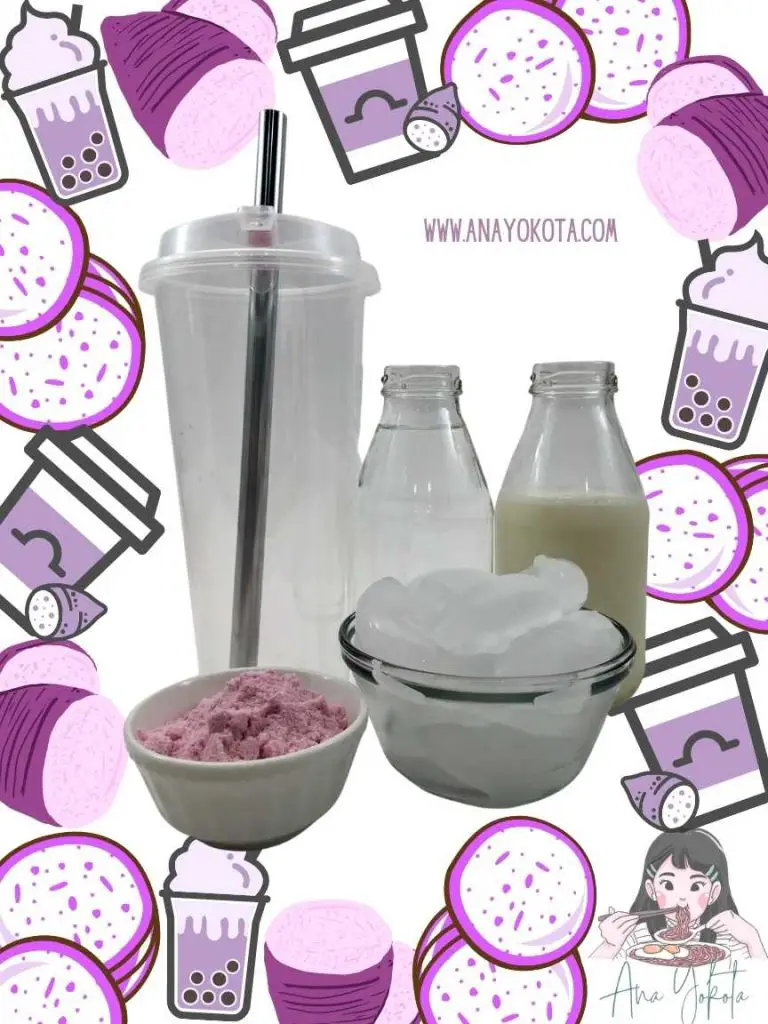 I first discovered taro milk tea after following a few of my friends to the new cafe in front of our church. I didn't even know what taro was, let alone the beverage. But soon after, I tasted this purple royal goodness and was hooked ever since. 
Taro milk tea is typically sold in boba shops using premade taro milk tea powder, nondairy creamer, along with optional add-ons (toppings) such as boba (tapioca pearls), egg pudding, or other delicious extras. Many places allow you to adjust the ice, sweetness, and even type of milk if the taro milk tea powder did not contain any dairy flavorings.
The texture of taro milk tea made from powder is creamy and the taste resembles a combination of purple yam (ube) and vanilla milk. I have seen people add caffeine by making it a "dirty taro milk tea," which is simply adding a shot of espresso. Another way to add caffeine is simply use a caffeinated tea base such as black or green tea. The taste changes slightly with the added earthy flavors but you'll still be able to enjoy the luscious taro flavor. 
Albeit taro milk tea powder may not be the healthiest option, it sure is the tastiest and easiest in my opinion.
HISTORY OF THE TARO BEVERAGE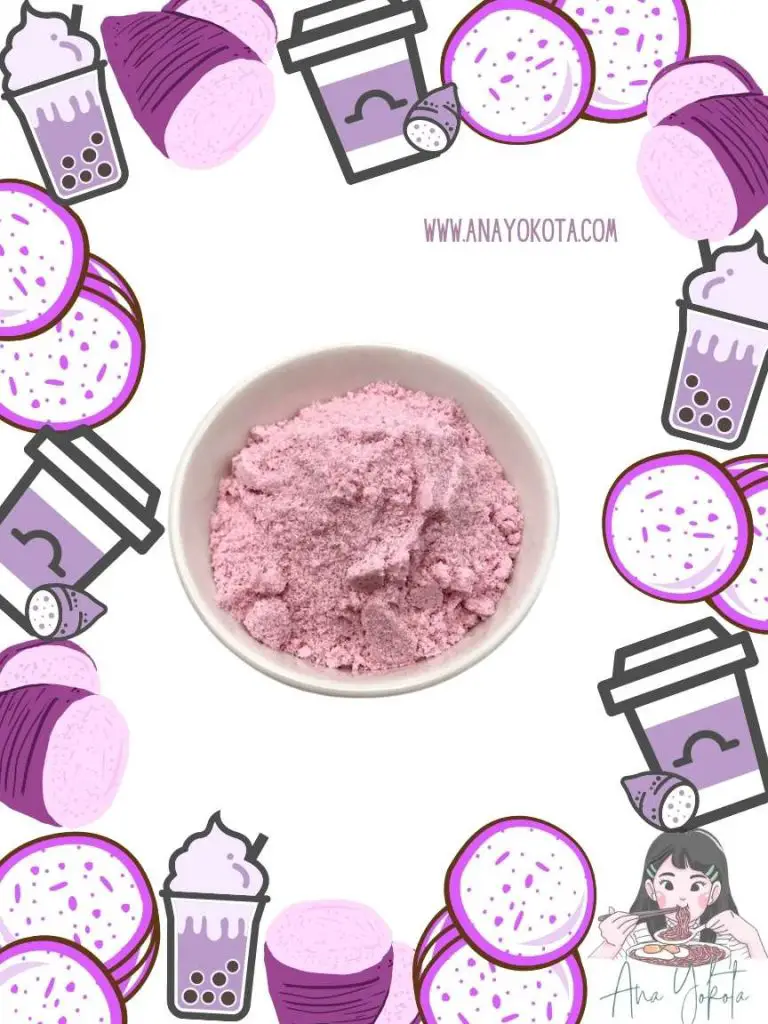 Taro is a root vegetable originally from southeast Asia (SOURCE). Contrary to the milk tea color, taro is not purple; it's actually an off white color. Taro milk tea powder manufacturers add food coloring and other ingredients to help enhance the taro look and flavor. 
Based on internet research, the majority of the articles I've read indicated that taro milk tea, specifically boba (tapioca pearl) tea, was first introduced in Taiwan in the 1980's (SOURCE). 
Since then, the taro milk tea taste has diversified itself from dairy to non dairy options across the most popular bubble tea houses across the world. 
TIPS FOR MAKING TARO WITH BOBA AND WITHOUT BOBA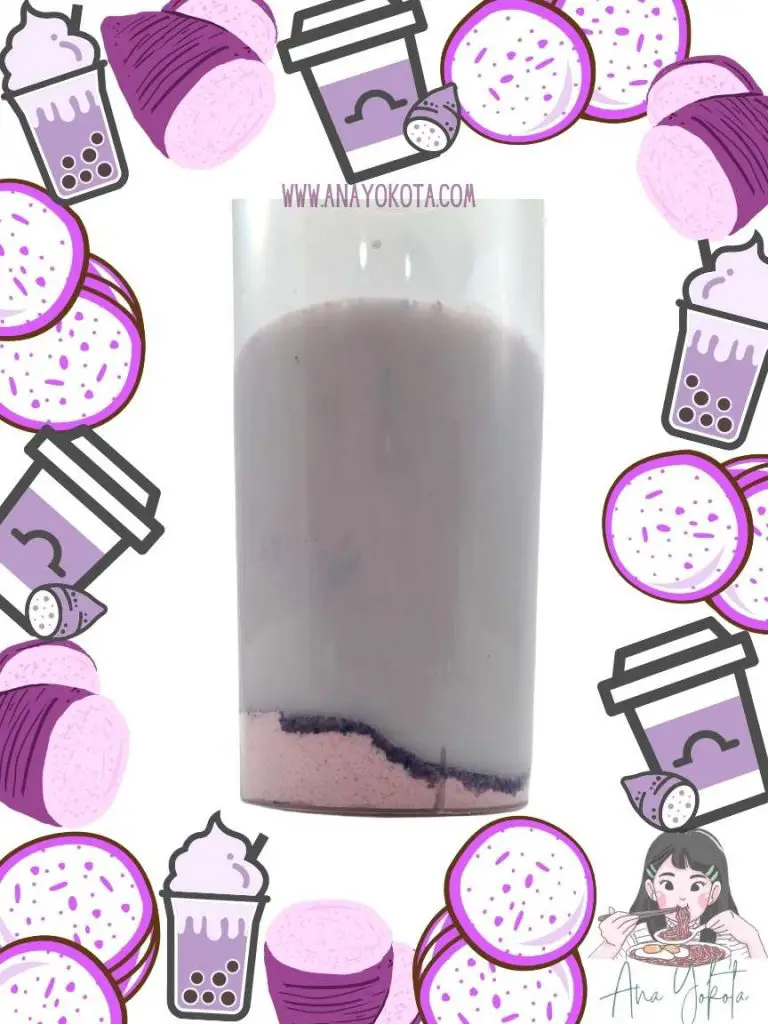 Taro milk tea is a great recipe to create with kids because it's safe and easy — especially decaffeinated. You can easily call this the purple boba tea (or purple bubble tea) and add your favorite toppings such as tapioca pearls, egg pudding or keep it simple. 
As mentioned earlier, taro milk tea can be made in a variety of different ways. The easiest method is to just add water. However, to add a little umph and zhoosh to this homemade version, add either whole milk or cold black tea for the liquid base. 
Though I have a sweet tooth, I do not like my taro milk tea too sweet. My recipe's sweetness is similar to 50-75% sweetness at a bubble tea shop. Some people call this standard of sweetness "Asian sweet" because it is considered less sweet than your typical western shake or smoothie. 
Additionally, I wanted to show how I make my milk tea without any add-ons to keep things simple and easy. If you want to add anything, no need to change the recipe, simply add and enjoy! 
FAQ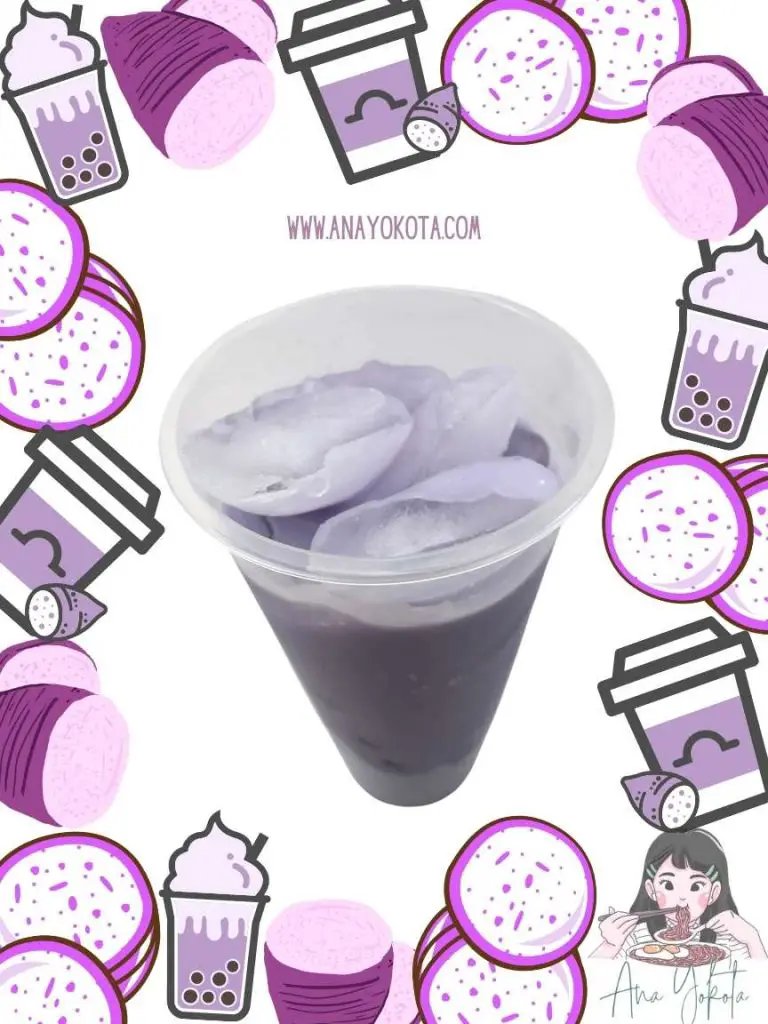 Is Taro Milk Tea Good?
If you like sweet potato or yam lattes, there is a very good chance that you'll enjoy taro tea. 
Is Taro Milk Tea Safe During Pregnancy?
According to Pregnant Plate, studies have shown that cooked taro is safe for pregnant women as it contains various nutritional components such as vitamin B-6, folate, riboflavin, and several other sources of valuable nutrients that contribute to a healthy growing baby. 
Is Taro Milk Tea Good For You?
If you're consuming it in taro tea powder form, I can't say in good conscience that it's good for you as it contains several artificial ingredients. On the other hand, taro milk recipe with real taro from scratch and milk (and/or tea) that is ethically sourced is a phenomenal way to consume a healthy and nutritious beverage. Out of transparency, I am by no means a nutritional expert. However, I have done my fair share of research to discover and educate myself on what is healthy for me. 
Is Taro Milk Tea Sweet?
Yes. Much like the sweet potato or yam, taro as a root vegetable has natural sugars. Combined with milk and other sweeteners, taro tea is typically known and a sweet beverage. 
Is Taro Milk Tea Vegan?
Taro milk can definitely be ordered and made vegan. Since taro is a root vegetable and alternative milks are readily available, you can easily create a vegan version of this creamy drink. 
Is Taro Milk Tea Caffeinated?
You can certainly create a caffeinated version by adding green or black tea as your liquid base. However, it is commonly sold as a non-caffeinated beverage because the liquid base is some type of milk. 
Is Taro Milk Tea Gluten Free?
Yes. However, always make sure when ordering the taro tea powder, you are reading the ingredients to ensure that no gluten fillers were used. 
Is Taro Milk Tea Dairy Free?
Dairy free options are available not only in stores but definitely when you make it at home. You can get really fancy and even add your own homemade milks such as almond, cashew, or oat milk. The tea powder that I use is dairy free as it contains non-dairy creamer. 
Where To Buy Taro Milk Tea Powder?
The easiest place to purchase taro milk tea powder in the states is either Amazon or your local Asian grocery store. The powder I gravitate towards is the one that pretty much has everything pre-made and all you need to do is add the liquid. 
LEARN TO MAKE REFRESHING TARO MILK TEA
Course: Drinks
Cuisine: Asian, Taiwanese
Difficulty: Easy
Ingredients (non-caffeinated version)
4 tbsp – taro milk tea powder

¾ cup – Lukewarm water

½ cup – milk of your choice (whole milk pictured)

1 ½ cup – ice

INGREDIENTS (CAFFEINATED VERSION)

4 tbsp – taro milk tea powder

¾ cup – extra strength black or green tea (you can even use coffee)

½ cup – milk of your choice (whole milk pictured)

1 ½ cup – ice

OPTIONAL ADD-ONS (TOPPINGS)

¼ cup – cooked boba (tapioca pearls)

¼ cup – egg pudding 
Without toppings instructions
In your serving cup, whisk the taro milk tea powder and warm water together until well combined
Stir in the milk of your choice
Mix in the ice
Enjoy!
WITH TOPPINGS INSTRUCTIONS
In your serving cup add in your optional toppings and set aside. (If you are wanting taro bubble tea, simply add cooked tapioca pearls.)
In a separate cup or shaker, mix the taro milk tea powder and warm water together until well combined
In the same cup, mix in the milk and ice
Pour the milk mixture over the serving cup that was set aside
Gently stir and enjoy!
Notes
Taro milk tea is so versatile with its toppings that you can virtually add any popular topping of your choice such as red beans, agar agar jelly, and much much more!
If you would like to learn how to cook tapioca pearls, please let me know in the comments. The recipe is very simple but it can be challenging if it's not tempered correctly or you will have hard, rubbery boba. 
Asian beverages are taking the world by storm and I love exploring new recipes in the kitchen such as Fresh Korean Strawberry Milk or Addictively Dangerous Peach Soju! Peach soju is a fruity cocktail that is dangerously refreshing for that perfect summer drink. What is your favorite Asian drink?