This post may contain affiliate links. Please read my disclosure policy for more info.
Valentine's Day may be all about grahams and confessions of love, but it is also filled with tons of fun history and Valentine's Day trivia!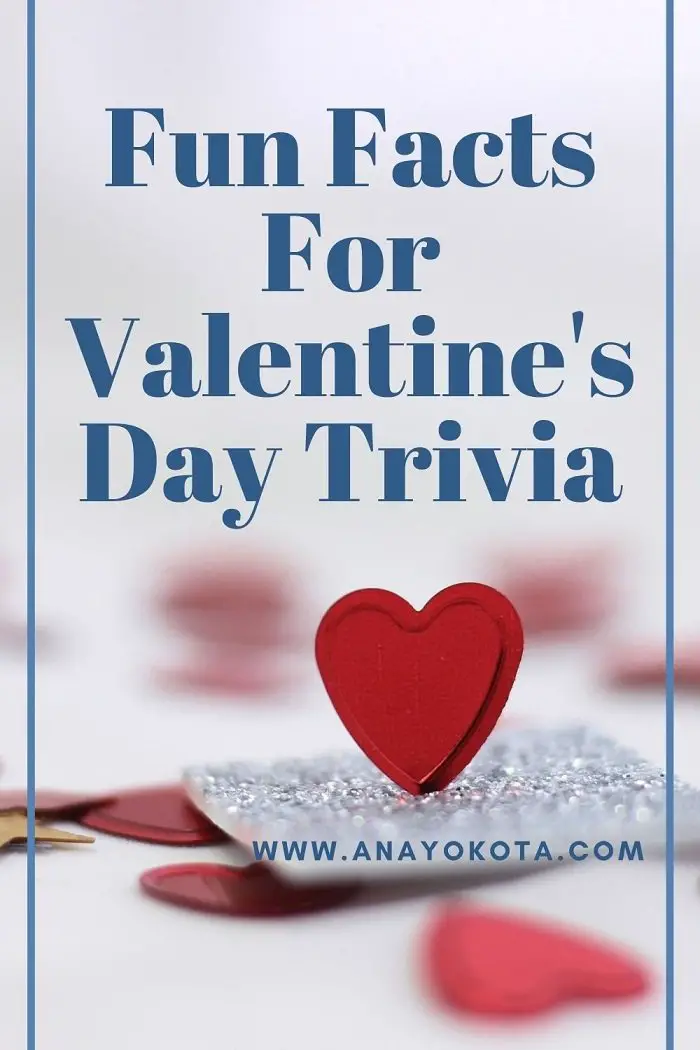 Although the origin of Valentine's Day has some dark roots, call me a hopeless romantic, but I absolutely love modern Valentine's Day. Even though I acknowledge the commercialism behind this celebration, it makes me happy to find another reason to propose giddiness and love to my friends and family. 
From the fresh cut blooms to the endearing handmade sweets. Even as an adult I indulge in all the commercial festivities and deliver sugary bliss to my friends and family — not to mention, my husband. 
To commemorate this lovely celebration, I dug a little deeper and compiled fun facts about Valentine's Day as well as Valentine's trivia questions and answers. You can use these fun facts about Valentines Day to play a game at school or for a fun game night with your kids. 
From jaw dropping truths to the warm and fuzzy facts, I hope you enjoy these interesting facts about Valentine's Day.
TABLE OF CONTENTS
VALENTINE'S DAY FACTS AND HISTORY
Cupid's Parents. Cupid (aka: Eros, the god of love) was first told to be mentioned by Hesiod (circa 700 B.C.). However, his origin has various theories. Hesoid stated that he was born to the world from an egg. But other historical claims state that his lineage comes from Nyx and Erubus, or Aphrodite and Ares, or Iris and Zyphrus, or Aphrodite and Zeus (SOURCE). The most popular claim votes that Cupid's mother is Aphrodite and father Hermes. 
1916. The first year Hallmark began to massively manufacture Valentine's Day greeting cards (SOURCE). 
Why February 14th? Much like Cupid's origin, this day of romance has several opinions on who or when it began. The most popular story explains that Valentine's Day was first associated with February 14th as Saint Valentines Day during the High Middle ages, which evolved into a day for people to express their love through flowers and sweets (SOURCE). 
Candy Hearts. According to Better Homes & Gardens, Daniel Chase was the original founder for printing words on New England Confectionery Company (NECCO) candy. He was also the brother of NECCO's founder. In order to keep up with the annual demand, NECCO produces over 8 billion pieces of candy hearts each year (SOURCE).
2010. "In 2010, for the first time in 145 years, the company discarded all of the sayings for the conversation hearts and created a new line with expressions selected by the public." (SOURCE)
Longest Marriage. According to the Guinness World Records, American couple, Herbert Fisher (born on June 10, 1905) and Zelmyra Fisher (born on December 10, 1907) were married on May 13, 1924 in North Carolina, USA. They had been married 86 years, 290 days until Herbert Fisher passed away on February 27, 2011 (SOURCE). 
VALENTINE'S TRIVIA QUESTIONS AND ANSWERS
How many roses are grown for sale on Valentine's Day alone? 
Over 250 million roses are estimated to be grown for sale on Valentine's Day alone (SOURCE).
How many greeting cards are exchanged for Valentine's Day? (this excludes the packaged kid's valentines for classroom exchanges).

Approximately 145 million Valentine's Day cards are exchanged industry-wide (not including packaged kids' valentines for classroom exchanges), making Valentine's Day the second-largest holiday for giving greetings cards (SOURCE).

How does South Korea celebrate Valentine's Day?

For South Koreans, Valentine's Day is when women shower men with chocolates (SOURCE).

What country produces the most chocolate for the world?

Belgium produces about 35% of the world's chocolate, while the United States accounts for approximately 30% (SOURCE). 

What is the most popular Valentine's Day gift in the U.S.?
What part of the human body was once believed to be the center storehouse of memory? 
Who is Cupid's mother? 
In what form did John Cadbury first sell its chocolate? 
What does the X and O represent in "XOXO"? 

Hugs and kisses. X = kisses; O = Hugs (SOURCE). 

Approximately how many people propose on Valentine's Day in the United States? 
How and why does Cupid use his bow and golden arrows? 

Pierce hearts to alter their emotions of love (SOURCE).
---
You may see those red roses and candy hearts a little differently now with these fun facts about Valentine's Day. 
Another fun and easy way to incorporate the Valentine's day spirit is to create valentine's day trivia kids every day for 14 days leading up to February 14th. Make it the "fun fact for the day." Or make a fun date night topic with your special love bug.
Did you find any of these Valentines Day facts fascinating? Let me know if you like these types of posts in the comments below.