This post may contain affiliate links. Please read my disclosure policy for more info.
What is White Day in Korea? The name itself doesn't give you any indication of what it could mean, what is celebrated, or who should observe it. Read on to find out more.
When I was 14, I studied abroad in South Korea for a while.
During my first year there, I was so excited for Valentine's day because everyone that I knew back in the States always handed out cute little cards with sweets.
Excited to experience the same giddiness that comes with this love holiday, I was confused when things looked differently.
Only the ladies handed out chocolates and no one exchanged cute card messages – not even the kids at church!
I quickly learned that Valentine's Day was celebrated differently in Korea.
Then something super unique happened. White Day. Another love holiday? What is White Day in Korea?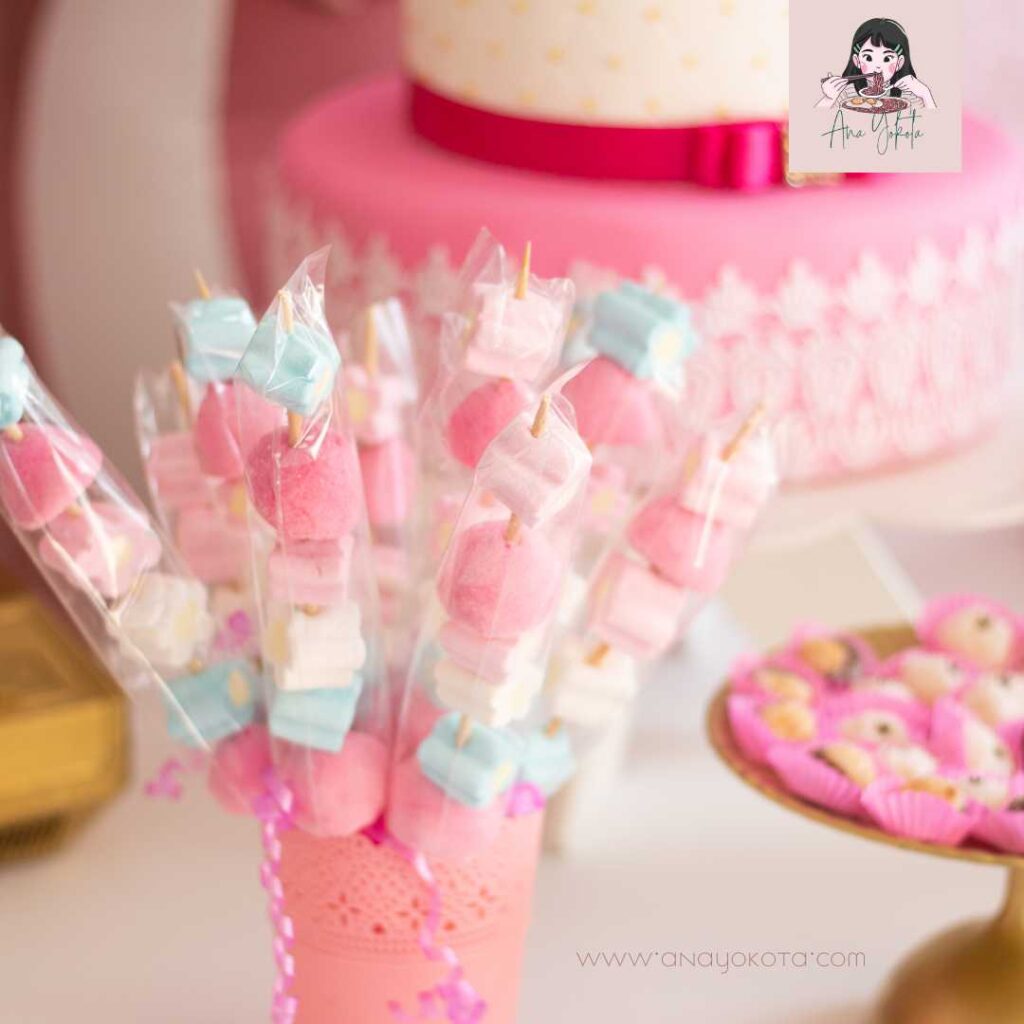 In reality, White Day is a sweet, meaningful celebration that is worth understanding. Korea isn't the only country that celebrates it; many have found it to be a lovely – and often appropriate – response to Valentine's Day.  
Intrigued? Read on to find out precisely what White Day is.
To learn more about Korean holidays you may enjoy learning more about
Doljanchi – Have you heard about the biggest birthday celebration in Korea? It's a child's first birthday. Click to learn more about how Korean's celebrate the first birthday
What Is The Meaning of White Day?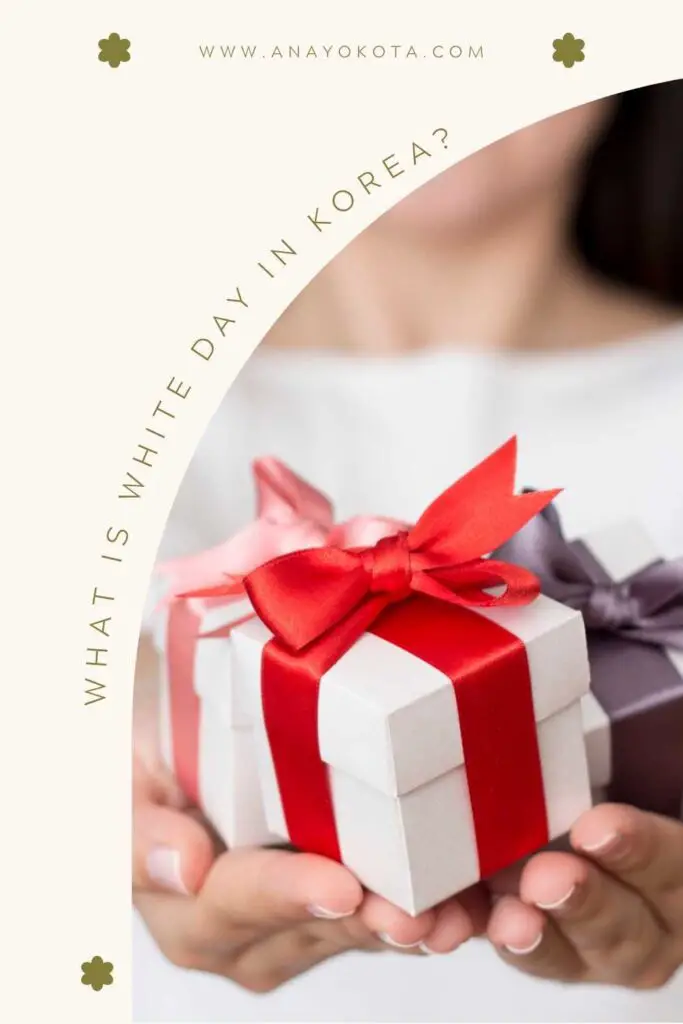 White Day is one of a series of special days observed in Korea that relate to love.
It follows on Valentine's Day, which – although celebrated in Korea – is observed a little differently than in the rest of the world.
Whereas Valentine's Day is globally seen as more of a celebration between partners in a relationship.
In Korea, it was traditionally celebrated by women giving beautiful chocolates to men as a sign of affection.
Over time this has changed a little where women give more than just chocolates but also gifts as a confession of their affection.
As a result, White Day was born as a response to the traditional celebration of Valentine's Day.
On White Day, the men who were gifted tokens of affection for Valentine's Day have the opportunity to reciprocate.
It's celebrated a month after Valentine's Day on March 14th and shows appreciation, admiration, and affection for the partners who made their feelings knowns on February 14th.
Often times, I would be asked if gifts and sweets can be exchanged casually in Korea on White Day much like how kids in America would exchange cards and sweets on Valentine's Day.
The short answer is yes.
But in the past, (as mentioned earlier) the White Day meaning was to allow men to reciprocate their love and affection back to the women who confessed their feelings a month before.
Nowadays, men use White Day to not only reciprocate affection but also confess their feelings to women who may not have given them anything on Valentine's Day.
Furthermore, close friends give each other gifts casually, too.
For me, call me a sucker for commercial holidays, I love any excuse to celebrate relationships – romantic or platonic.
I've always given cheesy cards and candy to my coworkers and even colleagues during college.
Everyone knew my intent wasn't romantic; rather, it was simply a way to bring happiness to their day (think back when you were a child handing out Valentine's to your classmates).
Similarly, during my tenure in Korea (both as a student and as a professional) I still gave out chocolates during Valentine's Day and fun candy on White day because I just wanted to celebrate.
Others did as well.
I received white day gifts from my male friends knowing that it didn't mean anything romantic.
It was more like a simple gesture of appreciation for our friendship.
What Is White Day and Black Day In Korea?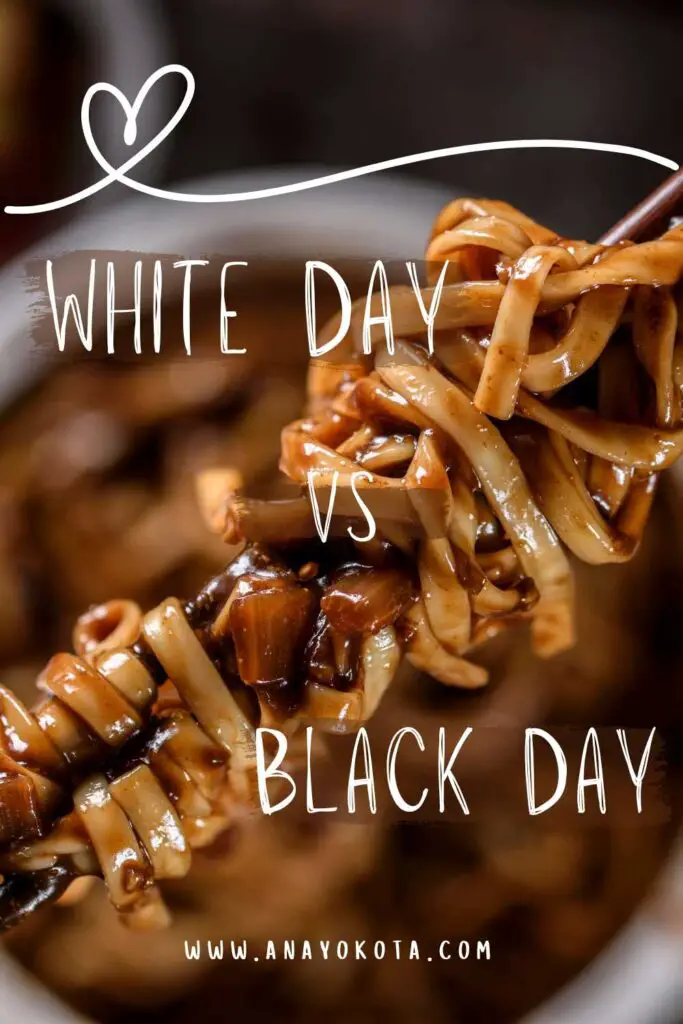 White Day and Black Day are special days observed in Korea that form part of a series of celebrations throughout the year, falling on the 14th of each month.
Some days are more popular than others and include such celebrations as Korean Kiss Day in June and Hug Day in December.
White Day and Black Day relate more directly to Valentine's Day and have been popularly celebrated since the late 70s in Korea.
Where White Day is the so-called 'answer' to Valentine's Day, Black Day is for those who didn't receive a gift on Valentine's Day or White Day.
On Black Day – which is observed one month after White Day on April 14th – all the single people come together and have a meal of jjajangmyeon noodles (otherwise known as black bean sauce noodles).
Black Day recognizes that not everyone is in a relationship.
While some feel it is a little depressing to celebrate being alone, Black Day has become a time when singles can also lament this fact to each other – or make jokes and commiserate together while eating black-colored food.
I never dated while I was in Korea, so this was a perfect holiday for me to have fun with my single friends and eat delicious noodles.
Black Day Korea was a reminder that I was single, but also a fun and inadvertent reminder that I was so blessed to be single and explore new relationships.
In many ways, then, White Day and Black Day are opposites of each other, but neither exists in isolation from Valentine's Day.
Why Is It Called 'White Day'?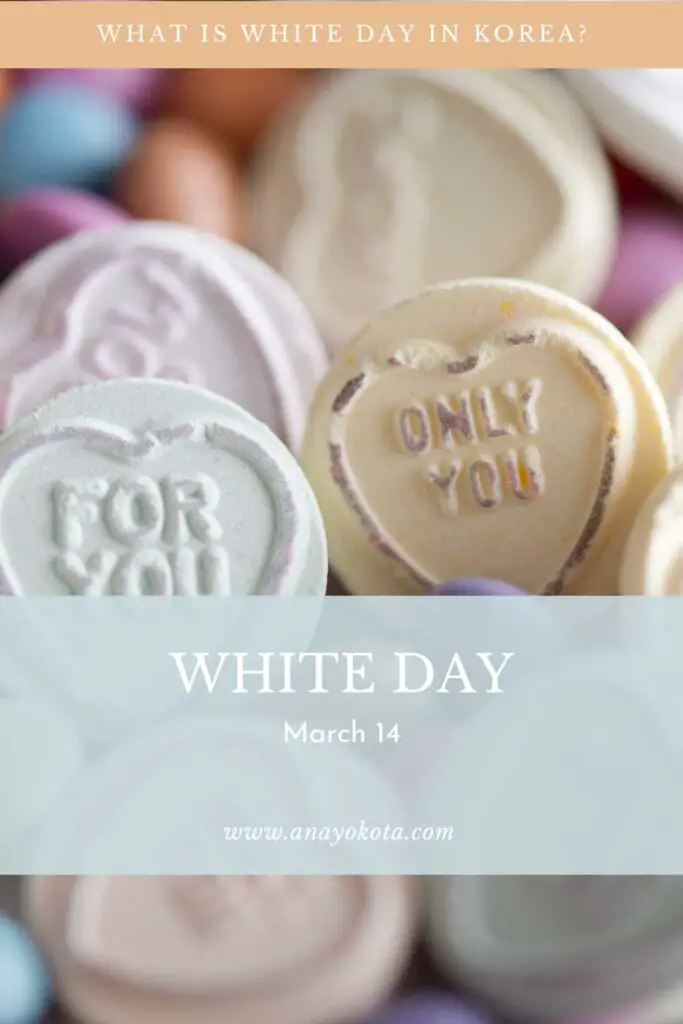 The name 'White Day' originated when a confectionary company started marketing marshmallows to men as a way of giving their admirers an answer.
No doubt, this was in response to ladies giving gifts on Valentine's Day as a means of making their feelings known.
The initial idea was for the person who received the Valentine's gift to confirm their feelings for the gift giver by giving them a gift, too – and in this case, it was fluffy white marshmallows.
As the trend gained traction, other companies began marketing 'answer gifts' modeled on this format too, and white chocolate and candy became synonymous with the special day.
Chocolate wasn't the only gift of choice, but gifts given on this 'answer day' used to be primarily white: white candies, white flowers, white lingerie, and so on.
Hence, it became known as White Day and it's remained relatively popular over the years.
Some things have changed a little, and there's less emphasis on the gender of the person giving and receiving gifts and more on the act itself.
It's also now become accepted that gifts don't have to be exclusively white.
As such, dark chocolate, jewelry, colorful candies, bright flowers, and items of sentimental value are common gifts.
I loved the idea of giving candy to my male friends on White Day.
So, I would go to the candy store and buy long stem candies (that look like a long stem flower) and purchase a variety of colors.
Giving cute notecards could send the wrong message in Korea – especially if you're not close – so I chose to just give everyone colorful candy.
How Do Koreans Celebrate White Day?
To understand how Koreans celebrate White Day, knowing that Korean Valentines Day sets the tone is essential.
Traditionally speaking, women were the ones to make the first move by gifting the person they cared for something special on Valentine's Day.
Although these days it's no longer limited to just ladies making the first move, White Day is when the receiver of the gift – whomever they are – answers that person with gifts of their own.
On March 14th, the person who had previously received a gift will give gifts to others, and emphasis is naturally placed on those who are in love or those that may have a romantic interest in each other.
Still, people, like me, are known to give platonic gifts of appreciation or courtesy on this day, which includes gifts to friends or co-workers.
With so many options available for what to gift someone, a guiding principle called "triple the return" is unofficially used as a guide for deciding on a gift with an appropriate value.
This suggests that the return gift given on White Day should be triple the value of the gift received on Valentine's Day.
This is especially significant for those who are in a romantic relationship, as the gifts may be seen as a token identifying the magnitude of that person's interest.
But remember, Korean's aren't shallow and we don't sit there googling the price of a gift to see if its triple the price.
Many are just grateful to be able to celebrate relationships.
I've received and given gifts that were never triple the cost from whatever was given on Valentine's Day.
However, as cheesy as this may sound, the value wasn't as important as the person's intent.
When someone is genuine, I believe it matters more about a person's heart rather than the price tag.
White Day vs Valentine's Day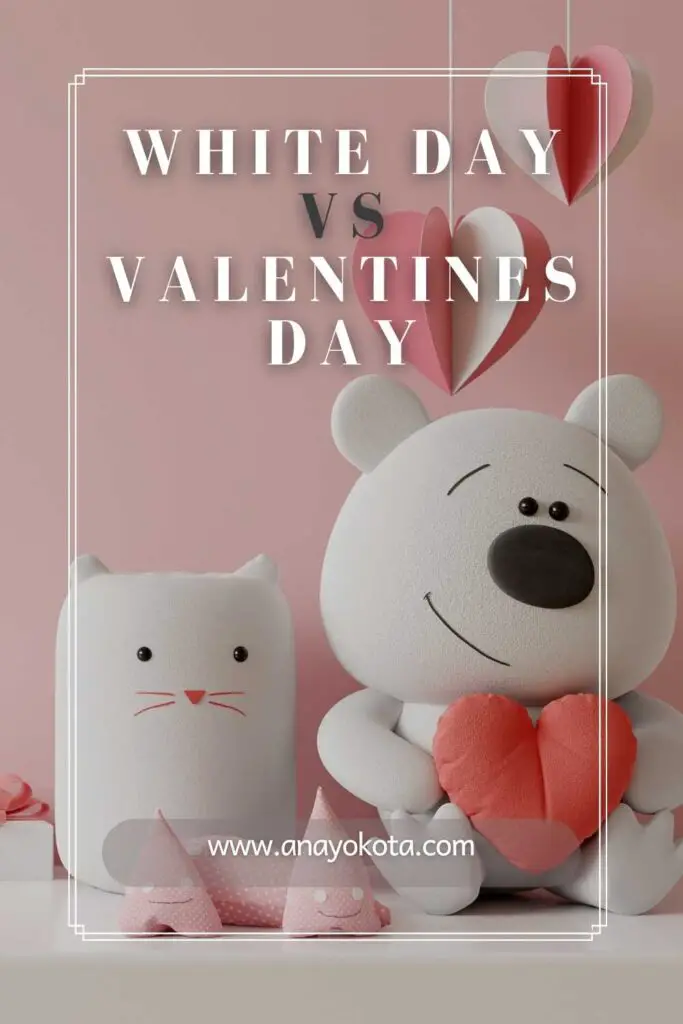 In order to make sense of White Day, you have to understand the background of how Valentine's Day was celebrated in Korea.
Valentine's Day is an opportunity for secret admirers to make their feelings known or for partners to lavish their affections openly on their significant other.
In Korea, Valentine's Day was for women to declare their affection for someone openly or to celebrate their love for their partner.
White Day follows this and allows that partner to confirm his interest and communicate his affection for them.
While Valentine's Day stands on its own as an opportunity for people to show their affection for one another, White Day depends on Valentine's Day for meaning.
Without Valentine's Day, no 'return gift' can be given on White Day.
They are similar in the act of gifting something to someone you care for – and love remains a common theme.  
Some may suggest that such celebrations are simply an opportunity for companies to make money off people by encouraging them to spend money on gifts.
Considering there are twelve such holidays celebrated in Korea, it may logically seem so.
But the idea of showcasing your love for another is an idea that surpasses time, and so it remains. Happy White Day.
Closing What is White Day in Korea
White Day is seen by some as the confirmation of affection or love because it is the answer to Valentine's Day gifts from those making their feelings known.
However, White Day is also seen as a way of simply sharing appreciation and affection in a non-romantic way.
In either case, the celebration of connection to other people is particularly sweet and touching.
I'm going to say it again, I actually really like commercial holidays because it's a fun way to celebrate relationships.
We are reminded that love can be celebrated any day of the year.
No one needs a holiday to show appreciation but it sure is nice to use a day to make someone feel a little extra special.