This post may contain affiliate links. Please read my disclosure policy for more info.
Koreans love Winter picnic Food and eating outside, even in the chilly, snowy winters. What are the best foods to enjoy at a winter picnic? Continue reading to find out more.
Picnics are a way of life in Korea, brought to life in many K-dramas. Fans love the romantic picnic aesthetic with a beautiful couple eating cheese and fruit on a checked tablecloth by the river.
But there's more to Korean picnics. Whether a quick snack bought nearby and eaten in the park or a BBQ while hiking in the mountains, the delicious food is what makes a picnic great.
Even during the cold winter months, you can see families take picnicking to the next level where they bring out portable bonfires and heating pads to enjoy the winter festivities. In many instances, I've even stepped up my camping menu by subbing it with warm and easy to eat winter picnic food.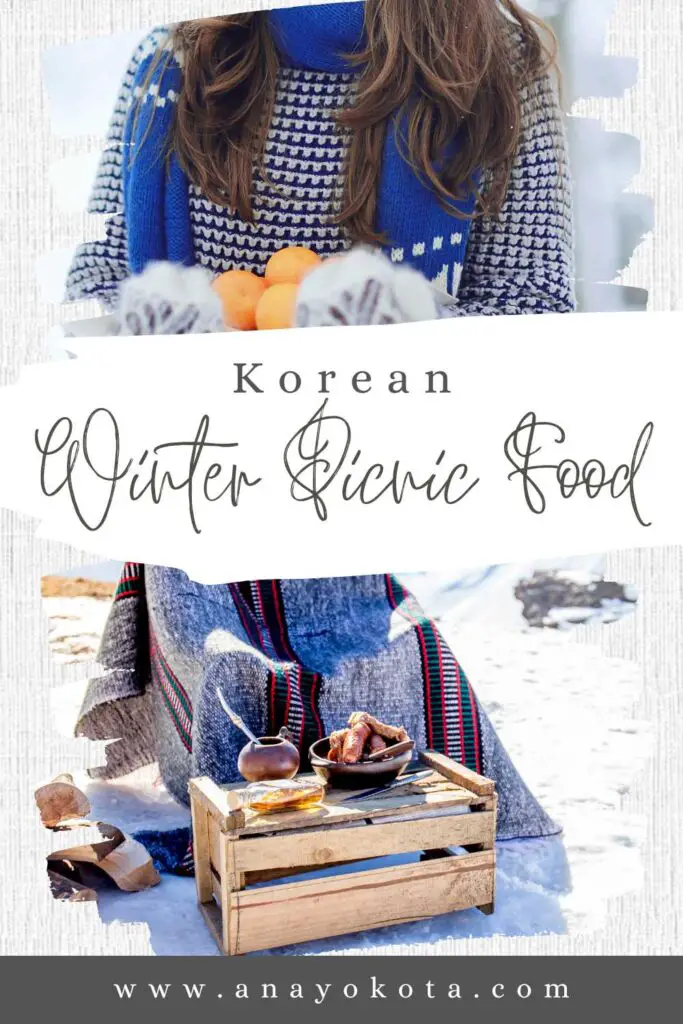 Let's look at the best winter picnic food.
Winter Picnic Essentials
You've packed your picnic mat and tent, wrapped up warm, and got some friends together, heading to the Yeouido Han River Park. You can rent a little table with fairy lights when you get there if it's a grey day or evening. What other essentials do you need?
Before we get into the food, I strongly recommend anything that can keep you warm and portable. Heating pads (the ones you can just shake and activate the heating beads are great), warm clothes (mittens, gloves, scarves, and of course blankets), as well as hot drinks to keep you nice and cozy.
김밥Kimbap (Rice Rolls)
No Korean picnic, whatever the season, is complete without kimbap (or gimbap), the Korean equivalent of a sushi roll. These delicious rice rolls look like large sushi rolls but can be filled with anything from cream cheese and veggies to tuna, crab, or meat. A typical picnicker will pack some snacks stuffed with their favorite filling or order gourmet kimbap from a restaurant.
For the ultimate convenience, I love taking Triangle Gimbap. These are essentially triangle shaped gimbap with one or two simple fillings. They are super easy to make and eat.
라면 Ramen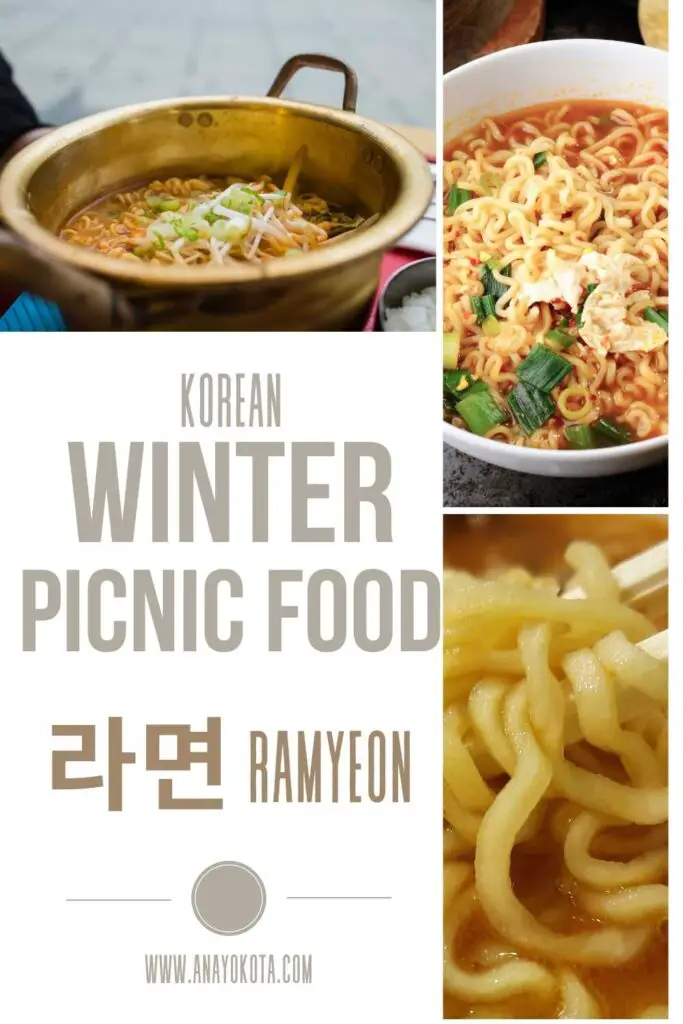 Korean winters are cold, with snow a possibility. Even the warmest dressed picnicker will need hot picnic food ideas such as the iconic Korean ramyeon (instant ramen). Any nearby Korean convenience store will have ramen stations where you can make a bowl of these spicy, steaming noodles.
If you live outside of Korea, the best place to find instant Korean noodles is the Korean grocery store. They sell them a la cart or even in boxes. I like to get mine in boxes because it's cheaper.
프라이드치킨 Fried Chicken
Another winter picnic staple is fried chicken. Koreans don't usually make this at home. Instead, they will order takeout and have it delivered to their picnic spot by bicycle. In Korea, you can also order beer or other popular Korean drinks to be delivered alongside your wings and drumsticks.
호떡 Hotteok (Pancakes)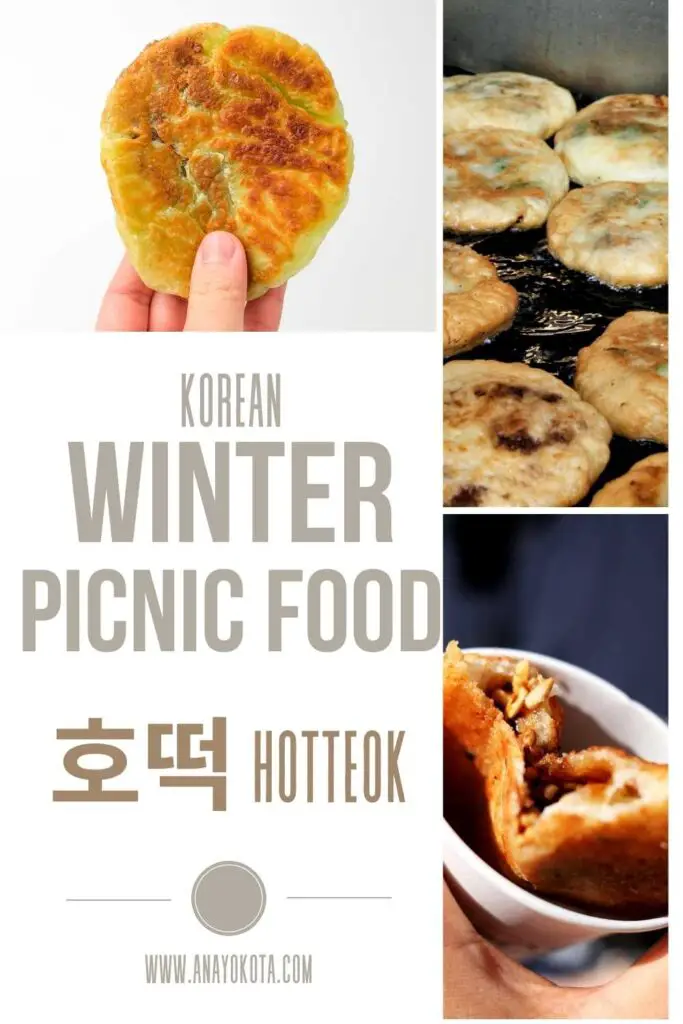 Sweet and warm picnic food ideas is one of the delights of the Korean winter. If you visit a street market, you can pick up some fresh hotteok to snack on as you wander through the park to your picnic spot.
These sticky creations combine a donut and a pancake stuffed with syrup, cinnamon, and nuts. You'll want to gobble down the hot, crunchy dough but simultaneously keep it in your hands to warm your icy fingers.
My all time favorite hotteok is from Busan called 씨앗 Si-at Hotteok. This is by far the best because they are stuffed with sweet nuts and seeds with honey in the center. I'm drooling just thinking about it.
Make sure you grab two of these because I don't know how you could ever stop at one.
군밤Gun-bam (Roasted Chestnuts)
Wandering through Seoul's streets, you'll notice vendors roasting chestnuts over open fires. Treat yourself to a bagful to enjoy at the picnic. The roasting process softens the nuts, revealing their creamy, nutty wholesomeness.
군고구마 Gun-goguma (Roasted Sweet Potatoes)
Alongside the chestnut roasters are grills where sweet potatoes or yams are roasting. They're served whole in a paper wrapping, and the smell is so tempting that you'll tear it open to snack on the mouth-watering orange vegetable inside.
The humble sweet potato has been a favorite to many because not only is it cheap but super filling. Moreover, these little beauties keep you warm til the very end making them also perfect for winter picnic date ideas.
막걸리 Makgeolli (Rice Wine)
This picnic staple is drunk chilled all year round. Rice wine is available at all convenience stores for those who want a lighter, more refreshing option than beer.
Winter Picnic Food Ideas For Couples
Korean dating culture is so romantic and fun. Picnics are a classic date, made even more popular by their appearance in K-dramas. Carefully curated and staged picnics are the stuff of Instagram, so a selfie stick is essential.
Usually these iconic picnic dates are during major holidays. I hope that adding this list to your Christmas picnic ideas can help you set up for success.
Popular spots for picnic dates include the Haneul (Sky) Garden in the World Cup Stadium, where the silver winter grass is famous. The Hangang River promenade is another ideal couple picnic spot where couples can take a romantic stroll and hold hands to keep each other warm.
Preparing a cute doshirak for your partner is picnic date etiquette. What should you include in the lunchbox besides the ubiquitous kimbap and soft drinks?
주먹밥 Jumeok-bap (Rice Balls)
Another variety of rice balls is either covered or mixed with dry seaweed. The rice is often mixed with tuna mayonnaise, beef bulgogi, or ham and veggies.
I personally like my jumeokbap vegetarian because I almost always will have a meat side to help balance out the meal. When making a picnic in the winter, it's important for my house to keep things simple and easy to make.
My son loves these all year round. But I think his favorite is the autumn picnic recipes where I will add various squashes and sweet potato to the rice balls.
유부초밥Yubuchobap (Tofu Rice Balls)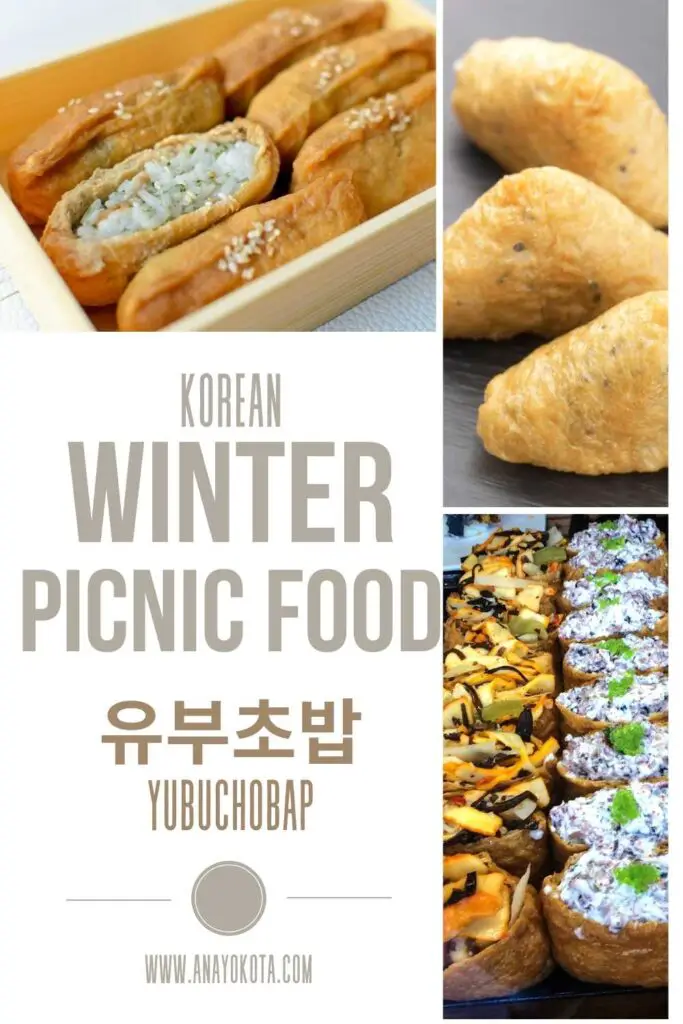 These stuffed tofu rice balls have been known to be the best breakfast picnic foods or anytime during the day – really. Yubuchobap is quick and easy to prepare, making ideal tiny snacks to feed one another. They're delicious, too, combining vegetables, vinegar, rice, and a wrapping of fried tofu.
The wonderful thing about yubuchobap is that you can make them in advance and can be eaten warm or cold. If you're looking for cold picnic recipes, the next idea is perfect for you.
감자샐러드Gamja (Potato) Salad
You can eat this separately as a salad or spread it on some fresh bread. Korean potato salad is very different from chunky American-style potato salads. Instead, the potato is mashed and mixed with fruit (e.g., apples, raisins), raw vegetables (think carrots and cucumber), boiled eggs, or ham. The dressing is made of mayonnaise and rice syrup.
Even though gamja salad is cold, it is an iconic picnic food staple that everyone loves as it covered an array of mouth-watering flavors.
Fruit Sandwich
If you're looking for more cold food picnic ideas, whipped cream fruit sandwiches are perfect. These sandos are both beautiful and delightful to eat. Ideally made with tender milk bread, the sandwich is filled with whipped cream or cream cheese and delicately sliced fruit.
Try strawberries, kiwi fruit, or pineapple for a lush dessert. My go-to is strawberry because I love the combination of the sweet strawberries and fluffy whipped cream.
호두과자Hodu-Gwala (Walnut Cookies)
This winter street food adds a sweet touch to a winter picnic. Not only are they filled with crushed walnuts and red-bean paste, but these round soft cookie balls are also baked in special walnut-shaped molds.
Winter Picnic Ideas For Family
The family-friendly Yeonghwa Park is ideal for a winter family picnic, with playgrounds for the little ones, tables and chairs for the adults, and stores nearby to order noodles and chicken. Another great idea for family picnics is to order a customized picnic box filled with family favorites.
You can order picnic boxes from online retailers that are local to your location or simply go to a major Korean grocery store and purchasing your favorite doshirak (lunch box).
It's more economical to bring homemade food, though. Setting up a BBQ to grill meat is typical for Koreans outside the city or hiking in the Bukhansan National Park.
Korean moms may pack a lunchbox for their children. A traditional picnic doshirak could contain kimbap, a thermos container of rice, another of soup, and another filled with warm bori cha (roasted barley tea).
만두 Mandoo or Mandu (Dumplings)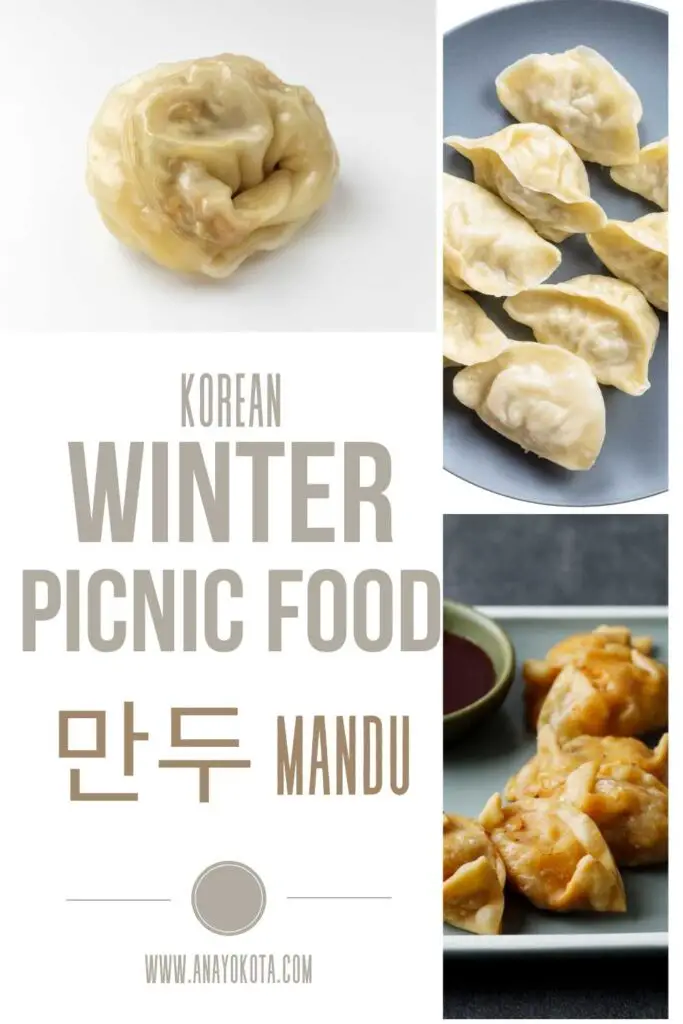 Homemade dumplings are a substantial snack, enough to satisfy the hungriest appetite. They make versatile picnic food, which you can customize for your family. Fill them with beef, pork, chicken, or vegetables. You can fry, boil, steam, or add them to a soup in a thermos. They are also tasty at room temperature.
They are not the easiest to make from scratch; so, I recommend purchasing it at a grocery store. These make making mandoo dishes such as mandu-guk (mandu soup) easy winter dinners.
계란말이Gaerin Mari (Omelette)
These rolled omelettes are handy as they're portable and easy to eat. Additions to the omelette are varied and can include diced vegetables, seaweed, ham, or cheese. Whatever the filling, Koreans love to dip their rolled omelettes in ketchup.
My mom and I are known for having a super high tolerance for all things spicy. So we like to add diced peppers (usually serrano chilis) to elevate the heat component.
쌈 Ssam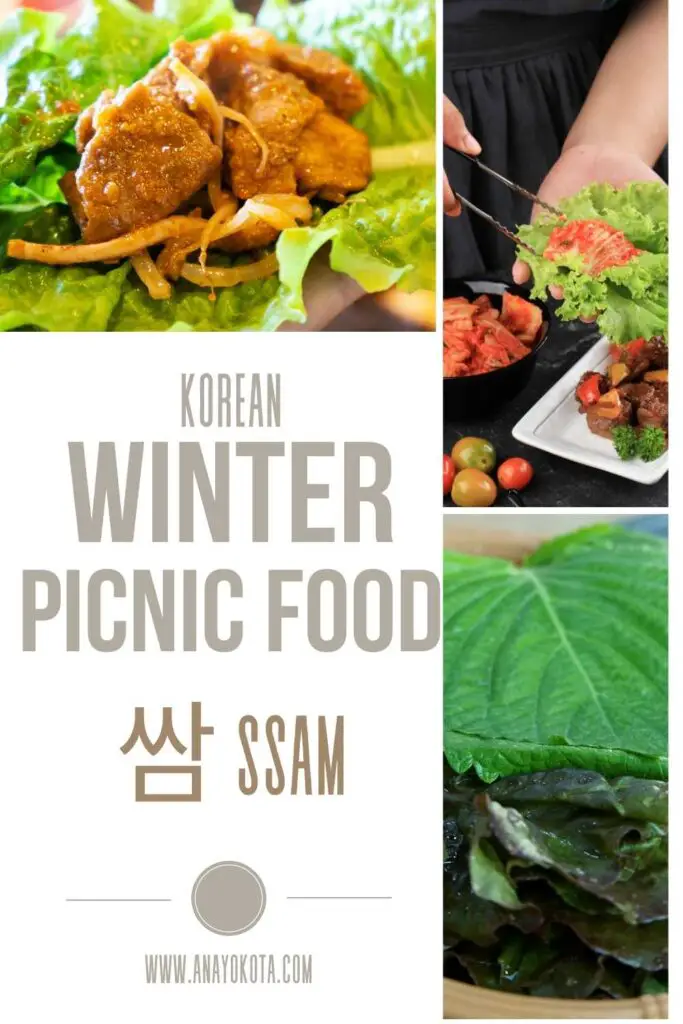 Ssam is a method rather than food. Anything wrapped in leaves, such as a lettuce wrap, would be ssam and described in terms of the filling. The most basic example is ssambap, where rice is wrapped in lettuce or spinach leaves. Sangchu, wrapped rice, pork, and kimchi, is popular, as is bossam, sliced pork, and vegetables. Be sure to pack these foods separately to stay fresh.
Usually ssam is known as food for beach outing. But if there's a hot grill keeping everyone warm, ssam is a fun for winter picnics.
Additionally, ssam is a great option for those seeking gluten-free picnic ideas because you can easily replace the meat and add all sort of veggies instead.
전 Jeon
Jeon are small pancakes or fritters made of meat or vegetables in a flour and egg batter. A lunchbox may contain jeon made with shredded beef (yukjeon) or green onions (pajeon).
A tiny container of spicy dipping sauce and a small cucumber salad are also packed. It's essential to pack jeon with a paper towel to soak up any excess oil from frying (it also helps keep the pancake from getting too soggy).
Indoor Winter Picnic Ideas
During the 2020 pandemic, indoor picnics at home became incredibly popular. Like a romantic winter picnic, home picnics are carefully curated for photographs.
Post-pandemic, restaurants have picked up on the trend and created indoor picnic areas ideal for winter, along with curated picnic baskets or lunchboxes. You'll find these in coffee shops or tea shops where you can also attend a traditional Korean tea ceremony.
Conclusion to the Best Winter Picnic Food
Whether outdoors, braving the cold, or indoors, snuggled up on a blanket, picnics are a favorite Korean pastime. Korean food is ideal for picnics, as it is mainly portable and can be enjoyed at room temperature. For a genuinely Korean experience, order your picnic food to be delivered.
For more picnic food ideas, I always include traditional Korean snacks and non-alcoholic drinks to help accompany the spread.
What is your favorite winter picnic food? Do you have other outdoor picnic food ideas? Please share them below. I love hearing from my readers.