This post may contain affiliate links. Please read my disclosure policy for more info.
Find these cute baby sleeping quotes as you gaze at your little angel. Or funny sleeping quotes for babies when you know it's going to be a long night.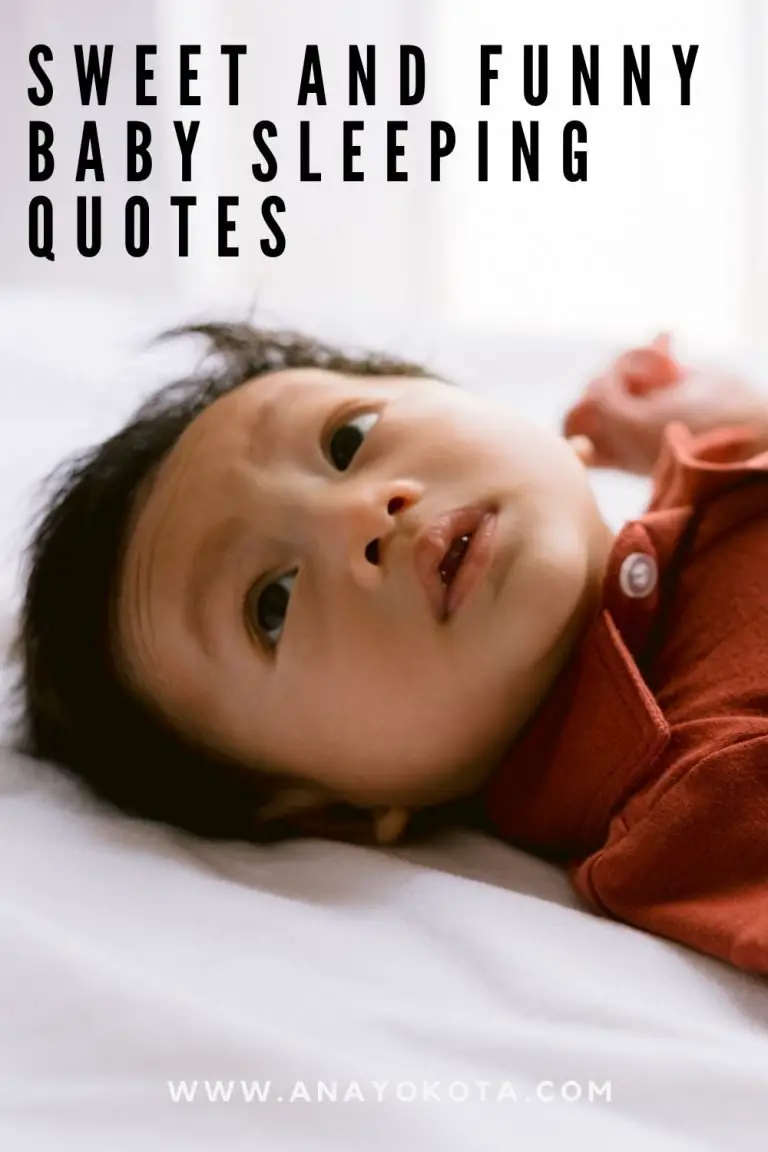 Emotionally caught between blissful bonding moments and straight up just tired out of your mind moments, babies are an adventure and a blessing in one. 
There really isn't much that can compare to a beautiful sleeping baby. It is so pure and wonderful. It is such a "melt your heart" experience when a baby puts its complete trust in you and coos away in your arms. 
Simultaneously, a sleeping baby also means you can either sleep, catch up with life, or regain your sanity. 
Babies are not like human adults where you can command it to sleep when the rest of the world is sleeping. Did you know that the reason why babies have different sleep cycles is because they spend much less time in rapid eye movement (REM) sleep. Therefore causing a much shorter sleep cycle than adults (SOURCE). 
As challenging as parenthood can get, it's in that moment (when we see the little angel sleeping) that we are willing (and wanting) to do it all over again. 
To encourage you that you are not alone, I've compiled some of the sweetest and funniest beautiful sleeping baby quotes. Use these sleeping baby captions for instagram or facebook. Trust me, mother's unite and find encouragement in these little posts. 
TABLE OF CONTENTS
BABY NOT SLEEPING FUNNY QUOTES
People who say they 'sleep like a baby' usually don't have one. -Leo Burke
You're my favorite reason to lose sleep. -Anonymous
The only thing kids wear out faster than shoes is their parents. -John J. Plomp
I'm a walking zombie and I think I'm going to be like that for a while. -Tiffani Thiessen
I feel everything more deeply. Every action I take, I think of her first. That's a big change for me. That – and no sleep! -Jenna Dewan-Tatum
The sleep deprivation after children is so real. I liken it to what it must feel like to walk on the moon and cry the whole time because you had heard that the moon was supposed to be great but in truth it totally sucks. -Amy Poehler
Our baby in particular is, we think, allergic to sleep. We think that she thinks that she's protecting us from the sleep monsters. She's like, 'Oh, I gotta keep them up or the sleep monsters will get them.' -Ryan Reynolds
It's funny because everyone says you sleep when the baby sleeps or you take a nap when the baby takes a nap. That's true when you have one. When you have two, that is not true. -Vanessa Lachey
When you have a baby, sleep is not an option. You can't sleep. Even on vacation, you wake up at 6:30 am. -Jimmy Fallon
Motherhood is an experiment in how long your body can function without adequate sleep or nourishment and fueled only on adrenaline, caffeine and baby smiles. -Unknown
Embrace it. Especially because of the lives we live, a lot of times other people have to care for [our kids] and you have to have that mommy time, Get your sleep! -Jennifer Hudson
Having children is like living in a frat house- nobody sleeps, everything's broken, and there's a lot of throwing up. -Ray Romano
'It's okay honey, 2 hours of sleep is all I need', said no mom ever! -Unknown
First thing in the morning, we're really tired, and we look at each other and we wonder, 'Are we ever going to get sleep?' And yet, it doesn't matter if you don't get sleep. It's an honor to take care of them. -Angelina Jolie
Without enough sleep, we all become tall two-year olds. -JoJo Jensen
Sleep is like the unicorn- it is rumored to exist, but I doubt I will see any. -Dr. Seuss
Sleep? Yes, I have a vague recollection of what that was like. -Unknown
SWEET & CUTE SLEEPING QUOTES
A mother's arms are made of tenderness and children sleep soundly in them. -Victor Hugo
Babies smile in their sleep because they're listening to the whispering of angels. -Unknown
Having my baby fall asleep in my arms takes away all of my worries and stresses. A sense of complete and total peace comes over me. -Maria Jose Ovalle
A new baby is like the beginning of all things- wonder, hope, a dream of possibilities. -Eda LeShan
The only thing worth stealing is a kiss from a sleeping child. -Joe Houldsworth
A baby makes love stronger, the days shorter, the nights longer, savings smaller, and a home happier. -Anonymous
Babies smell sweeter when they are sleeping. -Anonymous
Let them sleep, for when they wake they will move mountains. -Anonymous
Before you go to sleep, say a little prayer. Every day, in every way, it's getting better and better. -John Lennon
When my baby is sleeping that's when I think, 'Wow, I made that'. -Maria Jose Ovalle
Kiss your children goodnight, even if they are already asleep. -H. Jackson Brown, Jr.
Babies are the buds of life ready to bloom like a fresh flower to refresh humanity. –Debasish Mridha
I am your mother, you are my child. I am your quiet place, you are my wild. I am your calm face, you are my giggle. I am your wait, you are my wiggle. I am your dinner, you are my chocolate cake. I am your bedtime, you are my wide awake. I am your lullaby, you are my peek-a-boo. I am your goodnight kiss, you are my I love you. -Unknown
Despite having a million things to do, it is very difficult to look away from my sleeping baby. She is like a magnet! -Maria Jose Ovalle
The babies are amazing. They begin each day all warm and sleepy, smelling of promise. -Julia Roberts
FUNNY SLEEPING QUOTES
They eat, they crap, they sleep, and if they're crying they need to do one of the three and they're having trouble doing it. Real simple. – Matthew McConaughey
A sleeping baby is the new happy hour. -Unknown
Everyone should have kids. They are the greatest joy in the world. But they are also terrorists. You'll realize this as soon as they are born and they start using sleep deprivation to break you. -Ray Romano
There was never a child so lovely but that his mother was glad to get him to sleep. -Ralph Waldo Emerson
They tell you that at his age, all they do is eat, sleep, and poop. And what I've learned is they can actually do all three at the same time. Who knew? -Josh Duhamel
The one advice that I would give just to moms who have a child or a newborn is definitely sleep while the baby sleeps. I've heard that so many times. I never realized how true it really is. If you don't, you'll be walking around like a zombie. -Tia Mowry
The first night your baby sleeps 8 hours straight, you think you'd celebrate. Instead, you will run into their room thinking 'Oh my god, are they breathing?!'. -Unknown
Sleep when your baby sleeps. Everyone knows this classic tip, but I say why stop there? Scream when your baby screams. Take Benadryl when your baby takes Benadryl. And walk around pantless when your baby walks around pantless. -Tina Fey, Bossypants
I don't want to sleep like a baby, I want to sleep like my husband. -Unknown
A little girl is sugar and spice and everything nice — especially when she's taking a nap. -Anonymous
That moment when you go to check on your sleeping baby and their eyes ping open so you drop to the floor and roll out of the room like a ninja. -Unknown
A sleeping baby is really good at doing the one thing you don't get to do anymore. -Linda Poindexter
A perfect example of minority rule is a baby in the house. -Milwaukee Journal
Rocking a baby to sleep is actually a lot less like a Johnson and Johnson commercial and a lot more like wrestling a 20 lb bag of snakes. -Unknown
The bedtime routine for my kids is like this Royal Coronation Jubilee Centennial of rinsing and plaque and dental appliances and the stuffed animal semicircle of emotional support. And I've gotta read eight different moron books. You know what my bedtime story was when I was a kid? Darkness! -Jerry Seinfeld
Why don't kids understand that their nap is not for them but for us? -Alyson Hannigan
Every morning when I wake up, my first thought is, 'When can I come back here?' It's the carrot that keeps me motivated. Sometimes going to bed feels like the highlight of my day. Ironically, to my children, bedtime is a punishment that violates their basic rights as human beings. -Jim Gaffigan
---
Did you like these quotes about babies sleeping? Which one was your favorite? 
You can easily use these quotes about sleeping babies in your next card to a mommy friend who may need a little humor when they're looking for sleep. 
Or are you expecting or have a friend who is a mommy-to-be? Check out my post on Funny Pregnancy Quotes to have you giggling in minutes.