This post may contain affiliate links. Please read my disclosure policy for more info.
Whether you are Korean or not, there are various reasons why you should celebrate the special day with Korean birthday food. Many people living in foreign countries, such as America or Europe where Korean food is readily accessible, eat Korean birthday food to celebrate their friends, honor their favorite K-Pop stars, or simply because it is incredibly tasty and fun!
While visiting Tokyo, it was common to see locals, foreigners, and Korean immigrants flock to the Korean neighborhood of Shin-Okubo. Japan's largest Korea Town is filled with cosmetics and K-pop stores and is home to many Korean chefs and Japanese interested in Korean cuisine.
I witnessed several birthday parties, and Korean food makes for an unforgettable B-day meal.
Even in the states, where I currently live, Korean birthday traditions are widely celebrated amongst Korean locals because it's a part of our heritage.
In this article, we will discuss the most important elements of a Korean birthday celebration, how to say happy birthday in Korean, but most importantly Korean birthday soup. Do you have a friend who wants Korean birthday food but need help understanding the traditions? Let's keep reading.
For a more detailed explanation on Korean 1st birthday traditions such as doljanchi or doljabi, I have a few articles that can help understand why this is one of the most important celebrated birthdays in Korean culture.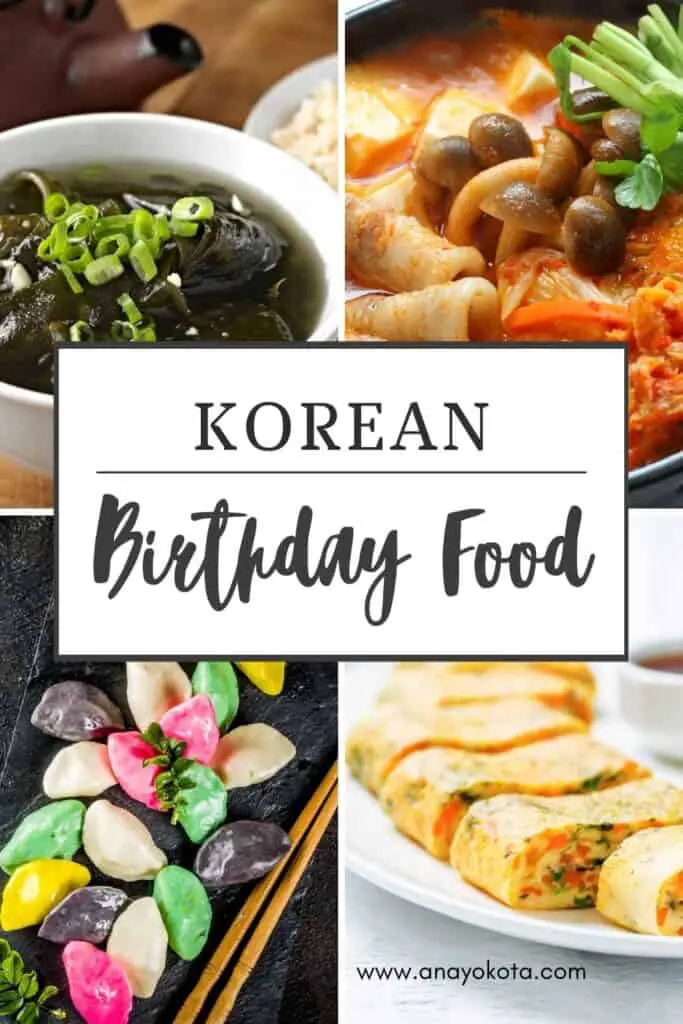 What Is Korean Birthday Food?
Many dishes are suitable for Korean birthday food, yet some are more traditional than others. Seaweed soup, for instance, is an absolute must at any traditional Korean birthday. Other dishes you would often see are:
Traditional rice cakes (tteok)
Seafood/kimchi pancakes
Kimchi stew (kimchi jjigae)
Rolled omelettes
And a wide banchan (Korean side dishes) spread
Why Do Koreans Eat Seaweed Soup For Birthdays?
Seaweed is a key feature of nearly any meal in Korea. It has been a staple in the country for as long as history itself, and it is a large part of its economy and export market. Therefore, seaweed forms part of the main dish – the traditional symbol of any Korean birthday party: Korean birthday seaweed soup.
There is, however, a much more significant reason why Koreans eat seaweed soup, or 미역국miyeok-guk, on their birthdays. Koreans eat seaweed soup on their birthdays to honor their mothers and thank them for giving birth to them. It is a centuries-old tradition, yet miyeok-guk is not solely intended for Korean birthday food. The dish originates from long before. 
The History Of Korean Seaweed Soup
It is believed that seaweed soup first became a popular dish in southeastern Korea, largely attributed to this resource's abundance and taste. Soon enough, people realized the nutritional benefits of seaweed and its potential to aid postpartum recovery. The high iodine level in the seaweed was good for breastfeeding, as a lot of iodine is necessary when lactating.
The practice of mothers eating miyeok-guk after childbirth dates back to the Goryeo Dynasty and stems from people seeing whales eat large quantities of seaweed after giving birth. Likewise, mothers would eat this food with nearly every meal. It is good for you regardless of giving birth, as it contains high vitamin K levels, preventing blood clotting. 
Folks will eat this warm Korean birthday food with breakfast after waking up on their birthday. You will also find this dish served alongside other Korean birthday staples at a dinner party. Don't worry if you're craving this dish on a regular day – most Koreans eat it nearly every week and even much more often than that.
Truth be told, miyeok-guk is my favorite Korean birthday food of all time. It has always been my favorite soup but it became even more addicting after I gave birth to my son. I didn't get it because it was really good for me; rather, I just craved it all the time. I felt like my body knew that the health benefits from the seaweed was restoring my body.
Miyeok-guk also represents the strength and resilience of the ocean, which is often a symbol of a person's character. Furthermore, many believe eating this soup will bring them good health, longevity, luck, and prosperity. 
How To Make Korean Seaweed Soup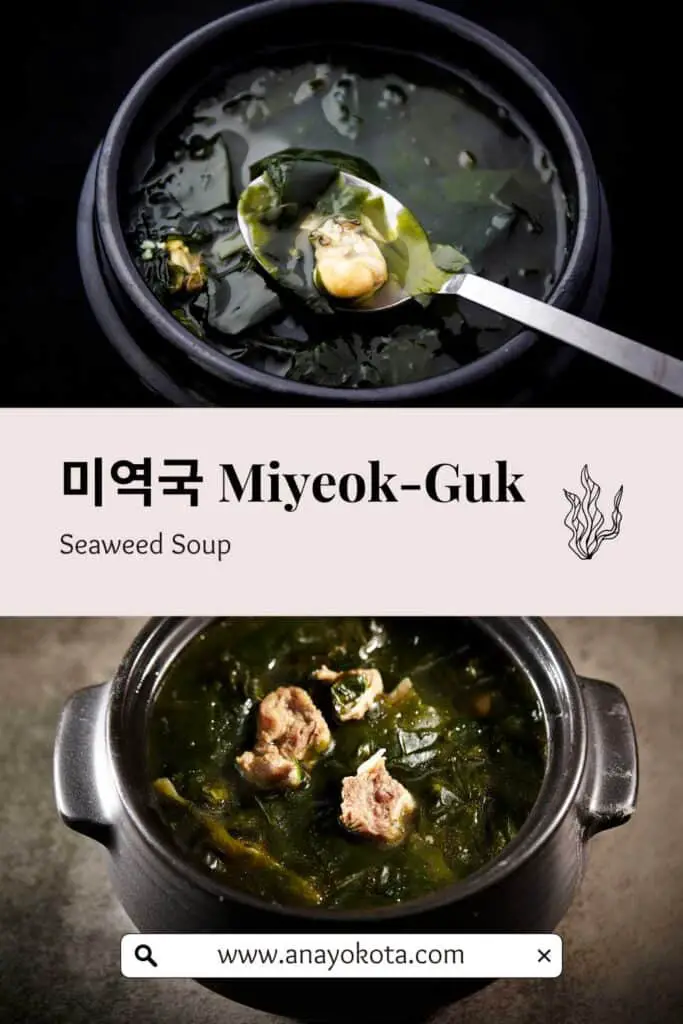 Miyeok-guk has a savory and slightly salty taste with a subtle ocean flavor. It is made with various ingredients, including beef or seafood broth, garlic, green onions, and seasonings such as salt, sesame oil, soy sauce, and seaweed. Versions of this dish differ according to the region, where the northern areas like Seoul use a beef broth base, and the southern regions use fish. 
A super simple Korean seaweed soup can be made using the following:
1/2 cup dried miyeok/wakame (seaweed)
4 cups water
4 cloves garlic
1 tbsp sesame oil
1 tbsp soy sauce
1 tsp salt
1/2 lb thinly sliced beef
2 green onions, thinly sliced
Instructions:
First, rehydrate your dried seaweed by soaking it in water for 30 minutes. Then drain the rehydrated seaweed. This step is not necessary for fresh seaweed.
Next, fry the seaweed in a skillet with garlic, sesame oil, salt, and thinly sliced beef. The seaweed will taste more appetizing while cooking the garlic and beef. 
While your ingredients are simmering, bring your water to a boil in a pot. Alternatively, you could use beef broth for this recipe (either pre-made or using a stock powder, although a freshly prepared broth would always taste better). 
When your ingredients are cooked, add them to the pot and allow them to simmer for 20-25 minutes to extract as much flavor as possible. 
Bring down the heat before serving and add soy sauce to taste, remembering not to boil the soy sauce too much as this makes it lose its flavor. 
Add soup bowls and garnish with green onion before digging in with your other Korean birthday dishes. 
Please let me know if you try this Korean birthday food! I always love seeing your creations.
Korean Dinner Food
While the seaweed soup is usually eaten first thing in the morning (as well as a side for dinner), your other dinner items will be the star of the show for the evening's festivities. Don't worry; here is a simple list to choose the most delicious menu for your Korean birthday dinner!
Kimchi Stew (Kimchi Jjigae)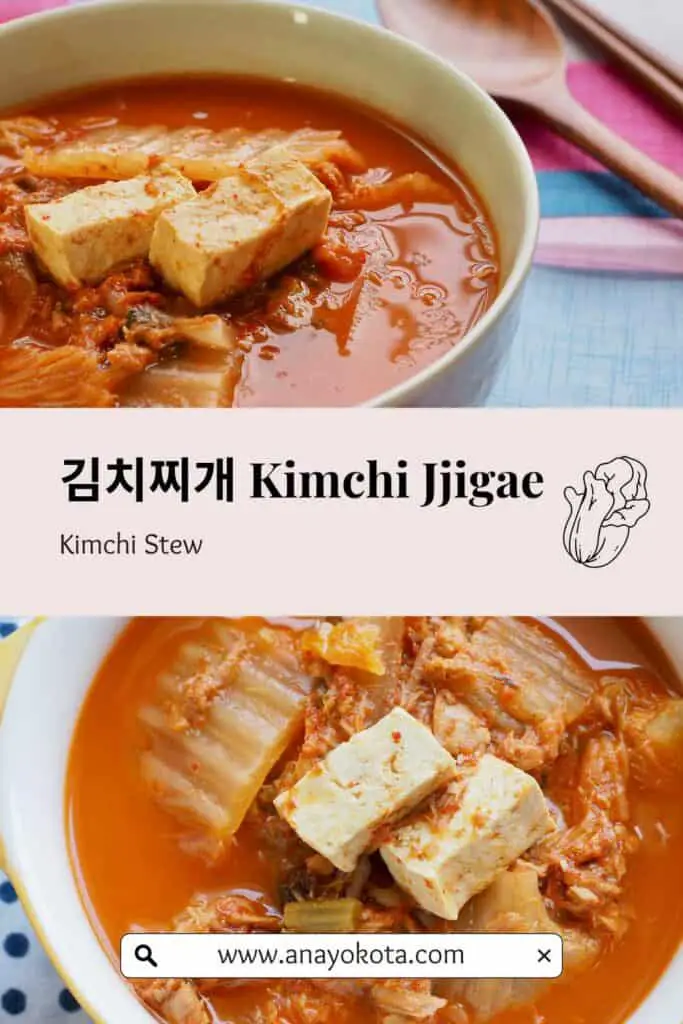 Whenever people think of popular Korean foods, kimchi will make up much of what they imagine. Kimchi stew takes everything wonderful about this side dish. It turns it into the star of a dinner show, combining all the flavors available to the human palette – from sweet and spicy to salty and sour (and don't forget about umami).
It is fairly simple to make and easy to feed many hungry stomachs as it pairs perfectly with a bowl of steaming rice – another staple of Korean cuisine. Most importantly, it would help if you had good quality kimchi, as this will serve as the main ingredient of your stew, with the brine serving as a large part of the base. Combine this with pork shoulder or belly, gochujang, and other ingredients, and enjoy!
Tteok-Bokki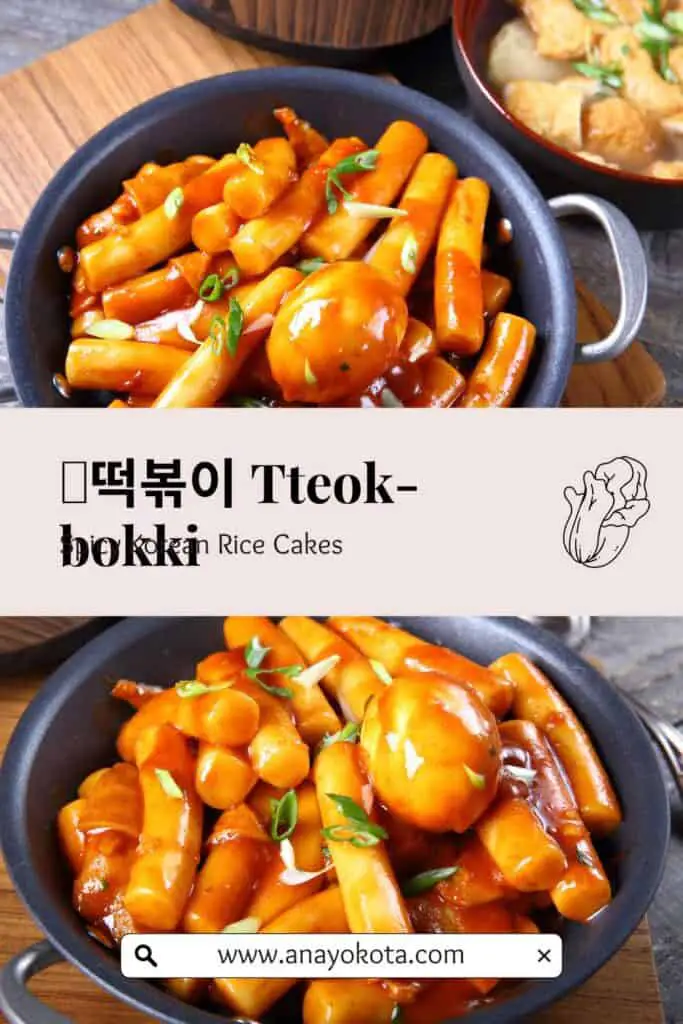 A popular Korean street food, recently gaining attraction from YouTube chefs, Tteok-Bokki is a deliciously spicy and chewy main dish perfect for any Korean dinner. Made with lots (and we mean LOTS) of gochujang, fish cakes, and dashi (fish/seaweed) stock, tteok-bokki takes the flavor to a different level.
We recommend using your seaweed soup as a good stock base for tteok-bokki for added umami (flavor).
Korean Barbecue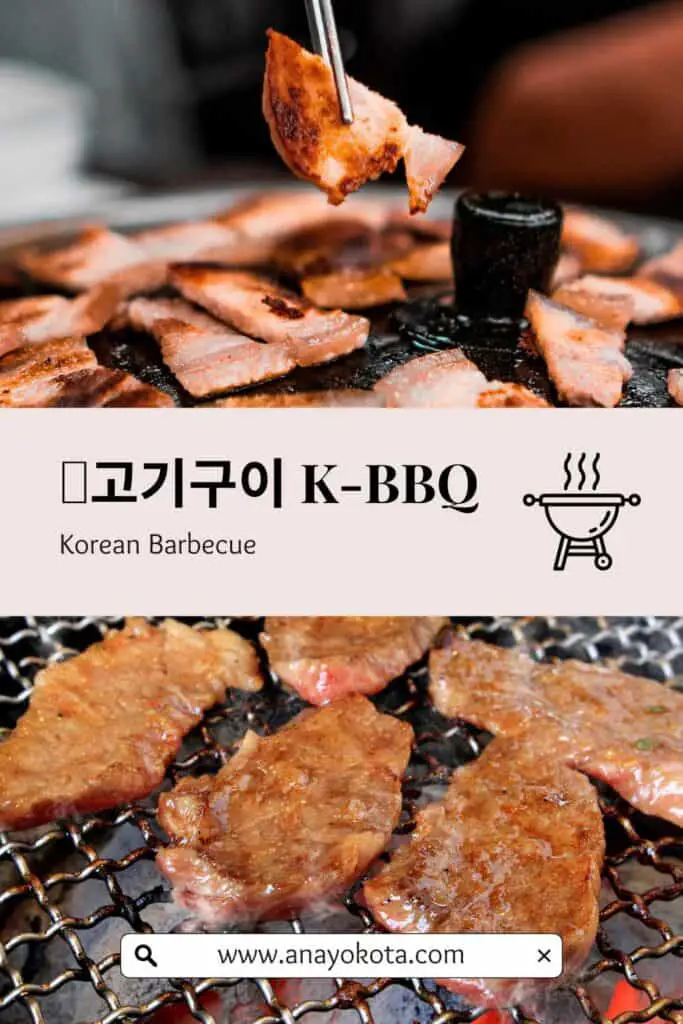 Equally as fun at home as in a dedicated restaurant, a Korean barbecue is one of the most delicious and enjoyable meals especially as a Korean birthday food. Perfect for a regular dinner and a party, Korean barbecue stands out because of its focus on togetherness, as everyone is cooking for themselves and the other simultaneously.
Furthermore, a Korean barbecue traditionally combines dishes besides meat to bring a balanced meal. Popular options are kimchi pancakes, kimchi, napa cabbage, seaweed, and rice, and don't forget about the soju. 
If you're looking for great K-BBQ recipes, try spicy bulgogi pork or the savory chicken bulgogi for your next birthday meal.
Korean Omelette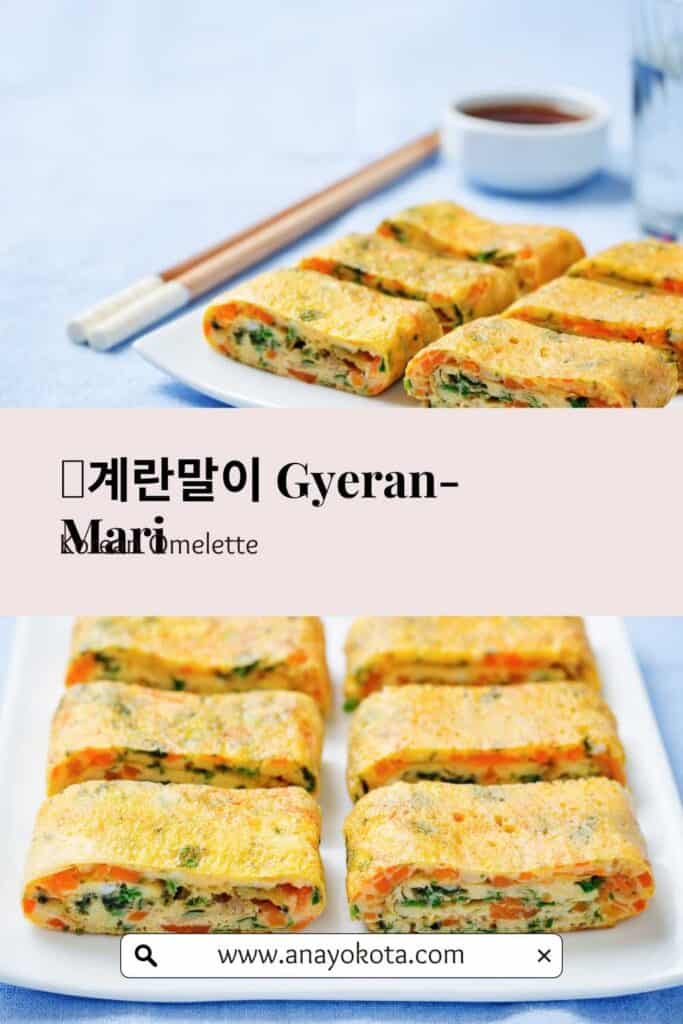 Korean omelets, known fondly as gyeran mari, are so perfect they can give a birthday meal that extra special flair. They make a delicious treat that's sure to add an element of festivity and delight.
Plus, it's not just an ordinary omelet; the combination of egg, ham, onion and more inside is unique! Celebrations come alive with the light taste & textures of Korean omelets. Make gyeran mari for Korean birthday food – you won't be disappointed!
Korean Party Food
Korean birthday food such as those mentioned above will be perfect for a party, though something containing many side dishes is more traditional. However, preparing many side dishes can prove very difficult, as many ingredients are necessary, which aren't always readily accessible.
That's why you should rather focus on making one of the above perfect and get some nice desserts or snacks! We recommend getting some choppi or Korean mooncakes as a good dessert option. Furthermore, a tteok stuffed with red bean paste will impress your friends. 
These are different types of Korean traditional snacks, which are perfect for large gatherings.
Korean Happy Birthday Wishes
Along with all the delicious Korean birthday food, you must have a Korean birthday card!
Happy birthday in Korean is 생일 축하해요 saeng-il chughahaeyo This is a semi-formal way of saying happy birthday.
In Korean, there are various levels of honorifics called 존댓말 jondaemal and 반말 banmal.  Meaning, different conjugations of the same phrase representing respect based on who you are speaking with.
In short, the most commonly used levels of honorifics in Korea are (and how you say happy birthday in each level):
Casual: 생일 축하해 saeng-il chughahae
Semi-formal: 생일 축하해요 saeng-il chughahaeyo
Formal: 생일 축하합니다 saeng-il chughahabnida
For a much thorough and an in-depth guide on how to say happy birthday in Korean, please let me know in the comment section below.
Additionally, similar to western cultures, the happy birthday song in Korean has the same classic melody just with translated words. Here is the translation to the Korean birthday song:
생일 축하합니다saeng il chuk ha ham ni da
생일 축하합니다saeng il chuk ha ham ni da
사랑하는 _______씨sarang ha neun ______ (name) shi
생일 축하합니다 saeng il chuk ha ham ni da
Fun fact: the birthday song in Korean may have the same melody but the translation is slightly different. Instead of translating it to mean happy birthday, it literally means, "birthday congratulations beloved ______"
There are so many ways to send a Korean birthday message. Here are a couple suggestions but if you would like to learn more Korean birthday greetings, please let me know below!
(note: these Korean birthday wishes will be written in semi-formal honorifics)
생일 진심으로 축하합니다. saeng-il jinsim-eulo chughahabnida.
I sincerely congratulate you on your birthday.
멀리 떨어져 있어서 자주 보지는 못 하지만, 당신이 내 친구라서 너무 감하해요. 생일 축하해요! meolli tteol-eojyeo iss-eoseo jaju bojineun mos hajiman, dangsin-i nae chingulaseo neomu gamhahaeyo. saeng-il chughahaeyo!
Even though I don't see you often because you're far away, I'm so grateful for you because you're my friend. Happy birthday!
오늘 생일도 행복하고 밝은 모습으로 응원해요. oneul saeng-ildo haengboghago balg-eun moseub-eulo eung-wonhaeyo.
Hoping for happiness and a bright day on your birthday.
Side note: To learn how to say other words and phrases in Korean such as Happy New Year in Korean, I'd love to hear about it. I get so excited when my readers are wanting to learn more about how to say things in Korean.
Closing Remarks on Korean Birthday Foods
Good food comes from the heart, and an important ingredient in Korean cooking is always love; Korean birthday food is one of the main ways of expressing gratitude or love in Korean culture, as these things are not always communicated in words.
All there's left to do now is decide which foods will suit your appetite (and budget) the best; otherwise, make sure you celebrate a happy birthday!