This post may contain affiliate links. Please read my disclosure policy for more info.
Spicy bulgogi pork will take BBQ pork to the next level with its sweet, savory, and spicy flavors that celebrate the essence of Korean food. This spicy lip smacking bulgogi pork recipe is so addictive and best of all super easy and fast to make.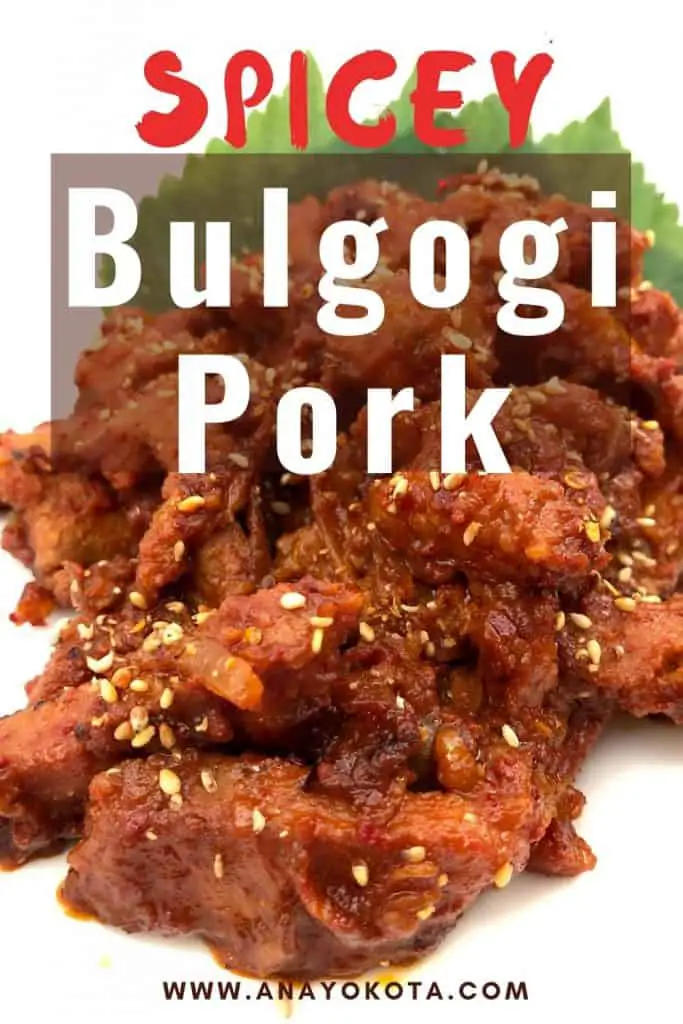 Bulgogi pork is a staple recipe in every Korean cooking family I've met. Not only is pork bulgogi marinade very popular, it is also very easy to make in advance. I love how well it keeps in the fridge and can easily be stored in the freezer for a later meal. 
My husband and I love spicy food so much we almost always need something with a kick on the table. So, when I made my Korean pork bulgogi recipe for the first time for my husband, his eyes widened as if he couldn't believe the goodness in his mouth. The flavors of sweet, spicy, and nutty all in one bite is truly mesmerizing over a steaming bowl of purple rice. 
Needless to say, the spicy pork bulgogi recipe has been somewhat of a ritual in our home when we are craving for that Korean spice. 
I've mentioned in my other article on Bulgogi Chicken that it is my go-to recipe on a busy weeknight. If bulgogi chicken is my number one for a busy weeknight, bulgogi pork is my number one for a fun night with guests. 
Every time I prepare this dish for guests, they always ask me for my recipe. There really isn't a magical trick to this dish; rather, I simply go pretty heavy handed on the ginger and garlic, which cuts the grease-y flavor making it very addictive to the palate. 
Spicy bulgogi pork marinade can be used for other meats and vegetables but the most traditional, cultural and common way to eat bulgogi pork marinade is with pork.
WHAT IS SPICY PORK BULGOGI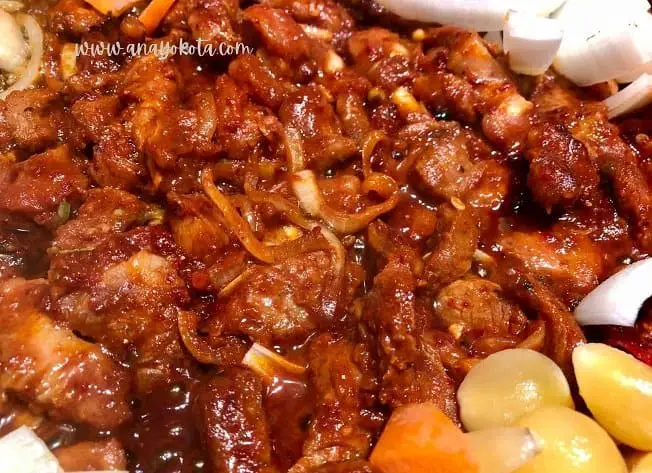 Unlike the traditional bulgogi marinade where it is sweet and savory, bulgogi pork is typically referred to as the spicy Korean pork version. In other words, pork bulgogi recipes are essentially the traditional bulgogi sauce with added Korean spices such as gochujang (red chili pepper paste) and gochugaru (red chili flakes).
There are few popular names for the Korean pork recipes and in case you were wondering, I'll provide each name along with its translations: 
Remember in my bulgogi chicken recipe I explained that bulgogi means "fire meat." 불 (bul) means fire, which refers to cooking over very high heat; and 고기 (gogi) means meat. 
돼지불고기: dwaeji bulgogi

돼지: dwaeji – means pork
불고기: bulgogi – fire meat

Therefore, dwaeji bulgogi means, "pork that is cooked over very hot heat."
제육볶음: Jeyuk bokkeum

제육: Jeyuk – means flesh (referring to pork flesh)
볶음: bokkeum – means stir fry

Therefore, jeyuk bokkeum means, "stir fried pork."
고추장제육볶음 or 고추장 불고기: gochujang jeyuk bokkeum or gochujang bulgogi

고추장: gochujang – Korean red chili pepper paste

Given the translations above, put the words together and you get either, "stir-fried pork marinated with Korean red chili pepper paste," or "pork marinated with Korean red chili pepper paste cooked over high heat."
All three of these Korean names are essentially the same dish. However, depending on the restaurant or person, they can be called different names. 
What Is Bulgogi Pork Tenderloin?
Pork tenderloin is the cut of meat that comes from the pig's backbone. It is a slender and long cut of meat that is sold boneless and also considered one of the most popular cuts for making pork bulgogi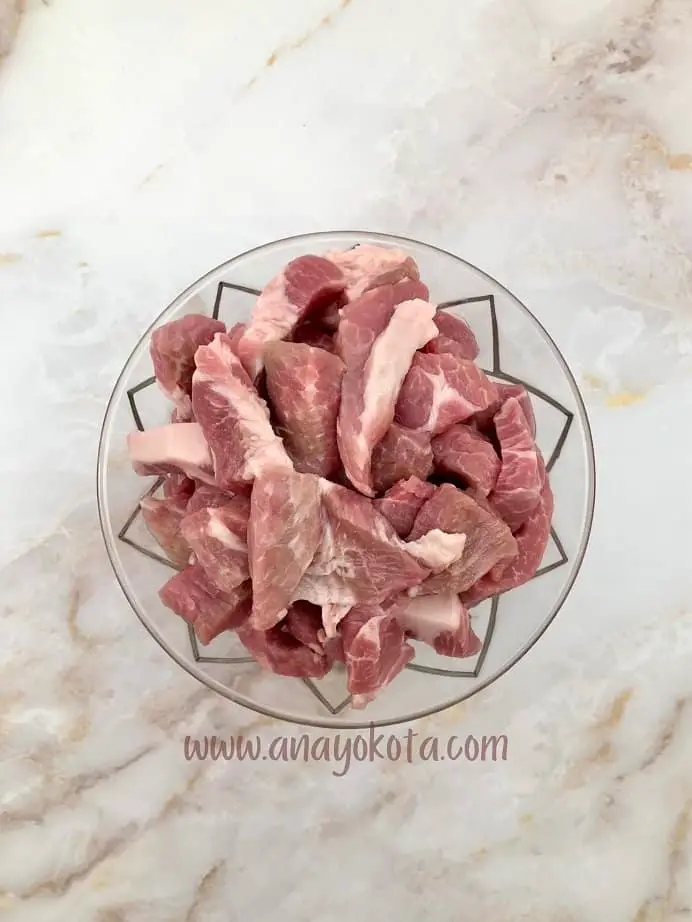 You can use pretty much any type of pork that has a good amount of meat (bulgogi pork chops, tenderloin, shoulder, ribs, leg, etc…). However, my favorite cut of pork meat when cooking this pork bulgogi recipe is either the butt, shoulder, or belly as it contains a good amount of fat ratio within the meat.
WAYS TO ENJOY BULGOGI PORK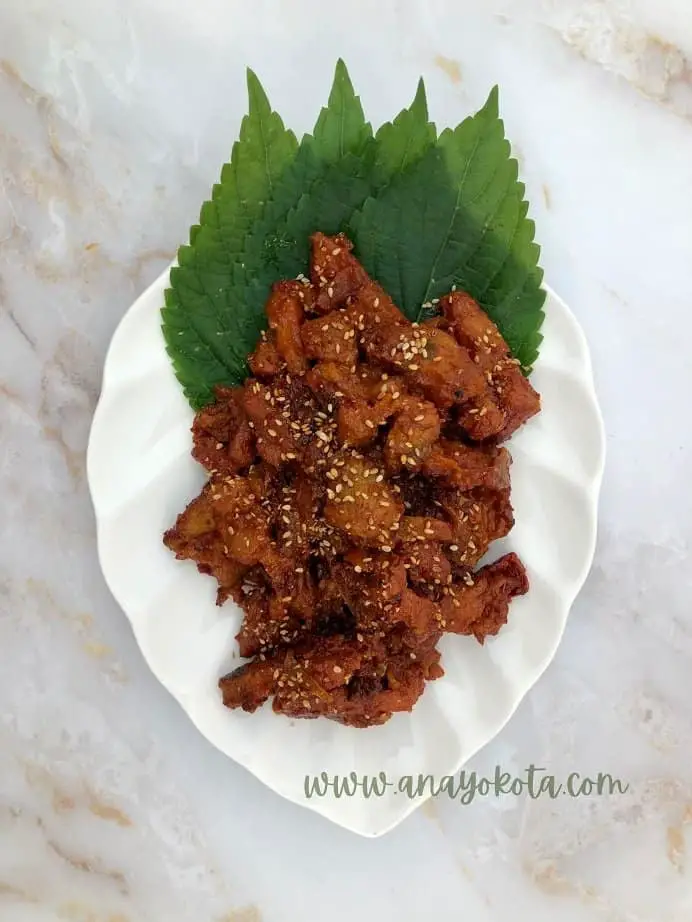 The most traditional method of eating bulgogi pork is with rice and Korean side dishes such as kimchi, Korean pickled daikon, seasoned spinach, and fresh perilla leaves and red leaf lettuce. 
Other ways I have eaten bulgogi pork is bulgogi pork chops, bulgogi pork ribs and (my favorite) bulgogi pork tacos. Bulgogi tacos are such a popular trend nowadays, it's no wonder many Asian and Mesican fusion restaurants offer bulgogi tacos. 
Bulgogi pork tacos are very easy to make. Rather than using your normal taco meat, replace it with ground pork bulgogi. 
Additionally, you can also make delicious fusion quesadillas using this sliced pork recipe along with chopped kimchi. With home cooking being a more creative and inspiring platform, you can add bulgogi pork on all sorts of dishes. What will you try? Bulgogi pork pizza? Yum!
FAQ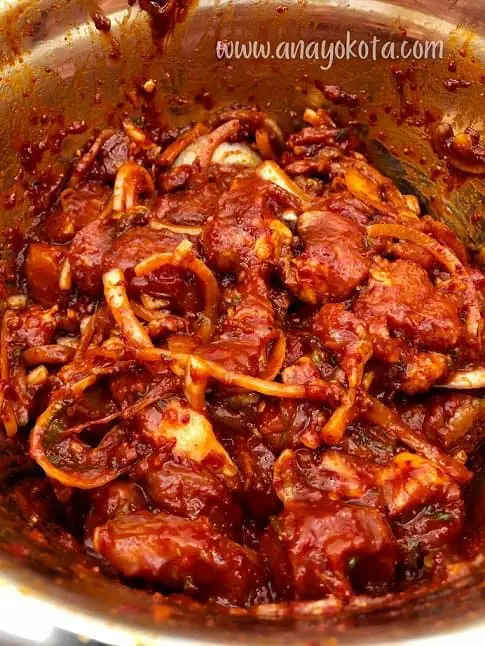 Is pork bulgogi healthy?
You can certainly create healthier versions of pork bulgogi using the best quality ingredients such as fresh garlic, ginger, and sustainably sourced meats. Another great way to make pork bulgogi healthy is adding vegetables such as onions, carrots and even bell peppers. 
Is pork bulgogi spicy?
Yes, pork bulgogi is traditionally spicy. However, as the cook, you can always modify the dish's spice level by adjusting the type of gochujang and/or gochugaru (ie: mild, medium, hot, or extra hot). I personally like my pork bulgogi on the spicy side, so I will use spicy gochujang and gochugaru rather than mild. Another great way to reduce the spice level is to reduce the amount of spice (gochujang and gochugaru) by adding more soy sauce. 
Can you freeze pork bulgogi
Yes. You can freeze pork bulgogi. The best way to freeze pork bulgogi is when it is still raw in an airtight freezer bag such as a Food Saver. When you are ready to cook the meat, simply pull it out the night before and allow it to thaw in the refrigerator. You can certainly freeze bulgogi cooked as well but I find that reheating cooked meat does not have the same texture as cooking it from its raw state. 
Where to buy pork bulgogi?
Though I prefer pork bulgogi made from scratch at home. I understand the need for something quick when you're in a pinch. Most Korean supermarkets now sell pre-marinated pork bulgogi right in their open refrigerator section. I have seen markets such as H Mart, Zion, and Arirang carry pork bulgogi. 
How to cook bulgogi pork belly or how to make bulgogi pork for samgyupsal?
When making bulgogi with pork belly (samgyupsal) at home, it is best to let the meat marinate for at least 30 minutes to overnight and then grilling over a very hot grill or cast iron skillet. 
How to use pork bulgogi marinade?
The best way to use pork bulgogi is to let the meat marinate for at least 30 minutes (or up to 24 hours in my opinion). If you are busy and don't have time to marinate the meat, I still find it very tasty. Marinating the sliced pork will simply enhance the flavors better. You can always make the pork bulgogi marinade in advance and store it in an airtight container until you are ready to marinate the meat. 
Is bulgogi beef or pork?
Traditionally bulgogi is beef and when Koreans think bulgogi pork, they are referring to the spicy bulgogi marinade. 
What is bulgogi made of
There are so many different variations of bulgogi. But the most common version of bulgogi pork will always use pork meat, garlic, ginger, soy sauce, gochugaru (ground chili peppers), gochujang (Korean red pepper paste), sugar (or sugar substitute), mirin (or white wine), and sesame oil.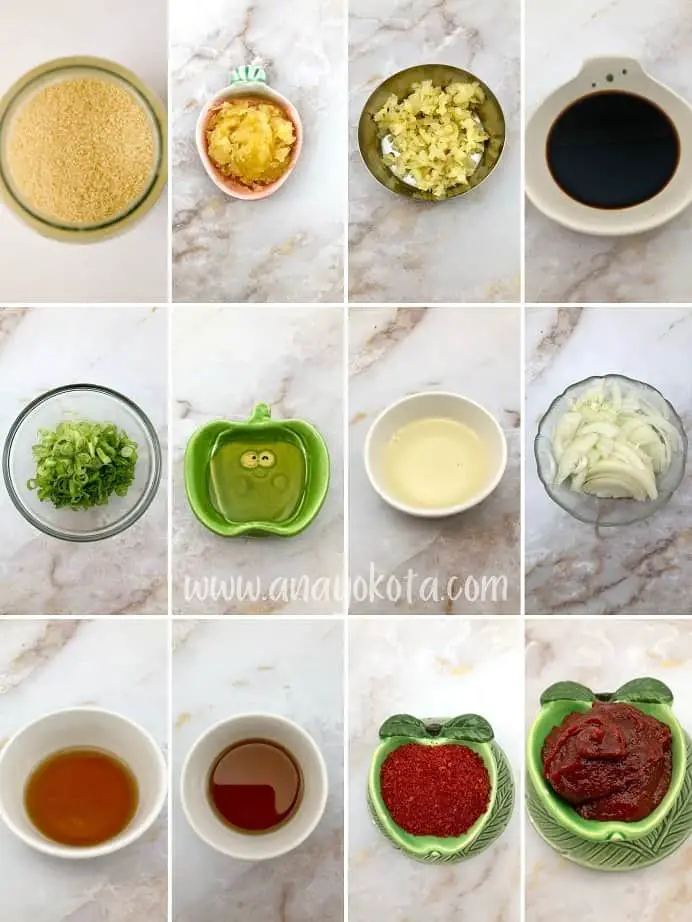 The Best Spicy Pork Bulgogi Recipe
Cuisine: Korean
Difficulty: Easy
Easy and delicious spicy bulgogi pork that can be ready in no time! Make for dinner on a weekday or impress your family and friends during your next get together.
Ingredients
1 ½ lb (24 oz or 680 g) – pork butt or pork shoulder sliced into bite sized pieces 

10 cloves (60 g) – garlic minced

2 tbsp (10.5 g) – ginger minced

1 ½ tbsp (22.18 g) – sesame oil

3 tbsp (44.36 ml) – dark soy sauce

½ tbsp (8 ml) – fish sauce

2 tbsp (36 g) – gochugaru (ground Korean red chili pepper)

3 tbsp (116 g) – gochujang (Korean red chili pepper paste)

½ tbsp (6.25 g) – brown sugar (light or dark)

1 tbsp (21.25 g) – honey

1 tbsp (16 ml) – mirin (or rice wine)

1 medium (280 g) – onion thinly sliced

1 bunch (3-4 sprigs or 90 g) – green onions thinly sliced

Optional Garnish: ground toasted sesame seeds
HOW TO MAKE SPICY BULGOGI PORK INSTRUCTIONS
In a large bowl or large (gallon size) plastic food storage bag, place all the ingredients together and mix well until each piece of pork is well coated. Cover with a plastic wrap if using a large mixing bowl. 
Place the meat mixture in the refrigerator so that it can marinate for at least 30 minutes (or up to 24 hours). If you would like to freeze the marinated meat, this would be the best time to do so in a freezer safe plastic storage bag. 
Heat up the table top grill or cast iron skillet on high heat. (You can use a non-stick pan or stainless steel pan, too.)
Place the meat on the grill and cook until the bulgogi pork is thoroughly cooked. For pork, you want the internal temperature to reach 145°F (62.77°C).
Serve on a dish with optional toasted sesame seeds on top as a garnish
Enjoy!
Notes
This is a recipe that tastes much better when you are able to marinate the meat for at least 30 minutes or best overnight. However, if you don't have time, I have tried this recipe without marination by slicing the meat thinly and it still turned out delicious. 
Spicy pork bulgogi is a great dish to introduce to your friends and family who want to try traditional Korean food. Remember, if you want to ease up on the spice level, simply reduce the amount of spice and add more soy sauce. 
My family loves this recipe and I hope you will love it too. If you give this Korean pork recipe a try please tag me on social media. All my social media handles are ajYokota and I would love to see your creations!