This post may contain affiliate links. Please read my disclosure policy for more info.
After trying a sip of Korean strawberry milk at a café , I was hooked! Learn how easy it is to make this refreshing drink at home and its many health benefits.
Strawberry milk is a drink that originated in Korea. The main ingredients are fresh strawberries, milk, sugar, and ice cubes. It is usually served cold or at room temperature. There are many different ways to prepare this beverage but the most common method of making Korean strawberry milk is by blending fresh strawberries with a little bit of sugar until they become like a chunky puree before adding them to ice cold milk. Well that's how I make mine anyway!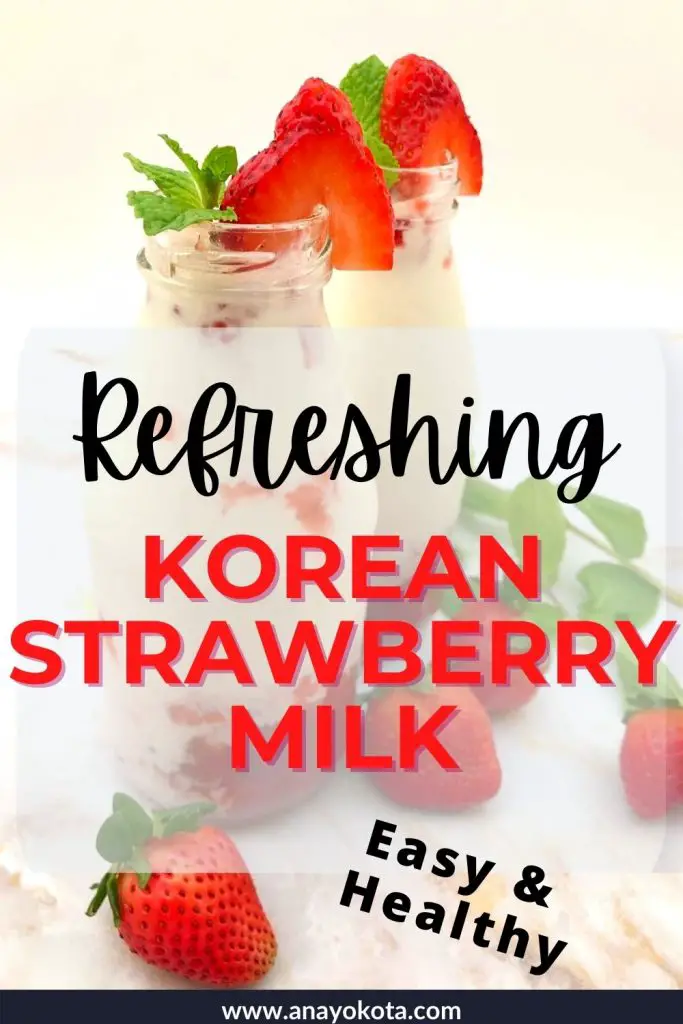 If you like fruit, you may also enjoy my Japanese Fruit Jelly recipe. It is very healthy and super easy to make. It's a perfect and delicious summer dessert!
IS KOREAN STRAWBERRY MILK HEALTHY?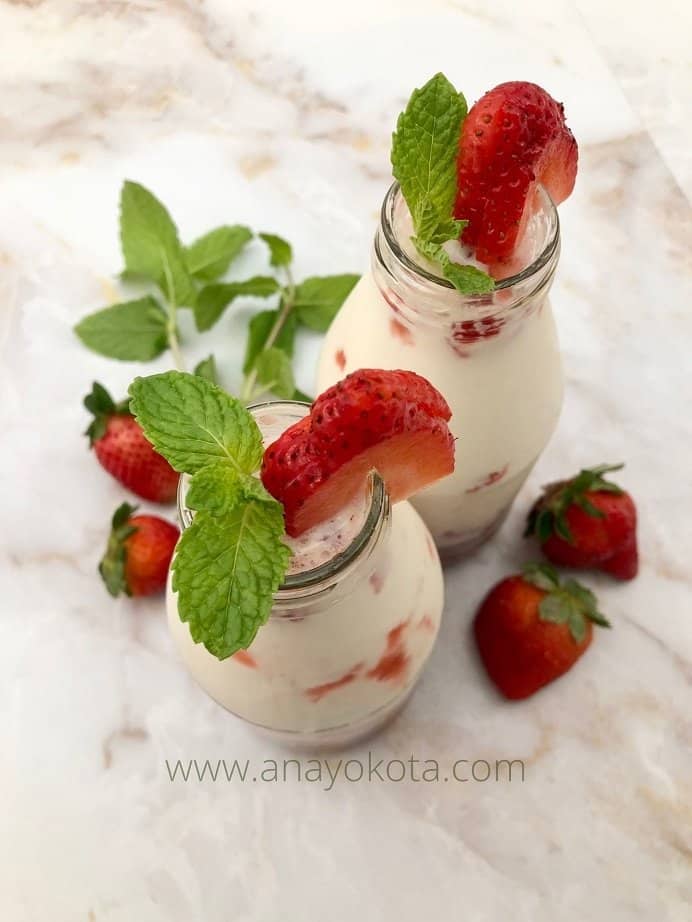 When it comes to drinks we want to be mindful of the sugar content and how much is put in them. A Korean strawberry milk recipe will typically call for about 100g of strawberries, which is a minimum of 18-20g of natural sugars per serving.
You may also adjust the nutritional content based on the type of milk and sugar you choose to use. For example, dairy milk from cows will have more sugar content than unsweetened rice milk. Then you have almond milk, which has more proteins than oat milk.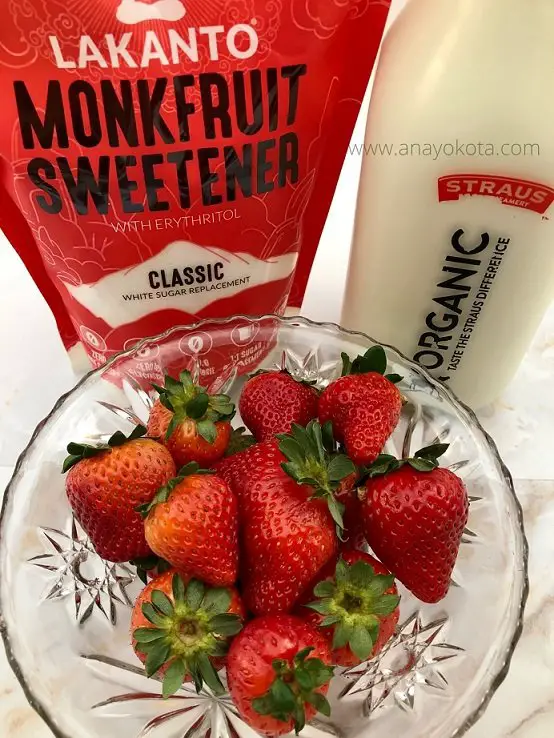 Strawberries are rich in vitamin C, fiber and various antioxidants. These nutrients can have a positive effect on the immune system when consumed in moderation. In addition to these benefits, strawberries are also smaller than most other fruits which means that we don't have as much sugar content per serving.
I'm sure you've heard this time and again but eating fresh produce is amazing for your health. Fresh produce is at its peak of freshness when it's in season and this includes strawberries that are typically available from April to the end of June.
If you're not a fan of milk, I recommend using water for your strawberry drink instead. You can also add more sugar or honey to give it an extra kick! Granted, if you added water, what you'll actually end up with is strawberry infused water, which is absolutely delicious.
WHY IS STRAWBERRY MILK POPULAR?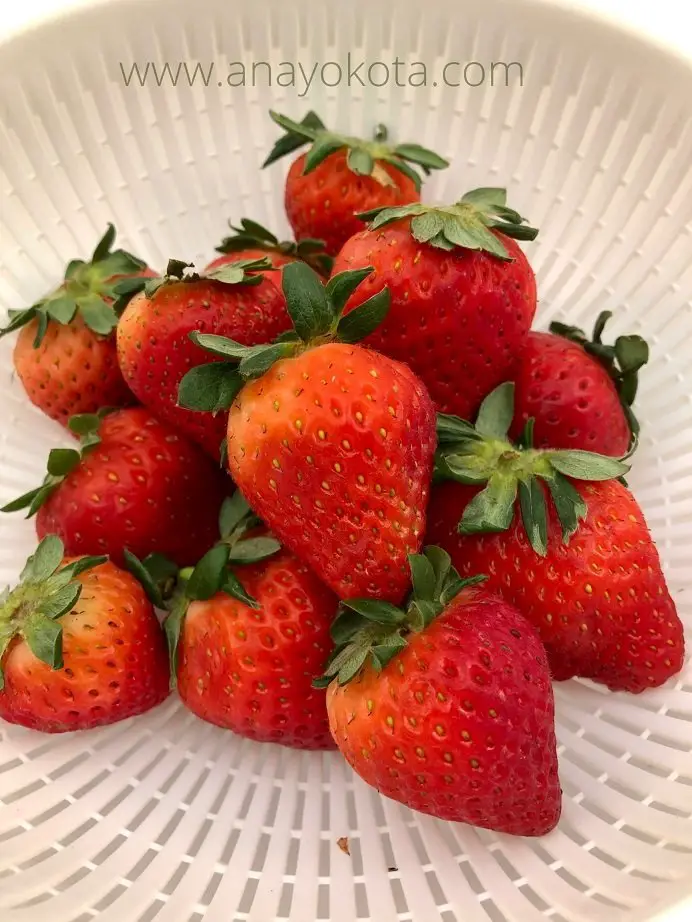 Popular drinks come and go but right now strawberry milk is big at Korean cafe's.
Strawberry milk is most popular in Korean cafes because strawberry milk there is typically made without preservatives and, instead of using artificial flavoring, it uses sweetened condensed milk. As a result, the Korean version has less sugar than traditional American versions that you can buy at stores like Walmart or Target.
The reasons why people love Korean strawberry milk are:
It's affordable
Tastes better than the American versions (which are full of preservatives) 
Fully adjustable. For example, it can use less sugar or honey to get a desired flavor profile and sweetness level
Korean strawberry milk is so popular made mostly of just milk and strawberries. It is everywhere in Korean cafe's and I have noticed it being sold in Korean American cafe's, too.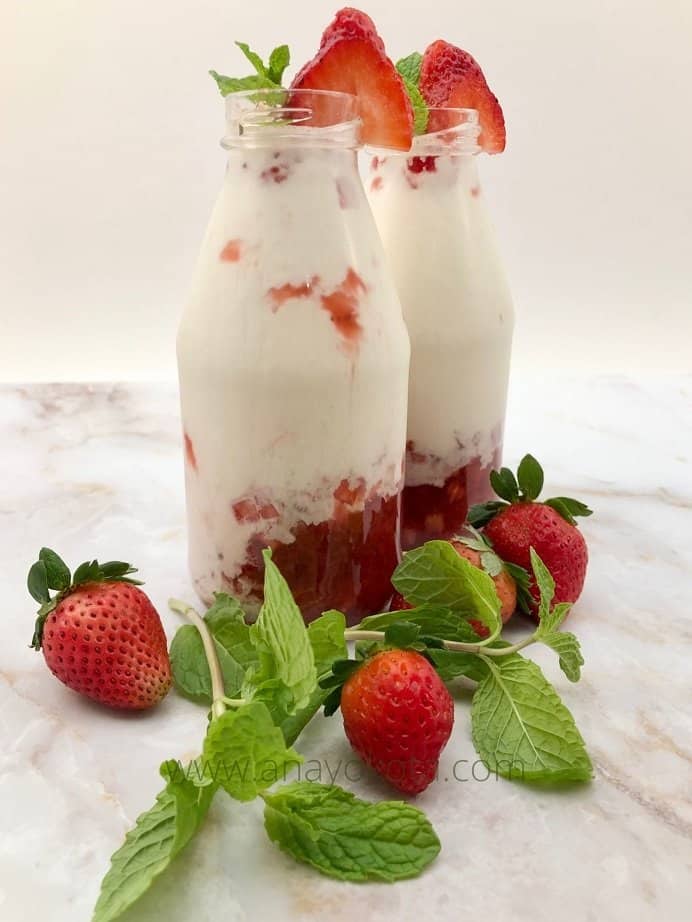 Since, the drink is made with simply strawberries and milk or yogurt (or even water as mentioned above), this has also been super popular to make at home. 
PRO-TIPS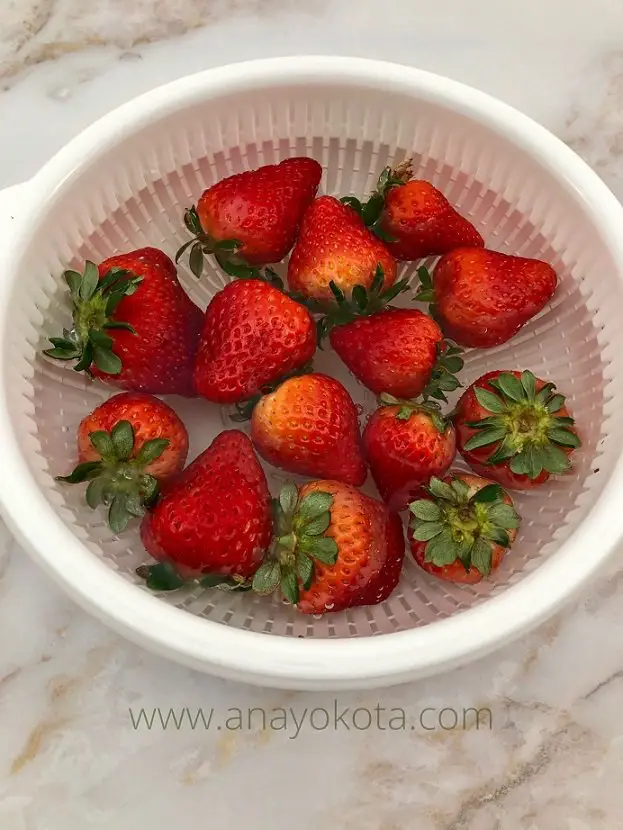 Unwashed fresh strawberries can be stored in the fridge for about a week before you use them to make Korean strawberry milk. 
The best way to clean fresh strawberries is to soak them in water for about 10-15 minutes and let all the dust surface. Drain and then wipe them clean with a damp paper towel right before you are ready to use them.
Strawberries in milk will last for about three days in the refrigerator if you haven't added any sugar or honey, and up to five days when adding either one of those ingredients. The sugar content will help preserve the fresh strawberries allowing you to enjoy them a little longer.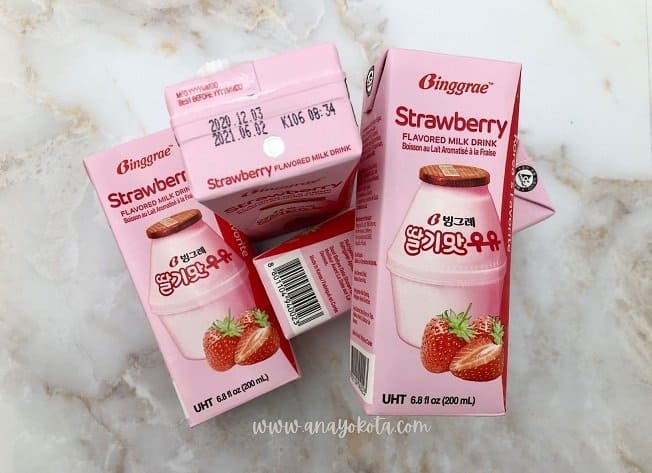 You can certainly freeze the strawberry puree as well. The best way to store Korean strawberry puree is by freezing it into ice cubes then popping them into a freezer safe plastic bag. When frozen, they will keep for up to nine months.
You can certainly use frozen strawberries in Korean strawberry milk. You just need to make sure they are not frozen solid, as this will cause the berries to break up into little pieces and can also dilute the flavor.
If you would rather have a smooth strawberry milk, simply blend the strawberry mixture until you've reached the viscosity you desire. I personally enjoy having the added texture in my strawberry milk recipe, so my recipe will stick with lightly masticating the strawberries.  
Because I know this question will be asked, I purchased my Korean strawberry milk bottle set from Amazon. You don't have to use a bottle. However, I recommend using a clear cup to show off the pretty strawberries. 
KOREAN STRAWBERRY MILK BINGGRAE VS CAFE
In short, Binggrae Strawberry Milk is a store bought Korean strawberry milk that contains the strawberry essence by using artificial flavors and strawberry concentrate. In all honesty, this stuff brings me back to my childhood – just absolutely delicious.
There are many differences between store bought binggrae strawberry milk versus the Korean cafe version. However, the biggest difference is that Korean strawberry milk sold in cafes are made with fresh strawberries and no artificial sugars. You can literally taste fresh strawberry chunks that add wonderful texture to the drink. 
If I am not making my own cute strawberry milk at home, I prefer to purchase strawberry drinks from my local Asian market because they are significantly less sweet than American brands.
HOW DO YOU MAKE STRAWBERRY MILK
Cuisine: Sweets
Difficulty: Easy
This Korean strawberry milk recipe is so easy and fast made with fresh strawberries. You'll be sipping it in no time!
Ingredients
1 ½ cup (249 g) – diced fresh strawberries (for strawberry puree)

½ cups (83 g) – diced fresh strawberries (for assembly)

⅓ cup (68 g) – monk fruit sugar (or regular sugar)

1 cup (236.5 ml) – milk
Directions
Set aside ½ cup (83 g) of the diced fresh strawberries, which we will use later during assembly.
In a small saucepan over medium low heat, put in 1 ½ cup (249 g) diced strawberries and sugar until it comes to a simmer. 
Simmer for about 5 minutes and cool completely before storing it in the refrigerator for at least 1 hour. If you would like a smooth strawberry milk, simply blend the strawberry puree after it has cooled until you've reached a smooth consistency.
Now it is time to assemble. In your glass cup, scoop in about 5-6 tbsp (about 75 g) of the chilled strawberry puree, about 1 heaping tablespoon (about 8 g) diced fresh strawberries, and then add the milk of your choice. 
Stir and enjoy!
OPTIONAL
Add ice for longer lasting chill. 
Add fresh whipped cream, mint, or a fresh strawberry for garnish
Notes
Remember you can certainly use any kind of sweetener as the sweetness level is completely up to you. I prefer my strawberry milk to be slightly sweet. Traditionally, this recipe is made with condensed milk. However, I like using monk fruit sugar as it is a much healthier option.
ALSO: you may use FROZEN strawberries! SImply make sure that the strawberries have thawed so that it is easier to work with.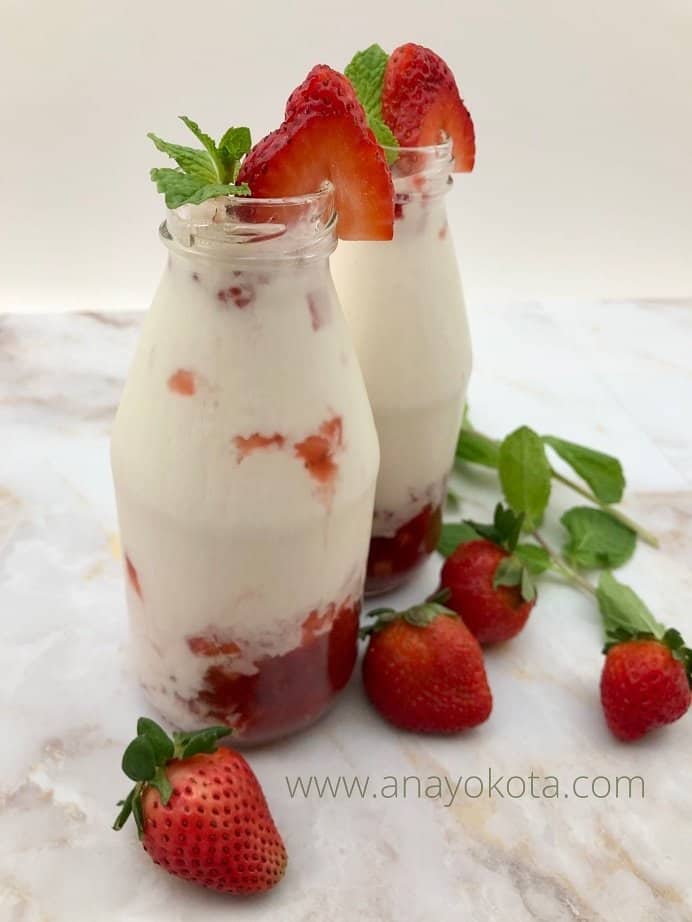 So, have you tried Korean Strawberry Milk? If not, it's time to make Korean milk. The drink is made with simply strawberries, milk and a little bit of sugar, so it can be whipped up in just a few minutes. And while the recipe might seem simple enough—it doesn't contain any artificial sweeteners!—the taste of this delicious beverage will surprise you. You'll love how refreshingly light and fruity your strawberry milk turns out! 
If you tried this recipe and want to learn more about other Korean beverages, you may enjoy Korean peach soju. I always test every recipe before posting it on the blog and never recommend anything I don't already advocate for. So, if there are other drinks you'd like me to test in the kitchen, please let me know in the common section below.