This post may contain affiliate links. Please read my disclosure policy for more info.
It's healthy, crispy, spicy, garlicky, parmesan chicken wings — finger licking good. Learn how to make spicy garlic parmesan wings today!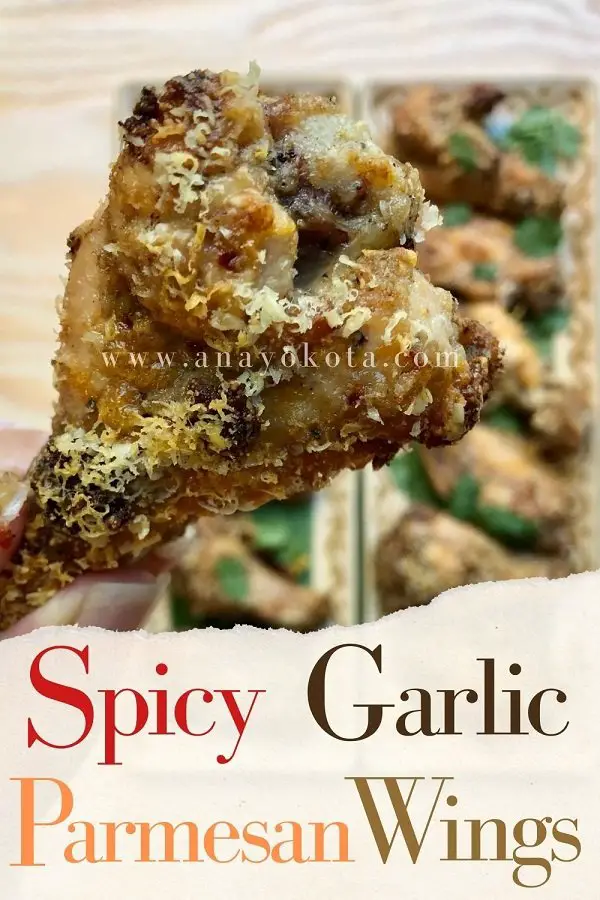 I am embarrassed to share that In all my singlehood, chicken wings always meant something from a fast food or grocery store. Not that there's anything wrong with where you get your wings; rather, I just never knew you could make it that tasty at home!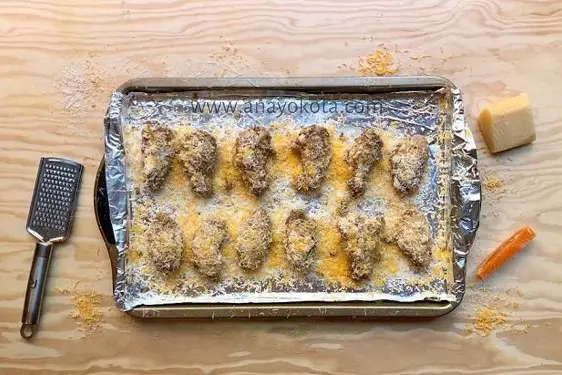 I received my chicken wing salvation when, one day, my endearing and ever-so talented boyfriend (now husband) made me his spicy garlic parmesan wings at my best friend's house. In just over 30 minutes, he made us dinner. 
I couldn't believe it. How was he able to season and bake parmesan wings so quickly? I thought to myself, "The garlic parmesan wings are either going to be really good or really bad." 
Excited to see if this 6'2 Japanese American can cook, my friends and I curiously plucked the parmesan garlic wings directly off the baking sheet. Before the tray could transfer to a plate and reach the table, half of it was gone. My friends approved.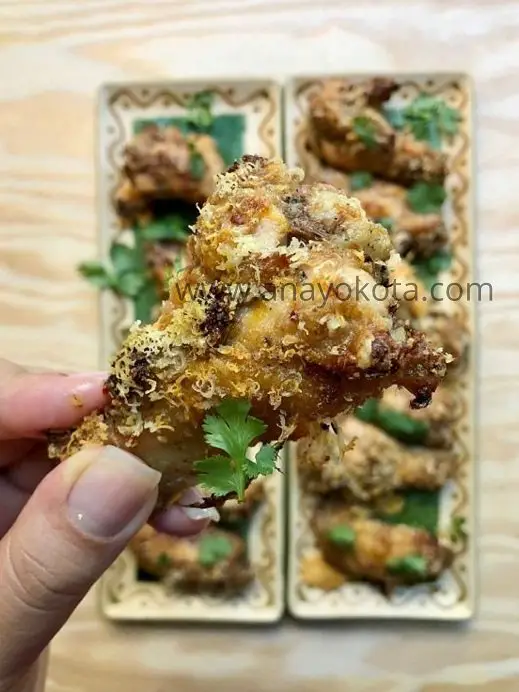 My first bite of this glorious chicken was sexy to say the least. My mind was blown because it couldn't catch up with what was happening on my palate. The chicken wings were a blend of crispy, spicey, juicy, and hot all while not feeling greasy. If I could, I would've gobbled the entire tray of garlic parm wings. I was in love.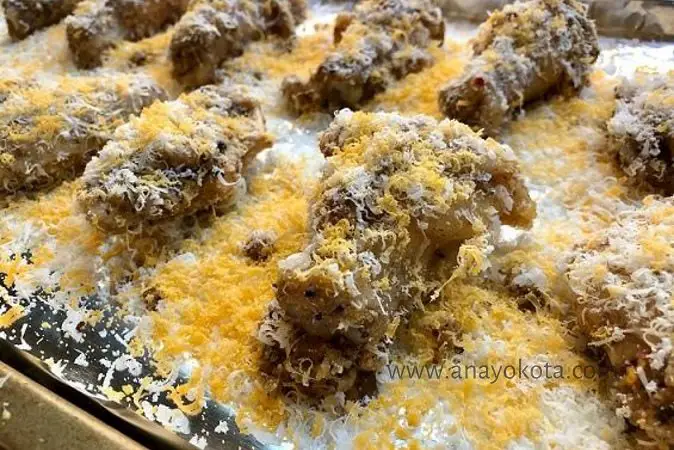 It was impressive to see that the results from the garlic and parmesan cheese came out so light and crispy even though it was not fried. It was as if Ken (the boyfriend and now husband) tested all the ways to make parmesan chicken wings perfectly. 
So, it was no surprise when Ken told me that he had tested his recipe until it became his holy grail masterpiece. 
Since then, we've made this addictive garlic wings countless times. 
With my husband's permission, I release to you his simple and yet so special recipe for parmesan garlic chicken wings.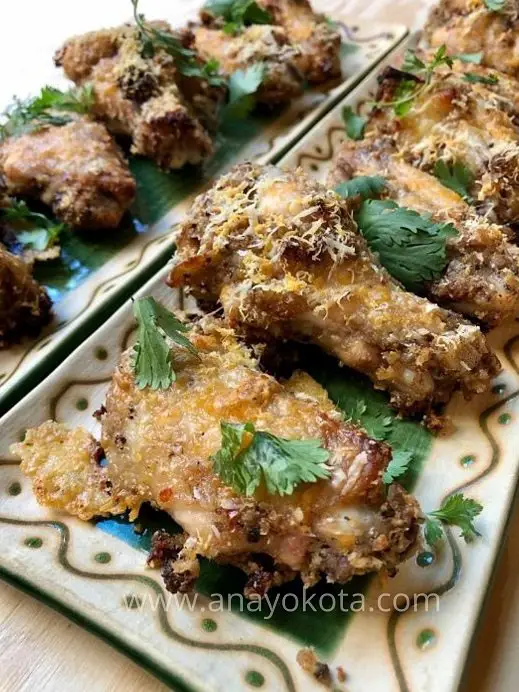 SPICY GARLIC PARMESAN CHICKEN WINGS RECIPE
Ingredients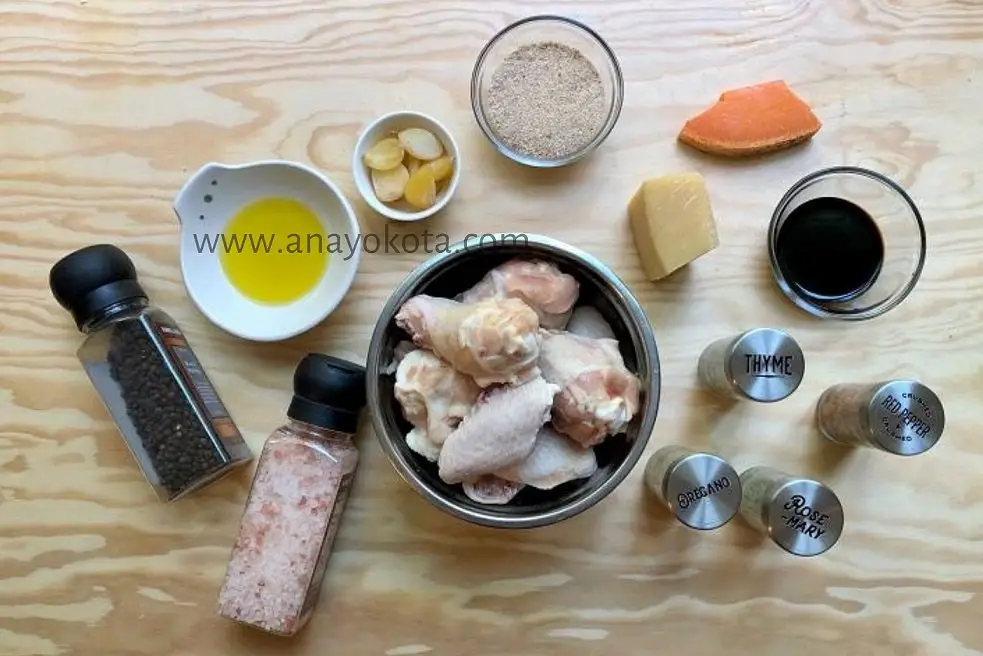 Approximately 12 wings (approximately: 18.32oz or 1.145lbs or 519.36g)
Wet Seasoning
4 quarts (3785ml) water
1 ½ (2.15g) tsp thyme
1 tsp (1.01g) oregano
1 tsp (1.12g) rosemary
1 ½ (9g)  tsp salt
¼ cup (63.75ml) balsamic vinegar
Dry Seasoning
1 ½ tbsp (22ml) avocado oil (or any high heat oil)
2 tsp (about 2 cloves) minced garlic
1 tsp (1.79g) crushed red pepper
1 tsp (5.9g) salt
½ tsp (3.45g) pepper
¼ cup (25g) breadcrumbs 
Topping
½ cup (44.95g) ~ 1 cup (89.9g) Freshly grated parmesan cheese 
A few sprigs of fresh cilantro or parsley (optional)
Lemon wedges (optional)
Instructions
Boil water and set the oven at 425°F (218°C)
Add all the wet seasoning ingredients into the boiling water
Gently put the raw chicken wings into the boiling pot mixture for 7 minutes (or until the wings start to float)
Immediately remove the wings from the pot and place them on a dry platter to pat them dry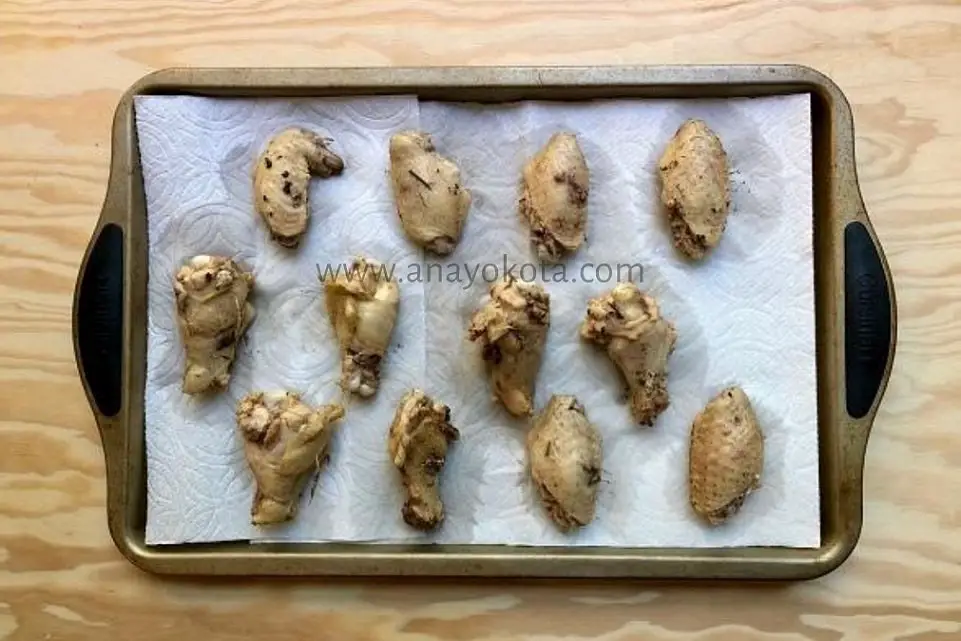 In a bowl, coat the chicken wings in avocado oil
In another separate bowl, mix in all the dry seasoning ingredients (EXCEPT the breadcrumbs)
Add the chicken wings to the dry seasoning mixture
Once the dry seasoning is fully incorporated, add the breadcrumbs and grate in about half of the parmesan. Toss until nicely coated
Place the chicken wings about 1 inch (2.54cm) apart from each other on a baking tray
Grate the remaining parmesan cheese over each wing
Place the baking tray in the oven and cook the wings for 22.5-23 minutes
Remove from the oven and let it cool for 5-10 minutes 
Place the wings on a serving platter and sprinkle fresh cilantro for some added color 
Sometimes I like to add a few drops of freshly squeezed lemon juice over the wings because it adds another dimension of flavor
Enjoy!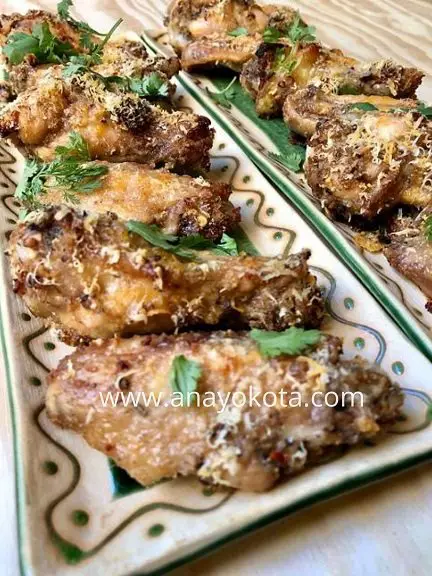 5 PRO-TIPS TO GET THE BEST CRISPINESS AND JUICINESS
Immediately remove wings. Do not leave the chicken wings in the boiling water after they start to float. Immediately take the wings out of the water as it will over cook the chicken when it goes into the oven. 
Dry them as much as you can. After boiling the wings, pat them dry as much as you can with a paper towel (or clean dish towel). You just want to remove as much moisture as possible to help all the seasoning adhere to the wings. If the wings are slick or slimy, it's too wet. If the wings start to get a little sticky to the touch, then it is dry enough.
Protect the tray. Coat the baking tray with your choice of oil (e.g.: avocado oil) to help crisp the bottom of the wings as well as help it from sticking to the pan. We've also made it with parchment paper, which eliminates the need for extra oil!
Skin side up. This may sound like overkill, but if the wings have more skin on one said than the other, bake the wings so that the skin side is up. This allows the skin to crisp up and absorb all that buttery and nutty flavor from the parmesan. 
Cheesier the better. Don't be shy. It will be okay. Jesus loves you. Go ham on that cheese. One time, my husband literally covered the tray with grated parm and I totally thought it would turn out super greasy. To my surprise, the extra cheese crisped up and acted like a layer of crispy chips. Who doesn't like decadent chips made from cheese!?
These baked garlic parmesan chicken wings are plenty delicious on its own.
---
However, if you are looking for a complimentary sauce. I recommend my garlic parmesan butter sauce (aka: spicy garlic parmesan sauce or crack sauce). 
SPICY GARLIC PARMESAN WING SAUCE RECIPE
Ingredients
4 tsp (about 4 cloves) fresh garlic minced 
¼ cup (25g) grated parmesan 
¼ cup (114g) melted unsalted butter 
¼ cup (54.89g) Olive oil
2 tsp (0.67g) freshly chopped cilantro (or parsley if you don't have cilantro)
½ tsp (3.45g) pepper
1 tsp (1.79g) crushed red pepper
Instructions
Mix all the sauce ingredients in a mixing bowl
Transfer to a serving ramekin or bowl 
Enjoy with the wings
---
I cannot say I am a wing connoisseur, but I am a fan of all things delicious. I'm also an even bigger fan when something can be made at home easily and quickly. This is the perfect garlic parmesan chicken wings recipe for a quick family dinner that is healthy and will bring smiles all around the table. 
Need a refreshing dessert idea to help finish the meal? Try my Japanese Fruit Kanten recipe that will sure to bring smiles all around.
Please tag me on instagram or any of the other social media platforms if you tried this garlic parmesan wings recipe. I'd love to see your creations!