This post may contain affiliate links. Please read my disclosure policy for more info.
Gamjatang recipe is a spicy pork bone soup with hearty potatoes. Gamjatang is considered one of Korea's classic winter stews that is rich in flavor and soothing to the soul on a cold day.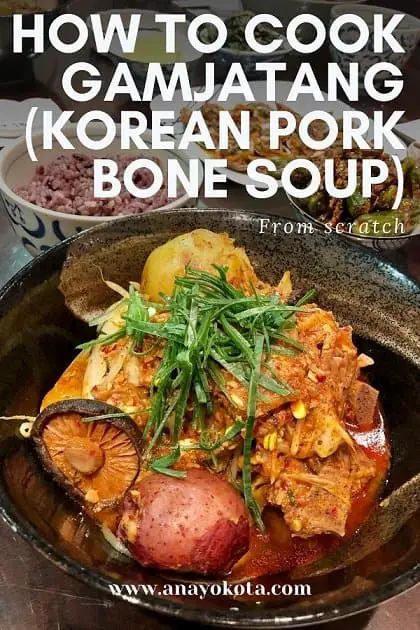 What is the best Korean soup dish?
Gamjatang, of course 😉
I first discovered this meaty pork bones recipe through my mom, who in my opinion is a culinary mastermind. She would cook this for me during the winter with extra potatoes and Perilla powder because that's the way we liked it. 
The entire house would permeate with the spices from the stew so, you definitely knew when momma was cooking her gamjatang recipe. I always had fond memories of this gamjatang recipe because our whole family would enjoy all the flavors from slurping on the pork neck bones and chasing it with a steaming bowl of purple rice. 
Side note: If you would like to learn how to make purple rice, you are in for a treat! Purple rice was a staple in my household growing up. If you're interested in ready to go rice lunches, be sure to check out Triangle Kimbap on the blog.
WHAT IS GAMJATANG?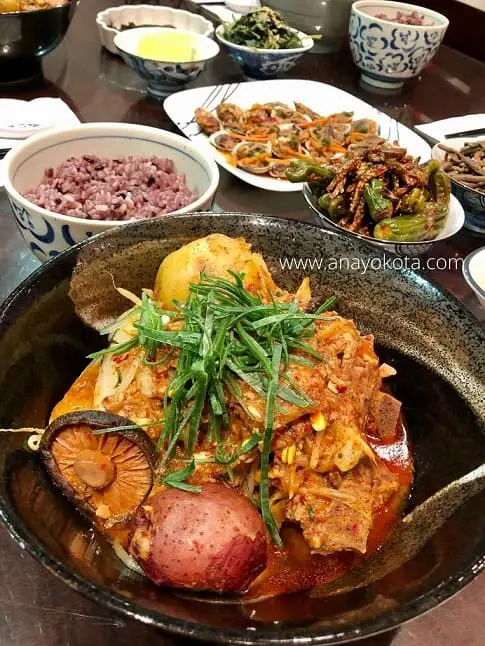 Gamjatang In Korean
Pronunciation:
Gamjatang (감자탕): gam-jaa-tahng
Literal translation:
Gamja (감자): potato
Tang (탕): stew
Though gamjatang literally means potato stew, the star of the show is not without its accompaniments like its must have partner, the pork neck bones. 
The most popular recipes will always have pork bones for soup, potatoes, parrilla powder, green onions, Napa cabbage doenjang (Korean fermented soybean paste), gochujang (Korean hot pepper paste), and gochugaru (Korean ground chili pepper).
The pork bones recipe (gamjatang recipe) can have a lot of ingredients depending on how complex you want the flavors. However, my mom taught me that when it comes to gamjatang, keeping things simple will deliver a more robust and deeper umami flavor. This recipe does take time but the love and effort is completely worth it at the end. 
HISTORY OF GAMJATANG RECIPE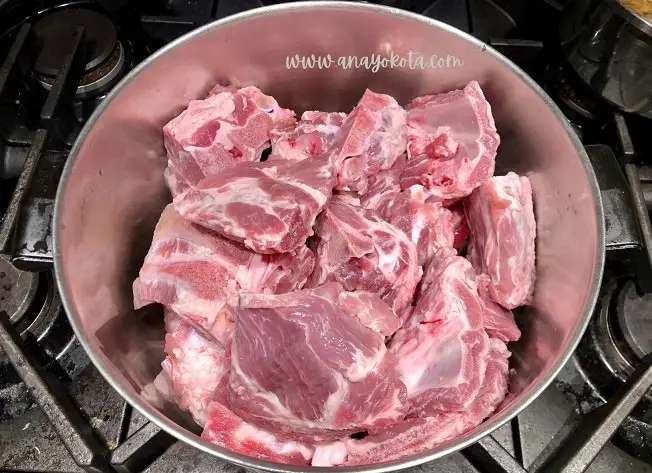 A common theory about the origin of Gagamtang is that it was created in 1899 in South Korea when people were mobilized to work on the Gyeongin Line Railroad Corporation. Han Dong-gil, who is from the Jeolla province, was the person who created gamjatang using cheap ingredients to serve the hard working people (SOURCE). 
Gamjatang Meaning
Despite the fact that the gamjatang recipe must have potatoes, contrary to popular belief, gamjatang got its name because (in Korean) the back of the pork or hog's neck is called, "gamja." Therefore, gamja-tang is actually pork neck bone stew. 
There is not a native Korean that doesn't know gam ja tang (or pork neck bone soup). Though other recipes may add their own veggie combination, the concept should all be the same — pork, potatoes, and spicy broth. 
PRO-TIPS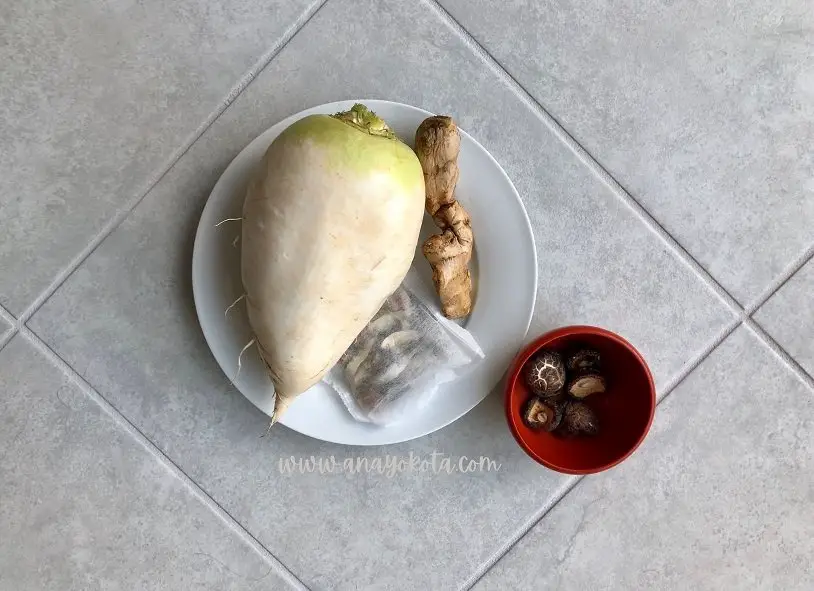 Prep the meat: Make sure you have plenty of time to soak the meat and prepare it. Do not skimp out on soaking, cleaning, and prepping the meat as this can determine a very clean and robust flavor or an oily, greasy flavor. 
Throw nothing away: When it comes to all the vegetable skins, roots, and leaves that you would normally toss out, use them when making vegetable stock. It is full of deep flavor and packed with nutrition. Yes, even the onion skin, daikon stub, and ginger peel! Let nothing go to waste.
No stock: While you are preparing the meat, upgrade your recipe and prepare your own stock. It is easy and very fast. But if you feel that it's too much to make your own stock (no judgment here), simply use no (or low) sodium vegetable stock. 
Order is important: Though I am all about umami (flavor), I am also an advocate for not making my food too salty or oily. You will see that I either cook my vegetables separately or add certain ingredients later to help enhance flavor all while keeping the overall stew clean. Pay attention to these details as it can make a difference in your final outcome.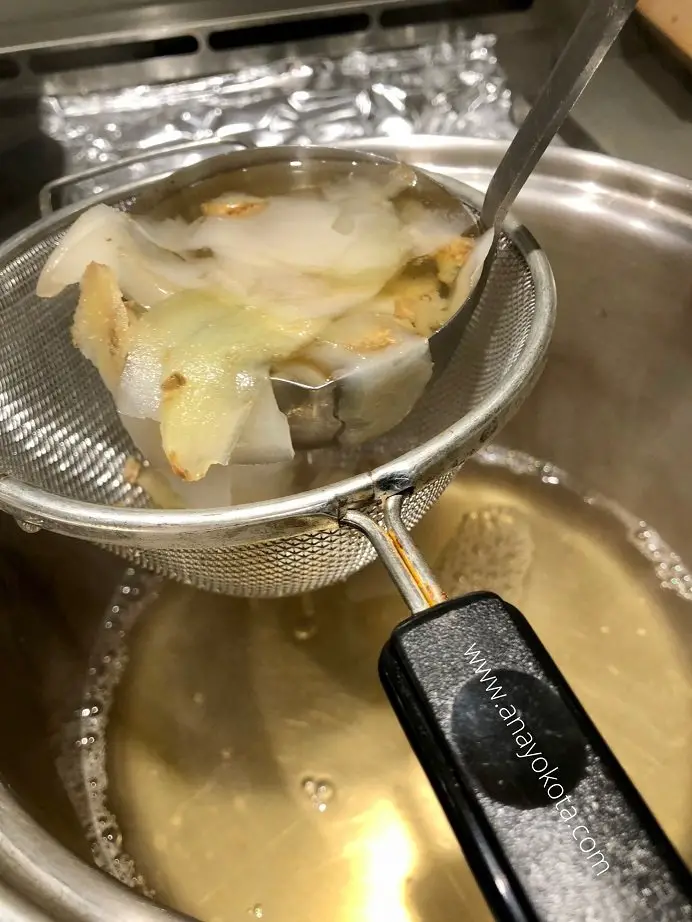 Adjust spice as desired: I'll mention this again, but you don't have to make the spice level exactly like mine. I would rate this gamjatang recipe spice level the equivalent to a mild version of Shin Ramyun. To make it less spicy (or spicier), simply add/subtract the gochugaru (Korean ground red chili pepper) and gochujang (Korean chili pepper paste).
HOW TO COOK GAMJATANG RECIPE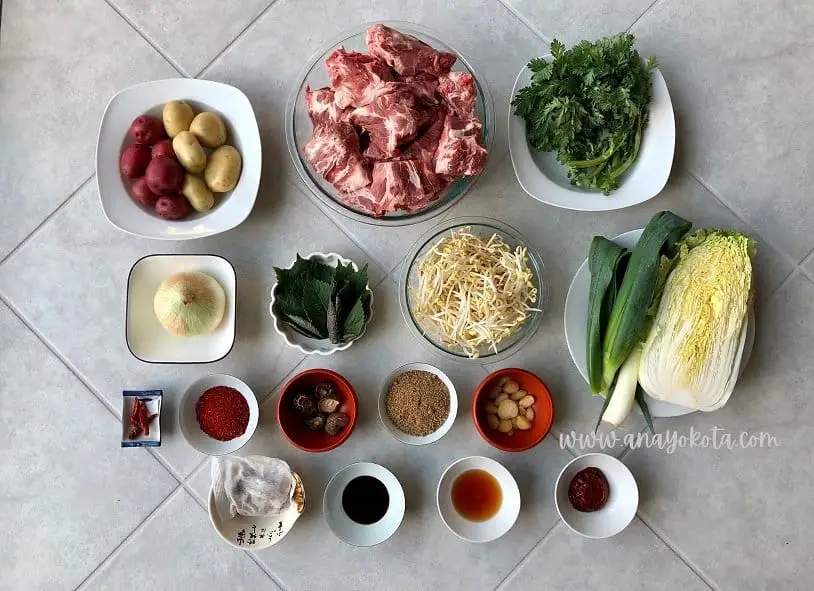 If you only have one very large pot, you can always reuse the pots as you go. But what will make things easier is preparing all of your ingredients ahead of time. Additionally, thoroughly wash and save all your vegetable skins, peels, and stubs for the broth as it will add incredible flavor and nutrition. Let nothing go to waste!
GAMJATANG (KOREAN PORK BONE SOUP)
Cuisine: Korean
Difficulty: Medium
Cooking time
1
hour 
30
minutes
The key to this recipe is to take your time and a little bit of patience. I wouldn't say this is a complicated dish, however there are a lot of small steps when cooking this gamjatang recipe. 
meat preparation Ingredients
4 lbs – pork neck bones

¼ cup (60 ml) – soju (or cooking sake)

3 tbsp (16 g) – ginger peeled and thinly sliced

Water

BROTH INGREDIENTS

6 dried shiitake mushrooms (wash and clean before use)

2 lbs (908 g) – napa cabbage quartered long (length) wise

16 cups (3785 ml) – water

1 large (17 g) – large green onion

1 bag of dipori dashi (mixed aromatics for soup base)

Leftover vegetable skins, peels, and stubs

MAIN STEW INGREDIENTS

5-6 (about 234 g) – whole red potatoes skin on

5-6 (about 215 g) – whole yellow potatoes skin on

1 medium (170 g) – onion quartered

About 10 cloves (95 g) – whole garlic

3 dried small red chilies

2 oz (60 g) – crown daisies

12 oz (340 g) – bean sprouts

12 Perilla leaves roughly chopped

SEASONING PASTE INGREDIENTS

1 cup – water

2 tbsp – gochujang (Korean hot pepper paste)

5 tbsp – gochugaru (Korean ground red chili pepper)

4 tbsp – doenjang (Korean fermented soybean paste)

3 ½ tbsp – fish sauce

2 tbsp – soy sauce

½ cup – dulggaegaru (ground perilla seeds or parrilla powder)

GARNISH

Thinly sliced large green onion

dulggaegaru (parrilla powder)
MEAT PREPARATION INSTRUCTIONS
In a very large bowl or pot, soak the pork for 20 minutes allowing the blood to come out. Rinse and repeat one more time. Drain completely.
In a clean large pot, place the pork neck bones, ginger, soju (sake), and fill the pot with water until the pork is fully submerged. 
Bring to a boil. Let the pork bone broth boil for about 10-15 minutes (or until you begin to see foam). 
Drain completely and set aside.
BROTH INSTRUCTIONS
(pro-tip: you can easily do this step while you are preparing the meat)
In a large pot, add the 16 cups of water and place the dried shiitake mushrooms, sliced large green onion, dipori, and any left over vegetable skins, peels, and stubs from preparing the vegetables. 
After about 20 minutes of boiling, gently add in the Napa cabbage and continue boiling for another minute. You are only blanching the Napa cabbage. 
Strain the solid ingredients out of the large pot leaving only the broth. 
Carefully separate and set the shiitake mushrooms and Napa cabbage to the side, which will be used for the main stew. 
SEASONING PASTE INSTRUCTIONS
Mix everything together in a medium bowl and set aside
STEW INSTRUCTIONS
It's time to use the large pot of broth you made. If you did not make your own broth, simply use about 13-14 cups of vegetable broth. 
Gently place the prepared meat in the broth.
Cover the pot with the lid and let it boil for about 45-50 minutes
Add the red potatoes, yellow potatoes, onion, garlic, and small red chilies to the stew. 
Gently mix in the seasoning paste
Slightly cover the pot with a lid and let it simmer over medium high heat for another 20-25 minutes (or until potatoes are fork tender). 
Add the Napa cabbage, shiitake mushrooms, bean sprouts, crown daisies, and sliced perilla leaves. I know it looks full, but it will shrink.
Let it simmer over medium high heat for another 3-4 minutes. 
Scoop generously (along with the vegetables, I serve about 1-2 neck bones and about 2-3 potatoes for each bowl) in a large serving bowl. 
Top it off with garnishes. About 1 tbsp of thinly sliced large green onion and about ½ tbsp of perilla powder is plenty. (I love ground perilla seed, so I go nuts on this stuff)
Enjoy!
Notes
Yes, pork bone stew is a lot but I promise it's worth it. The instructions are long because I wanted to be as detailed as possible. It's easy to make mistakes in this recipe but once you see the big picture, it's more time consuming than anything.
You can always take out or add other vegetables in this Korean pork neck bone soup. Remember, the main ingredients are the pork, potatoes, and seasoning. Let me know if you tried this dish and if you made any modifications of your own.
My favorite way of enjoying this Korean pork bone soup recipe is with a steaming bowl of purple rice and banchan. Hope you give this recipe a try!