This post may contain affiliate links. Please read my disclosure policy for more info.
Here are wonderful quotes about working moms that I hope will inspire you. May these working mom quotes and sayings remind you that you are not alone.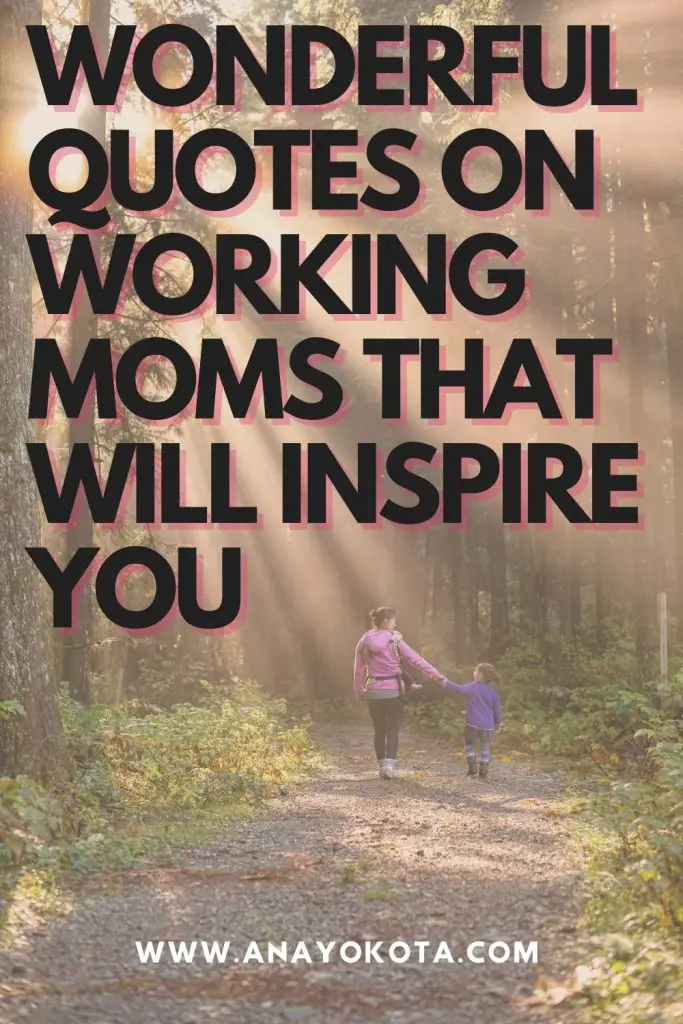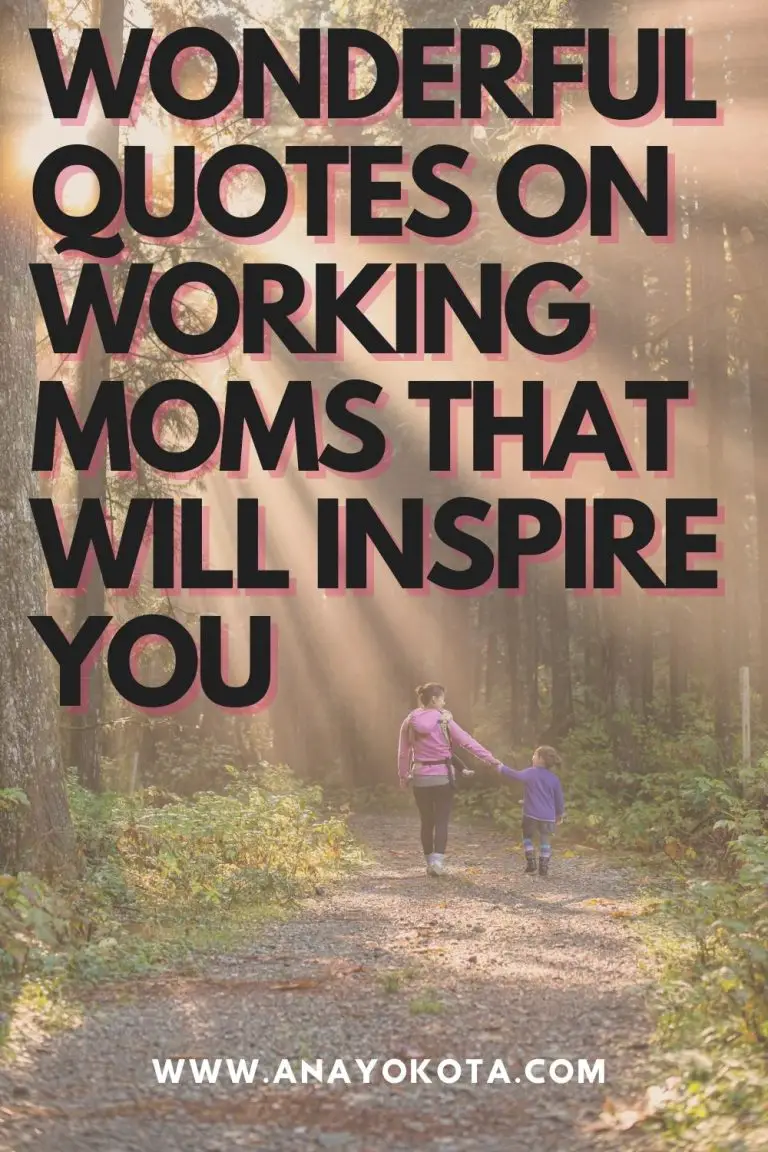 When I think of a hard working mom, I think of all moms out there doing their best to raise their child. For me, I think of my mom first as my definition of a hard working mom. Lord knows what I was like as a wild child. (La-you Ma!). 
Whether you are juggling a paying career as a single mom or raising 5 kids as a stay at home mom, being a mom in it of itself is a full time gig. It's nice to know that mothers are not alone when it comes to raising another human being. 
As I see family and friends raising their babies (young and old), I am in awe at how they balance work-mom life. Motherhood is a serious job that requires love, patience, peace, and a lot of grace on top of your other gazillion responsibilities to bring food on the table.
For those days that I need encouragement juggling all my responsibilities, I look at my journal, where I've collected my favorite quotes.
You can collect these quotes too in your journal to remind you that you have a wonderful job of raising God's proof of love all while showing them how strong, loving, and real you are as a mother. 
A mother's sheer willpower and love for their child is mesmerizing. I understand that motherhood is real and raw; and sometimes, you just need a little motivation by hearing the words of fellow mothers out there. 
As some days can be harder than others, I've compiled inspirational mom quotes that you can relate to and find encouragement. 
If you know a mom that you would like to encourage, share these quotes on being a mom and brighten her day. There are no bad mom quotes here because it's all about celebrating and embracing mothers. 
For inspirations on creating a great morning routine, here is an article called, Mom Morning Routine to help you get back on your feet and feel powerful again.
TABLE OF CONTENTS INSPIRATIONAL QUOTES FOR MOM
WORKING MOM MOTIVATION QUOTES
As an encouragement to working moms, staying motivated sometimes is simply knowing that you are loved and understood. 
"Like so many working mothers all over the world, I feel the constant struggle to be the best mother I can, whilst setting a good example to my children to work hard. I travel for work when it's necessary, and I miss them all the time when I am away." – Victoria Beckham, fashion designer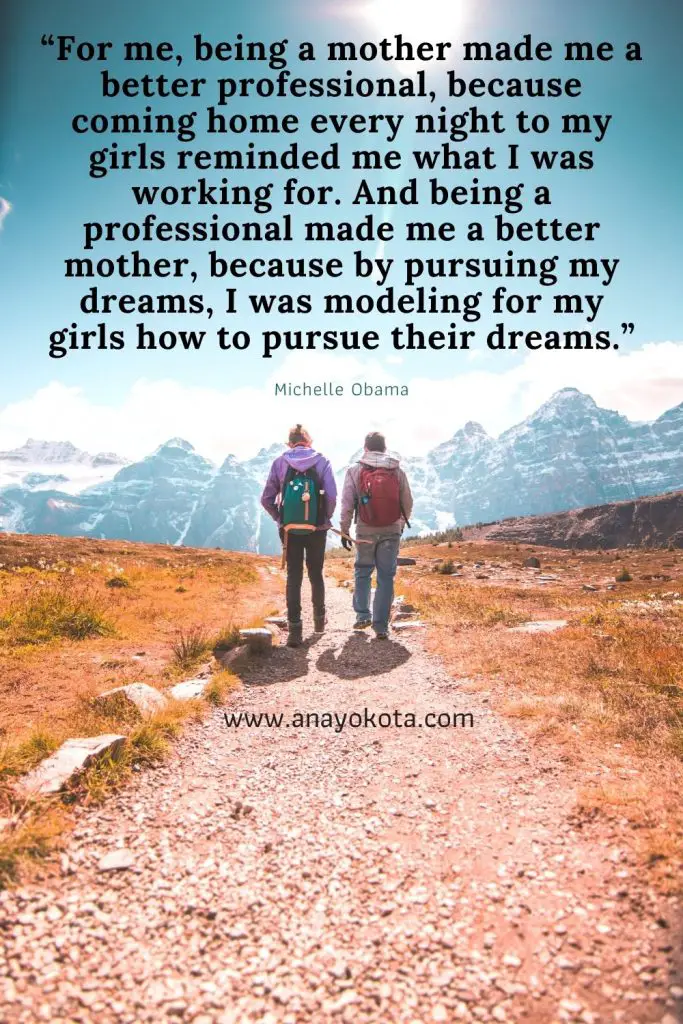 "For me, being a mother made me a better professional, because coming home every night to my girls reminded me what I was working for. And being a professional made me a better mother, because by pursuing my dreams, I was modeling for my girls how to pursue their dreams." – Michelle Obama
"There's something really empowering about going, 'Hell, I can do this! I can do this all!' That's the wonderful thing about mothers, you can because you must, and you just do." – Kate Winslet, actress
"No mom can do it all on her own. Asking for help is not a sign of weakness! When you need help, ask for it! When you are asked for help, give it – and offer it, too. In asking for help we can get past these too-hard-on-ourselves moments and instead build community with family, friends, and neighbors. Help – given and received – can help you achieve that acceptance of non-perfection – and the outcome may be even better than your initial vision of 'perfect.'" – Jen Klein
"I always give my title as 'working mother', because my children and my work are the two most important things in my life. Finding that balance is very important… Your career lasts a lifetime… stop and have your children whenever you're ready, not when your job 'allows'." – Karren Brady, CBE
"This struggle is real. The juggle is real. That's why everyone should hire working mothers. They are put in crazy situations all the time and are forced to problem-solve. They are some of my most resourceful employees." – Sara Blakely
"The balancing act of motherhood and a career, and being a wife, is something that I don't think I'll ever perfect, but I love the challenge of it." – Kerri Walsh Jennings
"The phrase 'working mother' is redundant." – Jane Sellman
"It's not wrong to be passionate about your career. When you love what you do, you bring that stimulation back to your family." – Allison Pearson, writer
"Get rid of the guilt. When you're at one place, don't feel bad that you're not at work; when you're at work, don't feel bad that you're not at home." – Katie Couric
"I think moms put a lot of pressure on ourselves trying to balance it all. It's never going to be perfectly balanced – the sooner you know this, the sooner you can relieve some of the pressure you put on yourself." – Denise Richards
SINGLE WORKING MOM QUOTES
Being a mom in it of itself is not easy; doing that alone is straight up admirable. May these proud working mom quotes provide comfort as you raise your beautiful one. 
"The fastest way to break the cycle of perfectionism and become a fearless mother is to give up the idea of doing it perfectly – indeed to embrace uncertainty and imperfection." —Arianna Huffington, author and business woman
"Successful Mothers are not the ones that have never struggled, they are the ones that never give up, despite the struggles." – Sharon Jaynes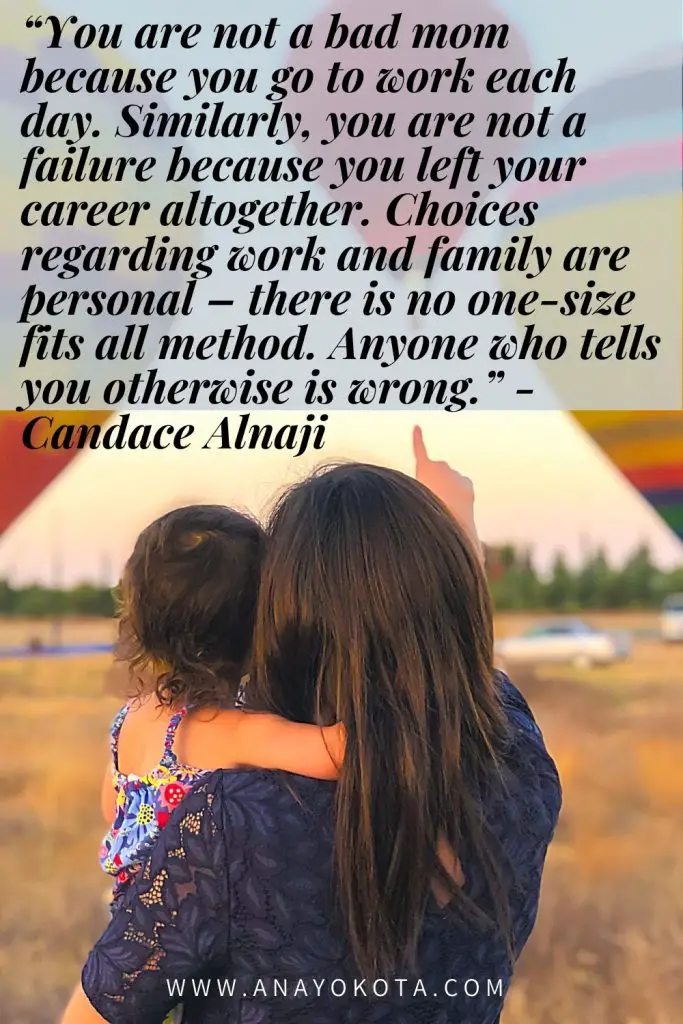 "You are not a bad mom because you go to work each day. Similarly, you are not a failure because you left your career altogether. Choices regarding work and family are personal – there is no one-size fits all method. Anyone who tells you otherwise is wrong." – Candace Alnaji
"Cleaning your house while your kids are still growing is like shoveling the walk before it stops snowing." – Phyllis Diller
"The attitude you have as a parent is what your kids will learn from more than what you tell them. They don't remember what you try to teach them. They remember what you are." –Jim Henson
"I want her to know something that I feel is important. I love work. I love her and I love work, and I want her to know work's a good thing. It's not something you're dragged off to." – Hoda Kotb
"I think every working mom probably feels the same thing. You go through big chunks of time where you're just thinking, 'This is impossible—oh, this is impossible.' And then you just keep going and keep going, and you sort of do the impossible." – Tina Fey
"I think while all mothers deal with guilt, working mothers are plagued by guilt on steroids." – Arianna Huffington, author and business woman
"If evolution really works, how come mothers only have two hands?" – Milton Berle
"You cannot do everything at once, so find people you trust to help you. And don't be afraid to say no." – Jane Seymour
QUOTES ABOUT MOMS LOVE
On several levels, the mother's love is powerful. You not only deserve the "hard working mom poem," but also an entire hall of fame dedicated to the intensity of your love. May these loving mum quotes bring warmth to your soul. 
"We should go after our dreams and not be apologetic about it, but it's scary. Whether you want to work or not, you have to do what makes you a fuller person. You have to love yourself." – Catherine Reitman
"My mother is my root, my foundation. She planted the seed that I base my life on, and that is the belief that the ability to achieve starts in your mind." – Michael Jordan
"A mother is a person who, upon seeing there are only four pieces of pie for five people, promptly announces she never did care for pie." – Tenneva Jordan
"My mom had four kids, one with special needs. She had a full-time job, and she still came home and made dinner for us every night, from scratch. It was amazing." – Eva Longoria
"The best place to cry is on a mother's arms." – Jodi Picoult
"It is not until you become a mother that your judgment slowly turns to compassion and understanding." – Erma Bombeck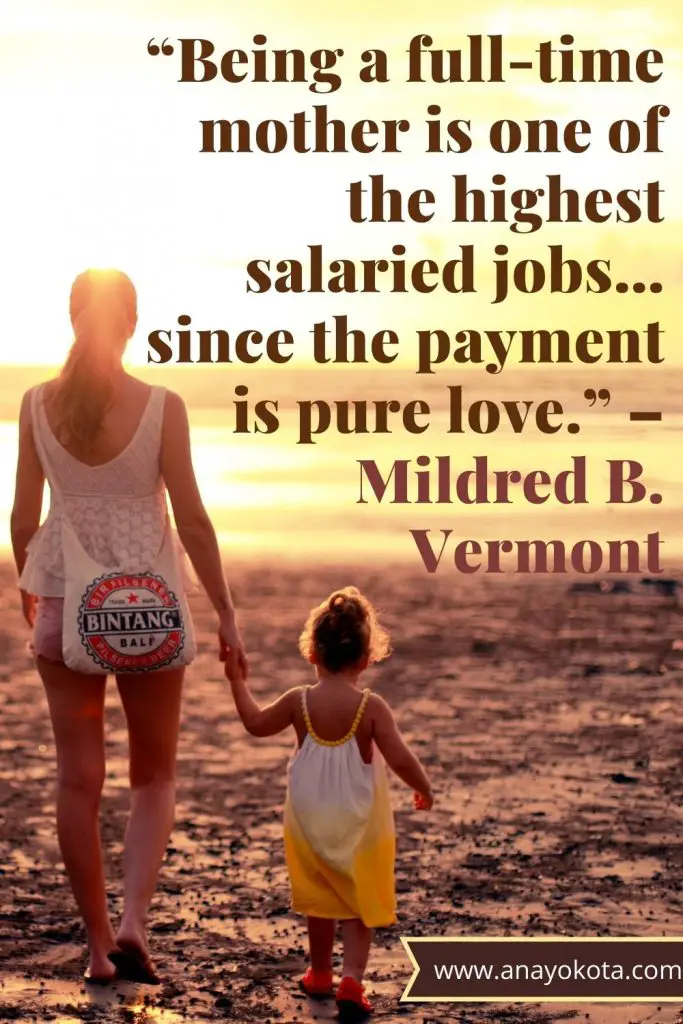 "Being a full-time mother is one of the highest salaried jobs… since the payment is pure love." – Mildred B. Vermont
"No influence is so powerful as that of the mother." – Sarah Josepha Hale
"The worst thing that we can do as women is not stand up for each other, and this is something we can practice every day, no matter where we are and what we do — women sticking up for other women, choosing to protect and celebrate each other instead of competing or criticizing one another." – Amal Clooney
"My mother was the one constant in my life. When I think about my mom raising me alone when she was 20, and working and paying the bills, and, you know, trying to pursue your own dreams, I think is a feat that is unmatched." – Barack Obama
"All that I am or ever hope to be, I owe to my angel mother." – Abraham Lincoln
QUOTES ABOUT BEING A MOM
Moms are all different because children are all so unique and beautiful. But one thing that is the same is that being a mom takes a lot of hard work. May these quotes about hard working mothers encourage you today. 
"When I first became a mother I suffered from serious 'half-ass' shame. I felt like I was mediocre at everything. I felt so stretched and so distracted (and exhausted). I said 'Yes' way too often in an effort to prove that I could do it all. I've worked so hard over the past decade to move from "What will people think" to 'I am enough.'" – Brene Brown
"If you are a mom, you are a superhero. Period." – Rosie Pope, entrepreneur
"Being a mother is about learning about strengths you didn't know you had and dealing with fears you didn't know existed." – Linda Wooten
"Any mother could perform the jobs of several air-traffic controllers with ease." – Lisa Alther
"Guilt management can be just as important as time management for mothers." – Sheryl Sandberg, CEO of Facebook
"Everybody wants to save the earth; nobody wants to help Mom with the dishes." – P. J. O'Rourke
"There is no way to be a perfect mother, but a million ways to be a good one." – Jill Churchill
"If I'm pursuing my goals, my kids are seeing me at my best. I am filled up, I am happy, I am not feeling empty, depleted, and therefore resentful about the fact that I'm missing out. I don't want them to feel like I've sacrificed, I don't want them to feel that burden. I always remember that a happy working woman is a happy mother." – Shonda Rhimes
"Most mothers are instinctive philosophers." – Harriet Beecher Stowe
"And remember that behind every successful woman is a basket of dirty laundry." – Anonymous
"Your most valuable parenting skill is learning to manage yourself first." – Dr. Laura Markham
"I pride myself on finding balance. I love making music and I love raising my boys. I find time to make BOTH a priority" – Sheryl Crow, musician.
"Sleep is out for 2009. Tired is the new black" – Amy Poehler, comedian
I LOVE MY CHILDREN QUOTES
You became a mother because of the miracle in your life – your child. The following not only reflect quotes for strong mothers but also the love for your child. 
"You never know when you're gonna get crapped on, when you're gonna get a big smile or when that smile immediately turns into hysterics. It might be like living with a drug addict." – Blake Lively, actress
"It's not what you do for your children but what you have taught them to do for themselves that will make them successful human beings." – Ann Landers
"Knowing I've got this beautiful baby to go home to makes me feel like I don't have to play another match. I don't need the money or the titles or the prestige. I want them, but I don't need them. That's a different feeling for me." – Serena Williams
 "When you are a mother, you are never really alone in your thoughts. A mother always has to think twice, once for herself and once for her child." – Sophia Loren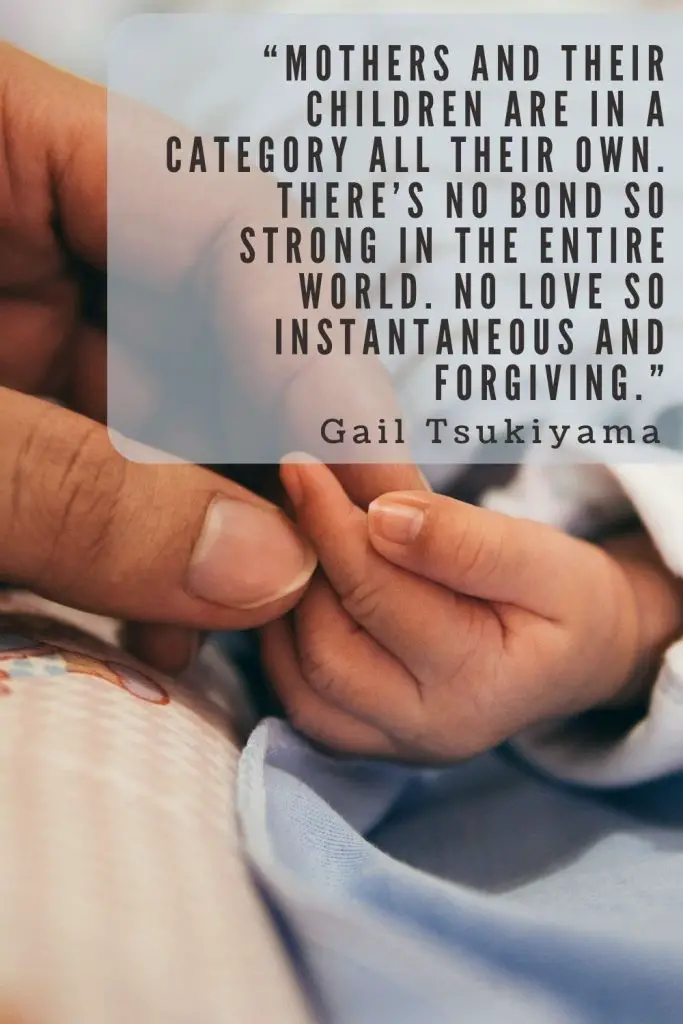 "Mothers and their children are in a category all their own. There's no bond so strong in the entire world. No love so instantaneous and forgiving." – Gail Tsukiyama
"I've seen good moms have kids who deal with depression and anxiety. I've seen good moms cry from worry about their kids." – Mary Organizes
"It's not difficult to take care of a child; it's difficult to do anything else while taking care of a child." – Julianne Moore, actress
---
Did you enjoy these quotes about being a mom? Send a quote for mom today!
These may be quotes for working moms from famous people, but one thing that mothers can all relate to is the effort and love it takes to raise another human being. Never settle for anything less in your life because you are loved and worth it! Being a mom doesn't make you any less of a woman nor does it mean that you are alone. Remember to wake up each morning and affirm who you are as a powerful, worthy, loving, and GOOD mother. 
Here is a list of affirmations you can start each day:
Do you have any favorite quotes about strong moms by your favorite mom? Please share them in the comments! I'm sure hard working mothers out there can relate.