This post may contain affiliate links. Please read my disclosure policy for more info.
Create your own charcuterie box to go for your next picnic, special event, or gift for a friend. DIY charcuterie boxes are fast, easy, and super classy. Scroll down to learn how to access a FREE Charcuterie Box Printable!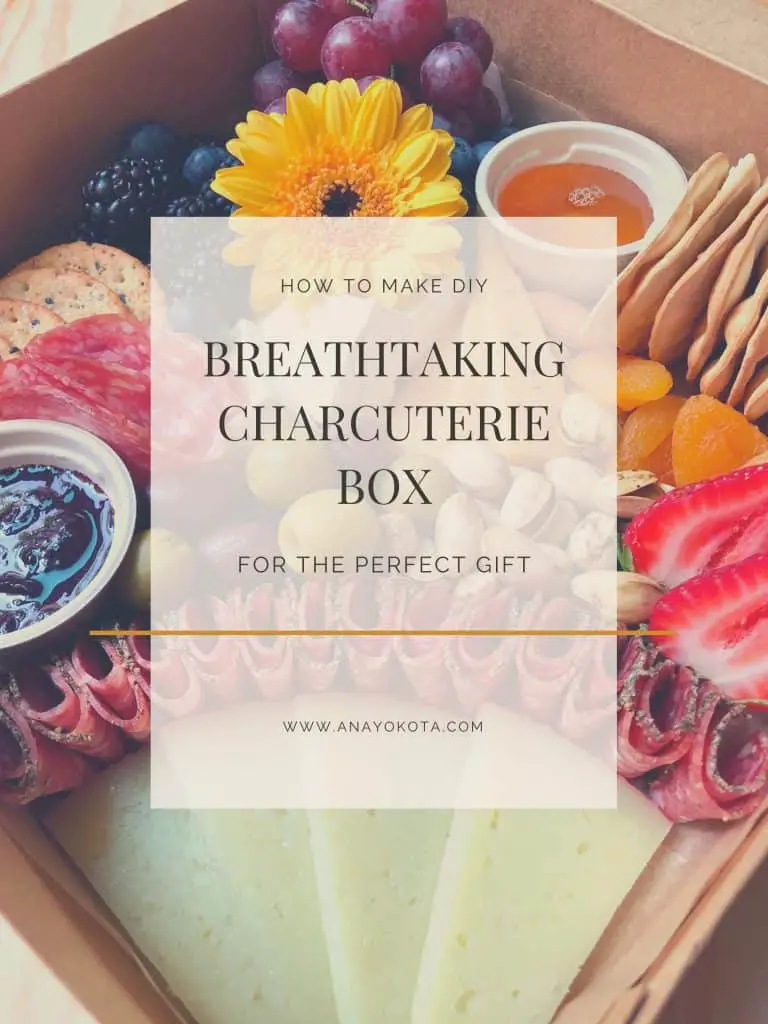 Charcuterie is simply a French term for cold cut cured meats accompanied by various compliments on a grazing board. Despite my Korean background where breakfast, lunch, and dinner are predominantly Asian inspired, this classic meat, cheese, and fruit combo has been and continues to be a staple in our home's kitchen. 
I love charcuterie boards because it is an easy and fun way for people to enjoy mouthwatering combinations of their favorite meats and cheeses all while mingling with each other. Be it a cheese gift set or a meat gift basket, charcuterie boxes can be presented on all types of occasions such as formal business receptions, casual parties, or even simple dinners for two. 
However, as the Covid-19 Pandemic (starting late 2019) disrupted the way that the world socialized, creating massive charcuterie tables where loved ones gathered crashed into a huge halt. 
Due to social distancing laws and various hardships that happened in 2020, I wanted to find a sweet opportunity that would allow me and my friends to enjoy charcuterie boards without compromising our safety as we appreciated each other's company. Hence the idea of a meat and cheese gift basket and board were created!
My friends recommended a couple local businesses that offered a charcuterie delivery box or charcuterie boxes for sale at stores and I decided to give it a try. Although I enjoy supporting local businesses and the convenience of getting hand crafted boxes straight to my door, I quickly realized that it was not only expensive but also very easy to make at home. 
As a result, I discovered how to make my own individual charcuterie box, which can easily expand to serve a small group of people or even party favors for special events.
This is a wonderful way to deliver a DIY gift to those that relish in charcuterie boxes and I hope you will give it a try. 
WHAT IS CHARCUTERIE BOX
Charcuterie, which literally means, "flesh cuts," was first introduced from the French during the 15th-centry primarily consisting of cured pork. However, it is no secret that the concept of cured meats has been a trend since Ancient Rome. 
Traditionally, charcuterie consists of various cured meats (notably the variable elements of pork). Be that as it may, it is common to associate the word "charcuterie" today with other accompaniments such as cheeses, fruits, breads, and sauces. Furthermore, I have started to see "charcuterie" be interchanged with the word "spread" to represent sweet desserts or pretty much any combination of finger foods that contains a plethora of varieties.
So what are charcuterie boxes?
The charcuterie box is simply all of the modern elements of a charcuterie board but snuggly and artfully packed in a convenient portable container. I have found that using a piece of parchment paper in a cardboard box is the best way to deliver and enjoy a charcuterie gift box. 
As mentioned earlier, I have also seen (trending on social media) different charcuterie box ideas that have nothing to do with meats; rather it is the idea of creating a smorgasbord of your favorite snacks in one box. For example, you can create a Christmas themed charcuterie gift box containing all sorts of holiday cookies, jams, and other sweet treats.
HOW TO MAKE CHARCUTERIE BOX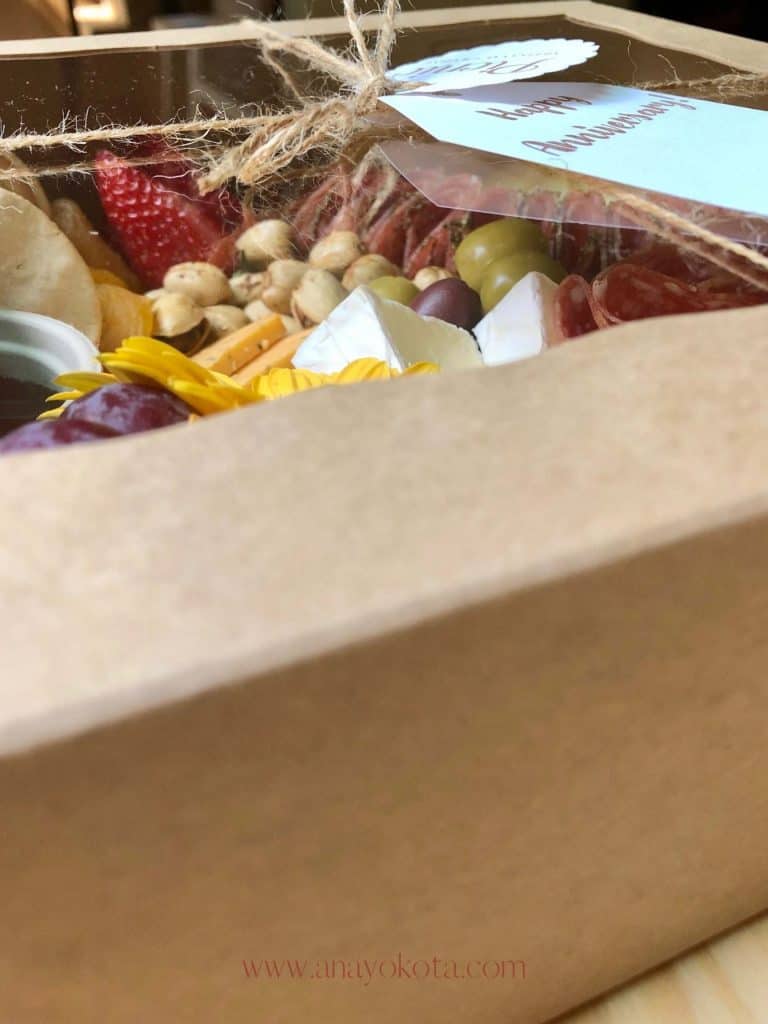 When considering the upward trend of modern charcuterie boxes, the sky's the limit when curating various themes and combinations. You'll hear me say this a lot because there's such a boom in the charcuterie box business: you can create charcuterie gift boxes based on sweet elements, salty elements, or the combination of the two. 
In this DIY charcuterie box, I will show you how to prepare the most commonly known items for one meat and cheese box for 4-5 people. The most important thing is to know how many servings you will need for each box. Naturally, the bigger the box, the more amount you will need. In my personal experience, preparing about 2-3 ounces of meat and about 3-4 ounces of cheese per person is plenty if you are including other fruits, crackers, and pickled items in your box. 
In other words, I used about 10 ounces of sliced meat and about 14 ounces of several cheeses along with some nuts, fresh fruit, and pickles.
After you've figured out your food math (the amount of each ingredient you will need for each box), it is time to decorate and pack. Do not be intimidated to think that this is too hard. The truth is, there really isn't a wrong way to customize and pack your items for charcuterie boxes. Once you put it all together and top it with a few flowers or foliage, the art just comes together into one beautiful cheese board gift.
That being said, along with my FREEBIE printable below, here are my top 5 pro-tips to display an epic charcuterie box regardless of your artistic background. 
Charcuterie box supplies. Cut out and use parchment or wax paper for the bottom of your box. Even if you are not using a cardboard box, the paper will help keep everything in place and assist in easy clean-up. 
Protect cheese and meat. Use cupcake liners for your more "wet" items such as pickles and jams. Aside from keeping your "dry" items from soaking pickle juice, this is a smart way to keep those items in place. 
Make it pretty. Gently fold your sliced meats to help give a more ribbon like effect as this will provide an artistic display between your cheeses.
Layer. It's okay to put fruits and nuts on top of the cheese. As a matter of fact, this is a great way to make the box look fuller and visually pleasing.
Decorate. To make one more upgrade to your box, decorate with fresh edible flowers, foliage, or home grown herbs. This can also act as a great filler if you decided to create a simpler box.
FAQ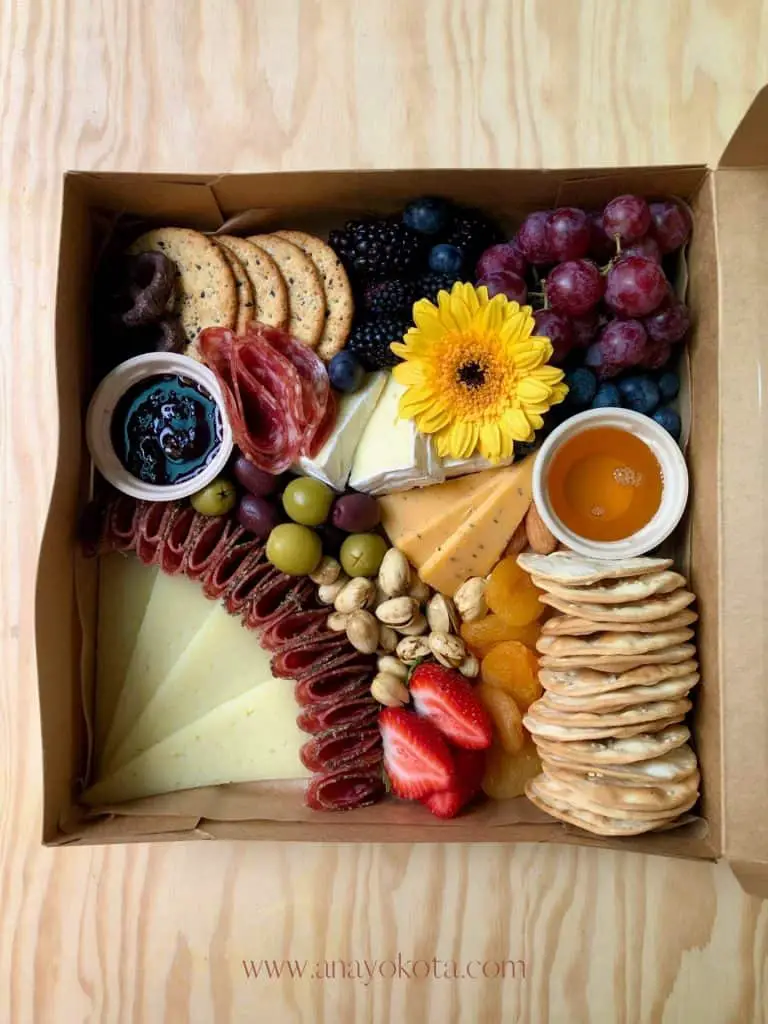 How do I pronounce charcuterie?
char·cu·te·rie
/ˌSHärˈko͞odərē/
Where to buy charcuterie box empty?
If you are referring to the box itself, I found my boxes on Amazon. But you should be able to easily find these disposable boxes at your local craft store. 
If you are referring to purchasing already made charcuterie boxes, I highly recommend googling "charcuterie box delivery near me" as each city may vary. When researching for charcuterie box services, please keep in mind customer reviews, freshness, source, and how local they are to you. 
How much are charcuterie boxes?
The cost of each box depends on the serving size, ingredients, and quality. If you are creating your own, you can save a ton of money and make a box as inexpensive as $10 dollars or as expensive as $100 dollars. 
The cost of my charcuterie box (including the box itself) was about $23, where I purchased most of my meats and cheeses from Whole Foods and Trader Joes.
How to keep charcuterie box fresh?
Always keep your charcuterie box in the refrigerator and let it sit at room temperature for about 10-15 minutes before enjoying especially if it is cheese and meat gift baskets.
Can you put kimchi on a charcuterie board or is that weird?
Umm, YES!!! You are speaking to a person that has kimchi in her blood. If you can use pickled peppers, olives, and pickles, then you can certainly use kimchi. As a matter of fact, if you are interested in learning how to make Korean Asian inspired meat and cheese gift baskets, please let me know in the comments below! You'd be surprised how you can transform a classic charcuterie box into an Asian themed box.
HOW TO BUILD A CHARCUTERIE BOX – FREEBIE PRINTABLE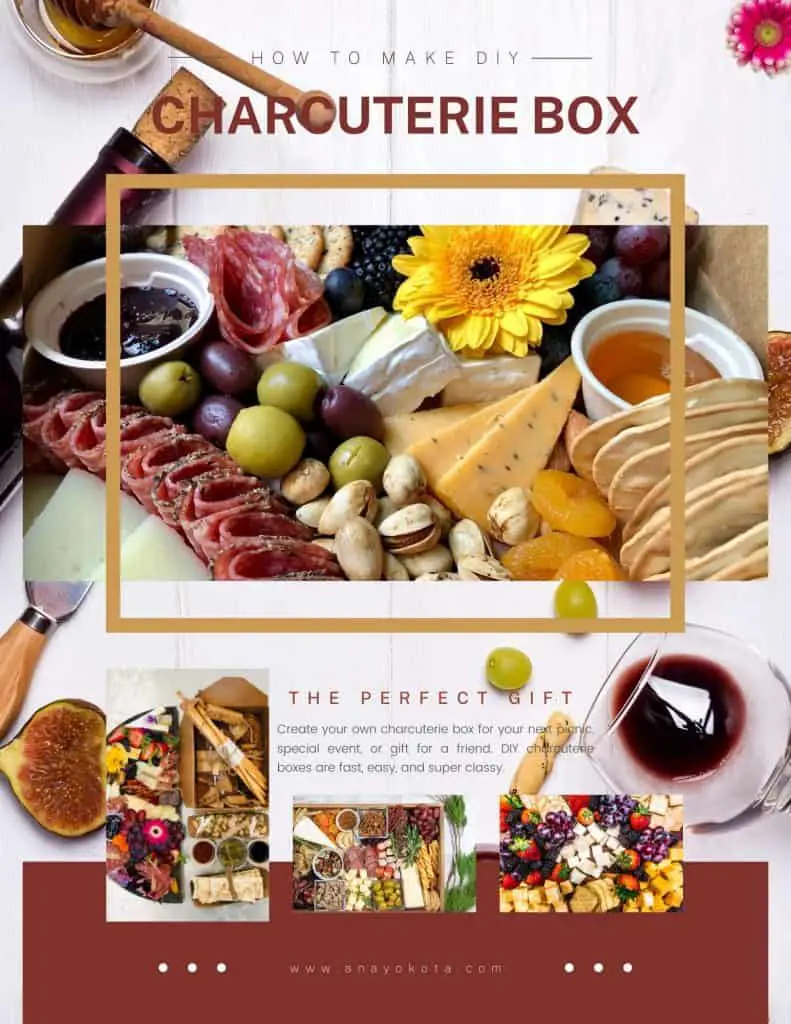 Not a member of the Ana Yokota Family (AYF)? Well, guess what? IT'S FREE! Join the AYF and gain access to all sorts of free printables and updates. You'll never miss a recipe.
Simply, click HERE to sign up and get the newest Charcuterie Box Printable to help you design your next gift, date night, or event. This printable includes all the ingredients (and quantities) I used for my board as well as instructions on how to build the charcuterie box.
---
I hope that my method was helpful and that you give it a try the next time you want to go out for a picnic or prepare a gift for a friend. 
If you have a big family or are planning a gathering, try creating an impressive charcuterie table. 
What is your favorite charcuterie theme or ingredients? Please let me know in the comment section below. Also, would you like to see other types of charcuterie box themes such as, Korean, Japanese, or holiday inspired? Would appreciate your thoughts.