This post may contain affiliate links. Please read my disclosure policy for more info.
Enjoy the deep tangy flavor of Korean pickled garlic (maneul jangajji) for your next side dish (banchan). This Korean marinated garlic is fermented over time which deepens the umami (flavor) and can last in your fridge for many months!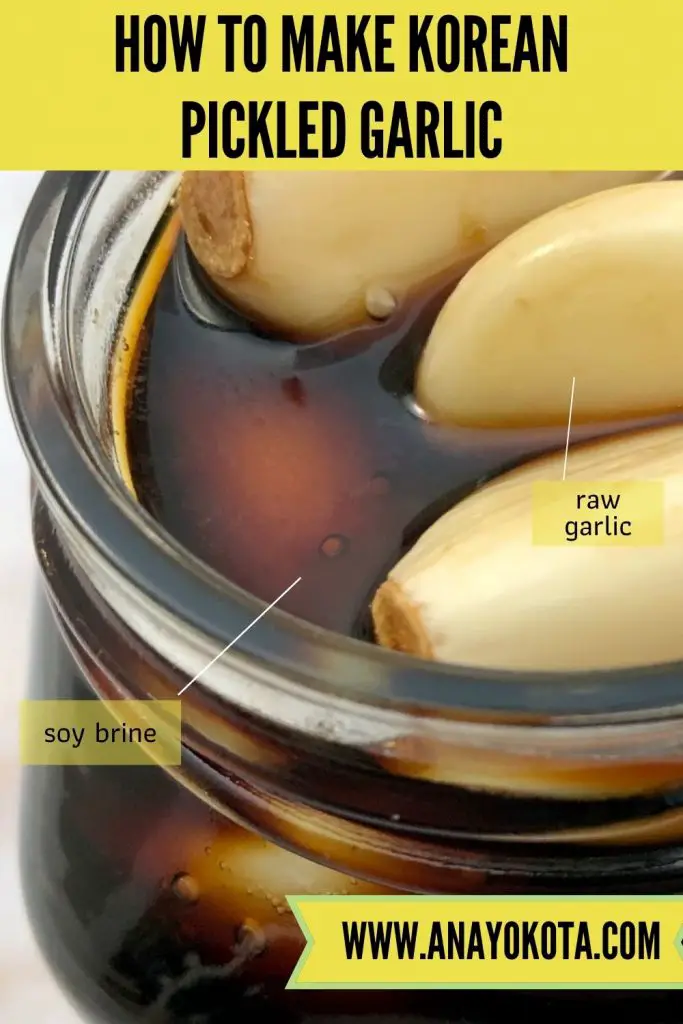 As much as I welcome the challenge of complex recipes, I assure you that this is very easy and can be made before you finish reading this article. 
Even though I married into a beautiful Japanese family, Korean jangajji (pickled vegetables) continues to be a staple in my household. It turns out that jangajji is not just Korean, but many Asian countries (such as Japan) adopted and cultivated their own versions of pickled vegetables (more on this below). Not to mention, the pickled garlic benefits! (also more on that below)
As a kid, I couldn't eat raw garlic because it was simply too pungent for me. However, when garlic is pickled properly, it turns into a mildly sweet, salty, and tangy flavor with a crunchy and refreshing bite — perfect with rice. Hence, one of my most favorite ways to eat garlic is pickled. 
Some recipes use garlic cloves, garlic slices, or the entire garlic bulb. To me, I love the texture of peeled whole garlic cloves because it still has its crunchy snap. Nevertheless, this recipe can be used for all forms of garlic. Furthermore, if you feel fancy, you can add onions or even sliced jalapenos to give it extra flavor and a spicy kick. 
The best guideline to make delicious jangajji is two main parts: 1) The brine. 2) Fresh (good quality) vegetables; in this case, garlic. But it also helps to know a little more about the history of pickled vegetables and why it's still a huge iconic banchan today.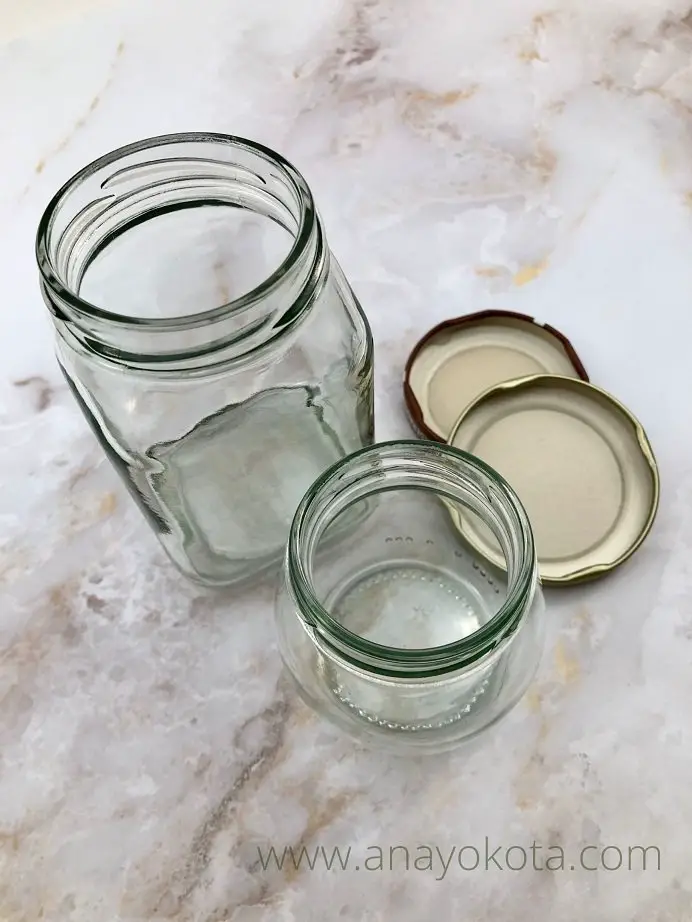 BRIEF INTRO TO ASIAN PICKLED GARLIC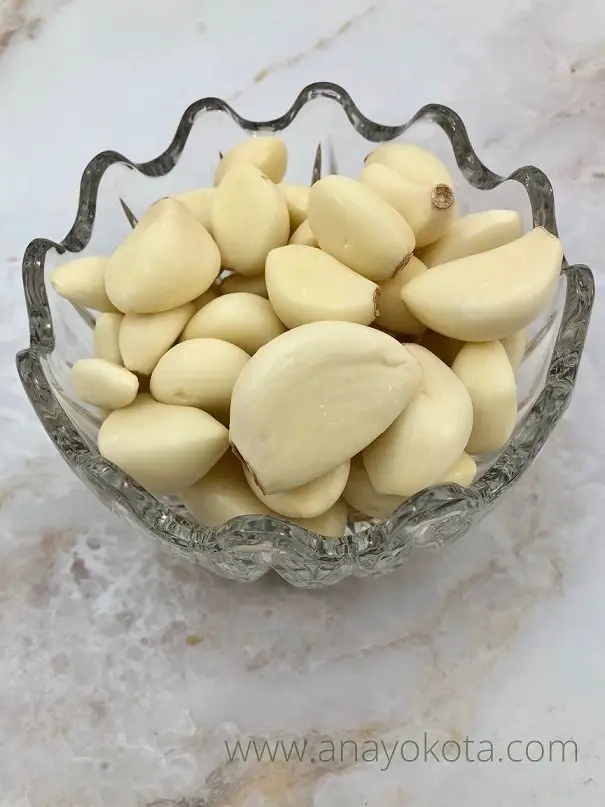 Garlic in Korean is 마늘 (maneul)
Though pickling has been around since the ancient Mesopotamians (SOURCE), pickling and fermenting has been a cultural norm all throughout Asia to ensure that food didn't go bad (aka food preservation). 
In Asia, people had to think of creative ways to preserve food since they did not have access to modern day technology (i.e.: refrigerators). As a result, you can see various types of pickled vegetables (Asian pickled garlic) using some sort of salty brine. 
KOREAN PICKLED GARLIC HEALTH BENEFITS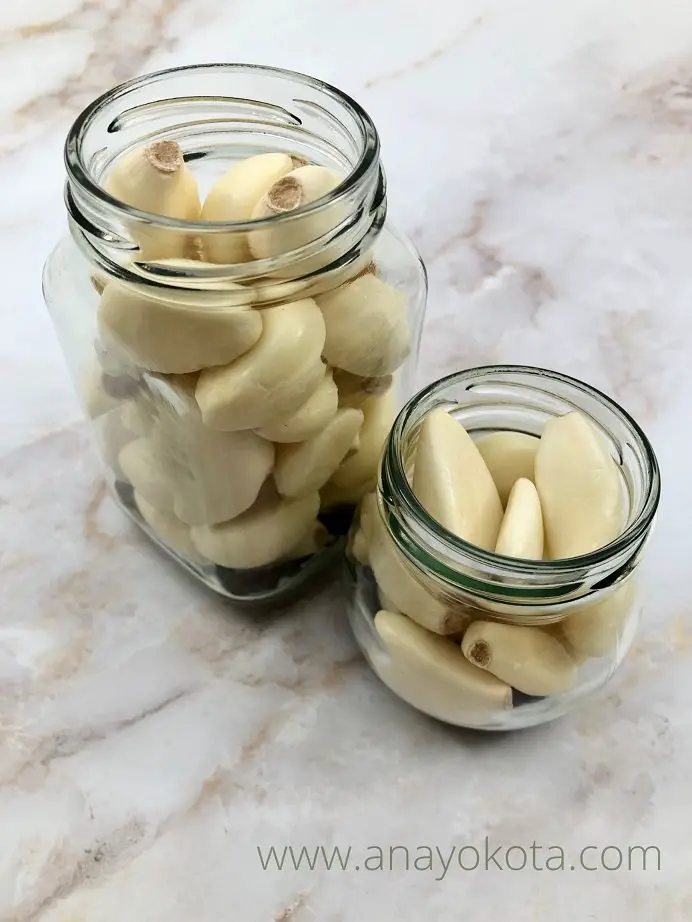 The beauty behind garlic is that it's packed with amazing nutritional properties no matter what state it is in – boiled, fermented, raw, etc… 
Specifically, studies have shown that pickling garlic (also commonly known as aged black garlic) has antioxidant, anti-inflammatory, anti-cancer, anti-obesity, anti-diabetic, anti-allergic, cardioprotective, and hepatoprotective properties. Additionally, Ji Hyeon Ryu and Dawon Kang stated in their article, Physicochemical Properties, Biological Activity, Health Benefits, and General Limitations of Aged Black Garlic: A Review, that "aged black garlic shows lower anti-inflammatory, anti-coagulation, immunomodulatory, and anti-allergic effects compared to raw garlic (SOURCE)."
FAQ – GARLIC PICKLE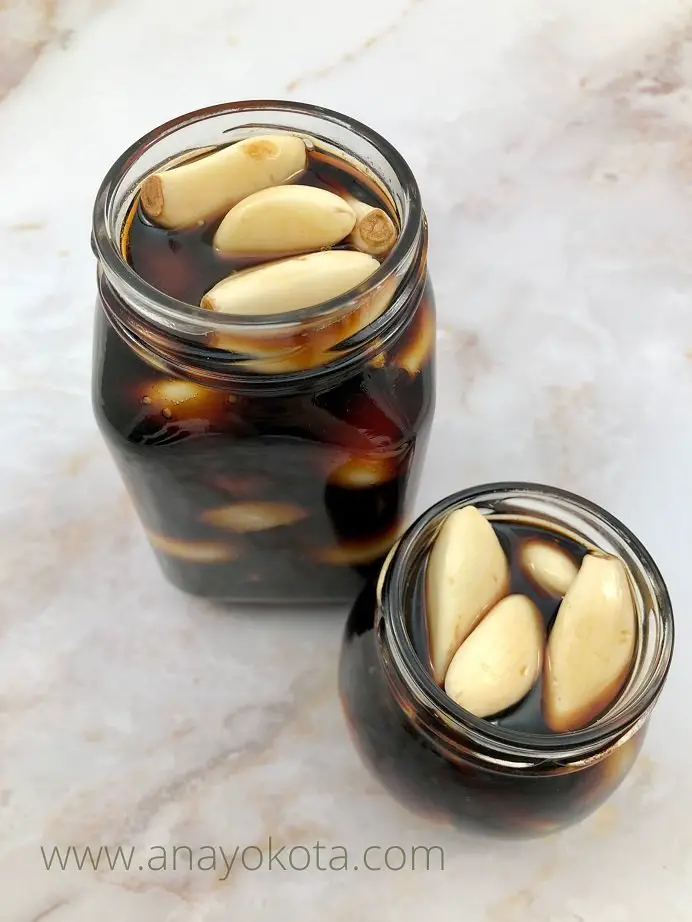 Where to buy Korean pickled garlic?
If you want to purchase premade pickled garlic, you can easily find it in your local Asian grocery store such as H Mart or online such Amazon. 
Does pickled garlic have the same health benefits as raw garlic?
As mentioned earlier, garlic in all forms have proven to be highly beneficial. Additionally, pickled garlic has added benefits of easier digestion, anti-inflammatory, and even cold fighting properties. 
What is allicin which is found in garlic?
According to Allicin: chemistry and biological properties, "Allicin (diallyl thiosulfinate) is a defense molecule from garlic (Allium sativum L.) with a broad range of biological activities." In other words, Allicin is a compound found in garlic (pickled garlic benefits), which provides health benefits such as antioxidants. 
Pickled garlic uses
Pickled garlic uses are not just for rice. You can slice them and top them over noodles, grill them with meats and even mince them over your favorite porridge. 
How would you describe Korean cuisine?
Korean cuisine has an array of flavors packed with pickled vegetables, hearty soups, and spicy stews. Traditional Korean food is also presented with multiple side dishes also called "banchan," that is served with purple rice. 
Why do Koreans have so many vegetables in their cuisine?
Agriculturally and simply culturally, Koreans grow vegetables, which they use to make many side dishes (banchan) such as Shigumchi (seasoned spinach), kongnamul (seasoned soy bean sprouts), or maneul jangajji (Korean pickled garlic). 
What's the easiest way to eat raw garlic?
Pickling, of course (wink). No, but seriously, pickling is the easiest way to eat raw garlic as it is easily digested and tastes less pungent.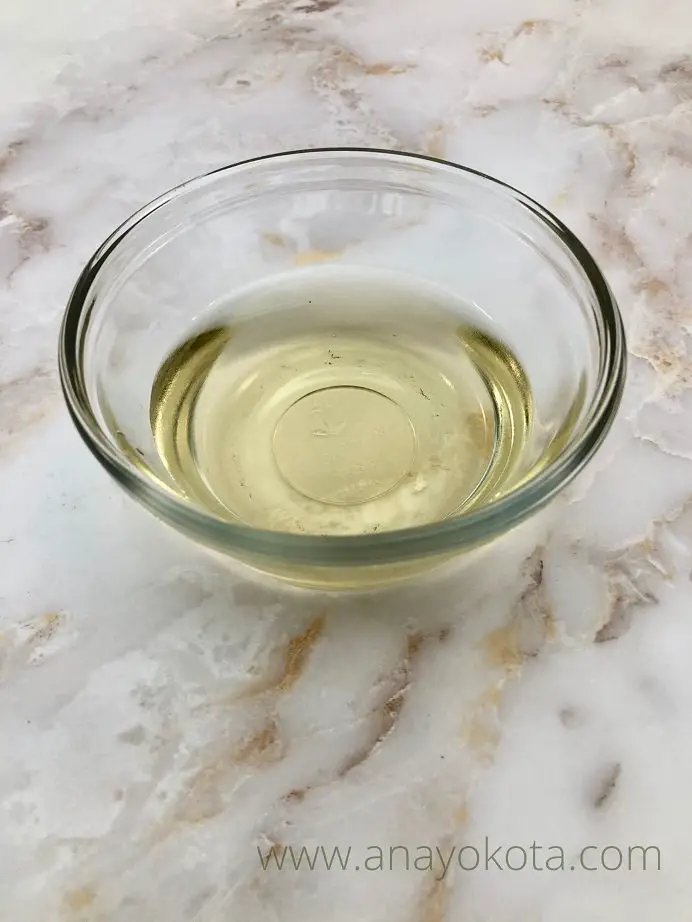 What is the best home recipe for making pickles?
To be honest, I love my mom's recipe because I grew up with it. But more importantly, my mom's recipe has less sodium and it's easier to eat with rice. Sometimes it can be tricky to create a brine that doesn't taste like straight up salt. However, the trick is to boil the brine to ensure the pickling doesn't spoil.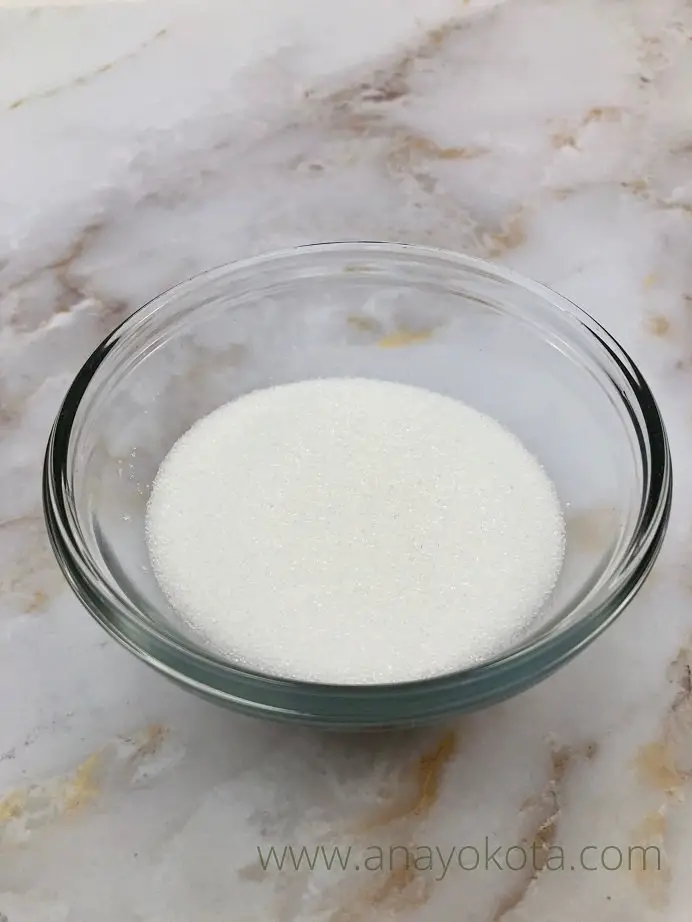 Is Korean food tasty?
Absolutely! I love Korean food so much, it's in my blood. The intense flavors are reflected through each dish whether it is a side or a main dish. I can eat Korean food everyday and never get sick of it.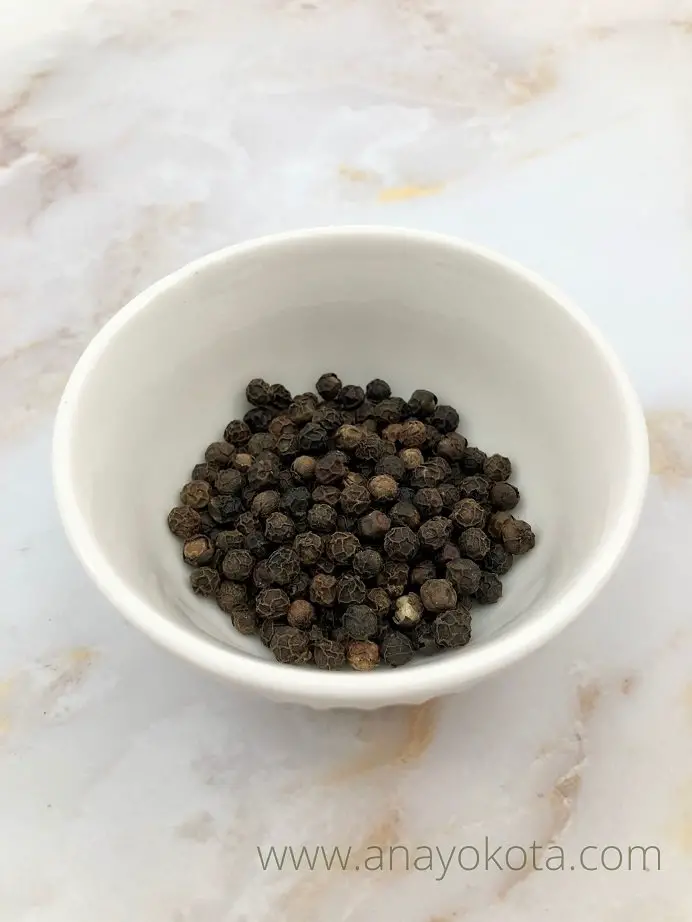 How popular is Korean food in America?
According to Yelp, the demand for Korean food in America is growing faster than its supply with over 34% growth (SOURCE). 
Is kimchi a pickle?
Technically kimchi is fermented by being pickled. To learn more, read the difference between pickling and fermenting here (LINK). 
KOREAN GARLIC PICKLE RECIPE
Cuisine: Korean
Difficulty: Easy
This is a delicious way to add garlic to your table, but with more flavor!
Ingredients
1 pound (about 80 cloves or 453 g) – peeled garlic

⅓ cup (80 ml) – rice vinegar

¾ cup (180 ml) – soy sauce

⅓ cup (100 g) – sugar granulated 

1 ¼ cup (300 ml) – water

1 tbsp (10 g) – peppercorns
HOW TO PICKLE GARLIC INSTRUCTIONS
Place the garlic in an airtight glass container (ie: mason jars) and set aside.
In a small saucepan over medium high heat, pour the vinegar, soy sauce, sugar, and peppercorns.
Bring the brine mixture to a boil and immediately bring it down to a low simmer for 2 minutes.
Turn off the heat and cool completely. This can take up to 2 hours depending on your climate.
Once the brine has cooled, slowly pour the brine over the garlic.
Close the lid and store at room temperature (cool and dark area) for a week. 
Then store it in the refrigerator for another week before enjoying it. 
Notes
The actual cooking time is less than 10 minutes. However, the pickling/fermenting time takes at least a couple weeks for it to reach optimal flavors.
I hope you give Korean pickled garlic recipe a try. It does take a little bit of patience as most of the time preparing pickled garlic is waiting for it to age. However, it is worth the wait and it can last a few weeks to a whole year depending how well you store it. 
Please let me know if you give this recipe a try or if you are interested in other Korean pickled side dishes (banchan). 
If you like pickled daikon, try my Korean pickled daikon or yellow daikon recipe. It is perfect with fried chicken or a steaming pot of spicy noodles.