This post may contain affiliate links. Please read my disclosure policy for more info.
Whether it is spicy or sweet, fish cakes Korean represent Korea's rich banchan (side dish) culture.
Have you been looking for a new, delicious recipe to try? Korean fish cakes are just the thing! This dish is one of the most popular in Korea and has become increasingly popular in America. It's easy to make while still packing a lot of flavor. In this blog post I'll tell you how to make authentic Korean fish cakes.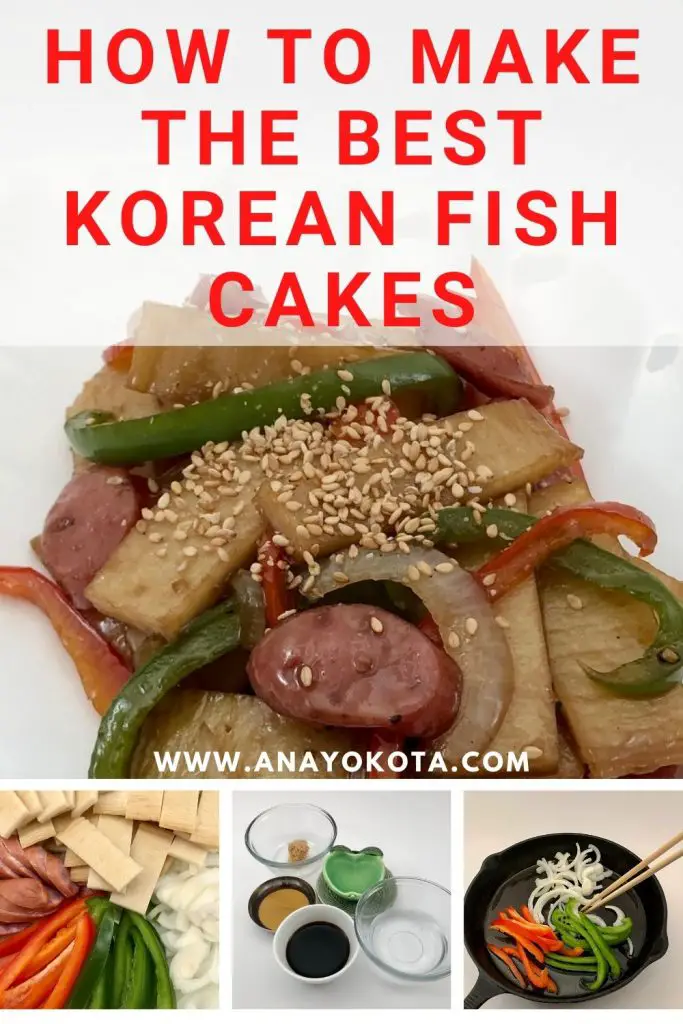 WHAT ARE FISH CAKES KOREAN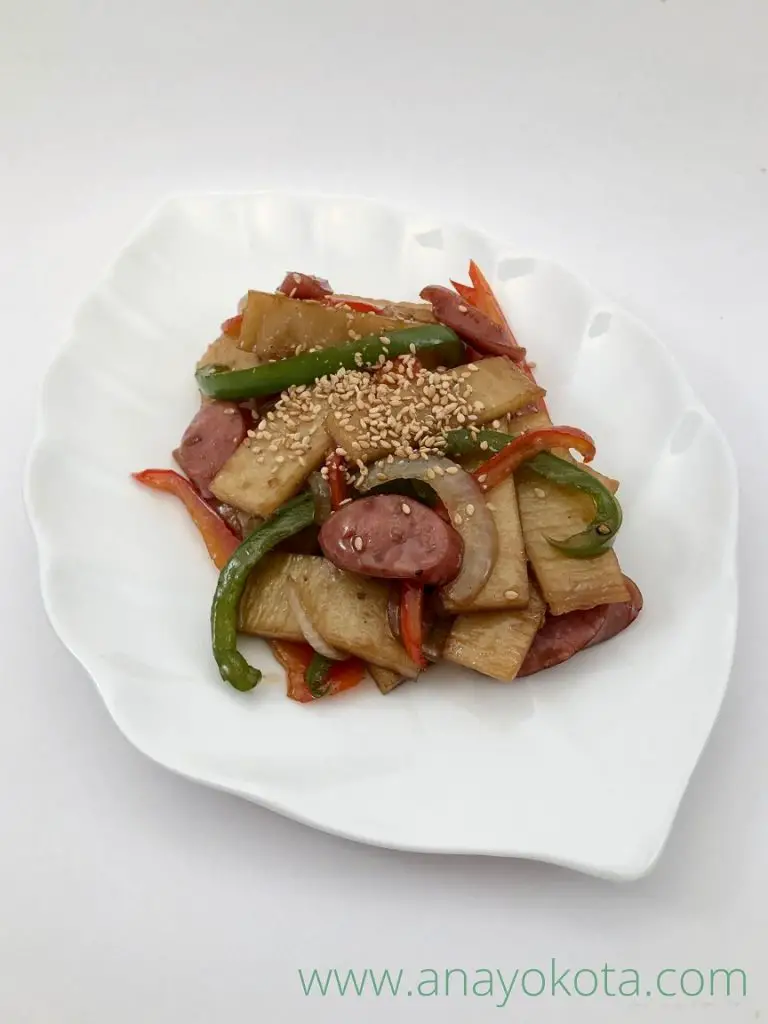 Fish cake is an ingredient used when creating the iconic Korean banchan (side dish), eomuk bokkeum or odeng stir fry. While many in Japan know this ingredient as odeng, it is common to hear Koreans refer to fish cakes as "eomuk." With eomuk you can find all sorts of recipes with fish cakes. For example, you can create a few types of Asian dishes such as Korean fish cake soup, Korean fish cake street food, or the iconic Korean fish cake stir fry.
It has been my experience where almost every Korean traditional restaurant in the US that I've dined offered some variation of the Korean odeng banchan (Korean side dish). In other words, Korean fish cakes are side dishes that are almost always presented when eating Korean food. 
It is also very common to use a lunch side dish in bentos (lunch boxes). When I was a young girl, my mom would add the fish cake Korean side dish to my lunch and I would eat it at school. Now when I make it at home, it takes me back on memory lane as I appreciate the simple flavors of this dish.
WHAT ARE KOREAN FISH CAKES MADE OF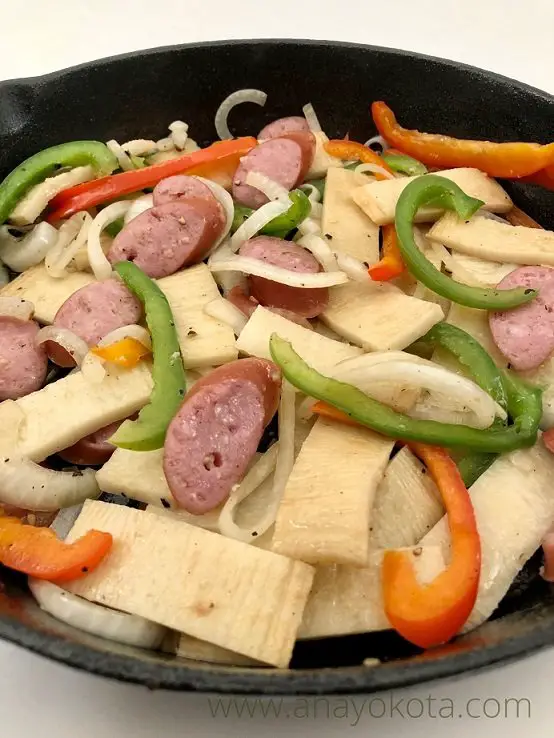 It depends. Fish cakes in Korea is a culture in itself. For example, if you go to Busan's Gukje Market in the South East part of Korea, there are endless shops that sell a variety of eomuk. Some are very simple, curly, and long; while others can be stuffed, plump and round. When you ask a Korean where to find the best "fish cakes Korean?" they will almost always say Busan. 
For our most basic fish cakes Korean style, about half is made with some type of fish (or seafood) mixture, about a third is flour, and the rest are mixed seasonings to add flavor such as onions, carrots, salt, sugar, etc. Then (much like making bread) these ingredients are mixed, kneaded, shaped, and then cooked. 
Regardless of the shape, size, or flavor, once you have fish cakes, you can use this ingredient to make the famous fish cake side dish stir fry (eomuk bokkeum). 
The three main sauce ingredients are soy sauce, mirin, and honey; a delicious and very common combination when creating many Korean side dishes.
When stored properly in an airtight container, the Korean fish cake side dish can last up to a week in the refrigerator. It is such a simple and easy recipe, this would be a great side dish to start with when first learning how to cook Korean banchan.
HOW TO MAKE KOREAN FISH CAKE BANCHAN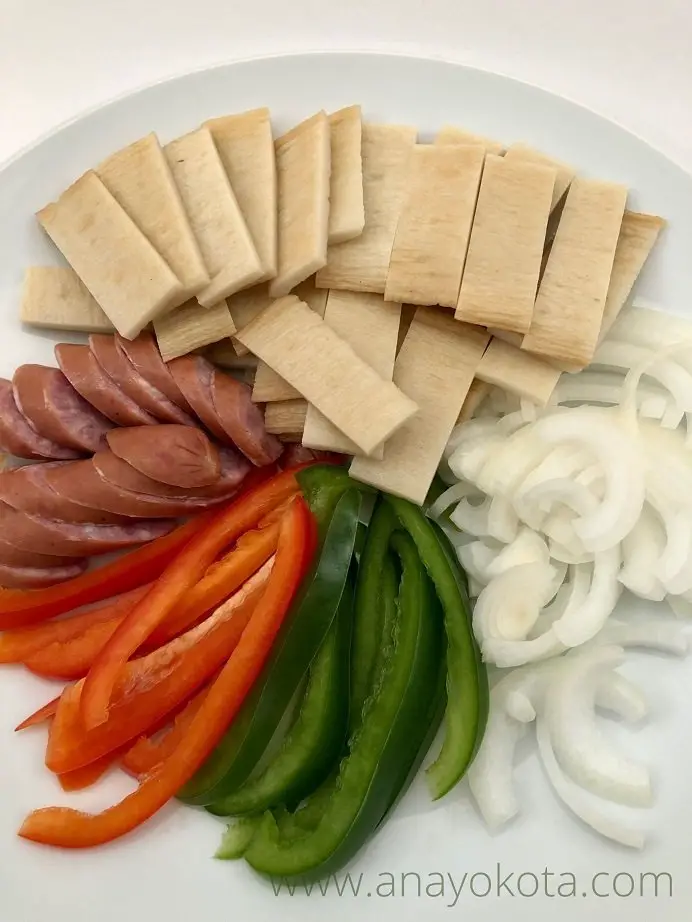 Where to buy Korean fish cake? For this Korean fish cake recipe, I typically purchase the best quality eomuk I can find at my local Asian grocery market. Though I prefer using the flat sheets, you can use pretty much any shape and size. 
If you can't find the Korean fish cake near you, you can easily find it online! I've seen them on Instacart as well as Weee!. I've never tried to make eomuk from scratch but if this is something you'd like to see, please let me know in the comments — perhaps this can be my next recipe in the kitchen. 
Once you have your eomuk, then you'll add whatever veggies you want to the stir fry. Generally, you'll see most recipes add sliced onions and carrots. However, you can use zucchini, celery, or even jalapenos. I enjoyed experimenting with this dish by adding red and green bell peppers, Japanese sausage and onions. It not only added flavor but also great texture to this classic recipe. 
For your convenience, I've compartmentalized the essential ingredients and optional ingredients.
Delicious Fish Cakes Korean
Cuisine: Korean
Difficulty: Easy
One of Korea's most popular side dishes served at restaurants. Now you can make this at home!
Ingredients
1 tbsp (15 ml) – oil (I used safflower oil but any high heat flavorless oil will work)

171 g (6 oz) – fish cakes Korean (eomuk) – about 2 sheets

2 tbsp (30 ml) – water

1 tsp (3 g) – minced garlic (about 1 large clove)

OPTIONAL INGREDIENTS

30 g (about ¼ bell pepper) – sliced red bell peppers

30 g (about ¼ bell pepper) – sliced green bell peppers

50 g (about ¼ onion) – sliced onions

½ cup (60 g) – Japanese sausage (about 2 links)

SAUCE

1 ½ tbsp (25ml) – dark soy sauce

1 tbsp (20 ml) – mirin (or white wine)

1 tsp (15 g) – honey

OPTIONAL GARNISH

1 tsp (3 g) – toasted sesame seeds
Directions
Heat the pan to medium high heat and add oil
Add in all the optional sliced veggies (save the sausage for when you add the fish cakes) and stir fry until it just begins to sweat. If you don't add any veggies, skip to step 4
Lightly season the sliced veggies with salt and pepper
If you used optional veggies, shove the veggies to the side of the pan and add the Korean fish cakes and sausage (sausage is optional)
Pour the water and garlic over the fish cakes and cook until the water is almost gone. This allows the fish cakes to plump and soften
Once the water has nearly evaporated, add all the sauce ingredients and stir everything together in the pan until well combined. (This should take no more than 1-2 minutes. If you are using veggies, you don't want to overcook them or they will get limp and soggy.)
Plate and garnish with toasted sesame seeds
Enjoy hot or cold with a warm bowl of your favorite rice
Notes
Don't be afraid to venture out with other veggies such as broccoli or cauliflower. Or even explore different types of oden (eomuk) such as round, long, or curly. This is such an easy and flexible recipe that you can customize it in so many ways.
Additionally, I generally prefer my savory dishes less salty and my sweet dishes less sweet. Feel free to always add more soy sauce for saltiness, honey for sweetness, and chili for that extra kick!
If you customized it in a different way, let me know what your favorite combination was in the comment section below. One of my favorite ways to use this recipe is adding it inside my super easy Triangle Kimbap. If you enjoyed this recipe and you're not part of the email list, make sure you join the family so you don't miss out on the next recipe!