This post may contain affiliate links. Please read my disclosure policy for more info.
Learn how to tell if ground turkey is bad. If you're unfamiliar with this lean meat, you might wonder whether the package in your fridge is still okay to cook or if you've left it too long.
Turkey is a delicious, nutritious, and versatile protein that is a worthwhile addition to your weeknight meals.
Turkey takes pride of place on many holiday tables, and, apart from using leftovers, we seem to ignore it the rest of the year.
My family loves tender turkey meatballs, chili, lasagne, and even tacos year round, so I look out for it in my local store's meat section.
Unfortunately, this tasty meat is as perishable as raw chicken. Let's look at the signs that show you if ground turkey is bad.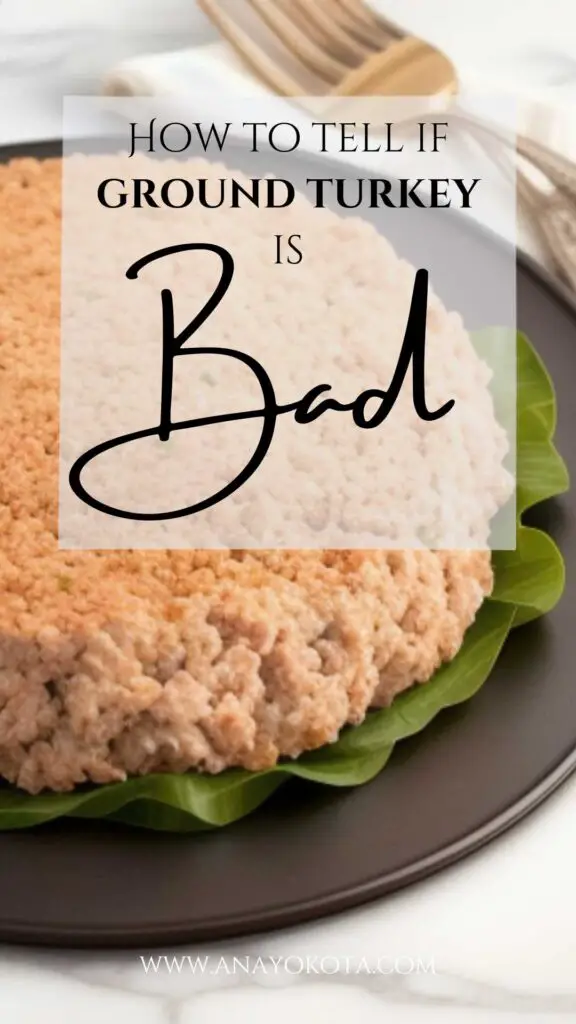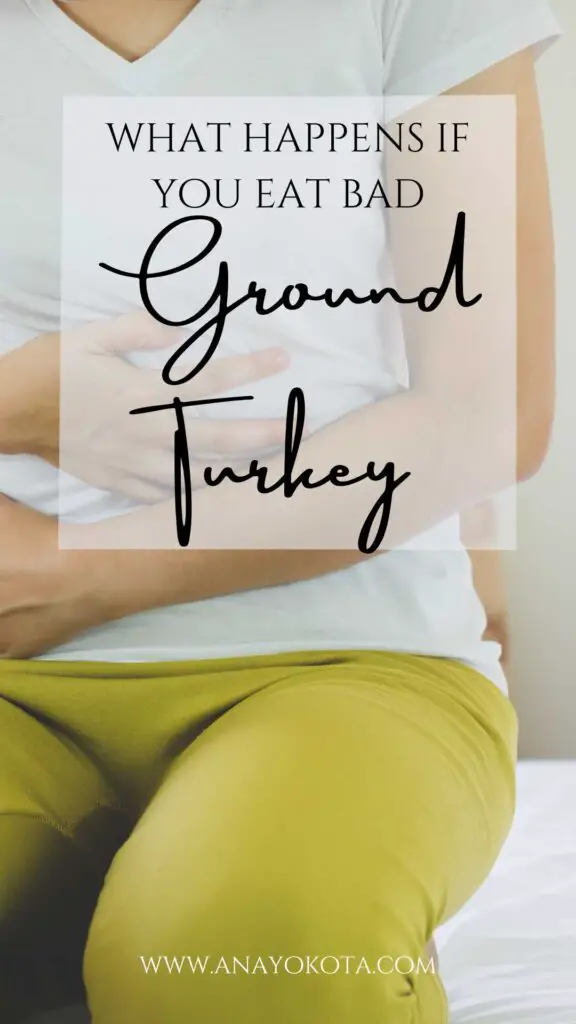 We've all experienced the unpleasant side effects of eating poorly cooked or stored chicken.
You'll have the same experience if you eat spoiled ground turkey, as it is also poultry. What happens if you eat bad turkey?
Four bacteria can develop in raw turkey, causing food poisoning:
Salmonella bacteria survive digestion and reproduce in your small intestine, causing an infection. While cooking should destroy salmonella, you should not take a chance with eating rotten turkey.
Another bacteria that causes diarrhea is Campylobacter jejuni. While this bacteria is often present in our digestive tracts, cross-contamination from bad turkey can make you sick.
If someone handles turkey with a Staphylococcus infection, the bacteria can spread. Meat left at room temperature can develop Staphylococcus enterotoxin, which cannot be destroyed by heat or cold.
Listeria monocytogenes bacteria can survive refrigeration. Although the bacteria is destroyed by thorough cooking, it can redevelop if cross-contamination occurs.
Mold is another contaminant that can make you sick.
This microscopic fungus appears as a green or blue fuzz on food and indicates that the food is spoiled.
You cannot cut off the mold and eat the rest, as it leaves invisible filament-like roots and spores which may carry toxins.
Symptoms of food poisoning may appear immediately after eating or only a few weeks later.
Bad ground turkey can cause the following symptoms:
If you think you have developed food poisoning from bad ground turkey, go to your doctor, clinic, or hospital.
People with compromised immunity, children, and pregnant women are at particular risk.
Eating ground turkey that is past its shelf life is dangerous. Discard any expired ground turkey that you suspect may be spoiled.
How To Know If Ground Turkey Is Bad?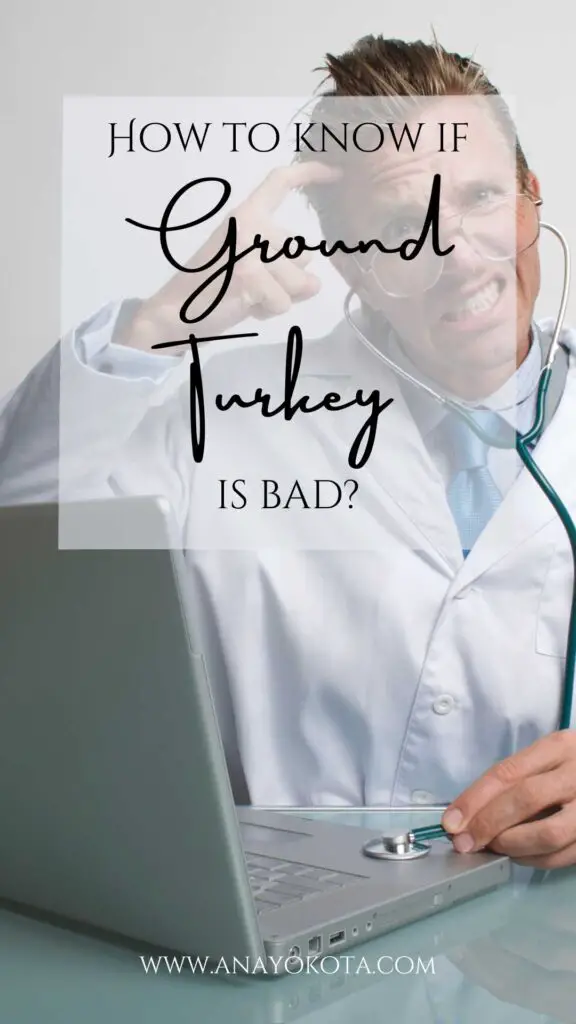 To figure out how to tell if ground turkey is bad, you should look for changes in color, texture, and smell.
If the ground turkey appears grey or slimy, has a strong, sour odor, or feels excessively sticky to the touch, it's likely spoiled and should be discarded for your safety.
Remember, when in doubt, it's best not to take any risks with your health.
If you don't often buy ground turkey, you may feel unsure of its shelf life and whether you're storing it correctly.
To avoid food poisoning or food borne illnesses, let's look at signs your turkey is past its prime.
In case you were wondering, these signs are the same if you are trying to figure out how to know if ground turkey is bad after thawing.
Turkey Expiry Date or Ground Turkey Expiration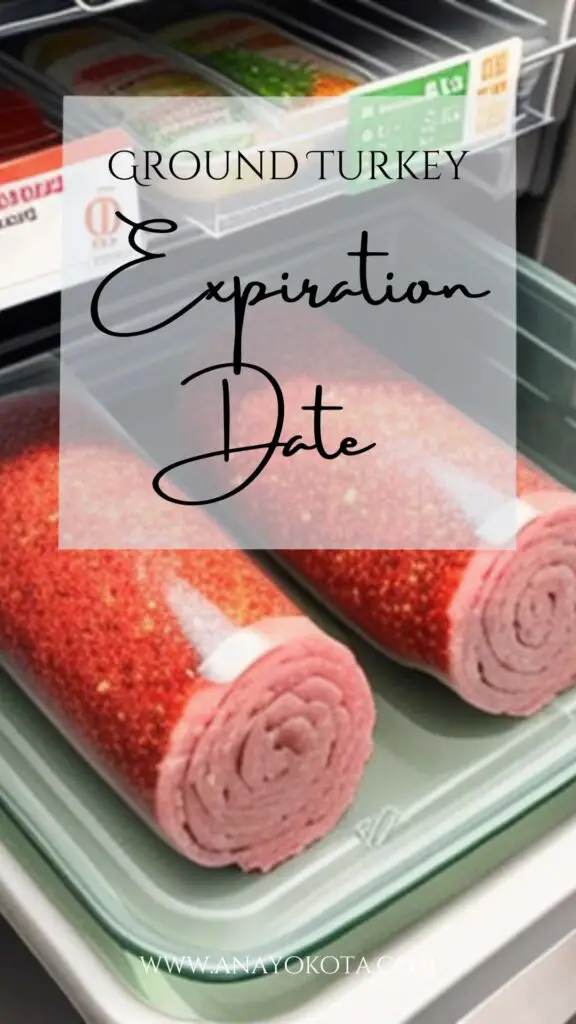 The first check you need to do is to read the label to see whether the ground turkey has expired.
While the federal government does not require the date-stamping of turkey products, many stores and processors label their ground turkey. However, the dates are not all related to product safety:
Sell-by dates are for the store's product management, not the customer. They indicate that the ground turkey must be purchased or removed from display by that date.
Best-before or Best used by dates are not indications of product safety. They are a general recommendation that the ground turkey's quality and flavor will deteriorate after that date but that it is still safe to eat.
Use by or Expiry date is the date that relates to food safety. After the date indicated, the food may no longer be at peak quality or safe to eat. Note that stores may legally continue to sell products after the Use by date so long as the food appears unspoiled.
The date of freezing could be the date the turkey was commercially frozen or that you put it in the freezer. Ground turkey can be frozen for only three to four months.
If the turkey's Use by or Expiry date has passed, you should not use it. Discard any perishable food that has expired.
Appearance
The color and texture of the ground turkey will also indicate whether or not it is still safe to eat.
So, how do you know if ground turkey is bad just by looking at the color?
Color
Ground turkey is a blend of light breast meat, dark leg meat, skin, and fat, so it has a mottled pink and white appearance.
The color fades the longer it is refrigerated or frozen. The meat should be glistening and moist.
If the meat is brown, gray, yellow, or green or has visible mold, it is no longer edible.
Frozen turkey that has freezer burn is also at risk of contamination.
Throw any strangely colored turkey away immediately to avoid food borne disease.
Texture
The texture of the ground meat should be soft, smooth, and only slightly damp.
If the turkey is slimy, sticky, or oozing greasy liquid, discard it.
Wash your hands thoroughly after handling raw turkey to prevent cross-contamination, especially if you suspect it is off.
Smell
How to tell when ground turkey is bad through smell? Ground turkey that is safe to eat will have no discernible smell.
If the ground turkey smells sour or like rotten eggs, it's definitely gone bad.
Any turkey with an unpleasant odor should be discarded immediately.
Taste
How to tell if ground turkey has gone bad through taste? Your turkey may have looked and smelled okay, so you cooked it.
If you take a mouthful and the flavor is unpleasant (not just from a weird recipe), spit it out and discard the food.
How To Properly Store Ground Turkey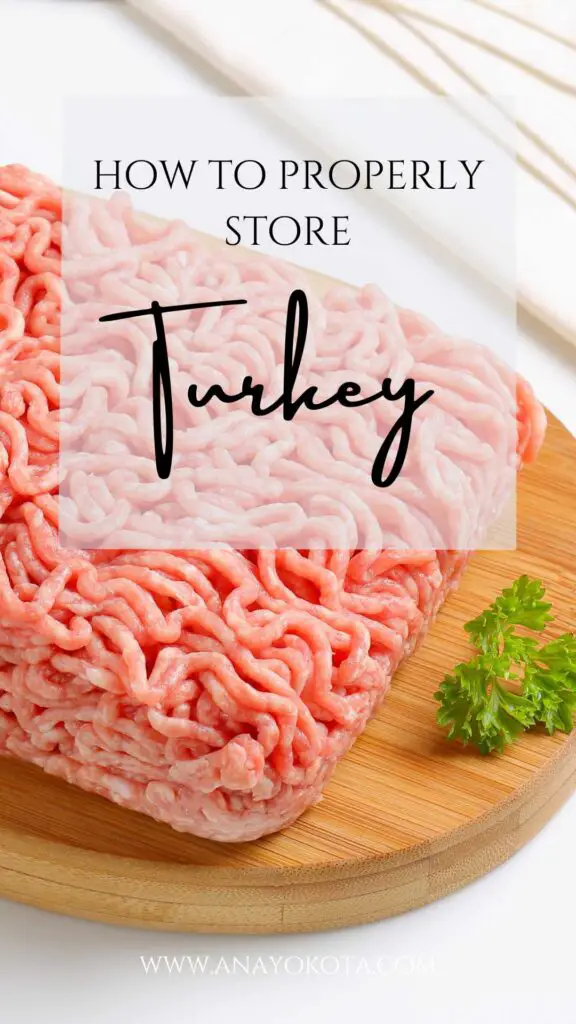 Raw ground turkey has a very short shelf-life because of the grinding process.
Mincing the meat exposes the meat's surface to any bacteria that may be present, such as Salmonella or Listeria.
You, therefore, need to take every precaution when handling and storing turkey.
If you leave the turkey at room temperature (40°F or above), you're putting yourself and your family at risk of food borne disease.
Take a cooler and ice packs to store the turkey if it's going to sit in a hot car or if you have errands to run after shopping.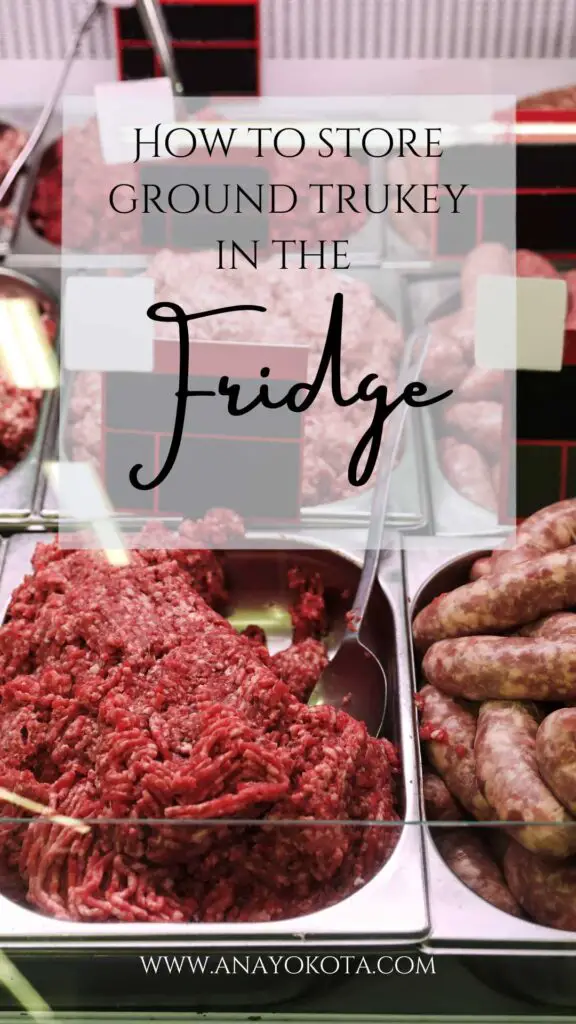 Put the turkey into the fridge as soon as you get home.
Make sure that the turkey is sealed airtight, preferably in its original packaging.
Repacking the turkey exposes it to air and contaminants.
Avoid unsealing the turkey unless the packaging is damaged or if you only plan to use part of the meat and freeze the rest.
Wrap the turkey in its packaging in an extra plastic bag to prevent cross-contamination.
Place the turkey in the coldest part of the fridge. For my fridge, it's the bottom shelf.
It's hard to explain how long does raw ground turkey last in the fridge because every fridge is different.
The key is to ensure that the refrigerator is under 40˚F (4.4˚C)
However, I feel that a good general guideline to answering how long does ground turkey last in the fridge is a couple of days OR until the "freeze by" or "expiration" date.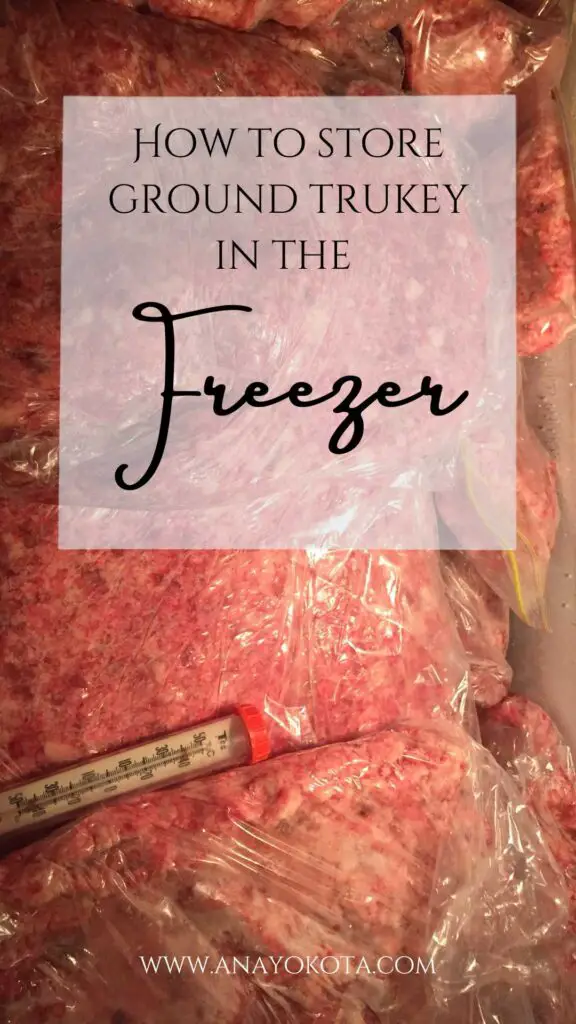 Any ground turkey you won't cook within two days must be stored in the freezer.
Freezing prevents bacterial growth, and your turkey won't spoil as quickly.
Ensure it is in an airtight, freezer-proof container with as little air as possible. Label the package with the contents and the date of freezing.
How long is ground turkey good for in the freezer? Ground turkey can be frozen for three to four months.
Closing How To Tell If Ground Turkey Is Bad
Raw ground turkey is a tasty, versatile, and healthy meat, but it is highly perishable and has a short shelf life.
You can keep raw turkey in an airtight container in the fridge for two days.
If you want to store ground turkey for any longer, freeze it. Frozen turkey can last for four months.
Are you looking for Korean inspired recipes that have ground turkey? Here are two recommendations that is fun to make for your next Korean picnic or school lunch:
If you would like to know what how to tell if other foods go bad or learn how to freeze certain foods (such as: how to freeze feta cheese), please let me know in the comment section below.