This post may contain affiliate links. Please read my disclosure policy for more info.
Learn how to make delicious yubuchobap (inari sushi) packed with flavor with just a few simple ingredients.
Yubuchobap recipe is quick and easy and can be prepared ahead of time for a perfect lunch or snack.
The truth is, growing up, I never had a fancy for yubuchobap (also referred to as Korean style inari nigiri or inari sushi) because I didn't know what it was supposed to taste like.
The versions I've tried were either too plain (with just rice) or too tangy (with too much vinegar and sugar).
Therefore, I quickly judged yubuchobap as boring with no attractive texture – just spongey. 
However, that all changed after getting married to a Japanese foodie. 
My husband, Ken, opened my eyes (or better yet, opened my palette) to enjoy this classic Japanese inspired finger food by simply adding a few simple ingredients that introduced other textures and flavors to the dish.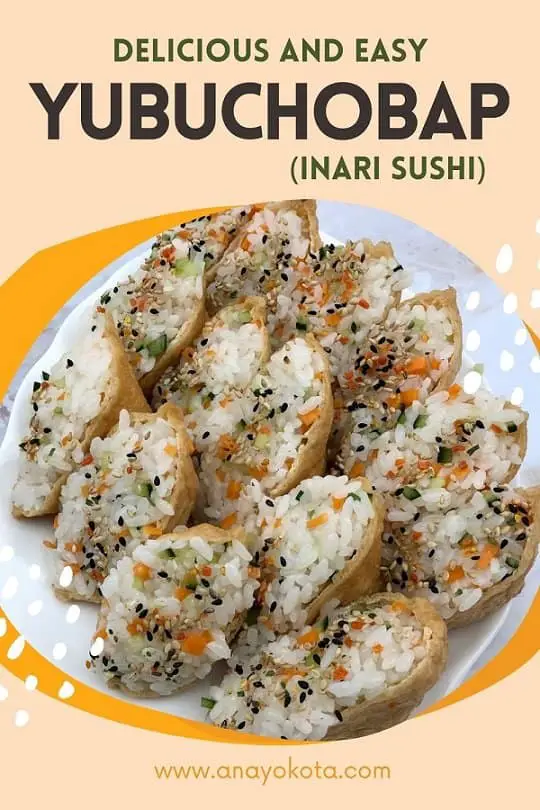 We've tried a few different variations making Korean style yubuchobap before we found our favorite combination.
Much like making fried rice, there are many different ingredients you can add to customize your inari nigiri.
You can keep the inside of the yubuchobap simple and classy by sticking with the traditional sushi rice, or you can change it up by adding other fresh vegetables like carrots and cucumbers.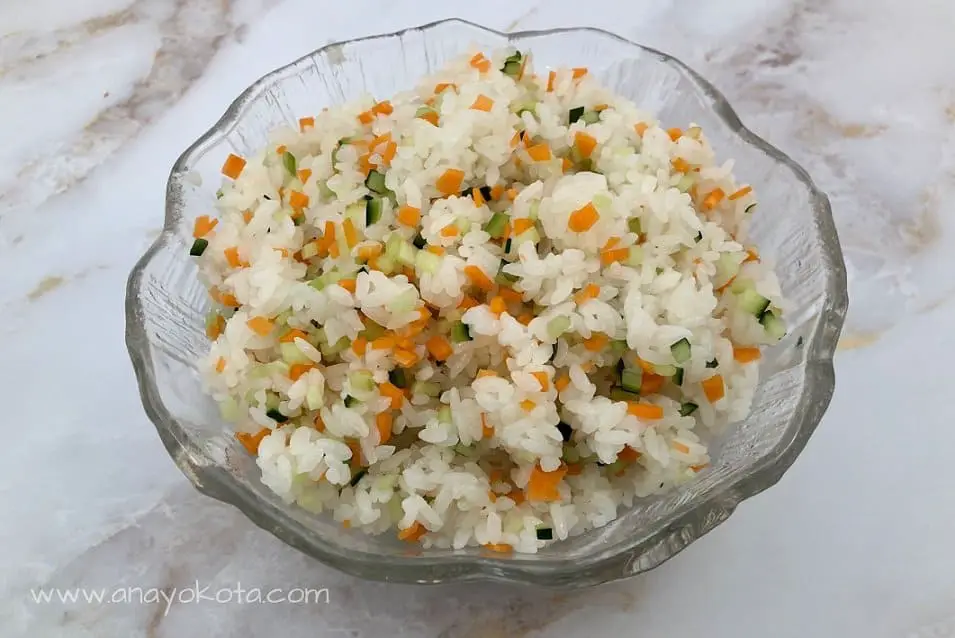 Needless to say, yubuchobap is now one of our favorites to make – especially in a pinch.
Additionally, yubuchobap is a fun and smart way to get your kiddos to eat more veggies by allowing them to help prepare the food.
Studies have shown that children who help make their meals are much more likely to eat healthier (SOURCE). So, why not get the kids involved and make this a family treat? 
WHAT IS YUBUCHOBAP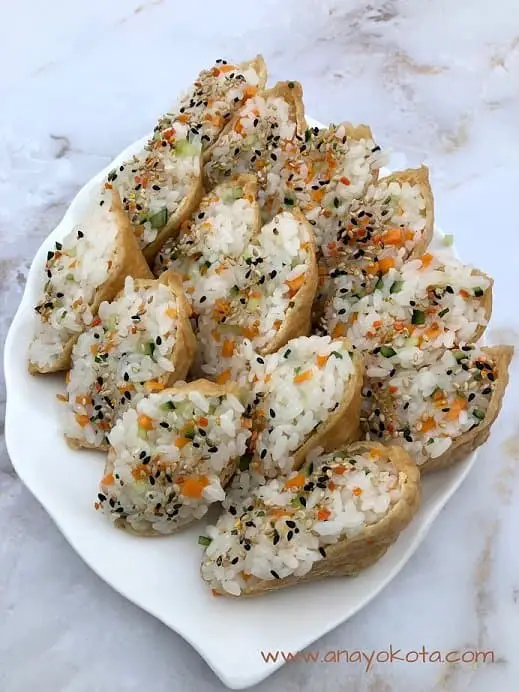 To go a little deeper on this Japanese inspired rice classic, Kyodoryori Story states that, "Inari sushi is said to have its origin in the beginning of 19th Century, when people made sushi by stuffing rice in the deep-fried tofu offered to the Oinari san." (SOURCE)
Considering the complex history and relationship between Japan and Korea, it makes sense that many Korean dishes are inspired by the Japanese culture.
Not to confuse it with "copying"; rather, many Korean cuisines are inspired by the beautiful Japanese culture such as yubuchobap.
Yubuchobap pronunciation: yoo-boo-cho-bap. The word "yubu-chobap" literally means, "fried tofu-sushi rice." It is essentially fried soybean curd or fried bean curd pockets.
As mentioned earlier, the classic inari sushi recipe is made with seasoned rice stuffed in marinated fried tofu pockets.
Technically, the tofu pockets (or tofu skins) are soybean curds but they are commonly referred to as tofu pockets or tofu skins because of the way it looks.
After the tofu is fried, it is soaked in a marinade typically made out of rice vinegar and sugar based mixture. 
As for the rice, the Korean version usually has some sort of minced vegetables along with the rice seasoning.
You can make them vegan with your favorite vegetables or make them extra meaty with broken salmon or minced ham. 
Whatever version you create, when using the yubuchobap kit, you can make whatever combination you like. 
WHERE TO BUY YUBUCHOBAP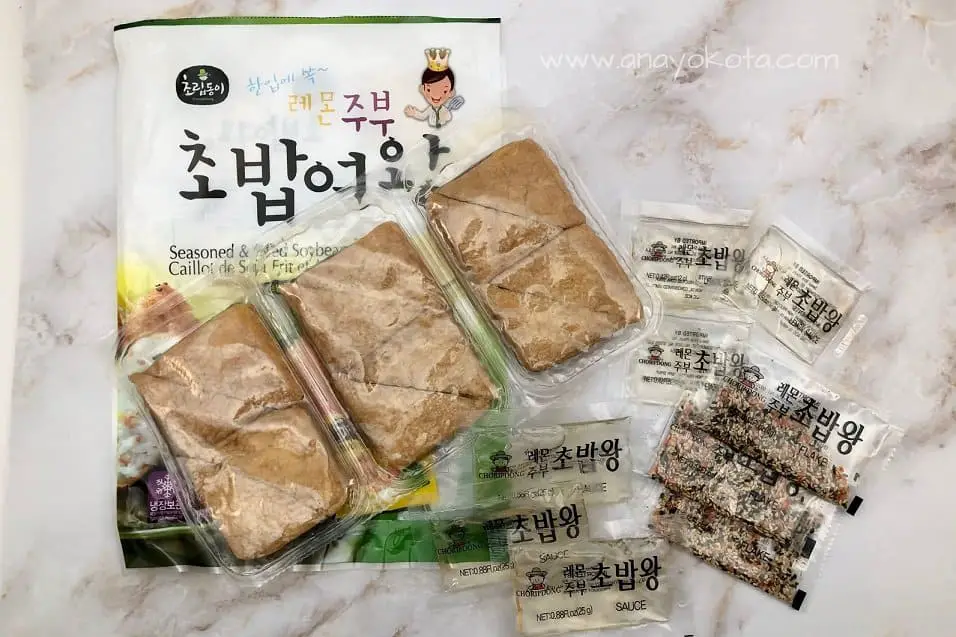 These tofu pockets are very easy to find in Asian grocery markets – especially Korean markets – in kits.
In H-Mart, yubuchobap will normally be located in the refrigerated section but I have also seen it in the frozen section as it also freezes and keeps very well. 
If you don't have access to a local Korean grocery store, you can purchase the tofu skins on Amazon.
If you would like to purchase the yubuchobap kit online, depending on your location, you can purchase them either from Instacart or Weee!.
HOW TO MAKE YUBUCHOBAP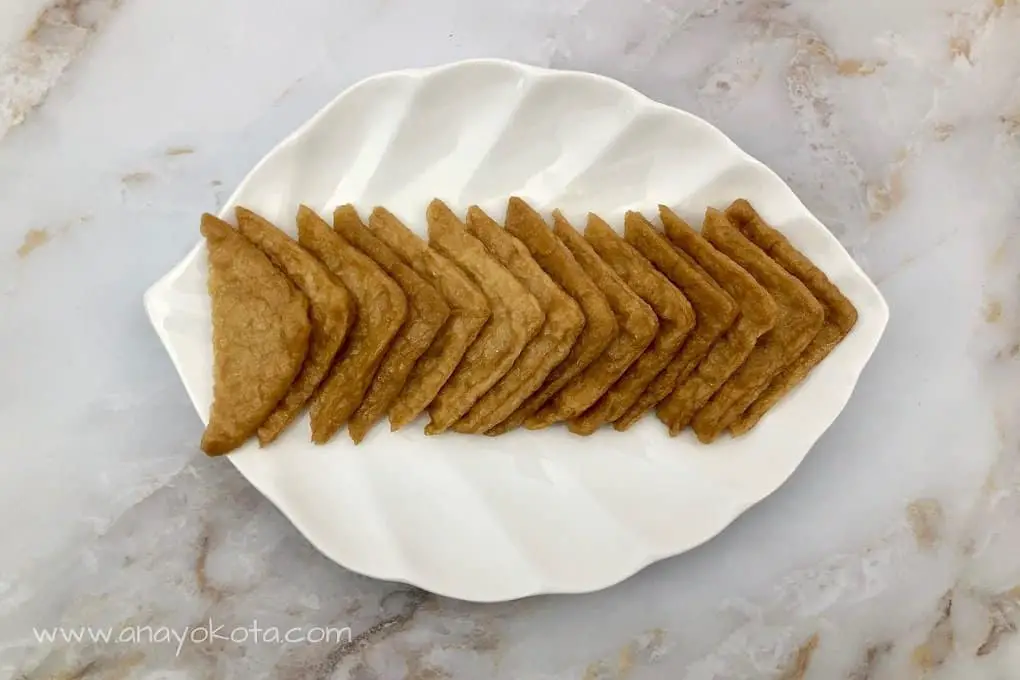 To make the inari pocket recipe (yubuchobap), you will need the kit. The yubuchobap kit that I used for this recipe is lemon flavored.
You can always use the original but I love how refreshing this one tastes and the tofu skin is not very thick, which I like very much. 
Out of the various kit sizes, I chose the large because it keeps very well in the fridge and we can't seem to keep them in stock in our house anyways.
Also, the large kit doesn't mean that the actual inari tofu pockets are bigger; it means that there are more quantities per kit. 
In case you were wondering, the rice ratio for the lemon flavored kit isn't too different from the original kit.
So, if you decide to go with the original, you can still follow my recipe and get similar results. 
4 PRO-TIPS: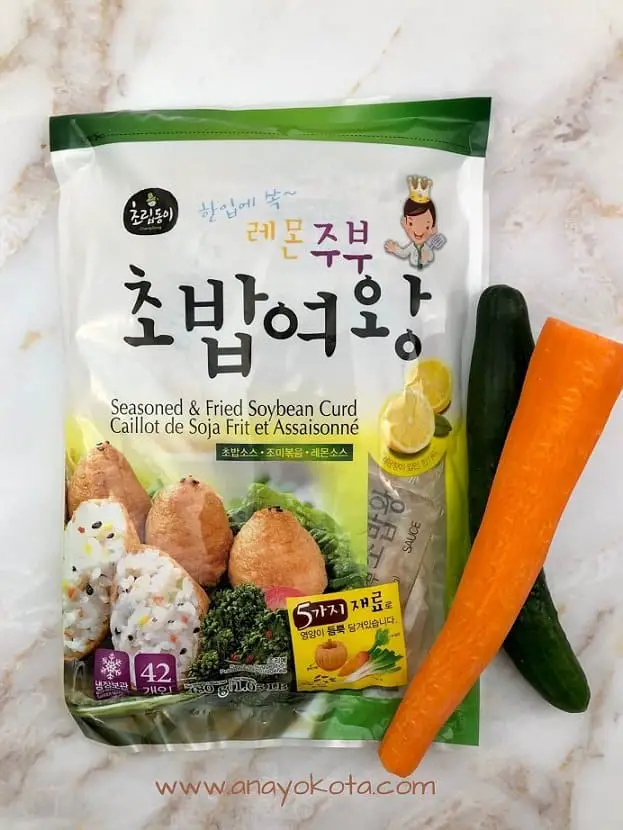 The rice seasoning
As with many savory dishes, it is easy to deviate and customize your seasonings to your desires.
If you want it more "wet" and "vinegary," simply add less rice. If you want it a bit more "dry" and mild, add more rice.
Just know that the tofu skin also is seasoned (with plenty of umami flavor), so be considerate in how salty you make the rice mixture.
Hence, I chose to use a little more rice than what the true recipe calls for because I like my yubuchobap less salty. 
The vegetables (or meats)
This second tip is similar to the first one with one small caveat.
The rice acts as a binder due to its starchy nature.
However, since vegetables in yubuchobap don't really "stick", the more vegetables you add, the more "crumblier" the rice mixture will become making it a little challenging to stuff the tofu skins. 
"crumbley" meats can be anything that is finely minced such as ground turkey, diced ham, or shredded salmon.
Melon ball scooper
To make scooping, measuring, and stuffing easy, use a melon ball scooper to stuff the rice. 
No melon ball scooper
No problem! Simply dab your hands in a little bit of water and make small balls of rice to stuff your tofu skins. 
Don't overstuff
It is easy to overstuff, ultimately breaking the skin. With most yubuchobap kits, 1-½ tablespoon of the rice mixture per triangle piece is plenty.
Delicious and Easy Yubuchobap (Inari Sushi)
Cuisine: Korean, Japanese
Difficulty: Easy
Yubuchobap is a simple yet delicious rice recipe that is sweet and tangy and can be modified in so many ways. You can make it vegan or full on meaty! The combinations are endless – give it a try today!
Ingredients
1 – Yubuchobap kit, which contains 14 triangle pieces, rice seasoning sauce, and sesame seed flakes

2.5 cups (525 g) – cooked white short grain (or medium grain) rice

Optional Ingredients

¼ cup (35 g) – minced carrots

¼ cup (52 g) – minced cucumbers (I prefer Japanese (kuri) cucumbers as they are crunchier with less water content)
Yubuchobap Recipe Instructions:
Gently squeeze and drain the marinate tofu. Don't over drain because you still need moisture to help separate and stuff each tofu "pouch".

Set aside and work on the stuffing.
In a large mixing bowl, add the rice and rice sauce that came with the yubuchobap kit. For the specific lemon flavored kit, there are two liquid sauce packets.

The smaller sauce packet is the lemon sauce and the bigger sauce packet is the vinegar sauce. 

Gently fold in the optional ingredients, such as cucumbers, carrots, and ham.

Be sure to "cut" into the rice when mixing to prevent the rice from getting too mushy. 
Stuff each triangle tofu pocket (soybean curd) with about 1-1.5 tbsp balls of rice using either a melon ball scooper or your hands. 
Place the sesame seed flakes on a flat plate.
Very lightly dip the stuffed yobuchobap in the sesame seed flakes face down to coat the rice. This not only acts as a pretty garnish but also adds texture and flavor. 
Serve and enjoy with pickled daikon!
Notes
This version is vegan but another favorite combination that is perfect for a quick lunch is by adding another protein ingredient such as minced chicken, ham, or crumbled firm tofu.
This was a fun recipe to make and one that I hope you give a try.
Did you use your own stuffing combination?
If so, please let me know what you did and what you recommend. I am always up for trying new combinations. 
If you are a rice girl like me, check out my fast and easy recipe for triangle kimbap!
It is super fun to make with kids and even more fun to eat.