This post may contain affiliate links. Please read my disclosure policy for more info.
Marriage goals promote accountability, encouragement, and compatibility. Set up for success with smart and thoughtful marriage goals with your partner.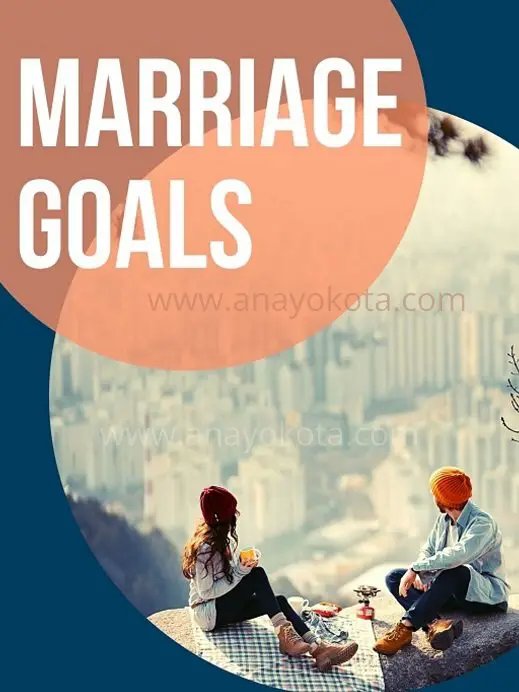 Why are goals for a marriage important?
Believe it or not, my husband and I met for the first time, got engaged, and then married all within one year. There are several key reasons why that was possible for us.
First, we both knew what we wanted in a spouse.
Second, we both were very intentional about communicating our goals, needs, and even insecurities.
Third, we both understood the value of setting goals together. 
Many times your own personal goals can bleed into your goals in marriage. This is why it is not only super fun but very beneficial to work out your goals as a couple. I have come to realize that many of my own personal needs feed into our relationship needs. 
For example, I have a personal goal to stay active and have a healthier diet. When my husband and I incorporated this goal even before we were married, this allowed us to achieve both our goal as a couple and my own individual goal. Not to forget, this naturally encouraged us to continue to work on other goals on marriage. 
Before I share with you the most crucial marriage goals that helped us, it is important to understand why setting goals of marriage is so valuable. 
Here are 3 reasons why everyone should start setting marriage goals: 
Accountability

Written by the New York Times best selling author, John C. Maxwell, Teamwork [truly] Makes the Dream Work. When you work together on a common goal, you leverage the power of accountability, camaraderie, and focus.
In other words, setting goals together helps each other stay on track. You may have not thought twice about eating an extra serving of sweats had you been dieting alone. But when you're dieting with a partner, you (at the very least) think twice about your choices. Hence, the power of accountability. 

Encouragement

Similarly to accountability, goals need encouragement especially because many goals in marriage don't happen overnight. As a matter of fact, there are plenty of long term marriage goals that need pruning, patience, and perseverance.
For example, my husband and I hope to have a biological baby. This takes learning, planning, and patience. Admittedly, it can get discouraging when it doesn't happen right away. We can stay accountable and be as healthy as we can possibly be. But there are definitely days when you don't need another "how to" message; rather, you just need someone to tell you that "you can do it" and "it's going to be okay."
During your beautiful marriage journey, you can be there for your partner not to scold him; rather, you can be the cheerleader that champions your spouse to never give up. Encouragement builds each other up when we go through those bad days. Encouragement lets the other person know that it's going to be okay. Encouragement says, "Hope."

Compatibility

According to the Institute for Divorce Financial Analysts, The number one leading cause for divorce in America is incompatibility (SOURCE). Setting marriage goals for my husband and myself increased intimacy, which resulted in increased communication, commitment, and most importantly, compatibility towards each other.
Furthermore, the added bonus of communication elevated our intimacy, which allowed us to discover new things about each other that we didn't know before. 
A study performed by Insider stated, "Even though some would say that marriage is the ultimate commitment, 75% of the people surveyed said a lack of commitment played a part in the demise of their marriage (SOURCE)." Setting smart goals for marriage promotes commitment. 
MARRIAGE GOALS 
NEVER USE THE "D" WORD – NO MATTER HOW EMOTIONAL
I put this in its separate category from "resolving arguments" because it is so important to never threaten your partner for leaving the relationship. Moreover, threatening with divorce can be a very cheap and low blow weapon in an argument. As a disclaimer, I'm not saying never get in a divorce; I understand the need for divorce. What I'm trying to say is that divorce should never be used flippantly. It can be very destructive because intimidating your partner with divorce charges bitterness, pain, and fear.
COMMIT TO HEALTHY
Sex Life

According to the Journal of Sex & Martial Therapy, out of 2,371 participants in a survey, one of the most frequently given motives for divorce were lack of love and intimacy (SOURCE

).

God designed beautiful sex. But I believe that just having more sex is not going to produce more love and intimacy in the long run. In other words, more sex doesn't mean healthy sex life necessarily. In our marriage, the more we developed a strong relationship with each other, sex inevitably became the fruitful byproduct.

Diet & Exercise

First of all, your health is the most valuable gift from God, which in turn is the most important investment in your life.
Secondly, a healthy diet does not equal a healthy relationship. However, a healthy relationship helps couples create healthier dietary choices. The University of Delaware conducted a study that found a link between marital distress and poor food choices (SOURCE). The study claims that those with hostile relationships tended to choose poor food choices.
DON'T SKIP DATE NIGHT
Keep the love alive by committing to each other dedicated time.
This doesn't have to be hours a day. Depending on your lifestyle needs, date night may simply mean an hour away from the kids or a change in environment where you can simply focus on your relationship.
My recommendation is date night in once a week, date night out once every two weeks, and a vacation once a year.
DREAM TOGETHER — SET TANGIBLE GOALS
Having your intangible goals such as having the same faith, loving each other more, and building a stronger relationship are all vital to a healthy marriage. 
The next step to those intangibles are the tangibles. Edward Locke and Gary Latham (1990), leaders in goal-setting theory, explains in their research that goals affect behavior, mobilize energy, higher effort, which all leads to an increase in creative perseverance. 
Not only are you motivated to work harder but smarter. Accomplishing a goal is satisfying as an individual. As a couple, it is validating. The power of dreaming together tangible goals are endless. "The teamwork [does] make the dream work." — John C. Maxwell. 
Here are 5 prime examples of tangible goals of marriage: 
Monthly and yearly financial goals 

Family Planning

Vacations

Dream home

Giving goals

Etc…
STRIVE TO RESOLVE DISAGREEMENTS/ARGUMENTS WITH CLASS AND GRACE
No one likes a dirty fighter. Remember to fight against the problem together, not fight against each other. For more reasons than one, resolving conflict with grace gives space for logic and calms down the emotions. 
So, if you need a breather because emotions are in the wild, ask (nicely) for a time out. Be specific on how much time you need because that is being polite and honoring to the other person waiting. Then, resume when your heads are not on fire. Here are our top three goals when resolving disagreements: 
Resolve arguments before you go to bed. Never go to bed angry. 

Ask for help if you don't see a peace offering in the near horizon. I understand that this can be a bit touchy as a goal. But in our experience, it has been far better to ask for help than to ignore the issue because of pride. 

"Forgive and forget" — it's not fair to loom over the pain or guilt, especially when you accept a genuine apology and resolve. 
NEVER LET GO OF COMMUNITY
It truly takes a village. Whether you are newly married, building your relationship or raising children, God didn't design for us to live a life of solitude. As a matter of fact, it is scientifically in our nature to yearn for camaraderie; humans are naturally social(SOURCE).
Based on the article, Social Relationships and Mortality Risk: A Meta-analytic Review, people who had stronger social relationships indicated a 50% increased likelihood of a longer life compared to those who did not have strong social relationships. 
Hence, not only will you live longer, you will live happier with a community surrounding your beautiful marriage. Building community can look differently for each couple, here are two goals in our marriage that we choose to work on:  
Encourage each other's friend time

Intentionally pursue friendships together. 
CHAMPION EACH OTHER'S INDIVIDUAL DREAMS
As mentioned earlier, your collective dream is only as strong as your individual dream. Once you've created your dreams, what is key to the success of those dreams is rooting for each other — believing in each other. 
"A deep sense of love and belonging is an irreducible need of all men, women, and children. We are biologically, cognitively, physically, and spiritually wired to love, to be loved, and to belong." — Brene Brown. As a result, maintaining a strong emotional connection allows for healthier emotional responses towards each other (SOURCE). Time published an article written by Sarah Treleaven on The Science Behind Happy Relationships that I could not have written better myself. 
"The most important thing we've learned, the thing that totally stands out in all of the developmental psychology, social psychology and our lab's work in the last 35 years is that the secret to loving relationships and to keeping them strong and vibrant over the years, to falling in love again and again, is emotional responsiveness," says Sue Johnson, a clinical psychologist in Ottawa and the author of several books, including Hold Me Tight: Seven Conversations for a Lifetime of Love. 
That responsiveness, in a nutshell, is all about sending a cue and having the other person respond to it. "The $99 million question in love is, 'Are you there for me?'" says Johnson. "It's not just, 'Are you my friend and will you help me with the chores?' It's about emotional synchronicity and being tuned in." "Every couple has differences," continues Johnson. "What makes couples unhappy is when they have an emotional disconnection and they can't get a feeling of secure base or safe haven with this person." 
She notes that criticism and rejection — often met with defensiveness and withdrawal — are exceedingly distressing, and something that our brain interprets as a danger cue.
The connection you have with your spouse will either nurture your goals or destroy them. In my marriage, we make it a priority to discuss our individual dreams but not without being very intentional about why we believe in each other. 
This not only helps us feel safe to take ownership in our own individual dreams but encourages each other to hope in each other's dreams. 
Here are 5 categories my husband and I have created individual goals. 
Work

Physical

Spiritual

Relational

Academic 
OPEN COMMUNICATION — OVER COMMUNICATION
There is a common thread with all of our dreams — communication. So, I'll keep this simple: 
Remind each other why you love each other every day.

Share what is on your mind… even during sex

Don't assume. 

Celebrate your differences. Embrace them.
PRAY TOGETHER
Be this a value you agree with or not, there are a remarkable studies that when two people are in agreement in their faith, it is a key to a successful marriage  (SOURCE).
For example, the power of having the same faith allows for healthier conflict resolutions, guidelines for raising children, and many other ethical/moral values. 
Most importantly, one of the biggest reasons why it is important to pray together is the fact that it elevates each other's hope in God. 
Biblically speaking, praying together is an effective way to build faith and intimacy as God answers prayer. "Again, truly I tell you that if two of you on earth agree about anything they ask for, it will be done for them by my Father in Heaven. 
For where two or three gather in my name, there am I with them." (SOURCE).
Not that this is the point but in case you were wondering, my husband and I are God-fearing, Jesus loving, Holy Spirit praising Christians. We have a relationship with Jesus and individually we work together on our faith so that together we grow stronger in our intimacy with God. 
Praying has been vital for our goals in marriage. We are not perfect at it, but that doesn't stop us from working together to help sow into our faith and hope in God's destiny for our lives. As a result, our relationship has grown exponentially with our biblical pursuit in prayer. 
Perhaps you only take one or integrate them all. It is not just "a happy wife; happy life" 
I disagree with this phrase because it infers that if the wife is happy then that's all you need to be happy. It takes two to be happy and it takes two to build that happiness into a legacy. 
Build goals together and watch each other flourish because the team work makes the dream work. Please share with me any of your marriage goals; I'd love to hear them!
Cheers to a blessed and beautiful marriage!