41 EASY AND BEAUTIFUL DATE NIGHT IDEAS FOR MARRIED COUPLES
This post may contain affiliate links. Please read my disclosure policy for more info.
Be spontaneous or plan ahead, try these fun, creative, and romantic 41 date night ideas for married couples with your special someone!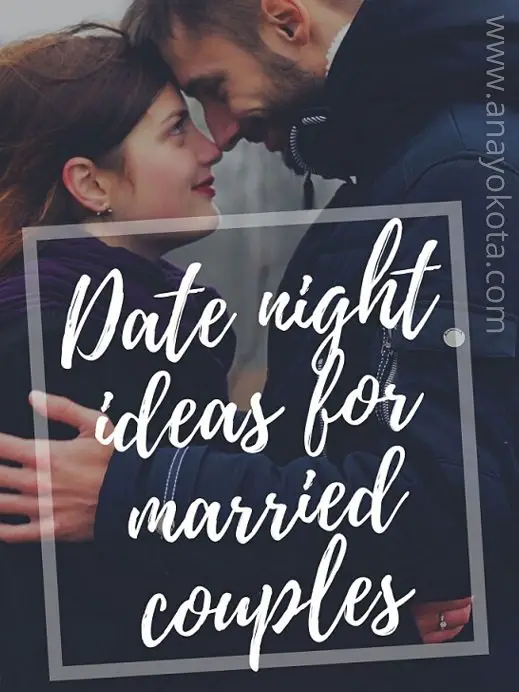 Dating doesn't stop once you get married. Dating doesn't stop once you have children. Dating certainly doesn't have to stop if you're on a budget. 
Whether it's free, during the winter, on a weeknight, or celebrating something special, dating your spouse is a journey where you can continue to create beautiful memories. In Time, Jo Pizza shares that the top advice for young married couples is keeping the romance alive.
Date nights with my husband has been one of the most exhilarating moments of our marriage because this is an opportunity to pursue each other, unwind from the world, and keep that love alive. 
Just as close friendships would require nurturing, connection, and honesty, I believe that it is just as important — if not more important — to pursue your spouse. 
Quality time can be shared in so many ways. The longer you've been dating your special someone, it can get challenging to think of something new. 
Whether you're a newlywed or going on your silver anniversary, I believe that before date night ideas for married couples, it's important to keep in mind the following three tips:  
I. Plan together
The first step in making great date night ideas for married couples is committing to a consistent time together. Don't get me wrong, I am such a hopeless romantic and absolutely swoon over spontaneous dates and deviating from plans from time to time. However, the project manager in me also believes that when you are making plans together, it communicates that your relationship with your spouse is a priority. 
II. Don't judge a book by its cover
Whether it is your idea or your spouse's idea (even if it's a boring idea), keep an open mind because that idea may turn out to be enjoyable or it may also help you think of other ideas together. I encourage you to keep an open mind and be thoughtful in listening to each other. Some of the most romantic, yet simple, date nights with my husband sprouted from an idea that I thought I would absolutely hate.
III. Have fun
At the end of the day what truly matters is each other. Even if all the plans go out the door because the children got sick or the entire country entered an economic pandemic and everything is closed, remember that the most important thing is your love for each other is one of a kind and priceless. Cherish each other and know that even if it's not the perfect date, you have each other. 
So, without further adieu, below I would like to share date night for married couples ideas with you.
41 DATE NIGHT IDEAS FOR MARRIED COUPLES
To make things easier, I've compartmentalized them into three buckets:
DATE NIGHT IDEAS FOR MARRIED COUPLES AT HOME
1. Cook a new recipe together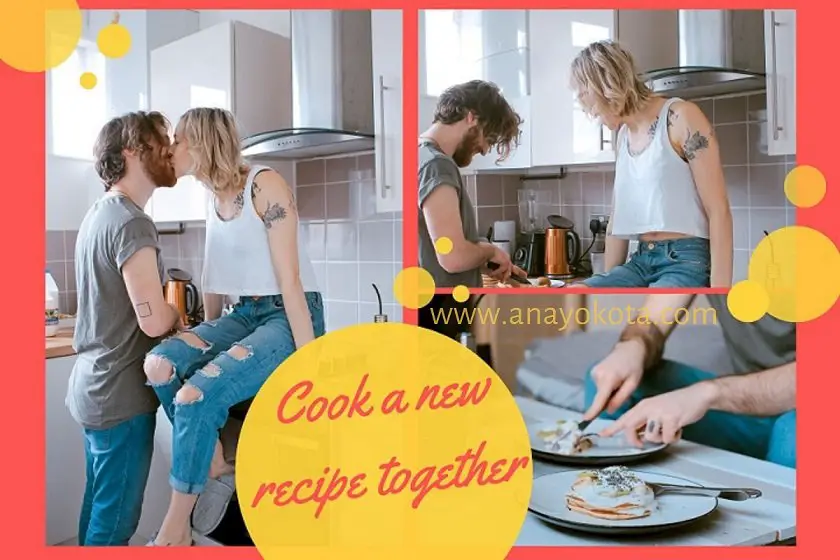 Spice things up with a new flavor. It doesn't matter if you're a chef in the kitchen or can't tell the difference between a spatula and a ladle, creating something together is an adventure in it of itself. If you need an idea on a fun recipe to do together, I highly recommend one of my favorite websites SmittenKitchen.
2. Plan your dream vacation together
When you dream together, there is another level of hope that is ignited. It allows you both to look forward to something; even if you can't necessarily afford it now. Dream together and let the sky be your limit.
3. Reorganize a room together
Sometimes a little change is good. Be creative together and strategize what other ways you can rearrange the living room or bed room. 
4. Read with each other something that inspires you both
Self development is huge in a marriage. It's one thing to talk about your dreams and plan them; it's an entirely different thing to invest in yourselves and work on areas you want to improve. 
Bible
Thought provoking
Self help — self development
5. Craft night
Who said that crafts are just for kids? There are thousands of crafts for adults that can bring out your inner Van Gogh and spend some quality time with each other. 
Paint something together
Make your own cards together

For each other
For a friend
For a family member 

Origami
Ornaments
6. Make your own pizza 
Over the years pizza has stepped up its game. You can build it at your local pizzeria. But why do that when you can have loads of fun creating your own pizza at home. It is easy and fast. Who knows, maybe you'll also have time to create some other things later that evening – if you get my drift. 
7. Make your own unique popcorn and watch a movie
Popcorn is not just savory or sweet. Make it a novelty at home by adding unique ingredients like pretzels and cheese, truffle oil with rosemary, or candy sprinkles with chocolate sauce. There's so much you can do with popcorn! Save the recipe and pass it to a friend. 
8. Wine & charcuterie board
You had me at wine. 
But if you need any more reasons to enhance this romantic beverage, add a sweet meat and cheese board with your favorite fruits and nuts. 
9. Candlelit take out 
Let's face it. Sometimes you just don't want to cook or maybe you just don't have time. It doesn't mean you can't have a charming date night. Get takeout from your favorite restaurant. The key is to use your own plates and make sure that the takeout evidence is nicely tucked away. Light up a few candles and gaze into each other's eyes as you enjoy your favorite good eats. 
10. Take a hot shower together
Don't just take a shower because you need to. Catch up together, cuddle a little (but be mindful not to waste too much water). Hell why not, make out a little. Use what God gave you and have fun!
11. Dream board
This doesn't have to be a lifelong dream board. It doesn't even have to be super crafty. My "dream board" I have with my husband is a Disney notebook that we got for free. We use it to jot down our goals and when we want to accomplish them. It may seem too practical for some. But trust me, it is remarkably refreshing and inspiring to see your goals on paper because it sparks hope. It is a tangible way of keeping the both of you accountable. 
12. Pray together
My pastor once told me, "If your dream doesn't scare you, it's too small." It's no secret that I believe in having a relationship with Jesus. My blog isn't about faith but I am not afraid to talk about it. I believe in a God that loves me and gave His life for me so that I can live the destiny that He designed for me. Praying together brings you closer together to your partner as you grow your relationship with our Heavenly Father. I have an entire growing series dedicated to prayer points because it is that powerful, not only for yourself, but for your marriage, family, and community. 
13. Date night games
If you're competitive like me, you will get all of my attention when playing games. This is a fun way to spend time together and perhaps even initiate a friendly wager. 
If you're feeling extra adventurous, learn a new game together. 
14. Picnic in the living room
It's as simple as moving the dinner table to the living room floor. Lay out a picnic blanket (or just any blanket you don't mind getting dirty) and turn on that soft romantic music in the background. Need ideas of what to eat? Here are my favorite picnic foods: 
Bento 
Sandwiches
Anything Asian: Korean, Thai, Indian… etc.
CHEAP DATE IDEAS FOR MARRIED COUPLES
15. Romantic sunset hike or walk outside
Catch up on the day and disconnect from technology. Hold hands — it's all about the two of you tonight.
16. Volunteer
It is a good deed to help people but it also feels good to help people. The bonus here is that you can do good together. It will help both of you feel generous and proud that you did something kind for someone else. 
Food bank
Local community center 
Nursing home
Church
Offer to clean an elderly home or a single parent's car
17. Get wet — Like take a dip in the water
I'm two thumbs up for anything active because you can kill two birds with one stone. This case, first you get some excellent cardio. Second, it's a sexy but safe way to see each other half naked. Just saying. 
18. Sunset picnic at the park
Take your favorite homemade sandwiches, snacks, and canned wine. Yes, canned wine is a thing! A few of my favorites are sold at Trader Joe's. But don't take my word for it; try it yourself. Don't forget extra blankets so that when the sun sets, you can cuddle with your love bug. 
19. Go to the gym
What better way to spend time together than to sweat together? According to On Health, couples who exercise together, stay together. You develop a stronger sex drive; not to mention, very satisfying sex. 
20. Create your own scavenger hunt for each other
This is when you each write down a list of things the other person has to find within a certain time frame. Whether you find the things on your list together or make it a competition, make it attainable and fun as you spend a romantic evening out. 
21. Take pictures of each other — Be each other's photographer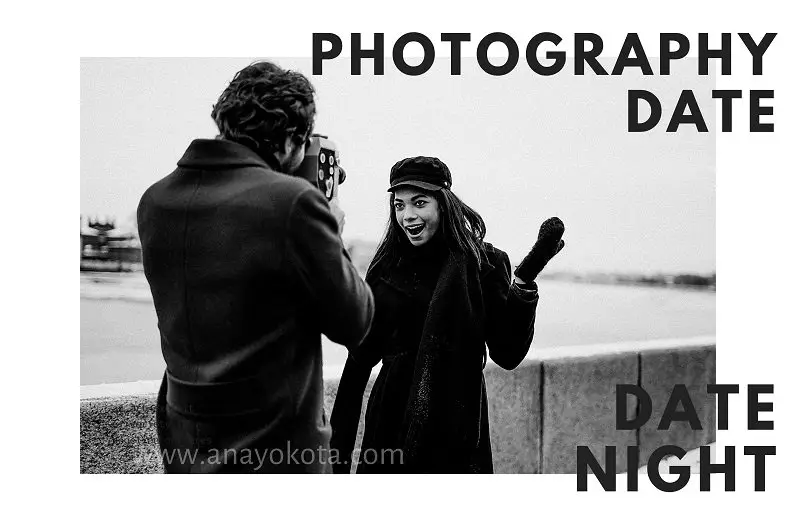 Pictures do say a thousand words and they last forever. Be each other's photographer as you help each other pose for that perfect shot. Don't be afraid to ask a friendly stranger to snap a few shots, too. 
22. Go to a thrift store
Spend time and buy something for each other. To spice things up, set a spending budget and/or theme. 
23. Go to your local game store 
This can be as fancy as an arcade or a little bit nerdier like a hobby store. Many hobby stores will also carry comics. Go down memory lane, play a classic game; heck, put a small bet to it where the winner gets a back massage. 
24. Cozy star gazing
If you wanted to double this idea with the sunset picnic, by all means, go for it! This idea may require a little bit of research because if you're like me, we can't see diddly squat with all the high rising city lights. But have no fear, stars are everywhere! Take a mini road trip, cozy up and share that romantic body warmth as you gaze among the stars. 
DATE NIGHT IDEAS FOR MARRIED COUPLES OUTSIDE
25. Go to a theme park or zoo 
Many amusement parks have date night events. 
26. Take a class together 
The importance of date night for married couples transcends throughout the years. Spice things up with a cooking class or roll into a yoga class together. Classes are fun activities for married couples to do together. 
Dance class
Cooking class
Pottery class
Paint and sip class
Self defense class
Workout class
27. Paint ceramics
I love that you can do this at home with your kids too! Yes, this is date night. But that doesn't mean your kids can't join in once in a while. 
28. Camping
Romantic date ideas like cuddling next to each other outdoors are a win. What better way to snuggle with your love bug than camping? 
29. Dinner cruise
I understand that this may not be for everything (cough cough, my husband). Before I got married, I would go on cruises all the time with my family. Not only are you on a boat with magnificent views, but the food is creative, delicious, and great! This would definitely mark an idea for romantic date. 
30. Corn maze
Corn mazes aren't just for Halloween. Many farms now have mazes made out of trees, bushes, and other types of foliage that bring in mystery and excitement. 
31. Haunted mansion (haunted house)
Need a romantic date night for Halloween? Try a corn maze. This one was a total win for me because I hate all things scary. So, why would it be a win? Because I am constantly clutching on my man for dear life. I felt safe, he felt strong, adrenaline on an all time high… you get the picture. 
32. Go to a family fun center
I love games. Who's with me? Introduce games with an activity and you have a golden medal. Fun fact: One of my first dates with my husband (before we got married), was a family fun center. We played mini golf, batting cages, and even had a friendly wager. As a result, someone got a first kiss… 
Mini golf
Batting cages
Arcade games
Bowling 
33. Go to a live game 
The first time my husband and I celebrated my birthday, he took me to an MLB game. You may think it's not romantic, but a romantic date doesn't only mean pretty frills, candle lights, and a fancy dinner. You can totally bring in the romance by simply having fun together. Trust me, if your husband is a sports fan (like mine), this will get you massive brownie points. 
Baseball
Basketball
Football 
34. Check out a new restaurant that both of you haven't gone before
Take it a step further and share what you observe and of course, snap pictures. Take time to listen and stay curious. This is a wonderful way to let you and your spouse explore a new discovery. 
35. Wine tasting 
Gazing into each other's eyes, sipping on the aromatic flavors of wine, and exploring all the different tastings are romantic evening ideas for married couples. 
36. Go on a double date to an escape room
Fun date ideas do not have to be just the two of you. Call another married couple and make it a double date at an exhilarating escape room (or escape game).
37. Bonfire dinner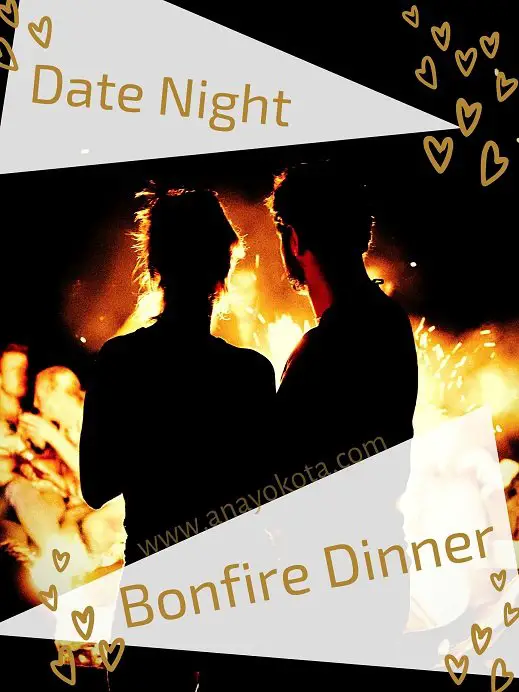 Get a little closer and snuggle in front of the fire with your favorite fireside dinner. There's no better way to unwind and share your thoughts. Here are a few of my favorite date night topics for married couples.
Goal planning for the month and year
Sharing prayer requests and spending time in prayer
Reminiscing 10 things you are grateful for 
38. Go to a live gig bar together 
A nice jazz bar is a beautiful way to enjoy the beautiful ambiance of not only the music but of each other. Beautiful music always sets a romantic mood. 
39. Night market 
This may not be available everywhere, but if you are fortunate to have access to a night market, call in a babysitter (aka: grandparents), and explore the night with this creative date idea.
40. Go grocery shopping together
Okay, this may not scream "hot date night ideas for married couples" but let me tell you. When you have a million things going on in your life (work, kids, friend, etc…) spending time grocery shopping is a shameless way of getting in that quality time together. Admittedly, my husband and I love to do this almost all the time; even when we're not busy. 
41. Spa night — Get a massage or soak in a mud bath 
"I hate when my muscles feel good and I don't have stress." said no one ever.
Make it a hot date night idea by ordering the hot stone massage. By the time you're done, you'll feel refreshed, relaxed, and rejuvenated for the next part of the evening — such as baby dancing. 
---
I hope you enjoyed reading these date night ideas for married couples. Let me know if you used any of them or if you have fun date ideas that are your favorites. 
Are you looking for inspiration for the holidays? Here are more Holiday Date Ideas.
Husbands, date your wife. Wives, date your husband. Happy dating!