This post may contain affiliate links. Please read my disclosure policy for more info.
This is the perfect post for you if you are here to find marriage sayings for your special love bug or whether you are simply here to find inspiration. Sharing is caring and I wanted to share with you a compilation of 101 marriage sayings.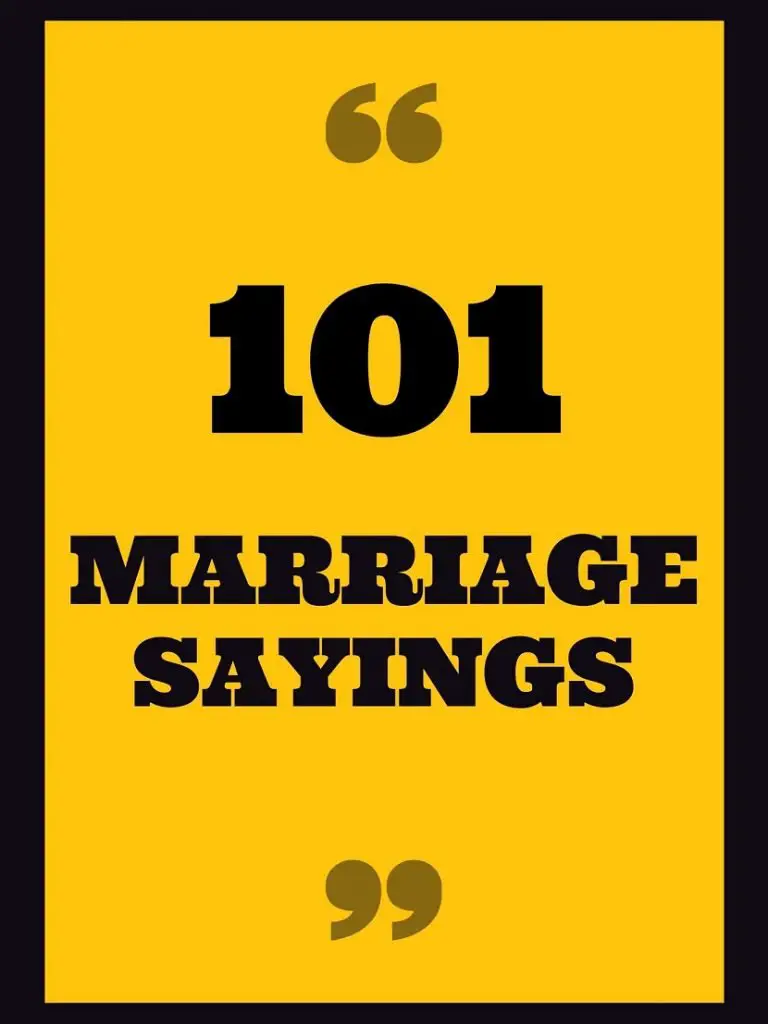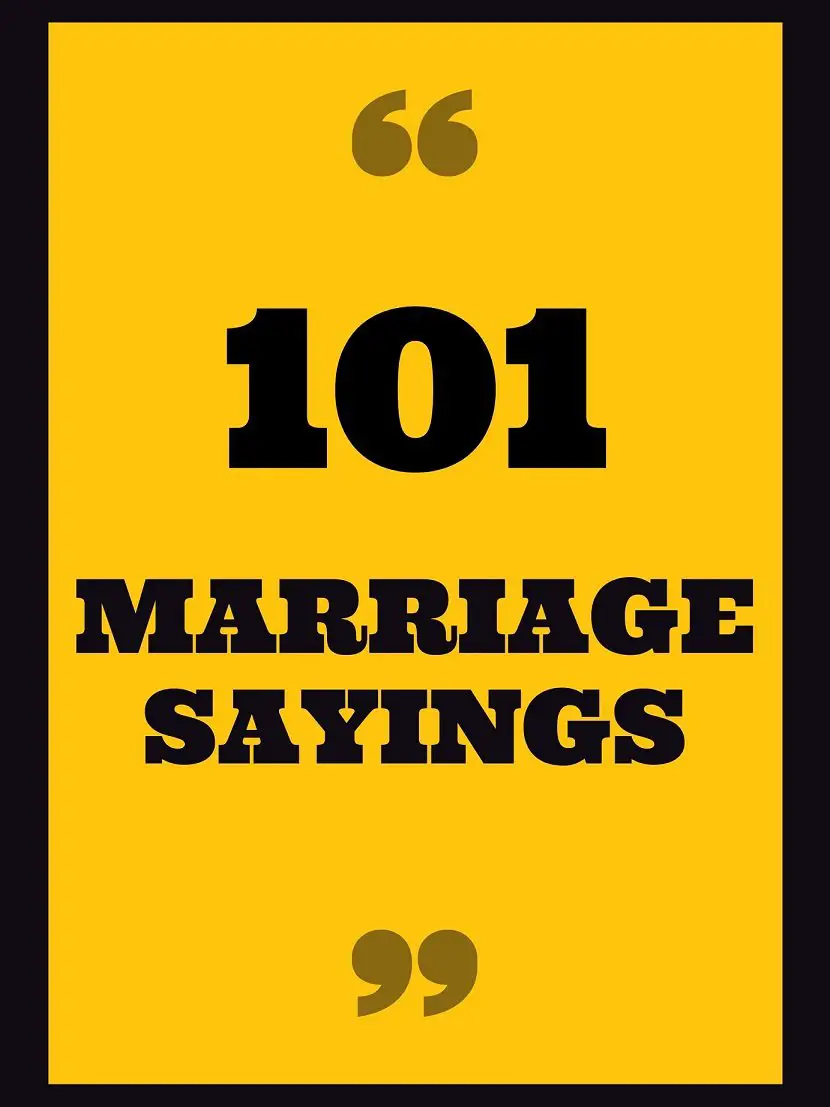 I love searching for new marriage sayings because it also inspires me and reminds me of what I love so much about my partner in crime. 
When you write that beautiful card, a new caption for your social media post, marriage sayings for your next photo album, or a romantic text, the perfect quote to express your priceless moments may be exactly what you need. 
Maybe it's for your anniversary day, birthday, Valentine's Day, or another day you want to make your marriage feel special. As much as I love writing and helping you find inspiration, sometimes the most beautiful words spoken are from other people. 
These are the greats that state the one liners about marriage that punch a power pause. I love using these marriage sayings because it's not only honoring but extremely flattering to recognize great words. 
Sending your spouse short marriage sayings are fun, romantic, and sweet. Let the magic sparkle using these epic quotes. 
101 MARRIAGE SAYINGS
MARRIAGE SAYINGS FUNNY
"If you think your wife is the weaker sex, try pulling the blankets over to your side at night."

Anonymous
"I love being married. It's so great to find that one special person you want to annoy for the rest of your life."

Rita Rudner
"When you see a married couple walking down the street, the one that's a few steps ahead is the one that's mad."

Helen Rowland
"Keep your eyes wide open before marriage, half shut afterwards."

Benjamin Franklin
"A good marriage is one where each partner secretly suspects they got the better deal."

Unknown
"When a man opens a car door for his wife, it's either a new car or a new wife."

Prince Philip
"Husband and wife relationships are like the relationship of Tom and Jerry. Though they are teasing and fighting, but can't live without each other."

Unknown
"We're all a little weird. And life is a little weird. And when we find someone whose weirdness is compatible with ours, we join up with them and fall into mutually satisfying weirdness–and call it love–true love."

Robert Fulgham
"My most brilliant achievement was my ability to be able to persuade my wife to marry me."

Winston Churchill
"You know you are in love when the two of you can go grocery shopping together."

Woody Harrelson
"I'm selfish, impatient and a little insecure. I make mistakes, I am out of control and at times hard to handle. But if you can't handle me at my worst, then you sure as hell don't deserve me at my best."

Marilyn Monroe
"Marriage is not just spiritual communion; it is also remembering to take out the trash."

Joyce Brothers
"By all means marry; if you get a good wife, you'll become happy; if you get a bad one, you'll become a philosopher."

Socrates
"Don't ever stop dating your wife and don't ever stop flirting with your husband."

Unknown
"My most brilliant achievement was my ability to be able to persuade my wife to marry me."

Winston Churchill
"The essence of marriage is companionship, and the woman you face across the coffee urn every morning for ninety-nine years must be both able to appreciate your jokes and to sympathize with your aspirations."

Elbert Hubbard
"Marriage has no guarantees. If that's what you're looking for, go live with a car battery."

Erma Bombeck
"You don't marry one person; you marry three: the person you think they are, the person they are, and the person they are going to become as a result of being married to you."

Richard Needham
"Who, being loved, is poor?"

Oscar Wilde
"Marriage is like trading in the adoration of many for the sarcasm of one."

Mae West
INSPIRATIONAL QUOTES ABOUT MARRIAGE
"My husband is my best friend, my greatest support, my biggest comfort, my strongest motivation, my truest smile, my deepest love, my favorite, my forever. He has me. Entirely."

Unknown
"To be fully seen by somebody, then, and be loved anyhow–this is a human offering that can border on miraculous."

Elizabeth Gilbert
"Do not spoil what you have by desiring what you have not; remember that what you now have was once among the things you only hoped for."

Epicurus
"There is nothing nobler or more admirable than when two people who see eye-to-eye keep house as man and wife, confounding their enemies and delighting their friends."

Homer
"Let there be spaces in your togetherness, And let the winds of the heavens dance between you. Love one another but make not a bond of love: Let it rather be a moving sea between the shores of your souls. Fill each other's cup but drink not from one cup. Give one another of your bread but eat not from the same loaf. Sing and dance together and be joyous, but let each one of you be alone, Even as the strings of a lute are alone though they quiver with the same music. Give your hearts, but not into each other's keeping. For only the hand of Life can contain your hearts. And stand together, yet not too near together: For the pillars of the temple stand apart, And the oak tree and the cypress grow not in each other's shadow."

Khalil Gibran
"A good marriage is a contest of generosity."

Diane Sawyer
"Time is very slow for those who wait. Very fast for those who are scared. Very long for those who lament. Very short for those who celebrate. But for those who love, time is eternal."

William Shakespeare
"Don't smother each other. No one can grow in the shade."

Leo Buscaglia
"A great marriage isn't something that just happens; it's something that must be created."

Fawn Weaver
"There is no more lovely, friendly, and charming relationship, communion, or company than a good marriage."

Martin Luther
"Marriage is a huge investment: of time, of energy and of emotion. Protect and keep contributing to your investment."

Karen Gordon
"If I had a flower for every time I thought of you… I could walk through my garden forever."

Alfred Tennyson
"Marriage is like watching the color of leaves in the fall; ever changing and more stunningly beautiful with each passing day."

Fawn Weaver
"Marriage is like watching the color of leaves in the fall; ever changing and more stunningly beautiful with each passing day."

Fawn Weaver
"Love can come when you're already who you are, when you're filled with you. Not when you look to someone else to fill the empty space."

Deb Caletti
"It's the little details that are vital. Little things make big things happen."

John Wooden
101 MARRIAGE SAYINGS – STRONG MARRIAGE QUOTES
"My husband has made me laugh. Wiped my tears. Hugged me tight. Watched me succeed. Seen me fail. Kept me strong. My husband is a promise that I will have a friend forever."

Unknown
"Love recognizes no barriers. It jumps hurdles, leaps fences, penetrates walls to arrive at its destination full of hope."

Maya Angelou
"I love you without knowing how, or when, or from where. I love you simply, without problems or pride: I love you in this way because I do not know any other way of loving but this, in which there is no I or you, so intimate that your hand upon my chest is my hand, so intimate then when I fall asleep your eyes close."

Pablo Neruda, 100 Love Sonnets
"Chains do not hold a marriage together. It is threads, hundreds of tiny threads, which sew people together through the years."

Simone Signoret
"Never marry the one you can live with, marry the one you cannot live without."

Unknown
"I think long-lasting, healthy relationships are more important than the idea of marriage. At the root of every successful marriage is a strong partnership."

Carson Daly
"I have a best friend as a husband, and he is my number one supporter. He's a family man, and he's always giving back to God. That is what makes him a beautiful man. We're not perfect by any means, but that makes us beautiful as well. We're not afraid to say we're not perfect. We have our disagreements, but that comes along with marriage."

Tamera Mowry
"So it's not gonna be easy. It's going to be really hard; we're gonna have to work at this everyday, but I want to do that because I want you. I want all of you, forever, everyday. You and me… everyday."

Nicholas Sparks
"Love is not something you feel. It is something you do."

David Wilkerson
"The real act of marriage takes place in the heart, not in the ballroom or church or synagogue. It's a choice you make- not just on your wedding day, but over and over again – and that choice is reflected in the way you treat your husband or wife."

Barbara De Angelis
"True love stands by each other's side on good days and stands closer on bad days."

Unknown
"Being deeply loved by someone gives you strength, while loving someone deeply gives you courage."

Lao Tzu
"Love is not weakness. It is strong. Only the sacrament of marriage can contain it."

Boris Pasternak
"Coming together is a beginning; keeping together is progress; working together is success."

Henry Ford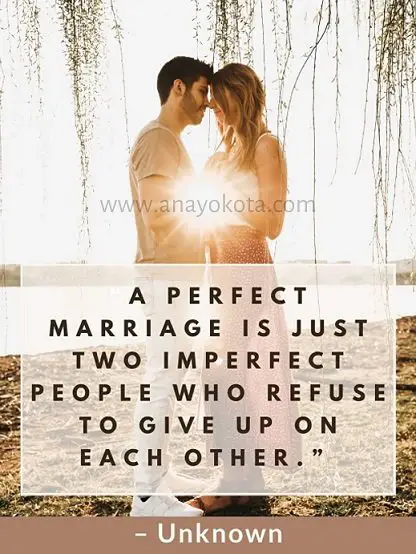 "A perfect marriage is just two imperfect people who refuse to give up on each other."

Unknown
"Marriage, ultimately, is the practice of becoming passionate friends."

Harville Hendrix
"A good marriage is the union of two good forgivers."

Ruth Bell Graham
"Marriage stands the test of times when both you and your spouse work towards making things better. And we are tested the most when we face adversities. If you can sail through the adversities as one, as a team, then you have won half the battle."

Unknown
101 MARRIAGE SAYINGS – HAPPY MARRIAGE QUOTES
"Marriage is the most natural state of man, and the state in which you will find solid happiness."

Benjamin Frank
"You know you're in love when you can't fall asleep because reality is finally better than your dreams."

Dr. Seuss
"Marriage is getting to have a sleepover with your best friend, every single night of the week."

Christie Cook
"Love is like a beautiful flower which I may not touch, but whose fragrance makes the garden a place of delight just the same."

Helen Keller
"The highest happiness on earth is marriage."

William Lyon Phelps
"Marriage is a commitment for life. It is a permanent, lifelong relationship."

Dada Vaswani
"Sensual pleasures have the fleeting brilliance of a comet; a happy marriage has the tranquility of a lovely sunset."

Ann Landers
"The goal in marriage is not to think alike, but to think together."

Robert C. Dodds
"A good marriage is one which allows for change and growth in the individuals and in the way they express their love."

Pearl S. Buck
"Marriage is not a noun; it's a verb. It isn't something you get. It's something you do. It's the way you love your partner every day."

Barbara De Angelis
"May this marriage be full of laughter, our every day in paradise."

Rumi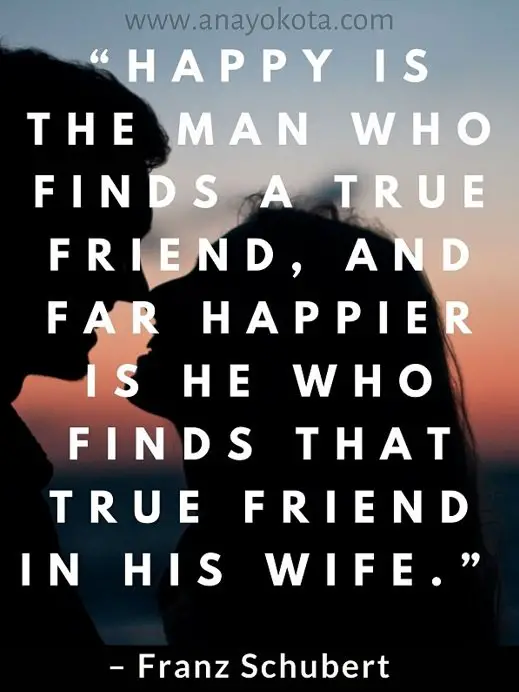 "Happy is the man who finds a true friend, and far happier is he who finds that true friend in his wife.

Franz Schubert
"A happy marriage is a long conversation which always seems too short."

Andre Maurois
"There is no more lovely, friendly, and charming relationship, communion or company than a good marriage."

Martin Luther
"The secret of a happy marriage is finding the right person. You know they're right if you love to be with them all the time."

Julia Child
"What counts in making a happy marriage is not so much how compatible you are but how you deal with incompatibility."

Leo Tolstoy
101 MARRIAGE SAYINGS – WEDDING DAY QUOTES
"It's amazing how one day someone walks into your life, and you cannot remember how you ever lived without them."

Unknown
"Happy marriages begin when we marry the ones we love, and they blossom when we love the ones we marry."

Tom Mullen
"To love is nothing. To be loved is something. But to be loved by the person you love is everything."

Unknown
"The great marriages are partnerships. It can't be a great marriage without being a partnership."

Helen Mirren
"The difference between an ordinary marriage and an extraordinary marriage is in giving just a little extra every day, as often as possible, for as long as we both shall live."

Fawn Weaver
"A successful marriage requires falling in love many times, always with the same person."

Mignon McLaughlin
"If I get married, I want to be very married."

Audrey Hepburn
"In marriage do thou be wise: prefer the person before money virtue before beauty, the mind before the body, then thou hast a wife, a friend, a companion, a second self."

William Penn
"To get the full value of joy you must have someone to divide it with."

Mark Twain
"A great marriage is not when the 'perfect couple' comes together. It is when an imperfect couple learns to enjoy their differences."

Dave Meurer
"Marriage is a risk; I think it's a great and glorious risk, as long as you embark on the adventure in the same spirit."

Cate Blanchett
"Love isn't a state of perfect caring. It is an active noun like struggle. To love someone is to strive to accept that person exactly the way he or she is, right here and now."

Fred Rogers
"What greater thing is there for two human souls, than to feel that they are joined for life–to strength each other in all labor, to rest on each other in all sorrow, to minister to each other in silent unspeakable memories at the moment of the last parting?"

George Eliot
"There is never a time or place for true love. It happens accidentally, in a heartbeat, in a single flashing, throbbing moment."

Sarah Dessen
"When you realize you want to spend the rest of your life with somebody, you want the rest of your life to start as soon as possible."

When Harry Met Sally
"Everyone is born equal in life, until they get married."

Anonymous
"In other relationships, people are different entities but in marriage, the couple is considered as one. This is what makes marriage a different kind of bond."

Mark McGrann
"Marriage: Love is the reason. Lifelong friendship is the gift. Kindness is the cause. Til' death do us part is the length."

Fawn Weaver
ANNIVERSARY QUOTES FOR COUPLE
Need a place to buy romantic anniversary cards? Here are my favorite places:
"Love is a friendship set to music."

Joseph Campbell
"Any good marriage is secret territory, a necessary white space on society's map. What others don't know about it is what makes it yours."

Stephen King
"If I know what love is, it is because of you."

Hermann Hasse
"There is no remedy for love but to love more."

Henry David Thoreau
"Your absence has not taught me to be alone, it merely has shown that when together we cast a single shadow on the wall."

Doug Fetherling
"Marriages are like fingerprints; each one is different and each one is beautiful."

Maggie Reyes
"There are a hundred paths through the world that are easier than loving. But who wants easier?"

Mary Oliver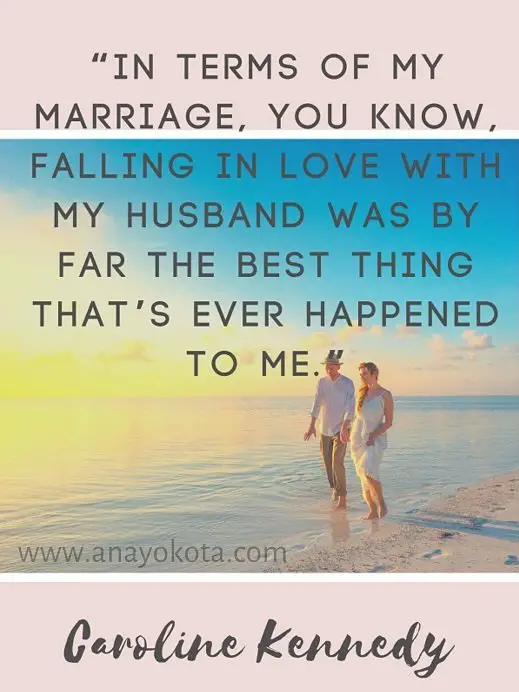 "In terms of my marriage, you know, falling in love with my husband was by far the best thing that's ever happened to me."

Caroline Kennedy
"Marriage is a bond between a person who never remembers anniversaries and another who never forgets them."

Ogden Nash
"For you see, each day I love you more. Today more than yesterday and less than tomorrow."

Rosemond Gerard
"In your light, I learn how to love. In your beauty, how to make poems. You dance inside my chest where no one sees you, but sometimes I do, and that sight becomes this art."

Rumi
"When you love someone, you love them as the person they are, and not as you'd like them to be."

Leo Tolstoy
"Chains do not hold a marriage together. It is threads, hundreds of tiny threads, which sew people together through the years."

Simone Signeret
---
Marriage is about quotes, romance, communication, marriage goals, and so much more. I hope you enjoyed these marriage sayings as much as I had curating them.
Which one was your favorite marriage quote? Would love to hear them in the comments!
Want more inspiration? Checkout my post on 77 Love Messages For Wife From Husband.