This post may contain affiliate links. Please read my disclosure policy for more info.
Teachers are one of the most selfless and loving occupations in America. Show them how much you care with a special these thanking teacher quotes today!
What To Thank Teachers For?
With over 130,000 schools in the United States, did you know that there are about 3.7 million teachers in the U.S. (SOURCE)?
Which means, there are a lot of powerful leaders out there that are changing our next generation.
Many of which go unnoticed or unappreciated for their servant leadership. 
According to a post on Market Watch, almost all public school teachers (94%) have spent their own money on school supplies without getting reimbursed (SOURCE). 
We are not just talking about $100.
Teachers spend an average of $479 on school supplies and resources for their classrooms and students.
It's not like teacher's have the most exuberant salaries either.
According to Business Insider, The average salary for a teacher in the US is $60,477, and starting salaries are often below $40,000 (SOURCE). 
How many of us can say that your life wouldn't be the same without that one special teacher?
In America, we don't only dedicate a day; we dedicate an entire week appreciating our educators.
Though, National Teacher's Appreciation Week is always held during the first full week of May, National Teacher's Appreciation Day is always held on the Tuesday of the first full week of May. 
Do you have a teacher that has impacted your life or your kid's life in a powerful way?
You don't have to wait until the actual appreciation week to thank your teachers. Use these quotes to thank a teacher whenever your heart desires.
You can never say, "thank you" too much.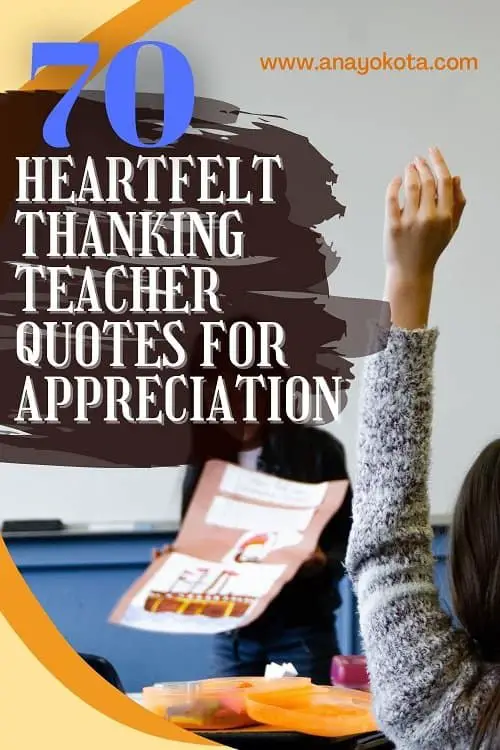 Heart Touching Quotes For Teachers
"What a teacher writes on the blackboard of life can never be erased."

Unknown Author
"It is the supreme art of the teacher to awaken joy in creative expression and knowledge."

Albert Einstein
"Ideal teachers are those who use themselves as bridges over which they invite their students to cross, then having facilitated their crossing, joyfully collapse, encouraging them to create bridges of their own."

Nikos Kazantzakis
"Because my teacher believed in me, I never gave up. Now I am flying towards my dreams."

Heidi McDonald
"The word 'education' comes from the root e from ex, out, and duco, I lead. It means a leading out. To me education is a leading out of what is already there in the pupil's soul."

Muriel Spark
"If you treat an individual as he is, he will remain how he is. But if you treat him as if he were what he ought to be and could be, he will become what he ought to be and could be."

Johann Wolfgang Von Goethe
"Education is not filling a pail, but the lighting of a fire."

William Butler Yeats
"I think the teaching profession contributes more to the future of our society than any other single profession."

John Wooden
"What the teacher is, is more important than what he teaches.

Karl Menninger
"The test of a good teacher is not how many questions he can ask his pupils that they will answer readily, but how many questions he inspires them to ask him which he finds it hard to answer."

Alice Wellington Rollins
Funny Teacher Appreciation Quotes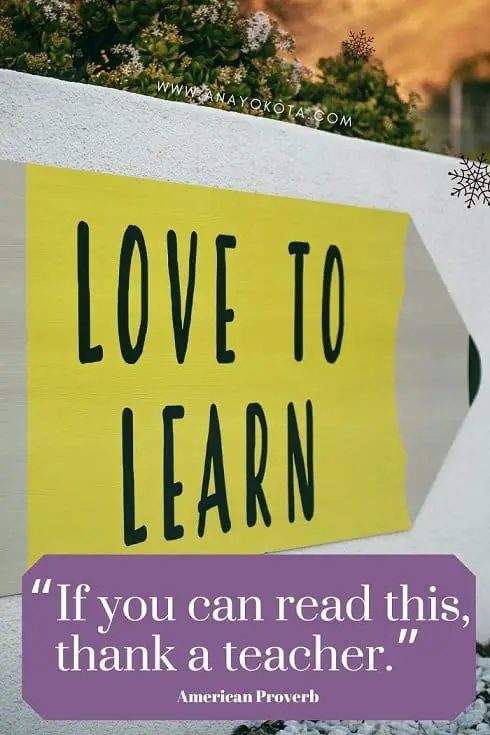 "If you can read this, thank a teacher." 

American Proverb
"Sunday is a teacher's day of rest: the rest of the laundry, the rest of the housework, and the rest of the papers."

Heidi McDonald
"A mind is like a parachute. It doesn't work if it is not open."

Frank Zappa
"I like a teacher who gives you something to take home to think about besides homework."

Lily Tomlin
"My teacher thought I was smarter than I was – so I was."

Six Year Old
"Teaching is the greatest act of optimism."

Colleen Wilcox
"A policeman pulled me over and asked me for my papers.  I gladly gave him all of my students' essays to grade and drove off."

Heidi McDonald
"Being able to help someone to learn is a talent."

Margaret Riel
"Blessed are the weird people – – poets, misfits, writers, mystics, painters and troubadours – – for they teach us to see the world through different eyes." 

Jacob Nordby
"To teach is to learn twice."

Joseph Joubert
"Cheers to all of the teachers who give out pencils every single day know that they'll never get them back."

Author Unknown
"The greatest sign of success for a teacher is to be able to say, 'The children are now working as if it did not exist'."

Maria Motessori
"Nine-tenths of education is encouragement."

Anatole France
Thank You Message For Teacher Appreciation
"Teacher appreciation makes the world of education go around."

Helen Peters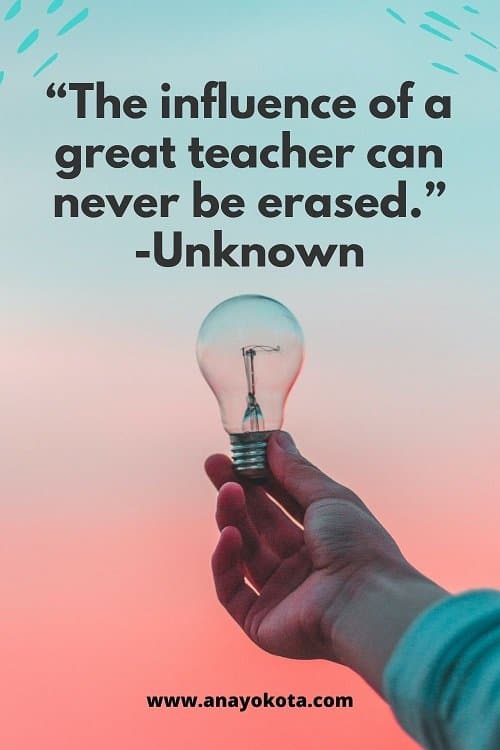 "The influence of a great teacher can never be erased."

Unknown
"None of us got where we are solely by pulling ourselves up by our bootstraps. We got here because somebody – a parent, a teacher, an Ivy League crony or a few nuns – bent down and helped us pick up our boots."

Thurgood Marshall
"Where your talents and the needs of your students meet there lies your calling as a teacher."

Robert John Meehan
"Most of us end up with no more than five or six people who remember us. Teachers have thousands of people who will remember them for the rest of their lives."

Andy Rooney
Quotes For Teachers From Parents
"Children are likely to live up to what you believe of them."

Lady Bird Johnson
"One child, one teacher, one book, one pen can change the world."

Malala Yousafzai
"Education is the passport to the future, for tomorrow belongs to those who prepare for it today."

Malcolm X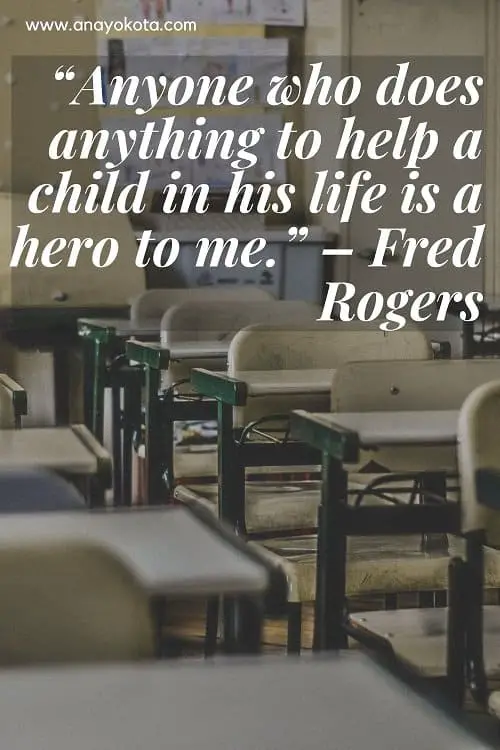 "Anyone who does anything to help a child in his life is a hero to me."

Fred Rogers
"It takes a big heart to help shape little minds."

Unknown
"One generation plants the trees, another gets the shade."

Chinese Proverb
"Teaching kids to count is fine, but teaching them what counts is best."

Bob Talbert
"Children must be taught how to think, not what to think."

Margaret Mead
"A teacher is a compass that activates the magnets of curiosity, knowledge, and wisdom in pupils."

Ever Garrison
"To know how to suggest is the art of teaching."

Henri-Frédéric Amiel
"Teaching is the profession that teaches all the other professions."

Traditional saying
Quotes For Teachers From Students
"The beautiful thing about learning is that no one can take it away from you."

B.B. King
"The mediocre teacher tells. The good teacher explains. The superior teacher demonstrates. The great teacher inspires."

William Arthur Ward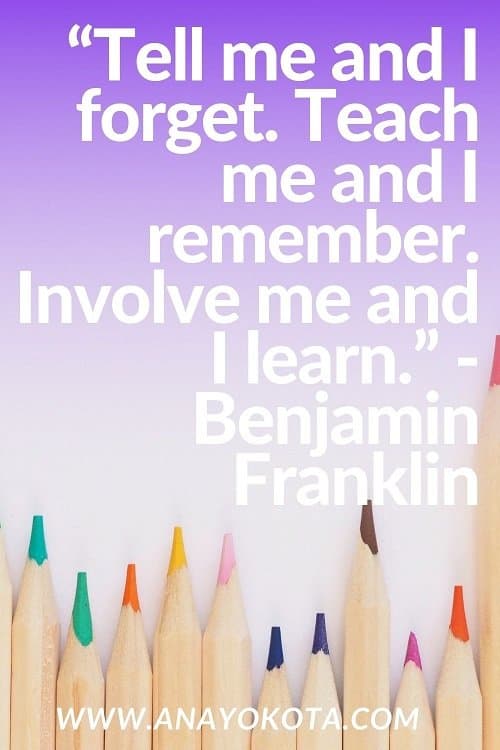 "Tell me and I forget. Teach me and I remember. Involve me and I learn."

Benjamin Franklin
"The dream begins with a teacher who believes in you, who tugs and pushes and leads you to the next plateau, sometimes poking you with a sharp stick called 'truth.'"

Dan Rather
"A teacher takes a hand, opens a mind and touches a heart."

Unknown
"Education is not preparation for life; education is life itself."

John Dewey
"Better than a thousand days of diligent study is one day with a great teacher."

Japanese Proverb
"A true disciple shows his appreciation by reaching further than his teacher."

Aristotle
"A master can tell you what he expects of you. A teacher, though, awakens your own expectations."

Patricia Neal
Thankful For Family Quotes (Teacher Figure)
"indebted to my father for living, but to my teacher for living well."

Alexander The Great
"Give me a fish and I eat for a day. Teach me to fish and I eat for a lifetime."

Chinese Proverb
"Everyone who remembers his own education remembers teachers, not methods and techniques. The teacher is the heart of the educational system."

Sidney Hook
"Great teacher empathize with kids, respect them, and believe that each one has something special that can be built upon."

Ann Lieberman
"Teachers, I believe, are the most responsible and important members of society because their professional efforts affect the fate of the Earth."

Helen Caldicott
Friends Thankful Quotes (Teacher Figure)
"A teacher affects eternity; he can never tell where his influence stops."

Henry Brooks Adams
"The best teachers teach from the heart, not from the book."

Unknown
"Good teaching is more a giving of right questions than a giving of right answers."

Josef Albers
"The duties of a teacher are neither few nor small, but they elevate the mind and give energy to the character."

Dorothea Dix
"It's the teacher that makes the difference, not the classroom."

Michael Morpurgo 
"Be a wonderful role model because you will be the window through which many children will see their future."

Thomas Mckinnon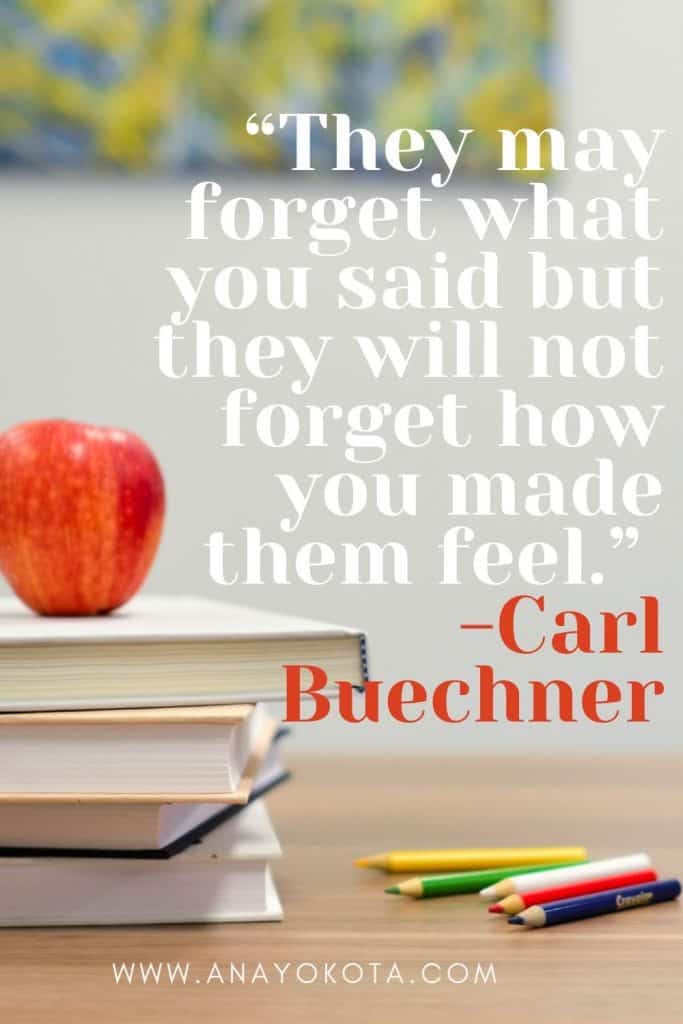 "They may forget what you said but they will not forget how you made them feel."

Carl Buechner
Summarizing Thanking Teacher Quotes
Are you a teacher? Thank you! Thank you for all your selfless acts and creative spirit to equip our next generation of learners! 
Perhaps you are a homeschooler and want to show your parents or homeschool organizer how much they mean to you.
They deserve the spotlight too with these quotes on thanking teachers. 
Need help with homeschool organization?
With more and more students homeschooling, stay on top of it by keeping your space organized — especially if it's a small area. 
Is someone you know feeling down?
Let's do something to make their day a little brighter! Send a friendly message full of optimism and cheer, let them know you are thinking of them today.
A kind note can be like a ray of sunshine when it's cloudy outside, making those around us smile just with the thought.
Choose your words wisely and give some extra love; let the recipient know their happy moments truly come from above.
And who knows, sending your message might just add more smiles along the way!
I love finding reasons to bring joy to someone's day through fun and thoughtful messages.
You can find more posts and quotes, memes, and messages that can help you write your next card.
For example, a witty note on Valentine's Day that has fun trivia to your friends and coworkers.
Or why wait until the next card?
With technology being so sophisticated these days, you can send a sweet message to your husband or wife with just one text.