This post may contain affiliate links. Please read my disclosure policy for more info.
During all the pregnancy crazies, take a breath of fresh air with these absolutely funny pregnancy quotes that are totally relatable!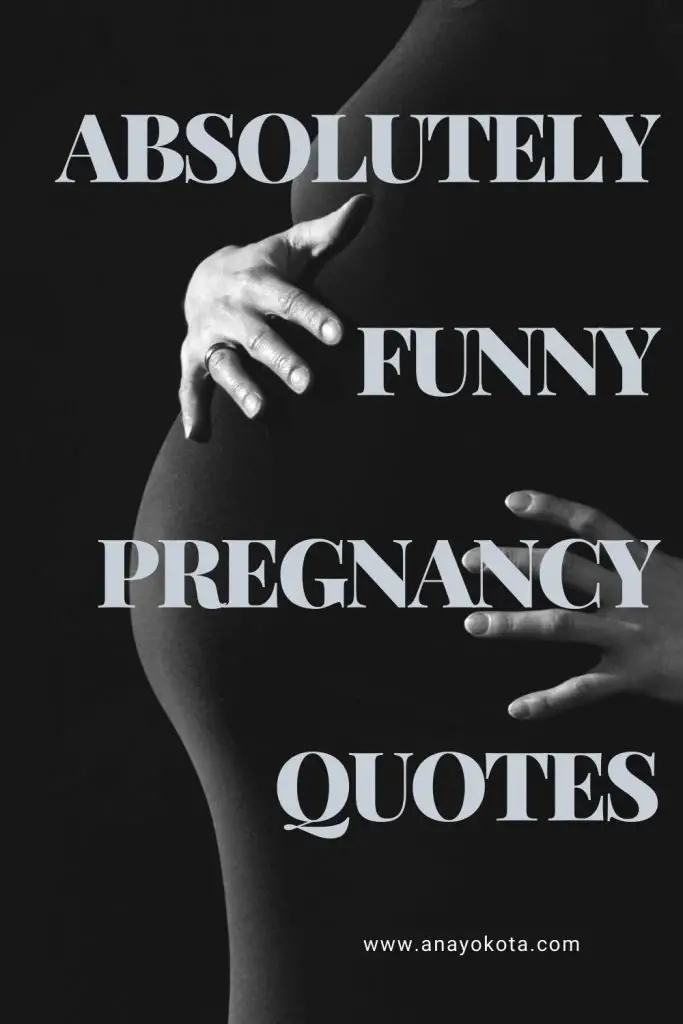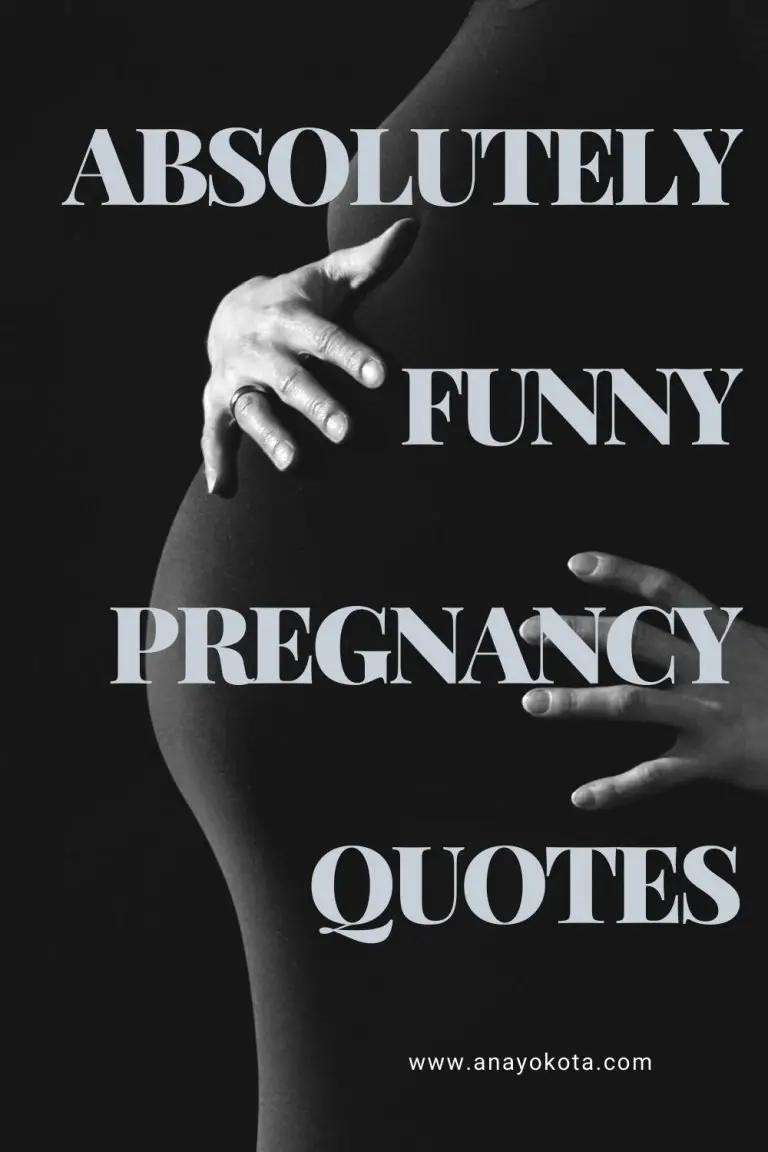 Be proud and so happy to be blessed with such a blessing! Shout out to all the beautiful mommas. It is time for celebration as you bring the joy of life into this world. 
But who am I kidding? Pregnancy is also very real. Pregnancy is also very raw. Pregnancy is also straight up an emotional roller coaster. So, even though pregnancy is a beautiful miracle, it can get pretty intense. Bring the gift of laughter whether it is for your own pregnancy or a friend that can use a good giggle. 
Let me tell you, during my pregnancy, I was a mess. My face blew up like I was 15 again, I couldn't pee enough, and every time I looked at my husband, I cried into my pregnancy pillow. Perhaps you can relate to my story. During these moments, these funny pregnancy phrases gave me a breath of fresh air. 
If you're like me or anyone of my witty momma friends, social media is part of my life because part of it gives us comic relief. You can use these funny pregnancy quotes for Facebook to show off your next pregnancy update or even funny pregnancy captions Instagram style. 
If you're looking for extra laughs, don't stop at pregnancy funny quotes, go for funny baby sleeping quotes too! Here, you'll find your funny maternity quotes graduating to the ever so hilarious moms who are now experiencing motherhood. 
TABLE OF CONTENTS FUNNY QUOTES ON PREGNANCY
FUNNY PREGNANCY ANNOUNCEMENT QUOTES
"You do a lot of growing up when you're pregnant. It's suddenly like, "Yikes. Here it is, folks. Playtime is over." -Connie Fioretto
"Think of stretch marks as pregnancy service stripes." -Joyce Armor
"Life is two-riffic with twins." -Author Unknown
"Sugar and spice and everything nice. Oh my gosh! It happened twice!" -Author Unknown
"There are two things in life for which we are never truly prepared: twins." -Josh Billings
"My mother groaned, my father wept, into the dangerous world I leapt." -William Blake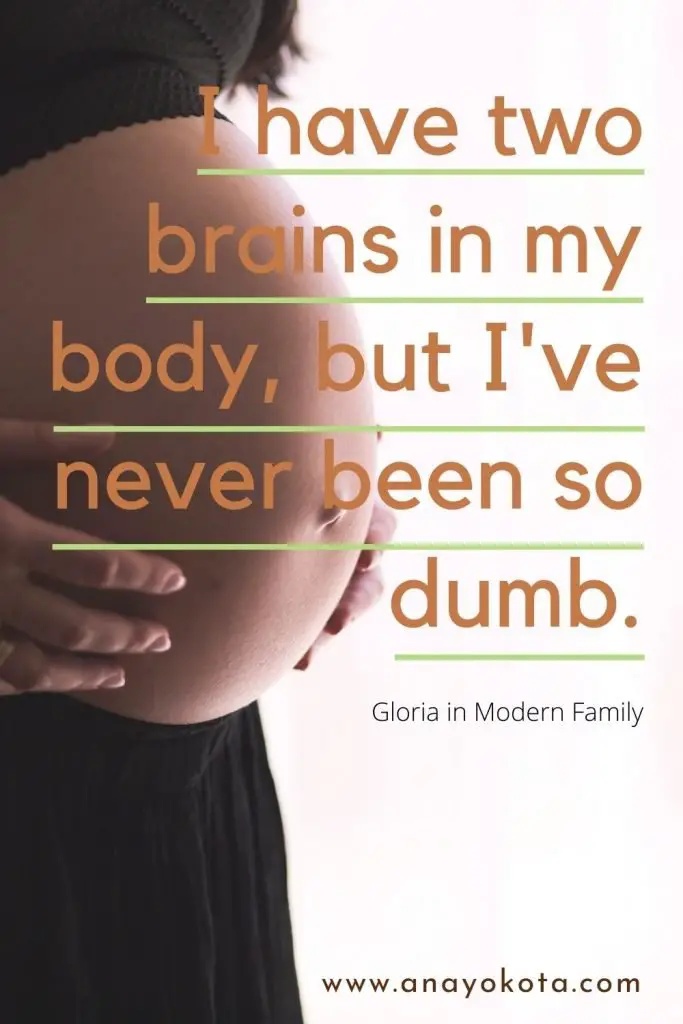 "I have two brains in my body, but I've never been so dumb!" -Gloria in Modern Family
"I know my baby is going to be an overachiever. I reached my healthy weight gain limit in the first trimester." -Unknown
FUNNY THINGS TO SAY TO A PREGNANT WOMAN
"There is only one pretty child in the world, and every mother has it" -Chinese proverb
"It's double the giggles and double the grins, and double the trouble if you're blessed with twins. -Author unknown
"Having a staring contest with a newborn is one of the weirdest things you'll ever do. And it is highly recommended." -Author Unknown
"It's a great thing about being pregnant – you don't need excuses to pee or to eat." -Angelina Jolie
"Part of being a parent is rolling with the punches, so consider an unexpected pregnancy the universe's way of helping you to learn to do that." -Heather Wittenberg
"Making the decision to have a child – it is momentous. It is to decide forever to have your heart go walking around outside your body." -Elizabeth Stone
"So I asked around and apparently I have a baby bump. And I am here to tell you that I do – I do! I am not pregnant, but I have had three kids and there is a bump. From now on ladies, I will have a bump. And it will be my baby bump. And let's just all settle in and get used to it. It's not going anywhere." -Jennifer Garner
"People always say that pregnant women have a glow. And I say it's because you're sweating to death." -Jessica Simpson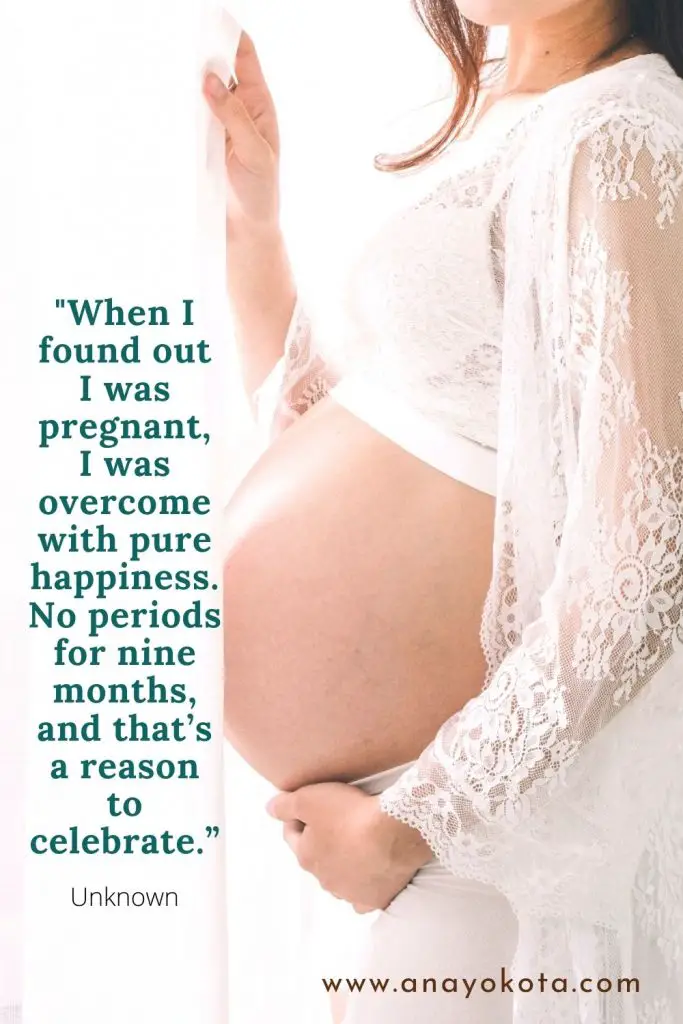 "When I found out I was pregnant, I was overcome with pure happiness. No periods for nine months, and that's a reason to celebrate." -Unknown
"You can do your job massively pregnant if you choose to go down that road. It's fine. It'll be hilarious. It'll add to your comedy in ways that you never expected. Like when your elbows grow hair for no reason" -Samantha Bee
FUNNY PREGNANCY QUOTES FOR DAD
"In the pregnancy process I have come to realize how much of the burden is on the female partner. She's got a construction zone going on in her belly." -Al Roker
"My friend has a baby, I am recording all the noises he makes so I can later ask him what he meant." -Stephen Wright
"Before I got married I had six theories about bringing up children; now I have six children and no theories." -John Wilmot
"Becoming a father is easy enough, but being one can be very rough." -Wilhelm Busch
"Whether your pregnancy was meticulously planned, medically coaxed, or happened by surprise, one thing is certain – your life will never be the same." -Catherine Jones
"I've been to war. I've raised twins. If I had a choice, I would rather go to war." -George W. Bush
"Pregnancy is 9 months of cheat days." (HALLELUJAH) -Unknown
"Peezing – peeing and sneezing at the same time." -The Joys of Pregnancy
"Congratulations for getting pregnant. Enjoy the luxury of getting your husband's attention every time you make even a small sound – whether it is a painful moan or a smelly fart." -Unknown
SWEET PREGNANCY QUOTES
"I think that carrying a baby inside you is like running as fast as you can. It feels like finally letting go and filling yourself up to the wildest limits." -Author unknown
"Life is always a rich and steady time when you are waiting for something to happen or to hatch." -E.B. White
"Feeling fat lasts nine months but the joy of becoming a mom lasts forever." -Nikki Dalton
"Of course I can do this. I'm pregnant, not brain-damaged. My condition doesn't change my personality." -Christine Feehan
"Going into a pregnancy is a really challenging time for a woman, because it's forever-changing, both mentally and physically" -Brooke Burke
"Raising kids is part joy and part guerilla warfare" -Ed Asner
FUNNY PREGNANCY WISHES
"Being pregnant is an occupational hazard of being a wife." -Queen Victoria
"Having a baby changes the way you view your in-laws, I love it when they come to visit now. They can hold the baby, and I can go out." -Matthew Broderick
"Yes, I have gently placed my hand on my tummy and faked discomfort to get a seat on the subway." -Unknown
"There is a sanctity involved with bringing a child into this world, it is better than bombing one out of it." -James Baldwin
"I'm never as happy as when I'm pregnant. I literally would have 10 babies if I could!" -Tori Spelling
"Peeing on a stick and preserving that stick is the start of the many disgusting things you will do as a mother." -Unknown
"I suddenly got overwhelmed that I was bringing another baby into the world, all that responsibility. So I cried. But I think crying is healthy. I cry every day. To me, crying is like taking a yoga class. It keeps you in touch" -Jada Pickett Smith
"Having a child is liking getting a tattoo…on your face. You better be committed" -Eat Pray Love
FUNNY CHILDBIRTH QUOTES
"I used to have a terrific flat stomach but now it's kind of blown out after two giant babies used it as a short-term apartment." -Amy Poehler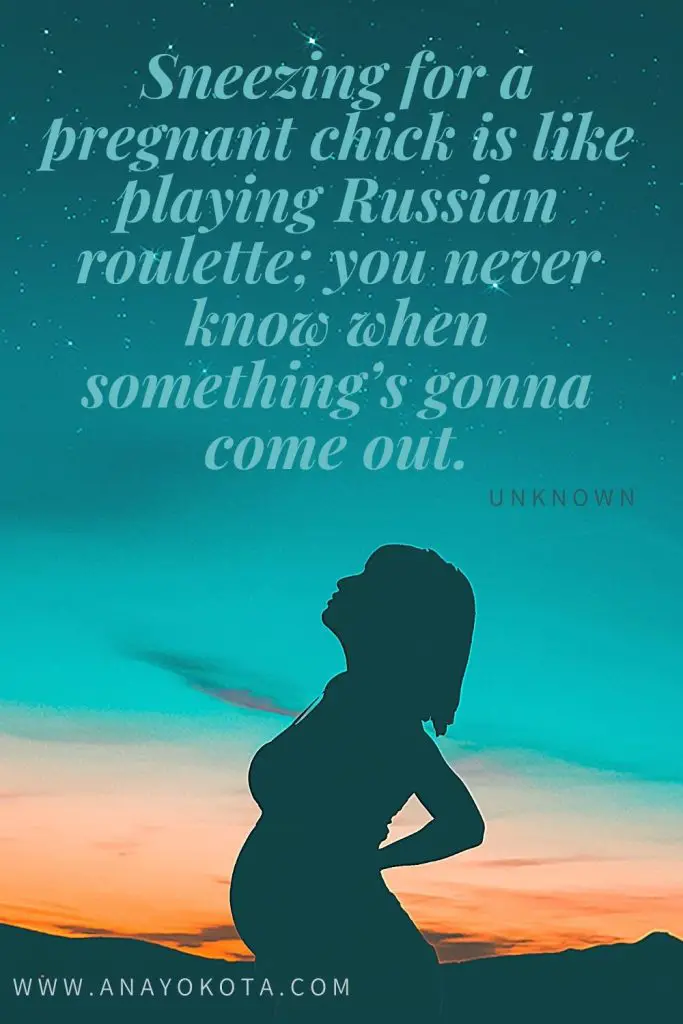 "Sneezing for a pregnant chick is like playing Russian roulette; you never know when something's gonna come out." -Unknown
"Everything grows rounder and wider and weirder, and I sit here in the middle of it all and wonder who in the world you will turn out to be." -Carrie Fisher
"Being pregnant finally helped me understand what my true relationship was with my body–meaning that it wasn't put on this earth to look good in a swimsuit." -Amy Adams
"Yes I'm positive there's just one baby in there. Can I throat punch you now?" -Unknown
"To pee or not to pee? That is never the question. Pee." -Unknown
"Life is tough enough without having someone kick you from the inside." -Rita Rudner
"During labour the most important thing is to get primal and surrender to the process" -Ricki Lake
"The oxytocin was doing all this magic and it felt amazing. And then it got less than amazing" -Alicia Silverstone
---
Which one was your favorite funny pregnancy quotes while pregnant? Did you use any of them as funny baby announcement quotes? I sure had a lot of fun creating these collections of funny pregnancy sayings. 
As you grow your own family, learn to pray for your family with these powerful prayer points for family. 
Are you an expecting mother? Share your funny pregnancy moments with us in the comment section below.