This post may contain affiliate links. Please read my disclosure policy for more info.
Activate the power of prayer points for family today! Here are carefully crafted prayers with scripture verses to bring prayer to your loved ones.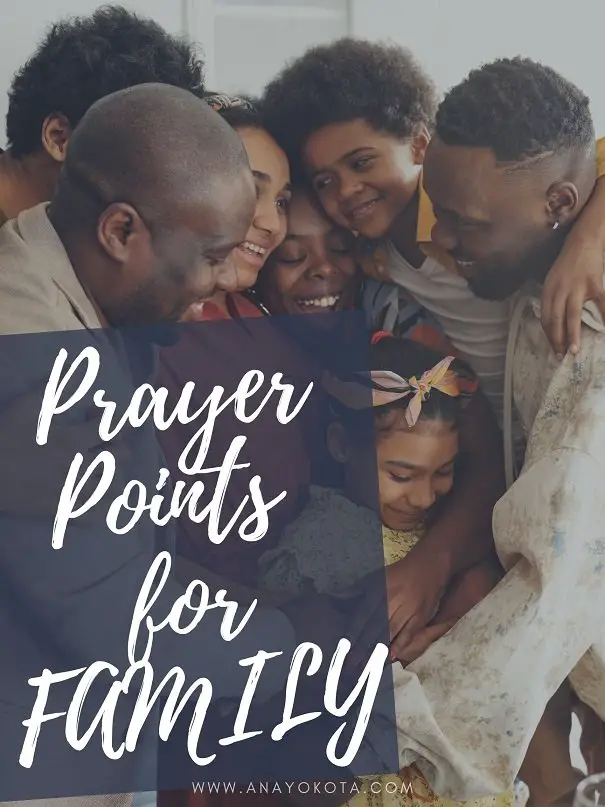 Family is a wonderful gift and blessing from God. It is your family that is there for you through the thick and the thin. For example, it is your family that has the ability to balm a broken heart the way no one else can; but also has the ability to get under your skin and push all your buttons at the same time. 
It is during these moments when prayer becomes a pillar in our lives.
There is a unity (a synergy, if you will) that happens when you pray with family. Not just based on my own personal experiences, but also the testimonies of many studies state that the power of prayer within the family provides a strong connection with each other (SOURCE). Moreover, praying with the family inspires people in another way to connect with God.  
So, whether you are going through a difficult time or experiencing a miracle joy with your family, prayer can bring great strength, restoration, and hope to your family relationships.
Some of you may be asking, "What is prayer? Why do we pray? How do we pray?" Many of these fundamental questions are answered in my post, Prayer Points.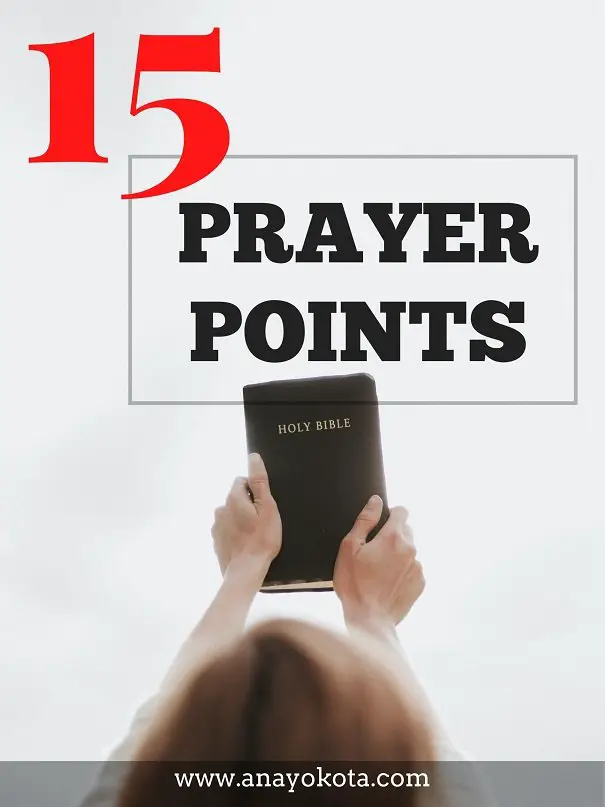 If you have children, your kids can have the beautiful opportunity to learn about prayer and why it is so important to let God in their lives. They can learn from you to pray to help them during their struggles and celebrate during their victories. 
For example, one of the most influential lessons I learned from my parents was to pray with my big brother after any kind of argument. Prayer was not forceful; rather, it was a courageous and vulnerable choice. Praying together was a way to resolve conflict and bring restoration to our relationship. I was vocalizing that I chose to forgive (or repent) for the pain. In return, my brother was speaking from the same authenticity that unified our belief for God's blessing over our friendship. 
It is important to understand what prayer can do for you and your family. I believe that prayer doesn't always have to start with the parents. It doesn't always have to be everyone. It can start with you praying for the different members of your family. 
I understand that this may be a sensitive topic to challenge people who may not have all their family members believing in prayer — let alone the same God. 
You are not alone. 
As a person who also had non-believers in my family, I believe the power of prayer can uplift our spirits to hope in God's love. Prayer points for family breakthrough can provide strategic elements on what and how to pray. 
I encourage you to speak out these prayer points for family as I hope these will inspire you to continue to hope in God's great big love. 
Table Of Contents
PRAYER FOR RESTORATION
Dear Heavenly Father, thank You for showing us Your grace, love, and mercy when we least deserve it. Thank You for my family and reminding us that You have blessed us with so many things. Help us to never lose sight of Your goodness and love over our lives. We ask for forgiveness and the heart to fully forgive in areas of our hearts we are hurting. Thank You for first forgiving us. I ask for Your grace and Spirit of healing to be within our family. In Your Son's Jesus Christ's name we pray, Amen.
Colossians 3:13 Amplified Bible (AMP) bearing graciously with one another, and willingly forgiving each other if one has a cause for complaint against another; just as the Lord has forgiven you, so should you forgive.
Pappa God, thank You for embracing us regardless where we are at in our hearts. You are so kind, graceful, loving, and patient. Please teach us how to love like You and live like You. Help us to dig into Your word daily for we confess that we cannot resolve our challenges alone. May we hold fast onto Your presence and be obedient when You call us to action. Please forgive us for the hurtful words we have spoken. We confess our sins and ask that You will bring healing and restoration into our hearts. I ask for protection in our family's hearts so that we may not grow bitter or fearful; rather, please help us maintain a tender heart towards Your Holy Spirit. Lord, I ask that You will help us look at this situation through Your eyes so that we may not be distracted by the lies of the enemy. Help us to trust You and let go of any resentment, injustice, and guilt. Not that we are choosing to forget; rather, we are choosing to forgive. You have given us so many chances, help us to forgive "70 times 7." So, we turn to You, lay down our fears, and invite You to bring restoration in our family. In the almighty name of Jesus we pray, Amen. 
Deuteronomy 8:3 New King James Version (NKJV) So He humbled you, allowed you to hunger, and fed you with manna which you did not know nor did your fathers know, that He might make you know that man shall not live by bread alone; but man lives by every word that proceeds from the mouth of the Lord.
Matthew 18:21-22 The Message (MSG) A Story About Forgiveness 
At that point Peter got up the nerve to ask, "Master, how many times do I forgive a brother or sister who hurts me? Seven?"
Jesus replied, "Seven! Hardly. Try seventy times seven.
FOR FAMILY BREAKTHROUGH
Dear Jesus, we declare your Holy Spirit protection over our family right now in the mighty name of Jesus. I pray that we will be able to persevere, intercede, and remain hopeful for breakthrough in our situation (for example, finances, salvation, divine health, etc…). We ask for Your peace that surpasses understanding to be in our lives so that we will stay focused on You. Please protect our hearts from distractions, disappointments and discouragements that try to doubt Your goodness. You have a great plan for our family and we claim Your promises to prosper us, love us, and give help us with self-discipline. We exchange any spirit of fear and timidity for a sound mind. In Your loving name we pray, Amen.
Isaiah 54:17 Amplified Bible (AMP) "No weapon that is formed against you will succeed;
And every tongue that rises against you in judgment you will condemn.
This [peace, righteousness, security, and triumph over opposition] is the heritage of the servants of the Lord, And this is their vindication from Me," says the Lord.
Philippians 4:7 English Standard Version (ESV) And the peace of God, which surpasses all understanding, will guard your hearts and your minds in Christ Jesus.
2 Timothy 1:7 New Living Translation (NLT) For God has not given us a spirit of fear and timidity, but of power, love, and self-discipline.
PRAYER FOR FAMILY PROSPERITY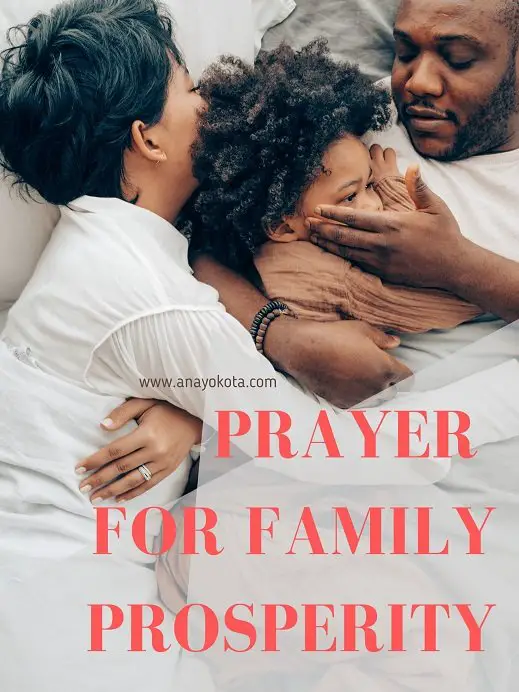 Dear Lord, thank You for your provision and love for our family. You are a God that has never lost a battle and You are on our side. We declare Your victories over our family in the name of Jesus. We speak life, grace, and favor over our finances so that we may be used to expand Your kingdom here on Earth. Thank You for your faithfulness and Your unconditional love for us. We confess our trust in You; trust that you will take care of everything we need. You know our every dream and wish. We not only trust You in your provision and goodness, but we also lay down any fear that binds us from hoping in You. We love you and pray all these things in your beautiful name of Jesus, Amen. 
Philippians 4:19-20 The Message (MSG) And now I have it all—and keep getting more! The gifts you sent with Epaphroditus were more than enough, like a sweet-smelling sacrifice roasting on the altar, filling the air with fragrance, pleasing God no end. You can be sure that God will take care of everything you need, his generosity exceeding even yours in the glory that pours from Jesus. Our God and Father abounds in glory that just pours out into eternity. Yes.
PRAYER FOR FAMILY BLESSING
Dear God, thank You for your new mercies every morning. You are so compassionate and kind, it is beyond measurable to grasp the greatness of your love over our family. We declare Your promises and blessings over our family — promises to prosper us and not harm us; blessings to give us hope and a great future. You never fail and we worship Your goodness in our lives. We ask for blessings in our finances, blessing in our health, blessing in our family unity, blessing in our relationship with friends and most importantly, blessing in our relationship with You. May all of these blessings be a reflection of Your goodness to those around us. That they may see how real and beautiful You are. In You loving name we pray, Amen. 
Jeremiah 29:11 New International Version (NIV) For I know the plans I have for you," declares the Lord, "plans to prosper you and not to harm you, plans to give you hope and a future.
Lamentations 3:22-23 Amplified Bible (AMP) 
It is because of the Lord's loving kindnesses that we are not consumed,
Because His [tender] compassions never fail.
They are new every morning;
Great and beyond measure is Your faithfulness.
PRAYER FOR FAMILY TOGETHERNESS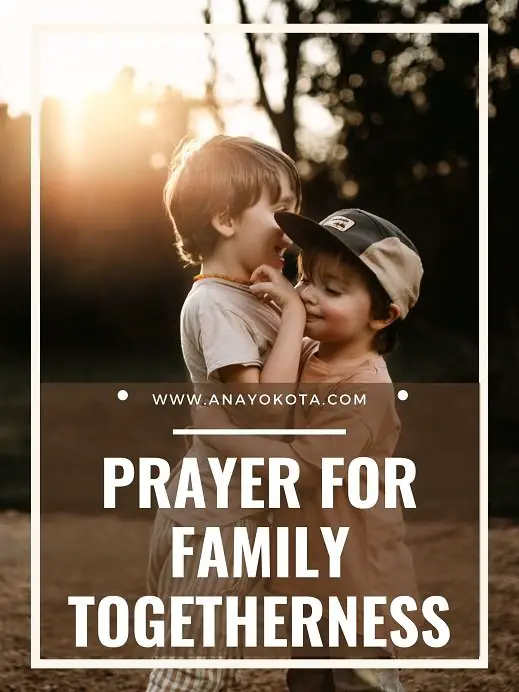 Dear Lord Jesus, we pray for a Spirit of unity over our family. We pray for family protection. As we learn to be one unit, we pray for Your grace and love to be within us. Help us to love each other and accept each other the way You designed us to be. We ask for your wisdom to know how to discipline and embrace each other regardless of our shortcomings. Help us to champion each other even in the midst of hardship. You have blessed us so much with our family and we pray that we will steward what You've given us well. We pray for our family togetherness in the precious name of Jesus, Amen. 
Ephesians 6:1-4 Amplified Bible (AMP Family Relationships
Children, obey your parents in the Lord [that is, accept their guidance and discipline as His representatives], for this is right [for obedience teaches wisdom and self-discipline]. Honor [esteem, value as precious] your father and your mother [and be respectful to them]—this is the first commandment with a promise— so that it may be well with you, and that you may have a long life on the earth.
Fathers, do not provoke your children to anger [do not exasperate them to the point of resentment with demands that are trivial or unreasonable or humiliating or abusive; nor by showing favoritism or indifference to any of them], but bring them up [tenderly, with loving kindness] in the discipline and instruction of the Lord.
PRAYER FOR STRENGTH
Dear Heavenly Father, thank You for never letting us go. We pray for strength within our family to continue to hope and believe in Your goodness over our lives. Help us to stay patient and steadfast in Your word. You are our refuge and strength. You come to us without question. Help us not to have a spirit of fear but hope and a sound mind. Help us to hold onto Your truths that when we seek You, You will answer. We declare that Your love will always guide us and never leave us in the name of Jesus. We ask for supernatural grace to persevere during this time of need. If You take good care of the birds, how much more will You take care of Your children? You know the number of hairs on our head and ever need in our hearts. We declare our trust in You and receive Your strength. In the glorious name of Jesus we pray, Amen. 
Psalm 46:1-3 Amplified Bible (AMP) God the Refuge of His People.
To the Chief Musician. A Psalm of the sons of Korah, set to soprano voices. A Song.
God is our refuge and strength [mighty and impenetrable],
A very present and well-proved help in trouble.
Therefore we will not fear, though the earth should change
And though the mountains be shaken and slip into the heart of the seas,
Though its waters roar and foam,
Though the mountains tremble at its roaring. Selah.
Matthew 7:7-8 Amplified Bible (AMP) Prayer and the Golden Rule
"Ask and keep on asking and it will be given to you; seek and keep on seeking and you will find; knock and keep on knocking and the door will be opened to you. For everyone who keeps on asking receives, and he who keeps on seeking finds, and to him who keeps on knocking, it will be opened.
Luke 12:7 The Message (MSG) "What's the price of two or three pet canaries? Some loose change, right? But God never overlooks a single one. And he pays even greater attention to you, down to the last detail—even numbering the hairs on your head! So don't be intimidated by all this bully talk. You're worth more than a million canaries.
PRAYER FOR SALVATION FOR NON-BELIEVING FAMILY MEMBERS
Dear loving Father, You are mighty to save us from any situation. I ask that You will draw near to my family members who have yet to know You on a personal level. Please give them the heart to know You and choose You as their Savior. May they have no way of denying Your goodness and Your grace. Bless them, Father, and keep them close to Your heart. Lord, I ask that You will use me to bring them the gospel. Please give me boldness and grace to share my testimony of Your great love in my life. Use me to translate Your love and show them what it looks like to be loved by You. Holy Spirit, I ask that you will give me wisdom not just with my words, but also with my actions so that I may minister to them Your truths. Thank You, Father, for never being forceful but always patient. Help me to reflect Your patience and grace to my unsaved family members. In Your loving name of Jesus I pray, Amen. 
Zephaniah 3:17 New International Version (NIV) The Lord your God is with you, the Mighty Warrior who saves. He will take great delight in you; in his love he will no longer rebuke you, but will rejoice over you with singing."
Jeremiah 24:7 New International Version (NIV) I will give them a heart to know me, that I am the Lord. They will be my people, and I will be their God, for they will return to me with all their heart.
---
God bless you in all your endeavors to bring prayer in your family. As you pray over your family, I encourage you to continue to cultivate family prayer with bible verses. The truth is in His word and every prayer that I share with you has some sort of biblical reference or inspiration. 
Through the Bible, may you create powerful prayer points for your family. Prayer points for family are easy because the words are from His truth — the Word. 
Inspired to pray with your spouse? Being married, I understand first hand the power of praying together with your partner. Prayer Points For Marriage has more specific prayer points for married couples.
What are some of the ways that you pray for families? I would love to learn and pray with you. Perhaps there are others you can bless with your prayer points for family. Please feel free to share them in the comments.